Forsythe's in the middle, somewhat elevated uses the battement like an attack. Photo by Alexander Iziliaev, Courtesy Pennsylvania Ballet
Just before retiring in 2015, Sylvie Guillem appeared on "HARDtalk with Zeinab Badawi," the BBC's hard-hitting interview program. Badawi told Guillem,
"Clement Crisp of the Financial Times, 14 years ago, described your dancing as vulgar."
Guillem responded,
"Yeah, well, he said that. But at the same time, when they asked Margot Fonteyn what she thought about lifting the leg like this she said, 'Well, if I could have done it, I would have done it.' "
They were discussing Guillem's signature stroke—her 180-degree leg extension à la seconde. Ballet legs had often flashed about in the higher zones between 135 and 160 degrees before. But it wasn't until the virtuoso French ballerina regularly
extended her leg beside her ear with immaculate poise in the 1980s that leg extensions for ballet dancers in classical roles reached their zenith. Traditionalists like Clement Crisp were not taken with it.
Keep reading...
Show less
News
Oct. 26, 2018 01:14PM EST
The Royal Ballet's Francesca Hayward and Marcelino Sambé in Tarantella. Photo by Bill Cooper, Courtesy New York City Center.
In 1948, George Balanchine and Lincoln Kirstein founded New York City Ballet at New York City Center. This year, in honor of its 75th anniversary, City Center is bringing together eight companies—American Ballet Theatre, The Joffrey Ballet, Mariinsky Ballet, Miami City Ballet, NYCB, Paris Opéra Ballet, The Royal Ballet and San Francisco Ballet—to perform 13 Balanchine works over six programs, running October 31–November 4. "I liked the idea of showing different perspectives on how Balanchine is performed internationally," says City Center president and CEO Arlene Shuler. "Bringing together these eight companies is unprecedented."
Balanchine: The City Center Years www.youtube.com
Keep reading...
Show less
Villella in rehearsal with members of Dimensions Dance Theatre of Miami earlier this summer. Photo by Joe Gato, Courtesy DDTM.
This summer the legendary New York City Ballet dancer Edward Villella marked two full-circle moments. He returned to Miami for the first time since his controversial 2012 departure from Miami City Ballet, the company he founded, to coach members of Dimensions Dance Theatre of Miami. This new troupe was founded by former MCB principals and Villella protégés Jennifer Kronenberg and Carlos Guerra in 2016. Villella worked with DDTM dancers on George Balanchine's Tschaikovsky Pas de Deux and Tarantella, signature pieces during his performing career. While there, Villella announced that he would be coaching dancers at NYCB starting in September—his first time returning to the troupe where he defined major ballets like Prodigal Son and Rubies, which the company performs this fall.

We spoke with Villella about keeping Balanchine's legacy alive, his big news, and his post-Miami life back in New York, where he lives with his wife Linda.
Keep reading...
Show less
News
Aug. 15, 2018 11:29AM EST
The company is searching for an artistic director who is "humane"—and who might not be a choreographer. Photo by Paul Kolnik
Keep reading...
Show less
Bucharest National Ballet's 2013 trailer for "La Sylphide,' via YouTube
Few things are more powerful for promoting ballet performances than captivating trailers—especially in today's visually-focused, digitally-connected world.
We've rounded up some eye-catching ads from seasons past and present that not only make us wish we could have seen the show, but also stand alone as short films.
Bucharest National Opera's La Sylphide
Magnifying the scarf which—spoiler alert—brings about the ballet's tragic conclusion, this 2013 Bucharest National Opera's trailer turns that fateful fabric into a beautiful, deadly web. Its windswept movements form a dance of its own.
Keep reading...
Show less
Just for fun
May. 22, 2018 03:42PM EST
Bucharest National Ballet's 2013 trailer for "La Sylphide,' via YouTube
Few things are more powerful for promoting ballet performances than captivating trailers—especially in today's visually-focused, digitally-connected world.
We've rounded up some eye-catching ads from seasons past and present that not only make us wish we could have seen the show, but also stand alone as short films.
Bucharest National Opera's La Sylphide
Magnifying the scarf which—spoiler alert—brings about the ballet's tragic conclusion, this 2013 Bucharest National Opera's trailer turns that fateful fabric into a beautiful, deadly web. Its windswept movements form a dance of its own.
Keep reading...
Show less
News
Feb. 13, 2018 10:30AM EST
New York City Ballet's Joseph Gordon and Tiler Peck in "Fancy Free." Photo by Paul Kolnik, Courtesy NYCB.
One of the titans among choreographers of the 20th century, Jerome Robbins will be celebrated by a number of ballet companies worldwide in 2018 for the centennial of his birth. He died in 1998 at age 79 after a prolific career. His rare talent enabled him to direct and choreograph Broadway hits (West Side Story, On the Town and Fiddler on the Roof, among many) and to create sublime ballets, such as Afternoon of a Faun for New York City Ballet; Fancy Free (his first ballet) for American Ballet Theatre; and NY Export: Opus Jazz for his short-lived troupe Ballets: U.S.A.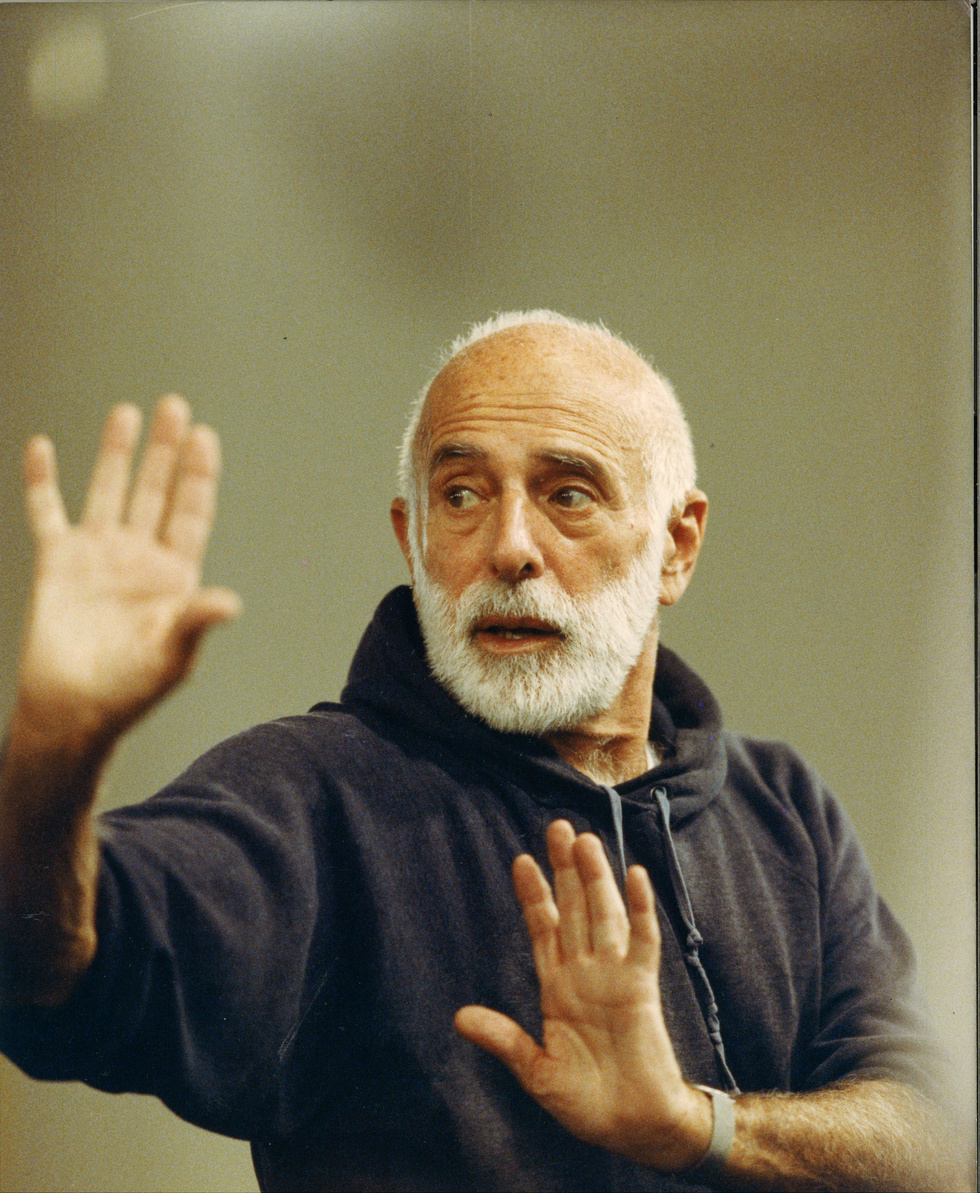 Jerome Robbins. Photo Courtesy Dance Magazine Archives.
Keep reading...
Show less
Edward Villella, Arthur Mitchell and Jacques d'Amboise. Photo by Noam Galai/Getty Images, Courtesy NDI.
On Monday night, the National Dance Institute—the arts education organization founded by former New York City Ballet star Jacques d'Amboise—presented Balanchine's Guys, a lively discussion with d'Amboise and two other NYCB greats: Arthur Mitchell and Edward Villella. Many of their former NYCB colleagues, including Patricia McBride and Suki Schorer, were in the audience, and while the evening was sold out, NDI live-streamed part of the conversation. We know many of you weren't able to catch it, so we've included the video from NDI's Facebook page below. (There's a bit of a sound delay, but it's well worth the watch!)
All three shared priceless anecdotes of working with Balanchine. While NDI wasn't able to stream the whole discussion and performance, here are a few highlights from after the camera stopped rolling:
Keep reading...
Show less
Karin von Aroldingen and Mikhail Baryshnikov in "Prodigal Son." Photo by Costas, Courtesy Dance Magazine Archives.
"My whole mission in life is to keep Balanchine's work alive," says former New York City Ballet dancer Karin von Aroldingen in Frances Mason's I Remember Balanchine, a collection of interviews by George Balanchine's friends and colleagues. Her words feel especially potent now—and never more true. On Friday, January 5, news came to light that the German-born dancer, teacher, NYCB ballet master and longtime stager for the Balanchine Trust had died at age 76.
Born in East Germany in 1941, von Aroldingen joined Frankfurt Ballet as a first soloist before George Balanchine invited her to join NYCB in 1962. Trained in the Russian method, she had to adjust her technique to fit NYCB's fast, streamlined style. "It took me years to unwind myself, to be good," she says in Mason's book. She eventually rose to principal dancer in 1972. Her dancing was strong, assertive and passionate. During her 22-year career at NYCB, Balanchine created 20 roles for her, including Kammermusik No. 2, Union Jack, Vienna Waltzes, Who Cares?, Robert Schumann's Davidsbündlertanze and her most well-known, Stravinsky Violin Concerto. (Who hasn't marveled at her elastic backbends in the 1972 "Dance in America" broadcast above?)
Keep reading...
Show less
New York City Ballet's famous growing tree. Photo by Paul Kolnik, Courtesy NYCB.
Literary Roots

E.T.A. Hoffmann, a German writer, penned the eerie and dark tale "Nutcracker and Mouse King" in 1816. About 30 years later, the French writer Alexandre Dumas took the Nutcracker story into his own hands, lightening things up and softening the character descriptions. Dumas even cheered up the name of the protagonist. "Marie Stahlbaum" (meaning "steel tree," representing the repressive family Marie found herself in, which led her imagination to run wild) became "Clara Silberhaus" (translated to "silver house," a magnificent home filled with shiny magic.)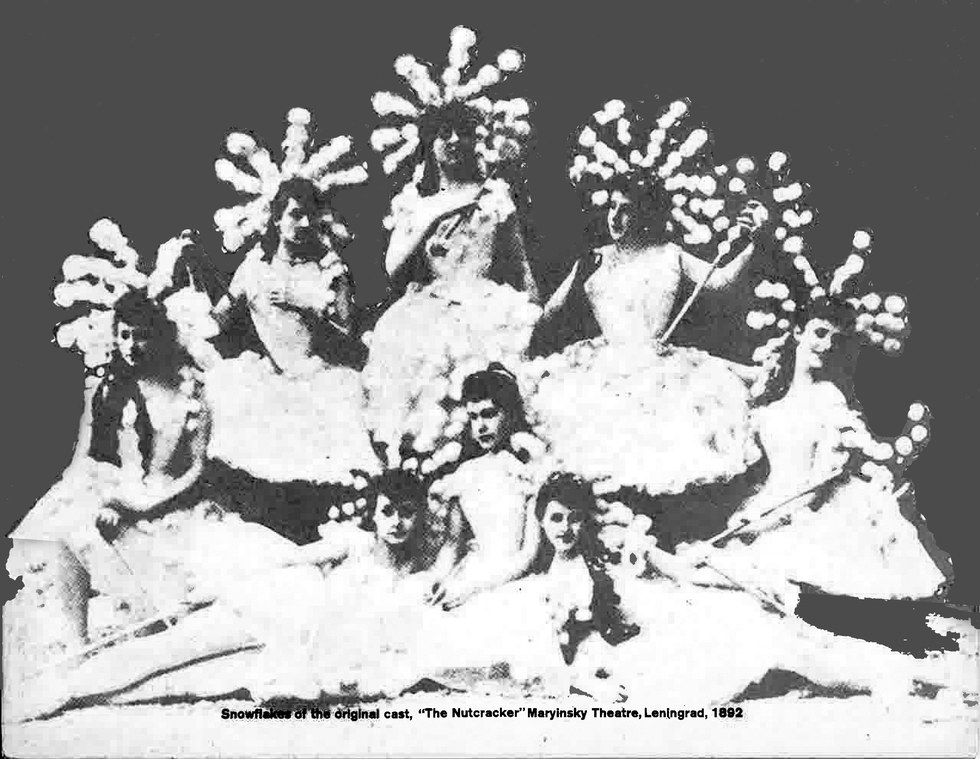 Snowflakes of the original cast, "The Nutcracker" at the Mariinsky Theatre, 1892. Photo by Walter E. Owen, Courtesy Dance Magazine Archives.
From Page to Stage
In 1892 St. Petersburg, choreographer Marius Petipa and composer Pyotr Ilyich Tchaikovsky pulled the story off the page and onto the stage of the Mariinsky Theatre. But Petipa fell ill while choreographing The Nutcracker and handed his duties over to his assistant, Lev Ivanov. Critics at the 1892 premiere were not pleased. Balletomanes felt the work to be uneven, and lamented the lack of a main ballerina in the first act. Many thought that the story was too light compared to historically based stories.
Out of Russia
Despite its initial reception, the ballet survived, partially due to the success of Tchaikovsky's score. Performances were scarce, though, as the Russian Revolution scattered its original dancers. The Nutcracker's first major exposure outside of Russia took place in London in 1934. Former Mariinsky ballet master Nikolas Sergeyev was tasked with staging Petipa's story ballets on the Vic-Wells Ballet (today The Royal Ballet) from the original notation. The notes were incomplete and difficult to read, yet Sergeyev persisted, and The Nutcracker made it to the stage.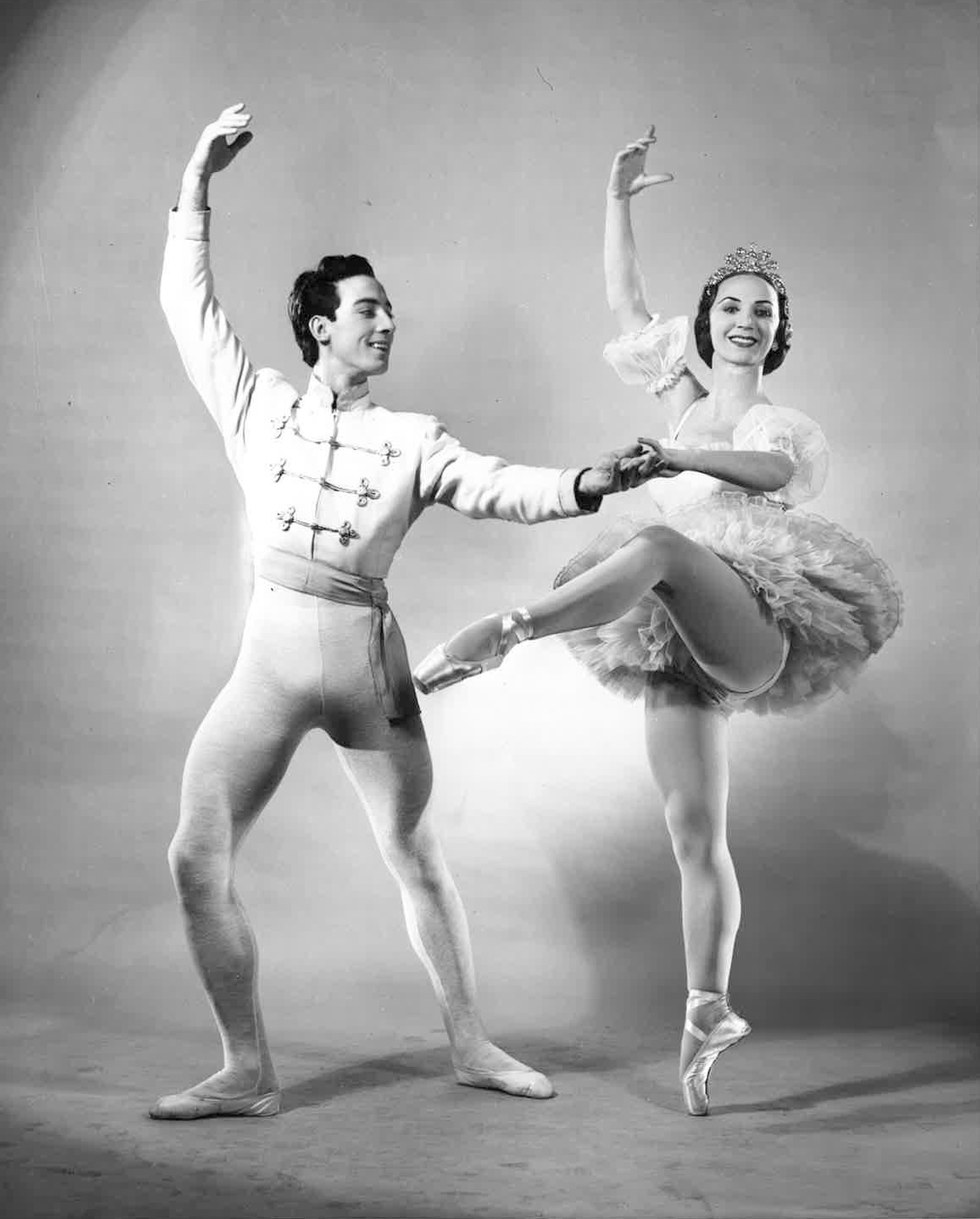 Dancers from ballet Russe de Monte Carlo in "The Nutcracker" pas de deux. Photo Courtesy Dance Magazine Archives.
Keep reading...
Show less
New York City Ballet in "George Balanchine's The Nutcracker." Photo by Paul Kolnik, Courtesy Lincoln Center.
Nutcracker season is upon us, with productions popping up in on stages in big cities and small towns around the country. But this year you can catch New York City Ballet's famous version on the silver screen, too. Lincoln Center at the Movies and Screen Vision Media are presenting a limited engagement of NYCB's George Balanchine's The Nutcracker at select cinemas nationwide starting December 2. It stars Ashley Bouder as Dewdrop and Megan Fairchild and Joaquin De Luz as the Sugarplum Fairy and Cavalier.
While nothing beats seeing a live performance (the company's theatrical Nutcracker run opens Friday), the big screen will no doubt magnify some of this production's most breathtaking effects: the Christmas tree that grows to an impressive 40 feet, Marie's magical spinning bed, and the stunning, swirling snow scene. Click here to find a participating movie theater near you—then, go grab some popcorn.
Oct. 20, 2017 09:00AM EST
New York City Ballet in Marc Chagall's costume designs for Balanchine's "Firebird."
I am a self-confessed costume nerd who really needs little persuasion to travel nearly 3,000 miles to see a costume exhibition—which is what I did when I set off for California for the new exhibition at Los Angeles County Museum of Art: Chagall: Fantasies for the Stage. I knew Marc Chagall primarily for his sumptuous blue swirling paintings featuring violin-playing goats, his incredible ceiling at the Paris Opéra's Palais Garnier, and murals at the Metropolitan Opera House in New York City, so I was intrigued to see his work with ballet.
Marc Chagall (1887–1985), was born Moishe Zakharovich Shagal in Belarus. He later moved to St. Petersburg, Russia, to study art, apprenticing under famed Ballets Russes designer Leon Bakst. Chagall's work in ballet and opera, however, did not begin until he and his wife Bella arrived in the U.S. as World War II refugees in 1941.
Chagall: Fantasies for the Stage, adapted from an earlier exhibition at the Montreal Music of Art and curated by Yuval Sharon and Jason H. Thompson, is an exciting opportunity to see 41 costumes and nearly 100 designs. But it is the costumes that really steal the show. You won't see any tutus here, but instead amazing, almost cartoon-like realizations of Chagall's artwork. LACMA's exhibition runs through January 7, 2018. For those of you who can't make the trip like I did, here's a rundown of highlights.
Keep reading...
Show less
Arthur Mitchell. Photo by Eileen Barroso, Courtesy Columbia University.
When American Ballet Theatre soloist Calvin Royal III and New York City Ballet soloist Unity Phelan burst into the opening diagonal of George Balanchine's Agon on Monday, they had reason to be nervous. Sitting in the downstage corner of Columbia University's Miller Theater—precisely where they'd need to spot their pencil turns—was Arthur Mitchell, the Dance Theater of Harlem co-founder and longtime director who originated the male role at NYCB in 1957. It was a rare and exciting moment of the future meeting the past. (Royal later described the experience as "surreal.") The two dancers, who had been coached by former NYCB principal Heather Watts, gave an electric and intense performance. Afterwards, Mitchell turned to the audience from his blue leather chair and smiled. "I would say it's in good hands."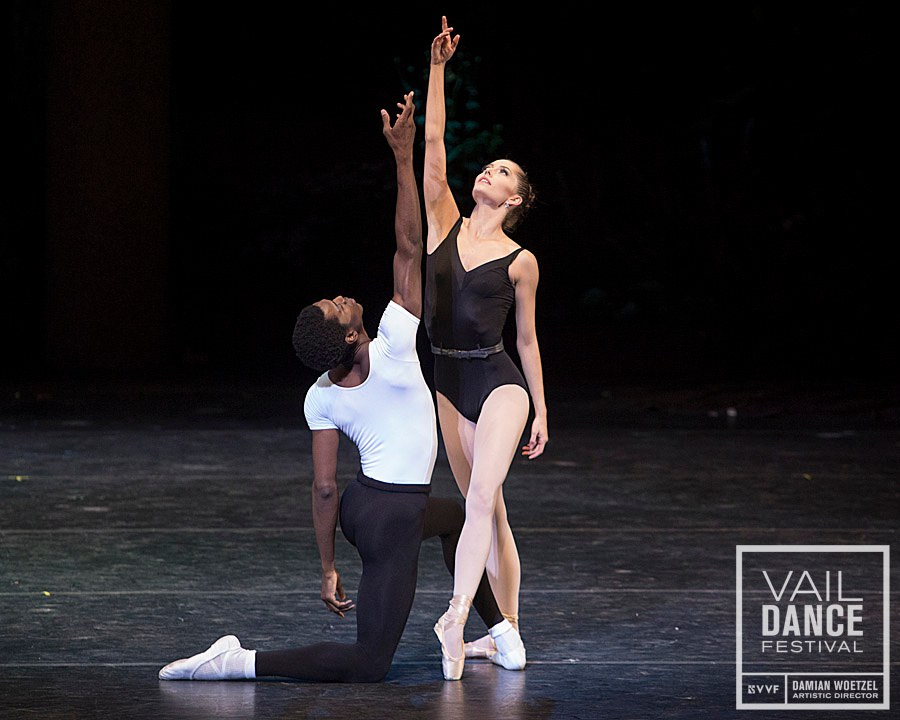 Royal III and Phelan performing "Agon" during the Vail Dance Festival. Photo by Erin Baiano, Courtesy Vail Dance Festival.
Their appearance was part of "An Informal Performance on the Art of Dance," an evening directed by Mitchell to celebrate both his legacy and the Arthur Mitchell archive at Columbia's Rare Book and Manuscript Library. (The first exhibition featuring Mitchell's donated archives will be on display at Columbia's Wallach Art Gallery January 13–March 11, 2018.) A slew of guest artists came together for the program, which included works by Balanchine, Alvin Ailey and Mitchell himself (including his South African Suite and Rythmetron).
Keep reading...
Show less
Violette Verdy coaches PNB principal Elizabeth Murphy in "Emeralds." Photo by Lindsay Thomas, courtesy PNB.
This year marks the 50th anniversary of George Balanchine's Jewels, and companies around the world are paying homage. While last summer's Lincoln Center Festival collaboration with New York City Ballet, Paris Opéra Ballet and Bolshoi Ballet was all glamour and excitement, Pacific Northwest Ballet is taking a reverential look back in advance of its opening performances next week.
In 2014, PNB artistic director Peter Boal invited four stars of Balanchine's original 1967 cast—Violette Verdy, Mimi Paul, Edward Villella and Jacques d'Amboise—to coach the company in their signature roles. And, thank heavens, they captured it all on film. This 20-minute promotional documentary offers priceless footage of them in rehearsals, interviews and lecture demonstrations, offering fascinating insights into Balanchine's creative process and original intentions.
Keep reading...
Show less
Alicia Alonso in "Giselle." Photo by Frank Alvarez, Courtesy Dance Magazine Archives.
Over the years, many companies have premiered works or made their U.S. debut at the Jacob's Pillow Dance Festival, and some of the world's most famous ballet dancers have performed there. This week I will give some more insights from the Pillow's extensive archives into the dancers that have graced this world famous festival's stage. Click on the links below to watch video footage of their performances.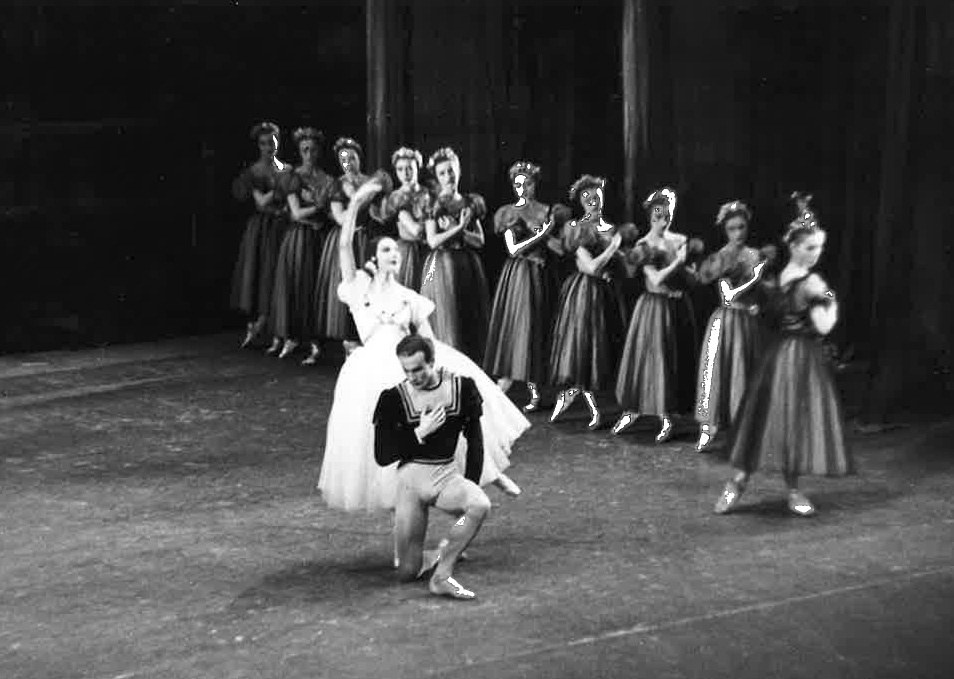 Alonso and Bruhn performing "Giselle" in 1955. Photo Courtesy Dance Magazine Archives.
Keep reading...
Show less
Photo by Paul Kolnik, Courtesy NYCB.
George Balanchine's glamorous three-act Jewels celebrates its 50th anniversary this year. Three New York City Ballet stars share their insights on their signature roles in "Emeralds," "Rubies," and "Diamonds." Here's Tiler Peck on "Emeralds."
I think "Emeralds" is more of an acquired taste than "Rubies" or "Diamonds." There aren't really any difficult steps, but it's extremely hard to pull off because of its simplicity. You can't just "sell it." But the musicality and simplicity come together so perfectly to make it dramatic and sweeping, and just so much fun to dance.
Keep reading...
Show less
popular
Jul. 20, 2017 02:00PM EST
Former New York City Ballet principal Suzanne Farrell is famous as George Balanchine's muse, yet Balanchine wasn't the only choreographer whom she inspired. In 1984 her then-husband, Paul Mejia, also a former NYCB dancer, created a piece for her called Eight by Adler, a jazzy ballet set to the music of Richard Adler. Beginning at 0:45 after a short intro, Farrell performs the first movement in this clip from the ballet's premiere with the Chicago City Ballet.
The slender, long-limbed Farrell saunters across the stage, at moments giving the audience playful smiles and sideways glances. The choreography feels improvisational, befitting Farrell's proclivity for off-balance, suspended movement. With a full jazz band onstage, the music is equally the star in this solo. Even though the slow and sultry piece is a far cry from Balanchine's fast footwork, Farrell's mesmerizing performance in
Eight by Adler
is a stunning example of Mr. B's famous slogan: "See the music, hear the dance." Happy #ThrowbackThursday!
NYCB in "Rubies." Photo by Paul Kolnik, Courtesy NYCB.
"The whole thing was—I like jewels," the choreographer George Balanchine told an interviewer in the spring of 1967, when asked about his newest creation for New York City Ballet, a triptych called—what else?—Jewels. He had his photograph taken while gazing appreciatively at Van Cleef & Arpels designs, or surrounded by ballerinas wearing bejeweled headpieces and gem-toned costumes by Karinska. Balanchine had an instinct for promotion; the ballet was a huge success and is still regularly performed by NYCB and other companies around the world. At the Lincoln Center Festival this summer (July 20–23), 50 years after the first performance, three companies—the Paris Opéra Ballet, NYCB and the Bolshoi Ballet—will join together to perform it in a single night. The French will dance "Emeralds." On different nights, the Russians and the Americans will alternate in "Rubies" and "Diamonds."

This seems appropriate, as each of Jewels' sections alludes to a different style of ballet: French, American, Russian. Ballet was born in France. More importantly, France is where Romantic ballet, with its feather-light technique and delicate, wafting arms, was refined. (Think La Sylphide and Giselle.) The next chapter of its development took place in Russia, where ballet acquired its grandeur, thanks to the imagination of Marius Petipa and the splendor of the Imperial Theatres. After the Russian Revolution of 1917, this world disappeared. Balanchine, along with many others, left the country, bringing his ideas about ballet to Europe and later to America, or, more precisely, to New York City.
Keep reading...
Show less
May. 18, 2017 02:59PM EST
Olga Smirnova and Semyon Chudin in "Diamonds." Photo by E. Fetisova, Courtesy Bolshoi Ballet
In November, Lincoln Center announced that three of the world's biggest companies—New York City Ballet, Paris Opéra Ballet and the Bolshoi Ballet—would present a collaborative performance of George Balanchine's Jewels July 20–23 in honor of the ballet's 50th anniversary. Each company will take an act, with the Paris Opéra performing "Emeralds" and NYCB and the Bolshoi alternating performances of "Rubies" and "Diamonds." Yesterday, Lincoln Center finally announced what we've all been waiting for: the all-star cast list. (As well as rising stars–Alena Kovaleva and Jacopo Tissi, two young Bolshoi corps members, are slated to dance the leads in "Diamonds" for one performance.) Check out the list below this trailer!
Keep reading...
Show less
Via YouTube
Known for her long limbs and leggy grace, Tanaquil Le Clercq was one of the most transcendent American ballerinas of her generation. George Balanchine's fourth and final wife, Le Clercq was an inspirational muse for both Balanchine and Jerome Robbins, who choreographed Afternoon of a Faun for her in 1953. The ballet, described as "a chance encounter between two young dancers in a studio," is dedicated to Le Clercq, who shines in this 1953 clip alongside partner Jacques d'Amboise.
Keep reading...
Show less
News
Nov. 30, 2016 10:06AM EST
George Balanchine's Jewels, a glittering three-act, plotless ballet that many consider one of the choreographer's most revered masterpieces, turns 50 next year. In honor of its anniversary, Lincoln Center announced this morning that three of the world's most prestigious companies—New York City Ballet, Paris Opéra Ballet and the Bolshoi Ballet—will share the stage in a historic series of performances at the Lincoln Center Festival, July 20-23, 2017. An international press conference was held this morning on Facebook Live, with company directors Peter Martins, Aurélie Dupont and Makhar Vaziev answering questions from their respective offices.
NYCB in"Rubies" from Jewels. Photo by Paul Kolnik, Courtesy NYCB.
The collaboration makes complete sense: When Balanchine choreographed Jewels in 1967, each act not only represented a different gemstone, but a distinct era of ballet from the three countries that shaped his career. The first act, "Emeralds," set to music by Gabriel Fauré, recalls dreamy French Romanticism; "Rubies," with its jazzy Stravinsky score, represents fast-paced American wit and modernism; and "Diamonds," danced to Tchaikovsky, celebrates the grandeur of Russian Imperial ballet.
The Bolshoi Ballet's Olga Smirnova and Semyon Chudin in "Diamonds." Photo by E. Fetisova, Courtesy Bolshoi Ballet.
On opening night of the Lincoln Center Festival, the Paris Opéra Ballet will dance "Emeralds," NYCB will do "Rubies," and the Bolshoi will perform "Diamonds." (On subsequent performances, NYCB and Bolshoi will alternate between the second and third acts.) Casting will be announced at later date, but with a lineup like this, it's sure to be an unforgettable celebration.
For more news on all things ballet, don't miss a single issue.
Joaquin de Luz in Prodigal Son
Photo by Paul Kolnik, Courtesy New York City Ballet
As told to Amy Brandt by Joaquin De Luz

Prodigal Son is the most important role of my career, and the most challenging. It's not only powerful physically; it takes you on a journey, and hopefully you take the audience with you. It's also pretty elusive; I still haven't found a formula that I'm content with.
The beginning feels most natural to me. I was a bad kid growing up, very rebellious. The son feels oppressed, like no one understands him. He thinks he knows best. That first entrance is full of power, big jumps and energy. That's the easy part. But the value of this role is in the character and the story.
Keep reading...
Show less
Views
Nov. 02, 2016 04:45PM EST
For American audiences, Balanchine's "Rubies" is instantly recognizable. Cuban audiences, though, have never seen the iconic work, due to over five decades of severed diplomatic relations with the U.S. That will change this Sunday, when Beckanne Sisk and fellow Ballet West principal Christopher Ruud perform the saucy, showy "Rubies" pas de deux at the International Ballet Festival of Havana gala. Pointe spoke with Sisk about making dance history.
Sisk in Balanchine's "Rubies." Photo by Luke Isley, Courtesy Ballet West.
You're no stranger to galas, but do they make you nervous? 
It's not a whole production, so I feel a lot of pressure to do well in those nine minutes. But it's also very exciting. I feel comfortable with "Rubies," and I'm so honored to be the first to dance it in Cuba.
How do you think the audience will receive this pas?
I feel like this is the perfect pas de deux to take because they love exciting dancing. This pas has a whole lot of everything in it!
How does "Rubies" continue to challenge you?
I'm learning to be able to throw myself and do all these crazy things while keeping the technique. I have to be poised and together in my core while throwing my limbs, so I'm finding that balance.
What do you like about the role? 
There are no limits. It's all just power and go, go, go—there are no rest steps, and you do everything to the fullest. It's very showy, but it's all fun, feel-good steps.
Besides performing, what else are you looking forward to doing in Cuba? 
I've never been to Cuba, so we're gonna try and do some touristy things. I'd like to see some cool cars, and the food—I can't wait to try the food! We'll also get to take company class [with the National Ballet of Cuba]. I'm really, really excited about that.
For more news on all things ballet, don't miss a single issue.
News
Oct. 17, 2016 02:07PM EST
George Balanchine's Gounod Symphony is one of those ballets that seems to have fallen through the cracks, for no good reason. This 25-minute work, set to Charles Gounod's lively first symphony, has largely faded from popular repertoire. (It was last performed at New York City Ballet in 1993, and by the School of American Ballet in 2007.) But this fall, The Suzanne Farrell Ballet is bringing Gounod back. It will receive its company premiere October 21–23 at the John F. Kennedy Center for the Performing Arts.
The Suzanne Farrell Ballet in rehearsal (Courtesy The John F. Kennedy Center for the Performing Arts)
At its premiere in January 1958 at New York City Center, its cast of 32 was led by Maria Tallchief and Jacques d'Amboise. But the dancer most closely associated with the lead ballerina role was the French-born Violette Verdy. This makes sense, since there is something very French about Gounod, a kind of brilliance and formality associated with the Paris Opéra. (Some have linked it to Symphony in C, also set to French music.) Its choreography overflows with brilliant patterns made up of clean, bright, intercrossing lines. Verdy compared it to the gardens of Versailles, and, in fact, the sets designed by Horace Armistead had a garden theme; they were originally used in NYCB's production of Antony Tudor's Jardin aux Lilas. For The Suzanne Farrell Ballet premiere, however, the ballet is getting a new look. Though she won't reveal any details, Farrell says the concept "will allow us to see the choreography better."
Farrell will be staging it, though she never danced it herself. Her tools are "an old, silent archival video in black-and-white" starring Diana Adams and Jacques d'Amboise, and of course the Gounod score. (She staged the ballet once before, for the School of American Ballet, in 1991.) Since there were no archival videos of the ballet on YouTube for her dancers to study, everyone in the room was seeing the steps for the first time, as if it were a new ballet. As she puts it: "It's almost as if the ballet were being created now by Mr. B."
Not long ago, for World Ballet Day (Oct. 4), the company filmed an open rehearsal:
It turns out that the premiere will also be a kind of farewell. Recently the Kennedy Center, which funds The Suzanne Farrell Ballet, announced that the company will disband after final performances in December, 2017. Farrell's role at the Center hasn't been fully defined, but she will continue to serve as a teaching artist as part of the Center's expansion, which includes new studios, a lecture hall and more. She's not wistful, but, as she recently told The Washington Post: "I'm very proud of my dancers and everything we've done, and I'm grateful for that." —Marina Harss
Views
Sep. 21, 2016 04:15PM EST
Imler in Balanchine's Symphony in C. Photo by Angela Sterling, Courtesy PNB.
Pacific Northwest Ballet's season opener also marks principal Carrie Imler's return to the stage after becoming a new mom. Pointe spoke with her about reprising the principal role in the first movement of Balanchine's dazzling Symphony in C.
How would you describe the ballet to someone who's never seen it before?
It's beautiful. It's so classical with its white tutus. It's almost what every little girl would imagine ballet as. You know, tutus, pink tights, lots of girls onstage. This is that.
What's it like returning to something that you danced years ago?
Well, I'm just coming back from pregnancy leave, so that's put an interesting aspect on it. But it's amazing how quickly things that are stored in your brain come back as a dancer. I was really worried about the preparation time for it, having been off over a year, so I started working on it a little early while the company was at Jacob's Pillow this summer.
Do you have a favorite part of the ballet?
I love our first movement in general. I just think it's so beautiful. The funny thing is it was not a part that I ever thought of myself in. The last time we did the ballet, I also did third movement, which is lots of jumps and more my style, like the physical roles that I do so much. When I was cast for first movement, I was kind of shocked. It's nice to work on something that's not your typical, fast petit allégro and footwork. It's great to know that I don't have to be known just for my jumps.
What about the technical aspect of the work?
Symphony in C is a very technical ballet. But last time we did it, I think I was trying to be so precise that it lacked feeling. I'm working on making it more fluid and being more expressive with my upper body and arms.
Balanchine is known for his musicality. What's your approach?
Musicality is a big, big thing for me. I think it really can ruin the ballet if you're not on the music. There's always a little bit of play, especially as a principal, with how you interpret it, but I'd tell dancers to listen to the music and think about how the steps fit with it. With Balanchine, they just do.
See PNB in performance, Sept. 23-Oct. 2, in its Tricolore program, featuring Symphony in C and Benjamin Millepied's 3 Movements and Appassionata. Plus, catch a live-stream of Millepied rehearsing the company tonight, Sept. 21, at 6:30 pm PST.
News
Aug. 24, 2016 05:48PM EST
This week, there's a whirlwind of dance in the Windy City. The annual Chicago Dancing Festival, celebrating its 10th anniversary this year, opened last night at the Auditorium Theater with glittering performances by the Joffrey Ballet, Martha Graham Dance Company, Pennsylvania Ballet and Daniel Ulbricht's Stars of American Ballet. The festival continues through Saturday, with performances held at multiple theaters and parks across the city. While all shows are free, tickets for indoor performances went on "sale" in late July—and sold out fast.
Lillian Di Piazza and James Ihde in Concerto Barocco. Photo by Alexander Iziliaev, via PA Ballet.
Francesca Hayward as Juliet. Photo by Alice Pennefather, Courtesy ROH.
But don't worry, Chicagoland ballet lovers: No tickets are required for the festival's outdoor Dancing Under the Stars program, held at Jay Pritzker Pavilion in Millennium Park on August 27. The evening includes the Joffrey Ballet in Christopher Wheeldon's After the Rain, Pennsylvania Ballet in George Balanchine's Concerto Barocco and Hubbard Street Dance Chicago in William Forsythe's One Flat Thing. Newly minted Royal Ballet principal Francesca Hayward and soloist Marcelino Sambé will be there, too, dancing the pas de deux from Sir Kenneth MacMillan's Romeo and Juliet (a role Hayward talked about in our February/March cover story). The show also includes Chicago Dancers United, a collective of local dance companies which work in tandem with Dance for Life, to raise funds for critical health issues like HIV and AIDS. They'll be performing in a new work by Chicago-based choreographer Randy Duncan. The festival closes with Rennie Harris' Students of the Asphalt Jungle, performed by his hip hop company, Rennie Harris Pure Movement.
Stake out a spot early—the performance starts at 7:30 pm, but fixed seating at the Pavilion is first come, first serve. There is also lawn seating available. For more information, click here.
For more news on all things ballet, don't miss a single issue.
News
Mar. 29, 2016 06:06PM EST
When we first reported on Miami City Ballet's redesign of George Balanchine's A Midsummer Night's Dream, we were, to be totally honest, mostly interested in seeing the costume for the character Bottom. Why? In the MCB production, which places Oberon and Titania's kingdom underwater, Bottom is a manatee rather than a donkey. We needed to see that.
Now, for the big reveal. And he's every bit as silly and adorable as you might imagine.
(Simone Messmer and Didier Bramaz, photo by Gene Schiavone)
In addition to Bottom, the redesigned costumes—which were created by Miami Beach–born artist Michele Oka Doner—all featured underwater elements. Titania's tutu is adorned with what appears to be feathery seaweed, while Hippolyta is crowned with gold coral.
Enjoy!
(Simone Messmer and Reyneris Reyes, photo by Gene Schiavone)
(Jordan-Elizabeth Long, photo by Gene Schiavone)
For more news on all things ballet, don't miss a single issue.
News
Dec. 01, 2015 05:02PM EST
Rehearsing Symphony in C with Tanaquil LeClercq and Francisco Moncion (photo by George Platt Lynes)
Elizabeth Kendall's book Balanchine and the Lost Muse: Revolution and the Making of a Choreographer
has inspired a George Balanchine biopic, to be produced by Gulfstream Pictures.
The book focuses on Balanchine's early life, and his friendship with Liidia (Lidochka) Ivanova, who died days before the two were scheduled to leave Russia together. The book covers the years immediately before the Russian Revolution in 1917 and ends in 1924, when Balanchine left the country.
Zippora Karz, a former New York City Ballet dancer, will serve as executive producer. With her expertise and the foundation of Kendall's research, this film has the potential to be very interesting.
For more news on all things ballet, don't miss a single issue.


Get Pointe Magazine in your inbox