Maria Kowroski
Principal, New York City Ballet
I had to learn to stay focused on myself, and not let other people's successes and opportunities interfere with my own life. Being too focused on other people can give your career a negative twist. Everyone has his or her own path. I really struggled with perfectionism, too. If I made mistakes back then, I would get angry. That doesn't do you any good. Now I know if I make some mistakes, but the feeling was there, it can still be a good performance. Once I let perfectionism go, I danced much better and enjoyed performing more.
Ballet can be too all-consuming. Expose yourself to a wide sector of the arts. I wish I had done more of that as a young dancer. Go to opera, musicals, plays, other art forms besides ballet—that can really enhance your artistry. You might even see someone performing at a high level make a mistake. It's important to realize we are all human, and mistakes are part of that. This is a live art form and anything can happen. It's okay to mess up. Don't beat yourself up over it. We will always have time to practice and work on ourselves.
Ashley Murphy
Dance Theatre of Harlem
I spent too much time looking in the mirror and judging myself, which comes from insecurity. I had this idea of what I was supposed to look like. Now I understand that everyone's body works differently, and that movement often feels better than it looks. Part of being in a company is about playing off our strengths and weaknesses.
I could have benefited from knowing more about cross-training, too. I had to wait to get injured to figure that out. Now I alternate between swimming, the treadmill and the elliptical, along with lots of core work, and I feel so much stronger. In the early part of my career, I also let others push me too hard. Our bodies tell us when they need to rest and we had better listen.
As for those heading out on a career: Learn to strive, but within reason. Be true to yourself, and encourage others. Don't bother with the petty stuff—it isn't worth it. Your company is like a family; these are the people you depend on. Don't lose the connection with those around you. 
Amy Aldridge
Principal, Pennsylvania Ballet
First, you need to be 100 percent behind the decision to go for a career, and not contemplate whether it's something you should be doing. You need total confidence.
That said, I wish I had known how to pace myself better. Sometimes less is more, especially when approaching rehearsal. I was working too hard, and it wasn't necessary—I punched everything with such high energy that by the end of the day I was exhausted. Using less energy actually made the movement more appealing. Throughout my career, I have had to learn to dance with a little less, a little softer, a little under. I had to work hard to find balance both inside and outside of the studio: diet and nutrition, my energy, my emotions. I tried to build myself too quickly. You don't have to throw yourself into everything.
Also, you should be totally prepared when doing a new ballet or meeting a new choreographer. Do your homework. I research their work, study their ideas, look at what they have done before and who danced in the original work. I want to know where their head is at.
Simon Ball
Principal, Houston Ballet
I was way too impatient as a dancer. I wanted to jump higher, do more turns and so on. I should have been more patient so that I could develop my placement. When I broke my ankle nine years ago, I realized I had been doing things incorrectly for a long time. I had to go back and correct many of the inadequacies in my technique. I have much better hip placement now.
I also needed to learn to be respectful of older dancers. You have to modulate respect and ambition. I got caught up in "back of the room" chatter, be it talking about other dancers or jealousy. That can be toxic. Luckily, I snapped right out of it when I realized it was a waste of time.
Dancers need to be on simmer all the time, be on the ready. Run things through your head. A big break might happen if someone is injured, so you need to be totally prepared. There's no such thing as being too prepared—you are always on the brink of being recognized.
Natalia Magnicaballi
Ballet Arizona; principal, The Suzanne Farrell Ballet
If I have to think of something that surprised me the most, I could say the "politics" inside companies when I came to America to audition. I entered company life when I was 15 years old in Argentina and went through the ranks very quickly. I think I was very naïve, thinking that being a great dancer was enough. I didn't understand that there were other factors, like a company's budget, who you know, height requirements, egos—things beyond your control—that can get in the way. I think it's like that in any other profession, but when you start so young, it's kind of surprising and hard to understand at first. Knowing that now, I wish I had not been so hard on myself. Some things are not meant to be.
I always followed my instincts. As a young dancer you have to ask yourself what kind of ballets you'd like to dance. And figure out what is more important for you: to go through the ranks in a big company or be part of a medium-size company that doesn't have ranks but gives you more opportunities to dance.
If you've been keeping up on developments in the ballet world, you've probably had cause to ask: Where are the female choreographers?
"I get asked to do interviews a lot because of that question," says Emery LeCrone, a freelance choreographer and dancer based in New York City, "instead of just to talk about my work."
The skewed ratio of male to female ballet choreographers has long been established, inspiring countless distraught—and necessary—conversations and articles (including in this magazine). The reasons for this imbalance—why more men than women are making work at top companies like New York City Ballet and American Ballet Theatre—run deep, rooted in an ethos of conformity that follows female dancers from their first ballet class to the white acts of Swan Lake. Men, being a rarer breed in ballet, tend to get more specialized treatment from a young age. And at the professional level, women often rehearse longer hours (think of all the story ballets with multiple scenes for the female corps), giving them less time, energy and mental space to make their own work.
Yet in addition to women like Crystal Pite, Jessica Lang and Aszure Barton—who have choreographed for the likes of Pacific Northwest Ballet, the Joffrey and ABT—a young crop of female ballet choreographers is steadily gaining recognition. Pointe talked with three up-and-coming artists—Gabrielle Lamb, Gemma Bond and LeCrone—about their artistic paths, current projects and how they balance their dual lives as choreographers and dancers.

Gabrielle Lamb
Gabrielle Lamb recalls a time, before she began to choreograph, when "improvisation" was a foreign concept. "I remember asking one of my colleagues, who was doing improv onstage, 'What if you don't know what to do next?' " she says.
At 39, having created pieces for Ballet Memphis, Milwaukee Ballet and Hubbard Street 2, among other companies, she's put that question behind her. Since choreographing her first solo in 2003, while dancing with Les Grands Ballets Canadiens de Montréal, Lamb has discovered the delights of making in the moment. It was improvising that initially drew her to choreography. "I realized that maybe my body had ideas that my head didn't understand," says Lamb, who received a 2014 Princess Grace Award for Choreography. "There's this spinal intelligence where certain things come from."
Now she often begins a process by filming her own improvisations. "I'm interested in how energy flows through the body," she says, "and how the body language we use everyday could be magnified or distorted into dance." As a freelance artist, she devotes most of her time to choreographing on others, though she continues to stay active as a dancer. Through a New York City Center fellowship last year, she commissioned a solo for herself, by Adam Barruch, while also creating new work for a group of dancers she auditioned and hired.
Her advice to young choreographers? "Don't feel like you have to have everything figured out before you start. I think that's what held me back for so long. I didn't understand that you have to start something without knowing where it will end."
Upcoming project: A premiere for Royal Winnipeg Ballet's Q Dance series, June 10–12.

Gemma Bond
Growing up as a student at The Royal Ballet School, Gemma Bond was, in her own words, "not very assertive"—except when it came to choreographing. Cast in her peers' work for the school's choreography competitions, she often found her 11-year-old self saying, "No, no, no—this way would be better."
"I thought, I'm becoming one of those really annoying people," she laughs, "so maybe I should just choreograph my own piece."
That creative spark has flourished during her time at ABT, where she joined the corps in 2008. She has participated several times in The Innovation Initiative, a series for emerging choreographers organized by David Hallberg and Kevin McKenzie, in addition to making pieces for New York Theatre Ballet, Youth America Grand Prix and Intermezzo Dance Company, a fledgling troupe founded by ABT soloist Craig Salstein. Her latest accolade is a fellowship from the New York Choreographic Institute—"the most exciting thing that's happened to me," she says—which comes with space, time and a stipend to do whatever she pleases. She's planning a ballet version of Shel Silverstein's The Giving Tree, which she'll unveil at an invite-only showing in April.
Bond, 32, describes herself as "very content to be in the corps de ballet." She pushes harder for choreographic opportunities than she does for star roles, and while some dancers spend the off-season guesting with other companies, she spends hers in the studio. Despite flirting with contemporary moves, she always comes back to a more classical vocabulary. In that vein, she aspires to create a large-scale work for a female corps. "I've always been extremely proud of the corps de ballet," she says. "I get very excited by dancing with my friends, when we're bang-on and our lines are amazing. It's an incredible feeling."
Upcoming project: A new work for New York Theatre Ballet, June 18–20.


Emery LeCrone
At 28, Emery LeCrone has a chock-full resumé. Her crisp, geometrically inventive style has earned her commissions from Oregon Ballet Theatre, Colorado Ballet, Saint Louis Ballet, Charlotte Ballet, the National Choreographers Initiative, Juilliard and the Guggenheim's Works & Process series, to name just a few. She also dances with the Metropolitan Opera, a steady gig that gives her both the stability and flexibility to choreograph.
The challenges LeCrone faces, she says, have more to do with being a freelancer than with being female. "I'm just trying to get consistent work, and that has nothing to do with whether I'm a woman or a man."
LeCrone got an early start when, as a 19-year-old student at North Carolina Dance Theatre's Chautauqua Summer Dance Festival, she was required to choreograph. Quite simply, she says, "I loved it." Both she and Bond encourage young artists to generate as much work as possible—even if that means just noodling around in the studio and inviting friends to watch. "The number one thing is to keep making it and putting it out there, and things will happen," LeCrone says.
Having made a lot of "15-minute concert dance and 5-minute pas de deux," LeCrone wants to move toward creating longer works with larger casts. She also hopes to collaborate with a composer. While music is one inspiration for her, she gets most excited when talking about her dancers—their backgrounds, personalities, idiosyncrasies. "What inspires me most is being in the studio with them," she says. "When I choreograph a piece, it's about the people who are in it. It's about how we relate as human beings."
Upcoming projects: YAGP Gala, April 16; evening-length program for the Joyce Theater's Ballet Festival, Aug. 13–14. P

Siobhan Burke writes about dance for The New York Times and Dance Magazine.
A striking dancer with ultra-classical elegance, Joy Womack, who turns 21 in April, is the first American woman to graduate from the domestic program of the Bolshoi Ballet Academy in Moscow in over 60 years. She was immediately placed in the school's Russian classes, as opposed to its foreign program, which is unusual for an international student, and stayed for three years. After graduating in 2012, she joined the corps of the Bolshoi Ballet, but after a year and a half was invited into the smaller Kremlin Ballet as a principal. There, she was given the opportunity to dance Aurora and Giselle. Wendy Perron, editor at large of Dance Magazine, caught up with her by phone.
What attracted you to the Bolshoi training?
It was the acting, the sheer rawness, the power, and the focus on being yourself, portraying in dance how your soul looks on the inside.

Technically what's been the hardest thing for you?
I really struggled because I didn't have the Bolshoi foundation when I went there at 15. The first through fifth classes in the Russian school are where you learn to turn out correctly. It's not something you learn overnight. Every day I think about rotating the entire leg, about circular motion going upward. You have to pull up out of the vertebrae in your lower back and send rotational movement through your hips.

How long did it take you to learn Russian?
I understood class and corrections within the third or fourth month, but those first six months were very difficult.

When you were at the Bolshoi Ballet Academy, was it your dream to dance with the Bolshoi?
The first time I danced on that stage something happened to me. I just wanted to dance there. It was a desire that obsessed me in the worst way. I got the opportunity to do it and I'm so grateful for that.

What do you miss most about the U.S.?
Everybody dances there because they love it. It's an incredible thing to come to class and everyone is smiling, laughing, cracking jokes and not afraid to be themselves. Sometimes it makes me sad when I come back home and take class with my old studios in California. You have to pay so much more to become a professional dancer in the States that when you do get there, everybody's very happy to have made it.
What are the advantages to dancing with a smaller company like Kremlin Ballet?
Compared to an American company it's relatively large, at 110 people. I have a teacher, Zhanna Bogoroditskaya, who is very devoted to me. There's an opportunity to do outside things because the schedule isn't always heavy. Right now I'm developing an energy bar for dancers [soon available at theprimabar.com] and also working with amazing video artists. At the Bolshoi, you're there from morning till evening, so you have less free time to do things like that.

Zhanna was coached by the great Ekaterina Maximova. Do you get a sense of history?
Yes, especially when she talks about fingers. "Fingers should never end, fingers should go on for ever and ever. If your fingers are ending, then what you're saying is ending." It's almost like Maximova is speaking through her.

Do you have a regular partner?
Mikhail Martinyuk. We dance a lot together. He's been a huge mentor for me. Especially when Zhanna isn't here, he takes class right by me and gives me corrections. In April we will probably do Swan Lake together.

What advice would you give a young American dancer who wants to train at the Bolshoi?
Don't look to the big names, look at what works for you. For example if you didn't get into the Russian classes, maybe your teacher in the foreign classes is better because she cares about you. It's more about personal relationships.
All photography by Quinn Wharton.
Before Balanchine and Petipa, there was Bournonville. A key figure of ballet's Romantic era, August Bournonville directed the Royal Danish Ballet for 43 years during the 19th century, choreographing around 50 ballets. After his death, his successors codified his teachings into a formal pedagogical method that's still used at the Royal Danish Ballet School today. Bournonville's distinct style—highly intricate petit allégro, low and rounded port de bras, a head that follows the leading leg—aligns with his credo, in which he states that "the height of artistic skill is to know how to conceal the mechanical effort and strain beneath harmonious calm."
While only about a dozen of Bournonville's works exist today, RDB has gone to great lengths to meticulously preserve them. They provide an historical snapshot of 19th-century ballet, with heavy use of mime, narrative folklore and a palpable sense of camaraderie among the dancers. "There's a lot of communication with the eyes and with the people around you," says Caroline Baldwin, an American-born RDB soloist. "I get less nervous dancing Bournonville because it's such a community onstage. "
In January, a small group of RDB dancers, led by principal Ulrik Birkkjær, organized a tour to the Joyce Theater in New York City with an all-Bournonville program. "As the only company in the world with Bournonville actively in the repertoire, I felt it was important to keep the tradition going," says Birkkjær. "His work is an antidote to other influences today, focusing on how and why we dance, not 'the bigger, the better.' " In a photo exclusive, Pointe went behind the scenes with the dancers just before opening night.
"The beauty of Bournonville is that it's passed from one person to the other—you take the tradition and bring it to the next generation."
—Caroline Baldwin
"The human aspect is the key to making Bournonville relevant and timeless—the feeling of it. That is my responsibility as an artist today." —Ulrik Birkkjær
All photos by Kyle Froman
"It was perfect," Nina says of her debut as Odette/Odile. It's the last scene of the 2010 psychological thriller Black Swan and these are the last words this character, the ballerina played by Natalie Portman, will ever speak. Her relationship with perfection—physical, technical, artistic—has haunted her throughout the movie and finally, changing from Odile's black tutu to Odette's white one, she pulls a shard of broken mirror from a wound beneath her ribs. Could there be a better symbol for the dark side of a dancer's pursuit of perfection? The studio mirror, so innocent and embracing in those first delightful years of dance class, has become a maddening dagger of constant criticism.
The soprano Maria Callas, revered by generations of opera-lovers, was famously imperfect in her technique and was cherished all the more for it. The pianist Vladimir Horowitz played with such phenomenal elegance and fire that no one cared about the flubs. Most painters, even those with superb draftsmanship, move beyond or beneath correct technique to brushwork of extravagance and strangeness. And a poet like Emily Dickinson, who turned grammar on its ear—who's to say she didn't achieve her own technical perfection, a new grammar created for the bubble of perception in which she lived and wrote?
Keep reading...
Show less
Nathalia Arja photographed by Nathan Sayers for Pointe.
This is Pointe's April/May 2015 Cover Story. You can subscribe to the magazine here, or click here to purchase this issue.
It's the day after Christmas and Miami City Ballet's dancers are taking class onstage in West Palm Beach, where, in a few hours, they will begin the last run of their Nutcracker season. Soloist Nathalia Arja throws herself into a final combination, leaping and turning with abandon in a display of strength and speed that defies the expectations set by her delicate and diminutive body. As she nears the end of the stage, she realizes she's done the wrong step. But instead of slinking off in embarrassment, she throws an arched arm up in a dramatic pose, lifts her chin and flashes a triumphant smile, as if it's what she'd intended to do all along.
That athleticism, energy and confidence have marked Arja's dancing since she came to the U.S. from her native Brazil to study at the Miami City Ballet School at age 15. But it is the honing of those natural gifts under MCB's artistic director Lourdes Lopez that has fostered a more mature poise and polish, earning her the most prominent roles of her still-blossoming career.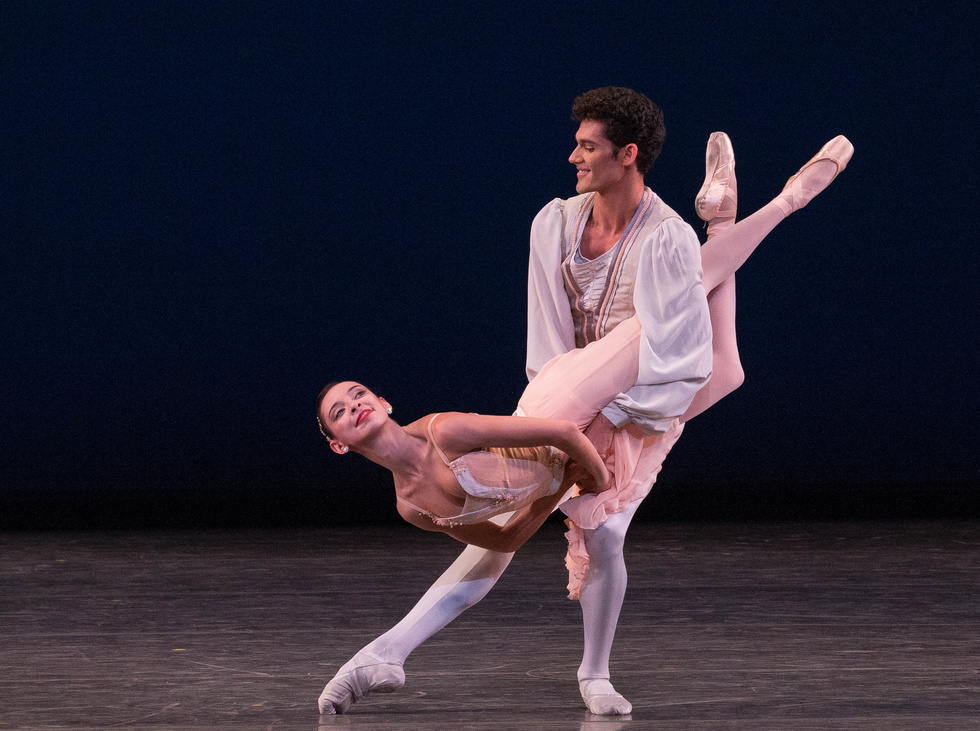 Arja with Renan Cardeiro in "Tschaikovsky Pas de Deux." Photo by Daniel Azoulay, Courtesy Miami City Ballet.
Keep reading...
Show less
A rehearsal viewing can be daunting for any young choreographer. But when the person watching you work is Alexei Ratmansky, one of the world's greatest living choreographers, it could easily be overwhelming.
"We had a five-hour rehearsal, and he sat on the marley and took notes the whole time," recalls San Francisco Ballet corps member Myles Thatcher. The 24-year-old burgeoning choreographer was creating Spectrum on SFB School students for the annual showcase last spring when Ratmansky paid a visit. Thatcher felt nervous, but he needn't have been—Ratmansky had just chosen him for a year of one-on-one mentoring through the 2014–15 Rolex Mentor and Protégé Arts Initiative.
Founded by the Swiss watch company in 2002, the biennial Initiative brings together international emerging and established artists in seven fields, including music, theater and even architecture, for a one-year mentorship. A panel assembled by Rolex selects nominees anonymously, invites them to apply by submitting an essay and video samples, and winnows applicants down to three to four finalists. After an extensive in-person interview, the mentors choose whom they want to work with. (Past choreographic mentors include William Forsythe, Jir?í Kylián and Trisha Brown.) Mentor and protégé then set their own priorities and devise their own schedule. A generous travel budget, plus grants of approximately $25,000 to the protégé and $75,000 to the mentor, to be spent any way they choose, ensures almost total freedom to pursue their goals.
Thatcher, who studied at The Harid Conservatory and privately with Edward Ellison, began choreographing in 2008 as an SFB trainee, and has contributed a piece to the trainee program performances every year since (he joined the corps in 2010). Even his early works showed technical clarity, spare musicality and an inventive, unfussy approach to classical ballet; his 2013 school piece, Stone and Steel, was a turning point, with newly sophisticated partnering and ensemble patterns, organic transitions and asymmetries that surprised the eye.
Stone and Steel went over so well with audiences and critics that SFB artistic director Helgi Tomasson had Thatcher set it on the main company for a summer arts festival in Stern Grove Park. Afterward, he commissioned In the Passerine's Clutch for the 2013 season gala. "Myles has a great sense of space and how to move dancers within it," says Tomasson. "I was surprised when I first saw his work. It was not what you expect from someone young." This year Thatcher has been preparing his first regular-season commission for the company (a piece for 12 dancers premiering in February), so the mentorship with Ratmansky couldn't have come at a better time. "Alexei is not only a great choreographer, but he is a very nice human being," Tomasson says. "Myles is learning from a master."
The adventure began in January 2014, when Rolex flew the three dance finalists to Paris for interviews with Ratmansky. "That alone was an amazing experience," says Thatcher, who got to witness the Bolshoi Ballet's opening night performance of Ratmansky's Lost Illusions. He and Ratmansky established a comfortable personal connection in the interview that followed. "One of the first things we talked about is that we each are our own artists. He is trying to see where I am coming from and help me clarify things through my artistic vision, not his."
Ratmansky agrees. "I learn from him, as well," he noted in an e-mail interview. "I don't know the answers; I just share my observations."
Much of Thatcher's learning has also been by observation. Welcomed into Ratmansky's rarefied world, Thatcher sat in on New York City Ballet's rehearsals of the choreographer's Pictures at an Exhibition and on preparations of By 2 With & From (co-choreographed with Christopher Wheeldon) for Wendy Whelan's October 2014 farewell performance. "Alexei knows what he wants, but is still open to the input of the dancer," says Thatcher. "It is really great to see that somebody is willing to take the time to do that, and respect the dancers as people and as artists." Fairness is a defining theme for Thatcher, who adds, "If I cannot work in a respectful way, I would rather not do it."
Last November, he shadowed Ratmansky and ballet historian Doug Fullington as they set a new reconstruction of Paquita on the Bavarian State Ballet. Thatcher admires the unique balance of classicism and contemporary innovation that makes Ratmansky so relevant. "I love how nuanced his work is," Thatcher says. "Finding clarity in that way is almost the hardest part, but it is exactly what you need to express yourself to your dancers, and to your audiences. Hopefully, I can pick up on that."
Ratmansky is also a role model for handling the stress of a demanding career—and not bringing it into rehearsals. "I tell him about my own difficulties, and how I manage them," Ratmansky says matter-of-factly. "In the studio, you would not know if he is frustrated," Thatcher says, "but he is still very clear about what he wants. That is something that I hope to be good at one day."
As Thatcher prepares for his upcoming world premiere, titled Manifesto, he's kept these inspiring lessons in mind. He and Ratmansky have kept in touch via e-mail and Skype during SFB's busy performance season, but Thatcher hopes to run the piece by his mentor in February, when Ratmansky will be in California putting finishing touches on his new Sleeping Beauty for American Ballet Theatre. Thatcher can think back to their very first feedback session for guidance. "Sometimes the simplest version is the best—how to edit your own work and how to let go of things that are not right, which I am still learning about."
Thatcher already knows that this experience will inform the rest of his career. "A lot of it will not be apparent until later, after I am really able to observe my work." But Tomasson has already seen the changes. "I was in a costume fitting for his new ballet, and seeing him interact with the designer, I immediately sensed a new maturity," he observes. "Myles is growing as an artist."


Devon Carney with Kansas City Ballet dancers Laura Hunt and Travis Guerin. Photo Courtesy Kansas City Ballet.
With so many talented dancers competing for so few company jobs, it sometimes feels like a struggle just to be seen. Rather than pinning a number to their chest, most dancers would prefer to audition privately by taking company class. "In a cattle call you could be thrown out after the first exercise," says Ballet Arizona dancer Amber Lewis, who was accepted into the company after being invited to visit for two days. "But when I took company class I had the opportunity to stay the whole time." There are other benefits, too: Not only do you receive more individualized attention when you audition privately, but you also have a chance to see how the company works up close.
Keep reading...
Show less
What was the appeal of creating your own version of Swan Lake?
I grew up loving The Royal Ballet's staging of it by Anthony Dowell, and then I danced Balanchine's version with the New York City Ballet, with a "white act" I particularly admired. I wanted to remain faithful to the original, but I never felt obliged to be slavishly faithful. So I created the framing device inspired by Degas' paintings, and, in the third act gala scene (which replaces the usual court festivities), I thought about the raunchier work of Toulouse-Lautrec. I even put my own twist on the pas de deux. I just wanted the whole thing to feel less regimented.

What did you see in the Degas exhibition in Philadelphia that impressed you so greatly?
I had seen many Degas works before, but never all in one place, so I'd missed the full scope and richness of them. It's not what you get from reproductions on calendars or mouse pads. Each picture is like a time capsule of that moment in Paris, and a view into the world of a ballet rehearsal. His painting of a wealthy man in a top hat, who seemed to have power over the young ballerinas, felt like a perfect substitute for the usual Von Rothbart, who can be such a ridiculous half-bat/half-bird figure lurking in the swamp like the devil. And it is known that those male "patrons" or "sponsors" did exist at the Paris Opéra Ballet, and expected the ballerina of their choosing to perform offstage as well as onstage.

Have you made many changes in the Joffrey production?
I've tweaked a few things. But perhaps because of my work on the Broadway show An American in Paris, I've really been most focused on having the dancers find the truth in each scene. They're not just ballet boys and girls; they must inhabit their roles as people. And, of course, the Joffrey has a long tradition of dancer-actors.


Dancers are arguably harder on themselves than any other performing artists. And because their instruments are their bodies, that self-scrutiny can become ruthlessly personal. By definition, classical ballet requires adherence to a strict lexicon of rules dictating turnout, elongated lines, balance, ballon, coordination and musicality. Straying from that ideal can lead to a charge of flawed dancing, of not living up to classical perfection. Pointe asked five professional dancers to elaborate on what they regard as their own "imperfections"—physical, technical, psychological or artistic limitations they have overcome to achieve success in their careers. In some cases, they're still working on those problem areas. In others, they have embraced their quirks and learned how to work with them. For most, their imperfections have become blessings in disguise. Without those challenges, they might not have become the dedicated, singular artists they are today.
Lindsi Dec, Principal, Pacific Northwest Ballet
Yielding to Lyricism
For me, one of the biggest challenges is doing softer roles and variations. My personality and energy are very hyper. I love pieces that are punchy, powerful and strong—neoclassical ballets like Rubies. So when I'm faced with a role, like Emeralds or Myrtha from Giselle, it's tough for me to look soft and convey power in a more subtle way. My arms are very angular, my elbows are very pointy, and it's comfortable for me to go out of the classical position and hyperextend my arms.
When I dance these roles I do a lot of studying. I look in the mirror a lot and fix my hands to make them look softer. If I am doing neoclassical rep, I'll really try to be very classical in class to balance it out. I love watching other dancers on videos and YouTube—someone who is my height and my body type—to see how they approach it.
If I look at the casting and see something that looks challenging, I feel
fear and dread at first. But in the end I usually surprise myself and I think, "Well, I can do it!" Every dancer has things they're insecure about. If I only dance the neoclassical stuff that I really like, I wouldn't be pushing myself. I'm glad I have a lot of imperfections, because there's always something to strive for to get stronger mentally and physically. It really is a way to keep growing as an artist.
Jeraldine Mendoza, Joffrey Ballet
Performance Anxiety
I'm never truly satisfied with how I dance. Technically I'm not the strongest turner, and I get extremely nervous before my performances. Sometimes I am just uncontrollable. It was a lot worse when I first joined Joffrey. I've learned to deal with it by setting a routine for myself to calm my nerves. I try to eat a huge meal before the day of my performance. I really hydrate. My boyfriend is into music, so before a big show, I ask him to make me a playlist so I can stay focused with my earbuds in and try to remain calm. I like to listen to upbeat house music, rap and other music—it gets me motivated and pumped.
You have to really intelligently listen to the teachers who have been with you for a while. They probably know you better than you know yourself. My artistic director, Ashley Wheater, trusted me with Balanchine's Allegro Brillante—it has a lot of the ballet vocabulary in it from allégro to adagio within 16 minutes. I think if he trusts me in it, I have to trust myself.
Ashley Ellis Principal, Boston Ballet
Stamina for the Final Push
Thirty-two fouettés at the end of a pas de deux have always been challenging for me. I would say endurance is the hard part. At that point in the coda, you have to give the most energy—ideally, you can't show any weakness. I want it to always look exciting, but I get so tired. When my fouettés don't go well, I get a little bit angry. I'm not scared of them; it's more that I get frustrated that I'm not up to the point strength-wise that I need to be.
But the music helps for these moments of fireworks in a coda. And I try to practice fouettés every day, because the more I do them, the easier they are. There are technical things that have helped me, too, like staying really square. I try to remember to bring my shoulders all the way around each time. My husband, choreographer George Birkadze, helps me by telling me to push with the left side more actively. My coach, Larissa Ponomarenko, always tells me to do higher passés because mine tend to get lower. It's funny how tweaking something so small can make such a big difference.
Vitor Luiz, Principal, San Francisco Ballet
Adherence to Form
Perfection is something we always long for but it's never there. It's like a mirage in the desert. I started in a small school first and I thought I was like Nureyev. I didn't think I had any problems with turning or sickled feet or knees that were never stretched. I didn't realize dancers were doing things that were much more advanced than I was capable of when I got to Rio de Janeiro.
Turns didn't come naturally to me. I tend to lean back, and that is something I had to learn to control. I was lucky because in Rio I found this teacher—my Brazilian mentor, Pedro Kraszczuk—who changed my turns. He didn't want to see me doing 300 pirouettes—he wanted to see the correct position. He taught me how to work in class, how to stretch the working leg and to be in alignment, and where to shift my weight. He would demonstrate in slow motion to help us understand the nature of the step. If I hadn't had that, I would never have made it as a professional.
You have to really trust the person coaching you in order to improve. My teacher taught me that technique is one thing and the other is to be a step-maker. But the most important issue is where you put your focus. Do you want to be a technician or an artist? Or do you want to be both?
Madeline Wong, Cedar Lake Contemporary Ballet
Going for Broke
In contemporary ballet, you have to let your mind be free and assume that the movement might be off-balance or down really low. That was something I had to overcome—to just go for it and not hold back!
At the start of my career, my idea of perfection came from classical ballet technique. But I always had a love for contemporary dance. When I first moved to Holland to study professionally, I was 17, and that's where I really learned that I could use my ballet technique to explore contemporary. As my career went on, I let my body explore where it can go, where it can't go, the power, the quickness of movement or control.
The only thing that still scares me is partnering that is high off the ground. But I've learned that you have to listen to the other person; you have to know their strengths and anticipations. That allows you to know how much you can let go of the movement, to take that extra risk. Imperfection makes everybody unique—that's how we become different dancers. And I think that's more important than becoming the perfect idea we put in our heads.

Joseph Carman is a frequent contributor to Pointe.
Dusty Button photographed by Nathan Sayers for Pointe.
This is Pointe's February/March 2015 Cover Story. You can subscribe to the magazine here, or click here to purchase this issue.
On a rainy October morning, Boston Ballet's Dusty Button sails through a pas de cinq rehearsal for Swan Lake. The variation is long and thankless, full of uncomfortable jump sequences and tricky transitions from pirouettes, yet Button, newly minted as a principal dancer, glides through it sunnily in a trial pair of Bloch pointe shoes. Unusually, she is not winded and is able to joke with assistant artistic director Russell Kaiser as he gives her notes.
"I think I just did a four-step soutenu," she laughs good-naturedly, hands on her hips. "Well, you are always overachieving, Dusty," teases Kaiser, giving voice to what could be the understatement of Button's last few years with the company.

Two catchphrases screen-printed onto the coverups of Button's dancewear line, Ribbon&Rosin, say it all: "Work until your idols become your rivals" and "Remember why you started." At 25, she appears to be following her own advice. After dancing at Birmingham Royal Ballet, Button was hired into Boston's corps in 2012, where she was promoted to soloist and then principal within two years. But her path to the top has been anything but traditional, and shows a keen entrepreneurial instinct that leverages growing up as a competition kid. In addition to designing her clothing line, she is a budding choreographer who teaches at dance conventions on the weekends. Her Instagram feed, at last count boasting 46,400 followers, and her brand-new website, worldofdusty.com, make it clear that she has a vision for branding herself that is more like a young Hollywood starlet than a ballet dancer. From the competition circuit to The Royal Ballet School, Button has grown from a precocious, talented student into a strategic artist and businesswoman.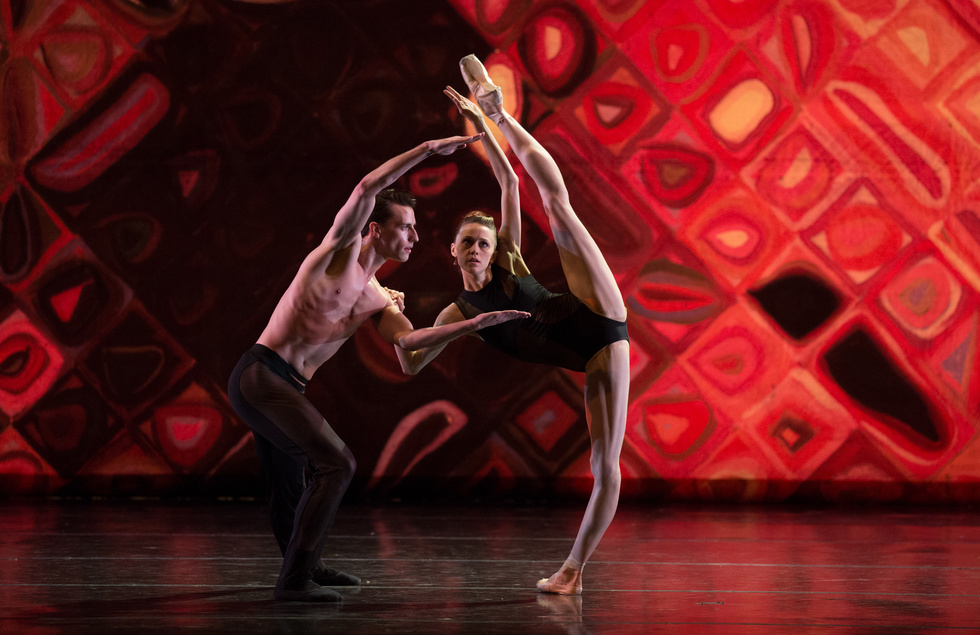 Dusty Button and Bradley Schlagheck. Photo by Rosalie O'Connor, Courtesy Boston Ballet.
Keep reading...
Show less
Whether attacking a new role with gusto or finally finishing that book, dancers are a goal-oriented lot. The New Year is a natural time to reflect on one's life and put forth goals for the season ahead. Pointe spoke with six dancers about their big dreams for 2015—and their plans extend beyond the studio and stage.
Jennifer Kronenberg
Principal, Miami City Ballet
My goal is to complete my 20th season with MCB in one piece, feeling proud and fulfilled. It's a big deal for me. I want to look back and appreciate everything I've done, to take it all in and incorporate everything I've learned. I have to finally finish the book that I'm writing with my husband, MCB principal Carlos Guerra. It's our second book together, and this one is on pas de deux. I also plan to reserve more time to relax with my husband. Since the birth of our now 2-year-old daughter, Eva, it seems that our lives are spent either dancing or with the baby. What happened to that couple? I want to make more time for the two of us.
Yuriko Kajiya
First soloist, Houston Ballet
I left American Ballet Theatre and joined Houston Ballet this season so that I could dance a different repertoire. I want to challenge myself to move to that next level—all of the wonderful ballets that they perform here are new to me, so it's been a huge change. I also want to learn to drive in Houston. I am giving myself two years, though. And, I am terrified. Luckily, people say it's harder to be a ballet dancer than learn to drive. I got engaged to Jared Matthews (HB first soloist) during one of my final performances at ABT, and while I'm not rushed, I think I had better start planning my wedding.
Eric Underwood
Soloist, The Royal Ballet
I'd like to continue exploring the idea of "Who would Eric be as a particular character in a ballet?" It's a very vulnerable place to be in. You're not playing a character, you're putting an aspect of your true self on display and that's special. My overarching goal, though, is to enjoy my dancing. So often, I'm striving so much for perfection that I forget to enjoy the moment. Since I'm often partnering, I've developed dance-based muscles and strength. I need to strengthen the upper body muscles that I don't use as much in dance to create balance. I've recently started a Pilates-based training program, which is improving my core strength and fine-tuning my upper body. As a model with a dance background, I've had a chance to direct a few fashion-related projects. I loved the experience, and it's something that I'd love to explore more in the future. Oh, and I'd like to get a dog.
Maria Chapman
Principal, Pacific Northwest Ballet
After having my daughter in July, my plan (and my goals) are changing. I had all sorts of ideas of what it would be like as a new mom, but she doesn't quite follow my plan. So I'm going to try to have more flexible goals. I want to let the experience of being a mother deepen my dancing. I'm really looking forward to the Forsythe program later this season. I want to channel that super-mom feeling—I don't need sleep! When it comes to Swan Lake, I hope to bring more tenderness to the role of Odette by tapping in to my more sensitive side. My biggest hope for the New Year is to have a good work/life balance, where I have quality time with my baby. These are two similarly fleeting moments in my life: Ballet is a short career where roles only come around so often; and before I know it, my baby will be in college. My goal is to be fully present in my work and home life.
Adji Cissoko
Alonzo King LINES Ballet
I have a goal to follow the news more closely to learn more about what's going on in the world, because it's so easy to get carried away in our ballet world.
I'm determined to improve learning from videos, since we use them a lot in rehearsal. It's already getting better, but I'm still not comfortable with it.
I want to work on my port de bras, so it's still controlled when moving fast. I intend to pay more attention to linking movement, by giving more attention to the in-between steps and by exploring the connection from one movement to another. I also plan to cook a Senegalese meal for my boyfriend. And then there's that acting and salsa class, too...
Rory Hohenstein
The Joffrey Ballet
I hope to learn to be a better partner by being more tuned-in to the emotional core of a piece. I want to focus more on the moment, and not get caught up in the extra things that take away from that experience. I'll be 33 at the end of this season, so it's time to start thinking about what's next for me. I want to be more aware of what interests me, whether it's ballet mastering, maintaining the repertoire or choreography. I also want to see more theater. I've never seen the Steppenwolf Theatre Company in Chicago—I'm absolutely determined to get there this year.Last year's New Year's resolution was to quit smoking and I did it. So this year, I am really going to enjoy my one-year anniversary. That's a goal!
Photo by Paul Kolnik, Courtesy NYCB.
My first year at New York City Ballet, I was brought onboard three days before the "Nutcracker" season opened to replace injured dancers in the "Snow" scene, "Hot Chocolate" and the "Waltz of the Flowers." Even though I suddenly had 48 performances ahead, I had grown up dancing George Balanchine's "The Nutcracker," so I thought I could happily revel in my first moments as an NYCB apprentice without worry.
My first onstage rehearsal for the "Snow" scene, in costume, with the snow falling, brought me back down to earth. The stages I had grown up on paled in comparison to the David H. Koch Theater, and I lacked the extra stamina required for covering large stages. By the end, I felt like a sloppy, ugly dancer. How would I be able to perform "Snow" and "Flowers" eight shows a week if one rehearsal completely exhausted me?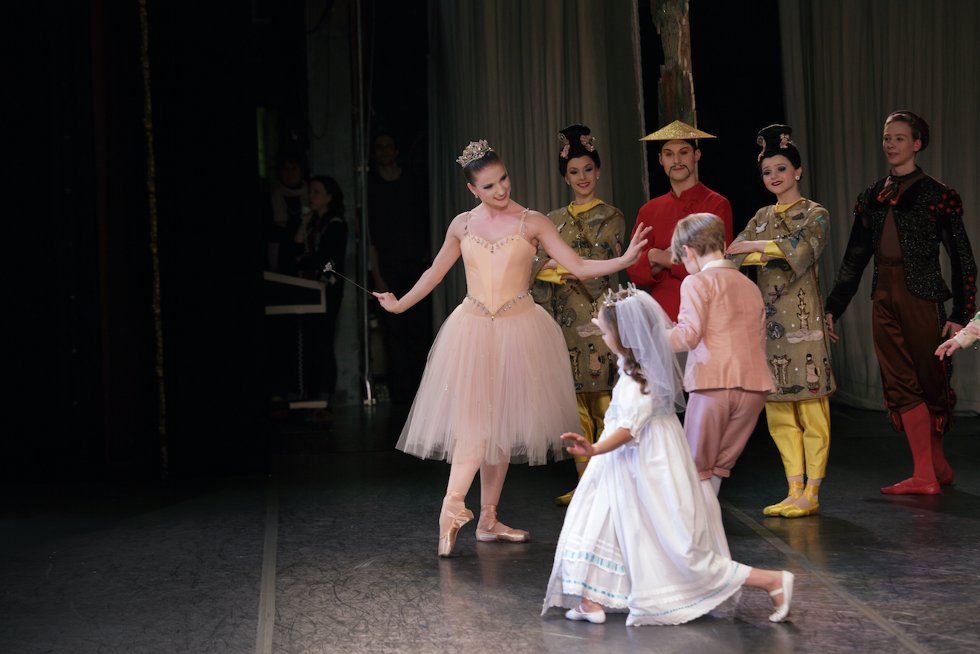 Photo by Paul Kolnik, Courtesy NYCB.
Keep reading...
Show less
Students in class at Pacific Northwest Ballet School's summer program. Photo by Angela Sterling, Courtesy Pacific Northwest Ballet.
This story originally appeared in the December 2014/January 2015 issue of Pointe.

When 17-year-old Rock School student Sarah Lapointe was auditioning for summer intensives, she faced a dilemma. By mid-January, she'd been accepted to a great school. But she needed to give her answer in seven days and still had four more auditions on her agenda. "I thought, What should I do?" says Lapointe. "Do I turn down this offer, or risk being wait-listed or not receiving another acceptance somewhere else?"
It's a common conundrum. For Lapointe, the answer was to contact the first school to ask for a deadline extension, which it granted. "This allowed me to focus on my remaining auditions and make a solid decision," she says.
When it comes to getting into your dream program, we know that schools look for stellar technique, artistry and dancers who will fit in well. But there's more to the equation—those things you can't control, like acceptance deadlines, class sizes and limited housing. If you've ever wondered how the admissions process works, the answers may surprise you.
At the Audition
Keep reading...
Show less
When former Bolshoi stars Natalia Osipova and Ivan Vasiliev called off their engagement in 2013, fans wondered whether their spectacular onstage partnership was over as well. On their breaks from St. Petersburg's Mikhailovsky Ballet, where both are now principals, she guested with The Royal Ballet while he toured with Kings of the Dance and told the press that maybe, someday, they would dance together again.
In July 2014, they reunited in Solo for Two, a self-curated evening of contemporary choreography created for them by Ohad Naharin, Arthur Pita and Sidi Larbi Cherkaoui. The premiere at Orange County's Segerstrom Center for the Arts marked their return to performing together and a new stage in their artistic lives, defined by creative freedom and self-determination (performances in London and Moscow followed). "In classical dance, you follow the rules," Osipova explains. "In contemporary dance, you have no rules. I love that feeling of freedom."
Solo for Two expands their horizons and satiates the curiosity of these restless artists. "We want to dance while we can," Vasiliev says, "because 10 years later, you can't." Osipova herself requested the choreographers. Learning their works entailed rehearsals in London, Milan, Tel Aviv and Los Angeles, as well as two weeks in Israel studying Gaga, Naharin's movement style. All the while, their agent, who is also Solo for Two's producer, translated artistic direction from Hebrew, French and English into the dancers' native Russian.
In the studio, their chemistry is as mesmerizing as ever. They give themselves over completely to the movement, and she trusts him implicitly to catch her when she leaps without looking. He makes her laugh; she softens his muscularity with her breathtaking lightness and grace. As Vasiliev puts it, "We smile at each other and move." And lucky for "Vasipova" fans, they promise that this is only the beginning of their renewed stage partnership.
All photos by Joe Toreno
Susan Bryant teaching class at Houston Ballet's summer intensive. Photo by Cameron Durham, Courtesy Houston Ballet.
This story originally appeared in the December 2014/January 2015 issue of Pointe.

Pittsburgh Ballet Theatre corps member Corey Bourbonniere got a late start in ballet, so he knew he needed to commit himself completely to the art to catch up. But at 16, when a neglected hamstring injury progressed into a hip injury just in time for summer intensive auditions, it felt as though the dream might pass him by.
It seems completely unfair. An injury sustained in January can prevent your acceptance into a program that doesn't start until June. Often it feels like the stakes couldn't be higher: There are only a few summers in your life as a ballet student and missing one can seem catastrophic for your future. But an injury during audition season doesn't mean you'll necessarily spend the summer sitting around. You may need to adjust your expectations, but there are ways to navigate the audition process to ensure that you still get the most out of your training this summer.

Speak Up
If you are injured when a can't-miss audition comes to town, it may still be worthwhile to take the class, but you have to speak up. Margaret Tracey, director of the Boston Ballet School, says that if she has a student who is nursing an injury, like shin splints, but can take partial class, she would still encourage them to do the audition. "But only once they have spoken to the adjudicators and they've cleared it with them," she adds. Bourbonniere did just that when Pittsburgh Ballet Theatre's intensive audition came late in the cycle. He still felt a little unstable on his standing leg and his turnout was weak, but he told the teacher at the audition and was told to give it a try anyway. In this instance Tracey would make a note on the student's registration form and be able to frame her evaluation of that student with the knowledge of their limitations.
Keep reading...
Show less
McRae in Sir Frederick Ashton's "Rhapsody." Photo by Tristram Kenton, Courtesy ROH.
Steven McRae

The Royal Ballet's Steven McRae danced with a power and speed most people would need figure skates to achieve at Covent Garden in February, but the amplitude of his chaînés, barrel turns and rivoltades was just the icing on the cake during his finely calibrated performance in Sir Frederick Ashton's Rhapsody. Dancing the lead role originally made for Mikhail Baryshnikov, the 28-year-old Aussie also excelled in the small gestures and precise positional details for which Ashton's work is known. McRae says the music, Rachmaninoff's Rhapsody on a Theme of Paganini, is the key to balancing athleticism and artistry in the piece. "It's easy to get caught up in the technical demands of the choreography," he says. "However, when you really listen to the music, something magical starts to happen." The same can be said for the moment when this dynamic and versatile principal takes the stage. —Michael Northrop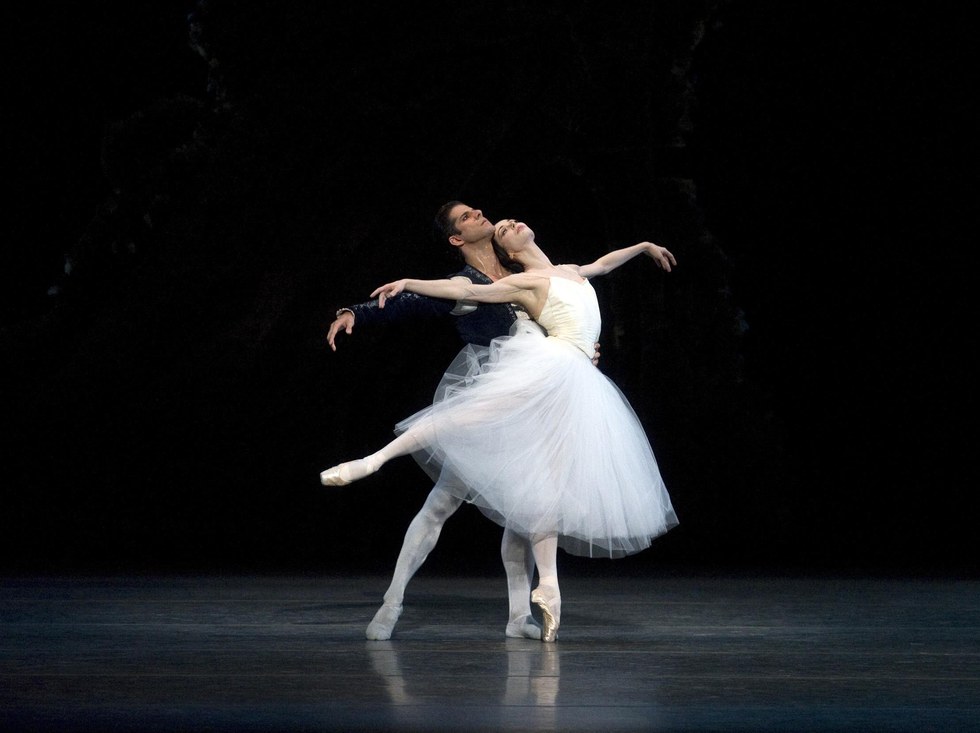 Gomes and Vishneva in "Giselle." Photo by Gene Schiavone, Courtesy ABT.
Diana Vishneva & Marcelo Gomes
One of the biggest thrills of Diana Vishneva and Marcelo Gomes' longtime partnership at American Ballet Theatre is its ability to transcend to greater heights each season. It was ever apparent in their performance of Giselle last June. While they've performed the roles together in years past, familiarity and experience have allowed them to bring deeper richness to their characters. Vishneva's Giselle was shy and vulnerable, coming out of her shell gradually in response to Albrecht's affections until she almost seemed to burst with joy. Meanwhile, Gomes—a cocksure but lovable Albrecht—grew more and more smitten with his conquest. Once his ruse was discovered, you sensed not only Giselle's disbelief but her painfully public humiliation, making her breakdown all the more understandable and heartbreaking. In Act II, Vishneva was otherworldly in her lightness, accentuated further through Gomes' reverential, seamless partnering. Together they drew the audience into their story and held them, spellbound. —Amy Brandt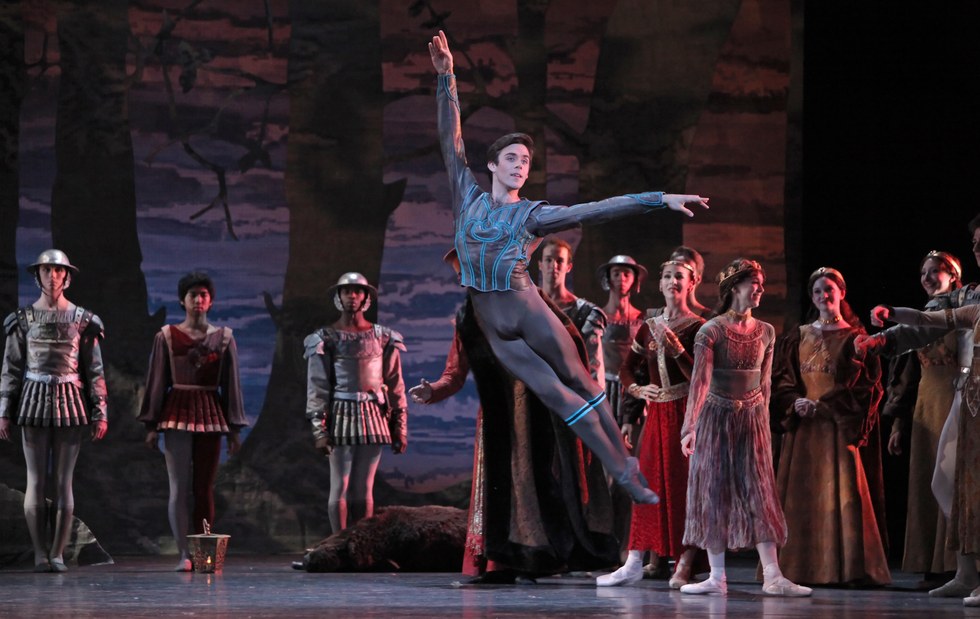 Walsh in "Swan Lake." Photo by Amitava Sarkar, Courtesy Houston Ballet.
Connor Walsh
When Houston Ballet's Connor Walsh first danced Siegfried in the premiere of Stanton Welch's fast-paced, dreamy version of Swan Lake in 2006, he was technically impressive, holding his own with the elegant Barbara Bears. But watching him reprise the role some eight years later, it became clear just how much he has grown. It's as if his edges have become sharper—not just technically but in all aspects of his artistry; he's developed a distinctly refined performance polish. There's ample heart behind his princely swagger now. Walsh's noble command of the stage, solid virtuosity and well-tempered bravado all add up to one convincing prince. His involvement in the ballet's original creation process, along with added years of experience, certainly helped deepen his interpretation. The HB principal is moving into his own, and his performance in Swan Lake provided the evidence. —Nancy Wozny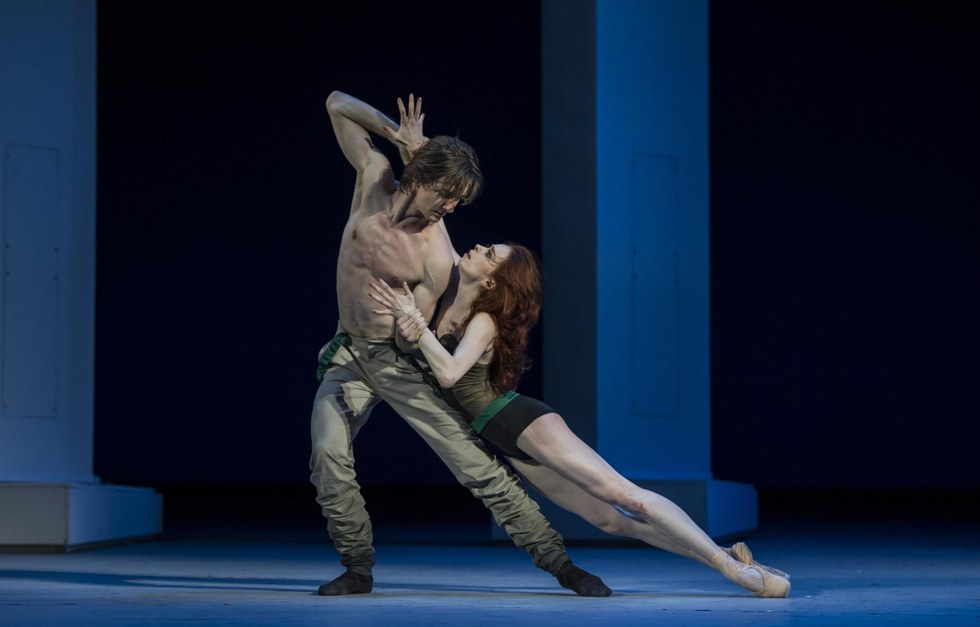 Lantratov and Krysanova in "Taming of the Shrew." Photo by Alice Blangero, Courtesy Bolshoi.
Bolshoi Ballet
It was a gamble on all sides: a new, full-length Taming of the Shrew by a foreign choreographer at the Bolshoi Ballet, just over a year after the acid attack on Sergei Filin. Les Ballets de Monte-Carlo's Jean-Christophe Maillot, who was creating his first ballet for an outside company in two decades, proved undaunted, and the result was a team effort that showed the Bolshoi's young generation in a new light. Each of the 10 soloist roles was choreographed with and for the first cast, from Vladislav Lantratov to Olga Smirnova, Vyacheslav Lopatin and Anna Tikhomirova, channeling their offstage personalities to show a new facet of their talent; their bold classical technique was in evidence throughout yet colored by the spontaneous, naturalistic approach Maillot favors. It was the Bolshoi as the world loves it, with a modern edge—and the Shrew herself, principal Ekaterina Krysanova, led the pack with a nuanced, career-defining performance, her power matched by a new abandon. —Laura Cappelle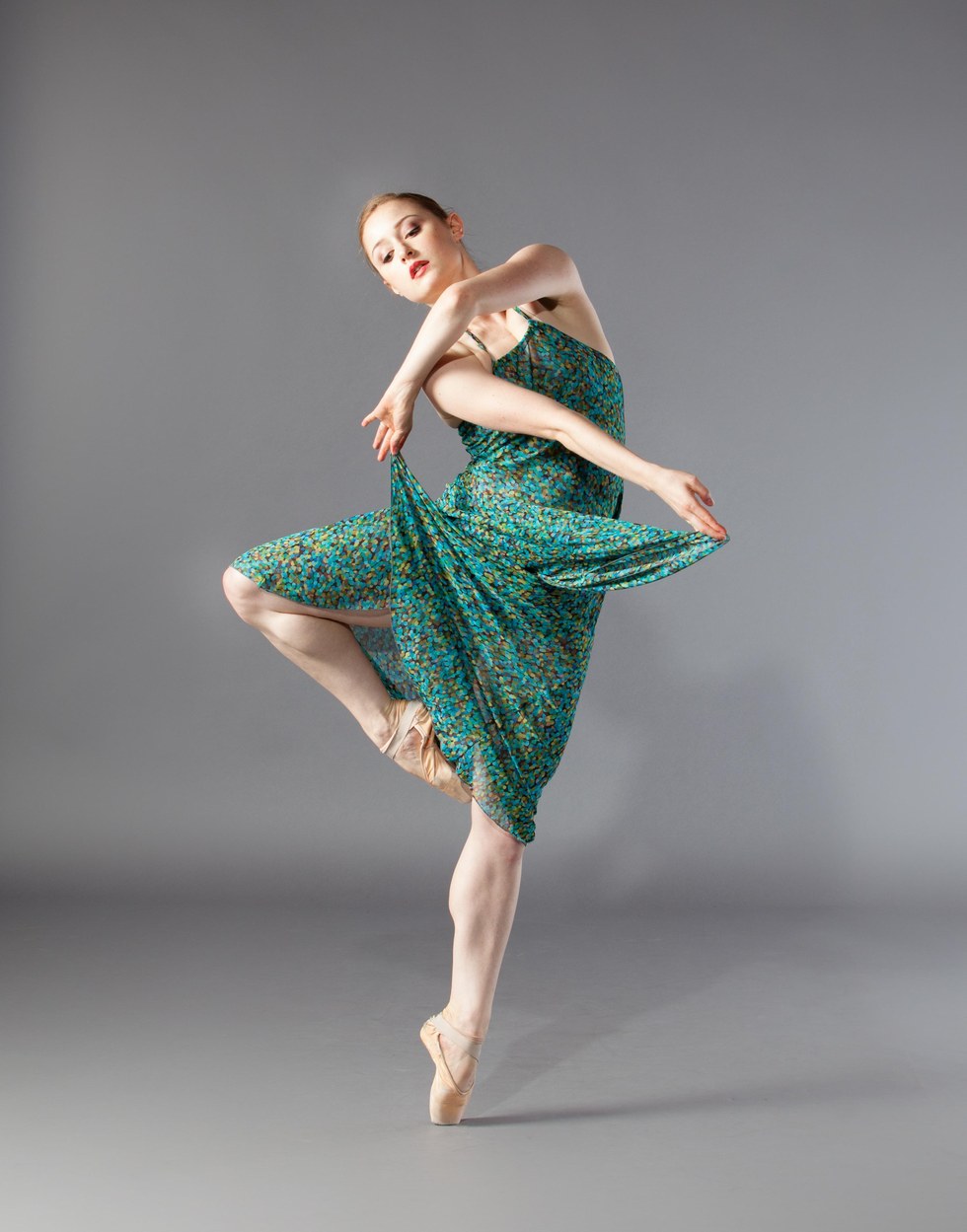 Photo by Alexander Izilaev, Courtesy BalletX.
Chloe Felesina
In the BalletX premiere Sunset, o639 Hours, Chloe Felesina danced front and center, with an abandon, fire and precision that made her riveting. The dreamlike adventure tale, choreographed for 10 dancers by BalletX co-founder Matthew Neenan, was based on the true story of Captain Edwin Musick's ill-fated Honolulu-to-Auckland flight in 1938. As the famous pilot's wife, and in her other roles in the ballet, Felesina's depth of feeling was matched by a robust agility. She shone in scenes portraying the couple's romance, the island life of New Zealand and her solitary bereavement.
Even though her medium height and fine features make her look delicate, she's a powerhouse: at the front of the pack in floor-rolling unisons and sparkling in Neenan's inventive partnering. A full-time company member since 2012, Felesina relishes deciphering each choreographer's intent and seeking more ways to communicate strongly with her audience. In Sunset, o639 Hours, her approach worked: You couldn't take your eyes off her. —Lisa Kraus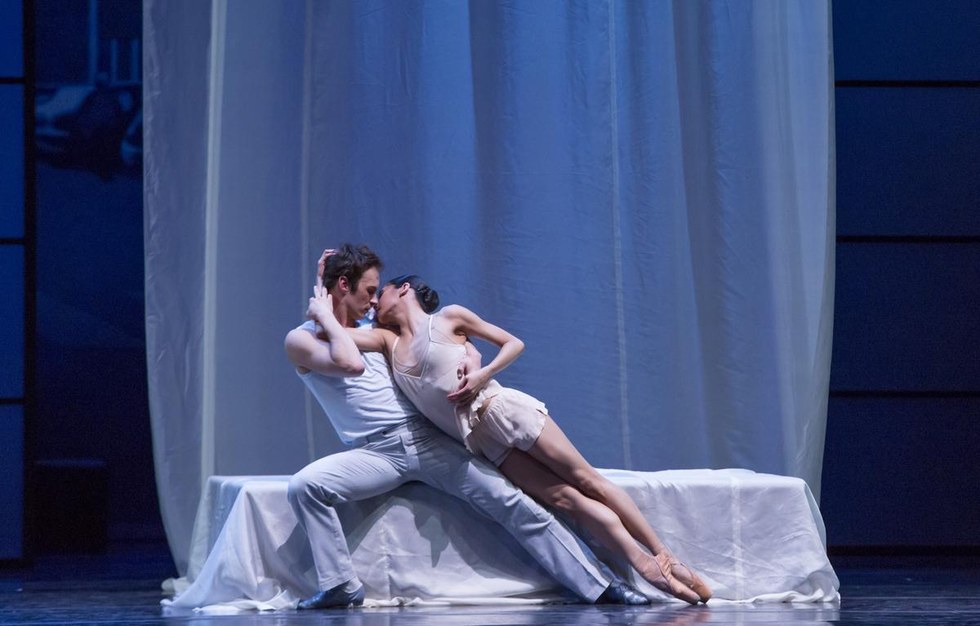 Rocas with Rory Hohenstein in "Romeo & Juliet." Photo by Cheryl Mann, Courtesy Joffrey.
Christine Rocas
A couple of years back, Joffrey Ballet dancer Christine Rocas confessed: "I'm always scared to do modern things…I try to be spontaneous, but I know I look funny at first."
Rocas, 28, definitely didn't look "funny" in her opening night performance of Polish choreographer Krzysztof Pastor's Romeo & Juliet in Chicago this past April. And Pastor's take on the story was supremely contemporary—not at all like the Kenneth MacMillan or John Cranko versions for which Rocas' lyrical, weightlessly lovely style would have been a perfect fit. In fact, as Juliet, Rocas seized hold of Pastor's starkly modern, sweepingly cinematic reinvention, which used 20th-century Italian history as a backdrop. Masterful in her embrace of the ballet's mix of difficult classical and contemporary technique, she revealed a powerful, highly individualistic, surprisingly dramatic talent.
Her performance had genuine star quality, with pristinely beautiful dancing and fiercely honest acting in evidence from the moment, early on, when she simply walked around the perimeter of the stage, quietly fixing her gaze on Romeo. The palpable quickening in Rocas' face and body was a far cry from simple pubescent awakening. This was the dawning of a young woman with a mind of her own. —Hedy Weiss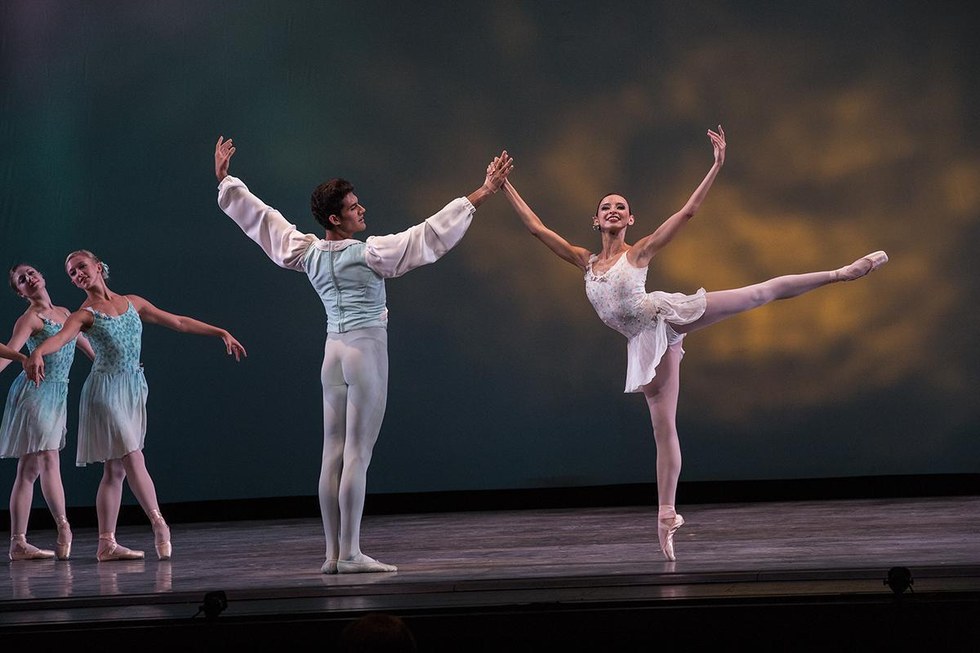 Arja with Renan Cerdeiro in "Ballo della Regina." Photo by Daniel Azoulay, Courtesy Miami City Ballet.
Nathalia Arja
As the recently promoted Miami City Ballet soloist Nathalia Arja can attest, some roles lift dancers to the heights of artistic privilege. While still a corps member last season, Arja—a 21-year-old MCB-school alumna with Rio de Janeiro roots—earned the opportunity to dance the lead in George Balanchine's exquisitely demanding Ballo della Regina. There she was, on opening night no less, fast and fastidious in virtuoso moves: restless changes in direction, riveting hops on pointe, clockwork articulations that teased time itself. "I learned to do what I didn't know I could," says Arja. No small amount of calibration, of course, came from being coached by Merrill Ashley, the New York City Ballet wonder who originated the role. Still, Arja brought strengths she's been honing since dancing the role of Sugar Plum at MCB as a teenager—the verve and knack for detail that also served Alexei Ratmansky when he fashioned a solo on her in Symphonic Dances in 2012. A culmination for many, Ballo figures for Arja as the promise of an ever more thrilling career. —Guillermo Perez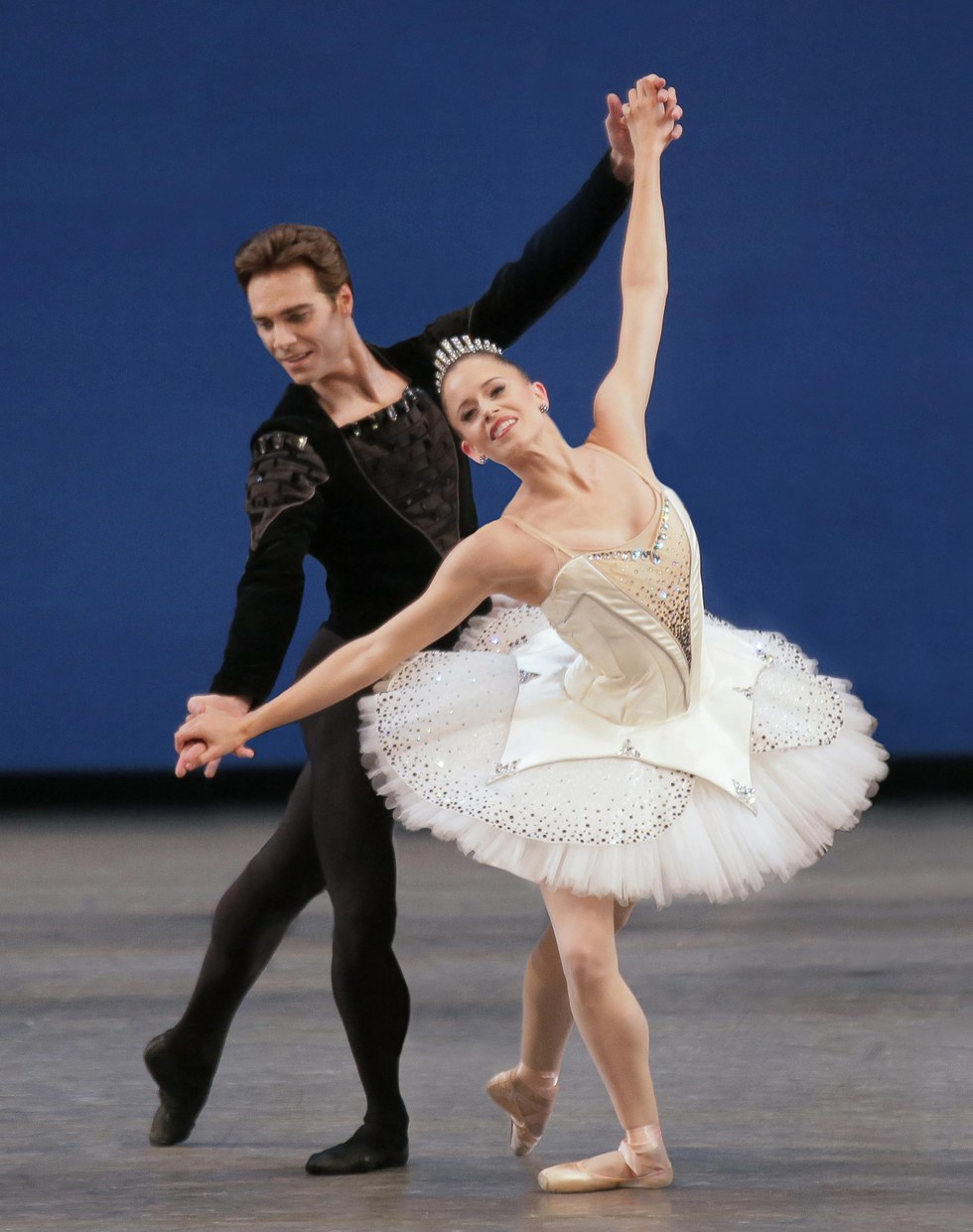 Isaacs with Gonzalo Garcia in "Symphony in C." Photo by Paul Kolnik, Courtesy NYCB.
Ashly Isaacs
In the third movement of Balanchine's Symphony in C, the leads repeatedly charge onto the stage in a series of grands jetés—irrepressibly buoyant, as if they're more at home in the air than on the ground. In a way, that's a fitting metaphor for New York City Ballet corps member Ashly Isaacs' 2014 season, which saw her star on the rise, achieving greater heights with each successive performance. Her debut as the ballerina in that movement of Symphony showed off not only her preternatural ballon, but also her easy command of the stage. In the wrong dancer's hands (and feet) the always-on-the-go choreography can feel bombastic, but Isaacs colored it sensitively, adding subtle shading to its softer moments. For some years this role has been danced brilliantly by Ashley Bouder; it was hard not to notice the similarities between the two. —Margaret Fuhrer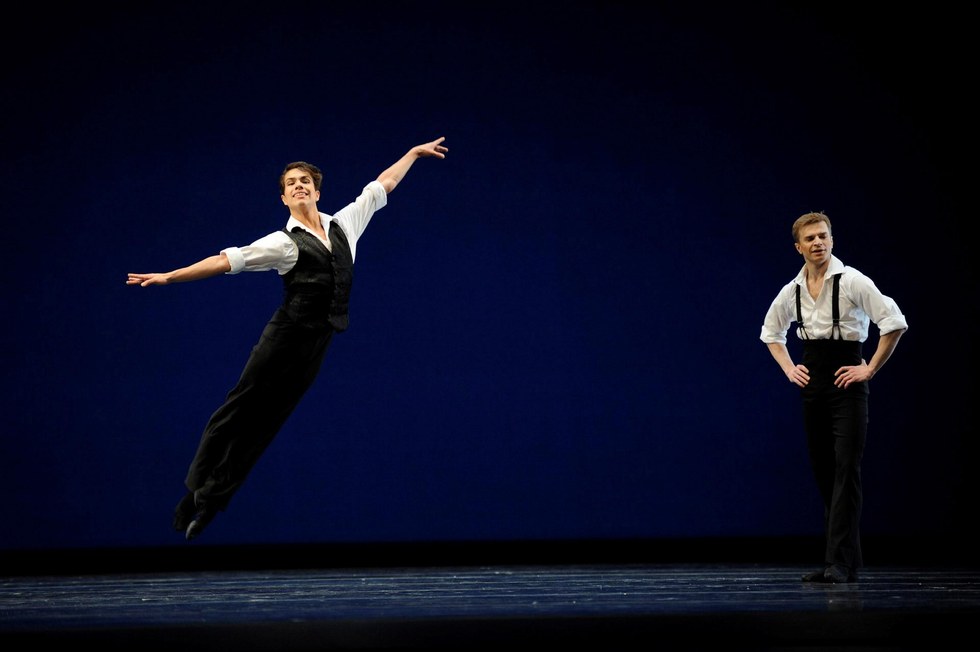 Hernandez with Gennadi Nedvigin in "Les Lutins." Photo by Erik Tomasson, Courtesy SFB.
Esteban Hernandez
Season galas showcase principal dancers at their best, but San Francisco Ballet's 2014 gala also introduced a rising star: Esteban Hernandez. Announced pre-curtain as a replacement for Joan Boada in Johan Kobborg's Les Lutins, the first-year corps member faced high expectations from a demanding audience, who rustled their programs looking for clues about this unfamiliar dancer. But in Lutins, an eight-minute battle of the sexes that requires insouciant charm, clear acting and blistering petit allégro—and falls flat if any one of those is missing—the Mexican-born Hernandez proved his mettle as a Royal Ballet–trained technician and a natural performer, with confidence well beyond his 19 years. Not only did he hold his own opposite Gennadi Nedvigin and soloist Dores André, in those thrilling eight minutes he won 3,500 hearts and became a name to remember. —Claudia Bauer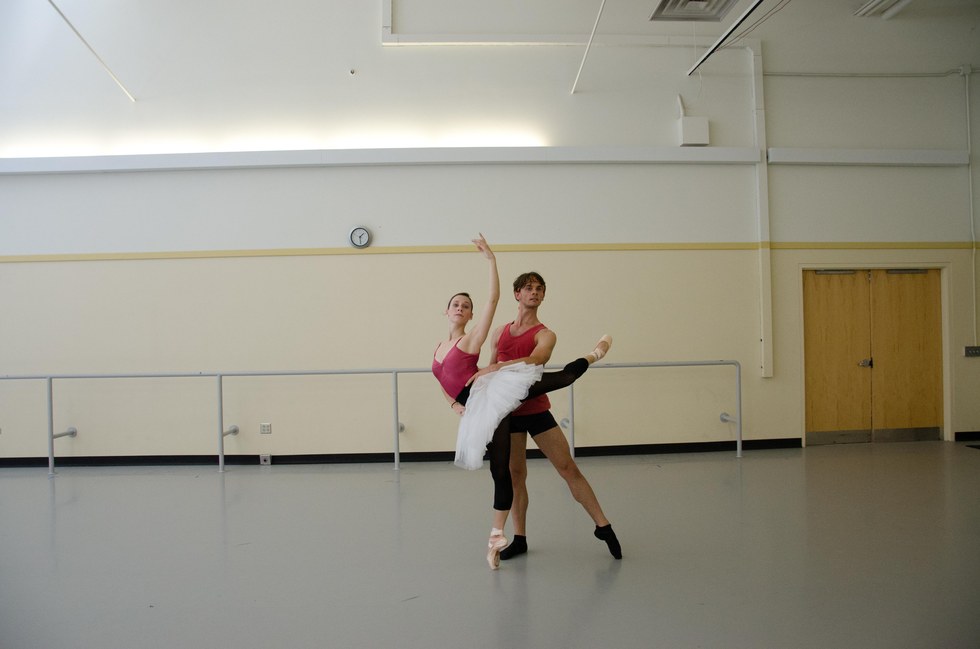 Thurlow and Sbrizzi rehearsing "Don Quixote." Photo by Aimee DiAndrea, Courtesy PBT.
Gabrielle Thurlow & Luca Sbrizzi
When lead casting was announced for Pittsburgh Ballet Theatre's Don Quixote last season, there was a surprising pair included in the mix. While Gabrielle Thurlow and Luca Sbrizzi have long been regarded as cornerstones among PBT's ranks, their star power was relatively untested: Thurlow was a longtime corps member and Sbrizzi, a soloist, had been away from the stage nearly nine months following a career-threatening back injury. But they more than delivered. Thurlow entered the first act as an energetic Kitri, all spry jumps and energetic pas de chevals, while Sbrizzi played an earnest Basilio, his admiration for Kitri present in every carefully finished movement. Later, during their brightly executed grand pas de deux, Thurlow brought playful sharpness, breezy turns and balances that said, "I could stay here all day." Sbrizzi's refined technique and bounding jumps lent his Basilio the elegance of a man in love. Following the performance, Thurlow was promoted to soloist and Sbrizzi cemented his place as a leading man after an uncertain season away from the stage. —Kathleen McGuire
Dance was always my refuge. School was hell for me—it was like a page out of Lord of the Flies. Survival of the fittest was the guiding principle of my middle school. While generally the "fittest" kids were the prettiest and the most popular, at my public school that meant specifically punk skater kids. They acted tough and had this pervasive air of rebellion around them which stood in direct contrast to me. I followed rules, I listened and took direction from teachers, I was disciplined—I mean, I was a dancer! So the cool group teased me relentlessly, called me every name in the book, including "effeminate," and though it never got physical—it was only words—they did hurt me. I didn't have the sense to think, "Oh, yeah? One day you'll see," because I was a kid and just wanted to be accepted.
In my desperate attempt to fit in, I made fun of the other loser kids. I used to take tap lessons at the local community college. On the eve of Halloween, this kid in my tap class told me about his costume. He was going to be a ballet dancer. I laughed and teased him so hard about it that he ended up being too upset to trick or treat the next night. His mom called my mom, and though I apologized as directed and gave him half of my candy, the damage had been done. He probably would not want to put that costume on ever again. This was long before my serious ballet school days, but still, it is hard not to see the irony. When I look back, there is the thought that kids will be kids, but the truth is, I thought participating in this kind of hierarchy of persecution would gain me acceptance. Dance was a necessity for me, so I was prepared to take the cycle of abuse it brought on.
I had been miserable in my local public schools, so when the Arizona School for the Arts charter school first opened, I jumped at the chance to be a freshman in the inaugural class. It was a ballet-focused program and a big transition from the jazz-based studio I had initially trained at. I swapped out sweatpants for tights and found myself part of an artistic community that included other disciplines, such as music and painting. Around the same time, I made the transition to The School of Ballet Arizona, directed then by Kee Juan Han, for my after-school dance classes. I was compelled by this new world of serious work where there was no talking allowed. We had to stand in line and were expected to work towards perfection. There was not a lot of positive reinforcement, so I had no idea if I was good. But the work saved me.
Which was so important, because even though I had found a new group of artsy friends at ASA, being a dancer meant I would never find inspiration in complacency. In the larger pop-culture world around me, trying hard was not cool. In my smaller ballet world, it was impossible to try hard enough. So I eventually made my peace with being "uncool" and found myself hungry for new challenges. Though I had found an environment that accepted me and gave me the freedom to be myself, I would continue to be the outsider again and again.
This philosophy kept me afloat when I moved to the Paris Opéra Ballet School my senior year of high school. I traded in the teenage freedom of driving around Phoenix and spending my Saturday nights at raves with my friends for an even more rigid system where I didn't speak the language. At POB, they absolutely rejected me socially. I was American, I didn't speak French, I was brought into the graduating class and my talent was seen as a threat. And the fact that I was trying so hard to make friends turned everyone off.  For six months I was basically silent. Instead of talking, I observed. I noticed body language. I read books and reactions. I was forced to focus on myself and develop my individuality.
Likewise, when I first went to the Bolshoi, I was in a parallel universe to that year at POB. Though welcomed this time, I was still out of my comfort zone with language and lifestyle. I was lonely, but I knew I would grow because my uncomfortable year at POB had been such a growth spurt. I have learned to be uncomfortable with being comfortable. I tend to work myself to the ground in an effort to keep challenges always in front of me.
Ballet idolizes principal dancers—when I was at ASA, I had a photo of Ethan Stiefel on my binder. I wish that at that young, impressionable age I had been able to get to know the person I was striving to be. Maybe there would have been words of mentorship that would have made me feel less alone in my struggle. Now that I've made it, I could easily just keep doing my thing and let it be. I obviously figured it out; the next generation will, as well. Or I could step up to the plate and mentor. I realized that I felt compelled towards mentorship because I've been there—working my butt off six days a week to become a professional, unsure of what kind of life is ahead, never knowing if you'll be good enough.
I approached Franco De Vita of American Ballet Theatre's Jacqueline Kennedy Onassis School and told him I wanted to give a scholarship to a boy in his program, in an effort for the student to have someone he might relate to more, who could let him know he's on the right track. There have been two recipients thus far—Alex Kramer, now of Ballet San Jose, and Julian Donahue. I look for kids who are working to get control over an unruly body. I watch them in class and give context to their specific corrections. I try to be available for whatever they want to talk about, though obviously my performing schedule makes it hard. This year, I plan to be around more, especially as I heal from an injury, and I want to try to develop a more personal relationship. I'll be in hallways, watching classes and rehearsals, available for lunch. I don't want to force it, but I want my mentee to know he can always reach out to me. In addition, I have also started a tuition scholarship for boys at The School of Ballet Arizona. I want more kids to be able to have the chance to find refuge in the work like I did.
Ballet can be so quantity-based these days. With my outreach work, I want to reinforce that the number of turns you do is the least important thing. Quality and foundation are what count. The greatest dancers are not tricksters, they are artists devoted to the work. Lucky for me, and for these boys, art is born out of sublimating our struggles, our lack of acceptance. I want to send the message that we can be alone, together.
—David Hallberg, as told to Candice Thompson
Features
Nov. 21, 2014 06:06PM EST
Two years after joining New York City Ballet in 2010, corps de ballet member Emilie Gerrity's career turned a corner. Choreographer Justin Peck selected her to be among eight dancers in his first ballet for the company, In Creases. "It had a huge impact on me," says Gerrity. "It helped me express myself in a way I was never able to before—to say, This is me, and this is my dancing."
Gerrity, a limpid dancer with enormous eyes, credits her exposure in the ballet with opening other doors. After In Creases, the Upstate New York native made her debut in featured roles in Jerome Robbins' Glass Pieces, Christopher Wheeldon's Soirée Musicale and others—all while continuing to dance her previous parts in the corps. "She's feminine, but at the same time deceivingly strong," says company ballet master Jean-Pierre Frohlich, who rehearsed her in Glass Pieces. "You would never think she could be an allégro technician, but she can. I describe her as a creature—beautiful to watch but not easy to put your finger on."
Her schedule is grueling, but Gerrity thrives on it. "The more I'm pushed and the more I'm given, the more I can improve," she says. Having a healthy social life in a company with such high demands presents its challenges. Early Friday nights are common, but Gerrity surrounds herself with people who empathize.
Pointe followed Gerrity during a busy day of class, rehearsal and training before the company departed for a weeklong season at the Kennedy Center in Washington, DC.
All photos by Jim Lafferty
San Francisco Ballet in Alexei Ratmansky's Shostakovich Trilogy, photo by Erik Tomasson
How long has the "ballet is dead" movement been plaguing us? How long have we swatted away such a preposterous conceit, much as we might swat a pesky mosquito? This obituary has been inflicting annoyance at least since the late 1950s. But the assertion has always come as a surprise to the thousands of dancers who have raised technical standards to unimagined heights a generation ago. The statement has always astonished ballet company directors around America who have watched their audiences grow over the decades. No corpse has ever seemed giddier.
Even Jennifer Homans, who famously declared ballet a doomed art in her 2010 book Apollo's Angels, is reconsidering her position. Her announcement this fall that she has founded The Center for Ballet and the Arts at New York University suggests that she is prepared to question ballet's viability and to restore life to the art form.
But let's be clear about what we're talking about. Ballet as a technique, as an esthetic, as a codified series of movements and gestures that idealize the proportions of the body, will probably never die as long as evolution grants humankind legs to leap. The death of ballet as an art form? Well, that's a more contentious issue.
Ballet, simply, is a language, and it survives as long as the body communicates it. Ballet is not one of those languages that goes extinct when the only person still speaking it expires at 103. The mistaken belief that the elaborate vocabulary and adherence to rules that are part of ballet's beauty somehow mitigate against the pure, unfiltered instinct of the moving body is still propounded (verbally and otherwise) by a segment of the public. The charge of elitism which—considering ballet's rise in the 17th-century court of King Louis XIV—has some validity, won't go away.
But we don't live in courtly times, and it is, ultimately, the uses to which the ballet lexicon is put that matters most. The rise of postmodernism, more specifically, the Judson Dance Theater, found ballet accused of artificiality and fustiness. Yet although ballet is based on universal principles, it has been a dance form susceptible to evolution. Our own era has seen classical dance twisted, spindled, deconstructed and ultimately capable of incorporating aspects of modernisms.
As I live in the Bay Area, I have had the opportunity over the past three decades of reveling in the many glosses on classicism which artistic director Helgi Tomasson has brought to the San Francisco Ballet. Even when a dance has pushed the envelope into the realm of anti-ballet (try Wayne McGregor's Borderlands), at least we could find some satisfaction in the fact that the primacy of ballet may have inspired the choreographer's contortions. Just this past season, in his Hummingbird, brilliant young Brit Liam Scarlett moved bodies around the stage in a manner that might have unnerved Sir Frederick Ashton a generation ago.
So, ballet has changed in our time beyond national styles and even beyond Balanchine's neoclassicism, but not always for the best. Ballet has always been in a state of transition, and the best choreographers (like Balanchine) built on what they found. Oddly, I often meet choreographers who sneer at the mere mention of ballet, visions of droopy swans running through their heads. Yet if pressed, they will admit their early experience learning ballet has been beneficial to their career in some way. I occasionally wonder why, despite their qualms, so many of these artists sign on when offered a commission from a ballet company.
What makes our age such a glorious era for dance is the freedom that younger dancemakers feel in creating their works. Notes mid-career choreographer Adam Hougland: "I think it's time to be a little more open about defining what ballet is. So many choreographers come from diverse backgrounds; it's all dancing, all relevant and not to be pigeonholed."
Choreographer Amy Seiwert, who is based in San Francisco and freelances with companies around the country, believes that recently ballet has suffered from a manufactured crisis.
"There was that whole Apollo's Angels thing, where Jennifer Homans declared it dead," says Seiwert. "You might as well be having a discussion about whether any art is relevant. To me, arguing about what kind of art matters is like arguing what religion God is. We're all trying to discuss something that is intangible. Ballet is just the way I create my art. The weirdest ballet I ever make, in pointe shoes or not, I am going to call a ballet."
Homans' discerning, impeccably researched volume begins as a genuine contribution to dance scholarship and concludes like an inquest. The gist of its sad, sour epilogue: Since Balanchine's death in 1983, no choreographer of comparable stature has risen to succeed him; thus, a lack of visionary choreography is killing dance as a living art imbued with the moral purpose that makes great, imperishable art.
Homans is right in noting that the canon of great ballets is agonizingly modest; just because a hodgepodge confection, like Don Quixote, is constantly revived, doesn't make it a classic. But she, like too many dance critics, seems to treat dance as an exception, as different in some essential way from the other performing arts. From time to time, they all have suffered fallow periods and emerged rejuvenated from the experience. Between 1695 (the death of Henry Purcell) and the early decades of the 20th century, not an immortal note was heard from an English-born composer and yet classical music survived and thrived in that country.
Who knows when a choreographer as influential as Balanchine will surface and dominate the dancemakers du jour that keep ballet companies busy these days? After his recent work, notably the Shostakovich Trilogy, it is possible that Alexei Ratmansky might be that artist. No other classical choreographer, to my knowledge today, has so smoothly embedded narrative elements within abstraction. Nobody else has made familiar music sound mysterious and arresting. Nobody else has so striven to renew the past of ballet so that it communicates brilliantly and pertinently in the future.
Fortunately, members of a younger generation seem more hopeful. Myles Thatcher, 24, dances in the San Francisco Ballet corps and will premiere a commission (to Bach) for the main-stage company in February. He is strikingly talented and is a current winner of the prestigious Rolex Arts Initiative; he is enjoying a yearlong mentorship with Ratmansky. His thoughts on dance exude the breath of life:
"It's funny, ballet may be the most structured and restrictive form of dance, but I also find it the most liberating and the most expressive. It's purity, the epitome of movement."
So, let's not mourn for ballet just yet.
Allan Ulrich is a Dance Magazine senior advising editor, dance correspondent for the San Francisco Chronicle and a West Coast cultural correspondent for the Financial Times of London.
Svetlana Lunkina photographed by Nathan Sayers for Pointe.
This is Pointe's December 2014/January 2015 Cover Story. You can subscribe to the magazine here.
A rush of energy rippled across the Toronto theater, followed by an ovation that went on for what seemed like an eternity. It was June 12, 2013, and Svetlana Lunkina had just debuted as a guest artist with the National Ballet of Canada, dancing the grand pas de deux from Don Quixote, alongside principal dancer Piotr Stanczyk. It was Lunkina's first performance in months and you could almost sense her elation at finally being back onstage. As Kitri, she exhibited that magical combination of daring attack and exquisite control with sky-high extensions and picture-perfect balances. Even Stanczyk couldn't contain his excitement in the lobby afterwards, saying Lunkina brought out the best in him. "I'd do every single ballet with her if I could," he says.
That night, the question at the top of many people's minds was not if, but when artistic director Karen Kain would offer her a contract. The answer came two months later, when—following 15 years with the Bolshoi—Lunkina accepted a yearlong principal guest contract with NBOC. "Svetlana is an experienced and well-known ballerina, but we didn't know her personally here," says Kain. "We really had to find out whether it was a fit."
The trial year proved successful for both—this season, Lunkina signed on as a full-fledged company member. After a glittering rise and then a sudden, highly publicized departure from the Bolshoi, the 35-year-old Lunkina is renewing her career at NBOC. And although the Canadian company is smaller (72 dancers compared to the Bolshoi's 231) and offers a more contemporary repertoire, she's embracing the opportunity to work with new choreographers and learn new roles. "I'm an artist and I want to develop myself," says Lunkina. "I'm really grateful for this opportunity to grow. It's like a new life, with new emotions."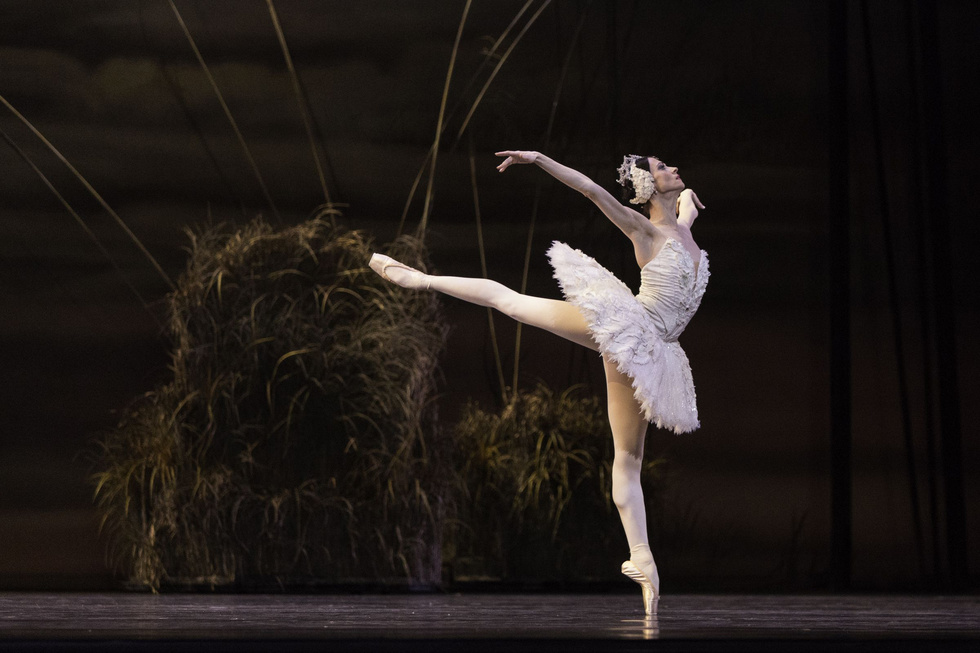 Lunkina in James Kudelka's "Swan Lake." Photo by Aleksander Antonijevic, Courtesy NBOC.
Keep reading...
Show less
In a rehearsal before their Lincoln Center performance of Coppélia last May, Sarah Lane and Daniil Simkin ran through some of the partnering in a studio several levels below the Metropolitan Opera stage where they would perform. In Frederic Franklin's charming production for American Ballet Theatre, Swanilda, danced by Lane, and Franz, by Simkin, must balance raucous comedy with sublime classicism. Although considered the perfect soubrette role, Swanilda presents serious technical challenges. The dancer must possess a chameleon-like ability to transform from a spunky village beauty to a robotic doll to a loving bride. And Franz is much more than a frat boy jokester; he becomes a devoted husband in the pristine wedding pas de deux at the end of the ballet.
"I love that Swanilda is sassy," says Lane. "My interpretation is that she's really fun, has a lot of friends and at the same time has a very strong will—she knows what she wants. I can relate to her because I can be very opinionated. You've been mischievous the whole ballet and then, in the wedding pas, the love between you and Franz blossoms. Every relationship is like that—you have bad times, but you turn them into something beautiful. Love for each other wins in the end."
Informal connections between BFA programs and professional troupes have been around for decades. But in the last dozen years, some companies and universities began formalizing their relationships, creating joint BFA/trainee programs that provide enrollees both significant pre-professional experience and a four-year degree. In a time of shrinking job opportunities and rising tuition costs, that makes sense.
Maggie Wright Tesch, the University of Utah's liaison with Ballet West in Salt Lake City (where she formerly danced), explains that combined BFA/pre-professional programs give dancers more settings to train in as well as "a college education, a plan B, because a career can end with one injury."
Among the advantages, Tesch continues, is that students have two sets of coaches, as well as twice the stage time as a regular trainee. University summer intensives provide experience and credits toward a four-year degree. While the workload is intense, such programs tend to be small and are often flexible.
Still, they're not for the faint of heart. Prospective students often audition for the company's trainee program as well as the university's dance department. They must be admitted to the school's academic program and fulfill its basic education graduation requirements. Additionally, with few job openings each year, their chances of being hired by the affiliated company after graduation are small. That can be a source of disappointment—but also spur the dancer's strength and creativity.
Essentially, joint BFA/trainee programs hedge participants' bets, increasing their time in the studio and on the stage, exposing them to a wide array of choices inside and outside of dance and providing a college degree. While the demands are great, so is the potential payoff. Pointe spoke with three professional dancers who graduated from joint programs. Not all of them received company contracts, but all were pleased with the quality and flexibility of their educational experience.
Kimberly Ballard: Ballet West and University of Utah
(Photo by Luke Isley, Courtesy Ballet West)
Ballet West corps artist Kimberly Ballard, 26, was not focused on getting into BW when she was applying to colleges. But after she enrolled at the University of Utah, she became a sort of guinea pig for its joint program with the company. After getting her BFA, she continued into U of U's MFA program—at the same time, she became a BW trainee.
Ballard epitomizes the hard work and planning so helpful to joint-program students, who undertake long days filled with department and trainee classes and rehearsals, as well as academic courses. Because she'd passed several high school AP exams, Ballard placed out of some requirements. She also took academic classes at a community college in the summer, gaining additional college credits in her "downtime," thereby saving on tuition. By pursuing her MFA, she set herself up for a teaching career.
Though her traineeship with BW undoubtedly shaped Ballard's performance quality and technique, the university program provided variety. "I did exchange programs in the Basque region of France and with the State Ballet School of Berlin," she says. As a member of the university's highest-level repertory company, Utah Ballet, she performed not only in a piece that involved "unitards and bungee cords" but, 20 minutes later, as Aurora. Meanwhile, she danced corps roles in BW's productions of Swan Lake, Sleeping Beauty and Chaconne.
"For me," Ballard says, "the joint program worked out very well." She joined BW II after graduation. Now, in addition to being a company member, she's putting her degree to use as an adjunct assistant professor at the university.
Michael Montgomery: Alonzo King LINES Ballet and Dominican University of California
(Photo by RJ Muna, Courtesy Alonzo King LINES Ballet)
Michael Montgomery, a dancer with Alonzo King LINES Ballet, had always wanted to dance with the San Francisco–based company. "I saw their world-famous calendars," he says, "before I knew of LINES or the Dominican University/LINES Ballet BFA program." Even in still photos, "the artists showed nothing less than excellence."
Montgomery's initial step, however, was to enroll in The Ailey School's certificate program at age 17.  "That was the first time I understood the meaning of technique," he says. But he felt he was being trained to blend in—"An important art to learn," he says. "It just did not make me feel alive."
Montgomery reached out to Dominican/LINES BFA director Marina Hotchkiss. "I explained to her that I do not want to live in a box of dance, but rather in a world of endless possibility," he says. King, he adds, is "opposed to cookie-cutter dancers." Though LINES Ballet has a non-degree trainee program, Montgomery never considered it. "Schooling and college were always very important to me," he says.
He became a Dominican/LINES BFA student in 2008. And though his days were long, they were also rewarding. "I had dance classes in many vernaculars from 9 am to 2:30 pm," he says, "and academic classes until 10 pm some days." He particularly enjoyed his religion and philosophy classes, and says that, like the LINES faculty, his Dominican professors "believe there is no plateau of knowledge." King, who taught a number of Montgomery's classes, offered him a company contract his junior year, allowing him to finish his BFA on the side. The experience, Montgomery says, was "beyond worth it."
Kyoko Ruch: Richmond Ballet and Virginia Commonwealth University


(Photo by Ruth Judson, Courtesy Gin Dance Company)
Kyoko Ruch—a self-described naïve bunhead in high school—only wanted to focus on dancing when Richmond Ballet offered her a traineeship in 2004. But when her family learned of the company's joint program with Virginia Commonwealth University, they talked her into doing both. Two years later, she became an RB apprentice and dropped the VCU program because her work schedule left no time for coursework.
When Ruch auditioned for the main company, however, she was turned down. "I was disappointed," says Ruch, "but I wasn't lost, because I had VCU's program to go back to."   
In fact, not getting into a ballet company (she auditioned for more than one) proved a blessing. In her final two years at VCU, she was able to take some modern and choreography courses. "Most ballet companies now do a lot of contemporary work—and I didn't really have any idea how to move that way," she says. "With the modern training, we danced more conceptually, which actually aided my ballet technique."
Choreography and improvisation classes meant even more to her. "As a ballet dancer, I just wanted to do what I was told," she says. "Choreography sparked my creativity." She received her BFA in 2010 and is currently teaching and performing with two DC-area contemporary troupes, Company Danzante and Gin Dance Company. Last year she was chosen as Company Danzante's first choreographer in residence. Though she originally expected to put off college, she's glad it didn't work out that way. "I transformed into another creature."


Every four years, dancers from around the globe descend on Jackson, Mississippi, for the USA International Ballet Competition. The only IBC hosted in the U.S. (the others are held in Varna, Bulgaria; Helsinki, Finland; and Moscow), it has served as a major turning point in the early careers of artists such as Nina Ananiashvili, José Manuel Carreño, Johan Kobborg and Sarah Lamb. This June, 99 dancers from 20 countries got their chance to not only compete for medals, but be seen by company and school directors from around the world.
For 15-year-old Gisele Bethea, a student at the Master Ballet Academy in Scottsdale, Arizona, the competition proved to be a critical step in her transition from student to professional. No newcomer to international competitions (she won both the second prize in Moscow and the Grand Prix at Youth America Grand Prix in 2013), she nevertheless felt added pressure to perform. While in the past she competed as a soloist, she entered the USA IBC in the pas de deux category with fellow competitor Michal Wozniak. They often practiced six to seven hours a day with coaches Slawomir and Irena Wozniak (Michal's parents) in the months leading up to it. "It takes a lot of control to have grace between two people," says Bethea, who performed the Act III wedding pas de deux from Sleeping Beauty. "It's my next step to becoming a ballerina in training."
Her hard work paid off: Not only did she win the gold medal in the junior division, she received a full scholarship to the Jacqueline Kennedy Onassis School at American Ballet Theatre and an open invitation to join the ABT Studio Company. "I'm so grateful for all of these opportunities," says Bethea, who plans to defer for a year to finish high school first.
In an exclusive inside look, Pointe followed Bethea through the USA IBC's final round, from her last private rehearsal session to her gold-winning performance. All photos by Jim Lafferty for Pointe.
Gisele Bethea warms up before an afternoon competitor's class

Leta Biasucci photographed by Nathan Sayers for Pointe.
This is Pointe's October/November 2014 Cover Story. You can subscribe to the magazine here.
In a company known for its tall women, Pacific Northwest Ballet's Leta Biasucci doesn't fit the mold. At 5' 3", she seems petite next to several of the company's willowy principals. But her height is far from all that stands out.
Last spring she charmed audiences in Giselle's peasant pas de deux, flying through impeccable batterie with grace and precision. The role seemed made for her, but so does nearly every one that she's danced, a tribute to the broad spectrum of her talent. She's stepped in last minute as Swanilda in Coppélia. She's conquered Clara in PNB's Nutcracker. She's been featured in work by Christopher Wheeldon and Twyla Tharp. And last winter, shortly after her 24th birthday, she made her debut as Aurora in The Sleeping Beauty. "It's odd to see someone fit so naturally in a full-length ballerina role," says PNB artistic director Peter Boal. "That's the hardest thing to do, and she got there first." Biasucci has been a star in PNB's corps de ballet for only three years. This fall marks her promotion to soloist, and she is well on her way to expanding the definition of a PNB ballerina.
Even her background is different. Unlike most PNB corps dancers, Biasucci did not come through the company's professional division or the School of American Ballet, where Boal keeps close ties. A Pennsylvania native, Biasucci began dancing as a 5-year-old in a ballet-tap combo class. After three years, her teacher suggested she might like the more rigorous training at Marcia Dale Weary's Central Pennsylvania Youth Ballet, noted for turning out technically strong, versatile performers. Her years there laid the foundation for her entire career. At 16, she became a trainee at San Francisco Ballet School. At 18, she landed her first professional job with Oregon Ballet Theatre under Christopher Stowell. OBT's small size, she says, gave her "a good place to grow, feel nurtured and have opportunities to be presented," but she was hesitant to let her roots grow deep. "I had dreams of dancing in a larger company," she says.
Keep reading...
Show less
Amanda Assucena, Joffrey Ballet
Not many first-year company members get the chance to perform a principal role, let alone two—but last season, the Joffrey Ballet's Amanda Assucena did just that. In addition to dancing the Sugar Plum Fairy in the company's production of The Nutcracker, Assucena, then 19, was cast as the lead in Krzysztof Pastor's Romeo & Juliet. "Dancing Juliet was something that I never expected my first year as a professional," she says.
Trained in her native Brazil, Assucena moved to the U.S. and spent four years at The Harid Conservatory before joining the trainee program at the Joffrey Academy of Dance in Chicago. After just one year, she received a company contract. With out-of-this-world extensions, spot-on technique and a delicate softness to her movement, it's easy to see why she's getting noticed. But it's her ability to embody characters honestly that sets her apart. With Joffrey's wide-ranging rep, Assucena hopes to absorb as much as she can from her fellow company members.
Now that Juliet and Sugar Plum are under her belt, what does she hope for next? "One of my dream roles is Giselle," she says. "After the Rain, Infra and Chroma are obsessions of mine, too." —Margaret Hermanson
Nicole Padilla, Sarasota Ballet
Before joining Sarasota Ballet, Nicole Padilla had barely heard of Frederick Ashton. But under directors Iain Webb and Margaret Barbieri—who have introduced a dozen of the British choreographer's works to the repertoire—Padilla has become not only an Ashton aficionado, but an accomplished interpreter of his work. During the company's recent Sir Frederick Ashton Festival, she triumphed in the peppy Elaine Fifield role in Birthday Offering, flawlessly executed the fouettés of the Blue Girl in Les Patineurs and showed off her range in both the polka solo and the "Scotch Rhapsody" in Façade.
The 26-year-old Texas native spent two years at the University of Oklahoma and another at the Joffrey Ballet School before joining Dayton Ballet. She came to Sarasota Ballet in 2011, but sat out most of her second season with a back injury. After recovering, she quickly made headway, dancing in the company's performances of Les Patineurs at the Kennedy Center's Ballet Across America festival last June (and drawing praise from several critics). "I'm more the athletic, jumping, turning type," she admits. Her dream role? "Kitri from Don Q," she says. "I'm just not a swan."
Padilla, who married in June, also teaches at the Margaret Barbieri Conservatory of Dance, and is pursuing an elementary education degree at the University of South Florida. "How do I do it all?" she asks. "I have no idea." ­—Carrie Seidman
Kathryn Hosier, National Ballet of Canada
Kathryn Hosier's long legs, trousered in black, shimmer under a hyper-articulated torso as she executes the fast, angular, punctuated arm movements of Marco Goecke's reimagined version of Le Spectre de la Rose. This is the same dancer who in pure classical mode can portray a Sleeping Beauty fairy or Swan Lake Spanish princess.
"What I love about the National Ballet is the sheer range of repertoire," says 23-year-old Hosier, thrilled that Goecke plucked her from the corps to dance the female lead in the North American premiere of Spectre in May. "It was a huge technical challenge, but also a big career break."
Born and initially trained in Champaign, Illinois, Hosier spent three finishing years at Canada's National Ballet School. Hired into the company as an apprentice in 2009, she was taken into the corps within six months. While competition for roles is always intense, last year Hosier was center stage in No. 24, an ultra-physical duet choreographed by company member Guillaume Côté.
Hosier has no illusions about the waiting game that's often a corps member's lot. Still, landing an opening night lead has whetted her appetite. "Once you get a taste, you want more and more and more." —Michael Crabb
Julia Rowe, San Francisco Ballet
There's a breezy sweetness to Julia Rowe's peasant pas de cinq variation in San Francisco Ballet's Giselle. Nothing in the intricate steps looks calculated and yet, there's a world of thoughtfulness behind the ease.
"So much of that variation for me is about finding nuances in the music and the phrasing," she says. "But there's also discovering more in what you can bring besides just steps. In order for Giselle's descent into madness to be heartbreaking, there has to be an overwhelming sense of joy beforehand."
 A native of Elizabethtown, Pennsylvania, Rowe trained for 11 years at Central Pennsylvania Youth Ballet. In 2005, she attended SFB's summer program because it was the home of one of her idols, Tina LeBlanc, and by 2007 had enrolled in the school year-round. Afterwards she joined Oregon Ballet Theatre, where she was nominated for a Princess Grace Award in 2010. Five years later, however, she came back to SFB, attracted by the diverse repertoire and the artists with whom she'd get to work.
Since then she's charmed audiences with her fluid musicality and graceful épaulement, moving easily between the classicism of Giselle, the precision of Mark Morris' Maelstrom and the dazzle of Liam Scarlett's Hummingbird.
"It's intimidating, exciting and incredibly artistically fulfilling for me to be in this kind of environment," she says. "There's always something new and challenging." —Mary Ellen Hunt
Emily Bowen, Houston Ballet
Watching Houston Ballet's petite Emily Bowen barrel downstage in a whirl of pirouettes, it's no wonder that artistic director Stanton Welch selected her as the "flute" for his recent The Young Person's Guide to the Orchestra. She excels at Welch's flair for flash, but never loses her razor-sharp punctuation. "Stanton tends to cast me in roles that test my ability to move lightning fast and be technically precise—all while covering large amounts of space," says Bowen.
Bowen trained under Patricia McBride and Jean-Pierre Bonnefoux at the North Carolina Dance Theatre School of Dance and at Houston Ballet Academy, where she competed in the Prix de Lausanne before joining the company in 2006.
A skilled chameleon, she can transition between a vintage, china-doll ballerina excelling in old-school delicacy one minute and a pocket-sized ball of fire in William Forsythe's The Vertiginous Thrill of Exactitude the next. Her extensive rep includes lead roles such as Lise in La Fille mal gardée and the pas de deux in "Rubies."
Next season, Bowen looks forward to reprising Edwaard Liang's Murmuration. "I was a part of the world premiere last season, and the response was so overwhelming," she says. "It holds a very special place in my heart." —Nancy Wozny
Meaghan Dutton-O'Hara, New York City Ballet
It's not often that a corps member nabs your attention when there are principals onstage at New York City Ballet. But Meaghan Dutton-O'Hara has been stealing the spotlight since she joined the company as an apprentice in 2011. Last season, she maneuvered effortlessly through George Balanchine's Raymonda Variations, crisply elegant despite her long limbs. Even standing in a row of dancers framing the stage, a simple gesture of her arm can be arresting—as if the music plays from her port de bras.
 Raised in Maryland, 20-year-old Dutton-O'Hara trained at the Frederick School of Classical Ballet. A summer intensive at the School of American Ballet in 2007 led to her staying on year-round. "NYCB had always been my dream," she says.
Since joining the company, Dutton-O'Hara has been pursuing an undergraduate degree at nearby Fordham University, taking classes in the morning before company class. (She wants to major in either math or economics.) "I knew if I took a break from my education, I wouldn't go back," she says.
Dutton-O'Hara's main focus, though, remains dancing, hoping to someday perform the leads in Serenade and Symphony in Three Movements. She's already begun to show the subtlety of phrasing that sets dancers apart in NYCB's repertoire. Her secret? "Remember to dance for you. I think that's most rewarding for the audience, as well." —Shannon Woods
Irlan Silva, Boston Ballet
Watching Irlan Silva dance, you see a prince: jumps soaring with regal abandon, innate noble carriage, gorgeous feet and extensions. But what you won't see is the poverty-stricken favela where the 24-year-old grew up in Rio de Janeiro, or the years of scholarships, training and ballet competitions that fueled his rise.  "I'm always thinking about what I passed through to get here," he says. "I have to keep pushing myself to be one of the best."
At 10, Silva started out learning to tap. But his natural flexibility and coordination led to a jazz scholarship at the Centro de Dança Rio. When his teacher encouraged him to try classical ballet, he admitted he'd never seen it before. "We didn't have access to theaters or culture," he says, so she took him to see a performance. "I was so impressed. I thought, 'Yes! I want to do that!' "
Hard training and competitions followed. At 17, he won Best Contemporary Dancer at Youth America Grand Prix. That same year, his performance at Prix de Lausanne led him to a contract with American Ballet Theatre II. There, his inspiring story was documented in the 2009 film Only When I Dance.
Silva joined Boston Ballet in 2011, attracted to its combination of classical and contemporary work. "I feel more free doing contemporary," he says, although his goal is to excel at both. So far, he is excelling across the board; this spring, Silva danced his first principal role in Harald Lander's Etudes.
When it comes to the future, Silva knows what he wants. "My dream is to be a principal dancer with Boston Ballet," he says. If this past season is any measure, he is well on his way. —Ashley Rivers


Inside PT
Jul. 31, 2014 08:09PM EST
At a certain point, you need to take your training to the next level. But with so many options available, how do you know what type of pre-professional program is right for you? For instance, would you rather receive detailed, one-on-one instruction from a private coach or work at the school affiliated with your favorite ballet company? Ramping up your training often requires moving far away from family, or tough financial sacrifices from your parents. Plus, there's that little thing called high school to worry about.
Keep in mind that each option comes with pluses and minuses. For instance, a boarding school may provide supervised housing but lack company exposure. Meanwhile, a company program may offer exciting performance opportunities, but no academic or housing component. To give you an insider's perspective, Pointe took a look at three students enrolled in three different, but fairly typical, training programs. We then broke down their dance schedule, academic life, costs and living situation into chart form to let you see what each approach entails.
Sixteen-year-old Alonso Olvera-Gonzalez wanted an all-in-one environment. He moved away from his family in Los Angeles to train at The Harid Conservatory in Boca Raton, Florida. "The dorms and academics are all built into the dance program," he says. "My mom felt more comfortable with that, too."
Others want more of a company affiliation—and a chance to perform alongside their heroes. "PNB has always been my dream company," says 19-year-old Grace Haskins, a Professional Division student at the Pacific Northwest Ballet School. "It's so fulfilling and humbling to be on the same stage as the people I've grown up admiring."
Fifteen-year-old Aran Bell, who is joining American Ballet Theatre's Studio Company this fall, turned down scholarships to traditional programs to study privately with New York City–based teacher Fabrice Herrault. "In a group class, it's hard for the teacher to focus on everybody," says Bell, who's worked with Herrault on and off since he was 7.  "One-on-one, you can pinpoint all of your problems. You never grow into a bad habit because he's always on you."
Take a look at the chart to see how these three dancers' training programs actually work.
Alonso Olvera-Gonzalez: The Harid Conservatory
Julie Doering and Alonso Olvera-Gonzalez in Harid's production of The Nutcracker, Act II. (Photo by Alex Srb, courtesy The Harid Conservatory)
Housing: Harid provides a coed residence on campus (with separate male and female wings) that are supervised by five full-time RAs, as well as part-time help. RAs are also responsible for providing transportation (students are not allowed to drive). "There's two of us to a room, and each room has its own bathroom," says Olvera-Gonzalez. The residence also includes three large leisure rooms and a dining hall, and each leisure room has a TV and Blu-ray player. Dancers in Olvera-Gonzalez's age group must be in their wing of the residence by 9:30 on school nights, and in their rooms by 10:30.
Academics: Harid is a recognized high school by the state of Florida. From 8 am to 12 pm, students go to the on-campus learning center, where they take four academic courses per semester through a virtual school program. (Their fine-arts requirements are gained through dance-related courses such as dance history, music, etc.) In addition to his online teachers, two academic mentors at the learning center supervise Olvera-Gonzalez's work and help him with questions.
Tuition and Fees: Tuition for the dance program is free. Fees for other expenses such as the academic program, room and board, transportation and dance supplies add up to roughly $14,500. The school offers need-based financial assistance.
Dance Schedule: After lunch, Olvera-Gonzalez has an hour-and-forty-minute technique class. He then takes either men's class (while the women take pointe and variations) or partnering, followed by two to three hours of rehearsal. "Tuesdays and Thursdays we have another class after rehearsal," he says, "which changes each year: either music, nutrition and kinesiology, or dance history." On Saturday mornings he takes a non-ballet class, such as modern or character.
Performance: Harid has two major productions per year: a program with Act II of The Nutcracker in December, and a classical and contemporary performance in May. Sometimes there are additional performance opportunities in the community.
Aran Bell: Private student of Fabrice Herrault
Aran Bell in rehearsal (Photo by Belinda Carhartt)
Housing: Bell lives at home, and commutes an hour each way into New York City for lessons.  
Academics: "I've been home-schooled since second grade," says Bell, now a sophomore in high school. All of his coursework is through an online home-schooling service. "If I need help, I ask—you can Skype your teacher if you have a question." Since he dances during the day, he devotes his evenings to schoolwork.
Tuition and Fees: Private coaching is typically more expensive. Herrault, who works one-on-one with several students, uses a sliding scale. "I will give students a special rate, for instance, if they study with me every day," he says. Most of his students are younger and move on to high-level pre-professional programs after one or two years. "Aran is a special case."
Dance Schedule: Bell commutes into the city to take Herrault's open class at Steps on Broadway six mornings a week. They then head to Herrault's studio, where he takes Herrault's smaller group class (about 12 students) from 2 to 4 pm. Afterwards, they work privately on variations or class combinations. "We work on partnering, variations or technique, depending on the day."
Performance: Since Bell is not associated with a school, he seeks out his own performance opportunities. That includes competitions like Youth America Grand Prix, where Bell won the top prize in the junior division in 2011. He's also received invitations to perform in galas throughout the world alongside professional dancers. "Competitions can be very good stage experience," he says, although he competes less now to focus more on his training. Last year, he danced with Intermezzo Dance Company, directed by ABT soloist Craig Salstein.
Grace Haskins: Pacific Northwest Ballet School, Professional Division
Grace Haskins (in backbend) in a PNB School performance of Balanchine's Serenade. (Photo by Rex Tranter, courtesy PNB School)
Housing: Haskins, a Seattle native, lives at home. PNB does not provide year-round housing for PD students. Denise Bolstad, the school's administrative director, notes that most share apartments in a residential area within walking distance of the studio. Rent for a Seattle one-bedroom apartment averages $1,400 a month.
Academics: Most PD students, who range from age 16 to 19, have already graduated from high school. For those who haven't, PNB requires them to finish through an online program or make other arrangements. As a junior, Haskins enrolled in Running Start, a two-year program through Seattle Colleges that allowed her to fulfill both high school and college requirements. "Sometimes you can do online classes, but this year I went to night school," she says. After rehearsal on Monday nights, she often had a four-hour lab class until 10 pm; other evenings were devoted to other classes, homework and studying. She graduated in June with both a high school diploma and an associate's degree in science.
Tuition and Fees: Haskins is on full scholarship at PNB (tuition is $8,100 per year), while her Running Start courses averaged $107 per quarter. The majority of PDs are on scholarship, and some receive a stipend to help with living expenses. Bolstad notes that most rely on parental support, as their schedule leaves little time for outside employment.
Dance Schedule: Haskins begins each day with technique class at 9:30. The rest of the day varies, depending on whether she's rehearsing with the company. If she's cast in a PNB production, she has rehearsals from 12 to 7 pm. If not, she has pointe, variations or partnering class from 11 to 12:30, followed by a second technique class later in the afternoon. She also takes technique and modern classes on Saturday.
Performance: PD students regularly perform with the company. Haskins performed in PNB's productions of Nutcracker, Giselle, The Sleeping Beauty and A Midsummer Night's Dream. Company members also choreograph on PD students for the annual Next Step program.
Growing up together, first as students at the School of American Ballet and then as young dancers on the rise at New York City Ballet, Tiler Peck and Robert Fairchild dated off and on. With their lives on the same track for nearly a decade, it's no wonder they felt a special bond. Their relationship became serious several years ago. "I feel so lucky to have Tiler in the same industry," says Fairchild. "We understand the struggles and the achievements that come along with this career, and it's so meaningful to share those moments with someone who truly gets it." The couple, who live in a one-bedroom apartment five blocks from the theater, married in June at the end of NYCB's spring season. A few weeks before, Pointe followed them through a typical day. All photography by Kyle Froman.


Get Pointe Magazine in your inbox