Forsythe's in the middle, somewhat elevated uses the battement like an attack. Photo by Alexander Iziliaev, Courtesy Pennsylvania Ballet
Just before retiring in 2015, Sylvie Guillem appeared on "HARDtalk with Zeinab Badawi," the BBC's hard-hitting interview program. Badawi told Guillem,
"Clement Crisp of the Financial Times, 14 years ago, described your dancing as vulgar."
Guillem responded,
"Yeah, well, he said that. But at the same time, when they asked Margot Fonteyn what she thought about lifting the leg like this she said, 'Well, if I could have done it, I would have done it.' "
They were discussing Guillem's signature stroke—her 180-degree leg extension à la seconde. Ballet legs had often flashed about in the higher zones between 135 and 160 degrees before. But it wasn't until the virtuoso French ballerina regularly
extended her leg beside her ear with immaculate poise in the 1980s that leg extensions for ballet dancers in classical roles reached their zenith. Traditionalists like Clement Crisp were not taken with it.
Keep reading...
Show less
Summer intensive students in contemporary class at Arts Umbrella. Photo by Michael Slobodian, Courtesy Arts Umbrella.
Before attending the Alonzo King LINES Ballet summer program at age 18, Maya Harr did not have much experience with improvisation. In fact, she was such an introverted bunhead that even the word seemed scary. "The teacher came into the studio, turned off the lights, put on music and told us to dance," says Harr, now a LINES company member. "We didn't stop moving for 45 minutes, and I was grateful for the freedom I've found."
You might feel obligated to spend your summer honing your technique at a classical ballet program. Yet as ballet companies open their repertoires to more contemporary works from choreographers like Aszure Barton, Kyle Abraham, Crystal Pite and Nicolo Fonte, you may want to consider opening yourself up to contemporary styles and the outside-the-box thinking that underlies them. "This work is necessary for the future of ballet," says Dwight Rhoden, artistic director of Complexions Contemporary Ballet and its affiliated summer intensive.
Keep reading...
Show less
From left: Jennifer Stahl, Lonnie Weeks and Sasha De Sola in rehearsal for Trey McIntyre's new work. Photo by Christian Peacock for Pointe.
Photography by Christian Peacock

Summer is always a lively time at San Francisco Ballet, as the dancers return from vacation and launch into rehearsals for the upcoming season. But last July through September felt absolutely electric with creativity as the company created 12 world premieres for Unbound: A Festival of New Works, a cutting-edge program that will run April 20–May 6 at the War Memorial Opera House.
Artistic director Helgi Tomasson invited a wish list of international choreographers to participate: David Dawson, Alonzo King, Edwaard Liang, Annabelle Lopez Ochoa, Cathy Marston, Trey McIntyre, Justin Peck, Arthur Pita, Dwight Rhoden, Myles Thatcher, Stanton Welch and Christopher Wheeldon. Each got about 12 dancers, three weeks' studio time and, aside from a few general guidelines, total artistic freedom.
Keep reading...
Show less
popular
Oct. 25, 2017 01:09PM EST
Photo via Instagram.
The messages started coming in Monday evening. A concerned teacher was worried about several dancers she knew at American National Ballet—did we know what was going on? Later that night, more information started emerging on social media—and it was clear something was up at the Charleston, South Carolina–based company.
We've been interested in ANB since its debut was first announced in April—not only was it a brand new company, but one with close to 50 dancers, and some major names attached, like Rasta Thomas, Sara Michelle Murawski and Jessica Saund. The founders, Doug and Ashley Benefield, had few ballet credentials, but they made an encouraging promise to highlight diversity, hiring dancers of different body types and races. A story in Charleston's The Post & Courier reported that they had a strategic business plan to support the company through for-profit ventures such as a licensing enterprise, a dancewear line and an academy.
So what happened? Here's what we know so far:
Keep reading...
Show less
Photo by Christopher Duggan, Courtesy Collage Dance Collective.
When artistic director Kevin Thomas and executive director Marcellus D. Harper founded Collage Dance Collective in 2006 in New York City, they sought to push the boundaries of classical ballet and foster and promote the talents of artists of color. In 2007, the company relocated to Memphis during a period of the city's "artistic renaissance" and as part of a mission to extend classical ballet training to a wider and more diverse audience.
That same year also marked the company's first performances at Jacob's Pillow Dance Festival. This week, Collage Dance Collective returns to the Pillow, performing at the festival's Inside/Out stage on Thursday, August 10. (Thomas will also teach an open ballet class; click here for more info.)
Keep reading...
Show less
popular
Jul. 25, 2017 06:23PM EST
Photo by Erik Tomasson, Courtesy SFB.
It may be the middle of summer, but San Francisco Ballet is already rehearsing for its spring season. There's a lot to prepare for—the company's Unbound: A Festival of New Works, which runs April 20–May 6, 2018, will feature 12 new ballets by 12 choreographers. And it's an impressive group of dancemakers: David Dawson, Alonzo King, Edwaard Liang, Annabelle Lopez Ochoa, Cathy Marston, Trey McIntyre, Justin Peck, Arthur Pita, Dwight Rhoden, Myles Thatcher, Stanton Welch and Christopher Wheeldon. That's a lot of choreography to pack in!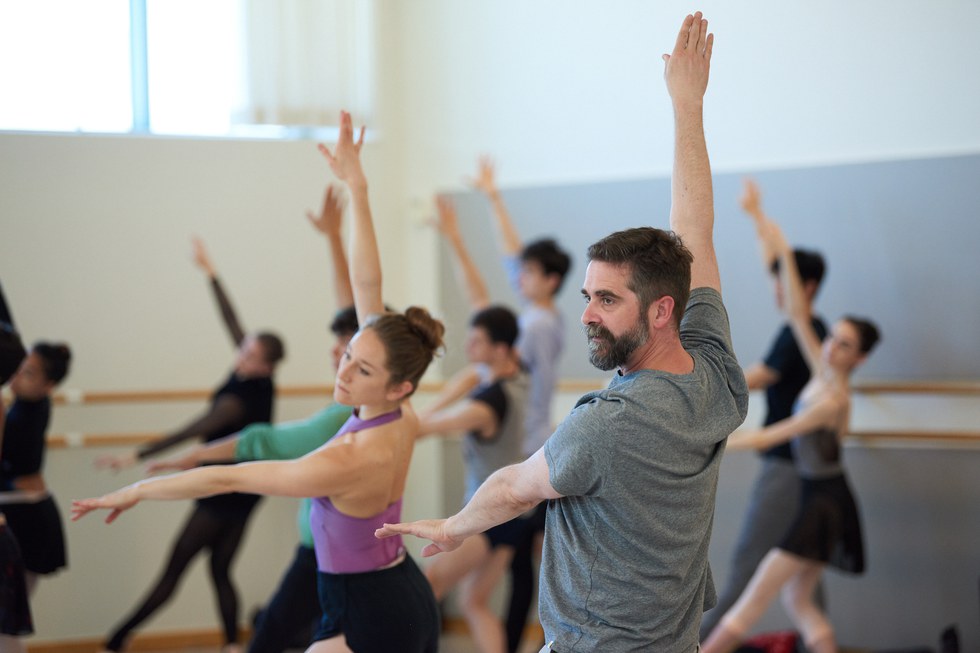 Stanton Welch in rehearsal with San Francisco Ballet. Photo by Erik Tomasson, Courtesy SFB.
Luckily, we don't have to wait until spring to get a sneak peek of some of these new works. SFB is kicking off Unbound: LIVE, a series of live-stream events that will take us inside rehearsals. The first one is Wednesday, July 26, at 5:30 pm Pacific Standard Time (8:30 EST). It will highlight rehearsals with Arthur Pita, Edwaard Liang and Stanton Welch. You can expect to see the dancers perform excerpts of their works in progress, as well as interviews with each choreographer.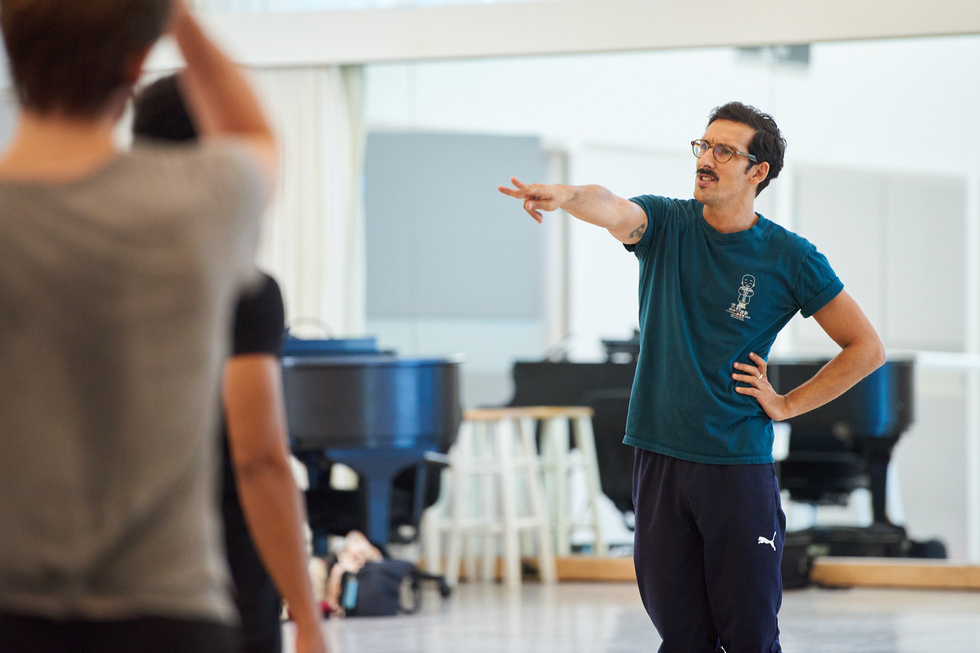 Artur Pita in rehearsal. Photo by Erik Tomasson, Courtesy SFB.
Visit SFB's website or its Facebook page tomorrow night to watch. And if you miss it, no worries—it'll be accessible on the company's site and YouTube channel for 60 days. The other live-stream events have yet to be announced, but we'll be sure to keep you posted!
News
Sep. 02, 2015 07:29PM EST
Rehearsing a world premiere can be daunting for any dancer. This month, Tulsa Ballet principal Youhee Son is faced with triple the challenge. She'll be dancing in brand-new creations by Jorma Elo, Dwight Rhoden and Ma Cong in Tulsa Ballet's Creations in Studio K program.
For
Pointe
's biweekly newsletter, we
spoke with Son as she prepared for the performances which start next weekend
.
What can you tell us about the new works?
Since Ma is resident choreographer here, he knows us very well. In his ballet, I start out sad and romantic, but the next part is really energetic. That's the hardest thing, to change my mood in a minute. For Dwight, I'd been hoping to work with him for a long time, so this is a dream come true. In his piece, we start with pointe shoes and lots of partnering before changing to soft shoes--that's hard. Dwight's movement is very rich. Even when you wave your arms, it's not just the arms. You have to use your whole body. For Jorma's ballet, he came in with sketches but didn't give us exact movements. He gave us some freedom to collaborate, so I feel like I'm really a part of his choreography.
You'll be performing in Studio K, a 300-seat theater. How is that different from dancing on a main stage?
With the audience so close, it can be harder to concentrate. But that also means they can see everything; they don't miss any part of the choreography since the space is so compact. And as dancers, we get to feel what the audience feels. When they're surprised, we can hear them gasp.
In rehearsal, do you approach a premiere differently than a ballet that already exists? 
Yes, because when I learn an older piece, I can watch a video to see how to fix a difficult movement. But for a new piece, I am in charge of driving the car. I'm not following somebody's interpretation. I'm trying to find a way to make it look better for not only myself, but for the entire piece. It's about making it a better collaboration. 
What advice do you have for dancers when they're learning a brand-new ballet?
Go for it. Be creative. And don't be afraid to be a part of it. If the choreographer is working with another dancer on a different part that's not yours, you still need to listen to him because it's all about that one piece.
For even more interviews, tips, audition info and giveaways, sign up for our FREE e-newsletter.
Phot credit: Son in Yuri Possokhov's 
Classical Symphony
 with Hyonjun Rhee. Courtesy Tulsa Ballet.
"Everyone involved in dance is a piece of a big puzzle," says Samantha Klanac of Aspen Santa Fe Ballet. "The more people you can establish a relationship with, the better that puzzle fits together. Obviously, talent is a key factor in landing a job. But the most successful dancers I know are very personable and make an effort beyond just being technically proficient."

Networking—the cultivation of relationships to help advance one's career—is practiced in nearly every profession, ballet included. In fact, some dancers argue that it's almost as valuable as talent in generating new opportunities. Increasing your connections and exposure within the dance community can help you land a job, switch companies or transition to a new career, to name just a few benefits.
Take freelance dancer Drew Jacoby. She arrived in New York City two years ago with few contacts but plenty of ambition. When she learned that choreographer Christopher Wheeldon was founding Morphoses/The Wheeldon Company, she e-mailed him a resumé and a link to her website. Although Wheeldon had never met her, he was impressed enough with what he saw to invite her to take class with him. Afterwards, he offered encouraging words about Jacoby's prospects for dancing with his company.

But over the next six months, Jacoby e-mailed Wheeldon five times without receiving a response. Just as she was about to abandon hope, her phone rang and she was offered a job with Morphoses. "It's about being exposed to people and building genuine relationships," says Jacoby. "The more open you are, the more likely you're going to open those connections."

Jacoby isn't shy about networking. If she wants to make a living as a freelance dancer, she can't be. "You have to put yourself out there and even contact people out of the blue. I'm not afraid to either not get called back or hear, 'You're not right for this.' "
Not all dancers are comfortable with networking, however. Accustomed to letting their talent speak for itself, they feel awkward promoting themselves. If the prospect seems daunting, focus on the potential payoff.

When you're just launching your career, nurture the contacts you've made as a student—your teachers, for example, and older students who've graduated to professional careers. Ask to meet outside of class to talk about your goals. Be up front: Let them know the type of opportunity you're seeking. Remember, they have their own network of associates they can contact on your behalf.

Don't be timid about creating new contacts. Chat with other dancers you meet at open classes—they might be able to recommend you for an opportunity at their company. Introduce yourself to the choreographer after a master class or workshop to let him or her know you enjoy their work.

"I expect dancers to keep in touch—and if this is somewhere they want to be, they will," says Dwight Rhoden, co-artistic director of Complexions Contemporary Ballet. When Rhoden needed to fill three spots this season due to injury, he called three dancers who'd steadily maintained contact with him.

 "You don't want to bombard someone and become a nuisance," Rhoden says, "but I certainly think it's appropriate to let them know that you're still around and looking for work."

Rhoden recommends that dancers use e-mail for updates and follow up with face time. "You can post your work on a website and invite someone to see what you've done. You can also let them know if you're performing in the area," he says. If you want to work with a particular company, "Ask if you can take company class from time to time so you stay on the radar," Rhoden advises. "Being able to network that way is productive because the director sees you and sees your interest."

No matter what stage you are at in your career, it can be beneficial to keep ties with dancers from your past. Elizabeth McGrath, a demi-soloist with Ballet West, stays in touch with the teachers and guest teachers at the ballet studio where she trained. "I'm very happy with my job, but I know that, if I wanted to guest or audition somewhere, I could call some of these connections and they would help me with the process."

You should also view other dancers and teachers you've met at open classes, summer intensives and competitions as part of your network. Keep them updated on your progress through social networking sites like Facebook and MySpace, as well as e-mail. Even if these contacts don't have a direct impact on your career, their camaraderie can provide valuable insight. "I have friends from summer programs who have danced in major companies, smaller companies and in Europe," Klanac says. "It's helpful to hear about their experiences so I can reevaluate my own."
Klanac's attitude is that all of the contacts she makes—even those not directly tied to dance—could help her in some way. As proof, she points to a member of her company's board who got her an appointment with a prominent physician when she suffered a back injury.

"It's a small world, and one relationship bleeds into another. Networking is not something I consciously think about, but it works best when it's a natural process and a natural relationship. I've gotten my job because I've been myself. If they want to work with you, they'll see that."

A former newspaper reporter, Nicole Peradotto is a longtime arts writer who lives in upstate New York.
In previous generations, ballet dancers trained with the expectations that they would be dancing Sleeping Beauty for the rest of their lives. Thanks to the changing choreographic landscape of the 21st century, however, today's dancers must often adjust to new approaches and ways of organizing movement in order to work with a professional company. Either as a strategy to attract a broader audience or from a genuine interest in evolving the art form, ballet companies are programming works by choreographers as diverse as Martha Graham, Paul Taylor, Twyla Tharp and William Forsythe and commissioning work from innovative contemporary choreographers such as Dwight Rhoden and Karole Armitage. A broader range of skills than those encompassed by traditional training is required to dance these works well.
Contemporary choreography asks the dancer to look outside the box, beyond perfect form, to see the qualities movement itself can possess. To thrive in this environment, dancers must be willing to take risks and to do things differently—not just physically but mentally as well.
Rhoden and Armitage are two choreographers who push dancers to explore new territory. Both have their own companies—Complexions, which Rhoden cofounded and codirects with Desmond Richardson, and Armitage Gone!, which Armitage formed last year when she returned to her home base in the U.S. after several years choreographing in Europe. Both use ballet as a base and demand solid classical training.
"Even if you're doing a développé that's turned in, the way you unfold, the way you create line, relies on classical method, timing," says Armitage.
And while ballet dancers are expected to excel at pirouettes, extensions and jumps, those things are only 50 percent of what is necessary, says Rhoden. "You need that foundation, but you [also] need to be able to then let them go."
Where traditional ballet emphasizes the limbs—especially the legs—while the torso remains relatively unchanging, contemporary choreographers ask for an expansive use of the whole body. This involves freeing the upper body, which can be a challenge for the classically trained.
"How you think about the movement totally changes what it looks like," says Armitage. "The preparation is really having an open mind and trying out different things. You have to understand the process of making shapes instead of just copying. Imitating shapes, that's really of a bygone era."
To create his movement, Rhoden draws on a broad background in dance including dancing for his mentor, Alvin Ailey, in the Ailey company. Rhoden's choreography often originates  in the center of the body and flows into the limbs, with an organic quality that can be likened to an amoeba. In his teaching, he identifies "missing links" in the evolution he envisions for ballet. For him, these links enable dancers to see the possibilities that can be drawn from ballet technique. For example, classroom steps are executed and then repeated off-center. Dancers learn when to pull away, when to release the tension and how to feel different energy levels.
Demonstrating a movement, Rhoden moves through fondu to front tendu and his upper body contracts as his arm reaches forward to greet the foot. "The total body performs the step," he says, always referring back to the center line even while pulling away from it.
Redirecting energy is key to Rhoden's work. And, although the concepts are logical, the result will be unfamiliar to the classically trained dancer accustomed to constantly lifting away from the floor. "Spiral down, find the floor," "Bear the weight" and "The dynamics have to be clear" are all instructions that Rhoden calls out in rehearsal.
Armitage's movement is a fusion built on her early Balanchine-based ballet training and her years with Merce Cunningham. Though she is leaning away from pointe shoes, she still considers herself a classicist, because her preoccupations are with structure, beauty and metaphor. She fuses the thoughtful approach of modern dance with the technique, rigor and refinement of ballet.
Armitage encourages dancers to aim for fluency in both ballet and modern and to explore awareness-building techniques like yoga, as well as other practices that offer an edge in finding the common denominator of the body's universal language.
"What I do is [create] expression through form," she says. "The concepts are very logical. You're using all the training you've had and putting it toward a different picture." Her dancers "trace movement rather than making shapes. You show where the movement originates," she says. "Transitions are the new movements."
Knowing how it's arrived at is key to being "in the movement." By doing something very rigorous and precise, the dancer's personal expression can be achieved.
Another aspect of contemporary dance that may be disorienting for the classically trained dancer is the collaboration that many contemporary choreographers expect. Both Armitage and Rhoden involve their dancers in the process of developing new and expressive movement, calling on facets of their company members that are often forgotten in the push to excel at technique.
Rhoden begins with a concept. The dancers' creativity in interpreting his direction is an essential part of the collaborative process. As a company director, he may have his pick of classically trained dancers, but he looks for imagination along with solid technique, selecting only those "who can be comfortable with being uncomfortable," he says. "It's only then you can grow. You're not learning a routine."
In the quest for the beauty of fully realized movement, Rhoden has praise for a dancer that he worked with recently. "He can move freely. He's willing to bare his soul," says Rhoden. "And he's not afraid to look ugly." The dancer understood, as Rhoden says, "how to take something beautiful and cave in on it."
For classical dancers, learning to work with contemporary or modern choreographers may be a matter of letting go of the notion of perfection so that they can embrace the expressivity of movement itself.
"Everything is a product of its historical moment," says Armitage. "The way that Frank Gehry has exploded the volume of architecture so that it's not just a square box—I'm trying to do the same kind of thing. Instead of the body just being vertical and horizontal, it can move into all kinds of planes and angles."

Lori Ortiz is a freelance arts journalist based in New York City.
Nov. 29, 2001 07:00PM EST
It's been a dramatic ride for the ballet dancers on this season of "So You Think You Can Dance" so far. I was thrilled when three—three!—ballet specialists made the Top 20 a few weeks ago: former San Francisco Ballet dancer Daniel Baker, former Los Angeles ballet dancer and Come Fly Away cast member Chehon Wespi-Tschopp, and Joffrey Ballet School-trained Eliana Girard. They were even showcased together in a highly technical piece by Complexions  Contemporary Ballet's Desmond Richardson and Dwight Rhoden. (It wasn't my personal favorite, but anything that gets pointework on national television is fine by me.)

Initially, then, things were looking up for the ballet crew. But from that point on, the men, especially, struggled, and both Daniel and Chehon ended up in the bottom 6 at the end of this week's show. Chehon was saved by the judges; Daniel was sent packing.

With the exception of the phenomenon that is Alex Wong, ballet dancers have always had trouble on "SYTYCD." I think that's partly because audiences just expect more of contestants with strong technical training. Ballet dancers' failures on the show are more pronounced, and their successes less impressive, because audiences set higher standards for them. To be fair, ballet dancers do tend to have a hard time relaxing into other styles. But they're cut a lot less slack in hip hop routines than hip hop dancers are in contemporary routines, for example.

I'll miss Daniel, but here's hoping that Eliana and, in particular, Chehon, make it all the way this season. There's a reason the judges saved Chehon: Not only is a beautiful technician, but I think he also has that ineffable "it" factor. He just needs to stick around long enough (and stay away from the samba long enough!) for everyone to realize it.
Complexions Contemporary Ballet co-artistic director Dwight Rhoden is bringing F. Scott Fitzgerald's iconic The Great Gatsby to the stage. The work will premiere in Russia in October 2014 before embarking on a world tour. Though it has yet to be officially cast, the flashy trailer stars Ukrainian National Opera's Elizaveta Cheprasova as Daisy and Mariinsky Ballet's Denis Matvienko as Gatsby. And it seems to borrow a bit of drama from Baz Luhrmann's recent film adaptation. (If only Leonardo DiCaprio could dance his way into this ballet version, too.)


Get Pointe Magazine in your inbox