Photo captured via YouTube.
The ballet Don Quixote offers its principal ballerina the unique chance to play two different characters in one role: there's Kitri herself, a vivacious village girl, and then Dulcinea, Don Quixote's idealized love, who takes on the form of Kitri in his dream. The Paris Opéra Ballet's Aurélie Dupont, a former étoile and now the company's artistic director, creates distinct personas for each incarnation of her character. In this clip from a 2002 performance, Dupont dances Dulcinea's variation with serene precision, embodying the mystical beauty of Don Quixote's imagination.
Aurelie Dupont - Dulcinea www.youtube.com
Keep reading...
Show less
via YouTube
Back-to-school blues bumming you out? This minute-long clip of Ekaterina Krysanova dancing the first bridesmaid's variation in Don Quixote is the perfect pick-me-up. The fiery Krysanova, who was promoted to principal at the Bolshoi Ballet in 2011, is a bright bundle of energy in this punchy solo. Packed with saut de chats and grand jetés, the variation shows off her star potential from the early days of her career. At 0:20, she punctuates her diagonal of spitfire chaînes with a sassy, suspended moment in seconde. Her quick footwork flits along to the musical trills. A performer at heart, as she admitted in 2017 interview with Pointe, Krysanova is clearly unstoppable when she takes the stage. Happy #ThrowbackThursday!
Adiarys Almeida in Don Quixote. Courtesy Almeida.
How was training at the Cuban National Ballet School different from what you see in the U.S.?
It was free education, so it was very hard to get in, and there was a cut every year. We had academics alongside art, and we had to take a lot of different things: modern, character, ballroom, choreography composition, history of dance, music, French, makeup—everything you need for this profession.
Why did you defect?
I always wanted to have an international career. But also, I was 19, and I had a boyfriend. We were dating in Cuba when he won the lottery visa to come to the United States. When I was on tour here with the National Ballet he came to see me and I thought, I'm in love! So I stayed with him.
Has the political opening of Cuba affected you?
Before, if you defected, you had to wait five years to go back. That was pretty rough. Things have changed so much. It's about time; we're neighbors! Last year I was able to go back and perform at the Grand Theater in Havana—with my family, my teachers and my friends there.
Keep reading...
Show less
News
Jun. 25, 2018 03:43PM EST
Jane Cracovaner and Elijah Laurant with MOVETHECOMPANY, which will perform at the Joyce Ballet Festival this week. Photo Craig Foster, Courtesy Joyce Theater.
Wonder what's going on in ballet this week? We've pulled together some highlights.

The Joyce Ballet Festival Is Back
New York City's Joyce Theater kicks off its five-company Ballet Festival June 26-July 7. Showcasing a variety of styles including neoclassical and contemporary dance, the festival prides itself on featuring smaller companies. Below, check out the three companies opening this week. (Feeling festive? Enter our giveaway to win tickets to the Ashley Bouder Project at the Joyce on July 5.)
Keep reading...
Show less
ABT in "Swan Lake." Petipa often collaborated with Lev Ivanov, who choreographed this ballet's white acts. Photo by John Grigaitis, Courtesy ABT.
Two hundred is the new 30. Or at least it seems so for Marius Petipa, whose ballets are as active as ever as we celebrate his 200th birthday this year.
Nearly all major ballet companies dance Petipa's iconic ballets, which reflect his prolific creative output. And they are heavy hitters: Swan Lake, La Bayadère, Le Corsaire, Don Quixote, The Nutcracker, Paquita, The Pharaoh's Daughter, Raymonda and The Sleeping Beauty, to name just a few of the 50-plus ballets he choreographed. He also revived and reworked earlier productions of Coppélia, La Fille mal gardée and Giselle. During American Ballet Theatre's 2018 spring season, five out of its eight weeks will be attributable to Petipa, including the debut of artist in residence Alexei Ratmansky's newly reconstructed Harlequinade.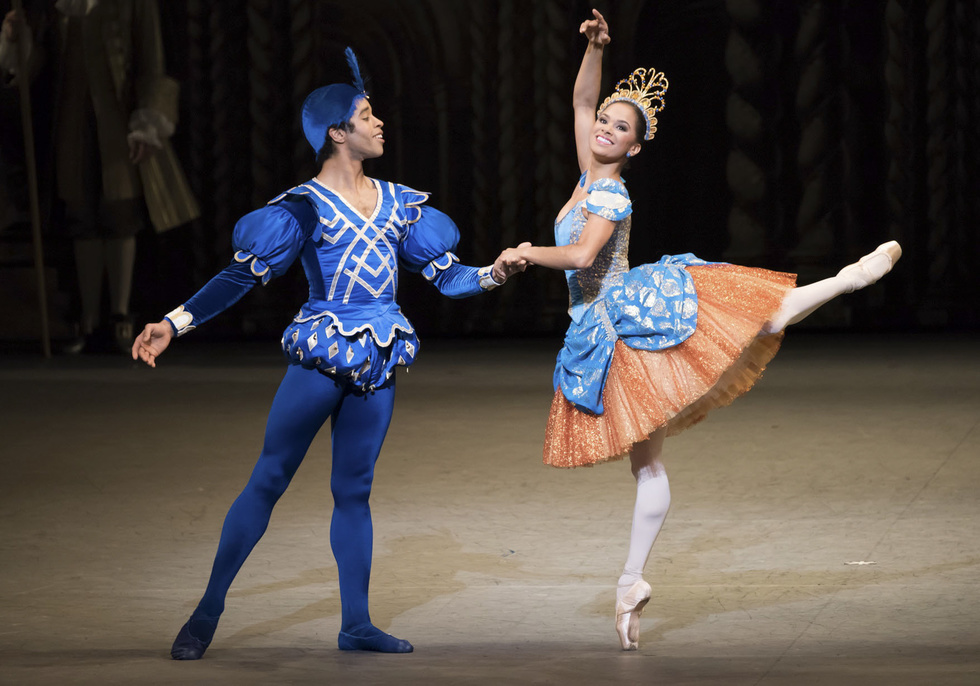 Gabe Stone Shayer and Misty Copeland in "The Sleeping Beauty." Photo by Doug Gifford, Courtesy ABT.
Keep reading...
Show less
News
Jun. 04, 2018 05:09PM EST
Costume sketches for Alexei Ratmansky's new "Harlquinade" for ABT. Courtesy ABT.
Wonder what's going on in ballet this week? We've pulled together some highlights.

ABT's New Harlequinade is Finally Here
The long wait for Alexei Ratmansky's Harlequinade for American Ballet Theatre is finally over. June 4-9, catch ABT at the Metropolitan Opera House in this bold and colorful tribute to the Italian commedia dell'arte traditions, based on the archival notes of Marius Petipa. If this trailer by Ezra Hurwitz is any indication, this new story ballet is sure to delight (fingers crossed that those dogs make their way to the stage).
Keep reading...
Show less
News
May. 29, 2018 05:23PM EST
PNB in Justin Peck's "Year of the Rabbit." Photo by Angela Sterling, Courtesy PNB.
Wonder what's going on in ballet this week? We've pulled together some highlights.
Ballet Nacional de Cuba Continues U.S. Tour at the Kennedy Center
A few weeks ago we shared that the historic Ballet Nacional de Cuba is back in the U.S. after 40 years. The company has already made stops in Chicago and Tampa, and heads to The Kennedy Center May 29-June 2 as part of the Artes de Cuba festival with performances of Giselle and Don Quixote. The tour will conclude at the Saratoga Performing Arts Center June 6-8. Whether or not the company is heading to a city near you, you can catch a glimpse of Don Q in the below trailer.
Keep reading...
Show less
popular
Feb. 20, 2018 10:57AM EST
Angelina Vorontsova in the company's revival of "Cinderella." Photo by Stas Levshin, Courtesy Mikhailovsky Ballet.
Ella Persson remembers the rehearsals for her debut as Giselle. "I was in my first year with the company, and I started preparing with Mikhail Messerer during late evenings," the Mikhailovsky Ballet's Swedish-born coryphée says. "I was definitely not ready, but he gave me a chance to push myself and made me so much stronger, mentally and physically."
Under Messerer, the Mikhailovsky Ballet has carved a niche on the Russian and international stage by investing in coaching and dancers' growth. Unlike the older Mariinsky, St. Petersburg's second ballet company was only founded after World War I. But with a classically focused repertoire and productions that rotate onstage every month, it offers plenty of opportunities for talent to thrive.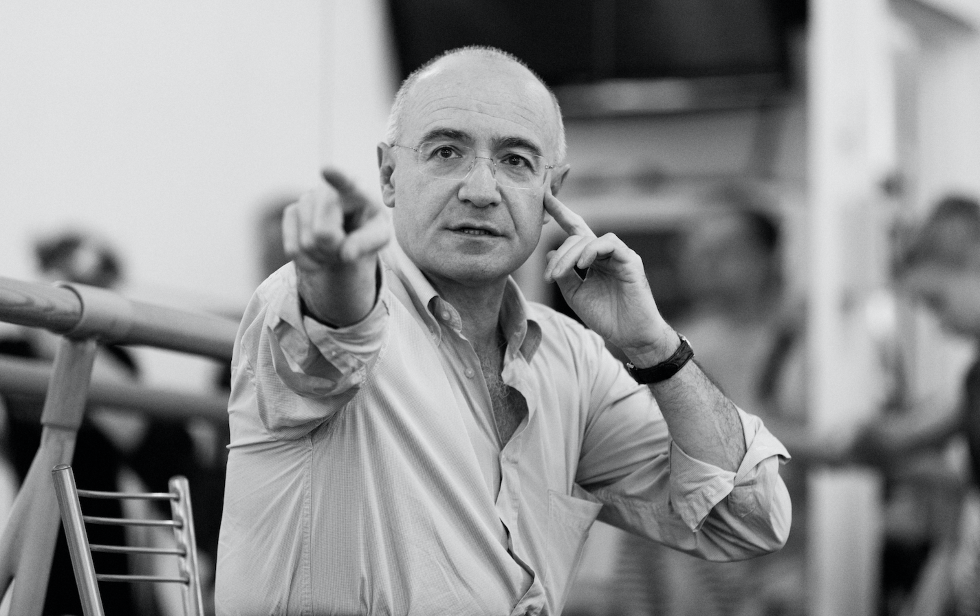 Ballet master in chief Mikhail Messerer. Photo Courtesy Mikhailovsky Ballet.
Keep reading...
Show less
Jurgita Dronina as Kitri in "Don Quixote." Photo by Angela Sterling, Courtesy National Ballet of Canada.
When Jurgita Dronina first danced Kitri for a guest performance of Don Quixote with Teatro Filarmonico-Fondazione Arena Di Verona, she was in essence cast against type. "Before Kitri, I was dancing only lyrical or dramatic roles, so I had to start from scratch in finding my own signature in the steps and my own interpretation of the character," says Dronina, who was dancing with Royal Swedish Ballet at the time.
Keep reading...
Show less
Jim Caldwell, Courtesy of Houston Ballet
The '90s were an exciting time at Houston Ballet. Lauren Anderson, who became Houston's first African–American principal dancer in 1990, reigned as its queen of virtuosic technique; a few years later, a young Cuban wonder named Carlos Acosta joined the company and became one of her regular partners. The results were nothing less than explosive, as this clip of their Don Quixote pas de deux proves. Dancing at a brisk pace, they imbue the choreography with high-flying allégro, crisp energy and charismatic flair. Within a minute Acosta has Anderson in an overhead press (no biggie!). Later, she attacks her pirouettes with pointed musicality, slicing the air with a dramatic grand ronds de jambe.
In a recent interview with Pointe, Anderson talked about their partnership. "It was a little bit of a battle at first because he's strong and I'm strong," she said, adding that she had already been an established principal when Acosta, who is eight years younger than Anderson, joined the company. "But we found that there was chemistry there. And what was fun was that we were both heavy on the technique side, so we'd compete a bit onstage, especially when we'd get to the coda. As we'd each come out for our solos, we'd try to kick it up a notch." It's easy to see how much fun they're having here. Happy #TBT!

Views
Oct. 27, 2016 02:40PM EST
Susan Jaffe. Photo by Daniel Sorine via Redbubble.
Kitri's Act I variation in Don Quixote is short—but not exactly sweet. Though this clip from a 90s documentary lacks the ballet's usual setting of matadors milling around a Spanish plaza, former American Ballet Theatre principal Susan Jaffe doesn't need scenery to draw her audience in. Kitri's power moves are all about passion, and they require a certain abandon. Jaffe delivers. From the moment she snaps her fingers in her preparation to that crowd-pleasing diagonal of consecutive pirouettes, she's all fire and spice.
Since retiring in 2002, Jaffe has been a major player in the ballet world, choreographing, teaching, judging, serving on boards and receiving awards. She's currently the Dean of Dance at the University of North Carolina School of the Arts, and she firmly believes that a ballerina's magic lies in the depth of her artistry, not the height of her extensions. (We 100 percent agree. Though, admittedly, both are nice!) Happy #ThrowbackThursday.
For more news on all things ballet, don't miss a single issue.
Views
Jul. 14, 2016 05:52PM EST
Harvey as Kitri in Don Quixote. Photo by Martha Swope, via CriticalDance.org
Ballet is nothing without technique, but when a performance is accompanied by nothing more than that, it loses its allure. Not so in this 1983 clip of American Ballet Theatre's Cynthia Harvey in Don Quixote. Here, she's a breath of fresh air, striking the perfect balance between technique and artistry. She blends the clean lines garnered by years of training with the effusive personality of Kitri—neither aspect overshadows the other.
Although Harvey is surrounded by dancers, she stands out in part due to her sparkling charisma. She embodies Kitri's character so well that it's easy to forget that you're watching a performer. Although the tempo gets increasingly faster, Harvey remains steadfast in her movements, making them fuller and more dynamic. Watch the ease with which she transitions from her waltz turns into a series of chaînés and développés at 1:30. The energy and excitement she brings to each step is magnetic, creating lasting snapshots for the audience to take with them.
In May, Harvey became the artistic director of American Ballet Theatre's Jacqueline Kennedy Onassis School. In addition to her work with the En Avant Foundation, a non-profit committed to mentoring young dancers, Harvey remains an active contributor to the dance world, bringing notoriety wherever she goes. Happy #ThrowbackThursday!
For more news on all things ballet, don't miss a single issue.
Views
Jun. 30, 2016 03:20PM EST
Alina Somova. Photo via Pinterest.
Swan Lake, Sleeping Beauty, Romeo and Juliet and Don Quixote are some of my favorite ballets. I love watching the grace that is Odette and Aurora and the strength of Juliet and Kitri. But after watching this clip from a DVD released in 2009 of Mariinsky Ballet principal Alina Somova, I can say Queen of the Dryads in Don Quixote is now one of my favorite roles.
In this video, Somova appears before Don Quixote in a dream. She mirrors the subtle but captivating orchestra from the moment she walks onstage, all the while radiating an understated elegance from her first port de bras to her last fouetté. I love the fluidity of her arms as she glides from stage left to stage right between each suspended développé. Her entrechats across the stage add a playful note to an otherwise regal performance.
When Somova was promoted in 2004, only a year after joining the company, critics doubted her promise as an artist. But, they cannot deny her transformation from the budding, technically gifted student in the documentary Ballerina to one of the premiere dancers of the Mariinsky. Now in her 14th season, we can't wait to see what else is in store for her.
Happy #ThrowbackThursday!
Views
Mar. 09, 2016 02:42PM EST
Kathryn Manger and Peter Weil in Don Quixote. Photo by Alexander Iziliaev, Courtesy Pennsylvania Ballet.
Angel Corella has been shaking things up at Pennsylvania Ballet ever since he took over as artistic director in 2014. His new production of Don Quixote, which premiered last weekend and runs through Sunday, March 13, features a slew of young corps and apprentice dancers in leading roles. Perhaps most surprisingly, Corella paired first-year apprentices Kathryn Manger and Peter Weil opposite each other as Kitri and Basilio in last Saturday night's performance. Pointe spoke with Manger, 20, and Weil, 19, before their second performance tonight at the Academy of Music in Philadelphia.
When did you find out you were dancing Kitri and Basilio, and how did you react?
Peter Weil: It was a Friday afternoon [laughs)]…
Kathryn Manger: Yeah, maybe a month ago. We didn't have much time to put it together. I was shocked. Angel's really good about giving opportunities, so I thought we would be doing a lot of corps work or maybe a demi-soloist role at most.
How did the other company members react to the casting? Was it awkward?
PW: A little. I'm sure it was surprising and confusing to a lot of people. But everyone has been really supportive—it's nice to go onstage and know they have my back.
Manger during her Act I variation. Photo by Alexander Iziliaev, Courtesy Pennsylvania Ballet.
What has the rehearsal process been like?
KM: Brutal. Kitri and Basilio have to support the whole three-act ballet. We're in and out of rehearsals all day, with a one-hour break.
PW: A lot of the partnering was a learning process for me—luckily I had good help and a good partner.
KM: And the stamina for Kitri and Basilio is hard. They say the first act is the killer act because it's just nonstop dancing. But that's part of the process—building up the physical stamina so you can get through the ballet. And then you have to worry about the technical aspects of it and actually looking pretty!
Did you work one on one with Angel Corella?
PW: All of the couples usually had an hour a day with either Angel or ballet masters Samantha Dunster and Charles Askegard. Those were great rehearsals—you get all the details you don't get during a full company run.
So it's not like you had to rehearse behind a bunch of more experienced couples.
PW: Sometimes it was like that, and understandably so. But the one-on-one rehearsals helped us get a lot done.
KM: With Peter and I being so new to this—being new to the company, being new to a full-length ballet—having our own rehearsals was really important for the process.
How are you handling the pressure?
PW: I've definitely worried about it.
KM: Me, too! I'm not going to lie. It's unheard of for an apprentice to get this opportunity. All eyes are on you. But you have to then take it to the next level and prove that you deserve to be doing it. So Peter and I were making sure we knew everything backwards, forwards, eyes closed, character, choreography—everything.
Directors often pair a young dancer with a more experienced partner. But both of you are so young. Does that give you an advantage or a disadvantage?
PW: It's nice to work with a newer, younger dancer…
KM: Because they know how you're feeling.
PW: We're on the same page the whole time, and we're friends, so we can talk to each other.
KM: We can be more honest like, "Oh, I need you to be more on your leg here," or "Okay, can you put me here?" Communication is important in a partnership.
Whereas with a principal dancer, you may be more deferential—the power dynamics would be totally different.
KM: Yes, I'd feel like I'd have to do everything perfectly or risk letting him down or making him angry. I still want to do really well for Peter, but we're more understanding of each other.
Did you lean on the older dancers for support?
KM: If something wasn't going right—for example, Peter and I were having trouble with a lift—they gave us pointers. Also, we learned a lot just by watching them—you don't always need to talk. Especially with how they interpret the characters—you can take what you like and make it your own. That's why it's great having so many inspirational dancers in this company.
How has this experience helped you grow?
PW: Angel told me that with great talent comes a lot of responsibility, and I've definitely noticed that in this ballet. Even when you're having an off day, you still have to be there and be present.
KM: And while nailing the technical things—the pirouettes, the fouettés—is important, communicating the story to the audience is really challenging, too. Principal dancers already have the experience and artistry, so I have to really thank Angel for trusting us with this opportunity. I feel like I've grown 10 times from this!
Manger and Weil in Don Quixote. Photo by Alexander Iziliaev, Courtesy Pennsylvania Ballet.
For more news on all things ballet, don't miss a single issue.
News
Mar. 01, 2016 12:33PM EST
Maya Pineiro and Arián Molina Soca preview a scene from Don Quixote. Photo by Alexander Izilaev, Courtesy Pennsylvania Ballet.
When Pennsylvania Ballet premieres artistic director Angel Corella's Don Quixote on March 3 at Philadelphia's Academy of Music, it will be the company's first time performing the audience favorite. With his artistic tenure well underway, and his own experiences to draw from, Corella's vision is clear.
According to Corella, PAB's production is all about authenticity—something he strived for during his own iconic interpretations of the role of Basilio. He plans to keep the classic Petipa choreography but refine the characters, including the gypsies in Act II. "I want to make people's reactions real," he says, "instead of, 'Oh, hi, let's dance together.' "
Keep reading...
Show less
Views
Feb. 25, 2016 02:42PM EST
Daniil Simkin and Roberta Marquez. Photo by Hiroyuki Ito via Getty Images
He may appear baby-faced in this clip from the 2005 Helsinki International Ballet Competition, but 17-year-old Daniil Simkin already dances like a fully formed prince. In Basilio's variation from Don Quixote (which won him the Grand Prix), Simkin displays the maturity and control of a dancer twice his age. Every step is precisely executed. He spins like a top and lands on a dime, but the trick-to-trick feeling of many male variations is nowhere to be found in Simkin's playful musicality and transitions.
And I love that we can see the American Ballet Theatre principal's characteristic spunk. A quick zoom on his face before a pirouette shows his subdued smile—like he's suppressing glee to maintain Basilio's proud expression. Not that he doesn't do the character justice. After the final pirouette to a double tour, Simkin lands, rond de jambs his leg and finishes with crackling Spanish flare. Happy #ThrowbackThursday!
Photo by Martin Wullich.
For more news on all things ballet, don't miss a single issue.
The ballet Don Quixote depicts classical Russian elegance dressed in fiery Spanish flair. Although Marius Petipa's version for the Bolshoi Ballet debuted in 1869, most modern productions are based off of Alexander Gorksy's 1900 revival. He sought to trade Petipa's pageantry for more naturalistic storytelling. However, it seems that Gorsky ceded to the suspension of narrative in Act III, keeping the grandiose wedding pas de deux to showcase the Bolshoi stars' resplendent technique.
Many decades later, it still shines. In this 1972 clip, former Bolshoi Ballet principals Vladimir Vasiliev and the late Ekaterina Maximova dance Basilio and Kitri. In the opening section, they bring flair to each dramatic shape and deep dive, but the two really impress in their variations and the coda. After 10 rapid pirouettes (3:50), Vasiliev closes to fifth with a smoothness that wouldn't disturb a teacup on a porcelain saucer, and Maximova is all sass with her playfully angled shoulders and flicking wrists. In the coda, they both keep time with the sprinting tempo, and you can tell that the two are having a blast. Vasiliev's technical bravura and Maximova's pixie-like exuberance are perfectly wedded and, in real life, so were they! Happy #ThrowbackThursday!
McRae in Sir Frederick Ashton's "Rhapsody." Photo by Tristram Kenton, Courtesy ROH.
Steven McRae

The Royal Ballet's Steven McRae danced with a power and speed most people would need figure skates to achieve at Covent Garden in February, but the amplitude of his chaînés, barrel turns and rivoltades was just the icing on the cake during his finely calibrated performance in Sir Frederick Ashton's Rhapsody. Dancing the lead role originally made for Mikhail Baryshnikov, the 28-year-old Aussie also excelled in the small gestures and precise positional details for which Ashton's work is known. McRae says the music, Rachmaninoff's Rhapsody on a Theme of Paganini, is the key to balancing athleticism and artistry in the piece. "It's easy to get caught up in the technical demands of the choreography," he says. "However, when you really listen to the music, something magical starts to happen." The same can be said for the moment when this dynamic and versatile principal takes the stage. —Michael Northrop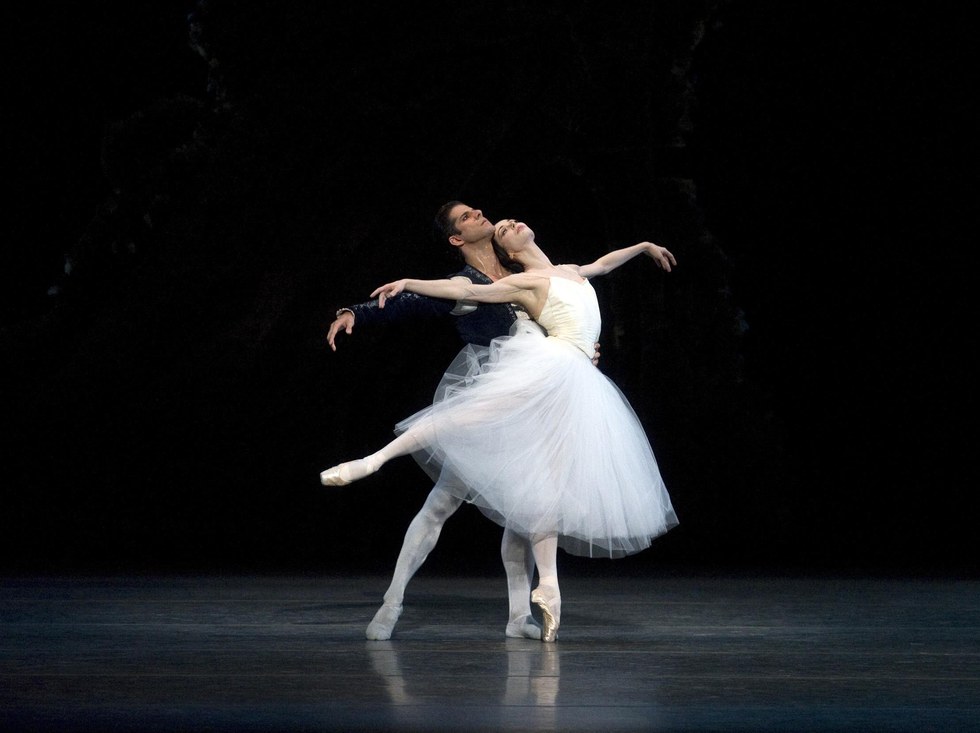 Gomes and Vishneva in "Giselle." Photo by Gene Schiavone, Courtesy ABT.
Diana Vishneva & Marcelo Gomes
One of the biggest thrills of Diana Vishneva and Marcelo Gomes' longtime partnership at American Ballet Theatre is its ability to transcend to greater heights each season. It was ever apparent in their performance of Giselle last June. While they've performed the roles together in years past, familiarity and experience have allowed them to bring deeper richness to their characters. Vishneva's Giselle was shy and vulnerable, coming out of her shell gradually in response to Albrecht's affections until she almost seemed to burst with joy. Meanwhile, Gomes—a cocksure but lovable Albrecht—grew more and more smitten with his conquest. Once his ruse was discovered, you sensed not only Giselle's disbelief but her painfully public humiliation, making her breakdown all the more understandable and heartbreaking. In Act II, Vishneva was otherworldly in her lightness, accentuated further through Gomes' reverential, seamless partnering. Together they drew the audience into their story and held them, spellbound. —Amy Brandt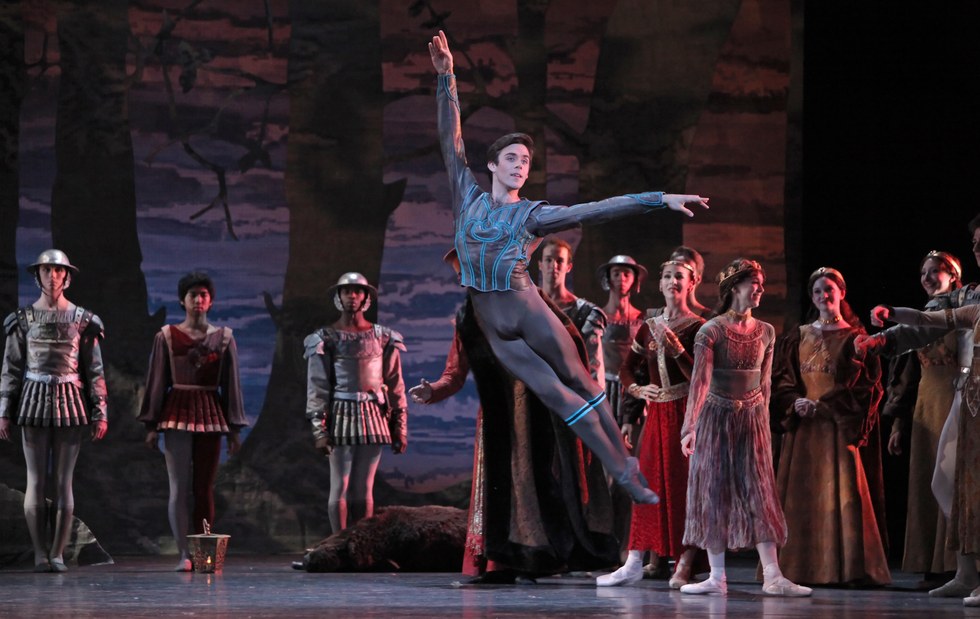 Walsh in "Swan Lake." Photo by Amitava Sarkar, Courtesy Houston Ballet.
Connor Walsh
When Houston Ballet's Connor Walsh first danced Siegfried in the premiere of Stanton Welch's fast-paced, dreamy version of Swan Lake in 2006, he was technically impressive, holding his own with the elegant Barbara Bears. But watching him reprise the role some eight years later, it became clear just how much he has grown. It's as if his edges have become sharper—not just technically but in all aspects of his artistry; he's developed a distinctly refined performance polish. There's ample heart behind his princely swagger now. Walsh's noble command of the stage, solid virtuosity and well-tempered bravado all add up to one convincing prince. His involvement in the ballet's original creation process, along with added years of experience, certainly helped deepen his interpretation. The HB principal is moving into his own, and his performance in Swan Lake provided the evidence. —Nancy Wozny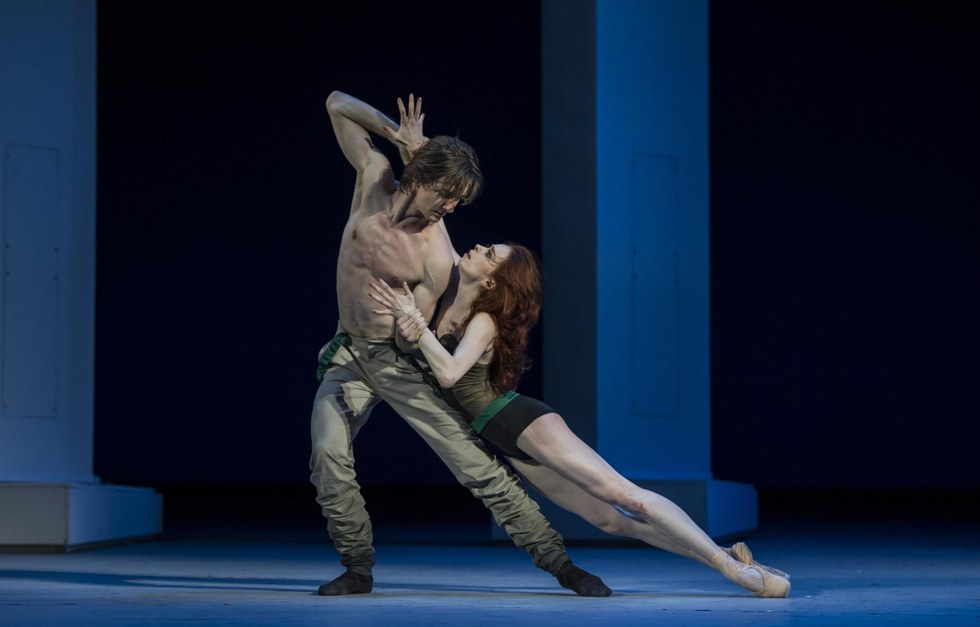 Lantratov and Krysanova in "Taming of the Shrew." Photo by Alice Blangero, Courtesy Bolshoi.
Bolshoi Ballet
It was a gamble on all sides: a new, full-length Taming of the Shrew by a foreign choreographer at the Bolshoi Ballet, just over a year after the acid attack on Sergei Filin. Les Ballets de Monte-Carlo's Jean-Christophe Maillot, who was creating his first ballet for an outside company in two decades, proved undaunted, and the result was a team effort that showed the Bolshoi's young generation in a new light. Each of the 10 soloist roles was choreographed with and for the first cast, from Vladislav Lantratov to Olga Smirnova, Vyacheslav Lopatin and Anna Tikhomirova, channeling their offstage personalities to show a new facet of their talent; their bold classical technique was in evidence throughout yet colored by the spontaneous, naturalistic approach Maillot favors. It was the Bolshoi as the world loves it, with a modern edge—and the Shrew herself, principal Ekaterina Krysanova, led the pack with a nuanced, career-defining performance, her power matched by a new abandon. —Laura Cappelle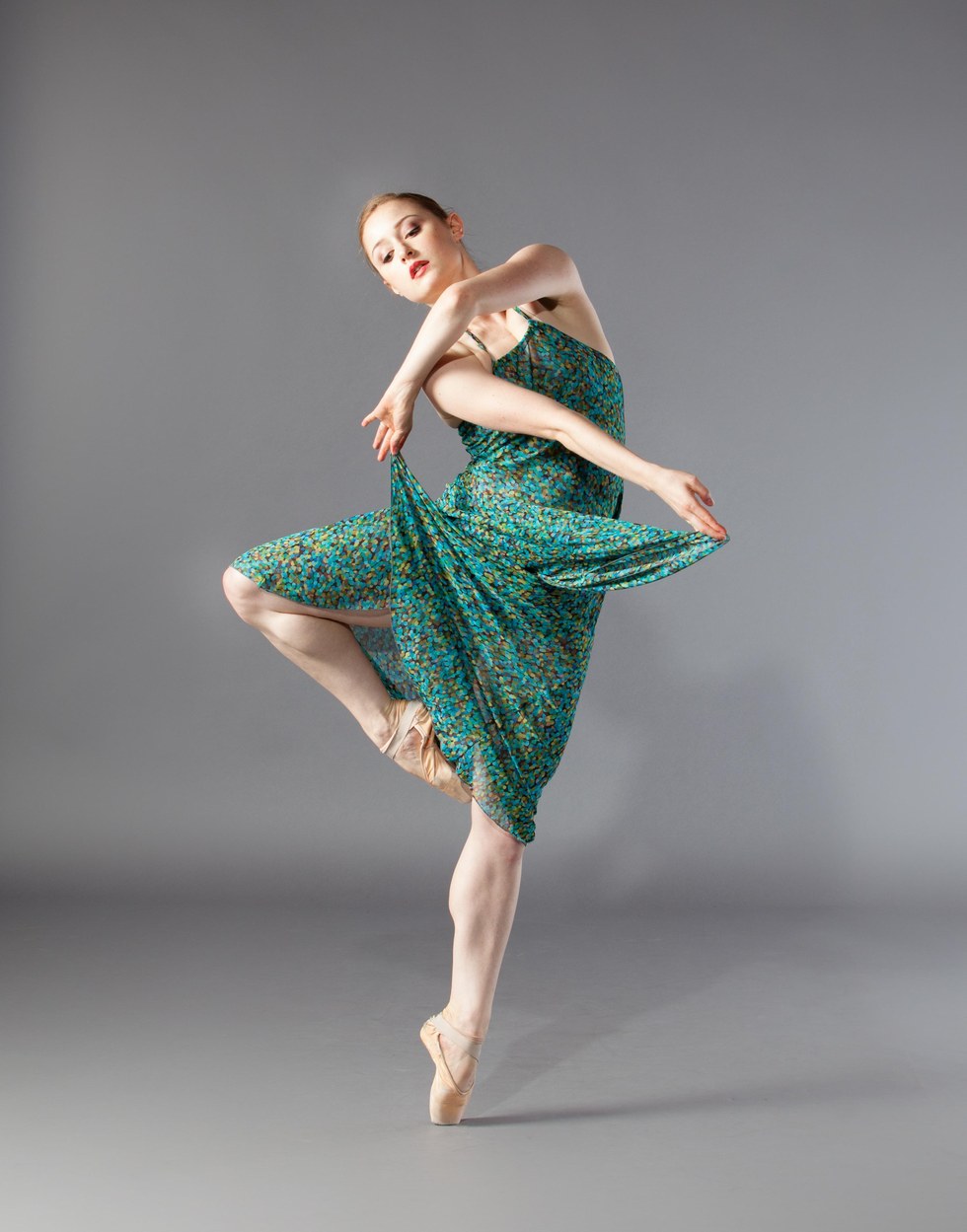 Photo by Alexander Izilaev, Courtesy BalletX.
Chloe Felesina
In the BalletX premiere Sunset, o639 Hours, Chloe Felesina danced front and center, with an abandon, fire and precision that made her riveting. The dreamlike adventure tale, choreographed for 10 dancers by BalletX co-founder Matthew Neenan, was based on the true story of Captain Edwin Musick's ill-fated Honolulu-to-Auckland flight in 1938. As the famous pilot's wife, and in her other roles in the ballet, Felesina's depth of feeling was matched by a robust agility. She shone in scenes portraying the couple's romance, the island life of New Zealand and her solitary bereavement.
Even though her medium height and fine features make her look delicate, she's a powerhouse: at the front of the pack in floor-rolling unisons and sparkling in Neenan's inventive partnering. A full-time company member since 2012, Felesina relishes deciphering each choreographer's intent and seeking more ways to communicate strongly with her audience. In Sunset, o639 Hours, her approach worked: You couldn't take your eyes off her. —Lisa Kraus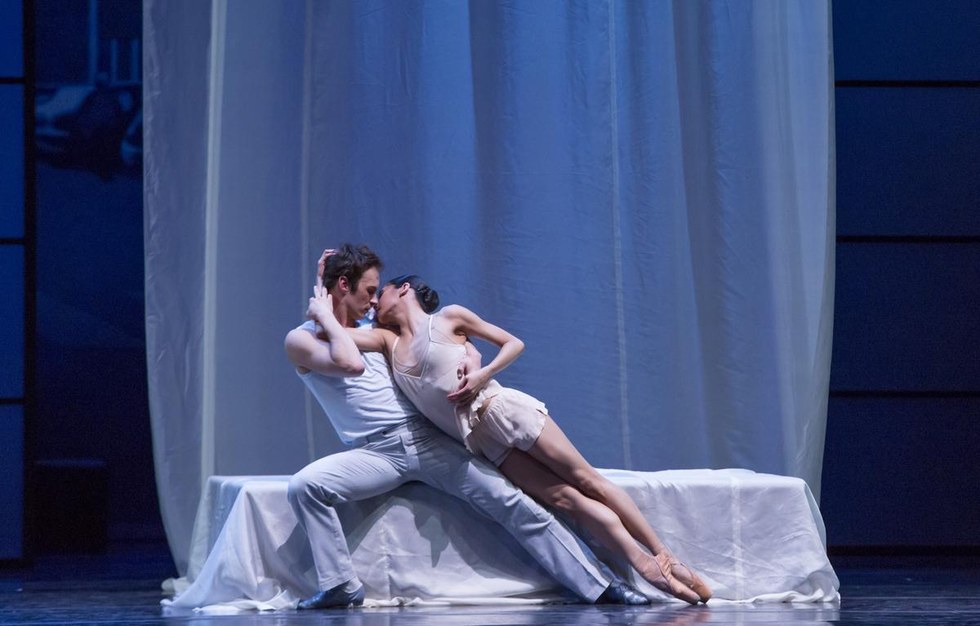 Rocas with Rory Hohenstein in "Romeo & Juliet." Photo by Cheryl Mann, Courtesy Joffrey.
Christine Rocas
A couple of years back, Joffrey Ballet dancer Christine Rocas confessed: "I'm always scared to do modern things…I try to be spontaneous, but I know I look funny at first."
Rocas, 28, definitely didn't look "funny" in her opening night performance of Polish choreographer Krzysztof Pastor's Romeo & Juliet in Chicago this past April. And Pastor's take on the story was supremely contemporary—not at all like the Kenneth MacMillan or John Cranko versions for which Rocas' lyrical, weightlessly lovely style would have been a perfect fit. In fact, as Juliet, Rocas seized hold of Pastor's starkly modern, sweepingly cinematic reinvention, which used 20th-century Italian history as a backdrop. Masterful in her embrace of the ballet's mix of difficult classical and contemporary technique, she revealed a powerful, highly individualistic, surprisingly dramatic talent.
Her performance had genuine star quality, with pristinely beautiful dancing and fiercely honest acting in evidence from the moment, early on, when she simply walked around the perimeter of the stage, quietly fixing her gaze on Romeo. The palpable quickening in Rocas' face and body was a far cry from simple pubescent awakening. This was the dawning of a young woman with a mind of her own. —Hedy Weiss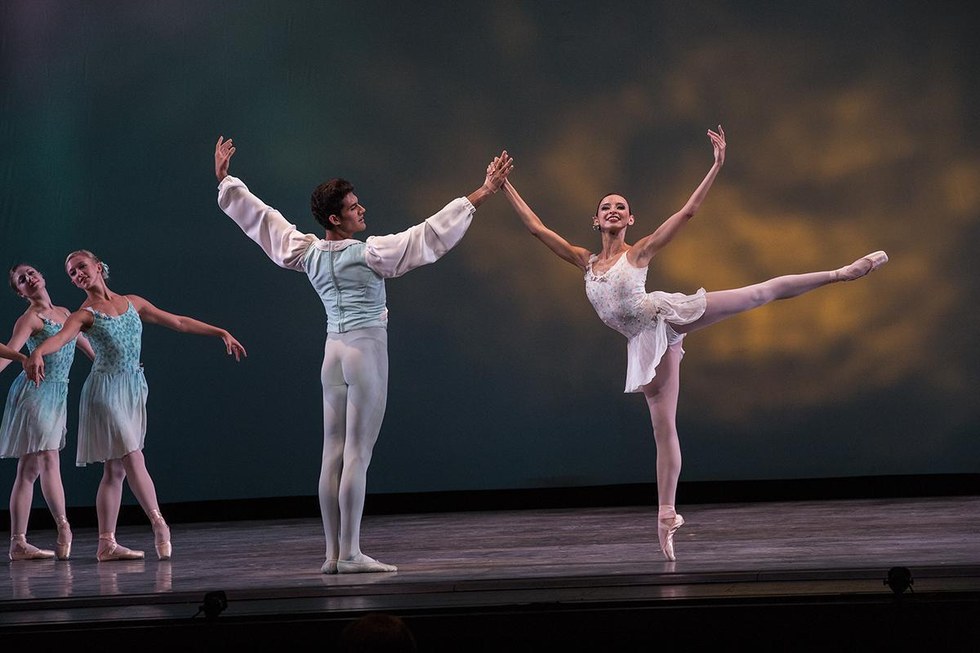 Arja with Renan Cerdeiro in "Ballo della Regina." Photo by Daniel Azoulay, Courtesy Miami City Ballet.
Nathalia Arja
As the recently promoted Miami City Ballet soloist Nathalia Arja can attest, some roles lift dancers to the heights of artistic privilege. While still a corps member last season, Arja—a 21-year-old MCB-school alumna with Rio de Janeiro roots—earned the opportunity to dance the lead in George Balanchine's exquisitely demanding Ballo della Regina. There she was, on opening night no less, fast and fastidious in virtuoso moves: restless changes in direction, riveting hops on pointe, clockwork articulations that teased time itself. "I learned to do what I didn't know I could," says Arja. No small amount of calibration, of course, came from being coached by Merrill Ashley, the New York City Ballet wonder who originated the role. Still, Arja brought strengths she's been honing since dancing the role of Sugar Plum at MCB as a teenager—the verve and knack for detail that also served Alexei Ratmansky when he fashioned a solo on her in Symphonic Dances in 2012. A culmination for many, Ballo figures for Arja as the promise of an ever more thrilling career. —Guillermo Perez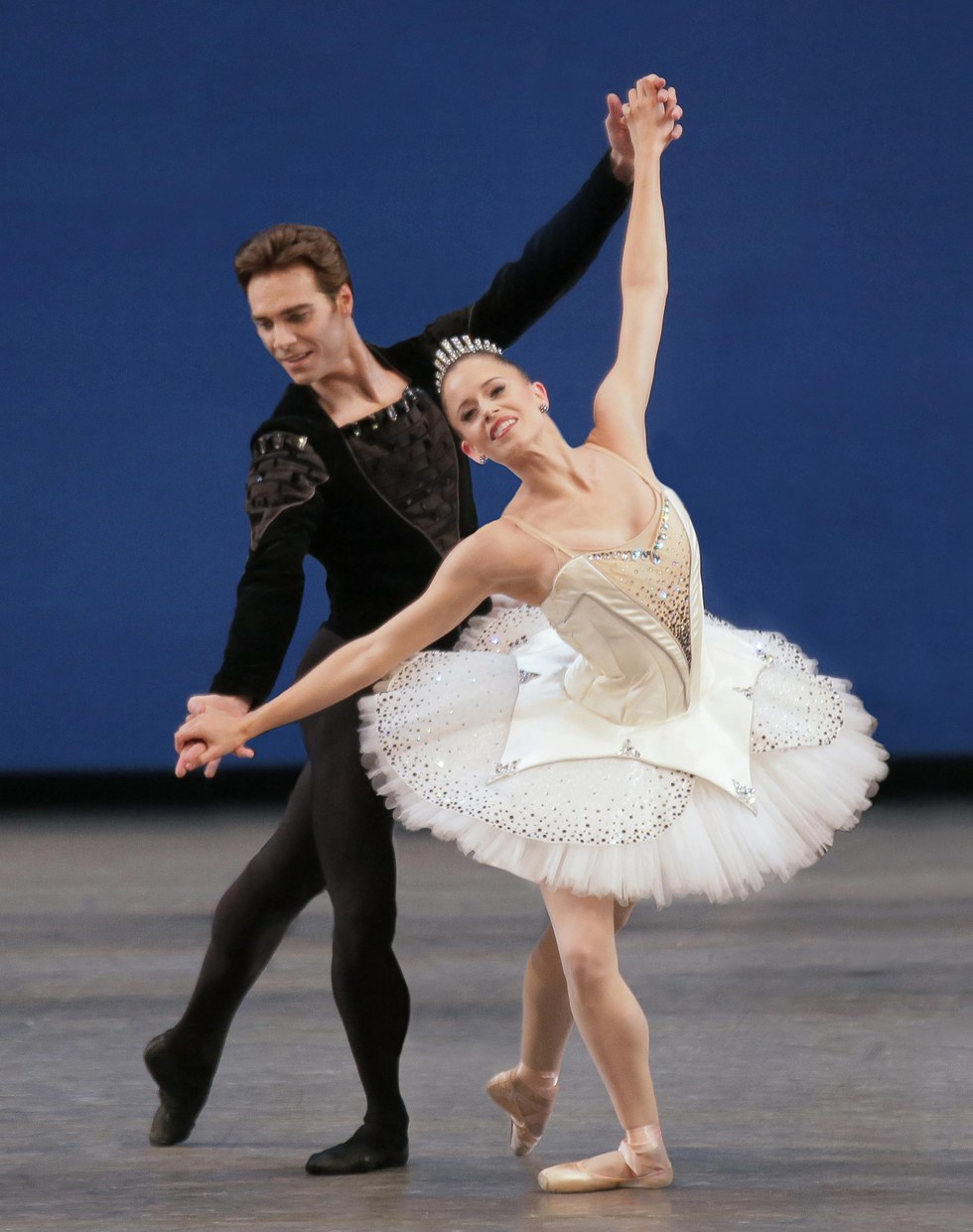 Isaacs with Gonzalo Garcia in "Symphony in C." Photo by Paul Kolnik, Courtesy NYCB.
Ashly Isaacs
In the third movement of Balanchine's Symphony in C, the leads repeatedly charge onto the stage in a series of grands jetés—irrepressibly buoyant, as if they're more at home in the air than on the ground. In a way, that's a fitting metaphor for New York City Ballet corps member Ashly Isaacs' 2014 season, which saw her star on the rise, achieving greater heights with each successive performance. Her debut as the ballerina in that movement of Symphony showed off not only her preternatural ballon, but also her easy command of the stage. In the wrong dancer's hands (and feet) the always-on-the-go choreography can feel bombastic, but Isaacs colored it sensitively, adding subtle shading to its softer moments. For some years this role has been danced brilliantly by Ashley Bouder; it was hard not to notice the similarities between the two. —Margaret Fuhrer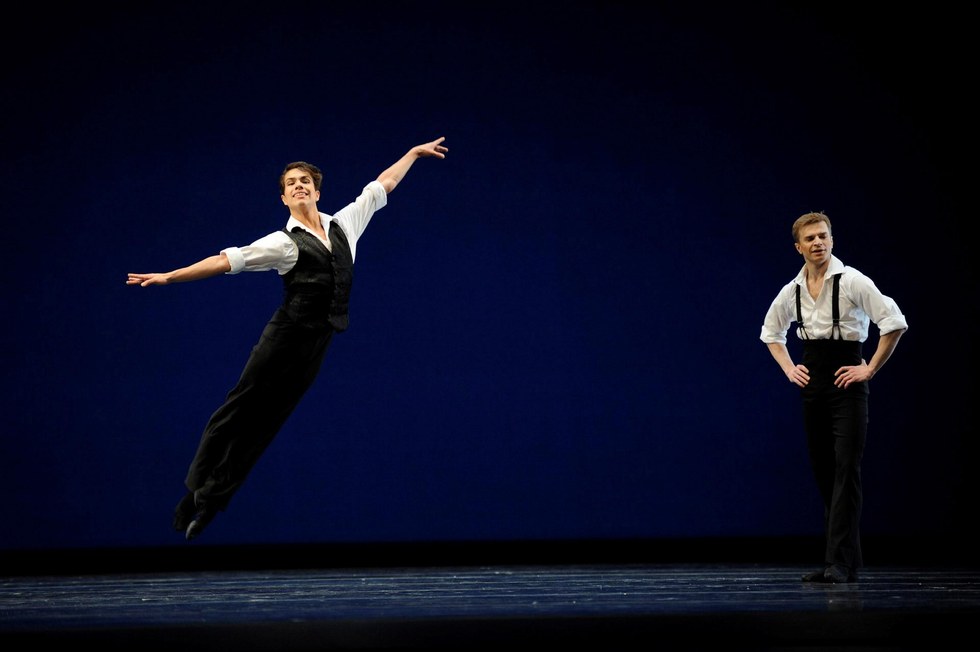 Hernandez with Gennadi Nedvigin in "Les Lutins." Photo by Erik Tomasson, Courtesy SFB.
Esteban Hernandez
Season galas showcase principal dancers at their best, but San Francisco Ballet's 2014 gala also introduced a rising star: Esteban Hernandez. Announced pre-curtain as a replacement for Joan Boada in Johan Kobborg's Les Lutins, the first-year corps member faced high expectations from a demanding audience, who rustled their programs looking for clues about this unfamiliar dancer. But in Lutins, an eight-minute battle of the sexes that requires insouciant charm, clear acting and blistering petit allégro—and falls flat if any one of those is missing—the Mexican-born Hernandez proved his mettle as a Royal Ballet–trained technician and a natural performer, with confidence well beyond his 19 years. Not only did he hold his own opposite Gennadi Nedvigin and soloist Dores André, in those thrilling eight minutes he won 3,500 hearts and became a name to remember. —Claudia Bauer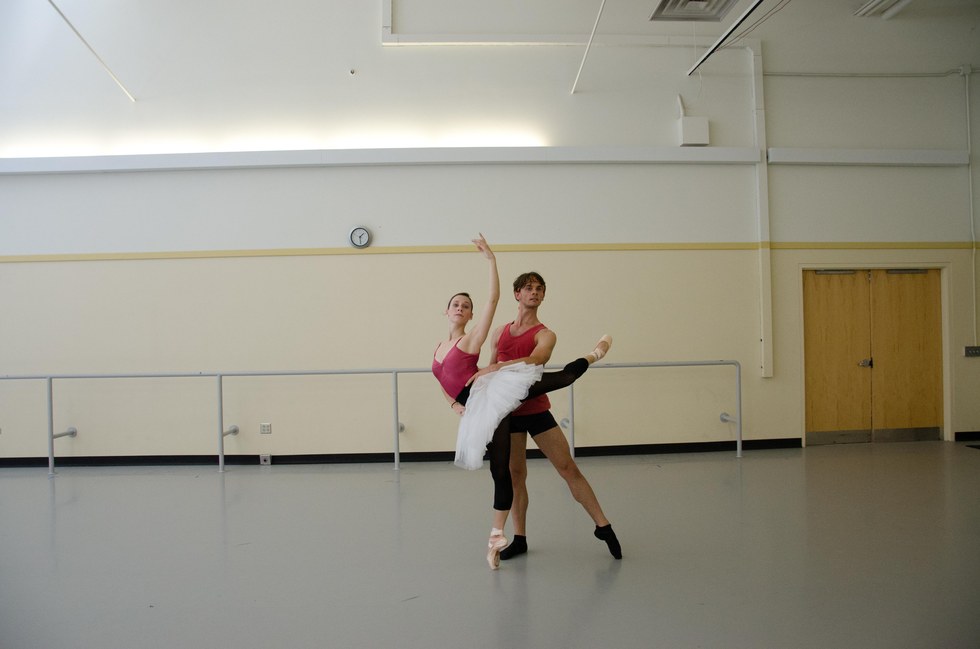 Thurlow and Sbrizzi rehearsing "Don Quixote." Photo by Aimee DiAndrea, Courtesy PBT.
Gabrielle Thurlow & Luca Sbrizzi
When lead casting was announced for Pittsburgh Ballet Theatre's Don Quixote last season, there was a surprising pair included in the mix. While Gabrielle Thurlow and Luca Sbrizzi have long been regarded as cornerstones among PBT's ranks, their star power was relatively untested: Thurlow was a longtime corps member and Sbrizzi, a soloist, had been away from the stage nearly nine months following a career-threatening back injury. But they more than delivered. Thurlow entered the first act as an energetic Kitri, all spry jumps and energetic pas de chevals, while Sbrizzi played an earnest Basilio, his admiration for Kitri present in every carefully finished movement. Later, during their brightly executed grand pas de deux, Thurlow brought playful sharpness, breezy turns and balances that said, "I could stay here all day." Sbrizzi's refined technique and bounding jumps lent his Basilio the elegance of a man in love. Following the performance, Thurlow was promoted to soloist and Sbrizzi cemented his place as a leading man after an uncertain season away from the stage. —Kathleen McGuire
In The Wings: Jenna Nelson
At Pacific Northwest Ballet School
By Rosie Gaynor
Folks don't always notice Jenna Nelson right off the bat. She has what Pacific Northwest Ballet School principal Abbie Siegel calls "a quiet strength." It's a steadfast presence that doesn't beg for attention.
Once you spot her, though, she's riveting. At 17, her movement is already sophisticated and crystalline. Her head knows exactly where to go, and her shoulders are starting to follow suit. She brings exceptional control and generosity to her long développés. Her frappés shoot straight out, precise, strong and yet somehow dainty. You'd never guess that she began dancing only six years ago.
Peter Boal, artistic director of PNB and a teacher at the school, speaks of Nelson's refinement, line, fluidity—and her feet: "Jenna has found where her arch is strong. When she uses her feet well, they're pretty much textbook."
Nelson didn't start out dreaming about ballet. She grew up playing soccer, and when she was 12, she signed up for ballet class with friends just for fun. It wasn't long before she realized she loved it—or before her teacher sent her on to PNBS. The commute to Seattle proved impractical, however, so Nelson joined Evergreen City Ballet Academy, studying with former PNB dancers Wade Walthall and Julie Tobiason. But PNBS never lost track of Nelson, and they invited her to attend their summer programs. In the fall of 2008, Nelson made the leap to training at PNB full-time in their two-year Professional Division program, a step Tobiason facilitated by offering Nelson a room in her own home.
Technique reigns at PNBS, with a syllabus that emphasizes Balanchine but also trains dancers for the demands of contemporary ballet work. This suits Nelson, who prefers classical ballets but also dreams of performing Forsythe's In the middle, somewhat elevated. The school shares a building with the com­pany, so there are multiple opportunities to learn through observation, including occasional participation in company class. Students perform with PNB as well. In 2009, Nelson danced three corps roles in Nutcracker, and also joined the com­pany in Swan Lake, Symphony in C and West Side Story Suite.
Nelson's schedule is a ballet student's dream—if you gloss over the seven online courses she is taking to finish high school. After technique from 9:30 to 11:00 am comes an hour or so of pointe, variations, modern or partnering. (Recent variations have included excerpts from Études and The Four Temper­aments.) A second technique class starts at 3:30, unless there's a rehearsal.
What keeps Nelson focused in the competitive ballet world? "I try to stay concentrated on what I want," she says, "and not to think about things too much but just enjoying dancing."

At A Glance:
Pacific Northwest Ballet School
Founded: 1974
Director: Peter Boal
Past Directors: Janet Reed (1974–75), Melissa Hayden (1976), Francia Russell (1977–2005)
Technique Taught: Various, with an emphasis on Balanchine; syllabus designed to meet the eclectic demands of dance companies today
Classes Offered: Classical ballet technique, modern, pointe, variations, partnering
Number of Students: 950
Alumni in the Past 10 Years: Ballet Frankfurt, Boston Ballet, Hubbard Street Dance Company, Pacific Northwest Ballet, San Francisco Ballet, Suzanne Farrell Ballet, The Washington Ballet, among others
Focus: PNBS' goal is to provide a healthy environment, inspiration and education. Dancers receive life-skills seminars, physical and nutritional guidance, performance opportunities and the chance to observe PNB members in their daily class, in rehearsals and in performance. The school flies in directors from 10–12 other companies each year to audition Professional Division students.
Website: www.pnb.org/PNBSchool
Student Opportunities
From YAGP to Degree
Youth America Grand Prix is now offering a new perk for finalists: the chance to audition for several top college dance departments at once. Representatives from such prestigious programs as Indiana University and Juilliard now attend the final round of YAGP to scout for talented high school seniors. Some even accept dancers and offer scholarships on the spot.
"I'd like to change the stereotype that you have to choose between a professional career in dance or college," says University of Utah's Department of Ballet professor Regina Zarhina, who heads the initiative. "If you look at job advertisements, most companies aren't looking to hire very young and inexperienced dancers anymore."
The program, which launched in 2009, includes an information session on dancing in college and each participating dance department presents information on their school. Dancers then take a combined audition class, which includes ballet, pointe and a short jazz section. For more information, go to www.yagp.org. You can also learn about each of the participating dance departments on DanceU101.com.
—Jennifer Stahl

Good Graces
Winning a prestigious award is not only an opportunity for trophies, money and exposure. A win from a respected organization, such as the Princess Grace Foundation–USA, can provide opportunities that stretch far beyond the awards ceremony and into your professional career.
Princess Grace Award recipients not only get a boost on their resumés, they are also welcomed into a fraternity of artists and professionals. In addition to opportunities to network with all of the other winners since 1984, financial assistance is available—for life. "We offer winners assistance for special
projects and residencies," says Toby E. Boshak, executive director of PGF–USA. "They can use the advantages throughout their career."
For students, an award from PGF–USA can change their fate when they step into the professional world. "There is a level of prestige that goes along with the honor of winning a Princess Grace Award," says Boshak.
Alexander Peters, 18, won in 2008 after the faculty at the School of American Ballet nominated him for the award. "I haven't begun my professional career as a dancer yet," he says, "but I have the award bolded at the top of my résumé and hope it will help open the door to some great opportunities in the future." 
Students in preprofessional, not-for-profit dance schools or undergraduate dance departments as well as professionals who have been a member of their company for less than five years are welcome to enter. Candidates must submit a joint application with their school or company, which can only nominate one dancer per year. The judging panel, made up of top dance professionals and artistic directors, chooses five or six winners in the dance performance category each year. Student winners receive a scholarship that covers one year of tuition at their school. Professional dancers are given one year of salary at their company. Applications are due by April 30. They can be found at www.pgfusa.com.
—Katie O'Connell

Dancing With Pros
Few student dancers are given the opportunity to learn new ballets alongside professionals. But last fall, the Rockville, Maryland–based American Dance Institute launched the ADI Chamber Ballet to give students a chance to do just that.
Directed by former American Ballet Theatre dancer Pamela Bjerknes, the company commissions up-and-coming choreographers to set and create their work on the students, who are joined by current dancers from The Washington Ballet.
"During my performing career, I watched how it always took new company members a year or two to understand how to work with a professional choreographer," says resident choreographer Runqiao Du, a former dancer with TWB and the Suzanne Farrell Ballet. "You have to learn not to be afraid of dancing with the full-on kind of attack that choreographers demand."
The company's next performance is scheduled for April 10, with original choreography by Du and TWB dancer Jared Nelson. For more information, visit www.americandance.org. —JS


TIP: How do you stay in top form during spring recital season?
Pace yourself: If you try it 1,000 times today, tomorrow you'll be too sore to dance. Steady work will get you better results. And once you leave the studio, get your mind off ballet so that you don't feel overwhelmed. When I'm doing a difficult role, I?need space away from it so I?can focus once I'm in the studio. 
—Maggie Small, Richmond Ballet dancer 
Capturing Kitri
Inside a coaching session with Elena Kunikova
By Amy Brandt
Don Quixote's Kitri—feisty, independent and free-spirited—explodes with personality from the moment she leaps onstage. Fiercely stubborn, she and Basilio cleverly plot to marry against her father's wishes. While Kitri is no demure princess, she displays a proud elegance uniquely her own. The Grand Pas de Deux in Act III is the ballet's highlight, and Kitri's variation, with its intricate pointework, fluttering fan and Spanish flavor, gives dancers a wonderful opportunity to explore their individuality. 
As a former ballerina with the Maly Theatre in St. Petersburg, Russia, Elena Kunikova performed Kitri's Act III variation many times. She now coaches professionals in the role, including American Ballet Theatre's Irina Dvorovenko, New York City Ballet's Ana Sophia Scheller and the male divas of Les Ballets Trockadero. She recently shared her expertise on mastering some of the difficult moments.

Spanish Port de Bras
One of the variation's biggest challenges lies in its stylized port de bras. "Character dance is not widely taught in the West," Kunikova says, "so many young dancers don't know how to move their arms with Spanish flair." Dancers often place their hands on their hips by pulling their elbows back and sticking out their wrists. "I call it 'chicken wings,' " says Kunikova. "Instead, the palm should be delicately placed on top of the tutu, not grabbing the hip. The wrist should be pressed down and the elbow should be pushed slightly forward (make sure to keep your chest open) while the fingers sustain an elegant classical form." Each time the arms transition from the hips to second position (and in reverse), they must pass through first position. 
Kunikova stresses the importance of coordinating the head with the rest of your body. For instance, she says, "It looks more impressive to look up on the développé à la seconde. Then, look lower during the passés while possibly fanning yourself. It gives more diversity and amplitude to the steps."

Proper Fan Position
Manipulating the fan presents another challenge. "Rehearse the variation using just the port de bras, without dancing, to incorporate the fan without worrying about what's happening from the waist down," Kunikova says. She notes that dancers shouldn't rest their elbow against the body when holding the fan. Initiate slower, larger fan movements with the elbow, but use the wrist to
create quick, small flutters. For added security, dancers can attach the fan to their wrist with an elastic band.
The fan can help build tension and excitement through the variation, like during the échappé section. "You might keep it low in front of your chest for the first set," says Kunikova, "then gradually add port de bras on the second and third sets to show the combination's progression."

The Final Footwork
The variation's final section—a series of alternating hops on pointe across the stage (called taqueté in French)—is its trickiest. The hopping foot must maintain a cupped shape to properly support the body. "It's the only moment in ballet vocabulary when we have to make the foot ugly," says Kunikova. Keep your weight on the supporting leg to control balance, using a shallow plié. Engaging opposition in the legs and shoulders is very characteristic for Spanish-styled ballet, and it accentuates the body's position changes.

Exploring Kitri's Character
Kunikova sees many avenues of artistic interpretation. "Kitri's character can be quite different," she says. "She could be proud, playful, willful or humorous." However, dancers should avoid trying to appear sultry. "I call it the 'Black Swan impersonation.' Too much sultriness, especially for younger dancers, isn't appropriate or true to their age." Keep in mind that the variation is part of Kitri's wedding celebration. "She should be joyous!"
While Kitri's variation allows for lots of individual expression, Kunikova advises young students first learning the dance to avoid overloading it with too many details. "Instead," she says, "keep it simple and clear." Flourishes can be added later with experience and practice.
 



   


Nov. 29, 2001 07:00PM EST
It's been over 60 years since the last time The Joffrey commissioned a new full-length ballet. So there's been a bunch of buzz surrounding the company's world premiere of Yuri Possokhov's Don Quixote, which opens tomorrow night at Roosevelt University. To drum up even more excitement, the Joffrey Academy of Dance is presenting a Don Q–themed master class next week. Dancer Ericka Mac will give a brief history of the ballet's story and choreography, then launch into a full barre warm up set to Don Q music and teach students Kitri's sassy variation. All levels of dancers are invited to get their Kitri on.
Date: Monday, October 17
Time: 5:30 pm
Price: $15 for adults, $10 for students with a valid ID
To reserve a spot: Contact reception@joffrey.org or call 312-784-4600
For more: Visit joffrey.org/dqmasterclass
Walking may seem like the simplest moment you have on stage. But the way in which you take a step can reveal volumes about your character. In Pointe's April/May issue, four dancers spoke with writer Joseph Carman about how they approach the walking and running in their signature roles. Here, Boston Ballet principal Erica Cornejo offers her take on Kitri's steps.
ERICA CORNEJO
Boston Ballet
Role: Kitri in Don Quixote
Being Spanish, Kitri's movement is sexy and spicy. When I walk or run, I feel the weight of my skirt. I also play with my shoulders and my hands, either placing them on my hips or grabbing the skirt, moving it from side to side. I run with the energy of my upper body, with my chest thrust forward—and with really fast feet!
In the second act dream scene as the vision of Dulcinea, I have to calm down. The walk is slower, soft—like a dreamy illusion. You also have to remember that Don Quixote is dreaming about Dulcinea, so she directs all of her gestures to him.
In the third act grand pas de deux, the walk is still soft, but with more life in it. Kitri's very confident, passionate and in love. Yet she still has moments with her shoulders, flirting with Basilio, showing him she's the sexy woman in control of everything.
Finally, Covent Garden is expanding its popular big screen broadcasts to the U.S., and Royal Ballet fans will be able to get their fill of their favorite stars.

The series launches with a bang on October 16, when Carlos Acosta's much-anticipated new Don Quixote is beamed onto movie screens around the country. It's the first production staged for the Royal by the Cuban superstar, and he will dance Basil, long a signature role, opposite Royal principal Marianela Nuñez as Kitri. (Don't miss Pointe's exclusive interview with Acosta about the production in the upcoming October/November issue.) Future Royal broadcasts include Alice's Adventures in Wonderland (November 19) and The Nutcracker (December 17). For details, visit www.fathomevents.com.
Nov. 29, 2001 07:00PM EST
It seems like only a few days ago that Natalia Osipova and Ivan Vasiliev swept onto the international dance scene, bewitching audiences with their feats of daredeviltry. Yet it was back in 2006 that the pair made their breakout debuts as Kitri and Basilio in Don Quixote at the Bolshoi. They were babies, too: Osipova was 20 and Vasiliev, just 18. Here are a few exhilarating excerpts from that first performance. Happy #ThrowbackThursday!
Throughout her 18 years dancing with Boston Ballet, Larissa Ponomarenko performed classical and contemporary roles with ease and elegance. But offstage, she was just as entrancing. During my years as a student at Boston Ballet School, I remember my classmates and myself peeking into her rehearsals, gawking at the effortlessness of each step. We knew it came from her Vaganova training, but still couldn't believe her precision. Though she is often overlooked, Ponomarenko is a cherished icon for many.
After retiring from the stage in 2011, she continues to bring polished technique and impeccable musicality as a ballet master for Boston Ballet. To honor her work in the classical realm, here is a clip of her at the start of her career as a principal, performing the Act III variation from Don Quixote. The beginning is deceptively simple (every dancer knows how hard those passé relevés are) but showcases her clean lines and artistry—not to mention that famous fouetté finish!
Don Quixote overflows with humor, flirtation and romance. And what better character to gather romance and energy than Cupid—performed in this video by the Bolshoi Ballet's Evgenia Obraztsova. 
Obraztsova is one of the elite few holding the dream title of prima ballerina. A native of St. Petersburg, she graduated from the Vaganova Academy and immediately joined the Mariinsky Ballet at 18 years old. This video of Obraztsova's Cupid variation reveals her impeccable precision and artistry after only four years in the company. From her very first relevés, a lightness and upward energy shoots from her core, creating a quality that leaves the audience breathless. Six years later she would join the Bolshoi, originating new roles and challenging the classics—a definite prima ballerina of our time. Happy #ThrowbackThursday!
Nov. 29, 2001 07:00PM EST
Don Quixote's flirtatious and spunky Kitri is an exciting character for ballerinas to portray—any role is fun if it includes a prop fan! But it's also an important stepping-stone in a dancer's professional career, alongside Juliet, Odette/Odile and Aurora. In this 1998 recording, Paloma Herrera masters the role, raising the standard for future Kitris in only her third year as principal dancer for American Ballet Theatre. As she dances this variation, Herrera consumes the stage, abandoning all fear. She enraptures her viewers with both expansive movement and a simple succession of petits emboîtés. After a 24-year career, Herrera will retire her pointe shoes later in 2015—but we will all continue to thirst for her energetic and captivating performances. Happy #ThrowbackThursday!


Get Pointe Magazine in your inbox