News
Nov. 30, 2018 11:25AM EST
Diana Vishneva explores Aurora's 100-year sleep. Photo by Inna Nebeluk, Courtesy Sleeping Beauty Dreams.
This winter, the renowned Russian dancer Diana Vishneva will appear in her most high-profile project since she retired from American Ballet Theatre in 2017. The 42-year-old prima ballerina, who gave birth to her first child, Rudolf Victor, last May, is set to star in the ambitious, technologically innovative multimedia production Sleeping Beauty Dreams, choreographed by Edward Clug. The production will also star Marcelo Gomes as Prince Peter. Inspired by the provocative question "What did Princess Aurora dream during her 100-year sleep?", Sleeping Beauty Dreams premieres December 7–8 at Miami's Adrienne Arsht Center for the Performing Arts and continues to New York City's Beacon Theatre December 14–15, before moving on to what promotors say will be a two-part international tour.
Sleeping Beauty Dreams New Trailer youtu.be
Keep reading...
Show less
Just a few months out from giving birth, Vishneva's performance schedule is jam packed. Photo via www.mariinsky-theatre.com
Diana Vishneva has had a very big year. In 2017, she retired from American Ballet Theatre, performing Onegin with the company one last time, accompanied by her longtime partner Marcelo Gomes. Then, in September, she opened a ballet studio in her home city of St. Petersburg called CONTEXT Pro. Soon after, she marked the fifth edition of her festival of contemporary dance, CONTEXT, with two weeks of performances, workshops and talks in Moscow and St. Petersburg. But the biggest event came several months later, with the birth of her first child. (As she points out with some satisfaction, the timing was perfect—she didn't have to cancel a single engagement.)
The pregnancy allowed Vishneva to step back from an international career that has kept her constantly on the move for the better part of the last two decades. The ballet world receded from her consciousness, but not for long. We spoke in New York, where she resides part of the year, just as she was gearing up for the first of a series of performances and projects. The day after our chat, her son would turn 100 days old.
Keep reading...
Show less
Courtesy Retribution Media
Marcelo Gomes' clean technique, skilled partnering and magnetic stage presence make him one of the world's most versatile and in-demand male dancers of his generation. This year saw the principal dancer celebrate his 20th anniversary with American Ballet Theatre, a company he joined at just 17 years old. Coinciding with this milestone was the release of the feature length documentary Anatomy of a Male Ballet Dancer, created by the two-man team David Barba and James Pellerito—who actually approached Gomes via Facebook. The documentary, which was seven years in the making, has been making the film-festival circuit this year, most recently August 6 at the Jacob's Pillow Dance Festival.
The film combines intimate interviews with backstage and rehearsal footage and archival video. It focuses on Gomes' skill and prowess as a partner and includes interviews with some of the world's top ballerinas including Diana Vishneva, Polina Semionova and Misty Copeland.
Keep reading...
Show less
Vishneva with Marcelo Gomes in Alexi Ratmansky's The Sleeping Beauty 2015. Courtesy ABT.
Diana Vishneva gave her final performance with American Ballet Theater last month after 12 years as a principal. The Russian ballerina made her first appearance with ABT even earlier as a guest artist in 2003. In this video of Aurora's Act III variation from the same year, it's easy to see why Vishneva was in demand all over the world.
While Vishneva has become well known for her dramatic roles, as well as her contemporary work, she is simply exquisite in this quintessential classical variation. At some moments she dances with calm, regal precision; at others, like the manège at 1:40, she floats across the stage with the joy and abandon of a young princess on her wedding day. Her long, sinewy limbs make every movement luxurious, and perfectly accented details demonstrate her individual artistry.
Even though she is saying goodbye to New York, Vishneva's career is sure to keep up its spectacular pace as she heads back to Russia to continue dancing with the Mariinsky Ballet, her home company of 22 years, and to work on new projects. The world will be watching to see what she does next! Happy #ThrowbackThursday!
Via Instagram
Last fall, Diana Vishneva shocked her NYC following when she announced that she would give her final performance with American Ballet Theatre on June 23, 2017. The Russian-born dancer has been part of ABT since performing in Romeo and Juliet as a guest artist in 2003, and has held the title of principal dancer with the company since 2005 in addition to her principal role with the Mariinksy Ballet. Throughout her time with ABT, which she spoke about in the below video for The New Yorker, Vishneva has danced as a guest artist with Bolshoi Ballet, Paris Opera Ballet and Berlin State Ballet.
Keep reading...
Show less
Views
Oct. 06, 2016 03:22PM EST
Vishneva in Kazimir's Colors. Photo by Valeria Komissarova via Alechtron.
Paintings infrequently inspire ballets. Notable exceptions include Yuri Possokhov's Magrittomania, based on the works of surrealist painter René Magritte, and Christopher Wheeldon's recent Strapless, centered on the woman in John Singer Sargent's painting "Madame X." Different though Magritte and Sargent's paintings are, they both depict people in one way or another—ready material for choreographers. Thus, I'm intrigued by Mauro Bigonzetti's ballet Kazimir's Colors, inspired by Kazimir Malevich's abstract, colorful blocks.
Loosely inspired, I'd say. Diana Vishneva and Vladimir Malakhov are anything but blocky in this 2009 clip. Pliant as putty, she snakes her limbs around her partner, who is sturdy but equally fluid. The piece and Kazimir's paintings do share similarities in their colors, of course, but also in the strength of their off-kilter lines. Vishneva's gorgeous extensions conjure the art's sharp angles. And, like the geometric shapes, the pair's movements are at times thin and reedy and at others wide and bold.
Whereas Bigonzetti recently joined a venerable ballet institution (he's La Scala Ballet's new artistic director), Vishneva will soon leave one of hers. The 2016/2017 season at American Ballet Theatre will be her last, though she will stay on as a principal at the Mariinsky Ballet. Vladimir Malakhov, whose career took him to Vienna, Berlin and beyond, also danced with ABT. He has served as artistic advisor to the Tokyo Ballet and recently produced his show, Malakhov & Friends, in Germany. Happy #ThrowbackThursday!
News
Sep. 15, 2016 05:32PM EST
Photo by Nikolay Krusser
As one of the foremost classical ballerinas of her generation, Diana Vishneva has captivated audiences with her magnetic stage presence and pristine technique. In a move that's sure to disappoint fans on this side of the Atlantic, she recently announced that she'll give her final performances with American Ballet Theatre on June 19 and 23, 2017, as Tatiana in Onegin. She'll dance with long-time partner, ABT principal Marcelo Gomes. Luckily for Russia, Vishneva will continue as a principal at the Mariinsky.
The first time I was able to see Vishneva dance live was in the summer of 2009, when I secured a student rush ticket to see Frederick Ashton's Sylvia at ABT. Even though I was sitting so high up I could literally touch the opera house ceiling, I felt lucky to see her in that ballet with its wildly differing acts.
Keep reading...
Show less
Views
Dec. 10, 2015 02:30PM EST
Diana Vishneva in Carmen Suite. Photo by Nikolay Krusser courtesy of Theatre of Photography on Facebook.
When she won gold at the Prix de Lausanne in 1994, Diana Vishneva was merely 17 years old. However, it's clear that she was on the dawn of superstardom. Twenty years have brought Vishneva's dancing an artistic depth and maturity that contrasts the almost hyper, youthful energy she exhibits in this 1994 clip of Carmen Suite. Her composure before she enters the stage belies the explosive power she has on it. Embodying the fiery color of her costume, Vishneva's legs and leaps practically crackle every time they leave the floor.
Though she's clearly eager in the firecracker tricks she excels at, Vishneva doesn't neglect the choreography's sultry, simple walks or the subtle hand gestures. She captivates even when her back is turned, a quality that even some experienced dancers lack and one that she's mastered. Compare this peppery Carmen to the rendition Vishneva gave in 2013 at the Mariinsky Ballet. Her bounding zeal has evolved into a more grounded, luscious intensity. The heat is still there, but it smolders rather than flares. Happy #Throwback Thursday!
News
Aug. 26, 2015 08:23PM EST
Some of ballet's biggest stars have donated signed pointe shoes to raise money for victims of last April's horrific earthquake in Nepal. The 7.8 magnitude earthquake killed over 9,000 people and left hundreds of thousands homeless. And while the disaster is no longer headline news, survivors are still desperate for help. From August 29 through September 13, Pointes for Nepal, an online campaign organized by Cloud & Victory dancewear, will be selling signed pointe shoes of ballerinas Diana Vishneva, Gillian Murphy, Maria Kochetkova, Isabella Boylston, Joy Womack, Michaela DePrince and more. While prices are steep (between $120 and $450 a pair), all proceeds benefit World Vision International and The Little Bells Promiseland Project, two charities providing aid relief to earthquake victims.
This isn't the first time dancers have come together to support Nepal. In June, the DRI Foundation hosted Dance for Nepal, a sold-out benefit that included performances by former American Ballet Theatre dancers Maxim Beloserkovsky and Irina Dvorovenko, New York City Ballet principals Sterling Hyltin and Amar Ramasar, and dancers from Martha Graham Dance Company, Paul Taylor's American Modern Dance Company and more. The benefit raised $21,000 for the DRI Foundation Nepal Relief Fund.
Ballet mistress Irina Kolpakova rehearses Diana Vishneva and Marcelo Gomes. Photo by Kyle Froman for Pointe.
It's two weeks before the March world premiere of American Ballet Theatre's The Sleeping Beauty at the Segerstrom Center for the Arts in Costa Mesa, California, and principals Diana Vishneva and Marcelo Gomes are hard at work. As the couple begins Princess Aurora and Prince Désiré's Act III wedding pas de deux, they exude a rediscovered sense of classicism that seems strangely exotic. Instead of six o'clock penchées and indulgent développés, Vishneva luxuriates in a world of arabesques allongées, modest extensions, lowered passés and softened ports de bras. But rather than appear antiquated, these stylistic inflections further accentuate what is going on above the waist—the engaging relationship between Aurora and her prince.
ABT's new Sleeping Beauty, a labor of love spearheaded by artist in residence Alexei Ratmansky and co-produced by La Scala in Milan, stands to be the crowning glory of ABT's 75th-anniversary season. "Of all the great full-lengths, The Sleeping Beauty stands as a perfect symbol of classical ballet," says artistic director Kevin McKenzie. "I wanted a production that we could call our own, and Alexei delivered it. It's a perfect anniversary gift."
Gillian Murphy with her partner, James Whiteside. Photo by Kyle Froman for Pointe.
"I try to bring myself to every moment in the ballet, my own understanding about trusting that all is good in the world: going from Aurora's slightly shy but joyous nature in the beginning to expressing a more serene quality in the second act to awakening back into the world again to meet her soul mate." –Gillian Murphy
What makes this version especially distinct is Ratmansky's commitment to restoring Marius Petipa's original choreography, which premiered in St. Petersburg in 1890. A team of régisseurs at the Mariinsky Ballet, using the Stepanov dance notation system, codified The Sleeping Beauty on paper in 1905. The documents were later smuggled out of Russia during the 1917 Russian Revolution; they are now housed at the Sergeyev Collection at Harvard University. Ratmansky and his wife, Tatiana, both of whom learned to read Stepanov notation, referenced this score as well as photographs and other documents to painstakingly reconstruct Petipa's original intention.

"It's fascinating to explore what we can piece together about the historical style and Petipa's choreography," says ABT principal Gillian Murphy, who is also dancing Aurora. "It looks easier because there are lower legs and more demi-pointe, but it actually feels more difficult because you're constantly restraining yourself. It takes extra energy to sort of put the breaks on."
Murphy notes that, for her, Aurora is one of the hardest roles in the classical repertoire because of the stamina and technical clarity it demands. "Sometimes the simplicity and purity of ballet can be the most difficult thing to accomplish and to make exciting," she says.
For principal Paloma Herrera, who performed as Aurora in March (before her May 27 retirement), that is precisely why the rehearsal process is so integral. "You have the technique inside you so that you can be free onstage, especially in a ballet like this," she says. "It's a fairy tale—complete magic."
McRae in Sir Frederick Ashton's "Rhapsody." Photo by Tristram Kenton, Courtesy ROH.
Steven McRae

The Royal Ballet's Steven McRae danced with a power and speed most people would need figure skates to achieve at Covent Garden in February, but the amplitude of his chaînés, barrel turns and rivoltades was just the icing on the cake during his finely calibrated performance in Sir Frederick Ashton's Rhapsody. Dancing the lead role originally made for Mikhail Baryshnikov, the 28-year-old Aussie also excelled in the small gestures and precise positional details for which Ashton's work is known. McRae says the music, Rachmaninoff's Rhapsody on a Theme of Paganini, is the key to balancing athleticism and artistry in the piece. "It's easy to get caught up in the technical demands of the choreography," he says. "However, when you really listen to the music, something magical starts to happen." The same can be said for the moment when this dynamic and versatile principal takes the stage. —Michael Northrop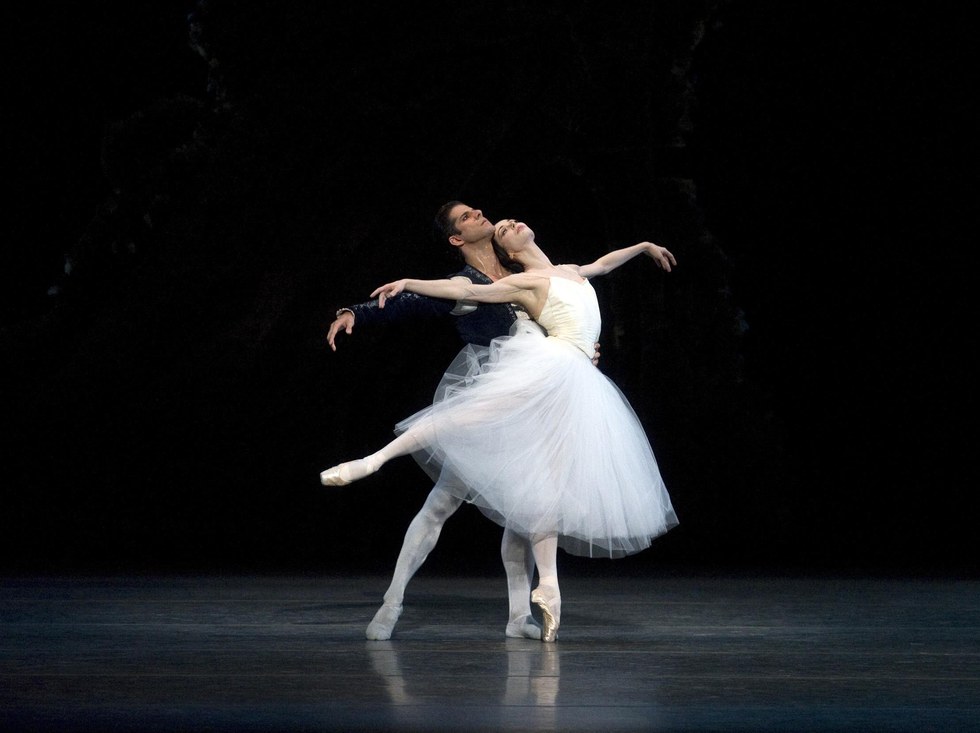 Gomes and Vishneva in "Giselle." Photo by Gene Schiavone, Courtesy ABT.
Diana Vishneva & Marcelo Gomes
One of the biggest thrills of Diana Vishneva and Marcelo Gomes' longtime partnership at American Ballet Theatre is its ability to transcend to greater heights each season. It was ever apparent in their performance of Giselle last June. While they've performed the roles together in years past, familiarity and experience have allowed them to bring deeper richness to their characters. Vishneva's Giselle was shy and vulnerable, coming out of her shell gradually in response to Albrecht's affections until she almost seemed to burst with joy. Meanwhile, Gomes—a cocksure but lovable Albrecht—grew more and more smitten with his conquest. Once his ruse was discovered, you sensed not only Giselle's disbelief but her painfully public humiliation, making her breakdown all the more understandable and heartbreaking. In Act II, Vishneva was otherworldly in her lightness, accentuated further through Gomes' reverential, seamless partnering. Together they drew the audience into their story and held them, spellbound. —Amy Brandt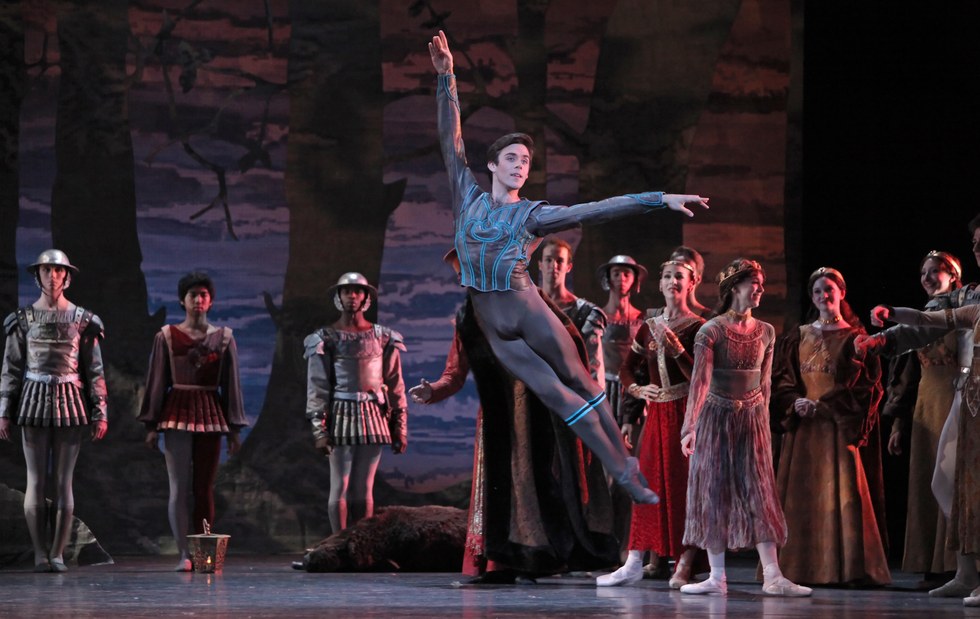 Walsh in "Swan Lake." Photo by Amitava Sarkar, Courtesy Houston Ballet.
Connor Walsh
When Houston Ballet's Connor Walsh first danced Siegfried in the premiere of Stanton Welch's fast-paced, dreamy version of Swan Lake in 2006, he was technically impressive, holding his own with the elegant Barbara Bears. But watching him reprise the role some eight years later, it became clear just how much he has grown. It's as if his edges have become sharper—not just technically but in all aspects of his artistry; he's developed a distinctly refined performance polish. There's ample heart behind his princely swagger now. Walsh's noble command of the stage, solid virtuosity and well-tempered bravado all add up to one convincing prince. His involvement in the ballet's original creation process, along with added years of experience, certainly helped deepen his interpretation. The HB principal is moving into his own, and his performance in Swan Lake provided the evidence. —Nancy Wozny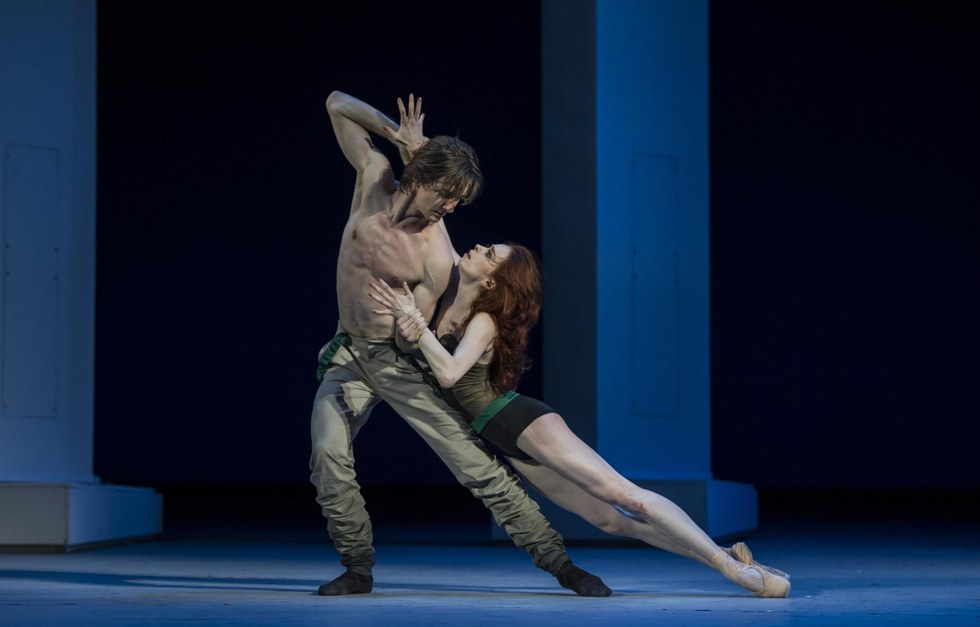 Lantratov and Krysanova in "Taming of the Shrew." Photo by Alice Blangero, Courtesy Bolshoi.
Bolshoi Ballet
It was a gamble on all sides: a new, full-length Taming of the Shrew by a foreign choreographer at the Bolshoi Ballet, just over a year after the acid attack on Sergei Filin. Les Ballets de Monte-Carlo's Jean-Christophe Maillot, who was creating his first ballet for an outside company in two decades, proved undaunted, and the result was a team effort that showed the Bolshoi's young generation in a new light. Each of the 10 soloist roles was choreographed with and for the first cast, from Vladislav Lantratov to Olga Smirnova, Vyacheslav Lopatin and Anna Tikhomirova, channeling their offstage personalities to show a new facet of their talent; their bold classical technique was in evidence throughout yet colored by the spontaneous, naturalistic approach Maillot favors. It was the Bolshoi as the world loves it, with a modern edge—and the Shrew herself, principal Ekaterina Krysanova, led the pack with a nuanced, career-defining performance, her power matched by a new abandon. —Laura Cappelle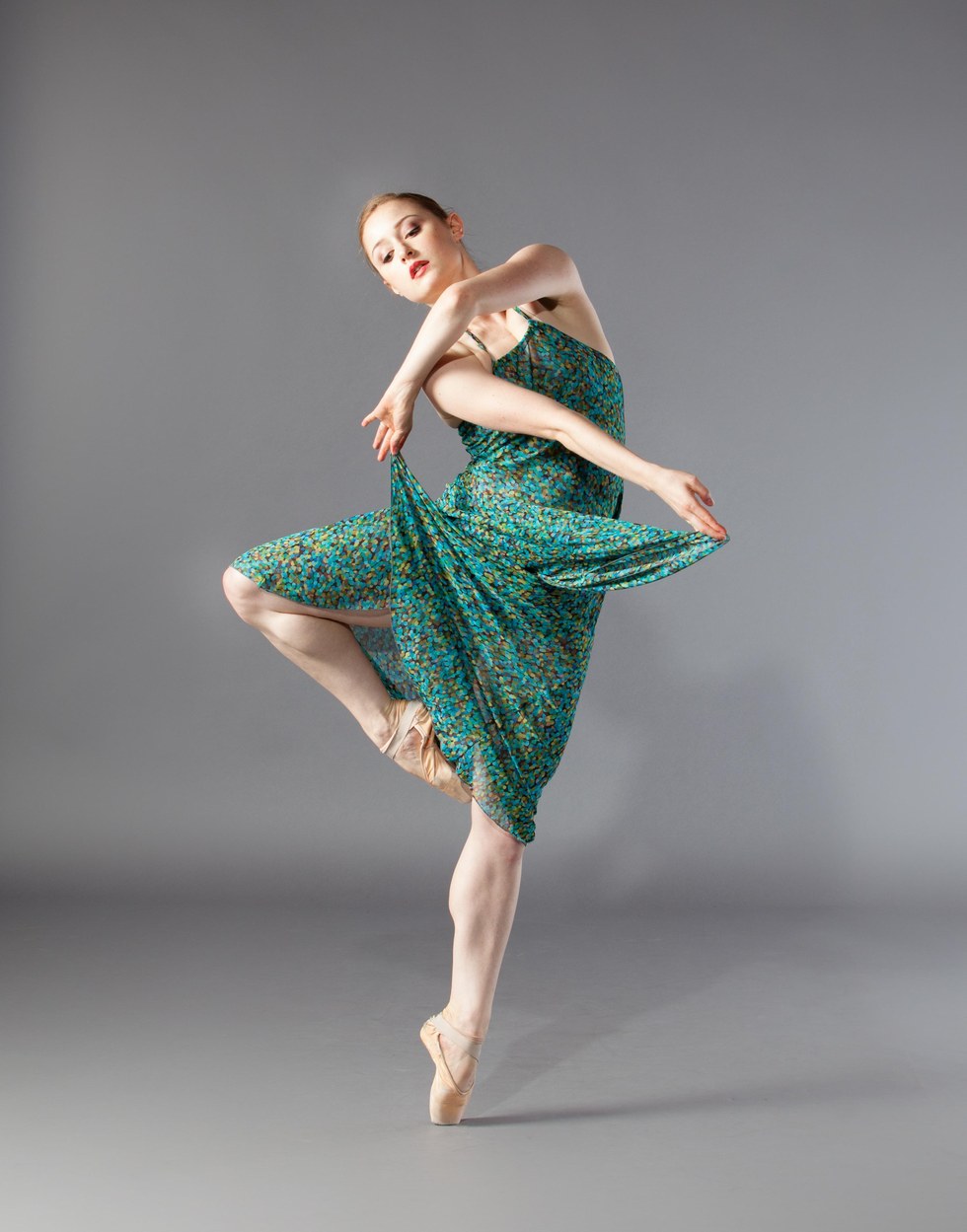 Photo by Alexander Izilaev, Courtesy BalletX.
Chloe Felesina
In the BalletX premiere Sunset, o639 Hours, Chloe Felesina danced front and center, with an abandon, fire and precision that made her riveting. The dreamlike adventure tale, choreographed for 10 dancers by BalletX co-founder Matthew Neenan, was based on the true story of Captain Edwin Musick's ill-fated Honolulu-to-Auckland flight in 1938. As the famous pilot's wife, and in her other roles in the ballet, Felesina's depth of feeling was matched by a robust agility. She shone in scenes portraying the couple's romance, the island life of New Zealand and her solitary bereavement.
Even though her medium height and fine features make her look delicate, she's a powerhouse: at the front of the pack in floor-rolling unisons and sparkling in Neenan's inventive partnering. A full-time company member since 2012, Felesina relishes deciphering each choreographer's intent and seeking more ways to communicate strongly with her audience. In Sunset, o639 Hours, her approach worked: You couldn't take your eyes off her. —Lisa Kraus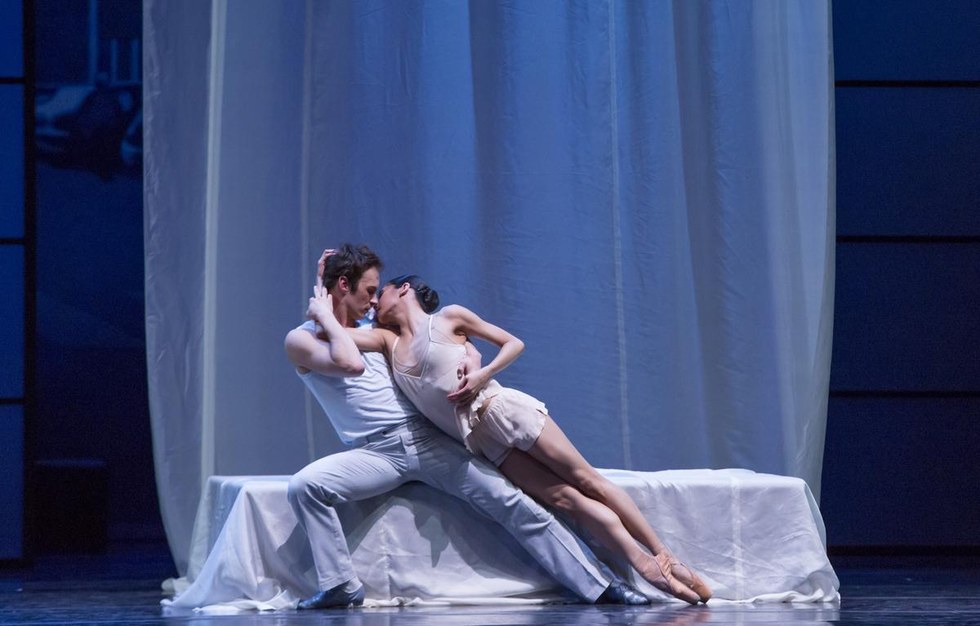 Rocas with Rory Hohenstein in "Romeo & Juliet." Photo by Cheryl Mann, Courtesy Joffrey.
Christine Rocas
A couple of years back, Joffrey Ballet dancer Christine Rocas confessed: "I'm always scared to do modern things…I try to be spontaneous, but I know I look funny at first."
Rocas, 28, definitely didn't look "funny" in her opening night performance of Polish choreographer Krzysztof Pastor's Romeo & Juliet in Chicago this past April. And Pastor's take on the story was supremely contemporary—not at all like the Kenneth MacMillan or John Cranko versions for which Rocas' lyrical, weightlessly lovely style would have been a perfect fit. In fact, as Juliet, Rocas seized hold of Pastor's starkly modern, sweepingly cinematic reinvention, which used 20th-century Italian history as a backdrop. Masterful in her embrace of the ballet's mix of difficult classical and contemporary technique, she revealed a powerful, highly individualistic, surprisingly dramatic talent.
Her performance had genuine star quality, with pristinely beautiful dancing and fiercely honest acting in evidence from the moment, early on, when she simply walked around the perimeter of the stage, quietly fixing her gaze on Romeo. The palpable quickening in Rocas' face and body was a far cry from simple pubescent awakening. This was the dawning of a young woman with a mind of her own. —Hedy Weiss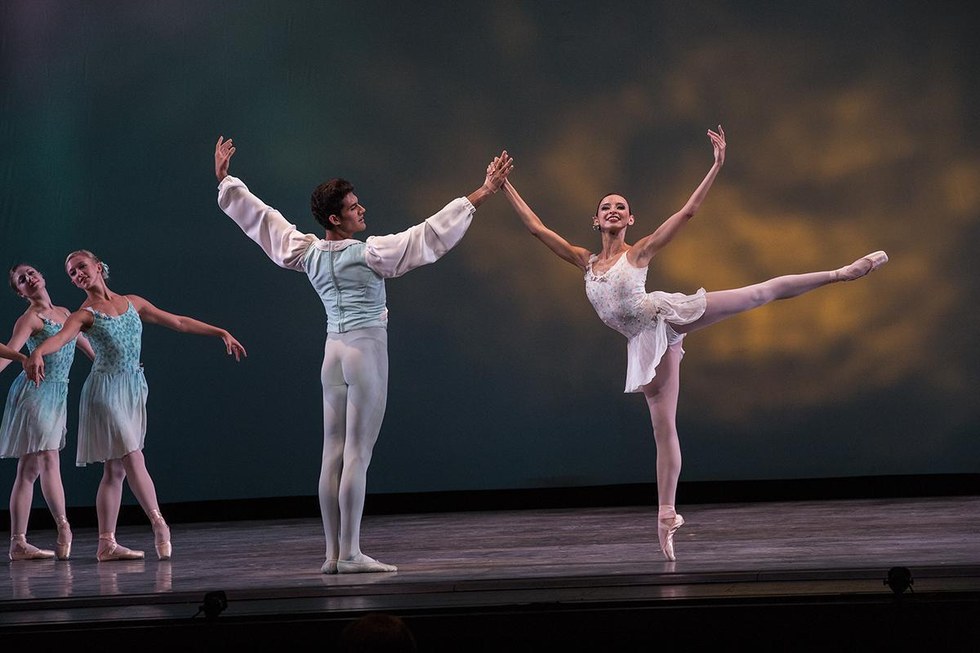 Arja with Renan Cerdeiro in "Ballo della Regina." Photo by Daniel Azoulay, Courtesy Miami City Ballet.
Nathalia Arja
As the recently promoted Miami City Ballet soloist Nathalia Arja can attest, some roles lift dancers to the heights of artistic privilege. While still a corps member last season, Arja—a 21-year-old MCB-school alumna with Rio de Janeiro roots—earned the opportunity to dance the lead in George Balanchine's exquisitely demanding Ballo della Regina. There she was, on opening night no less, fast and fastidious in virtuoso moves: restless changes in direction, riveting hops on pointe, clockwork articulations that teased time itself. "I learned to do what I didn't know I could," says Arja. No small amount of calibration, of course, came from being coached by Merrill Ashley, the New York City Ballet wonder who originated the role. Still, Arja brought strengths she's been honing since dancing the role of Sugar Plum at MCB as a teenager—the verve and knack for detail that also served Alexei Ratmansky when he fashioned a solo on her in Symphonic Dances in 2012. A culmination for many, Ballo figures for Arja as the promise of an ever more thrilling career. —Guillermo Perez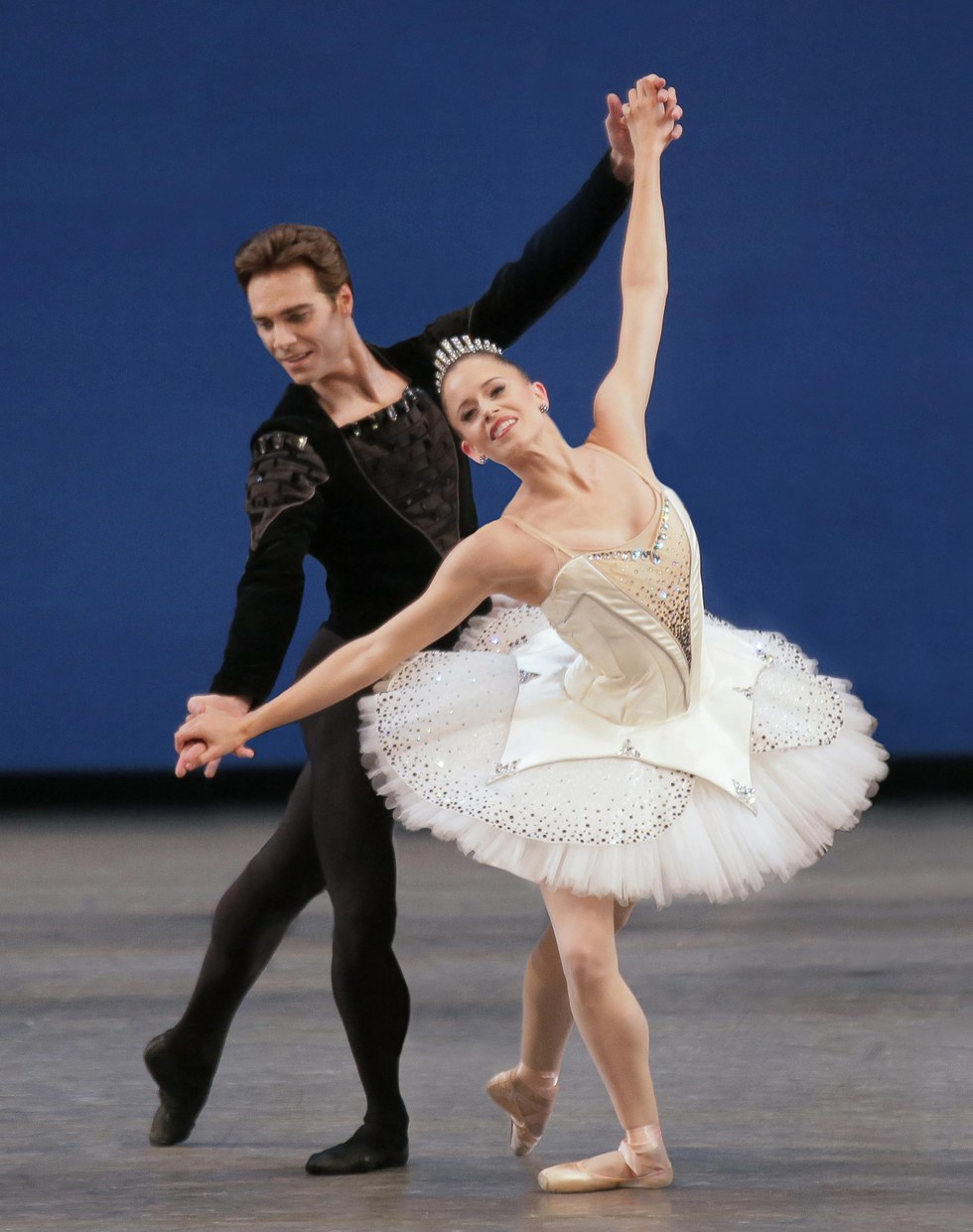 Isaacs with Gonzalo Garcia in "Symphony in C." Photo by Paul Kolnik, Courtesy NYCB.
Ashly Isaacs
In the third movement of Balanchine's Symphony in C, the leads repeatedly charge onto the stage in a series of grands jetés—irrepressibly buoyant, as if they're more at home in the air than on the ground. In a way, that's a fitting metaphor for New York City Ballet corps member Ashly Isaacs' 2014 season, which saw her star on the rise, achieving greater heights with each successive performance. Her debut as the ballerina in that movement of Symphony showed off not only her preternatural ballon, but also her easy command of the stage. In the wrong dancer's hands (and feet) the always-on-the-go choreography can feel bombastic, but Isaacs colored it sensitively, adding subtle shading to its softer moments. For some years this role has been danced brilliantly by Ashley Bouder; it was hard not to notice the similarities between the two. —Margaret Fuhrer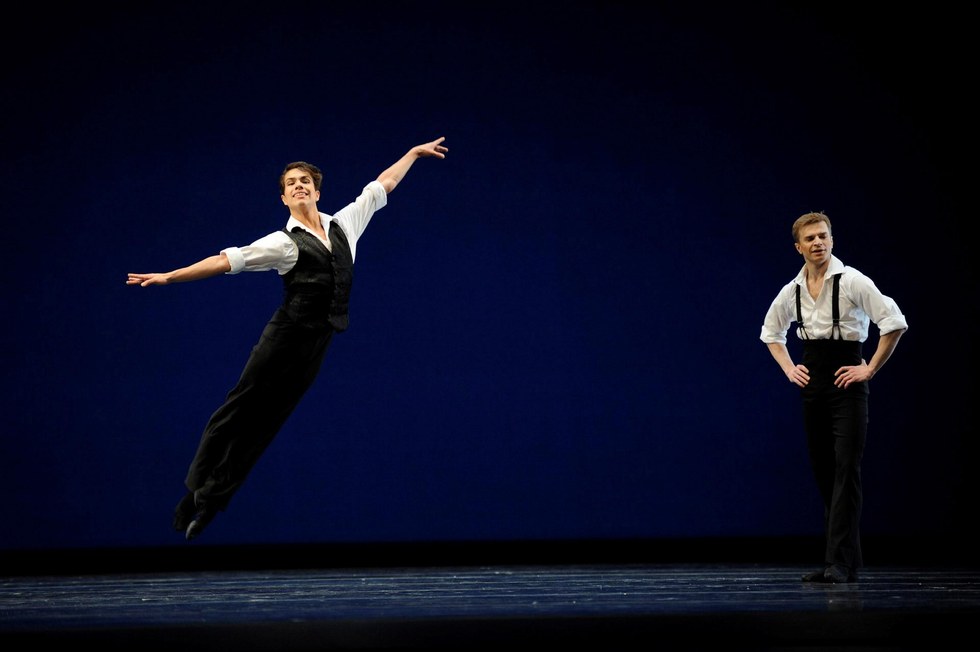 Hernandez with Gennadi Nedvigin in "Les Lutins." Photo by Erik Tomasson, Courtesy SFB.
Esteban Hernandez
Season galas showcase principal dancers at their best, but San Francisco Ballet's 2014 gala also introduced a rising star: Esteban Hernandez. Announced pre-curtain as a replacement for Joan Boada in Johan Kobborg's Les Lutins, the first-year corps member faced high expectations from a demanding audience, who rustled their programs looking for clues about this unfamiliar dancer. But in Lutins, an eight-minute battle of the sexes that requires insouciant charm, clear acting and blistering petit allégro—and falls flat if any one of those is missing—the Mexican-born Hernandez proved his mettle as a Royal Ballet–trained technician and a natural performer, with confidence well beyond his 19 years. Not only did he hold his own opposite Gennadi Nedvigin and soloist Dores André, in those thrilling eight minutes he won 3,500 hearts and became a name to remember. —Claudia Bauer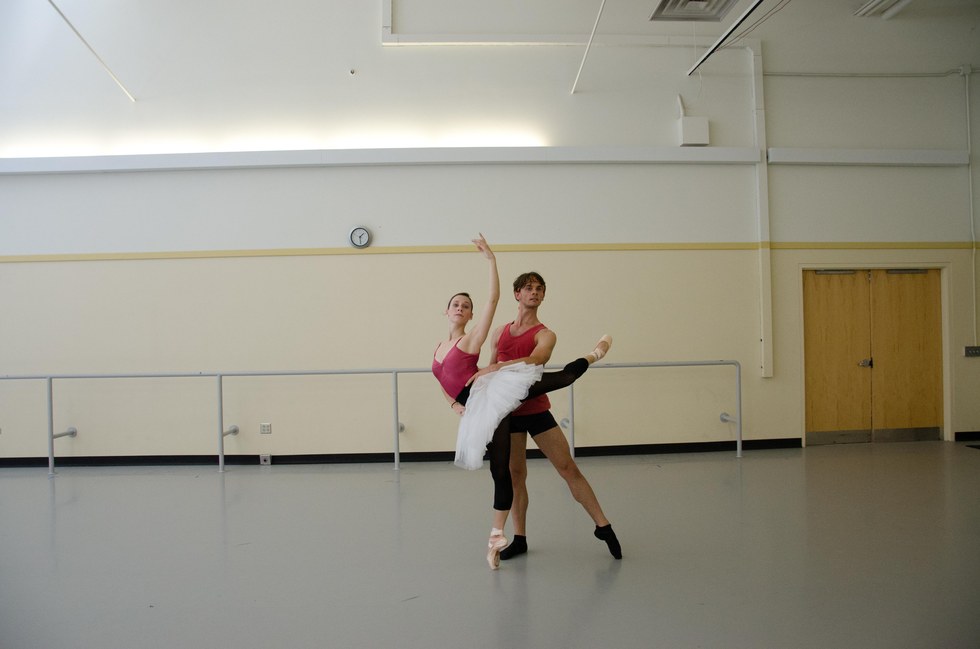 Thurlow and Sbrizzi rehearsing "Don Quixote." Photo by Aimee DiAndrea, Courtesy PBT.
Gabrielle Thurlow & Luca Sbrizzi
When lead casting was announced for Pittsburgh Ballet Theatre's Don Quixote last season, there was a surprising pair included in the mix. While Gabrielle Thurlow and Luca Sbrizzi have long been regarded as cornerstones among PBT's ranks, their star power was relatively untested: Thurlow was a longtime corps member and Sbrizzi, a soloist, had been away from the stage nearly nine months following a career-threatening back injury. But they more than delivered. Thurlow entered the first act as an energetic Kitri, all spry jumps and energetic pas de chevals, while Sbrizzi played an earnest Basilio, his admiration for Kitri present in every carefully finished movement. Later, during their brightly executed grand pas de deux, Thurlow brought playful sharpness, breezy turns and balances that said, "I could stay here all day." Sbrizzi's refined technique and bounding jumps lent his Basilio the elegance of a man in love. Following the performance, Thurlow was promoted to soloist and Sbrizzi cemented his place as a leading man after an uncertain season away from the stage. —Kathleen McGuire
Inside PT
Mar. 28, 2014 07:57PM EST
Diana Vishneva likes a little extravagance. Her preferred fashion labels include Céline and Marni. On tour, she carries Louis Vuitton bags, custom made to tote not just clothing and toiletries but also her tutus and pointe shoes. Each piece is stamped with her initials, DV. When asked about her most prized items, though, she sways toward sentiment. "I got a gift from Natalia Makarova, a shawl made from goat wool. I take it with me everywhere," she says. "And there are the warm socks my mom has been knitting for me since my childhood. If you can believe it, she still makes them for me today." It seems that even the biggest stars can't live without their creature comforts.
The Details—Street
Vishneva likes dance attire that transitions easily. Her preference for stylish comfort was evident when Pointe caught up with her during her recent performances in Costa Mesa, California, where she sported lightweight pants, simple ballet flats and a jacket casually layered over an easy T-shirt. She usually opts for cool blue and gray tones. "I don't like shiny or bright," she says.

The Details—Studio
"Dance isn't about fashion. It's more important that my body feels warm and I can keep it at a good temperature," says Vishneva. That's why she layers: tights under pants and socks under ballet shoes. And she likes to mix dancewear and athletic wear, depending on whether she's rehearsing classical or contemporary work.


Nov. 29, 2001 07:00PM EST
It's not every day that you get to see a world-class ballerina rehearse. It's pretty much never that you get to see that world-class ballerina rehearse Martha Graham's work. So to say that I was thrilled to be able to watch Diana Vishneva prepare Graham's Errand into the Maze yesterday is a massive understatement.

Vishneva first performed Errand at a gala evening in St. Petersburg last June. (She brought down the house.) She'll reprise her take on the iconic work this Wednesday night at the Martha Graham Dance Company gala at New York City Center, and again on Friday and Sunday as part of her own bill at City Center, Diana Vishneva: Dialogues.

Vishneva was intensely, singularly focused during Monday's rehearsal. "For me as an artist, what's most important is to feel the structure of [Graham's] choreography on my body," she told me, "to figure out how it fits." Pointe was able to capture some of that process on camera. This gorgeous image is a sneak preview of the photo essay to come in our June/July issue. Enjoy--and stay tuned!
Nov. 29, 2001 07:00PM EST
Nothing seems to intimidate Diana Vishneva. The Mariinsky prima toured her own solo show. She signed up for a guest spot with the Martha Graham Dance Company. She is forever chasing after new challenges. Her latest project? A new creation by Les Ballets de Monte Carlo director Jean-Christophe Maillot. She just spent two weeks in Monaco learning the choreography, and will be performing it in Russia over the next year. Check out this dramatic shot of their rehearsal together.
Nov. 29, 2001 07:00PM EST
It's only every so often that we get to peek behind the curtains of the world's most acclaimed ballet companies. So when this video of the Mariinsky Theatre and Vaganova Ballet Academy came across our desks, we couldn't wait to watch it. The 25-minute documentary, titled Ballet, Sweat and Tears, features interviews and footage of young students at the academy as well as first soloist Oxana Skorik and prima Diana Vishneva at the Mariinsky, plus insight from Vishneva's coach. It goes in the studios, through the theater and to their apartments. Although we could do without the wacky British voice-overs that are used to translate the dancers' Russian, the film offers an fascinating look inside the daily grind of Russia's ballerinas—both those who are just budding as well as those who have risen to the top.
Nov. 29, 2001 07:00PM EST
We have to hand it to the Russians. Olympic opening ceremonies are always brilliant spectacles, but rarely do they involve appearances by world-class ballet dancers.

Last Friday night, the Sochi opening ceremony offered a smorgasbord of rich, theatrical images, many of them created by Spider-Man: Turn Off the Dark choreographer Daniel Ezralow. But the highlights for us bunheads were appearances by Russian ballet sensations Svetlana Zakharova, Ivan Vasiliev and Diana Vishneva.

Zakharova and Vasiliev showed us the more traditional side of ballet in a recreation of a ballroom scene from Tolstoy's War and Peace. (Vasiliev's ever-insane jumps drew big cheers from the crowd.) Vishneva went in another direction: Her pointe-shoe-less segment appeared to be inspired by F.L.O.W., the work Momix's Moses Pendleton choreographed for her "Beauty in Motion" program a few years ago. The original solo featured Vishneva twirling while wearing a cape of shimmering strands of beads. The opening ceremonies adaptation included a whole flock of dancers outfitted in these capes—Vishneva in the lead, of course—as music from Swan Lake played. While the effect wasn't exactly swan-like, it was totally mesmerizing.

Miss the broadcast, or just want to relive the magic? Click here for photos from the ceremony.