Boston Ballet principal Derek Dunn flies through the air in Leonid Yakobson's Vestris. Rachel Neville, Courtesy Boston Ballet.
Imagine stepping into an iconic role made famous by one of ballet's greatest living legends. That was the challenge for Boston Ballet's Derek Dunn in the company's premiere of Vestris, a solo that Soviet-era choreographer Leonid Yakobson created especially for the physical and dramatic artistry of a young Mikhail Baryshnikov. Yet Dunn pulled it off with dazzling élan and technical assurance.
At this point, you'd think we'd all be used to the level of technical absurdity Daniil Simkin achieves when he's playing around in the studio. But then he did this:
...and now we're low-key appalled in the absolute best way.

After we picked our jaws up from the floor, we were inspired to dig up clips of some of our other favorite dancers turning like it's no big deal. Here are just a few standouts.
Derek Dunn in George Balanchine's Prodigal Son. Liza Voll, Courtesy Boston Ballet
A new way of working: Derek Dunn may be known for his explosive jumps and strings of pirouettes, but the powerhouse dancer admits that he wasn't always working inthe smartest way. When he developed hip issues last year, he was forced to shift from "giving 150 percent all the time" to a subtler approach. "I'd been muscling through every- thing and tucking and cranking," he says. "But I've realized that my energy can be used in a much more effective way."
Boston Ballet principal Derek Dunn at age 12 in a variation from Flames of Paris at the 2008 YAGP finals. Courtesy YAGP.
The Youth America Grand Prix New York Finals are starting up again this week, running April 12-19. This year, YAGP is celebrating its 20th anniversary. April 18-19 marks the competition's annual Stars of Today Meet the Stars of Tomorrow gala, featuring 13 pros who are also YAGP alumni. We've rounded up photos and videos from those stars' YAGP years and shared them with you here.
News
Jan. 04, 2019 04:51PM EST
Courtesy VAM Productions
Raise your hand if you're excited for competition season! Youth America Grand Prix Regional Semi-Finals are well underway, leading up to the much-awaited New York Finals April 12-19. Even better, they're live-streamed, meaning you now have the perfect excuse to spend your weekend at home, watching ballet (while sewing your pointe shoes and stretching, of course).
This weekend features semi-finals in Seattle, Washington and Tampa, Florida. To see the full schedules and set up streaming, click here. Streaming starts at $13.99. Packages of 2, 4, 6 or 12 total viewing hours are available, and viewers can log in and out as often as they like.
News
May. 11, 2018 02:13PM EST
Ballet student Ashton Bradley in a scene from "Danseur." Photo courtesy NuArts Foundation.
Updated on 08/28/19

"I never wanted to stop dancing, I just wanted the bullying to stop," says American Ballet Theatre corps member Patrick Frenette in the trailer for Danseur, a new feature-length documentary about the social stigmatization young men face in ballet. His words shed light not only on the prevalence of harassment boys endure from peers outside the studio, but also their passion and determination to keep dancing in spite of it. The film, produced by NuArts Foundation, features interviews with ballet students, teachers and directors, as well as professional dancers like James Whiteside, John Lam, Derek Dunn and Harper Watters. Screenings are slowly being added around the country—check out the list of dates at the bottom of this story.
News
Apr. 09, 2018 12:46PM EST
Chyrstyn Fentroy and Roddy Doble in William Forsythe's Pas/Parts. Photo by Rosalie O'Connor, Courtesy of Boston Ballet.
The season of promotions has begun! Boston Ballet just announced that five company dancers will be moving up the ranks, effective at the start of the 2018/2019 season this fall.

Derek Dunn in William Forsythe's "In the middle, somewhat elevated" at Houston Ballet. Photo by Amitava Sarkar, Courtesy HB.
A year ago, Derek Dunn was one of Houston Ballet's brightest young talents (oh, and he was also gracing Pointe's cover). So some were surprised when he announced that he'd be joining Boston Ballet as a soloist this season. We caught up with Dunn as he prepares for two season-opening premieres November 3–12, to see how he's settling in.
You danced with Houston Ballet for five years. Why did you leave?
It wasn't really about me leaving Houston—it was more me being curious about what else was out there. I got really lucky when I landed that job. I did a competition and afterwards Stanton [Welch, HB's artistic director] asked me to audition for an apprenticeship. I wasn't even necessarily looking for a job at the time; I was only a junior in high school, and I wasn't really sure if I was going to continue training for another year. So Houston Ballet was the only place that I even auditioned for, and really all I knew. After five years, I think it's only natural to be curious about how other places work and what their environments might be like. When I came to Boston to take class last year, I felt an immediate positive energy from everyone. On top of everything else the company has to offer—the rep, the talented dancers, the city—it was hard to pass it up.
What's it like being the new guy at Boston Ballet?
I've been really happy with my decision so far. Of course, joining a new company, you're not really sure what you're going to be thrown into. You have to prove yourself right away. But the amount of opportunities I've gotten already has been incredible and I'm really excited to do everything this season. It's been a really good start so far—very busy, but good.
When we chose Houston Ballet soloist Derek Dunn as our October/November cover star last year, we knew he could do just about everything. But what we didn't know is that he—along with his fellow HB chums Hayden Stark and Daniel Durrett—can also kill it in pointe shoes! Apparently while the company was preparing for La Bayadère earlier this month, Dunn, Durrett and Stark got inspired to tackle the three Shades' variations from Act III. And they do not disappoint. From Stark's rock-solid relevés in arabesque to Dunn's near-silent footwork to Durrett's super-controlled ballonnés, these three pretty much nail their variations with both grace and aplomb. And, you know, with some double cabrioles and saut de basques thrown in.

This isn't the first time "sur les pointes" for Dunn (who announced on Instagram that he's leaving Houston Ballet for a yet-undisclosed company) or for Stark. Both were required to wear pointe shoes as the evil stepsisters in Stanton Welch's Cinderella in March. Still, knowing how many years it took me to perfect my pointework, I can't help but feel a little jealous of these guys.
Derek Dunn photographed by Nathan Sayers for Pointe.
This is Pointe's October/November 2016 Cover Story. You can subscribe to the magazine here, or click here to purchase this issue.
Houston Ballet's Derek Dunn knows how to make an entrance. While just an apprentice in 2013, Dunn catapulted through the Wortham Theater Center airspace as Garuda, god of dreams, in Stanton Welch's La Bayadère. But it wasn't just his powerful pyrotechnics that created buzz throughout the audience. He possessed unusual refinement for such a young dancer, combining seamless finesse with extreme crispness. That level of technical prowess and overall polish even brought to mind the Carlos Acosta era at Houston Ballet.
With his Texas-sized bravura, Dunn, 21, has created a powerful presence and impressive fan base at Houston Ballet in a few short years. Compact and boyish, he's demonstrated remarkable versatility in both classical and contemporary roles. Yet the former comp kid has also had to learn patience and humility, and overcome insecurities about his height. Now a newly promoted demi-soloist, his career is building exciting momentum, with no sign of slowing down.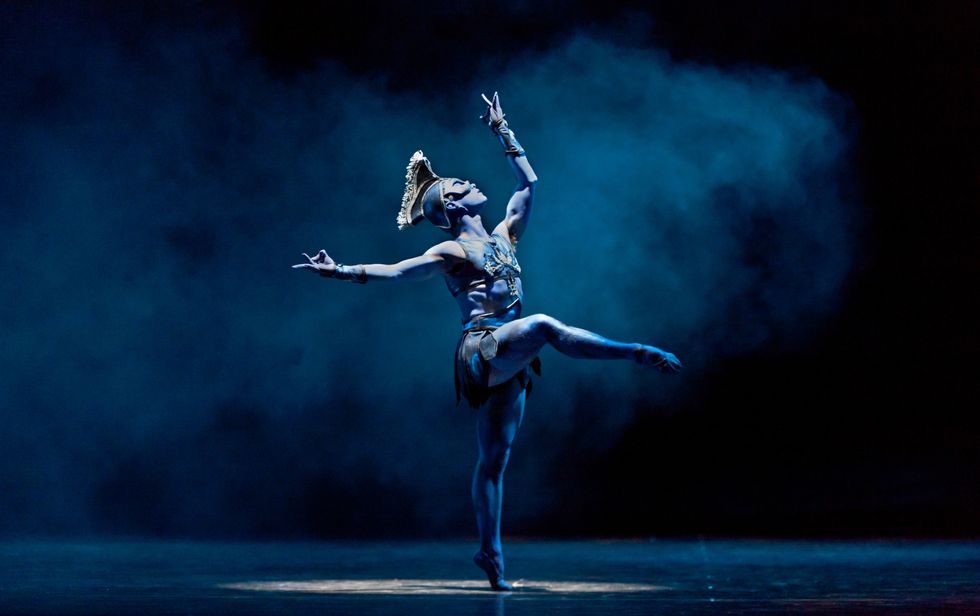 Dunn in "La Bayadère." Photo by Amitaa Sarkar, Courtesy Houston Ballet.
Oct. 03, 2016 10:55AM EST