Cuba's Gran Teatro de La Habana Alicia Alonso, one of the four theaters in use during the festival. Photo by Quinn Wharton.
Anyone attending the National Ballet of Cuba's biennial Havana International Ballet Festival can expect an adventure that is equal parts treasure hunt and lottery, amidst a cornucopia of choices. This year's festival, the 26th, was no exception, offering 25 programs in four theaters. The event, held October 28-November 6, was also notable for the unanticipated absence of 96-year-old Alicia Alonso, the host company's founder and Cuba's ballerina assoluta. Due to flagging health, Alonso was unable to make her customary opening night appearance, where she would have been seated alongside Cuba's new President, Miguel Díaz-Canel.
Keep reading...
Show less
News
Aug. 20, 2018 05:24PM EST
Jacques d'Amboise and Adrian Danchig-Waring in conversation at the National Dance Institute. Photo Courtesy NDI.
"Jerry, throughout his life, wanted a world where races, cultures and people came together without conflict and hate and anger, but lovingly, to make a community." These words were spoken earlier this week by Jacques d'Amboise at an event titled Upper West Side Story: A Celebration of Jerome Robbins, hosted by National Dance Institute, which d'Amboise founded in 1976 to provide free arts education to children in New York City and beyond. D'Amboise then reiterated his point by quietly singing the famous refrain from West Side Story, which Robbins choreographed and directed for both screen and stage: "There's a place for us."
Keep reading...
Show less
Photo Courtesy Elliott Arkin.
You can find Tiler Peck just about anywhere these days—onstage at New York City Ballet, in commercials, on "The Ellen Degeneres Show." And let's not forget starring in 2014's Little Dancer, a musical that followed the creation of Edgar Degas' famous sculpture, "Little Dancer Aged 14." Peck played Marie van Goethem, the young Paris Opéra Ballet School student who modeled for Degas. Now, she's reprising the role—er, her likeness is—for a good cause. Visual artist Elliott Arkin has created a series of limited edition sculptures of Peck as the Little Dancer. Proceeds will go to Dance Against Cancer, the annual benefit concert for the American Cancer Society produced by NYCB principal Daniel Ulbricht and Manhattan Youth Ballet programming director Erin Fogarty (both of whom lost a parent to the disease). Peck will also be part of the event's star-studded cast; all of the dancers donate their time, and most perform in memory of a loved one.
Keep reading...
Show less
News
Jan. 10, 2018 04:46PM EST
Madison Penney, Youth Grand Prix winner at the YAGP 2017 Finals. Photo by VAM, Courtesy YAGP.
We're in the thick of Youth America Grand Prix regional semi-final season, and the famous competition is now being made available to fans everywhere at the click of a mouse. Here are two ways to keep up with YAGP from wherever you are:
Regional Semi-Finals Live Broadcast

Rooting for a friend competing or just want to keep tabs on the ballet world? A live broadcast of the competition is now available here. This weekend (January 12-14) are the Tampa, Florida and Denver, Colorado semi-finals; packages to watch online start at $13.99. You can choose 2, 4, 6 or 12 total viewing hours, and log in and out of the site at your convenience. YAGP is also broadcasting their "Stars of Today Meet the Stars of Tomorrow" gala in Tampa this Saturday at 8 pm EST. The performance will feature National Ballet of Canada's Evan McKie and Svetlana Lunkina, Ballet West's Beckanne Sisk and Chase O'Connell, New York City Ballet's Ashley Bouder and Daniel Ulbricht and international guest artists Adiarys Almeida and Taras Domitro.
Keep reading...
Show less
popular
Oct. 16, 2017 05:26PM EST
Houston Ballet's Jared Matthews and Sara Webb in"The Sleeping Beauty." Photo by Amitava Sarkar, Courtesy Houston Ballet.
Despite the devastation and pain that Hurricanes Harvey and Irma have left in their wake this fall, it's been encouraging to see dancers step up in aid of their communities: When the future of Houston Ballet's Nutcracker seemed uncertain, venues around the city pulled together to allow the company to produce the show on a "hometown tour." And when Florida ballet companies had to evacuate, Atlanta Ballet and Charlotte Ballet welcomed them with open arms. In addition, New York City-based studio Broadway Dance Center offered community classes in September with proceeds donated to the American Red Cross.
The next in this series of good deeds is Hearts for Houston, a benefit performance bringing dancers from seven major companies together at New York City's Alvin Ailey Citigroup Theater to raise money for the United Way of Greater Houston's Harvey Relief Fund. Scheduled for Sunday, October 22, the evening will feature members of the Houston Ballet, American Ballet Theatre, New York City Ballet, Pennsylvania Ballet, Texas Ballet Theater, The Washington Ballet and Alvin Ailey American Dance Theater. Hearts for Houston is imagined and produced by Houston Ballet principal dancers Yuriko Kajiya and Jared Matthews (both formerly of ABT) and funded by patrons Phoebe and Bobby Tudor and sponsor Neiman Marcus.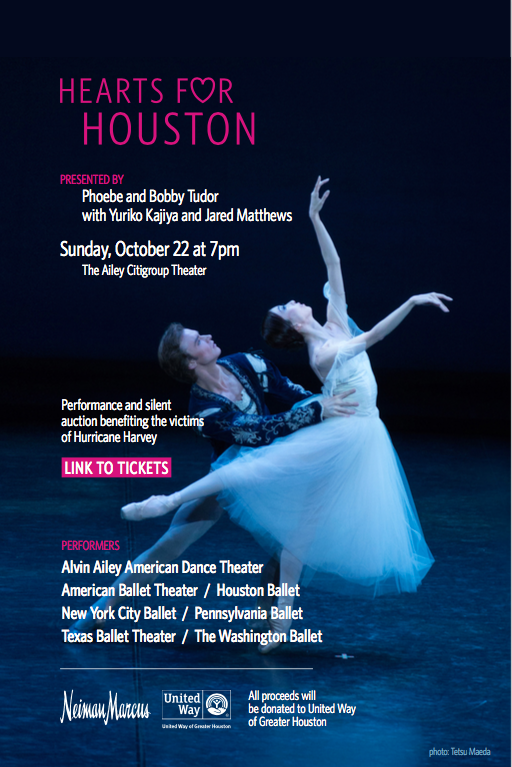 Keep reading...
Show less
News
May. 03, 2017 04:30PM EST
NYCB's Amar Ramasar and Tiler Peck perfrom at the 2016 Dance Against Cancer benefit. Photo by Christopher Duggan, Courtesy of DAC.
When New York City Ballet principal Daniel Ulbricht and Manhattan Youth Ballet programming director Erin Fogarty first produced Dance Against Cancer: An Evening to Benefit the American Cancer Society back in 2010, they likely had no idea how big it would become. Now a highly anticipated annual event, Dance Against Cancer has raised almost $1 million for cancer research and has expanded to include THE YOUTH MOVEMENT, a performance featuring local dance students. DAC has even outgrown its venue—this year's one-night-only performance, held on Monday, May 8, at the AXA Equitable Theater, has long been sold out.
The evening features star dancers and choreographers, who all donate their time to create a memorable and heartfelt performance. Many have been touched personally by cancer (Ulbricht and Fogarty have both lost a parent to the disease). In an interview with Pointe last year, Ulbricht noted that so many ask to participate that they have to turn dancers away. "As their own family or friends or mentors suffer," he said, "I think they feel compelled to ask, 'What can I do?' "
Keep reading...
Show less
News
Jun. 10, 2016 04:26PM EST
The summer Olympics may be just around the corner, but we know that ballet dancers perform superhuman feats all year long. Next week offers an especially good chance to see this in action, as talented dancers from around the globe come together for the World Ballet Competition.
Photo courtesy Siggul/VAM Productions
WBC celebrates its 10th anniversary this year, and from June 13–18, you can livestream each day's competition rounds for free. About 150 dancers ages 9 to 24 take the stage in Orlando in hopes of winning cash prizes and scholarship opportunities. They represent over 20 different countries, and were pre-selected through a video audition process.
Each day's livestream starts with a pre-show broadcast, and the coverage promises to take viewers behind the scenes and inside the action, including interviews and backstage access. The competition itself is notable for its electronic scoring system, which shares results with the audience—and couch potatoes worldwide—in real time.  
The week culminates in a gala performance on June 18, featuring many familiar faces who have graced the pages of Pointe, like New York City Ballet's Daniel Ulbricht and Pennsylvania Ballet's Mayara Pineiro, who will perform alongside competition finalists. And judging from past history, we can expect some pretty exciting things from the young talent on that stage. Past WBC competitors have gone on to dance for companies like San Francisco Ballet, Boston Ballet, Ballet West and The Washington Ballet.
Catch the livestream starting Monday, June 13, at 4:30 pm Eastern time.
For more news on all things ballet, don't miss a single issue.
News
Apr. 20, 2016 10:17AM EST
Violinist Karl Nikkanen with Daniel Ulbricht in Johan Kobborg's Les Lutin. Photo by Christopher Duggan, Courtesy DAC.
Six years ago, New York City Ballet principal Daniel Ulbricht and Erin Fogarty, director of programming at Manhattan Youth Ballet, teamed up to create Dance Against Cancer. The annual benefit for the American Cancer Society brings together ballet, modern and Broadway dancers, with every performer donating their own time. Pointe spoke with Ulbricht before this year's event, Apr. 25 at the AXA Equitable Theater in New York City.
How do the dancers get involved?
This year we have 18 pieces--5 are premieres--and there are still dancers who want to perform. As their own family or friends or mentors suffer, I think they feel compelled to ask, "What can I do?" And we have many artists, like Tiler Peck, Robbie Fairchild, Craig Hall and Gillian Murphy, who have been so gracious to work with us year after year. In one night, you can see dancers from companies like Ailey, Parsons Dance, Noche Flamenca, ABT and City Ballet. It's incredible.
Keep reading...
Show less
News
Nov. 09, 2015 05:40PM EST
James Sofranko in Jerome Robbins' The Concert (or, the Perils of Everybody). Photo by Erik Tomasson, courtesy of San Francisco Ballet.
Who says ballet can't cure cancer? DanceFAR or "Dance For a Reason"—the brainchild of San Francisco Ballet soloist James Sofranko and former SFB dancers Garen Scribner and Margaret Karl—raises money for the Cancer Prevention Institute of California. This year's fourth annual star-studded gala takes place tomorrow night at San Francisco's Yerba Buena Center for the Arts and will feature some of the West Coast's biggest names in ballet, including dancers from SFB, Alonzo King LINES Ballet and Ballet Silicon Valley.
The lineup also includes American Ballet Theatre principals Marcelo Gomes and Stella Abrera, who is no nonprofit novice herself. In the aftermath of Super Typhoon Haiyan, which hit the Philippines in November 2013, Abrera formed her disaster relief organization Steps Forward for the Philippines.
Stella Abrera and Marcelo Gomes on the dance floor. Photo by Justin Barbin courtesy of Gillian Murphy via Twitter.
Sofranko and Abrera are just a couple of names on a growing list of dancers who contribute their talents to charitable causes. New York City Ballet principal Daniel Ulbricht's annual "Dance Against Cancer Benefit" has raised hundreds of thousands of dollars for the American Cancer Society, and ballet dancers from all over the globe appear in Dancers Responding to AIDS' annual Fire Island Dance Festival, which had record-breaking fundraising efforts this past summer.
To date, DanceFAR has raised over $300,000, with tomorrow night likely to show a huge increase.
Sarah Van Patten, San Francisco Ballet principal . Photo by Quinn Wharton courtesy of DanceFAR.
Ulbricht's company, Stars of American ballet, heads to Jacob's Pillow on July 29. Photo by Paul Kolnik, Courtesy NYCB.
Admirers of New York City Ballet principal Daniel Ulbricht probably consider "puckish" an ideal adjective for his personality and his dancing, thanks to his definitive performance as Puck in Balanchine's A Midsummer Night's Dream. They would be surprised to learn that someone so convincing as Shakespeare's scampish prankster would soberly discuss dancing not only as a responsibility, but as a mission. From his Stars of American Ballet touring company to his Dance Against Cancer event, Ulbricht uses every ounce of his spare time uniting ballet with good causes.
Keep reading...
Show less
News
Apr. 22, 2015 08:37PM EST
Whoever thinks dancing is a selfish profession hasn't met New York City Ballet principal Daniel Ulbricht. Once again, he's joining forces with the American Cancer Society for his annual Dance Against Cancer benefit on April 27 in New York City. Ulbricht, whose mother is currently battling uterine cancer, and his co-producer Erin Fogarty, who lost her father to colon cancer, conceived of the event in 2010, bringing stars from the ballet, modern and Broadway worlds together for a dance-packed evening—with all proceeds going to the American Cancer Society. Since then, they've raised $325,000—and that doesn't include this year's total!
What's even better is that the dancers volunteer their (very valuable) time. This year's roster includes NYCB's Maria Kowroski, Sara Mearns, Tiler Peck, Robert Fairchild and Amar Ramasar; American Ballet Theatre's Stella Abrera, Gillian Murphy, Herman Cornejo and Marcelo Gomes; Boston Ballet's Jeffrey Cirio, Alvin Ailey's Matthew Rushing; Desmond Richardson; Sasha Radetsky and many more. These dancers' hearts are just as big as their talent. For tickets and donation information, click here.
Lauren Lovette photographed by Nathan Sayers for Pointe.
At 5' 4", New York City Ballet corps member Lauren Lovette could be easily overlooked at the end of a long line of corps women. Once she begins to dance, however, she captures your attention. Her head is held high atop an eloquent neck. Her body is a textbook example of classical proportions with its 2:1 ratio of legs to torso. Her long arms possess an invariably musical sinuosity.

Last year Lovette, now 21, began earning critical acclaim for major roles. Reviewing her debut as Sugarplum in The Nutcracker, New York Observer critic Robert Gottlieb wrote that she was "strong, clear, musical, succeeding through dance power and ballerina-like self-assurance." Yet Lovette has had her share of disheartening setbacks along the way. It took determination and talent to lay the foundation for her success.

One of her first NYCB roles could not have been more negligible. Soon after she became an apprentice in 2009, she was cast in a fleeting cameo in choreographer Susan Stroman's Frankie and Johnny . . . and Rose. She popped up out of nowhere at the end to console Amar Ramasar after he had been simultaneously dumped by Tiler Peck and Sara Mearns.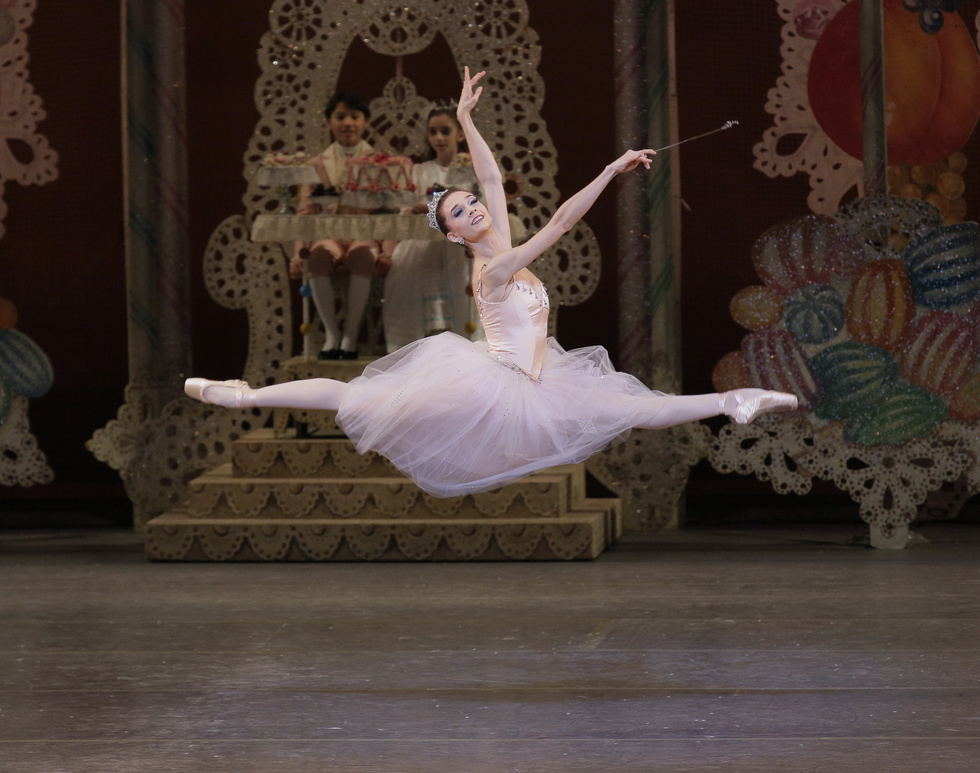 Lovette's recent Sugarplum debut won her kudos from the critics. Photo by Paul Kolnik, Courtesy NYCB.
Keep reading...
Show less
Nov. 29, 2001 07:00PM EST
The ballet world was just beginning to buzz about New York City Ballet's Daniel Ulbricht when Pointe profiled him in our October/November 2002 issue ("Jump Start," p. 54). Then just an 18-year-old corps member, Ulbricht was earning raves for his vivacious, dazzling pyrotechnics.
"I remember when I first started getting Pointe thinking, 'Wow, I'd love to be in there someday,' " Ulbricht says, laughing. "So when it did happen, I was thrilled."
Now a principal, Ulbricht has developed into a sophisticated performer with uncanny musicality. His devilish sense of humor, however, remains unchanged. In the 2002 article, Ulbricht talked about his infamously hilarious impressions of other company members taking barre. At the time, he was working on Nikolaj Hübbe. Little has changed: Today, he's mastering his imitation of fellow principal Nilas Martins. "I always take my work seriously," he says, "but I'll never take myself seriously!" —Margaret Fuhrer
Nov. 29, 2001 07:00PM EST
When I was at an ABT summer intensive years ago, one of my teachers told our class that the most thrilling pirouettes aren't the tazmanian devilishly fast spins, but they are the slow, smooth turns that look like they're effortlessly in control. This made a huge impact on me because up until that moment, I had always been trying to speed up my pirouettes to make them look more impressive—and also because immediately after listening to this bit of wisdom I performed my first quadruple pirouette on pointe.
This thought came to mind Friday night at New York City Ballet's performance of Swan Lake. For me, the highlight of the evening was Daniel Ulbricht as the Jester. I've always loved watching this boy jump: Just when you think he's hit the height of his jump his body seems to levitate a few inches higher. But I'd never really noticed his turns before. The Jester's choreography includes numerous pirouettes, and man, Ulbircht hit every one of them. I counted five rotations just about every time, but what was most awe-inspiring were his landings. At the end of his turn he would slow down to show the audience his passe for just a moment before quietly placing his foot down into a wide fourth position.
What made such an impact was the amount of control he had, making it look like nothing. An untrained eye probably would have thought it was easy. But the rest of us know that the calm, creamy quality of his turns is ten times harder to achieve than lightening-quick spins.
Nov. 29, 2001 07:00PM EST
It's a bird, it's a plane—nope, it's Daniel Ulbricht.
I am convinced that the New York City Ballet principal must be superman. Last night, I saw Ulbricht perform in Youth America Grand Prix's star-studded gala. The music accompanying his solo was drowned out by the shrieking audience more than once. Simply put, his jumps are not human! At one point he basically did a swan-dive head-first into a somersault. What was that? And how did he do it without breaking himself? My jaw was dropped pretty much the entire time. And I couldn't help smiling back at the effortless charm he exudes onstage.
Then this morning I open my inbox to an email from Daniel Ulbricht and Erin Fogarty inviting me to Dance Against Cancer, a performance they're producing to benefit the American Cancer Society. It takes place on April 25 at the Manahattan Movement & Arts Center. They've gathered principals from New York City Ballet, Alex Wong, dancers from Keigwin & Co, Alvin Ailey's Matthew Rushing, and others to perform work by Balanchine, Wheeldon, Millepied, Lubovitch—and Daniel Ulbricht. Like I said, superman.
For more about the 2011 Dance Against Cancer, go here.
Nov. 29, 2001 07:00PM EST
Senior editor Jenny Stahl recently called New York City Ballet principal Daniel Ulbricht "Superman," and I can't think of a better way to describe the phenomenally talented dancer and teacher, who seems to be everywhere at once these days. (We recently posted a poll asking who your favorite dancer-teacher was, and Ulbricht cleaned up.)

Now Ulbricht can add humanitarian to his already impressive resume: He and Erin Fogarty are producing "Dance Against Cancer," a benefit for The American Cancer Society, which will take place at Manhattan Movement and Arts Center this Monday, April 25. And you'd be hard-pressed to dream up a better program. Wendy Whelan and Craig Hall performing the gorgeous pas de deux from Christopher Wheeldon's "After the Rain"? Check. A ballet by golden-boy choreographer Benjamin Millepied? Check. Crazy-awesome contemporary troupe Keigwin + Company? Check. "So You Think You Can Dance" phenomenon Alex Wong? Check. A slew of other NYCB principals, including Janie Taylor, Tyler Angle, Robert Fairchild, Sterling Hyltin, Amar Ramasar, Maria Kowroski and, yes, Ulbricht himself? Check, check, check.

For tickets and more information, click here. Then visit cancer.org to learn about the invaluable work done by The American Cancer Society.
Nov. 29, 2001 07:00PM EST
On Monday night, "Dance Against Cancer" raised over $25,000 for the American Cancer Society. The event, held at Manhattan Movement & Arts Center, was co-produced by Daniel Ulbricht, whose mother is currently battling uterine cancer. It featured several of Ulbricht's fellow New York City Ballet dancers, along with "So You Think You Can Dance" star Alex Wong and members of Keigwin + Company, Lar Lubovich Dance Company and more. The evening was driven by a strong sense of purpose: We learned during an introductory film that each participant had been touched by cancer in some way.

NYCB's Maria Kowroski gave a poignant performance of Balanchine's Mozartiana, the last piece her mother saw her dance before succumbing to breast cancer. In this context, her skyward focus and prayer-like appeals took on new meaning. Ulbricht's self-choreographed, high-flying solo ended with him collapsing on the ground in (partially) exaggerated exhaustion. It drew a standing ovation from the crowd, as Ulbricht blew kisses to his mother, who was in the audience. Keigwin's playful Love Songs duets were sprinkled throughout the show, adding a note of humor and celebration to the evening. We left feeling energized and united in the goal proposed by ACS' Kris Kim, of creating "a world with less cancer and more birthdays."
Nov. 29, 2001 07:00PM EST
As if Daniel Ulbricht didn't already have enough on his plate. In addition to dazzling audiences at New York City Ballet and serving as artistic advisor for Manhattan Youth Ballet, he's co-producing Dance Against Cancer: An Evening to Benefit the American Cancer Society. Held tonight at the AXA Equitable Theater in NYC, the event features an all-star line-up that includes leading artists from NYCB, American Ballet Theatre, Boston Ballet, Miami City Ballet, Alvin Ailey American Dance Theater and the Paul Taylor Dance Company, as well as Charles "Lil Buck" Riley and Clifton Brown. Alessandra Ferri is also making an appearance, dancing the central pas de deux from Christopher Wheeldon's After the Rain with NYCB's Craig Hall.
All proceeds go towards the American Cancer Society. Ulbricht, whose mother is currently battling uterine cancer, started the gala event along with co-producer Erin Fogarty four years ago. Since then, Dance Against Cancer has raised over $100,000 for the organization. Interested in showing your support? Click here to donate.
DAC 2014 Trailer from Dan Bittner on Vimeo.
DAC 2014 Trailer from Dan Bittner on Vimeo.