News
Jun. 04, 2018 05:09PM EST
Costume sketches for Alexei Ratmansky's new "Harlquinade" for ABT. Courtesy ABT.
Wonder what's going on in ballet this week? We've pulled together some highlights.

ABT's New Harlequinade is Finally Here
The long wait for Alexei Ratmansky's Harlequinade for American Ballet Theatre is finally over. June 4-9, catch ABT at the Metropolitan Opera House in this bold and colorful tribute to the Italian commedia dell'arte traditions, based on the archival notes of Marius Petipa. If this trailer by Ezra Hurwitz is any indication, this new story ballet is sure to delight (fingers crossed that those dogs make their way to the stage).
Keep reading...
Show less
News
May. 24, 2018 05:33PM EST
Joffrey Ballet dancers Christine Rocas and Dylan Gutierrez in "Giselle." Photo Courtesy Spring to Dance Festival.
For the first time since its inception 11 years ago, Dance St. Louis' annual Emerson Spring to Dance Festival — May 25 and 26 at the University of Missouri–St. Louis' Touhill Performing Arts Center — will be curated by someone other than festival founder Michael Utoff. That job fell to newly hired programming consultant Terence Marling.
Hailed as "arguably the best dance buffet in the Midwest" by the Chicago Tribune, the popular festival is known for championing lesser-known regional dance artists and companies. It will retain that focus under Marling, along with representation by more familiar names such as Houston Ballet, Joffrey Ballet and Marling's former company, Hubbard Street Dance Chicago.
Keep reading...
Show less
Houston Ballet principal Connor Walsh getting early practice as a leading man. Photo courtesy Connor Walsh
It's that time of year again—recital season! And not so long ago, some of your favorite ballet dancers were having their own recital experiences: dancing, discovering, bowing, laughing, receiving after-show flowers, making memories, and, of course, having their pictures taken! For this week's #TBT, we gathered recital photos—and the stories behind them—from five of our favorite dancers.
Gillian Murphy, American Ballet Theatre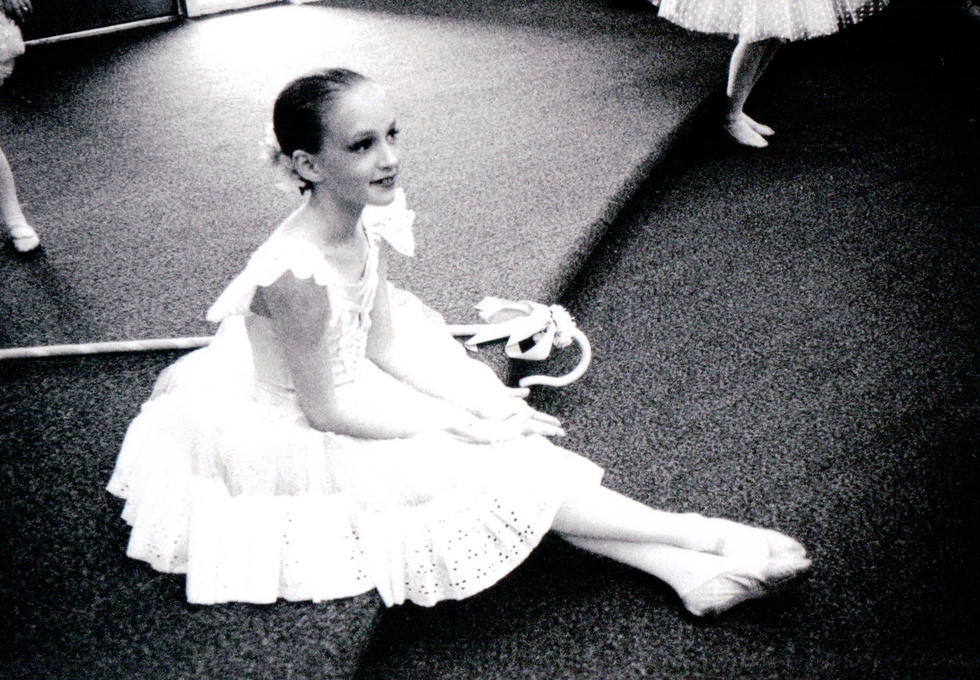 Murphy gets ready for her role as "Mary Had a Little Lamb." Photo courtesy Gillian Murphy.
"This photo was taken by my mom when I was 11, waiting in the dressing room (the band room of West Florence High School in South Carolina) before I went onstage as 'Mary' for a recital piece featuring 3-year-olds as little lambs.I had so much fun being the teacher's assistant in the baby ballet class each week, particularly because my little sister Tessa [pictured below] was one of the 3-year-olds. I remember feeling quite grown up at the time because I was dancing in the older kids' recital piece later in the program, but in this moment I was just looking forward to leading my little lambs onstage in their number."
Keep reading...
Show less
Karina González in "Romeo and Juliet" choreographed by Stanton Welch. Photo by Amitava Sarkar, Courtesy of Houston Ballet.
As told to Julie Diana
Juliet is one of my favorite roles—you go through every emotion in just three acts. I had done different versions of the ballet before, but it was an amazing opportunity when my director Stanton Welch created the role for me. I watched a lot of videos to prepare and struggled at the beginning because I was trying to copy what other ballerinas had done. It took me a while to find my own way. But now, every step comes from deep inside.
I love that Juliet starts as an innocent little girl, playing with the nurse like she's her best friend. When she goes to the ball, she sees this person that moves her world around. I'm married now, and know what it means to give everything to someone and make decisions that will change your life. And because of the love you have for that person, it is worth it.
Keep reading...
Show less
A flooded studio at Houston Ballet in the aftermath of Hurricane Harvey. Photo Courtesy Houston Ballet.
Watching an emotionally gut-wrenching early rehearsal of Sir Kenneth MacMillan's Mayerling at Houston Ballet on Aug. 17, it was clear that the Houston Ballet's fall season was going to be steeped in deep drama.
And it was, but for different reasons.
Hurricane Harvey dropped some 51 inches of rain, wreaking havoc on the entire city, with severe damage to the Downtown Theater District, including Houston Ballet's home theater Wortham Center and its landmark connected building, Center of Dance, where the first floor studios flooded.
Keep reading...
Show less
Nov. 22, 2016 05:46PM EST
Collado with Connor Walsh in Jiří Kylián's "Wings of Wax." Photo by Amitava Sarkar, Courtesy Houston Ballet.
Morning zinger: Jessica Collado makes a pitcher of a spicy drink with turmeric, ginger, lemon juice, coconut water and cayenne pepper at the start of each week. "It's the first thing I drink when I get up. It's good for my body and wakes up my mind."
For her turnout: Twice a week, Collado finds an empty studio and does a floor barre DVD before company class. "I don't have flat turnout," she says, "but doing exercises lying down has helped my hips open up in a more natural way."
Keep reading...
Show less
Nov. 21, 2014 08:13PM EST
Miami City Ballet's Nathalia Arja with Renan Cerdeiro in Ballo della Regina. Daniel Azoulay, Courtesy MCB.
​Steven McRae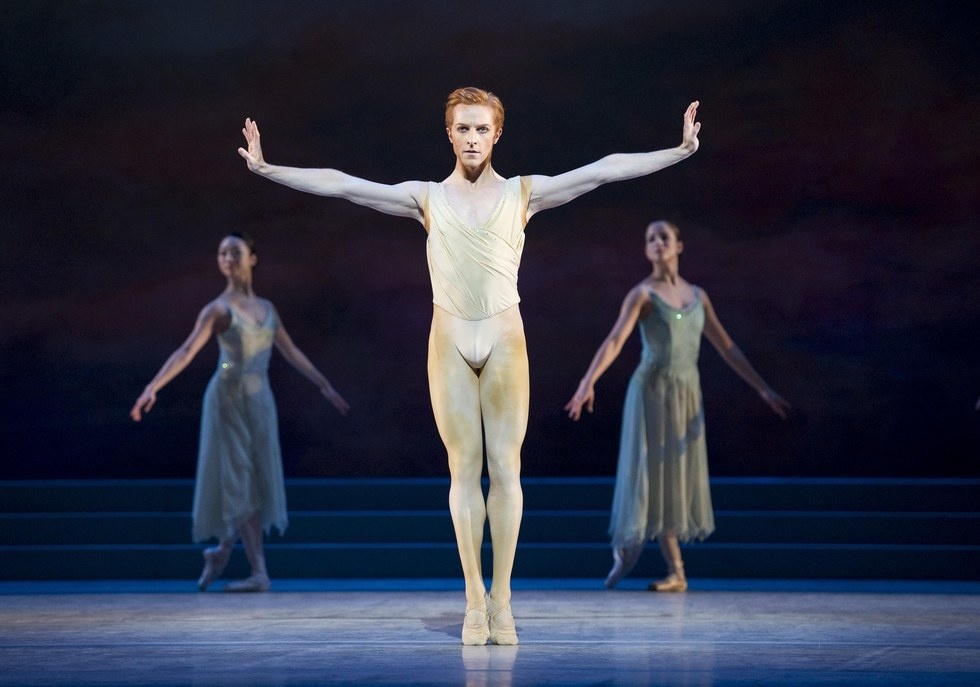 Commanding presence: McRae in Ashton's Rhapsody
Tristan Kenton, Courtesy ROH
The Royal Ballet's Steven McRae danced with a power and speed most people would need figure skates to achieve at Covent Garden in February, but the amplitude of his chaînés, barrel turns and rivoltades was just the icing on the cake during his finely calibrated performance in Sir Frederick Ashton's Rhapsody. Dancing the lead role originally made for Mikhail Baryshnikov, the 28-year-old Aussie also excelled in the small gestures and precise positional details for which Ashton's work is known. McRae says the music, Rachmaninoff's Rhapsody on a Theme of Paganini, is the key to balancing athleticism and artistry in the piece. "It's easy to get caught up in the technical demands of the choreography," he says. "However, when you really listen to the music, something magical starts to happen." The same can be said for the moment when this dynamic and versatile principal takes the stage. —Michael Northrop

​Diana Vishneva & Marcelo Gomes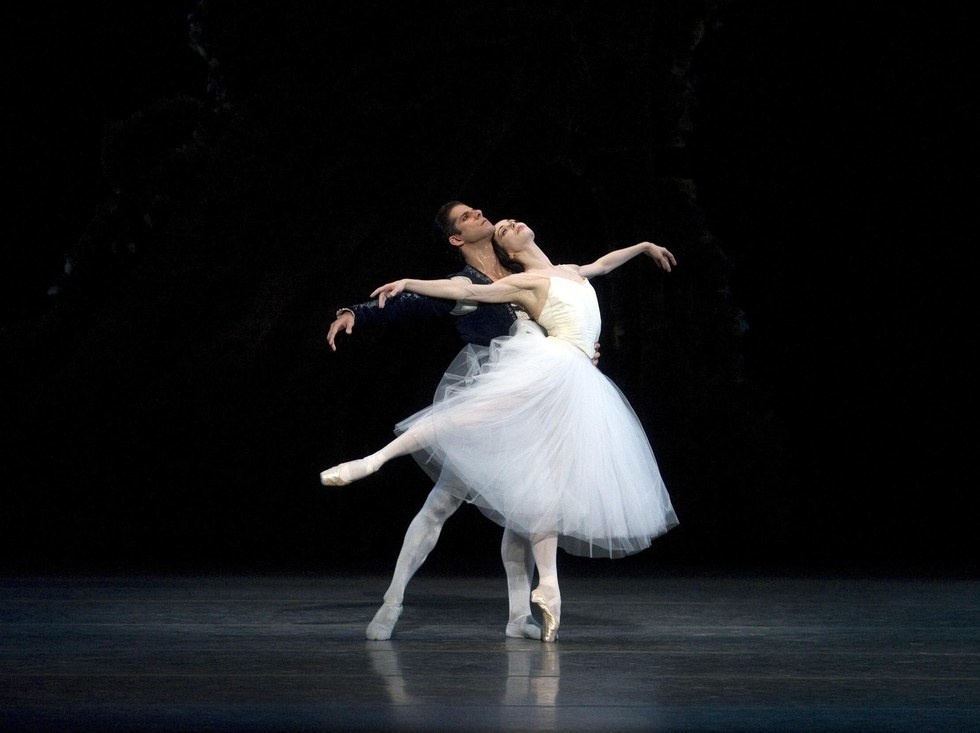 Vishneva and Gomes brought their partnership to greater heights.
Gene Schiavone, Courtesy ABT
One of the biggest thrills of Diana Vishneva and Marcelo Gomes' longtime partnership at American Ballet Theatre is its ability to transcend to greater heights each season. It was ever apparent in their performance of Giselle last June. While they've performed the roles together in years past, familiarity and experience have allowed them to bring deeper richness to their characters. Vishneva's Giselle was shy and vulnerable, coming out of her shell gradually in response to Albrecht's affections until she almost seemed to burst with joy. Meanwhile, Gomes—a cocksure but lovable Albrecht—grew more and more smitten with his conquest. Once his ruse was discovered, you sensed not only Giselle's disbelief but her painfully public humiliation, making her breakdown all the more understandable and heartbreaking. In Act II, Vishneva was otherworldly in her lightness, accentuated further through Gomes' reverential, seamless partnering. Together they drew the audience into their story and held them, spellbound. —Amy Brandt

​Connor Walsh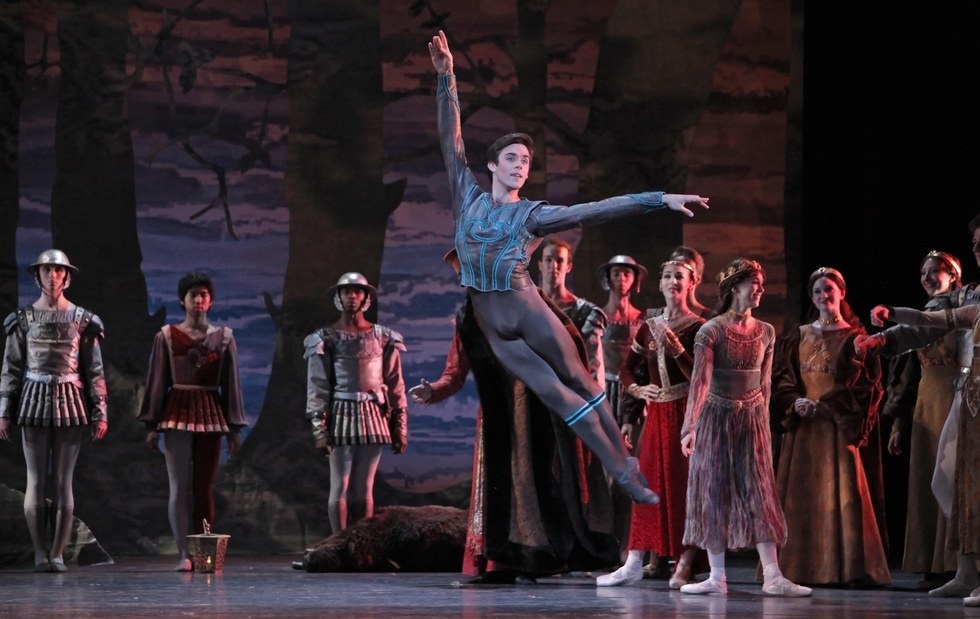 Princely polish: Walsh in Swan Lake
Amitava Sarkar, Courtesy Houston Ballet
When Houston Ballet's Connor Walsh first danced Siegfried in the premiere of Stanton Welch's fast-paced, dreamy version of Swan Lake in 2006, he was technically impressive, holding his own with the elegant Barbara Bears. But watching him reprise the role some eight years later, it became clear just how much he has grown. It's as if his edges have become sharper—not just technically but in all aspects of his artistry; he's developed a distinctly refined performance polish. There's ample heart behind his princely swagger now. Walsh's noble command of the stage, solid virtuosity and well-tempered bravado all add up to one convincing prince. His involvement in the ballet's original creation process, along with added years of experience, certainly helped deepen his interpretation. The HB principal is moving into his own, and his performance in Swan Lake provided the evidence. —Nancy Wozny

​Bolshoi Ballet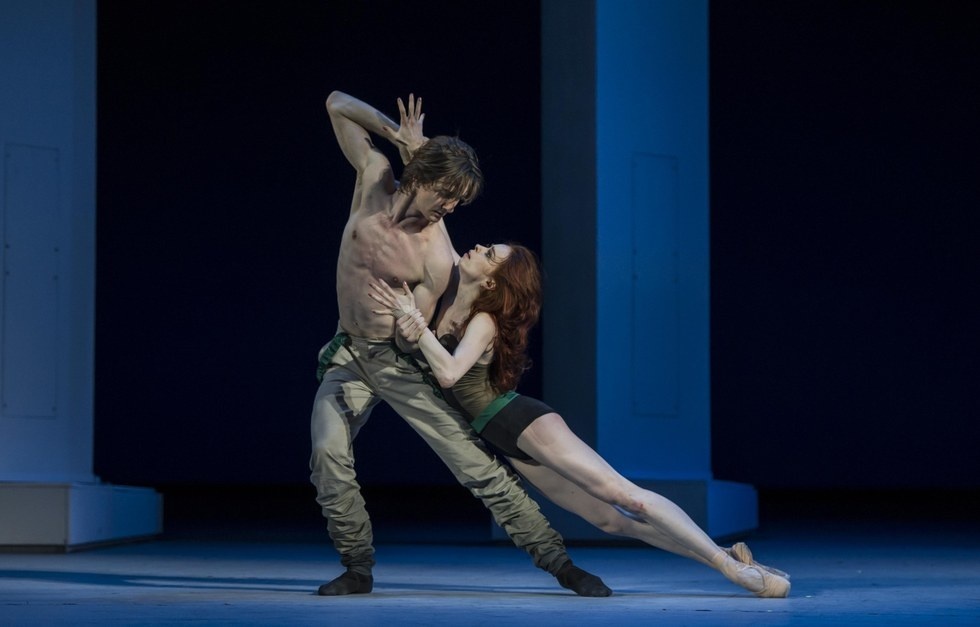 Shakespeare with a modern edge: Lantratov and Krysanova in the Bolshoi's Taming of the Shrew
Alice Blangero, Courtesy Bolshoi Ballet
It was a gamble on all sides: a new, full-length Taming of the Shrew by a foreign choreographer at the Bolshoi Ballet, just over a year after the acid attack on Sergei Filin. Les Ballets de Monte-Carlo's Jean-Christophe Maillot, who was creating his first ballet for an outside company in two decades, proved undaunted, and the result was a team effort that showed the Bolshoi's young generation in a new light. Each of the 10 soloist roles was choreographed with and for the first cast, from Vladislav Lantratov to Olga Smirnova, Vyacheslav Lopatin and Anna Tikhomirova, channeling their offstage personalities to show a new facet of their talent; their bold classical technique was in evidence throughout yet colored by the spontaneous, naturalistic approach Maillot favors. It was the Bolshoi as the world loves it, with a modern edge—and the Shrew herself, principal Ekaterina Krysanova, led the pack with a nuanced, career-defining performance, her power matched by a new abandon. —Laura Cappelle

​Chloe Felesina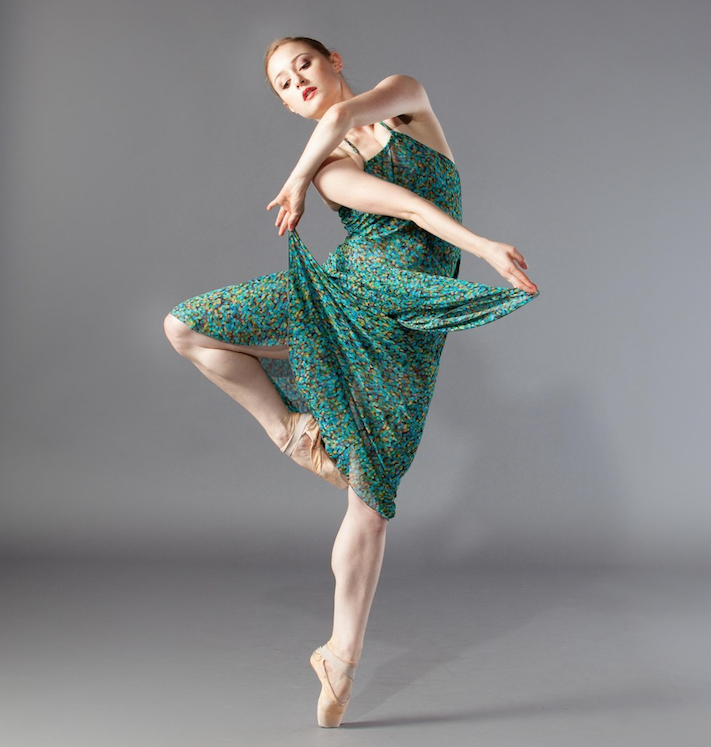 Powerfully nuanced: BalletX's Chloe Felesina
Alexander Iziliaev, Courtesy BalletX
In the BalletX premiere Sunset, o639 Hours, Chloe Felesina danced front and center, with an abandon, fire and precision that made her riveting. The dreamlike adventure tale, choreographed for 10 dancers by BalletX co-founder Matthew Neenan, was based on the true story of Captain Edwin Musick's ill-fated Honolulu-to-Auckland flight in 1938. As the famous pilot's wife, and in her other roles in the ballet, Felesina's depth of feeling was matched by a robust agility. She shone in scenes portraying the couple's romance, the island life of New Zealand and her solitary bereavement.
Even though her medium height and fine features make her look delicate, she's a powerhouse: at the front of the pack in floor-rolling unisons and sparkling in Neenan's inventive partnering. A full-time company member since 2012, Felesina relishes deciphering each choreographer's intent and seeking more ways to communicate strongly with her audience. In Sunset, o639 Hours, her approach worked: You couldn't take your eyes off her. —Lisa Kraus
​Christine Rocas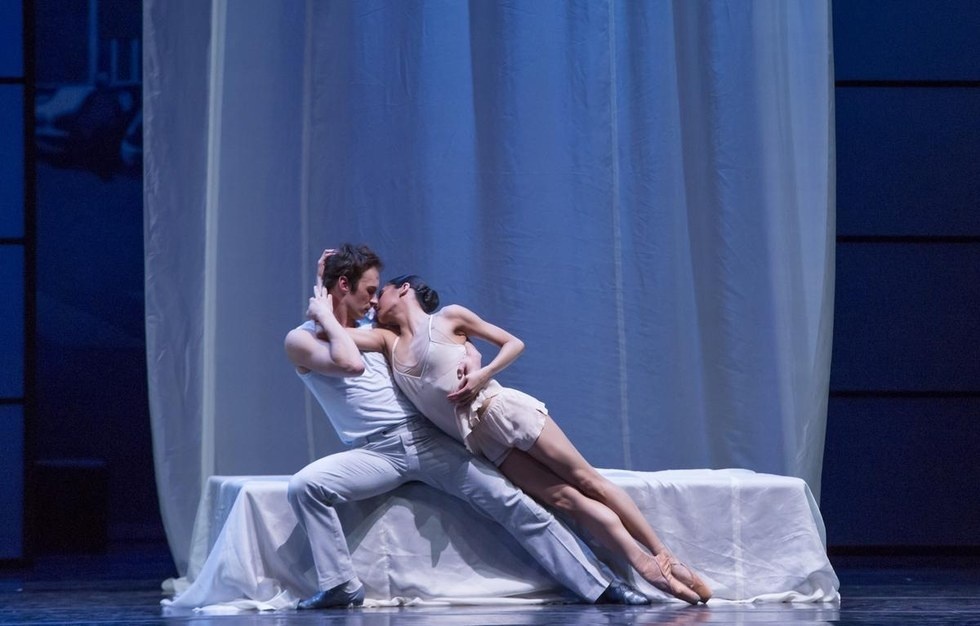 Rocas, with Rory Hohenstein, brought sweeping lyricism and dramatic ingenuity to the role of Juliet.
Cheryl Mann, Courtesy Joffrey Ballet
A couple of years back, Joffrey Ballet dancer Christine Rocas confessed: "I'm always scared to do modern things…I try to be spontaneous, but I know I look funny at first."

Rocas, 28, definitely didn't look "funny" in her opening night performance of Polish choreographer Krzysztof Pastor's Romeo & Juliet in Chicago this past April. And Pastor's take on the story was supremely contemporary—not at all like the Kenneth MacMillan or John Cranko versions for which Rocas' lyrical, weightlessly lovely style would have been a perfect fit. In fact, as Juliet, Rocas seized hold of Pastor's starkly modern, sweepingly cinematic reinvention, which used 20th-century Italian history as a backdrop. Masterful in her embrace of the ballet's mix of difficult classical and contemporary technique, she revealed a powerful, highly individualistic, surprisingly dramatic talent.
Her performance had genuine star quality, with pristinely beautiful dancing and fiercely honest acting in evidence from the moment, early on, when she simply walked around the perimeter of the stage, quietly fixing her gaze on Romeo. The palpable quickening in Rocas' face and body was a far cry from simple pubescent awakening. This was the dawning of a young woman with a mind of her own. —Hedy Weiss
Nathalia Arja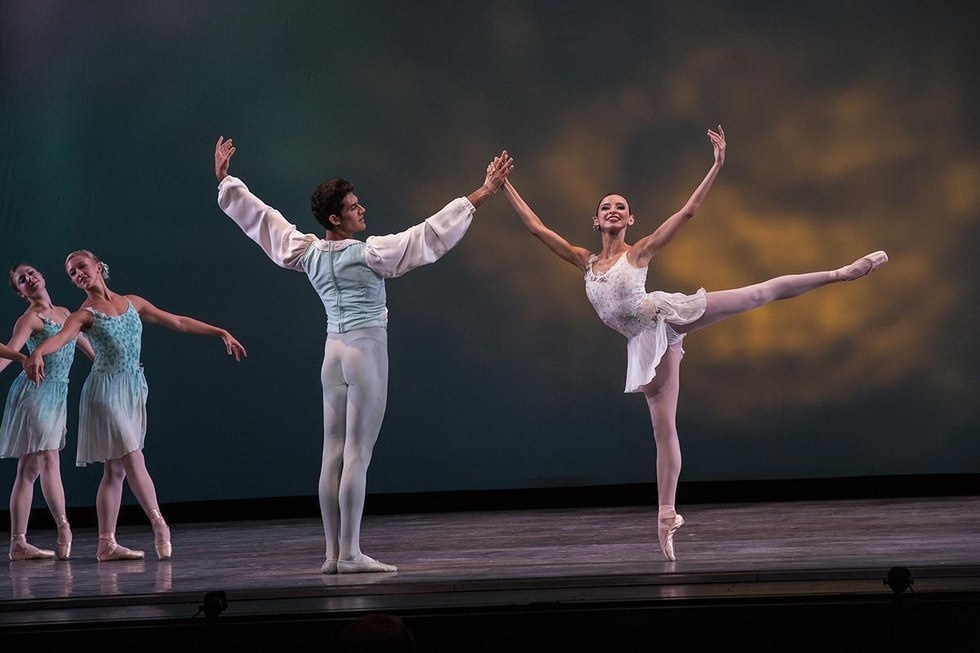 Quicksilver brillance: Arja with Renan Cerdeiro in Ballo della Regina
Daniel Azoulay, Courtesy Miami City Ballet
As the recently promoted Miami City Ballet soloist Nathalia Arja can attest, some roles lift dancers to the heights of artistic privilege. While still a corps member last season, Arja—a 21-year-old MCB-school alumna with Rio de Janeiro roots—earned the opportunity to dance the lead in George Balanchine's exquisitely demanding Ballo della Regina. There she was, on opening night no less, fast and fastidious in virtuoso moves: restless changes in direction, riveting hops on pointe, clockwork articulations that teased time itself. "I learned to do what I didn't know I could," says Arja. No small amount of calibration, of course, came from being coached by Merrill Ashley, the New York City Ballet wonder who originated the role. Still, Arja brought strengths she's been honing since dancing the role of Sugar Plum at MCB as a teenager—the verve and knack for detail that also served Alexei Ratmansky when he fashioned a solo on her in Symphonic Dances in 2012. A culmination for many, Ballo figures for Arja as the promise of an ever more thrilling career. —Guillermo Perez

​Ashly Isaacs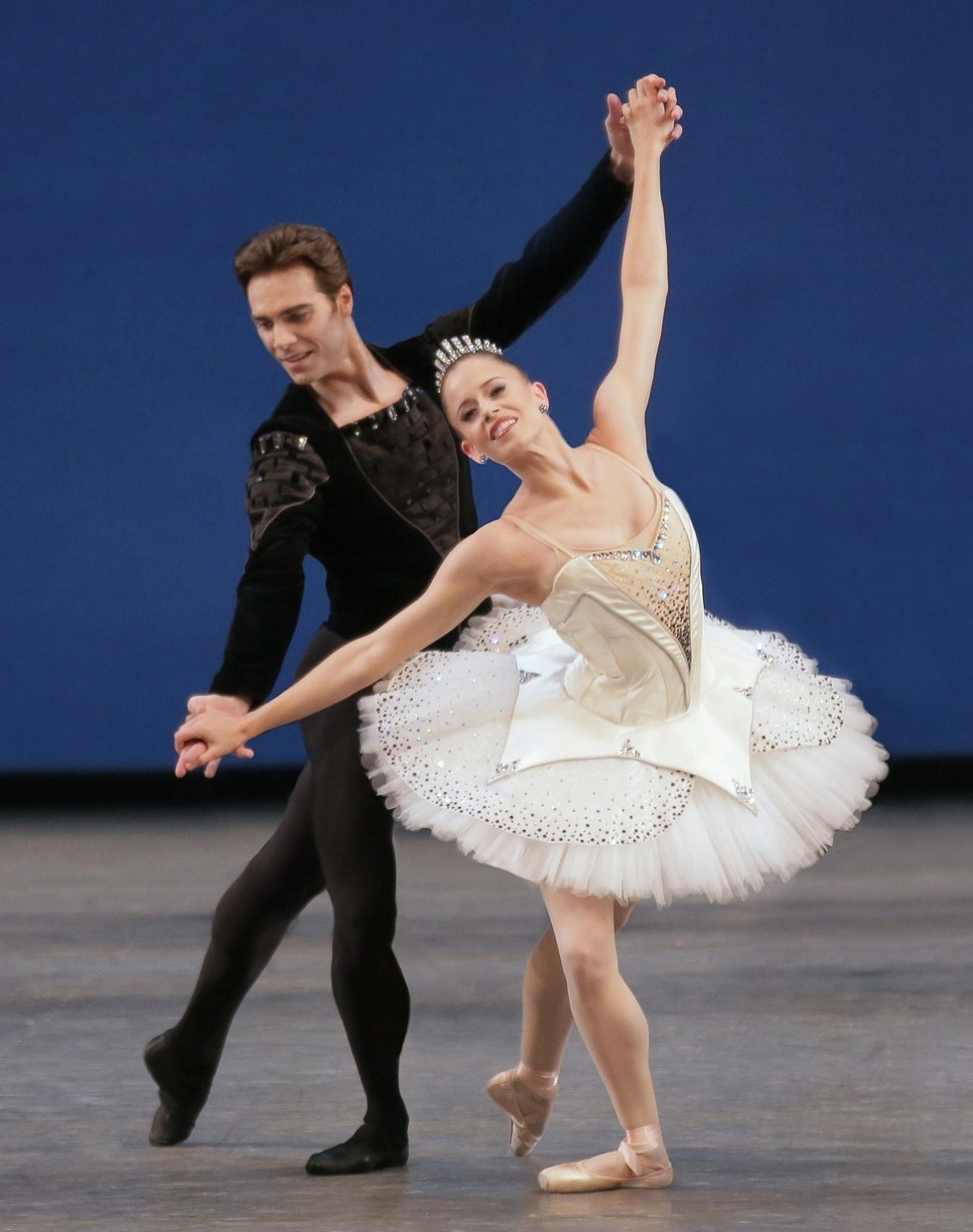 A confident debut: Isaacs with Gonzalo Garcia in Symphony in C
Paul Kolnik, Courtesy NYCB
In the third movement of Balanchine's Symphony in C, the leads repeatedly charge onto the stage in a series of grands jetés—irrepressibly buoyant, as if they're more at home in the air than on the ground. In a way, that's a fitting metaphor for New York City Ballet corps member Ashly Isaacs' 2014 season, which saw her star on the rise, achieving greater heights with each successive performance. Her debut as the ballerina in that movement of Symphony showed off not only her preternatural ballon, but also her easy command of the stage. In the wrong dancer's hands (and feet) the always-on-the-go choreography can feel bombastic, but Isaacs colored it sensitively, adding subtle shading to its softer moments. For some years this role has been danced brilliantly by Ashley Bouder; it was hard not to notice the similarities between the two. —Margaret Fuhrer

​Esteban Hernandez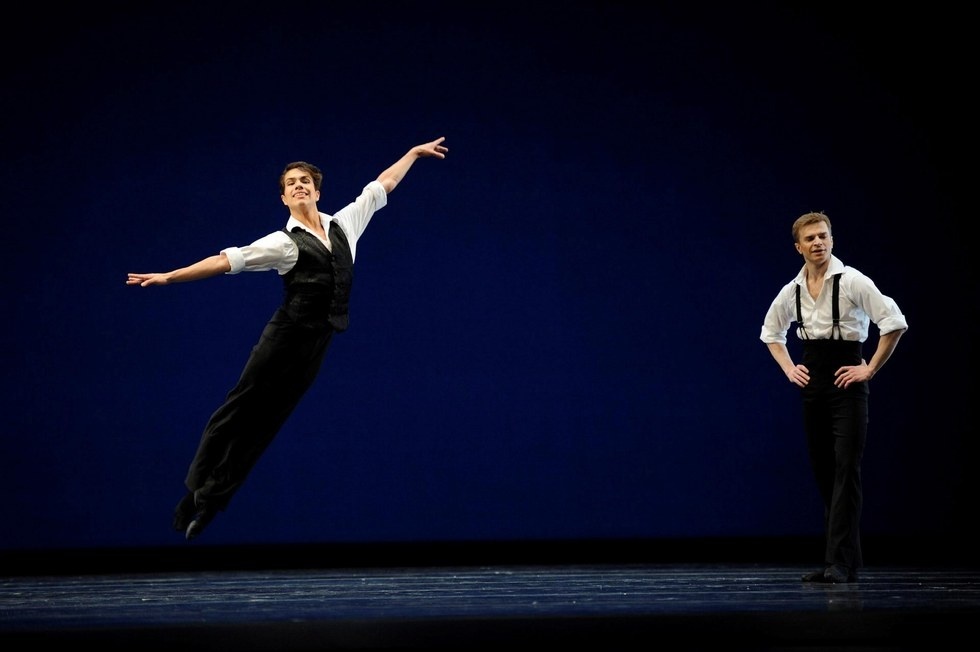 Hernandez (left) stole the spotlight in Les Lutins.
Erik Tomasson, Courtesy SFB
Season galas showcase principal dancers at their best, but San Francisco Ballet's 2014 gala also introduced a rising star: Esteban Hernandez. Announced pre-curtain as a replacement for Joan Boada in Johan Kobborg's Les Lutins, the first-year corps member faced high expectations from a demanding audience, who rustled their programs looking for clues about this unfamiliar dancer. But in Lutins, an eight-minute battle of the sexes that requires insouciant charm, clear acting and blistering petit allégro—and falls flat if any one of those is missing—the Mexican-born Hernandez proved his mettle as a Royal Ballet–trained technician and a natural performer, with confidence well beyond his 19 years. Not only did he hold his own opposite Gennadi Nedvigin and soloist Dores André, in those thrilling eight minutes he won 3,500 hearts and became a name to remember. —Claudia Bauer

​Gabrielle Thurlow & Luca Sbrizzi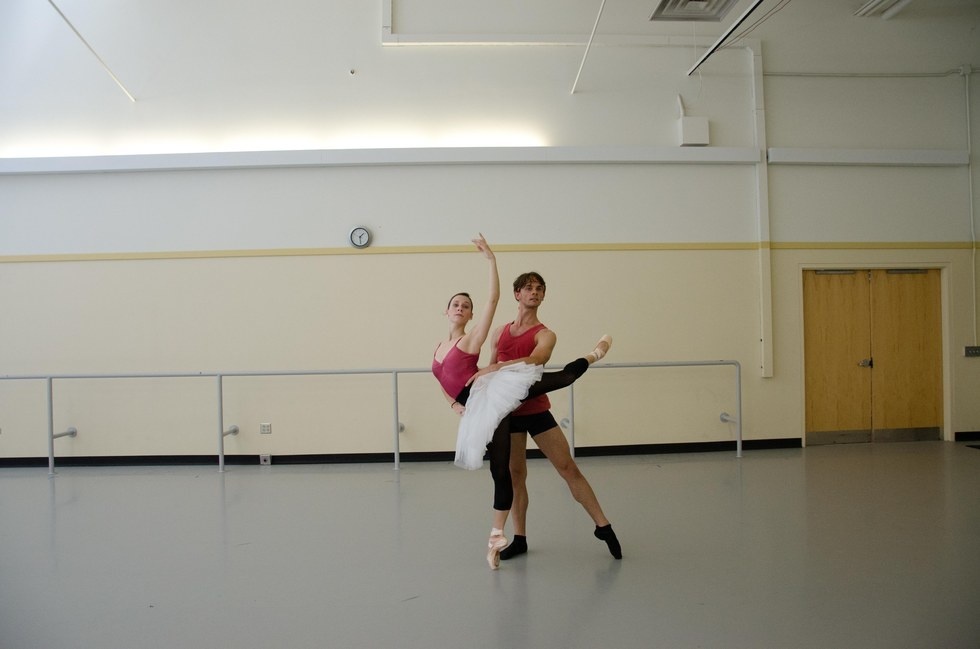 Making their mark: Thurlow and Sbrizzi rehearsing Don Quixote
Aimee DiAndrea, Courtesy PBT
When lead casting was announced for Pittsburgh Ballet Theatre's Don Quixote last season, there was a surprising pair included in the mix. While Gabrielle Thurlow and Luca Sbrizzi have long been regarded as cornerstones among PBT's ranks, their star power was relatively untested: Thurlow was a longtime corps member and Sbrizzi, a soloist, had been away from the stage nearly nine months following a career-threatening back injury. But they more than delivered. Thurlow entered the first act as an energetic Kitri, all spry jumps and energetic pas de chevals, while Sbrizzi played an earnest Basilio, his admiration for Kitri present in every carefully finished movement. Later, during their brightly executed grand pas de deux, Thurlow brought playful sharpness, breezy turns and balances that said, "I could stay here all day." Sbrizzi's refined technique and bounding jumps lent his Basilio the elegance of a man in love. Following the performance, Thurlow was promoted to soloist and Sbrizzi cemented his place as a leading man after an uncertain season away from the stage. —Kathleen McGuire

Nov. 29, 2001 07:00PM EST
We tend to think of professional dancers as tuning into an all-ballet channel. Not so, according to these five, who read, movie-binge, ace Final Fantasy, design headbands, tweet, go to college, raise cats and more. Their offstage adventures are as varied as the talents that make them so compelling onstage.
Connor Walsh
Company: Houston Ballet
Rank: Principal since 2007
Age: 23
Dance Stats: Known for his long-limbed line, technical polish and princely good looks, Walsh made a smashing debut as Des Grieux in Kenneth MacMillan's Manon.
European Soccer Fan: As a kid, Walsh may have given up soccer to dance, but don't ever expect him to give up his devotion to England's Chelsea Football Club. "OK, I have several jerseys, but I really do take them off after the game," admits Walsh, who never misses his team in action thanks to the miracle of DVR.
Music Lover: A devoted indie music follower, Walsh can be found at Houston's best dives for local live music on his nights off. "Houston buzzes with great bands," Walsh says. "Plus, I'm single, so it's great to get out." He swears by Bob Boilen's picks on NPR's All Songs Considered, which he uses to keep his iPod fully loaded.
Restaurant Hound: If it's new, Walsh has to try it. "Restaurants are in my blood; my father and brother are in the biz," he says. "Houston has the best Tex-Mex food anywhere. I never run out of places to try." That said, after the show Walsh heads to Little Bigs—he loves their mini-burgers.
Heather Ogden
Company: The National Ballet of Canada
Rank: Principal since 2005
Age: 28
Dance Stats: Ogden, a die-hard lover of the classics and dramatic contemporary roles, found the best of both worlds in this season's The Sleeping Beauty and a new work by Aszure Barton.
Kitchen Queen: On her nights off you can find Ogden concocting new recipes for Guillaume Côté, her fiancé (and her very first partner in Romeo and Juliet). "Cooking relaxes me," she says. "I'm no expert chef, but I do like to experiment, especially with fish."
Freshly Loaded iPod: Ogden likes to change it up music-wise. She just added some Kings of Leon and Adele, along with some warm-up favorites by Rachmaninoff and Mahler.
Wedding Planner: This is a temporary job, but with a summer wedding planned, much of Ogden's off time is spent arranging her big day. "So far I've tackled the guest list, menu, photographer, florist and DJ," she says. "I'm still shopping for my dress, though."
Lost Fan: Ogden never misses an episode of ABC's mythic epic, Lost. "I really get into the characters," she says. "It's a such a huge mystery."
Tricia Albertson
Company: Miami City Ballet
Age: 30
Rank: Principal since 2006
Dance Stats: With her long limbs, unconventional elegance and a body made for Balanchine, Albertson made a big impact during recent performances of Allegro Brillante and Symphony in Three Movements.
Exotic Locales: Albertson is a travel connoisseur. "I avoid tourist traps at all costs. If the guidebooks say this is the place to be, I go in the opposite direction," she says. She prefers offbeat places like Thailand and Prague. Last summer she enjoyed a peaceful week meditating at the Tassajara Zen Mountain Center in California. She says, "Three hours of tai chi a day really slowed me down."
Feline Power: With nine cats, it's no longer a hobby. "I am truly a crazy cat lady. They seem to migrate to me, and the nine are just my and my boyfriend Adam Bierman's indoor ones," she says. "When I'm not dancing, I spend a lot of time cleaning up after my cats."
College On The Side: Albertson takes classes online at Miami Dade Community College. This semester, it's oceanography and a math class. "I still don't know my major yet, but soon," she says. "I have homework all the time, but it's worth it. It keeps me open to other possibilities."
Daniil Simkin
Company: American Ballet Theatre
Rank: Soloist since 2008
Age: 22
Dance Stats: After a summer of gala globe-trotting, Simkin applied his high leaps and classical aplomb to new ABT works by Aszure Barton and Benjamin Millepied this fall season.
Gadget Geek: Name the device and chances are Simkin has it. "I was born into a techie family," he says. "If I wasn't dancing, I was behind a computer and have always been drawn to gadgets. Oh, and I am a PC—a Sony Ultra-Portable to be exact."
Gamer: Nintendo Wii, Playstation 3, he's not particular. "I play anything and everything. For a while, I was addicted to World of Warcraft," he admits, "but thankfully, I stopped." Simkin would like it to be known that he's not the only gamer at ABT. "Lots of the men play," he dishes.
Deep Reader: Simkin never travels without a book and prefers nonfiction. "Anything on science, the economy, psychology or spirituality will do," he says. He just finished Eckhart Tolle's The Power of Now.
Connector: Simkin tweets and stays in touch with his over 4,000 Facebook friends by updating his page often. "It's great to connect to people, but you shouldn't open yourself completely. A little distance is good here," Simkin advises. He has his own website where he blogs—www.daniilsimkin.com—and he tweets at twitter.com/daniil.
Lia Cirio
Company: Boston Ballet
Rank: First soloist since 2007
Age: 23
Dance Stats: The unpredictable dynamics of Jorma Elo's choreography, which she performed this season, fit Cirio's athletic strengths. "Being off-center feels natural to me," she says.
Movie Buff: If it's funny, Cirio wants to be watching it—usually with her brother Jeffrey Cirio, who is also her roommate and a Boston Ballet dancer. Classic chick flicks like You've Got Mail, or the more recent The Proposal, top her list.
Vampire Lit: Cirio has read every one of the books in Stephenie Meyer's Twilight series, which chronicle the life of Bella Swan and her beloved teen vampire, Edward Cullen. "Sorry to say," says Cirio, "the movie did not live up to the book."
Artisan: After looking at the steep price tag of a headband, Cirio thought, "I could make these," and now she does. Cirio's whimsical headbands feature fun buttons, colorful fabrics and delicate ribbons. She sells her vintage-feel handiwork on etsy.com, a crafter's website.
Shoehound: If you check out Cirio's closet you will find a sea of shoes. "Dresses and shoes are my weaknesses," she says. "I love to shop."


Nancy Wozny writes about the arts and health from Houston.