News
Jan. 04, 2019 04:51PM EST
Courtesy VAM Productions
Raise your hand if you're excited for competition season! Youth America Grand Prix Regional Semi-Finals are well underway, leading up to the much-awaited New York Finals April 12-19. Even better, they're live-streamed, meaning you now have the perfect excuse to spend your weekend at home, watching ballet (while sewing your pointe shoes and stretching, of course).
This weekend features semi-finals in Seattle, Washington and Tampa, Florida. To see the full schedules and set up streaming, click here. Streaming starts at $13.99. Packages of 2, 4, 6 or 12 total viewing hours are available, and viewers can log in and out as often as they like.
Keep reading...
Show less
Hannah Bettes. Photo by Jayme Thornton for Pointe.
This is Pointe's October/November 2018 Cover Story. You can subscribe to the magazine here, or click here to purchase this issue.
Hannah Bettes has had a very big year. The Boston Ballet second soloist was nominated for a Princess Grace Award, and she made her debut in three major classical roles—Sugar Plum Fairy in The Nutcracker, Effie in La Sylphide and Aurora in The Sleeping Beauty, her most challenging classical role to date. "You're carrying a full-length ballet, and you have to have the stamina and stay composed and in character, even if you're dying!" Bettes says.
When Bettes, 22, made her professional debut with Boston Ballet four years ago, she was already a highly recognized teen in the competition world, bringing with her a raft of prizes. But she also brought stylistic versatility and a palpable hunger to learn. While she possesses the quintessentially elegant classical line—high extensions, dazzling turns and slender feet that curve into perfect crescent moons—Bettes can easily skew off-center to sidle into the slinky undulations or sharp slices of Boston Ballet's contemporary repertoire.
The wide-ranging rep is one of the aspects of the company she likes best. "Having to keep switching your approach keeps things interesting. Technically, I've been able to progress faster."
Keep reading...
Show less
Canadian junior finalist Mya Kresnyak in a variation from "Paquita." Photo by Richard Finkelstein, Courtesy USA IBC.
On June 10, 119 dancers from 19 countries gathered in Jackson, MS to compete in the USA International Ballet Competition. Today, the USA IBC announced the list of 32 finalists, who will compete for medals and cash awards in Round III, held June 19-21. All of the finalists will receive a travel stipend, and medalists and award winners will be announced at the competition's gala on June 22. See the full list below, and stay tuned all week on our Facebook and Instagram pages as we bring you the latest from Jackson, live.
Keep reading...
Show less
Steven McRae at the 2003 Prix de Lausanne performing the variation from "Le Corsaire." Photo Courtesy Prix de Lausanne.
This week, young ballet dancers from across the globe have been studying and competing for coveted scholarships at the Prix de Lausanne. This infamous competition has been a launch pad for many of the ballet world's biggest stars. One such star is Royal Ballet principal Steven McRae, who was a prize winner in 2003 with these two outstanding performances in the finals.
While just a lanky 17 year-old in this clip, he nonetheless performs the virtuosic slave variation from Le Corsaire with aplomb. He brings impressive height and length to his jumps and conveys the character's pride and passion with intense eyes and a dramatically arched back in the final pose.
Keep reading...
Show less
Kyle Froman for Dance Magazine.
As told to Madeline Schrock and Nancy Wozny.
We asked five frequent judges for their advice, their pet peeves and their approach to the scoring process.
Peter Stark
Head of the men's program at Boston Ballet School, associate director of Boston Ballet II
Valentina Kozlova IBC, Youth America Grand Prix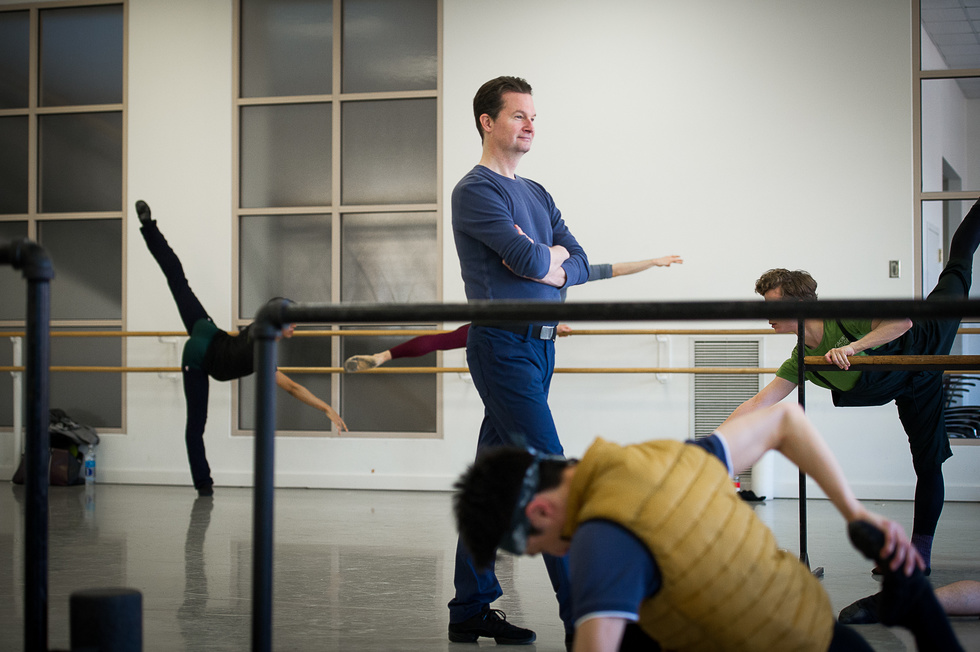 Igor Burlak, Courtesy Boston Ballet.
I am an advocate for competitions. I know there are people who are against them, but dancers can learn a lot when they're working one-to-one versus in a classroom setting. My mentor Bruce Marks, who was chair of the USA International Ballet Competition in Jackson for many years, said, "the process is the prize." It's true. As a coach, I've had dancers win and lose, but I certainly feel like the process of setting a goal and working on something is valuable.
Keep reading...
Show less
News
Nov. 08, 2016 05:05PM EST
The 12th International Competition for The Erik Bruhn Prize will take place in Toronto on November 15. The event, which honors Bruhn's danseur noble legacy, is a pretty accurate predictor of up-and-coming talent. Last year's winners included NBoC second soloist Hannah Fischer, who danced as a first-cast lead in Christopher Wheeldon's The Winter's Tale during NBoC's opening, and recently promoted San Francisco Ballet principal Carlo Di Lanno.
Hannah Fischer and Piotr Stanczyk in Christopher Wheeldon's The Winter's Tale (photo by Karolina Kuras)
This year, the lineup is as stellar as ever:
The dancers were selected to compete by their artistic directors, so we imagine that the opportunity comes with a considerable vote of confidence.
Royal Danish Ballet principal Ida Praetorius (photo by Nathan Sayers for Pointe)
Recently, The Erik Bruhn Prize added a choreographic category and this year's contestants include ABT principal Jeffrey Cirio, HB's Marc Jubete, Calvin Richardson from The Royal Ballet and Myles Thatcher from SFB. NBoC choreographic associate Robert Binet will join them.
In an interesting twist, the dancers compete as a couple from their respective company, but each can win independently in the Male or Female Outstanding Dancer categories. In fact, the last time two dancers from the same company won was in 2012 when Royal Danish Ballet principal (and Feb/March 2014 cover star) Ida Praetorius and 2015 Standout Performer Andreas Kaas (an RDB soloist) each took home the prize.
Cheers to all of this year's competitors!
For more news on all things ballet, don't miss a single issue.
November 1, 2016... Karen Kain, Artistic Director of The National Ballet of Canada, today announced that Corps de Ballet members Félix Paquet (22) and Calley Skalnik (21) will represent the company at The Twelfth International Competition for The Erik Bruhn Prize on Tuesday, November 15, 2016 at 7:30 pm at the Four Seasons Centre for the Performing Arts. Choreographic Associate Robert Binet creates a new contemporary work commissioned by the National Ballet, Self and Soul, as part of the competition.
News
Aug. 30, 2016 05:27PM EST
It's that time again! Prix de Lausanne registration opens on September 1.
Every year, the Prix de Lausanne brings some of the world's best ballet students together, pushes them to the next level and changes lives. We're not exaggerating: You've probably heard Maria Kochetkova's story about entering the competition against her teacher's wishes, winning and starting on the path toward international ballet stardom.
The competition runs January 29 to February 5, 2017, in the city of Lausanne, Switzerland. Last year, 67 dancers were selected to compete, and 20 of them advanced to the final rounds. The prizes are significant: Scholarship winners are awarded 16,000 Swiss Francs to cover the cost of living at summer intensives, while other prizes include diplomas or even contracts.
We love seeing students earn summer intensive scholarships and apprenticeships, and we especially love that the competition is live streamed! With former Houston Ballet Academy director Shelly Power as the new competition director, it looks like there are fresh ideas at this year's event. And we're sure the dancing will be as stellar as ever.
2016 silver medalist Madison Young (photo by Gregory Batardon, Courtesy Houston Ballet)
Click here and here for all the detailed application information—registration will be open until September 30.
For more news on all things ballet, don't miss a single issue.
News
Aug. 19, 2016 12:57PM EST
For aspiring dancemakers who dream of seeing their work performed in a professional setting, the Joffrey Ballet's seventh annual Winning Works competition is an opportunity you'll want to take note of.
Jeffrey Cirio in Paul Taylor's Company B. Photo by Rosalie O'Connor.
The award recognizes promising African, Latino(a), Asian, Arab and Native American artists with a $5,000 stipend, at least 30 rehearsal hours and a group of dancers from the Joffrey Academy Trainee Program and Joffrey Studio Company to set their work on. Winners will premiere their completed original works at a performance in March 2017.
This past year, American Ballet Theatre principal Jeffrey Cirio was one of the winning choreographers. His work, Chapter 1, Chapter 6, included elements of step dancing, and was presented at the Chicago Museum of Contemporary Art in March.
As part of the application, artists must submit a video clip with a short excerpt of their choreography, and a letter describing the kind of work they plan to create. If they choose, this year's applicants can also draw inspiration from the poet Gwendolyn Brooks (the first African American to receive the Pulitzer Prize), whose centennial the Joffrey is celebrating.
The full application is available online, and the deadline is October 1. Start getting those creative wheels turning!
For more news on all things ballet, don't miss a single issue.
News
Jun. 10, 2016 04:26PM EST
The summer Olympics may be just around the corner, but we know that ballet dancers perform superhuman feats all year long. Next week offers an especially good chance to see this in action, as talented dancers from around the globe come together for the World Ballet Competition.
Photo courtesy Siggul/VAM Productions
WBC celebrates its 10th anniversary this year, and from June 13–18, you can livestream each day's competition rounds for free. About 150 dancers ages 9 to 24 take the stage in Orlando in hopes of winning cash prizes and scholarship opportunities. They represent over 20 different countries, and were pre-selected through a video audition process.
Each day's livestream starts with a pre-show broadcast, and the coverage promises to take viewers behind the scenes and inside the action, including interviews and backstage access. The competition itself is notable for its electronic scoring system, which shares results with the audience—and couch potatoes worldwide—in real time.  
The week culminates in a gala performance on June 18, featuring many familiar faces who have graced the pages of Pointe, like New York City Ballet's Daniel Ulbricht and Pennsylvania Ballet's Mayara Pineiro, who will perform alongside competition finalists. And judging from past history, we can expect some pretty exciting things from the young talent on that stage. Past WBC competitors have gone on to dance for companies like San Francisco Ballet, Boston Ballet, Ballet West and The Washington Ballet.
Catch the livestream starting Monday, June 13, at 4:30 pm Eastern time.
For more news on all things ballet, don't miss a single issue.
News
Dec. 30, 2015 11:06AM EST
The lack of female choreographers in the ballet world has come under recent scrutiny. Why are so few women given opportunities to create for major companies—especially when they're out there, steadily making work? How can companies, schools, patrons and mentors cultivate emerging choreographers? Many companies have addressed the dearth through deliberate programming, like the English National Ballet's "She Said" program, while institutions like New York University's Center for Ballet and the Arts has created a specific fellowship for women.
Oregon Ballet Theatre in George Balanchine's "Apollo" (photo by Blaine Truitt Covert)
Now, Oregon Ballet Theatre has a choreographic competition for female choreographers. Three winners of Choreography XX will have the chance to create a new ballet, which will premiere in the summer of 2017, for OBT.
The application details for the competition can be found here. Keep in mind that entrants must be at least 21 years old, and a citizen of either the U.S. or Canada. The deadline to submit is March 31. Good luck!
For more news on all things ballet, don't miss a single issue.
Boston Ballet's Hannah Bettes. Photo by Ernesto Galan, Courtesy Boston Ballet.
At age 15, competition veteran Hannah Bettes traveled to the Prix de Lausanne, her sights set on getting into The Royal Ballet School. The teen left the competition with a scholarship—and the Audience Choice Award, to boot. That same year, Bettes won the gold medal in the senior division at Youth America Grand Prix and the bronze at The Beijing International Dance Invitational, adding to her already impressive resumé of YAGP and World Ballet Competition accolades. Yet by the time she signed a contract with Boston Ballet in 2014, the glamour of the competition stage seemed a distant memory. "Joining a corps de ballet was a huge change," says Bettes. "I'd be lying if I said it was easy."
While most young professionals expect to pay their dues in the corps, the contrast can seem especially stark for dancers emerging from the competition circuit. Beyond adjusting to fewer solo opportunities, they no longer have the personalized attention of a private coach. Furthermore, many start company life with a preexisting fan base, whose high expectations may increase pressure to progress quickly through the ranks. As the accolades and YouTube fame begin to fade away, competition dancers who approach company life with a fresh perspective will ultimately make the most successful transition.
Keep reading...
Show less
News
Nov. 20, 2015 05:06PM EST
A competitor concentrates during Prix de Lausanne pre-selection (photo via Prix de Lausanne)
Shelly Power, the Houston Ballet Academy director, will take on the dual role of artistic director and CEO of the prestigious Prix de Lausanne competition. Houston Ballet artistic director Stanton Welch credits Power for building up the Houston Ballet Academy, which has grown into a nationally recognized training program. It's noted for not only its artistic excellence, but also the school's dedication to development programs like career-planning and wellness. The Prix de Lausanne has a similar vision, with programs that promote education and health for the competing dancers.
Hopefully Power's presence at the Prix signals an even greater commitment to placing dancers on healthy career paths and nurturing growth over competition.
For more news on all things ballet, don't miss a single issue.
Boston Ballet soloist Dusty Button owes much of her success to the fast-paced world of dance competitions. In her early years, she competed in jazz and contemporary, and her first Youth America Grand Prix win landed her a spot at American Ballet Theatre's Jacqueline Kennedy Onassis School, which led to a contract with ABT Studio Company.
But less than two months later, Button made an unexpected move for a dancer on the verge of a professional career. She enrolled at The Royal Ballet School. Once there, she found the environment a stark contrast from the competition-focused training that had initially shaped her. "At the school, they would call me 'bull in a china shop' because I could technically do anything they asked, but I didn't do it gracefully," she says. "I learned how to refine my technique. They teach you how to do a single pirouette well before you learn how to do five."
Button's story is one example of how a school's view on competition can factor into its training philosophy. Students who compete are often virtuosic performers with a commanding stage presence; dancers who don't compete often excel in technical nuance and refinement of style, but may not have as much stage experience. When choosing a school, consider how its policy on competition fits your personality and whether it will get you to your career goals.
Training for Competition
There is a stereotype about schools that compete: Students rehearse one or two variations nonstop all year long, to the neglect of well-rounded training. The reality, however, is that many schools view competition as an extension of a dancer's training, rather than the ultimate goal. "It's certainly not our prime focus," says Dierdre Miles Burger, director of Orlando Ballet School. "We submit students to competitions because the preparation is instrumental in getting them stronger and helps their overall technical development. The prize is in the process."
Still, The Rock School for Dance Education co-director Stephanie Wolf Spassoff says that dancers who are selected to compete may follow a different rehearsal schedule. "Sometimes while one group is competing, another will be doing a school show," says Spassoff.
Perhaps the biggest difference between students who compete and those who do not is that competing dancers are regularly exposed to the pressures of professional life. Competition forces dancers to take responsibility for the preparation and outcome of their performances, and learn how to deal with nerves. Plus, competing helps build stage presence. And it is a great platform for dancers to be seen by company directors—a potential kick-start to a career.
From comp kid to soloist: Boston Ballet's Dusty Button (photo by Liza Voll)
A No-Competition Policy
Schools that forbid participation in competitions believe that students don't need to look beyond their doors for training, performance and networking opportunities. The School of American Ballet, for instance, emphasizes setting full-length ballets and bringing in outside choreographers. This approach lets a dancer focus solely on technique, with an emphasis on refinement and clarity. "Because we don't compete," says faculty co-chair Kay Mazzo, "it gives us time to train our students in our Balanchine style, using our Balanchine syllabus."
Central Pennsylvania Youth Ballet school principal Nicholas Ade acknowledges that many dancers nab jobs through competitions. The school does not have an official policy, but he believes students shouldn't be seen and evaluated for professional slots until they're truly ready. "We tell students: You will make a name for yourself, but it will be when you are fully cooked, when all the ingredients are there," he says. "Then, you're seen not only for your potential, but in a more finished and polished way, as a young professional."
The key is to choose a school that fits your personality, where you are in your training and your career dreams. What do your favorite companies value? Research their dancers' training paths. The school you choose now will shape the kind of dancer you will become.
SAB of the West (With a Twist)?
There's a new training option for high school dancers in Los Angeles: Come September, the Colburn Dance Academy, a partnership between The Colburn School and Benjamin Millepied's L.A. Dance Project, will host its first class of 12 students. The program, directed by recently retired New York City Ballet principal Jenifer Ringer, will have roots in Balanchine, with a diverse set of specialty classes like ballroom, hip hop and piano. "We want to take these dancers and polish them. Prepare them for professional life," says Ringer. "We're excited to expose them to that through LADP." Students will attend dance classes during the day and take academics at nearby schools or online. Ringer hopes the program will eventually expand and secure its own dorm. "We'd like to have a similar model to SAB," she says. Faculty had not been finalized as of press time, but Millepied is scheduled to teach, with several guest artists on rotation. The first for 2014–15 is Wendy Whelan. —Kristin Schwab
Technique Tip
"Using your port de bras from your back changes how your arms look, lengthening your muscles. It will help your classical technique, giving you a cleaner pirouette and higher jump. Before class, I do yoga cat and cows to warm up my lats. Sometimes during barre, I flex my palms so I can feel the full length underneath my arms. You have to set it up at the barre so when you get to center, you don't have to think about it." —Rachel Van Buskirk, Atlanta Ballet
Nov. 29, 2001 07:00PM EST
The Erik Bruhn Prize may be a quirky competition (participating dancers must come from one of the companies that Bruhn was associated with during his lifetime), but it has showcased many top dancers when they were just starting their careers. ABT principals Julie Kent and Michele Wiles, San Francisco Ballet principals Vanessa Zahorian and Gennadi Nedvigin, and Royal Ballet principal Johan Kobborg, among others, all won the Erik Bruhn Prize before becoming major ballet stars.
This year's crop of competitors includes ABT's Christine Shevchenko and Joseph Gorak, Hamburg Ballet's Maria Baranova and Alexandr Trusch, Royal Danish Ballet's Shelby Elsbree and Jon Axel Fransson, Stuttgart Ballet's Elisa Badenes and Daniel Camargo and National Ballet of Canada's Shino Mori and Naoya Ebe. 
The winners each receive a $7,500 prize, and the winner of the Choreographic Prize earns $2,000. The judging panel consists of artistic directors or coordinators from each of the participating companies. New this year is the Audience Choice Award, which gives audience members an opportunity to vote for their favorite male and female dancers as well as their favorite new contemporary work. The competition takes place March 5 in Toronto—stay tuned for the results!


Get Pointe Magazine in your inbox