Francisco Estevez as the Cavalier in The Nutcracker. David Andrews, Courtesy Colorado Ballet.
In early October, Colorado Ballet's Francisco Estevez will take the stage as Basilio, his first role as a principal. While this is a momentous occasion for any dancer, it's amplified for Estevez, who since 2013 has battled two cancer diagnoses.

After undergoing surgery for testicular cancer, the now 30-year-old dancer was diagnosed with chronic myeloid leukemia, a rare form of blood cancer, in April 2018. He spent the following summer layoff undergoing treatment, adjusting to the many side effects that come with the oral chemotherapy drug. Though Estevez still takes the pills each night, he's hopeful that down the road he'll be able to stop. "The research is advancing quite quickly," says Estevez. "Twenty years ago this would have been a terminal illness, but with the advent of this new drug, people have been able to stay on it and live fairly normal lives."
Keep reading...
Show less
News
Mar. 05, 2019 02:30PM EST
News
Jan. 31, 2019 05:00PM EST
Colorado Ballet's Dana Benton as Dorothy. Kate Rolston, Courtesy Colorado Ballet.
Picture The Wizard of Oz, and your head probably fills with yellow brick roads, flying monkeys, emerald cities and ruby slippers. Now imagine what it takes to translate that magic to the stage—and what it would look like in pointe shoes.

On Friday, Colorado Ballet will present the company premiere of Septime Webre's The Wizard of Oz, a ballet they produced jointly with Kansas City Ballet and Royal Winnipeg Ballet (KCB presented the world premiere back in October, and RWB will have their turn this May). The three companies split the costs of creating the full-length story ballet, which includes an original score by Matthew Pierce; 120 colorful costumes (plus 112 hats!) designed by Liz Vandal; projection technology and flying effects; and puppetry (including a puppet Toto) by Nicholas Mahon, who recently worked on the opening ceremony for the 2018 Winter Olympics. The result is a major new production none of the companies likely would have been able to pull off on their own.
Keep reading...
Show less
News
Jan. 29, 2019 05:22PM EST
News
Oct. 01, 2018 04:55PM EST
Los Angeles Ballet's Tigran Sargsyan and Petra Conti. LAB opens their fall season this week with a mixed bill including two company premieres. Photo by Reed Hutchinson, Courtesy LAB.
Keep reading...
Show less
Earlier this summer, we followed master pointe shoe fitter Josephine Lee of the California-based The Pointe Shop as she made her on a pointe shoe fitting tour around the West Coast and California. Now she's back, this time on a 45-day tour from California to Chicago, educating students on all things pointe shoes and helping them to find their perfect fit. Lee's making stops at top ballet companies and academies across the country, interviewing school directors and chatting with professional ballerinas to find out how they customize and break in their pointe shoes. Below, check out Lee's stop at Colorado Ballet. She touches base with principal dancer Dana Benton and academy director Erica Fischbach. Stay tuned for more!
Keep reading...
Show less
News
Sep. 06, 2018 05:32PM EST
Colorado Ballet soloist Francisco Estevez. Photo by David Andrews, Courtesy Dancers for a Cure.
Francisco Estevez is only 29 years old, but he's battling cancer for the second time. In 2013, the Colorado Ballet soloist was diagnosed with testicular cancer, which was swiftly treated with surgery. But during a routine physical in April, doctors noticed that Estevez's white blood cell count was severely elevated. They concluded that he had chronic myeloid leukemia, a very rare form of blood cancer. "At first I thought, how can this be happening again?" says Estevez. "I've had a few moments of sadness, but I've tried to find the humor in it, which has helped. Thankfully my wife [Colorado Ballet soloist Tracy Jones] and I are fortunate to have a good support system here in Denver and around the world."
That support system is coming together in a big way this week. Roughly a dozen Colorado dance organizations are joining forces to participate in Dancers for a Cure, a benefit performance for Estevez on September 6 and 7 at the Lone Tree Arts Center. The concert was spearheaded by Alison Jaramillo, artistic director of Littleton Youth Ballet, where both Estevez and Jones have taught classes during their off-season. "She asked if we wanted to do a benefit performance to raise money for some of the medical costs, as well as future costs," says Estevez. "We didn't know how to feel about it initially—it's always awkward to accept help from those who aren't your family." They eventually agreed, with the condition that the concert also give back to the community somehow. Now, half of the proceeds will go towards the Leukemia and Lymphoma Society.
Keep reading...
Show less
News
Feb. 13, 2018 04:37PM EST
Misty Copeland as Juliet with American Ballet Theatre. Photo by Gene Schiavone, Courtesy ABT.
Valentine's Day makes February the perfect month for ballet companies to perform Romeo and Juliet, Shakespeare's famous tale of star-crossed lovers. A few companies presented their versions earlier this month and many are on their way in the next few weeks. We rounded up eight companies including New York City Ballet, American Ballet Theatre, The Washington Ballet, Les Ballet des Monte Carlo, Orlando Ballet, Colorado Ballet, Carolina Ballet and Ballet BC to find out how they're using this classic ballet to celebrate the holiday of love.
New York City Ballet

A 12-performance run of Peter Martins' Romeo + Juliet comes in the middle of New York City Ballet's winter season, spanning from February 13-23 at the Koch Theater in New York City. This year's production marks the debuts of corps dancers Harrison Coll and Peter Walker as Romeo, and former Pointe cover star Indiana Woodward will be making her debut as Juliet. Below, hear Tiler Peck, who will dance Juliet alongside Zachary Catazarro, point out the tricky technical moments in this role and explain what makes it so special to her.
Keep reading...
Show less
A scene from Stephen Mill's "Light/The Holocaust & Humanity Project." Photo by Tony Spielberg, Courtesy Ballet Austin.
Ballet excels at defying gravity. Lightness, ethereality, wispiness, symmetry, lineal order, chivalry and blissful endings to well-worn tales bestow on ballet a reputation as an art form that embraces divine beauty and design. But themes of grief, trauma, death, war, annihilation, exploitation, abuse, oppression and genocide do not frequently skim the surface sur la pointe. Bearing weighty burdens has traditionally found a place in the realm of modern dance in works such as Martha Graham's Lamentation, or Paul Taylor's image of Armageddon in Last Look.
But beyond shimmering tutus and pristine arabesques, there are other reasons why heavy issues seldom appear on the ballet stage. Taking on a serious subject requires a serious treatment. A ballet about terrorism could easily trivialize the subject through melodrama or prettification. Classical vocabulary was born from noble demeanor in the royal courts; in the wrong hands, it can seem limited in registering the mood of a sordid subject or for expressing disturbing behavior. Add to that the industry's marketing directors and board members, tempted towards steering directors and choreographers away from challenging ballets for fear of poor ticket sales.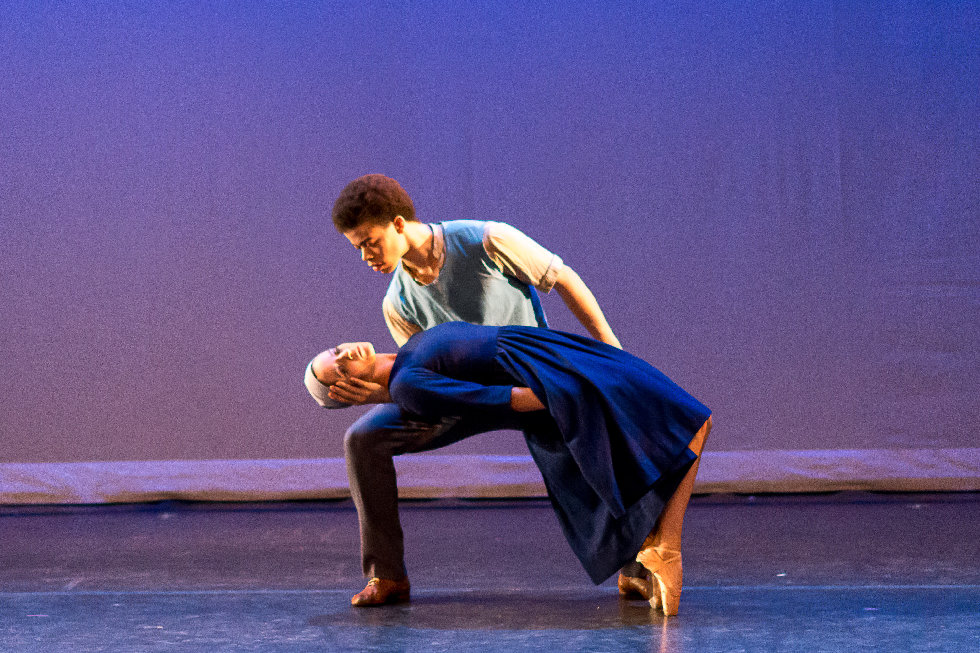 New York Theatre Ballet performs "Dark Elegies." Photo by Darial Sneed, Courtesy New York Theatre Ballet.
Keep reading...
Show less
Erica Fischbach with students from the Colorado Ballet Academy. Photo by Tamar More, Courtesy Colorado Ballet.
Striving for higher extensions, more turnout and bigger jumps may be at the top of your agenda in daily class. But what about those finer points of your technique, the subtleties that make a dancer really shine? They need just as much of your attention, and letting seemingly innocuous bad habits linger will impact your overall dancing.
"There are no shortcuts in ballet," says Cynthia Harvey, artistic director of the Jacqueline Kennedy Onassis School at American Ballet Theatre. "You can't expect good results by ignoring details that are the building blocks of technique." We break down five bad habits that are easy to overlook—but have a major impact.
Keep reading...
Show less
Francisco Estevez, Courtesy Colorado Ballet.
If you think a full-time pre-professional program might be right for you, it's never too early to start talking about the big transition. Deciding to forgo a "normal" high school experience for the chance to take your training to the next level is life-changing, and it's vital to have in-depth discussions with your family. Here's a checklist of topics to bring up—before the auditions begin.
1. What are my professional goals?
At the very least, you should feel sure that you want a professional dance career. But beyond tutus and dreams, it's important to understand what this means on a day-to-day level: the daily grind of technique classes and physical therapy, all-consuming workdays, and the endless pursuit of artistry and perfection. "I find a lot of students haven't done enough research on what a professional life is about—what it really means," says Denise Bolstad, managing director of Pacific Northwest Ballet School.
In addition, think about what kind of company you want to join and which schools can facilitate that. What's your favorite repertoire? Are you interested in a large company or a smaller one? For instance, Miami City Ballet corps member Ellen Grocki knew she loved Balanchine, so she researched schools where she'd gain extensive training in the style. She eventually left her home in Maryland at 16 to study at MCB School.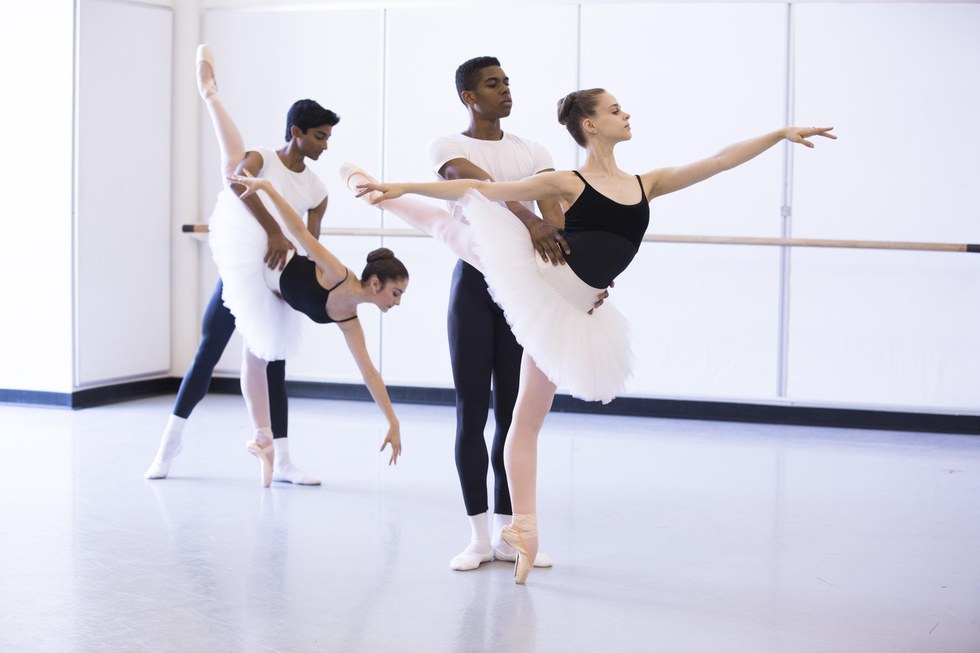 Summer intensive students at Pacific Northwest Ballet School. Photo by Angela Sterling, Courtesy PNB.
Keep reading...
Show less