Just for fun
Oct. 26, 2018 05:23PM EST
Royal Winnipeg Ballet revived Lila York's adaptation of Margaret Atwood's The Handmaid's Tale earlier this month. Photo by David Cooper, Courtesy RWB
When American Ballet Theatre announced yesterday that it would be adding Jane Eyre to its stable of narrative full-lengths, the English nerds in the DM offices (read: most of us) got pretty excited. Cathy Marston's adaptation of Charlotte Brontë's classic novel was created for England's Northern Ballet in 2016, and, based on the clips that have made their way online, it seems like a perfect fit for ABT's Met Opera season.

It also got us thinking about what other classic novels we'd love to see adapted into ballets—but then we realized just how many there already are. From Russian epics to beloved children's books, here are 10 of our favorites that have already made the leap from page to stage. (Special shoutout to Northern Ballet, the undisputed MVP of turning literature into live performance.)
---
Northern Ballet in David Nixon's The Great Gatsby (F. Scott Fitzgerald)
Star-crossed lovers? Check. Wild party scenes? Check. The 1920s aesthetic is just bonus.
Dutch National Ballet in John Cranko's Onegin (Alexander Pushkin)
It's a novel in verse, but it still counts! Cranko's pas de deux work vividly paints the emotional turmoil of Pushkin's characters, such as this sequence in which Tatiana imagines being loved by the haughty Onegin.
The Royal Ballet in Liam Scarlett's Frankenstein (Mary Shelley)
It's spooky, it's sensational, it's a deep meditation on the nature of humanity—oh, and it's alive.
Northern Ballet in David Nixon's The Three Musketeers (Alexandre Dumas)
All for one and one for all! (And we're all in for this epic fight choreography the dancers took to a famous Abbey in their hometown of Leeds, England.)
Charlotte Ballet in Sasha Janes' Wuthering Heights (Emily Brontë)
The Brontë sisters had a knack for writing complex, tempestuous relationships—great fodder for pas de deux like this one.
The Washington Ballet in Septime Webre's Peter Pan (J. M. Barrie)
Sword-fighting, pirates, pixie dust and a ticking crocodile? This one simply flies off the page.
Hamburg Ballet in John Neumeier's Anna Karenina (Leo Tolstoy)
Some would argue that Tolstoy's epic is the greatest literature ever written, but you can't argue with the fact that the titular heroine is a deliciously complex character to tackle.
The Royal Ballet in Christopher Wheeldon's Alice's Adventures in Wonderland (Lewis Carroll)
Why is a raven like a writing desk? We still might not know the answer to Carroll's riddle, but we do know that Wheeldon's blockbuster production is so full of incredible moments (like Steven McRae stealing the show as a tap-dancing Mad Hatter) that we had trouble narrowing it down.
Atlanta Ballet in Michael Pink's Dracula (Bram Stoker)
There's a reason it seemed at one point like every ballet company in America had a production of Dracula in its repertoire.
Northern Ballet in Jonathan Watkins' 1984 (George Orwell)
Just in case the dystopian nightmare conjured by Orwell wasn't vivid enough in your own imagination.
Just for fun
Aug. 24, 2018 12:50PM EST
Gillian Murphy spent some time in Canada this summer. Image via Instagram
@gillianemurphy
We'll admit it: As excited as we are for fall performance season to start, we are in deep, deep denial that the end of summer is in sight. And we're also experiencing some serious FOMO looking at the vacation photos flooding our Instagram feeds from some of our favorite dancers and choreographers. So where in the world do they go to unwind before gifting us with yet another season of incredible dance?
Keep reading...
Show less
News
Jul. 11, 2018 01:41PM EST
Leanne Cope and Robert Fairchild. Photo Courtesy Trafalger Releasing.
An American in Paris, the wildly popular musical directed and choreographed by Christopher Wheeldon, comes to movie theaters nationwide September 20 and 23. Filmed in London in 2017, this version features the show's original stars: former New York City Ballet principal Robert Fairchild and former Royal Ballet first artist Leanne Cope. Based on the classic 1951 Gene Kelly film with a score of Gershwin standards, An American in Paris played on Broadway and in London's West End to rave reviews and numerous awards, including a 2015 Tony for Best Choreographer. This limited screening will bring the best of Broadway up close to the masses. For a full list of participating theaters and to purchase tickets, available July 12, click here.
News
Jun. 22, 2018 09:00AM EST
Pacific Northwest Ballet company dancers in Benjamin Millepied's Appassionata. Photo by Angela Sterling, Courtesy PNB.
Pacific Northwest Ballet travels to Paris for the first time this summer, and artistic director Peter Boal couldn't be happier.

"I think we have a tremendous reputation, but people outside the greater Seattle area haven't seen this company," Boal says.
That will change after PNB's two-week stay with the French festival Les Étés de la Danse, which hosts a different international company every summer. A PNB residency had been in the works for several years when Les Étés de la Danse decided to produce a larger celebration of choreographer Jerome Robbins this summer, inspired by his centennial. New York City Ballet, Miami City Ballet, The Joffrey Ballet and Russia's Perm Opera Ballet Theatre will join PNB for that one-week tribute.
Keep reading...
Show less
News
May. 29, 2018 05:23PM EST
PNB in Justin Peck's "Year of the Rabbit." Photo by Angela Sterling, Courtesy PNB.
Wonder what's going on in ballet this week? We've pulled together some highlights.
Ballet Nacional de Cuba Continues U.S. Tour at the Kennedy Center
A few weeks ago we shared that the historic Ballet Nacional de Cuba is back in the U.S. after 40 years. The company has already made stops in Chicago and Tampa, and heads to The Kennedy Center May 29-June 2 as part of the Artes de Cuba festival with performances of Giselle and Don Quixote. The tour will conclude at the Saratoga Performing Arts Center June 6-8. Whether or not the company is heading to a city near you, you can catch a glimpse of Don Q in the below trailer.
Keep reading...
Show less
From left: Jennifer Stahl, Lonnie Weeks and Sasha De Sola in rehearsal for Trey McIntyre's new work. Photo by Christian Peacock for Pointe.
Photography by Christian Peacock

Summer is always a lively time at San Francisco Ballet, as the dancers return from vacation and launch into rehearsals for the upcoming season. But last July through September felt absolutely electric with creativity as the company created 12 world premieres for Unbound: A Festival of New Works, a cutting-edge program that will run April 20–May 6 at the War Memorial Opera House.
Artistic director Helgi Tomasson invited a wish list of international choreographers to participate: David Dawson, Alonzo King, Edwaard Liang, Annabelle Lopez Ochoa, Cathy Marston, Trey McIntyre, Justin Peck, Arthur Pita, Dwight Rhoden, Myles Thatcher, Stanton Welch and Christopher Wheeldon. Each got about 12 dancers, three weeks' studio time and, aside from a few general guidelines, total artistic freedom.
Keep reading...
Show less
Cuthbertson and Federico Bonelli as Alice and Jack/the Knave of Hearts. Photo by Andrej Uspenski, Courtesy ROH.
As told to Laura Cappelle.

I knew before Christopher Wheeldon even started Alice's Adventures in Wonderland that he wanted me to create the title role. We made Alice together. We feel like she is our girl! She's charming, witty, tough, curious. She's got a very big heart. She's also spontaneous, which helps the show, because you don't have to be calculated the whole time. You can bounce off the characters you come across, because everyone plays them slightly differently.
Keep reading...
Show less
Ashley Wheater rehearsing Antony Tudor's "Lilac Garden." Photo by Cheryl Mann, Courtesy Joffrey Ballet.
The first time Ashley Wheater was courted to be artistic director of the Joffrey Ballet, he said "Thanks, but no thanks"—he was very happy at San Francisco Ballet, where he'd spent eight years as a principal dancer and 10 more on the artistic staff. But a trip to the Windy City for the Chicago Dancing Festival and a visit to Joffrey's studios prompted feelings of nostalgia for Wheater's early years dancing with the company.
He was hired by co-founders Robert Joffrey and Gerald Arpino in 1985, when the company was still based in New York City and under Joffrey's direction. After Joffrey's death, Arpino became artistic director and later moved a struggling Joffrey Ballet to its current home in Chicago in 1995.
When Arpino fell ill and began to look for a successor, the company had lost much of its original adventurous spirit. Remembering its earlier spark, Wheater agreed to apply during that trip to Chicago, and accepted on the spot in 2007 after a weeklong interview process.
As the third artistic director in the company's 62-year history, Wheater has spent the last 10 years rebuilding its national reputation, tackling challenging new repertoire and reimagined classics at a ferocious pace. The rep now includes works by choreographers like Christopher Wheeldon, John Neumeier, Alexander Ekman and Yuri Possokhov. Wheater shelved many of Joffrey's and Arpino's dances to make room for new ones, preferring to honor Robert Joffrey's legacy by taking risks and fostering innovation.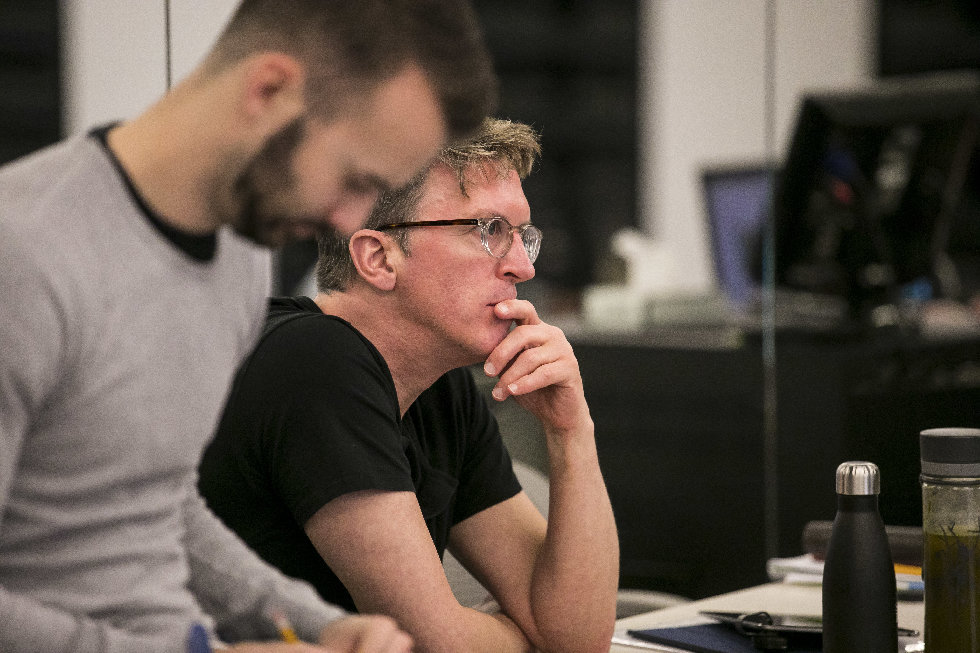 Wheater. Photo by Todd Rosenberg, Courtesy Joffrey Ballet.
Keep reading...
Show less
New York City Ballet's famous growing tree. Photo by Paul Kolnik, Courtesy NYCB.
Literary Roots

E.T.A. Hoffmann, a German writer, penned the eerie and dark tale "Nutcracker and Mouse King" in 1816. About 30 years later, the French writer Alexandre Dumas took the Nutcracker story into his own hands, lightening things up and softening the character descriptions. Dumas even cheered up the name of the protagonist. "Marie Stahlbaum" (meaning "steel tree," representing the repressive family Marie found herself in, which led her imagination to run wild) became "Clara Silberhaus" (translated to "silver house," a magnificent home filled with shiny magic.)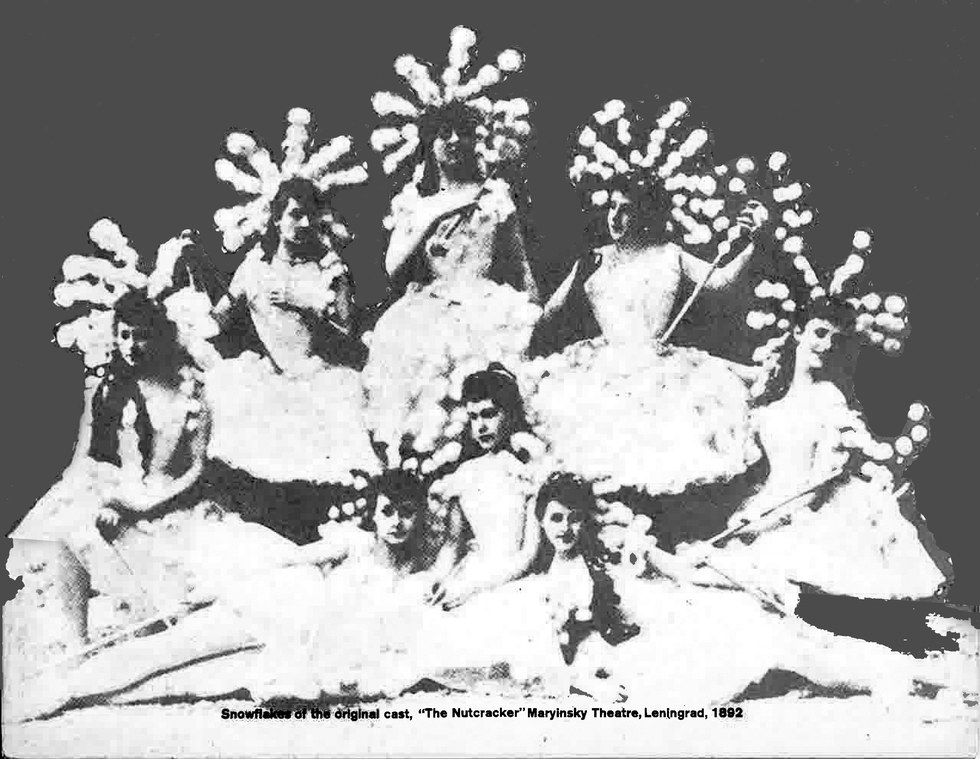 Snowflakes of the original cast, "The Nutcracker" at the Mariinsky Theatre, 1892. Photo by Walter E. Owen, Courtesy Dance Magazine Archives.
From Page to Stage
In 1892 St. Petersburg, choreographer Marius Petipa and composer Pyotr Ilyich Tchaikovsky pulled the story off the page and onto the stage of the Mariinsky Theatre. But Petipa fell ill while choreographing The Nutcracker and handed his duties over to his assistant, Lev Ivanov. Critics at the 1892 premiere were not pleased. Balletomanes felt the work to be uneven, and lamented the lack of a main ballerina in the first act. Many thought that the story was too light compared to historically based stories.
Out of Russia
Despite its initial reception, the ballet survived, partially due to the success of Tchaikovsky's score. Performances were scarce, though, as the Russian Revolution scattered its original dancers. The Nutcracker's first major exposure outside of Russia took place in London in 1934. Former Mariinsky ballet master Nikolas Sergeyev was tasked with staging Petipa's story ballets on the Vic-Wells Ballet (today The Royal Ballet) from the original notation. The notes were incomplete and difficult to read, yet Sergeyev persisted, and The Nutcracker made it to the stage.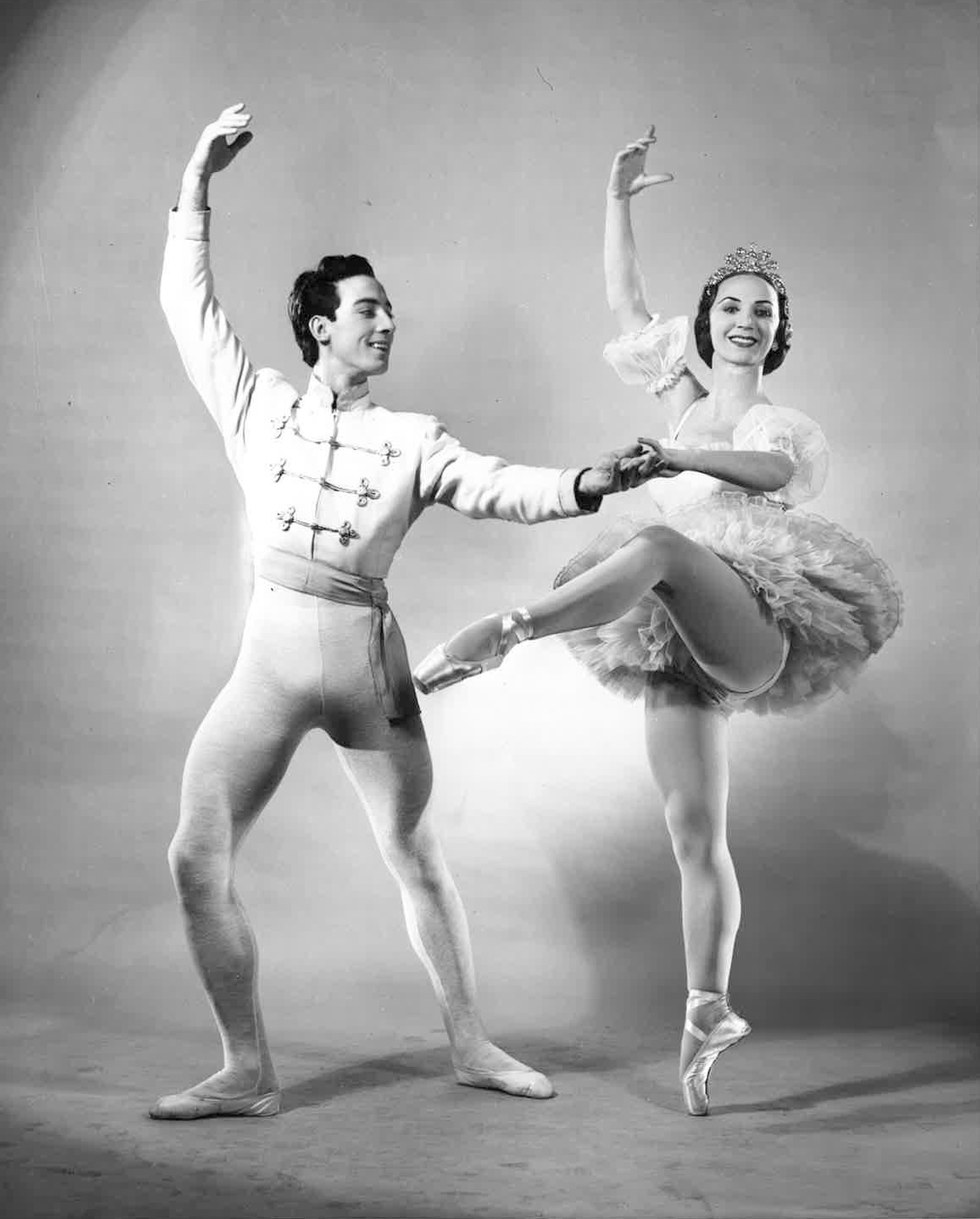 Dancers from ballet Russe de Monte Carlo in "The Nutcracker" pas de deux. Photo Courtesy Dance Magazine Archives.
Keep reading...
Show less
Artists of the Joffrey Ballet in Christopher Wheeldon's "Nutcracker." Photo by Cheryl Mann, Courtesy Joffrey.
When we go to the Nutcracker, we expect to be transported to a world that's both magical and familiar: the timeless Tchaikovsky music, the classic tale of a little girl and her Nutcracker prince, the sugary Land of Sweets. Yet when the Joffrey Ballet presented the world premiere of Christopher Wheeldon's new Nutcracker last year, audiences got a uniquely Chicagoan production that turns the original story on its head. Here, Marie is a poor Polish immigrant whose family lives in a shack on the construction grounds of Chicago's 1863 World's Columbian Exposition. The result is both daring and visually spectacular.
But a lot of work goes into making that magic look...well, magical. A new PBS documentary, Making a New American NUTCRACKER, follows the Joffrey Ballet, Wheeldon and his stellar creative team as they build the ballet from the ground up.
While the documentary is full of the kind of behind-the-scenes footage dancers love, it also reveals the important reasoning behind the revamped story. The Columbian Exposition setting was the brainchild of Joffrey artistic director Ashley Wheater, and both he and Wheeldon found the traditional Nutcracker story's message somewhat troubling. Wheeldon notes that the protagonist is typically a privileged, wealthy child. "And then she falls asleep and dreams of more," says Wheeldon. "More candy, more entertainment."
Keep reading...
Show less
popular
Oct. 16, 2017 05:26PM EST
Houston Ballet's Jared Matthews and Sara Webb in"The Sleeping Beauty." Photo by Amitava Sarkar, Courtesy Houston Ballet.
Despite the devastation and pain that Hurricanes Harvey and Irma have left in their wake this fall, it's been encouraging to see dancers step up in aid of their communities: When the future of Houston Ballet's Nutcracker seemed uncertain, venues around the city pulled together to allow the company to produce the show on a "hometown tour." And when Florida ballet companies had to evacuate, Atlanta Ballet and Charlotte Ballet welcomed them with open arms. In addition, New York City-based studio Broadway Dance Center offered community classes in September with proceeds donated to the American Red Cross.
The next in this series of good deeds is Hearts for Houston, a benefit performance bringing dancers from seven major companies together at New York City's Alvin Ailey Citigroup Theater to raise money for the United Way of Greater Houston's Harvey Relief Fund. Scheduled for Sunday, October 22, the evening will feature members of the Houston Ballet, American Ballet Theatre, New York City Ballet, Pennsylvania Ballet, Texas Ballet Theater, The Washington Ballet and Alvin Ailey American Dance Theater. Hearts for Houston is imagined and produced by Houston Ballet principal dancers Yuriko Kajiya and Jared Matthews (both formerly of ABT) and funded by patrons Phoebe and Bobby Tudor and sponsor Neiman Marcus.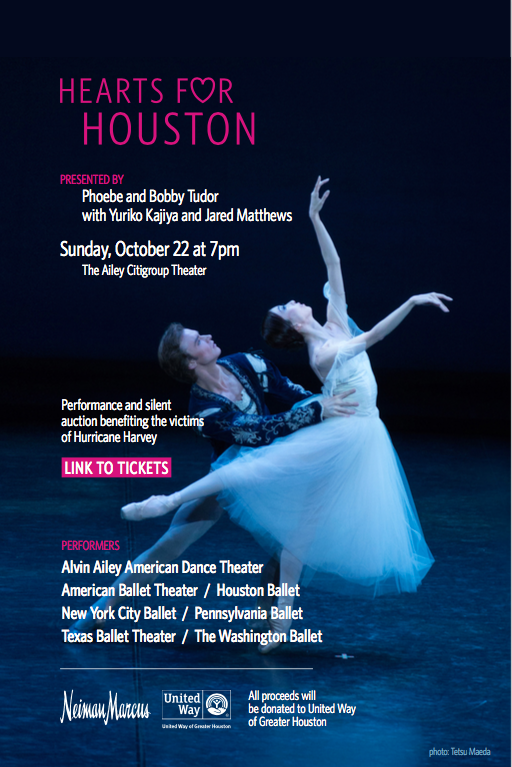 Keep reading...
Show less
popular
Jul. 25, 2017 06:23PM EST
Photo by Erik Tomasson, Courtesy SFB.
It may be the middle of summer, but San Francisco Ballet is already rehearsing for its spring season. There's a lot to prepare for—the company's Unbound: A Festival of New Works, which runs April 20–May 6, 2018, will feature 12 new ballets by 12 choreographers. And it's an impressive group of dancemakers: David Dawson, Alonzo King, Edwaard Liang, Annabelle Lopez Ochoa, Cathy Marston, Trey McIntyre, Justin Peck, Arthur Pita, Dwight Rhoden, Myles Thatcher, Stanton Welch and Christopher Wheeldon. That's a lot of choreography to pack in!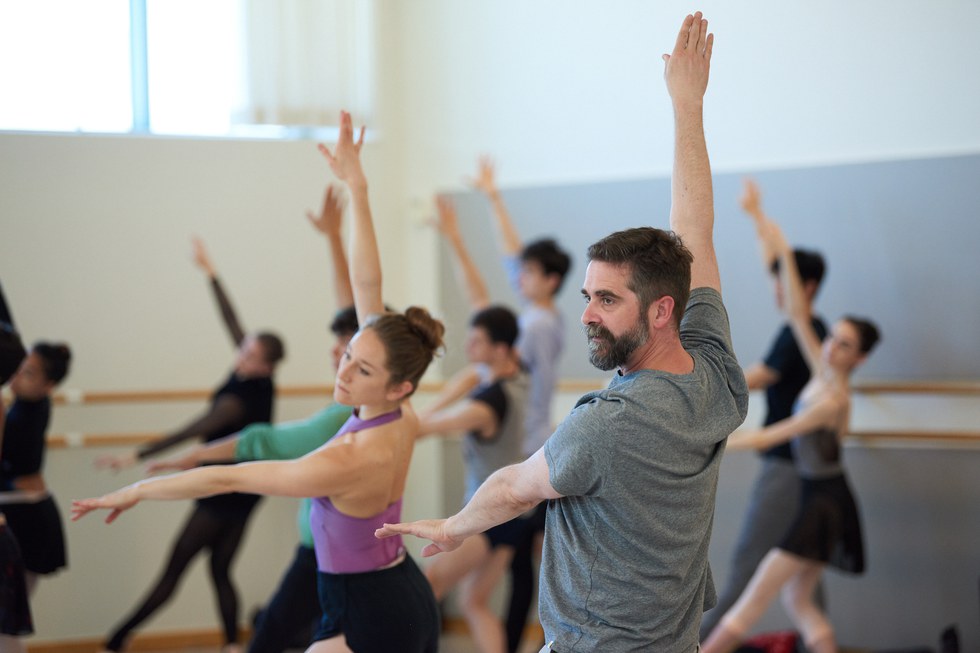 Stanton Welch in rehearsal with San Francisco Ballet. Photo by Erik Tomasson, Courtesy SFB.
Luckily, we don't have to wait until spring to get a sneak peek of some of these new works. SFB is kicking off Unbound: LIVE, a series of live-stream events that will take us inside rehearsals. The first one is Wednesday, July 26, at 5:30 pm Pacific Standard Time (8:30 EST). It will highlight rehearsals with Arthur Pita, Edwaard Liang and Stanton Welch. You can expect to see the dancers perform excerpts of their works in progress, as well as interviews with each choreographer.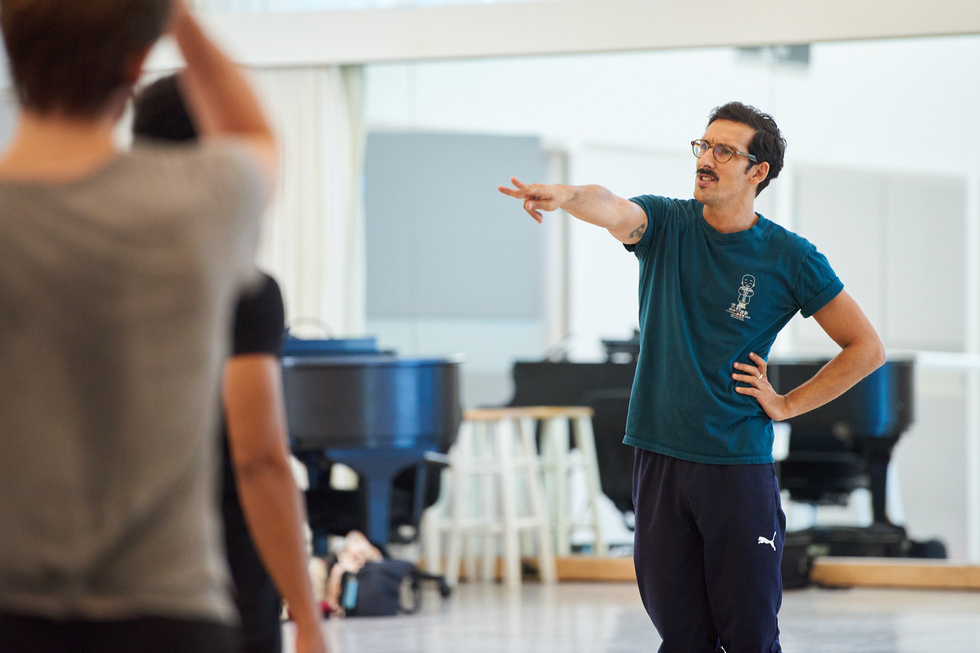 Artur Pita in rehearsal. Photo by Erik Tomasson, Courtesy SFB.
Visit SFB's website or its Facebook page tomorrow night to watch. And if you miss it, no worries—it'll be accessible on the company's site and YouTube channel for 60 days. The other live-stream events have yet to be announced, but we'll be sure to keep you posted!
A still from "Medicine Man"
Is there anything Tiler Peck can't do?
Promoted to principal at New York City Ballet by 20. Leads in everything from Balanchine's jazzy Who Cares? to classics like Sleeping Beauty to entirely new creations. A starring role in the musical Little Dancer. Check, check, check. (And that's just the beginning of the list.)
Now, her latest accomplishment is music video dancer. And we're not talking about a tiny back-up role. In Charlotte OC's new video for "Medicine Man," Peck is the sole performer of a lush contemporary ballet solo on pointe.
Keep reading...
Show less
Views
Apr. 26, 2017 04:10PM EST
Crystal Pite working with members of the Paris Opéra Ballet. Photo by Julien Benhamou.
In February, I attended the Prix de Lausanne, where I moderated a series of panel discussions that were open to the competing students, their teachers and parents, and the public. One topic I was particularly excited about concerned women in leadership roles, and how the ballet world can better nurture leadership qualities in female dancers. My panelists included Korean National Ballet artistic director Sue Jin Kang, English National Ballet associate director Loipa Araújo and Gigi Hyatt, the deputy director of the Hamburg Ballet School.
There was just one problem—while there were plenty of audience members, none of the female students actually showed up. As I watched a few of them browse the pop-up ballet shop on their way out of the theater, I couldn't help but think "Don't you know this talk is for you?"
Keep reading...
Show less
News
Apr. 19, 2017 12:41PM EST
Justin Peck. Photo by Paul Kolnik, Courtesy NYCB.
Is there any stopping Justin Peck? In less than a decade, the 29-year-old New York City Ballet soloist and resident choreographer has made over 30 ballets, quickly becoming one of the world's most sought-after dancemakers. Now he can add another milestone to the list: Broadway. This week, The New York Times reported that Peck will choreograph the Broadway revival of Rodgers and Hammerstein's Carousel, scheduled to open next March. Originally choreographed by Agnes de Mille in 1945, the musical, which follows the ill-fated love story of carnival barker Billy Bigelow and mill worker Julie Jordan, is famous for its lengthy dream ballet. Peck told the Times that he intends to pay homage to the original while making it "an even more dance-and-movement-focused production."
Keep reading...
Show less
From left: Ashley Wheater, Anastacia Holden, Christopher Wheeldon and Joan Sebastián Zamora rehearse The Nutcracker. Photo by Todd Rosenberg, courtesy Joffrey Ballet.
It's a truth universally acknowledged that any ballet company worth its sugar plums must have a production of Nutcracker as part of its holiday season repertoire. And for nearly three decades, through its final performance at Chicago's Auditorium Theatre in December 2015, the Joffrey Ballet was well served by its uniquely Victorian-American setting of the classic. It was choreographed by founding artistic director Robert Joffrey shortly before his death, and featured major contributions from Gerald Arpino.
Now the Joffrey is about to get a brand-new $4 million version of the ballet, choreographed by Christopher Wheeldon. He has assembled a stellar team of collaborators, including set and costume designer Julian Crouch, author and illustrator Brian Selznick, puppeteer Basil Twist, lighting designer Natasha Katz and projection designer Benjamin Pearcy. And while the production will retain the Tchaikovsky score, and many of the ballet's classic elements, the story will be reimagined with a distinctly Chicago backdrop.
Keep reading...
Show less
Views
Sep. 07, 2016 10:33AM EST
Assucena and Alberto Velazquez rehearse Christopher Wheeldon's new Nutcracker. Photo by Cheryl Mann, Courtesy Joffrey Ballet.
Though it's not quite fall, the Joffrey Ballet is in full holiday mode, prepping for the world premiere of Christopher Wheeldon's Nutcracker. In fact, you can catch a live-streamed rehearsal with Wheeldon and the company tomorrow (Thursday, September 8, 11:30 am to 1:30 pm Central) on the company's YouTube channel. Pointe spoke with company dancer Amanda Assucena about this reimagined holiday classic set in 1893 during the Chicago World's Fair.
How does the setting change the story?
Marie, our dreamer, is our version of Clara. She's a girl from the South Side of Chicago, the daughter of immigrants, workers of the fair. She's not very wealthy, which is different from other Nutcrackers. The second act is based on the actual World's Fair, so she dreams the Nutcracker is taking her through it and the divertissements are different countries.
What have rehearsals been like?
I'm learning the roles of Marie, her mother and the grand pas, so I've been in the studio with Chris all the time, all day. He is definitely one of my favorite choreographers to work with. He's a big name, but he's such a normal person, so nice and humble. And he allows you to communicate what feels good or if a step feels awkward.
What's it like being involved in the creation of a new full-length ballet?
Being in the studio for six hours a day learning choreography and trying to keep that in your mind has been challenging—but such a great challenge. For me, one of the best parts about ballet is figuring out steps, remembering them, putting them together with the music and seeing it come together and work.
How is Wheeldon approaching the famous party scene?
It's now called the "shack scene" since Marie lives in a shack with her mother. Some of the other workers from the World's Fair come to the party, and everybody brings something--a tree, some food or drinks. It's more about them coming together and trying to make something beautiful out of nothing for that one day of Christmas celebrations.
Do you have any advice for dancers on how to avoid burnout when they're working on Nutcracker from now until the holidays?
We've all been doing it since we were little kids, but I still love it. My advice would be to remember what the audience is going to see. It's our responsibility for them to feel like they just woke up from the most beautiful dream ever.
And enjoy the music. As much as we hear it all the time, it's so perfect for the ballet, perfect for the season. It's also great that it's so popular because it only means that we are part of a Christmas tradition. Enjoy the music, enjoy the relationships with your other dancers and enjoy the choreography.
You can watch the trailer for the live stream here:
For more news on all things ballet, don't miss a single issue.
News
Aug. 24, 2016 05:48PM EST
This week, there's a whirlwind of dance in the Windy City. The annual Chicago Dancing Festival, celebrating its 10th anniversary this year, opened last night at the Auditorium Theater with glittering performances by the Joffrey Ballet, Martha Graham Dance Company, Pennsylvania Ballet and Daniel Ulbricht's Stars of American Ballet. The festival continues through Saturday, with performances held at multiple theaters and parks across the city. While all shows are free, tickets for indoor performances went on "sale" in late July—and sold out fast.
Lillian Di Piazza and James Ihde in Concerto Barocco. Photo by Alexander Iziliaev, via PA Ballet.
Francesca Hayward as Juliet. Photo by Alice Pennefather, Courtesy ROH.
But don't worry, Chicagoland ballet lovers: No tickets are required for the festival's outdoor Dancing Under the Stars program, held at Jay Pritzker Pavilion in Millennium Park on August 27. The evening includes the Joffrey Ballet in Christopher Wheeldon's After the Rain, Pennsylvania Ballet in George Balanchine's Concerto Barocco and Hubbard Street Dance Chicago in William Forsythe's One Flat Thing. Newly minted Royal Ballet principal Francesca Hayward and soloist Marcelino Sambé will be there, too, dancing the pas de deux from Sir Kenneth MacMillan's Romeo and Juliet (a role Hayward talked about in our February/March cover story). The show also includes Chicago Dancers United, a collective of local dance companies which work in tandem with Dance for Life, to raise funds for critical health issues like HIV and AIDS. They'll be performing in a new work by Chicago-based choreographer Randy Duncan. The festival closes with Rennie Harris' Students of the Asphalt Jungle, performed by his hip hop company, Rennie Harris Pure Movement.
Stake out a spot early—the performance starts at 7:30 pm, but fixed seating at the Pavilion is first come, first serve. There is also lawn seating available. For more information, click here.
For more news on all things ballet, don't miss a single issue.
News
Jun. 24, 2016 02:44PM EST
Robert Fairchild and Leanne Cope in An American in Paris. Photo Courtesy Broadway World.
If you haven't seen Christopher Wheeldon's Tony Award winning musical An American in Paris yet, you better hop to it. The hugely successful Broadway production closes on January 1, 2017 after a nearly two-year long run. Don't panic if you can't drop everything and buy a plane ticket to New York, though: The show will commence its national tour in October 2016.
The U.S. tour will star former San Francisco Ballet soloist Garen Scribner as Jerry Mulligan (who has been performing the role on Broadway) and former Miami City Ballet soloist Sara Esty as Lise Dassin. At the show's London opening in March 2017, New York City Ballet principal Robert Fairchild and The Royal Ballet's Leanne Cope will reprise their originating roles.
Keep reading...
Show less
Views
May. 13, 2016 06:28PM EST
William Shakespeare's plays have provided inspiration to dozens of choreographers, but have you ever wondered how dance-makers translate his complex writing into beautiful dancing?
This video from The Royal Ballet (a company full of natural dance-actors) provides an amazing illustration. Christopher Wheeldon's latest full-length ballet, The Winter's Tale, features Royal Ballet principal Edward Watson as the jealous and possessive King Leontes. In this video, actor Geoffrey Streatfield recites some of King Leontes' lines while Watson dances the scene they inspired. You can see how Leontes is teetering on the brink of madness—both in Streatfield's acting and Watson's movement.
It's like a peek inside Wheeldon's creative process!
Curious about how the rest of The Winter's Tale looks, translated into a ballet? The Royal has a ton of information on it's website about how the ballet was choreographed, designed and composed.
For more news on all things ballet, don't miss a single issue.
Featured Article
Apr. 01, 2016 05:56PM EST
Jillian Vanstone and Dylan Tedaldi in Alice's Adventures in Wonderland. Photo by Bruce Zinger, Courtesy National Ballet of Canada.
In the Prologue to Christopher Wheeldon's recent ballet The Winter's Tale, two boys, princely playmates who one day will become kings, are joined onstage by two women veiled in black. They stand, one beside each child, mysterious, disquieting. They hint at the power that women in the ballet will have over men's imaginations as objects of fierce passions or idealized love. In a brief, evocative tableau, the choreographer foreshadows the darker themes of Shakespeare's play, the ballet's source, and their joyful resolution, distilling in a brief passage the story's emotional arc.
Choreographing story ballets that will appeal to contemporary audiences presents unique challenges even for experienced dancemakers. A too-literal approach or too-traditional staging can seem quaint or flat. And what makes a suitable narrative for those coming of age in a digital era, where there are no strictures on what can be searched, seen and shared? How can a story ballet hold audiences' attention? If mere distraction becomes the goal, how can a ballet achieve the resonance that will give it continued life?
Keep reading...
Show less
News
Apr. 01, 2016 04:06PM EST
Christopher Wheeldon rehearsing Leanne Cope in An American in Paris. Photo by Matt Trent via the Wall Street Journal.
If you had plans for Sunday night, you may want to cancel. This week on CBS' "60 Minutes," host Lesley Stahl will interview Christopher Wheeldon. This master choreographer's career—which has given us stunning story ballets and hauntingly beautiful pas de deux—provides a lot of material for 60 minutes worth of intimate conversation. But one hot topic Stahl focuses on is how Wheeldon has made ballet mainstream with Broadway show An American in Paris, which he directed and choreographed (and won a Tony Award for).
The interview promises some personal moments: "I certainly felt like a door was flung open," Wheeldon says of American in Paris.  "It is possible for ballet to be young, sexy, dynamic, exciting… to tell complex stories, not just stories about sleeping princesses but to take audiences on breathtaking journeys." And the preview claims that Wheeldon is transforming ballet into something that's "fun to watch." Of course, we'd argue that it was already, but we won't miss a chance get inside Wheeldon's head.
Tune in to CBS on Sunday, April 3 at 7pm ET/PT.
For more news on all things ballet, don't miss a single issue.
The Royal Ballet in Wheeldon's The Winter's Tale. Photo by Tristram Kenton via the Guardian.
News
Feb. 12, 2016 03:27PM EST
Biographical ballets are having a moment, finding success in the real-life stories of famous women. Wayne McGregor's Woolf Works, which premiered at The Royal Ballet last May, and John Neumeier's Duse, which premiered at Hamburg Ballet in December, were both explorations of complex personal histories. Christopher Wheeldon's Strapless for The Royal Ballet, inspired by Madame X, will offer another depiction of a woman who was a muse herself.
Keep reading...
Show less
Inside PT
Jan. 22, 2016 10:23AM EST
The Royal Ballet's Steven McRae in Christopher Wheeldon's The Winter's Tale. Photo by Johan Persson.
We're now in the middle of the winter season (and as those of you in the Northeast know, possibly heading into our first snowstorm of the year). The drop in temperature and change in weather can affect everything from your mood to the foods you're most likely to reach for. Here are some of our best tips for staying healthy as you navigate the winter months:
When you leave a rehearsal at 5 pm and it's already getting dark outside, it can feel downright depressing. But a few simple tricks can help you fight off the winter blues.
Wintertime also means audition season. Having a clear idea of what to eat before a nerve-racking audition means less added stress the day of. And don't forget to stay hydrated! It's just as important this time of year as during the hot summer months.
No one wants to get sidelined by a cold in the middle of a busy season. Make sure you're getting enough sleep, and try these three immune-boosting foods to keep you feeling (and dancing) your best.
It's tempting to hibernate indoors and fill up on comfort food after a long rehearsal, but be careful not to overdo it. Research shows that heavy, high-fat meals could make you sluggish in the studio, especially when combined with stress.
Ultimately, you can use even the dreariest weather to your advantage. As one study suggests, it's a great opportunity to improve your dancing—you'll be less distracted by the desire to be outside, and your studio time will be more productive.
For more news on all things ballet, don't miss a single issue.
News
Nov. 18, 2015 10:44AM EST
Hannah Fischer and Piotr Stanczyk in rehearsal for The Winter's Tale. Photo by Aaron Vincent Elkaim, Courtesy NBoC.
Ballet lovers, Shakespeare lovers and Christopher Wheeldon lovers, rejoice! The North American premiere of The Winter's Tale is finally here. The National Ballet of Canada performs the acclaimed work now through November 22 in Toronto and in January in Washington, DC. For Pointe's bi-weekly newsletter, we caught up with second soloist Hannah Fischer as she learned the female lead Hermione.
What's it like working with Christopher Wheeldon?
Amazing. He has such a clear vision. The narrative is of utmost importance in The Winter's Tale, and he makes sure that the story is behind every step. He's phenomenal with those things you normally wouldn't think of, like the way he tells me to look into somebody's eyes or how to place my hand. They make a world of difference.
What is particularly challenging about this ballet?
Hermione's solo is quite difficult and it leads into the pas de deux, so from a stamina point of view, that's tricky. But more importantly, I think that carrying a ballet that has such intense emotions is the hardest part. Hermione is a very strong woman. She's pure and innocent and loves her husband and children. And then she's wrongfully accused of adultery, and she pleads her innocence while still maintaining her dignity.
Photo by Aaron Vincent Elkaim, Courtesy NBoC.
What advice would you offer to dancers who are learning narrative ballets? 
A lot of people are advised to leave their problems at the door, but when dealing with a dramatic ballet, I think it's almost better to do the opposite. Don't let it affect you so much that you can't get any work done, but take all the experiences that you want to push away and throw them into your character. I think ballet is fantastic in that way because you can use those emotions to make your performance even better.
Want more Winter's Tale? Enter our contest for a pair of pointe shoes signed by NBoC principal Jurgita Dronina, who is also cast as Hermione.
News
Sep. 01, 2015 08:41PM EST
As America anxiously awaits Stephen Colbert's return to the small screen, dance and theater fans have something special to look forward to. Christopher Wheeldon, the choreographer of Broadway's An American in Paris, along with its two stars, New York City Ballet principal Robert Fairchild and Royal Ballet first artist Leanne Cope, will appear on "The Late Show" on September 18. Fairchild and Cope will perform an excerpt from American in Paris. Kudos to Colbert for featuring performers beyond the usual Hollywood stars! 
Photo by Kyle Froman
Ever wonder what life is like as a ballerina on Broadway? Just peek inside Leanne Cope's dance bag. Cope, who stars as Lise in Christopher Wheeldon's production of An American in Paris, carries not only pointe shoes in her Parisian canvas tote but also a well-worn pair of LaDuca heels. "My dresser, Midge, carries this bag around with her during the show, just in case of emergencies," says the Royal Ballet first artist, who's on sabbatical from the company through the end of the show's run. "She basically shadows me, because I have a lot of quick changes."
Cope always has her script nearby, as well. "Not only is every word of the show written in here, but all my stage directions. It's nice to go back to it every once in a while. When you reread it, almost as a novel, it gives you another spin on things." Her other Broadway must-have? Lip balm. "With all the singing and talking, my lips tend to get dry," she says. It also serves as a better alternative to lipstick during kissing scenes with her co-star, New York City Ballet principal Robert Fairchild. "We don't do lipstick—it would end up all over his face!"
Keep reading...
Show less
News
Feb. 13, 2015 06:14PM EST
This June, The Royal Ballet is making a long-awaited tour to Washington, DC, Chicago and New York City. But on February 17, ballet lovers across the U.S. can see the company in movie theaters for a one-night-only screening of Christopher Wheeldon's A Winter's Tale, which premiered last year. Based on William Shakespeare's play, the ballet follows the jealous King Leontes (played with emotional tour de force by Edward Watson), who mistakenly suspects that his pregnant wife Hermione (the sublime Lauren Cuthbertson) is having an affair with his best friend, King Polixnes (Federico Bonelli). Sarah Lamb, Zenaida Yanowsky and Steven McRae complete the all-star cast.
Shakespeare's play is famously complicated. But a preview screening of the film in NYC on Wednesday showed that Wheeldon and his team of collaborators have smartly packaged its intricate narrative with dramatic clarity and contemporary freshness. But what's most exciting is seeing a full-length story ballet that's never been attempted before—and the dancers' performances are stellar. While nothing beats live theater, the film translates beautifully on the big screen and includes behind-the-scenes footage with Wheeldon, cast members and composer Joby Talbot. Check out the sneak preview below; for tickets and theater locations near you, click here.