Career
Nov. 28, 2017 05:34PM EST
The candied fig and pear variation. Courtesy Reid and Harriet Design.
Last May we covered the new swimwear line that costume designers Reid Bartelme and Harriet Jung, otherwise known as Reid & Harriet Design, created based on Justin Peck costumes. The duo, known for their work with top companies including New York City Ballet, American Ballet Theatre and Miami City Ballet, are just as skilled at creating whimsical yet streamlined costumes as they are at rethinking the role that design plays in dance. "Designers are often seen as filling a need verse creating art," says Bartelme, noting that he and Jung often feel that they're at the very bottom of the production totem pole. This fall, the twosome have taken matters into their own hands. As Resident Fellows at New York University's Center for Ballet and the Arts, Bartelme and Jung are taking a different approach to creating a ballet: starting with the designs.
Bartelme and Jung equate this to the early 20th century model used by Sergei Diaghilev's Ballets Russes, where the composer, choreographer and designer had equal importance, contributing to the gesamtkunstwerk, or "total work of art." Productions by the Ballets Russes featured designs by Pablo Picasso, Coco Chanel and Henri Matisse.
Last week Bartelme and Jung presented their work in an informal seminar at CBA. They chose to work with The Nutcracker—seasonally appropriate, yes, but also the country's most-performed ballet. In addition to the role of designer and director, Jung and Bartelme acted as dramaturges for their production, delving deep into the storied ballet's history from page to stage. Rather than look at the way that companies interpret The Nutcracker today, they looked to the original story by E.T.A. Hoffmann and the later interpretation by Alexandre Dumas for inspiration. The result? A Nutcracker unlike any we've ever seen.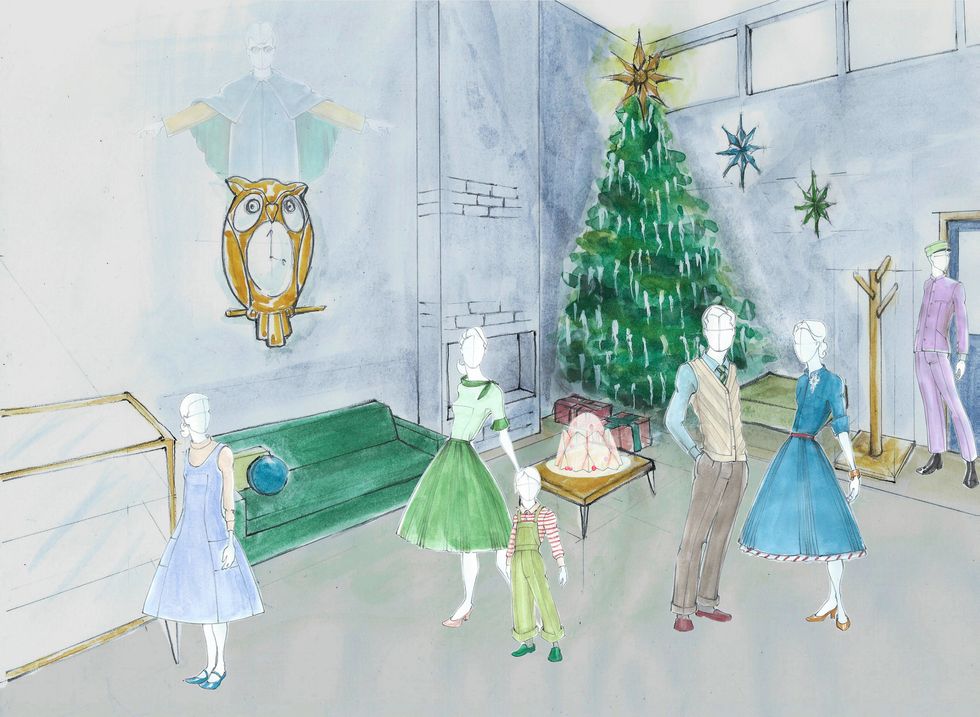 Courtesy Reid and Harriet Design.
Jung and Bartelme's Nutcracker is set in the 1950s. Why? It has a clear aesthetic as well as strong conservative conventions for Marie to rebel against in the second act. First off we see Marie's family at their Christmas gathering. Smaller than the conventional Nutcracker party scene, this intimate celebration aligns more closely to Hoffmann's tale. Marie is set downstage in a simple blue dress, which the designers compare to the blue dresses worn by Alice in Alice in Wonderland and Dorothy in The Wizard of Oz—two other young, storybook women who feel confined by their respective societies and so escape to magical lands.
Other details to note are the gilded owl clock on the wall, a detail included in Hoffmann's story, as well as the 1950s style cherry jello mold on the center of the table which will soon open up to expose a world within, Bartelme and Jung's replacement for the classic dollhouse.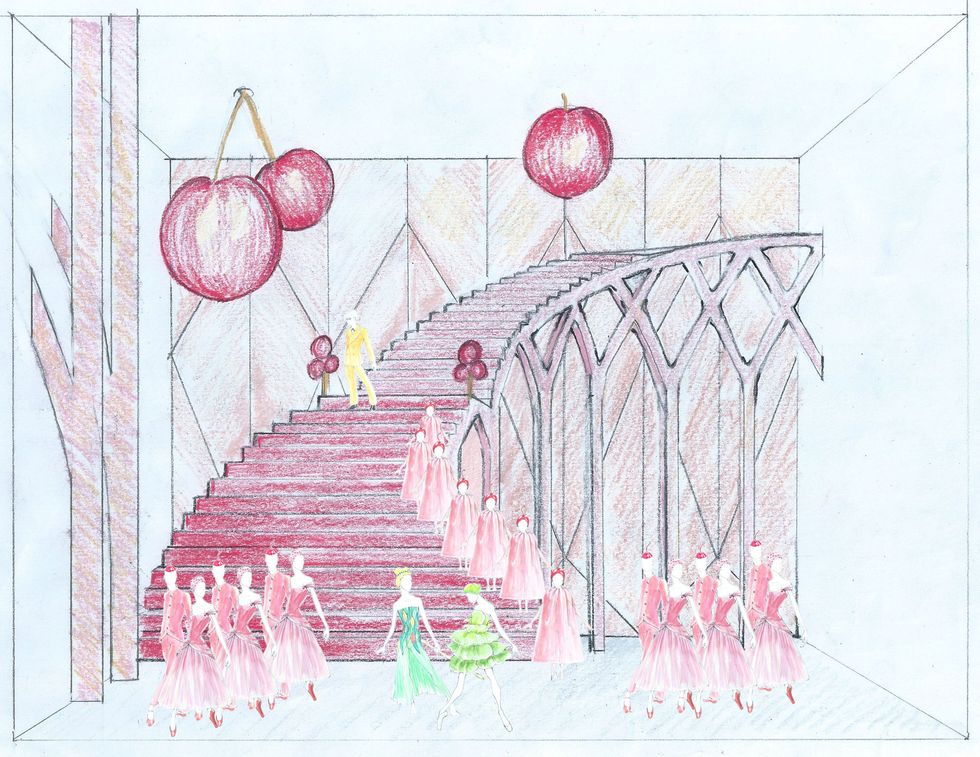 Courtesy Reid and Harriet Design.