José Alves and Cira Robinson in Cathy Marston's The Suit. Bill Cooper, Courtesy Ballet Black.
It was a bold choice of adaptation. "The Suit," a short story by South African writer Can Themba about a woman's infidelity and subsequent punishment, could easily serve as an excuse for overwrought domestic violence onstage. Not so in Cathy Marston's crisp one-act version for Ballet Black, Britain's small but artistically mighty company for black and Asian dancers, during performances at London's Sadler's Wells Theatre in November.
Amanda Assucena with Grieg Matthews in Cathy Marston's Jane Eyre. Cheryl Mann, Courtesy Joffrey Ballet.
The Joffrey Ballet opened its 2019–20 season with Cathy Marston's Jane Eyre, where the title role propelled company dancers Amanda Assucena and Yumi Kanazawa to new heights. Assucena, as Jane, brought impressive complexity to the canonical heroine, who grapples with the strict moral compass of her monastic upbringing and her passionate desires. Viewing a flashback of her childhood, she looked on as Kanazawa commanded the first third of the ballet as Young Jane. Virtuosic in her entanglements with the D-Men—a recurring men's corps that serves as a metaphor for Jane's conflicted emotions—Kanazawa's characterization was aptly naïve and immature, but also wise beyond her years.
News
Oct. 15, 2019 02:20PM EST
Jun. 14, 2019 04:38PM EST
Devon Teuscher performing the titular role in Jane Eyre. Photo by Gene Schiavone, Courtesy ABT
Story ballets that debut during American Ballet Theatre's spring season at the Metropolitan Opera House are always the subject of much curiosity—and, sometimes, much debate. Cathy Marston's Jane Eyre was no different. The ballet follows the eponymous heroine of Charlotte Brönte's novel as she grows from a willful orphan to a self-possessed governess, charting her romance with the haughty Mr. Rochester and the social forces that threaten to tear them apart.
While the ballet was warmly received in the UK when Northern Ballet premiered it in 2016, its reception from New York City–based critics has been far less welcoming. A group of editors from Dance Magazine and two of our sister publications, Dance Spirit and Pointe, sat down to discuss our own reactions.
News
Jun. 03, 2019 03:10PM EST
News
Nov. 16, 2018 08:49PM EST
Cuba's Gran Teatro de La Habana Alicia Alonso, one of the four theaters in use during the festival. Photo by Quinn Wharton.
Anyone attending the National Ballet of Cuba's biennial Havana International Ballet Festival can expect an adventure that is equal parts treasure hunt and lottery, amidst a cornucopia of choices. This year's festival, the 26th, was no exception, offering 25 programs in four theaters. The event, held October 28-November 6, was also notable for the unanticipated absence of 96-year-old Alicia Alonso, the host company's founder and Cuba's ballerina assoluta. Due to flagging health, Alonso was unable to make her customary opening night appearance, where she would have been seated alongside Cuba's new President, Miguel Díaz-Canel.
Just for fun
Oct. 26, 2018 05:23PM EST
Royal Winnipeg Ballet revived Lila York's adaptation of Margaret Atwood's The Handmaid's Tale earlier this month. Photo by David Cooper, Courtesy RWB
When American Ballet Theatre announced yesterday that it would be adding Jane Eyre to its stable of narrative full-lengths, the English nerds in the DM offices (read: most of us) got pretty excited. Cathy Marston's adaptation of Charlotte Brontë's classic novel was created for England's Northern Ballet in 2016, and, based on the clips that have made their way online, it seems like a perfect fit for ABT's Met Opera season.

It also got us thinking about what other classic novels we'd love to see adapted into ballets—but then we realized just how many there already are. From Russian epics to beloved children's books, here are 10 of our favorites that have already made the leap from page to stage. (Special shoutout to Northern Ballet, the undisputed MVP of turning literature into live performance.)
---
Northern Ballet in David Nixon's The Great Gatsby (F. Scott Fitzgerald)
Star-crossed lovers? Check. Wild party scenes? Check. The 1920s aesthetic is just bonus.
Dutch National Ballet in John Cranko's Onegin (Alexander Pushkin)
It's a novel in verse, but it still counts! Cranko's pas de deux work vividly paints the emotional turmoil of Pushkin's characters, such as this sequence in which Tatiana imagines being loved by the haughty Onegin.
The Royal Ballet in Liam Scarlett's Frankenstein (Mary Shelley)
It's spooky, it's sensational, it's a deep meditation on the nature of humanity—oh, and it's alive.
Northern Ballet in David Nixon's The Three Musketeers (Alexandre Dumas)
All for one and one for all! (And we're all in for this epic fight choreography the dancers took to a famous Abbey in their hometown of Leeds, England.)
Charlotte Ballet in Sasha Janes' Wuthering Heights (Emily Brontë)
The Brontë sisters had a knack for writing complex, tempestuous relationships—great fodder for pas de deux like this one.
The Washington Ballet in Septime Webre's Peter Pan (J. M. Barrie)
Sword-fighting, pirates, pixie dust and a ticking crocodile? This one simply flies off the page.
Hamburg Ballet in John Neumeier's Anna Karenina (Leo Tolstoy)
Some would argue that Tolstoy's epic is the greatest literature ever written, but you can't argue with the fact that the titular heroine is a deliciously complex character to tackle.
The Royal Ballet in Christopher Wheeldon's Alice's Adventures in Wonderland (Lewis Carroll)
Why is a raven like a writing desk? We still might not know the answer to Carroll's riddle, but we do know that Wheeldon's blockbuster production is so full of incredible moments (like Steven McRae stealing the show as a tap-dancing Mad Hatter) that we had trouble narrowing it down.
Atlanta Ballet in Michael Pink's Dracula (Bram Stoker)
There's a reason it seemed at one point like every ballet company in America had a production of Dracula in its repertoire.
Northern Ballet in Jonathan Watkins' 1984 (George Orwell)
Just in case the dystopian nightmare conjured by Orwell wasn't vivid enough in your own imagination.
From left: Jennifer Stahl, Lonnie Weeks and Sasha De Sola in rehearsal for Trey McIntyre's new work. Photo by Christian Peacock for Pointe.
Photography by Christian Peacock

Summer is always a lively time at San Francisco Ballet, as the dancers return from vacation and launch into rehearsals for the upcoming season. But last July through September felt absolutely electric with creativity as the company created 12 world premieres for Unbound: A Festival of New Works, a cutting-edge program that will run April 20–May 6 at the War Memorial Opera House.
Artistic director Helgi Tomasson invited a wish list of international choreographers to participate: David Dawson, Alonzo King, Edwaard Liang, Annabelle Lopez Ochoa, Cathy Marston, Trey McIntyre, Justin Peck, Arthur Pita, Dwight Rhoden, Myles Thatcher, Stanton Welch and Christopher Wheeldon. Each got about 12 dancers, three weeks' studio time and, aside from a few general guidelines, total artistic freedom.
News
Mar. 14, 2018 03:28PM EST
Les Grabds Ballets dancer Mai Kono in a promotional phtoo for next season's production of "Lady Chatterley's Lover." Photo by Sasha Onyschenko, Courtesy Les Grands Ballets.
The latest front in the controversy over the underrepresentation of female choreographers in ballet is at Les Grands Ballets Canadiens de Montréal. They're facing a petition and choreographer resignation that forced them to rebrand a season and publicly defend their programming.
On February 26, artistic director Ivan Cavallari, who started the job in the summer of 2017, announced the 2018-2019 season, which included a program titled Femmes. The program announcement said the evening would have "woman as its theme," and that Cavallari had "chosen three distinctive voices, rising stars of choreography, to undertake this great subject."
The three voices Cavallari chose to create on the theme of women, however, were all men.
"This was just too much for me, it was the last straw," says Kathleen Rea, a former member of National Ballet of Canada who now freelances, choreographs and teaches in Toronto. Rea says she's been bothered by the dearth of women choreographers throughout her career. But referring to women as "subjects" and excluding them from choreographing on a program about them compelled her to take action.
popular
Jul. 25, 2017 06:23PM EST
Photo by Erik Tomasson, Courtesy SFB.
It may be the middle of summer, but San Francisco Ballet is already rehearsing for its spring season. There's a lot to prepare for—the company's Unbound: A Festival of New Works, which runs April 20–May 6, 2018, will feature 12 new ballets by 12 choreographers. And it's an impressive group of dancemakers: David Dawson, Alonzo King, Edwaard Liang, Annabelle Lopez Ochoa, Cathy Marston, Trey McIntyre, Justin Peck, Arthur Pita, Dwight Rhoden, Myles Thatcher, Stanton Welch and Christopher Wheeldon. That's a lot of choreography to pack in!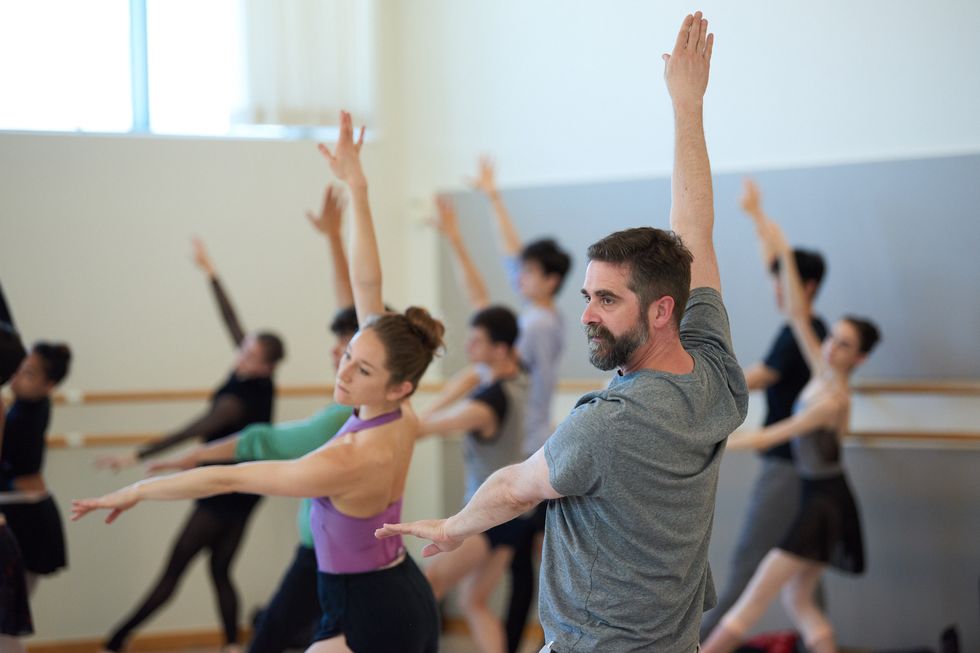 Stanton Welch in rehearsal with San Francisco Ballet. Photo by Erik Tomasson, Courtesy SFB.
Luckily, we don't have to wait until spring to get a sneak peek of some of these new works. SFB is kicking off Unbound: LIVE, a series of live-stream events that will take us inside rehearsals. The first one is Wednesday, July 26, at 5:30 pm Pacific Standard Time (8:30 EST). It will highlight rehearsals with Arthur Pita, Edwaard Liang and Stanton Welch. You can expect to see the dancers perform excerpts of their works in progress, as well as interviews with each choreographer.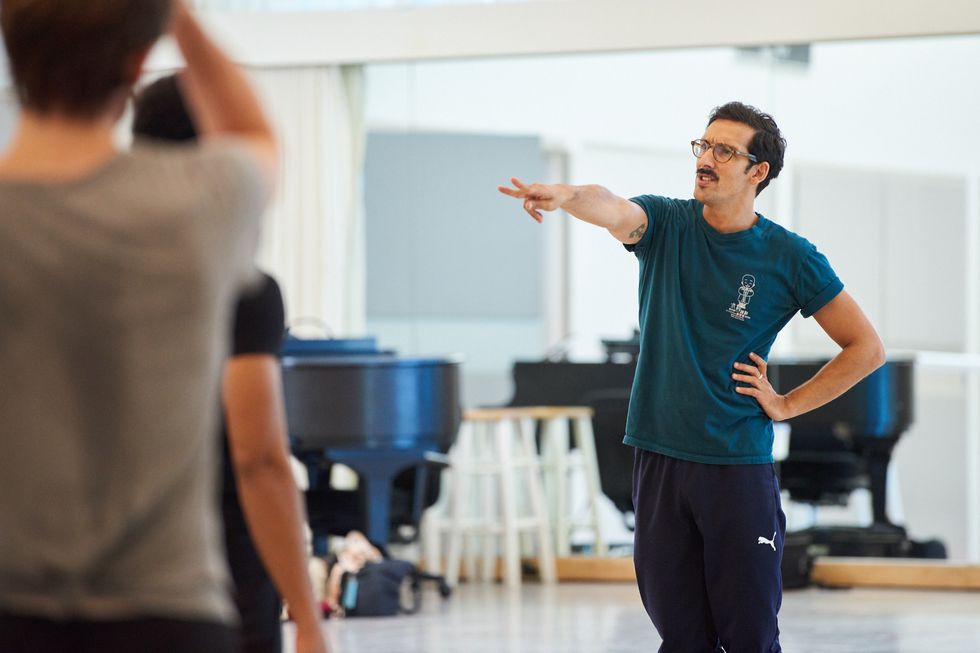 Artur Pita in rehearsal. Photo by Erik Tomasson, Courtesy SFB.
Visit SFB's website or its Facebook page tomorrow night to watch. And if you miss it, no worries—it'll be accessible on the company's site and YouTube channel for 60 days. The other live-stream events have yet to be announced, but we'll be sure to keep you posted!