NY State Senator Brad Hoylman and ABT dancer Gray Davis at the award ceremony.
"I'm here because we have a hero in our midst," said New York State Senator Brad Hoylman before American Ballet Theatre's company class this morning. He was addressing ABT corps dancer Gray Davis, who you may remember saved the life of a man who was pushed onto the subway tracks this summer. The Senator was there to present Davis with the New York State Liberty Medal, the highest honor bestowed by a member of the State Senate.
Company members, ABT staff and donors, and reporters were present in the studio at Lincoln Center's Koch Theater this morning where the company is in residence for their fall season. Artistic director Kevin McKenzie introduced Senator Hoylman, who retold the story of Davis' act of heroism before placing the medal around his neck. "You know, one of your fellow greats, Mikhail Baryshnikov said, "dancers are made, not born,' and I think the same can be said of heroes," said Senator Hoylman. "Heroes are made, not born. They seize a split-second moment, they embrace danger selflessly and they become role models for all of us."
After the crowd broke into applause, Senator Hoylman called up Davis' wife, ABT soloist Cassandra Trenary to join him at the podium. Wiping tears from her eyes, Trenary stood with Davis while he shared a few words in his quiet and reserved manner. "We're dancers, but we're human beings first," he said. "Thank you from the bottom of my heart."
Keep reading...
Show less
P.O. Alienz in Lavender Leotard; Paulina Waski modelling a Kreature Kulture t-shirt. Photos Courtesy Paulina Waski.
Walk into any ballet class and you're bound to see a row of dancers clad in leotards patterned with dainty flowers and lace. But nearly three years ago, American Ballet Theatre corps dancer Paulina Waski wore a very different kind of leotard to class—and her colleagues loved it. Now an average day at ABT includes any number of dancers in leotards featuring angry aliens, detached eyeballs and grinning monsters.
"My dad, John, is an artist, and he draws all these crazy creatures," Waski explains. "One year he did what he called his paper plate project; he drew a new creature onto a paper plate every single day for 365 days. I thought, 'he should put one on a leotard!' He screen printed one onto one of my old leotards himself, and when I wore it to class everyone was wowed." And so, Kreature Kulture was born.
Keep reading...
Show less
Daniil Simkin. Courtesy Works & Process at the Guggenheim.
On the heels of his successful 2015 project INTENSIO , American Ballet Theatre principal Daniil Simkin is presenting a new multi-media work at the Guggenheim Museum's Works & Process series set in the museum's multistoried rotunda. "The rotunda is iconic, white and symmetrical," he says. "Having dance and projection in there is an amazing sight." The new work, created by Hubbard Street Dance Chicago resident choreographer Alejandro Cerrudo, is titled Falls the Shadow and will premiere September 4.
Keep reading...
Show less
Call Board
Aug. 15, 2017 11:04AM EST
Boylston working with choreographer Gemma Bond
With most of American Ballet Theatre's classical repertoire under her belt, principal Isabella Boylston is ready for a new challenge, specifically, launching Ballet Sun Valley, a dance festival with educational outreach in her hometown of Sun Valley, Idaho. "I'm in a place in my career where I can expend a little more creative energy on outside projects," she says. This year, her long-held dream will become reality, with performances on August 22 and 24, and free dance classes on August 23. "Sun Valley has a successful symphony, and a lot of people are interested in the arts," Boylston says. "When I was there three years ago, I realized the Sun Valley Pavilion would be the perfect venue for dance." Hilarie Neely, Boylston's first ballet teacher, put her in touch with a team of executive producers who have assisted with fundraising and technical logistics.
Once Boylston knew the festival was happening, she was faced with the task of creating dynamic programming. "All the dancers I'm inviting are close friends who I've danced with before, and choreographers I have relationships with," she says. Audiences can expect classical repertoire, plus ballets by Justin Peck, Alexei Ratmansky and Pontus Lidberg.
Keep reading...
Show less
American Ballet Theatre's Cassandra Trenary seems to have it all—not only is our June/July 2016 cover star a dazzling soloist at ABT, she has a sunny, down-to-earth personality and a life-saving hero for a husband. But her first year in the company had its fair share of disappointments—in fact, she almost left dance altogether to pursue acting.
In May, the National YoungArts Foundation, an organization that provides cash awards and mentorship to aspiring performing artists, brought Trenary (herself a 2011 YoungArts winner) and ABT artist in residence Alexei Ratmansky together for a salon-style discussion. Together they talked about critical turning points in their careers, as well as the challenges of navigating the dance world as a young professional. Below are exclusive excerpts of their interview—we hope their words inspire you as much as they inspire us!
There's still time to enter YoungArts's national arts competition for a chance at cash awards, workshops and more. Click here for information on how to apply.
As a member of American Ballet Theatre, Gray Davis is used to being in the spotlight. But this past weekend, all eyes were on Davis for a totally different reason, after he jumped down onto the subway tracks in New York City to save a man who had allegedly been pushed.
Keep reading...
Show less
Views
Nov. 09, 2016 03:01PM EST
Deborah Ory and Ken Brower have done it again. The husband-wife team behind NYC Dance Project recently released a promotional video for their new photography book, The Art of Movement. (By the way, we're giving away four copies for free—click here to enter.) Shot in black and white at the NeueHouse Madison Square in New York City, the film stars American Ballet Theatre principal Daniil Simkin and soloist Cassandra Trenary in all of their stunning glory. Dancing both together and individually, the pair swirl, leap and undulate as dreamily as the music they're dancing to (Dustin O'Halloran's "We Move Lightly").
Both artists have been in the news lately: Simkin, whose INTENSIO project was a big hit last year, announced a new project blending technology and dance at The Guggenheim Museum next September, as part of its Works & Process Rotunda Project. And next week on November 15, Trenary and corps member Gabe Stone Shayer will represent ABT at the Erik Bruhn Prize competition.
For more news on all things ballet, don't miss a single issue.
News
Aug. 26, 2016 02:14PM EST
Ethan Stiefel on the set of Flesh and Bone. Photo by Myles Aronowitz, courtesy Starz.
Earlier this year, former American Ballet Theatre principal Cynthia Harvey became the new artistic director of the Jacqueline Kennedy Onassis School. Now, she's made her first faculty appointments. The faculty for the 2016-17 school year (Harvey's first season in her new role) was announced yesterday, and the lineup is pretty stellar. Here are a few of the highlights:
—Ethan Stiefel, the former ABT principal, Center Stage star and Flesh and Bone choreographer, will join the faculty as a principal guest instructor, working with the pre-professional division students.
—Robert LaFosse, a former ABT and New York City Ballet principal, will also teach in the pre-professional division.
—Former Hamburg Ballet and Royal Winnipeg Ballet dancer Fabrice Herrault is also joining the faculty. Now a world-renowned teacher, he's worked with dancers like Aran Bell and The Royal Ballet's Beatriz Stix-Brunell.
—A former dancer with Paris Opéra Ballet, Karin Averty has become a well-known New York City-based teacher, and now joins the JKO School's faculty.
This year's students are a lucky bunch. The JKO School is known for producing some of ABT's most exciting rising dancers—artists like Calvin Royal III, Skylar Brandt and our June/July cover star, Cassandra Trenary. And with such a strong group of teachers leading the way, who knows what exciting things we might expect from a new crop of students.
Cassandra Trenary photographed by Nathan Sayers for Pointe.
This is Pointe's June/July 2016 Cover Story. You can subscribe to the magazine here, or click here to purchase this issue.
It seems that, in ballet careers, everything happens at once. For a few years, you notice a dancer and make a mental note: "She's got something." And then, before you know it, she's everywhere. And so it was last year for American Ballet Theatre's Cassandra Trenary, 22. In the blink of an eye she graduated from promising young dancer—I remember spotting her as she led the Shades in La Bayadère with unrelenting precision—to nascent star. She performed her first classical solo, in Raymonda Divertissements, in 2014. Then, in one year, she debuted the roles of Princess Florine and Diamond Fairy in Alexei Ratmansky's new The Sleeping Beauty, the youngest sister in Antony Tudor's Pillar of Fire, the sleep-dancing young woman in Le Spectre de la Rose and a lead role in Marcelo Gomes' new AfterEffect. Last August, she was promoted to soloist.
Physically, it was a challenging year. "I felt like crap!" the relaxed, forthright Trenary answered recently at a café near ABT's studios when asked what it felt like to learn so many roles in quick succession. "But I love to dance, and I just ran with it." Trenary—a petite brunette with big, lively eyes and strong features that read particularly well onstage—emanates energy and directness. No matter what role she dances, she's dynamic and strong, a force to be reckoned with.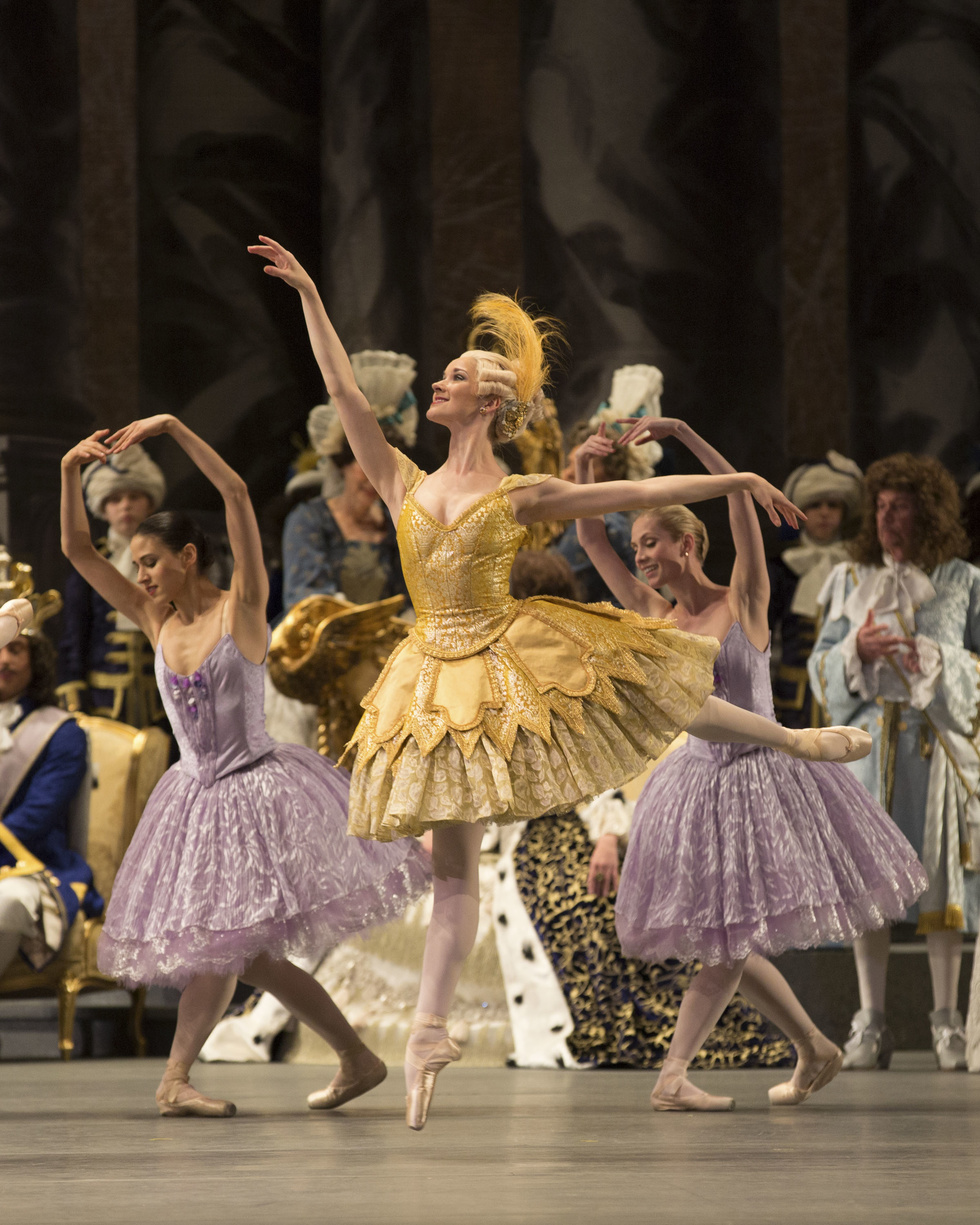 Trenary as the Canary Fairy in "The Sleeping Beauty." Photo by Gene Schiavone, Courtesy ABT.
Keep reading...
Show less
News
Oct. 28, 2015 07:58PM EST
James Whiteside and Misty Copeland in AfterEffect, Photo by Rosalie O'Connor, Courtesy ABT
As a dancer, Marcelo Gomes has it all—a magnetic stage presence, impeccable musicality, technique for days and world-renowned partnering skills. But the American Ballet Theatre star has also been gaining ground as a choreographer lately, creating works for Complexions Contemporary Ballet, galas and festivals. (He also choreographed Misty Copeland's famous Under Amour ad.) Tonight marks a major milestone in his choreographic career: His first full ballet for ABT, AfterEffect, has its world premiere at the David H. Koch Theater in New York.
Gomes, who was just announced a 2015 Dance Magazine Award winner, has created short works for ABT galas in the past, including the first movement of AfterEffect in 2013. This expanded version, set to Tchaikovsky's Souvenir de Florence, includes a whopping 26 dancers and stars James Whiteside and Copeland (who has been something of a collaborator and muse for Gomes over the years). Fast-rising soloist Cassandra Trenary will perform the lead with Cory Stearns on Saturday afternoon. (You may have caught a glimpse of rehearsals during the World Ballet Day live-stream earlier this month.)
Gomes' new choreographic opportunity is a positive step for ABT, which has received criticism in the past for relying too heavily on guest stars and not developing its own dancers. With the recent promotion of Copeland and Stella Abrera, a talented roster of homegrown soloists and a 2016 Met season conspicuously light on guest artists, it looks like the company is making a serious effort to cultivate more from within.
For more news on all things ballet, don't miss a single issue.
News
Jun. 30, 2015 04:42PM EST
Misty Copeland in Le Corsaire. Photo by MIRA, Courtesy ABT.
Today, American Ballet Theatre announced that longtime company soloists Misty Copeland and Stella Abrera have been promoted to principal dancer. San Francisco Ballet star Maria Kochetkova and Royal Danish Ballet principal Alban Lendorf will also join ABT next season as principals (though they will remain principals with their respective companies), and Boston Ballet principal Jeffrey Cirio joins as a soloist. Corps de ballet members Skylar Brandt, Thomas Forster, Luciana Paris, Arron Scott and Cassandra Trenary have been promoted to soloist.
The news follows months of speculation after three of ABT's major stars—Julie Kent, Paloma Herrera and Xiomara Reyes—announced their retirements. The promotion has been a long time coming for Abrera, who has been with the company since 1996 and a soloist since 2001. She made a critically acclaimed debut as Giselle last month. Copeland, who made principal debuts in Romeo and Juliet and Swan Lake this season, makes history as the company's first female African American principal dancer. Congratulations to all!
News
Sep. 24, 2014 10:17PM EST
Whether you're or not planning a wedding, make sure to check out the October/November issue of Brides magazine for a seriously dance-inspired photo spread. The models? Six American Ballet Theatre dancers, all of who were engaged at the time of the shoot last spring (five have since gotten hitched). Isabella Boylston, Brittany DeGrofft, Cassandra Trenary, Lauren Post, Elina Miettinen and Nicola Curry (who's joining the Australian Ballet this season) are shown donning gorgeous designer wedding gowns in all shapes, lengths and colors—sur la pointe, of course. As an added bonus, Brides released this behind-the-scenes video of the shoot. Enjoy!


Get Pointe Magazine in your inbox