Calvin Royal III in George Balanchine's Apollo. Rosalie O'Connor, Courtesy ABT.
In one sense, American Ballet Theatre soloist Calvin Royal III's company debut as the lead in George Balanchine's Apollo in October felt momentous: a black dancer, in a historically lily-white company, portraying a god. In another, it felt inevitable: Royal is regal as soon as he stands onstage, to the manner born. As Apollo, authority radiated even from his decisively placed fingers. That famous "stoplight" moment, in which the hands open and close in quick succession, like flashing traffic signals, registered with spine-tingling precision.
Megan Amanda Ehrlich, Courtesy LEAP Program
Claire Sheridan wanted to change the status quo. Leading up to the 1990s, she recalls, "there was a 'shut up and dance' mind-set," and as the founder of the dance program at St. Mary's College of California and a longtime teacher in professional companies, she had seen too many dancers retire with no plan for a successful career transition. "At that time, if you thought about education and the future," she says, "you were not a committed dancer. I wanted to fight that."
With the support of St. Mary's, Sheridan developed the Liberal Education for Arts Professionals program, or LEAP, an innovative liberal-arts bachelor's degree program designed especially for professional dancers. She first presented her idea to executives at San Francisco Ballet. "Kudos to that company, because they said, 'This is great,'" she says. "Eleven of the first 18 dancers who started in August 1999 were from SFB."
Site Network
Sep. 30, 2019 04:29PM EST
(From left) Gonzalo Garcia, Sara Mearns, Isabella Boylston, and Calvin Royal III in Ezra Hurwitz's "Mobile Devices," courtesy Ezra Hurwitz
Apple—continuing their sensational streak of genius dance collabs—has done it again, with a sleek promo video for the new iPhone that features the ballet world's best and brightest.
The beautiful short film, titled "Mobile Devices" (we see what they did there!), is directed by former Miami City Ballet dancer Ezra Hurwitz. It follows a day in the life of American Ballet Theatre soloist Calvin Royal III and New York City Ballet principal Sara Mearns, and also includes appearances by NYCB principal Gonzalo Garcia and ABT principal Isabella Boylston. "I wanted to showcase the experience of an African American male ballet dancer alongside the more traditionally featured white female ballerina," says Hurwitz, who frequently collaborates with stars of the dance world. "That said, I also wanted to keep it fun and visually driven, and make it a real celebration of these dancers' artistry, athleticism and determination."
Erin Baiano, Courtesy Vail Dance Festival
If, like us, you're anywhere that isn't the Vail Dance Festival right now, you're obviously bummed to be missing all the amazing performances, premieres and collaborations currently underway. Luckily, many of our favorite bunheads have been keeping us updated on the amazing work being done up in the Colorado Rocky Mountains via Instagram. Here's a roundup of some of our favorite posts so far.

Jun. 14, 2019 04:38PM EST
Devon Teuscher performing the titular role in Jane Eyre. Photo by Gene Schiavone, Courtesy ABT
Story ballets that debut during American Ballet Theatre's spring season at the Metropolitan Opera House are always the subject of much curiosity—and, sometimes, much debate. Cathy Marston's Jane Eyre was no different. The ballet follows the eponymous heroine of Charlotte Brönte's novel as she grows from a willful orphan to a self-possessed governess, charting her romance with the haughty Mr. Rochester and the social forces that threaten to tear them apart.
While the ballet was warmly received in the UK when Northern Ballet premiered it in 2016, its reception from New York City–based critics has been far less welcoming. A group of editors from Dance Magazine and two of our sister publications, Dance Spirit and Pointe, sat down to discuss our own reactions.
Boston Ballet principal Derek Dunn at age 12 in a variation from Flames of Paris at the 2008 YAGP finals. Courtesy YAGP.
The Youth America Grand Prix New York Finals are starting up again this week, running April 12-19. This year, YAGP is celebrating its 20th anniversary. April 18-19 marks the competition's annual Stars of Today Meet the Stars of Tomorrow gala, featuring 13 pros who are also YAGP alumni. We've rounded up photos and videos from those stars' YAGP years and shared them with you here.
James Whiteside and Isabella Boylston. Courtesy In the Lights PR.
"Cindies" fans, this one's for you. February 9-10, American Ballet Theatre's James Whiteside and Isabella Boylston are collaborating with pop singer Rozzi to put on a full-length show titled When I Think Of You at The Argyros Performing Arts Center in Ketchum, Idaho. Set to Rozzi's debut album Bad Together, performed live by the singer and her band, the show features choreography by Whiteside, Boylston, ABT's Gemma Bond and commercial dancer Ai Shimatsu with dancing by Whiteside, Boylston and ABT soloist Calvin Royal III.

Whiteside is no stranger to pop music. The principal dancer doubles as singer/songwriter JbDubs, known for choreographing and producing his own wild music videos and performances. We touched base with Whiteside to hear all about how When I Think of You came to be, what this unique show will look like, and how he balances his musical career with his work at ABT.
New York City Ballet's Olivia Boisson. Photo by Melika Dez, Courtesy Black Iris Project.
In 2016, choreographer Jeremy McQueen founded the Black Iris Project with the aim of bringing together predominantly minority dancers each summer to create works that celebrate diversity and black history. This year, he's mixing it up. In honor of South African anti-apartheid leader Nelson Mandela's 100th birthday on July 18, McQueen created 100 FISTS in collaboration with photographer Melika Dez. Each day, for the hundred days leading up to Mandela's birthday, BIP has released a photo on social media of a black dancer in a New York City location, posed with their hand in a fist. Each photo is paired with an inspirational quote by Mandela. Pointe caught up with McQueen to find out how this project came together and what's next for the fledgling collective.
Arthur Mitchell. Photo by Eileen Barroso, Courtesy Columbia University.
When American Ballet Theatre soloist Calvin Royal III and New York City Ballet soloist Unity Phelan burst into the opening diagonal of George Balanchine's Agon on Monday, they had reason to be nervous. Sitting in the downstage corner of Columbia University's Miller Theater—precisely where they'd need to spot their pencil turns—was Arthur Mitchell, the Dance Theater of Harlem co-founder and longtime director who originated the male role at NYCB in 1957. It was a rare and exciting moment of the future meeting the past. (Royal later described the experience as "surreal.") The two dancers, who had been coached by former NYCB principal Heather Watts, gave an electric and intense performance. Afterwards, Mitchell turned to the audience from his blue leather chair and smiled. "I would say it's in good hands."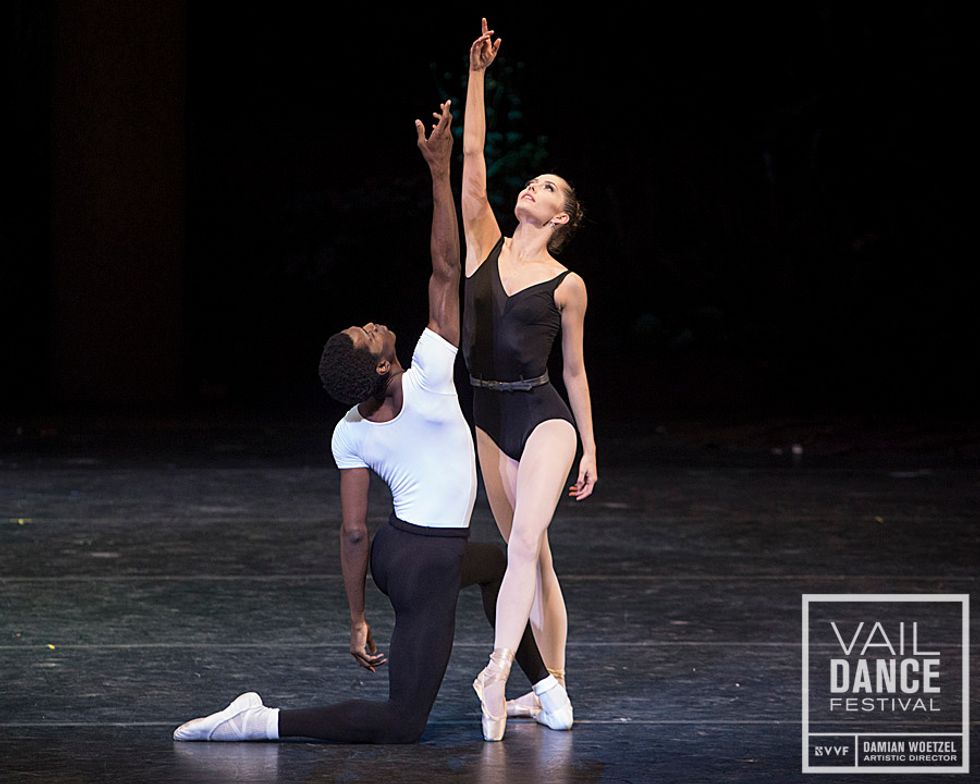 Royal III and Phelan performing "Agon" during the Vail Dance Festival. Photo by Erin Baiano, Courtesy Vail Dance Festival.
Their appearance was part of "An Informal Performance on the Art of Dance," an evening directed by Mitchell to celebrate both his legacy and the Arthur Mitchell archive at Columbia's Rare Book and Manuscript Library. (The first exhibition featuring Mitchell's donated archives will be on display at Columbia's Wallach Art Gallery January 13–March 11, 2018.) A slew of guest artists came together for the program, which included works by Balanchine, Alvin Ailey and Mitchell himself (including his South African Suite and Rythmetron).
Photo by Nathan Sayers for Pointe
Following principal dancer Diana Vishneva's final bow with American Ballet Theatre and the news that principal Veronika Part's contract would not be renewed for another season, we were anxiously awaiting ABT's promotions for the 2017-2018 season. Ending our suspense, ABT's artistic director Kevin McKenzie officially announced that there would be three new female principals—Sarah Lane, Christine Shevchenko and Devon Teuscher—as well as one new male soloist, Calvin Royal III.
Feb. 24, 2017 12:54PM EST
Copeland and Royal run through their pas de deux.
Photographed by Amitava Sarkar for Pointe.

Imagine having your first show with Misty Copeland inches away from you onstage.
Copeland and her prince, American Ballet Theatre corps member Calvin Royal III, swooped into Houston, Texas, in November to dance in Open World Dance Foundation's new, full-length production of Cinderella. Choreographed by OWDF directors Ekaterina Shchelkanova and Anton Boytsov, the community project showcased 123 local children of various backgrounds at The Hobby Center for the Performing Arts. Some had no previous dance experience.