Haley Schwan. Photo by Brooke Trisolini, Courtesy Boston Ballet.
Haley Schwan's artistic journey toward becoming a Boston Ballet company artist has been anything but ordinary. From the Vaganova Ballet Academy and Staatsballett Berlin to immersive theater in New York City and choreographing for the MTV Video Music Awards, Schwan has had some unusual detours. But the 26-year-old with a warm demeanor and quick smile seems to be enjoying the ride.
As a child, Schwan studied gymnastics, jazz, tap and contemporary dance in her native Michigan, before turning her focus to ballet. After a summer intensive at the Kirov Academy of Ballet at age 12, Schwan began studying there full-time until age 16, when she was invited to the Vaganova Ballet Academy in St. Petersburg, Russia.
Keep reading...
Show less
Boston Ballet in Jorma Elo's "Bach Cello Suites" for BB@home. Photo by Sabi Varga, courtesy of Boston Ballet.
This year, Boston Ballet's annual choreographic workshop is all about empowering women. Taking place in Boston Ballet's black box theater November 1-2, BB@home: ChoreograpHER will feature six works by women of various ranks in the company.
"Given the reality that the majority of produced choreographers have been male, I am excited this BB@home program encourages our talented female dancers who have an interest in choreography by giving them a platform to gain experience as choreographers," said artistic director Mikko Nissinen in a statement.
Keep reading...
Show less
María Álvarez in John Cranko's Romeo & Juliet. Photo by Liza Voll, Courtesy Boston Ballet.
In Boston Ballet's production of La Sylphide last spring, María Álvarez just about stole the show as Madge. With a conniving gleam in her eye and a grim, angular hitch in her step, she exuded a dramatic, malevolent energy and taut physicality that made the role totally her own. She credits renowned Royal Danish Ballet character artist Sorella Englund's coaching with helping her find the witch's inner torment. "She built the character in me, then gave me the freedom to make Madge alive," says Álvarez.
Keep reading...
Show less
News
Oct. 01, 2018 04:55PM EST
Los Angeles Ballet's Tigran Sargsyan and Petra Conti. LAB opens their fall season this week with a mixed bill including two company premieres. Photo by Reed Hutchinson, Courtesy LAB.
Keep reading...
Show less
Hannah Bettes. Photo by Jayme Thornton for Pointe.
This is Pointe's October/November 2018 Cover Story. You can subscribe to the magazine here, or click here to purchase this issue.
Hannah Bettes has had a very big year. The Boston Ballet second soloist was nominated for a Princess Grace Award, and she made her debut in three major classical roles—Sugar Plum Fairy in The Nutcracker, Effie in La Sylphide and Aurora in The Sleeping Beauty, her most challenging classical role to date. "You're carrying a full-length ballet, and you have to have the stamina and stay composed and in character, even if you're dying!" Bettes says.
When Bettes, 22, made her professional debut with Boston Ballet four years ago, she was already a highly recognized teen in the competition world, bringing with her a raft of prizes. But she also brought stylistic versatility and a palpable hunger to learn. While she possesses the quintessentially elegant classical line—high extensions, dazzling turns and slender feet that curve into perfect crescent moons—Bettes can easily skew off-center to sidle into the slinky undulations or sharp slices of Boston Ballet's contemporary repertoire.
The wide-ranging rep is one of the aspects of the company she likes best. "Having to keep switching your approach keeps things interesting. Technically, I've been able to progress faster."
Keep reading...
Show less
News
Sep. 03, 2018 09:00AM EST
News
Aug. 13, 2018 08:30AM EST
Boston Ballet is bringing Jerome Robbins' Fancy Free to the Tanglewood Music Center in Lenox, MA. Photo by Gene Shiavone, Courtesy Boston Ballet.
Wonder what's going on in ballet this week? We've pulled together some highlights.
Houston Ballet Brings a World Premiere to Jacob's Pillow
August 15-18, for the first time in almost four decades, Houston Ballet is appearing at Jacob's Pillow, the famous summer dance festival in Becket, MA. Headlining the program is Just, a world premiere commissioned by the Pillow and choreographed by HB artistic director Stanton Welch, set to music by contemporary composer David Lang. Also from Welch are Clear, an abstract piece for seven men and seven women, and excerpts from Sons de L'ame, with music by Chopin. The company will also perform In Dreams, choreographed by former Pillow choreographic associate Trey McIntyre.
Keep reading...
Show less
Trending
Jul. 23, 2018 02:00PM EST
Boston Ballet principal Lia Cirio at age 15 in class at the Central Pennsylvania Youth Ballet summer intensive. Photo by Rosalie O'Connor, Courtesy Cirio.
It's hard to believe that summer intensive season is almost over! We hope you're learning, growing, having fun and making memories at your intensives this year.
Today, we're sharing seven dancers' favorite summer intensive memories.
Isabella Boylston, American Ballet Theatre
Photo Courtesy Boylston.
Summer Intensive: American Ballet Theatre
Age: 17
Perseverance
"I was 17 (although I looked about 14) and attended the ABT Summer Intensive. I was particularly excited to be there because the year before that I hadn't been accepted."
Outside the Studio...
"My mom, my best friend Lauren Post and I sublet a tiny one bedroom on the Upper West Side and had a blast exploring the city."
Dreams Come True
"That summer I was invited to join the ABT Studio Company—a dream come true!"
Trending
Jul. 16, 2018 10:32AM EST
Boston Ballet II associate director Peter Stark takes a picture of the group after class. Stark often observes company class when artistic director Mikko Nissinen is teaching. "He'll take notes and give us feedback on what the artistic staff is looking for," says BBII dancer Caroline Buckheit. Photo by Liza Voll.
For the members of Boston Ballet II, Thursday mornings are a special treat. At 9 am, well before the company arrives, they begin their own class with BBII associate director Peter Stark. It's their chance to talk through corrections and dig into the details of their technique—a welcome break from the fast-paced company environment they're just getting used to. "I really enjoy our Thursday class," says Catherine Livingston, 19, who joined BBII last fall. "It's just the 10 of us, and Peter coaches us all individually."
Keep reading...
Show less
Jensen with Silas Henriksen in Petite Mort. Courtesy Norwegian National Ballet.
As told to Gavin Larsen by Whitney Jensen

My first time dancing Petite Mort—or any ballet by Jiří Kylián—I was 17 and in the corps of Boston Ballet. I didn't know it then, but the stager, Roslyn Anderson, was nervous about me doing it because I was so young. I was super-naïve and had never seen the ballet before, but I just tried to listen to Roz and emulate what she was describing. She said that she knew I could do it when I applied every single one of her corrections after our first rehearsal.
Keep reading...
Show less
News
Jun. 04, 2018 05:09PM EST
Costume sketches for Alexei Ratmansky's new "Harlquinade" for ABT. Courtesy ABT.
Wonder what's going on in ballet this week? We've pulled together some highlights.

ABT's New Harlequinade is Finally Here
The long wait for Alexei Ratmansky's Harlequinade for American Ballet Theatre is finally over. June 4-9, catch ABT at the Metropolitan Opera House in this bold and colorful tribute to the Italian commedia dell'arte traditions, based on the archival notes of Marius Petipa. If this trailer by Ezra Hurwitz is any indication, this new story ballet is sure to delight (fingers crossed that those dogs make their way to the stage).
Keep reading...
Show less
News
May. 24, 2018 05:33PM EST
Joffrey Ballet dancers Christine Rocas and Dylan Gutierrez in "Giselle." Photo Courtesy Spring to Dance Festival.
For the first time since its inception 11 years ago, Dance St. Louis' annual Emerson Spring to Dance Festival — May 25 and 26 at the University of Missouri–St. Louis' Touhill Performing Arts Center — will be curated by someone other than festival founder Michael Utoff. That job fell to newly hired programming consultant Terence Marling.
Hailed as "arguably the best dance buffet in the Midwest" by the Chicago Tribune, the popular festival is known for championing lesser-known regional dance artists and companies. It will retain that focus under Marling, along with representation by more familiar names such as Houston Ballet, Joffrey Ballet and Marling's former company, Hubbard Street Dance Chicago.
Keep reading...
Show less
Bucharest National Ballet's 2013 trailer for "La Sylphide,' via YouTube
Few things are more powerful for promoting ballet performances than captivating trailers—especially in today's visually-focused, digitally-connected world.
We've rounded up some eye-catching ads from seasons past and present that not only make us wish we could have seen the show, but also stand alone as short films.
Bucharest National Opera's La Sylphide
Magnifying the scarf which—spoiler alert—brings about the ballet's tragic conclusion, this 2013 Bucharest National Opera's trailer turns that fateful fabric into a beautiful, deadly web. Its windswept movements form a dance of its own.
Keep reading...
Show less
Just for fun
May. 22, 2018 03:42PM EST
Bucharest National Ballet's 2013 trailer for "La Sylphide,' via YouTube
Few things are more powerful for promoting ballet performances than captivating trailers—especially in today's visually-focused, digitally-connected world.
We've rounded up some eye-catching ads from seasons past and present that not only make us wish we could have seen the show, but also stand alone as short films.
Bucharest National Opera's La Sylphide
Magnifying the scarf which—spoiler alert—brings about the ballet's tragic conclusion, this 2013 Bucharest National Opera's trailer turns that fateful fabric into a beautiful, deadly web. Its windswept movements form a dance of its own.
Keep reading...
Show less
popular
May. 21, 2018 05:26PM EST
Boston Ballet in Bournonville's "La Sylphide." Photo by Angela Sterling, Courtesy Boston Ballet.

Wonder what's going on in ballet this week? We've pulled together some highlights.
Wayne McGregor Makes His ABT Choreographic Debut
Ever since Vaslav Nijinsky shocked Paris audiences in 1913 with his Rite of Spring for the Ballets Russes, dancemakers from Sir Kenneth MacMillan to Pina Bausch have tried their hands at choreographing to Igor Stravinsky's infamous score. This spring, Wayne McGregor will be added to that list. The Royal Ballet resident choreographer's first work for American Ballet Theatre, titled AFTERITE, will premiere at the Metropolitan Opera House in New York City on May 21. Known for his grounded and experimental movement style, McGregor's work will feature video designs by innovative filmmaker Ravi Deepres and sets and costumes by designer Vicki Mortimer, both longtime collaborators. Alessandra Ferri, who has collaborated with McGregor in the past, will join ABT as a guest artist.
Keep reading...
Show less
News
Apr. 09, 2018 12:46PM EST
Chyrstyn Fentroy and Roddy Doble in William Forsythe's Pas/Parts. Photo by Rosalie O'Connor, Courtesy of Boston Ballet.
The season of promotions has begun! Boston Ballet just announced that five company dancers will be moving up the ranks, effective at the start of the 2018/2019 season this fall.

Keep reading...
Show less
Rosalie O'Connor; Courtesy Boston Ballet
What comes naturally to you?
My emotion onstage. I don't have the ideal ballerina body, so I have to move to prove myself. My strength is that I can work hard and I don't think it's hard; I enjoy it.
You went to the School of American Ballet after your apprenticeship at San Francisco Ballet. Did that experience change you?
Hugely. I had coordination and could do some tricks, but no basic technique. I came to the United States from Japan and hit the wall. What do you do? You have to fix it. SAB gave me confidence to be a dancer because I was able to fix myself.
Keep reading...
Show less
News
Mar. 14, 2018 04:25PM EST
Younji-Grace Choi at the 2014 USA IBC. Choi is now a dancer with Cincinnati Ballet and will return to the USA IBC as a senior competitor this summer. Photo by Richard Finkelstein, Courtesy USA IBC.
Exciting news today: the USA International Ballet Competition has just announced its list of invited competitors for the summer 2018 competition. The USA IBC has invited 119 dancers from 19 countries out of over 300 applicants to compete in Jackson, MS June 10-23.
Since the last USA IBC in 2014 the competition has expanded its age limits; the junior category now allows dancers ages 14-18 and the senior category dancers ages 19-28. Of the 119 competitors this year, 53 are juniors and 66 are seniors. The United States has the highest number of competitors invited (52), followed by Japan (23) and South Korea (14). The other countries represented are Armenia, Brazil, Bulgaria, Canada, China, Columbia, Cuba, Dominican Republic, Kyrgyzstan, Latvia, Mexico, Mongolia, Peru, Philippines, Ukraine and the United Kingdom.
Keep reading...
Show less
News
Mar. 12, 2018 04:16PM EST
Boston Ballet's Misa Kuranaga and Nelson Madrigal in John Cranko's "Romeo and Juliet." Photo by Rosalie O'Connor, Courtesy Boston Ballet.
From celebrations of Jerome Robbins' centennial to exciting premieres to old classics, this week is jam packed with ballet. We rounded up highlights from eight companies to give you a sense of what's happening onstage this week.
The Washington Ballet
On March 14, The Washington Ballet will present a triptych of new works. Gemma Bond's premiere ties-in to Women's History Month, and she discusses the connection in this video. Also on the bill are creations by celebrated dancers Clifton Brown and Marcelo Gomes. For video teasers of their works, click here.
Keep reading...
Show less
Chyrstyn Fentroy and Francis Lawrence in "Tchaikovsky Pas de Deux" with Dance Theatre of Harlem. Photo by Renata Pavam, Courtesy Fentroy.
Taking a lower rank at a new company can feel risky. But whether you're breaking out of your comfort zone, yearning for bigger challenges or finding a better company fit, you can make a successful transition. Here are three ballerinas whose recent moves have advanced their growth and artistry.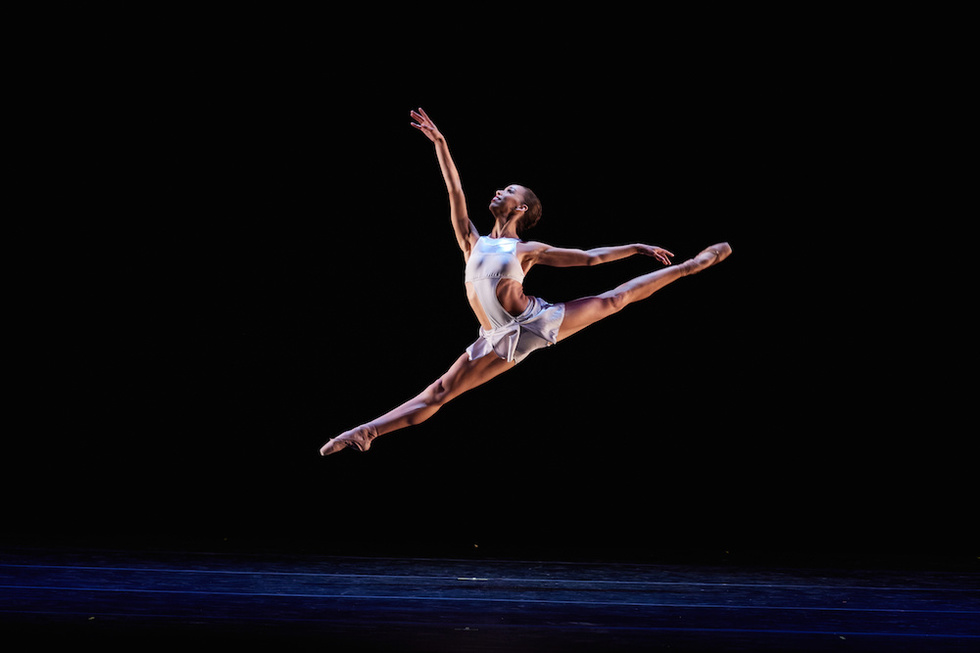 Fentroy at DTH. Photo by Rachel Neville, Courtesy Fentroy.
Chyrstyn Mariah Fentroy: Dance Theatre of Harlem to Boston Ballet
Although Dance Theatre of Harlem isn't a ranked company, Chyrstyn Mariah Fentroy spent much of her five years there dancing principal roles. She loved the touring, the repertoire and dancing beside her boyfriend, but she longed to try her luck at a larger company with more variety. And with DTH's mainly neoclassical focus, Fentroy felt her chances of dancing in a classical story ballet getting slim: "I wanted to do a full-length before it was too late."
Keep reading...
Show less
News
Feb. 02, 2018 04:58PM EST
The Philadelphia Eagles and the New England Patriots aren't the only teams bringing Super Bowl entertainment this week. To celebrate game day (and cheer on their region's respective teams), the dancers of Pennsylvania Ballet and Boston Ballet took a break from their usual rehearsals to perform some Super Bowl-themed choreography.

Keep reading...
Show less
Mr. Jeremy FIsher, from Sir Frederick Ashton's "The Tales of Beatrix Potter."
Animal roles might not typically be what dancers dream of performing…but they're oh-so-fun to watch. You can't help falling under their spell (and perhaps aspiring to dance one someday). Here's a round-up of some of our favorite furry and feathered roles.
Bunny Hop
Run. Dance in a circle. Pretend to be a rabbit. It might sound like a creative movement combo, but don't let that fool you. The role of Peter Rabbit in Sir Frederick Ashton's The Tales of Beatrix Potter requires fierce technique—not to mention the ability to project personality while wearing an animal head and fur suit.
Four-Legged Interlude
Who do you turn to for halftime entertainment during a quartet of fairy variations? Dancing lizards, mice and a frog of course! This charming quintet of creatures light up the stage in David Bintley's Cinderella.
Keep reading...
Show less
New York City Ballet's famous growing tree. Photo by Paul Kolnik, Courtesy NYCB.
Literary Roots

E.T.A. Hoffmann, a German writer, penned the eerie and dark tale "Nutcracker and Mouse King" in 1816. About 30 years later, the French writer Alexandre Dumas took the Nutcracker story into his own hands, lightening things up and softening the character descriptions. Dumas even cheered up the name of the protagonist. "Marie Stahlbaum" (meaning "steel tree," representing the repressive family Marie found herself in, which led her imagination to run wild) became "Clara Silberhaus" (translated to "silver house," a magnificent home filled with shiny magic.)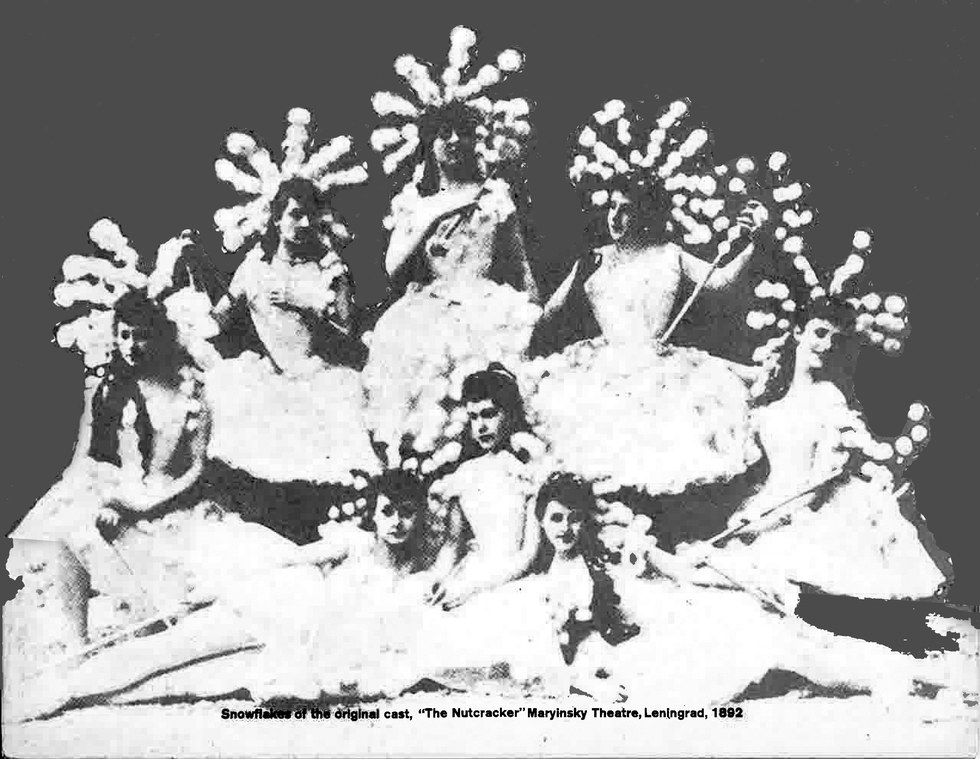 Snowflakes of the original cast, "The Nutcracker" at the Mariinsky Theatre, 1892. Photo by Walter E. Owen, Courtesy Dance Magazine Archives.
From Page to Stage
In 1892 St. Petersburg, choreographer Marius Petipa and composer Pyotr Ilyich Tchaikovsky pulled the story off the page and onto the stage of the Mariinsky Theatre. But Petipa fell ill while choreographing The Nutcracker and handed his duties over to his assistant, Lev Ivanov. Critics at the 1892 premiere were not pleased. Balletomanes felt the work to be uneven, and lamented the lack of a main ballerina in the first act. Many thought that the story was too light compared to historically based stories.
Out of Russia
Despite its initial reception, the ballet survived, partially due to the success of Tchaikovsky's score. Performances were scarce, though, as the Russian Revolution scattered its original dancers. The Nutcracker's first major exposure outside of Russia took place in London in 1934. Former Mariinsky ballet master Nikolas Sergeyev was tasked with staging Petipa's story ballets on the Vic-Wells Ballet (today The Royal Ballet) from the original notation. The notes were incomplete and difficult to read, yet Sergeyev persisted, and The Nutcracker made it to the stage.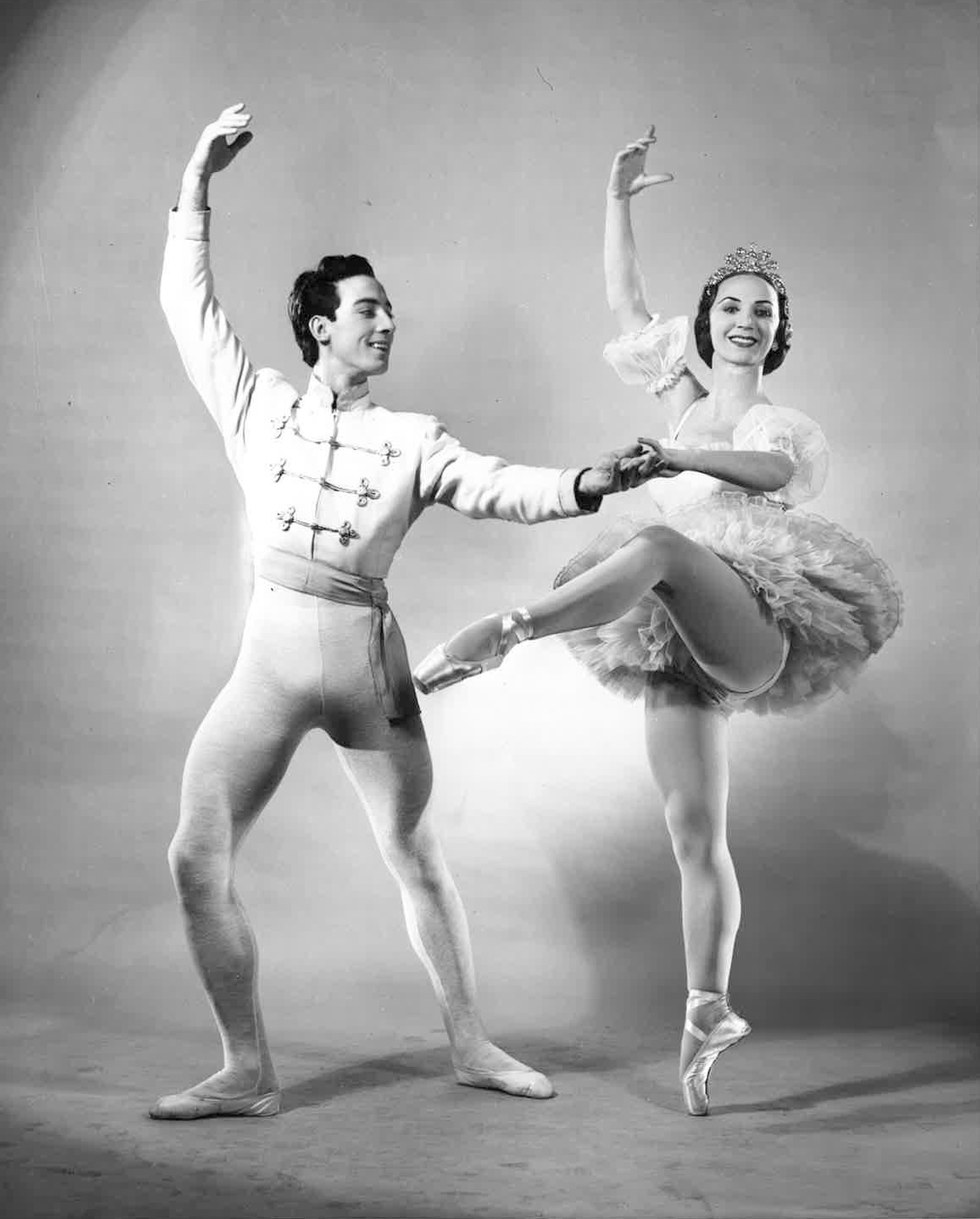 Dancers from ballet Russe de Monte Carlo in "The Nutcracker" pas de deux. Photo Courtesy Dance Magazine Archives.
Keep reading...
Show less
Photo courtesy Richmond Ballet
How do you attract new audiences while keeping a dedicated following excited about classics they've seen countless times? Regional companies like Richmond Ballet, Houston Ballet, Boston Ballet and Tulsa Ballet all seem to be on the same page—bringing some of the ballet's biggest characters to life in the local community (and posting it all on social media, of course).
Just in time for the Nutcracker season, Richmond Ballet teamed up with The Richmond Flying Squirrels baseball team. Joining mascots Nutzy and Nutasha were Clara, The Nutcracker and The Mouse King, who threw in a few of their own rules on the field.
Keep reading...
Show less
Pittsburgh Ballet Theatre's 'The Nutcracker.' Photo by Rich Sofranko
Catching a performance of The Nutcracker has long been a holiday tradition for many families. And now, more and more companies are adding sensory-friendly elements to specific shows in an effort to make the classic ballet inclusive to children and adults with special needs.
While the accommodations vary depending on the company, many are presenting shorter versions of the ballet with more relaxed theater rules. Additionally, lower sound and stage light levels during the performance, as well as trained staff on hand, make The Nutcracker more accessible for those on the autism spectrum and others with special needs.
Pittsburgh Ballet Theatre's performance will take place on Tuesday, December 26th, and they are one of the pioneer companies in presenting sensory-friendly performances of The Nutcracker (their first production was in 2013). PBT has also offered sensory-friendly versions of Jorden Morris' Peter Pan and Lew Christensen's Beauty and the Beast in the past.
See our list of sensory-friendly performances, and check out each site for all of the details regarding their offerings.
Keep reading...
Show less
Trending
Nov. 01, 2017 04:42PM EST
Photo via Miami City Ballet on Instagram.
For dancers, every day is like Halloween. You don't have to wait until October to try on new personas and elaborate costumes. But that certainly didn't stop the ballet world from going full out yesterday. We rounded up some of our favorites across Instagram to help draw the *spooky* holiday spirit out for one more day.
Matthew Bourne's New Adventure's production of The Red Shoes is nearing its final performances at New York City Center this weekend. American Ballet Theatre's Marcelo Gomes is guest-starring in the production as Julian Craster, the composer boyfriend to protagonist Victoria Page. But for Halloween, Marcelo donned the infamous red shoes himself to dress as the leading ingenue.
Dance Theater of Harlem's Ingrid Silva (and Pointe's June/July cover star) dressed as a unicorn alongside her dog, Frida Kahlo.
Keep reading...
Show less
Derek Dunn in William Forsythe's "In the middle, somewhat elevated" at Houston Ballet. Photo by Amitava Sarkar, Courtesy HB.
A year ago, Derek Dunn was one of Houston Ballet's brightest young talents (oh, and he was also gracing Pointe's cover). So some were surprised when he announced that he'd be joining Boston Ballet as a soloist this season. We caught up with Dunn as he prepares for two season-opening premieres November 3–12, to see how he's settling in.
You danced with Houston Ballet for five years. Why did you leave?
It wasn't really about me leaving Houston—it was more me being curious about what else was out there. I got really lucky when I landed that job. I did a competition and afterwards Stanton [Welch, HB's artistic director] asked me to audition for an apprenticeship. I wasn't even necessarily looking for a job at the time; I was only a junior in high school, and I wasn't really sure if I was going to continue training for another year. So Houston Ballet was the only place that I even auditioned for, and really all I knew. After five years, I think it's only natural to be curious about how other places work and what their environments might be like. When I came to Boston to take class last year, I felt an immediate positive energy from everyone. On top of everything else the company has to offer—the rep, the talented dancers, the city—it was hard to pass it up.
What's it like being the new guy at Boston Ballet?
I've been really happy with my decision so far. Of course, joining a new company, you're not really sure what you're going to be thrown into. You have to prove yourself right away. But the amount of opportunities I've gotten already has been incredible and I'm really excited to do everything this season. It's been a really good start so far—very busy, but good.
Keep reading...
Show less
James Whiteside and Misa Kuranaga. Photo via Instagram.
Last week you might have seen Instagram light up with photos of American Ballet Theatre's James Whiteside and Boston Ballet's Misa Kuranaga dancing a Beauty and the Beast pas de deux for Disney Japan in Tokyo. When we realized that Whiteside had also choreographed the piece, we wanted to know how this Disney/ballet crossover came to be. We caught up with Whiteside to get all the details.
What's this pas de deux for? Where will it be released?
The pas de deux will be a bonus feature on a Japanese exclusive DVD and Blu Ray release of a new series called Disney Ballet Mousercise. It's essentially a ballet lesson series that uses well-loved Disney characters and songs. It will only be available in Japan, but I'm hoping it ends up online at some point!
Keep reading...
Show less