News
Jan. 15, 2019 01:10PM EST
Courtesy Birmingham Royal Ballet
Birmingham Royal Ballet announced today that international star Carlos Acosta will be taking over as director in January of 2020. Current BRB director David Bintley will be stepping down this summer, at the end of the company's 2019 season, after a 24-year tenure. "It is a tremendous honor and privilege to have been appointed to lead Birmingham Royal Ballet," Acosta said in a statement.
Since retiring from The Royal Ballet in 2015, Acosta has focused much of his attention on his native Cuba, where he's proven his directorial abilities at the helm of Acosta Danza, the contemporary company that he founded in 2016. In 2017 Acosta also opened his first Dance Academy through his foundation, which provides free training to students. We don't yet know how Acosta will balance his time between his projects in Cuba and his new role at BRB.
Keep reading...
Show less
Trending
Oct. 04, 2018 04:07PM EST
San Francisco Ballet in class during World Ballet Day 2016. Photo Courtesy SFB.
Here at Pointe, every day feels like World Ballet Day, though the official 2018 event took place on Tuesday. While WBD is a thrill for any bunhead, it can also be overwhelming. How are you supposed to sit in front of your computer all day when you have class and rehearsal and work and a life? We get it, and we're here to help.
To give you a chance to catch up, we've rounded up WBD videos from 26 companies. So grab some popcorn, a backlog of pointe shoes to sew, and settle in. If you start watching now, you might just be done in time for WBD 2019.
Keep reading...
Show less
Trending
Aug. 17, 2018 11:08AM EST
Miko Fogarty. Photo by Andrew Ross, Courtesy Birmingham Royal Ballet.
Where in the world is Miko Fogarty? Just three years ago, she seemed unstoppable. After being featured in the 2011 ballet documentary First Position, she became a teenage social-media star, winning top prizes at competitions in Moscow and Varna and at Youth American Grand Prix, and dancing in galas around the world. Last most of us heard, it was 2015 and she had just joined the corps of Birmingham Royal Ballet. A year later, she dropped off the ballet radar.
Turns out Fogarty, now 21, was taking time off to reevaluate her life, including the role she wanted ballet to play in it. She is now starting her junior year as a biology major at University of California—Berkeley and is considering going to medical school. (Her brother and fellow First Position subject, 19-year-old Jules, is a junior in the Berkeley economics department.) On the side she teaches private ballet lessons and gives master classes, and is the part-time conservatory director at San Jose Dance International, a new school in the San Francisco Bay Area led by artistic director Yu Xin. We caught up with her by phone.
Last we heard, you were at Birmingham Royal Ballet. Where have you been over the last couple of years?
I've been kind of quiet on social media about what I'm up to. I hope in the future to be more open with my followers on my daily life. I'm kind of in the process. Right now I'm a premed student at Cal and I'm researching science, which is completely different from what I was doing a couple of years ago. I'm also teaching a lot. I love teaching ballet; it's definitely one of my passions.
Keep reading...
Show less
Mr. Jeremy FIsher, from Sir Frederick Ashton's "The Tales of Beatrix Potter."
Animal roles might not typically be what dancers dream of performing…but they're oh-so-fun to watch. You can't help falling under their spell (and perhaps aspiring to dance one someday). Here's a round-up of some of our favorite furry and feathered roles.
Bunny Hop
Run. Dance in a circle. Pretend to be a rabbit. It might sound like a creative movement combo, but don't let that fool you. The role of Peter Rabbit in Sir Frederick Ashton's The Tales of Beatrix Potter requires fierce technique—not to mention the ability to project personality while wearing an animal head and fur suit.
Four-Legged Interlude
Who do you turn to for halftime entertainment during a quartet of fairy variations? Dancing lizards, mice and a frog of course! This charming quintet of creatures light up the stage in David Bintley's Cinderella.
Keep reading...
Show less
Céline Gittens and Brandon Lawrence in "Nutcracker." Photo by Bill Cooper, Courtesy Birmingham Royal Ballet.
Our company's Nutcracker was choreographed by Sir Peter Wright, and it's very traditional. We usually only have two weeks to prepare after the end of the autumn season, so my partner and I start going over the grand pas de deux on our own time before rehearsals start. I like to do my own research through social media or by watching how other company dancers interpret the role, drawing from what I like best and trying to apply that to myself. I also video my rehearsals and later critique them, to try to get my performance up to another level.
Keep reading...
Show less
World Ballet Day camera crew at The Australian Ballet. Photo by Kate Longley, Courtesy The Australian Ballet.
For some of us, every day feels like World Ballet Day LIVE. But the official event takes place on Thursday, October 5, with a free 22-hour live-stream relay showcasing The Australian Ballet, Bolshoi Ballet, The Royal Ballet, National Ballet of Canada and San Francisco Ballet. Each will welcome the world into company classes, rehearsals and behind-the-scenes extras.
Keep reading...
Show less
Stella Abrera at the Genée International Ballet Competition in 1995. Photo by Pete Jones, Courtesy Royal Academy of Dance.
On September 7, The Genée International Ballet Competition—the Royal Academy of Dance's flagship event—gets underway in Lisbon, Portugal. Founded in 1931, the Genée recognizes top talent with medals and cash prizes, as well as exposure to company and academy directors. Competitors perform a classical variation, a commissioned piece by an emerging choreographer, and a "Dancer's Own" solo, choreographed by either the competitor, their teacher or a peer.

The 10-day competition, which hosts young dancers trained in the RAD syllabus from around the world, has helped launch the careers of many of today's ballet stars. Just who, exactly? Take a walk down memory lane as we reveal eight familiar faces.
Keep reading...
Show less
Sarasota Ballet in Ashton's Birthday Offering. Photo by Frank Atura, Courtesy Sarasota Ballet.
It's a truth often repeated about ballet that it is an art with a strong oral tradition, handed down from generation to generation. Aspiring dancers learn the same steps that their teachers learned before them and perfect the same skills: turnout, pointework, épaulement, balance and, above all nowadays, flexibility. Sometimes, in the quest to achieve ever-greater heights of technical skill, other aspects of the art recede into the background. Nuances of interpretation and style can seem less important, even though they are the very things that ultimately make a dancer interesting to watch. That's the paradox: In the age of ubiquitous sky-high extensions, the richness of a performance counts even more.
In part to push back against this single-minded focus on technique, some teachers and company directors are making a conscious effort to right the balance between technical flair and a fuller, more sensitive understanding of the art. This takes many forms: dance history classes, careful coaching or simply conversations about alternative interpretations of a role. There is a hunger for these discussions. "We're living in the age of extreme technique," says Alexandra Tomalonis, a distinguished dance writer who teaches ballet history at the Kirov Academy of Ballet in Washington, DC. "But many of the students who come to my classes know little about the history of the art form."
Keep reading...
Show less
Dusty Button photographed by Nathan Sayers for Pointe.
This is Pointe's February/March 2015 Cover Story. You can subscribe to the magazine here, or click here to purchase this issue.
On a rainy October morning, Boston Ballet's Dusty Button sails through a pas de cinq rehearsal for Swan Lake. The variation is long and thankless, full of uncomfortable jump sequences and tricky transitions from pirouettes, yet Button, newly minted as a principal dancer, glides through it sunnily in a trial pair of Bloch pointe shoes. Unusually, she is not winded and is able to joke with assistant artistic director Russell Kaiser as he gives her notes.
"I think I just did a four-step soutenu," she laughs good-naturedly, hands on her hips. "Well, you are always overachieving, Dusty," teases Kaiser, giving voice to what could be the understatement of Button's last few years with the company.

Two catchphrases screen-printed onto the coverups of Button's dancewear line, Ribbon&Rosin, say it all: "Work until your idols become your rivals" and "Remember why you started." At 25, she appears to be following her own advice. After dancing at Birmingham Royal Ballet, Button was hired into Boston's corps in 2012, where she was promoted to soloist and then principal within two years. But her path to the top has been anything but traditional, and shows a keen entrepreneurial instinct that leverages growing up as a competition kid. In addition to designing her clothing line, she is a budding choreographer who teaches at dance conventions on the weekends. Her Instagram feed, at last count boasting 46,400 followers, and her brand-new website, worldofdusty.com, make it clear that she has a vision for branding herself that is more like a young Hollywood starlet than a ballet dancer. From the competition circuit to The Royal Ballet School, Button has grown from a precocious, talented student into a strategic artist and businesswoman.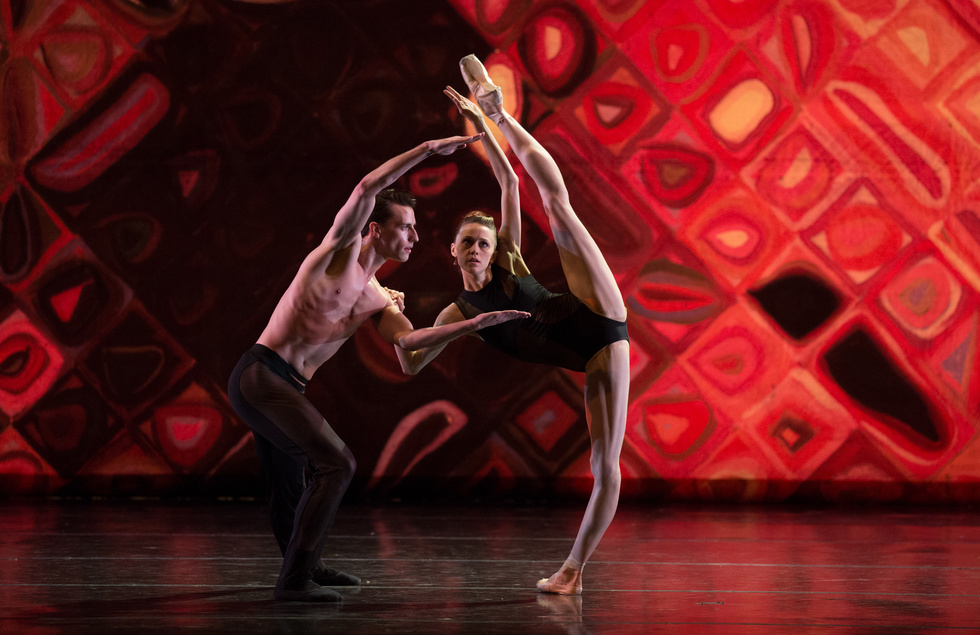 Dusty Button and Bradley Schlagheck. Photo by Rosalie O'Connor, Courtesy Boston Ballet.
Keep reading...
Show less
Onstage, Dusty Button defies categorization. The Birmingham Royal Ballet corps member from South Carolina uses her long, swan-like lines with typical English softness but bursts with energy in spiky contemporary work. Once told by a teacher at American Ballet Theatre's Jacqueline Kennedy Onassis School that she had "too many ingredients" in her soup, Button may be the unlikeliest dancer to find a home in an English company.
Ballet did not start out her favorite genre. Button began dancing at age 7, dividing her time between jazz, tap, hip hop and ballet. Within a few years, she was winning prizes at competitions like  Showstoppers and New York City Dance Alliance. "I loved it because it was a way for people from elsewhere to see me dance," she says.
Although she didn't focus exclusively on ballet, her interest grew steadily. At Miss Libby's School of Dance, her home studio, Button followed the Royal Academy of Dance syllabus. A week spent when she was 13 at White Lodge, The Royal Ballet Lower School in London, further cemented her growing love of the art form. Button later returned to The Royal for two summer intensives.
After competing, at 15, in Youth America Grand Prix, Button was offered a slot at ABT's JKO school. She moved to New York, setting her other dance training aside. Button was soon rewarded by an offer to join ABT's second company. To everyone's surprise, the young dancer turned it down. Instead, she enrolled at The Royal Ballet School.
"I felt like I needed to finish my training because of my background," she says. Button had dreamed of studying there full time since her first White Lodge visit. In fact, the school had previously offered Button a place, but she couldn't afford to go. By the end of her stay at JKO, she had finally raised the funds needed, with the help of a partial scholarship from RBS and individual sponsors in England.
Button does not regret her choice. "It refined my style," she explains. "I was told that I needed to have strength and grace, and they were right. I could do things, but not very gracefully." The former "bull in a china shop," as one of her teachers called her, thrived on the corrections. This was England, where the number of pirouettes didn't count so much, as long as they were pretty.  Eventually, she blended in so well that she won the prestigious Ninette de Valois grant and was hired upon graduation by David Bintley, director of the Birmingham Royal Ballet, who had set his ballet Galanteries on the school.
In the two years she has been in Birmingham, Button has had opportunities she didn't expect. "Dusty's diverse training is such an asset," says BRB ballet mistress Marion Tait. It has allowed her to absorb different styles very quickly, from Balanchine to Bintley's ballets.
She took center stage last fall for a piece by Garry Stewart, The Centre and its Opposite. The Guardian critic raved, "Wheeling her torso and limbs through daringly, dizzyingly off-balance arcs, Button contains all the drama of the title in her own fiercely concentrated body."
But Button has goals beyond showcasing her ability. She wants to excel in the classics and eventually reach the top of the company. And she dreams of one day branching out to musical theater. "Hopefully my name will ultimately be in many different places," she laughs. And given the many ingredients she has to draw on, anything seems possible.
At A Glance
Name: Dusty Button
Age: 20
Company: Royal Birmingham Ballet
Training: Jacqueline Kennedy Onassis School, The Royal Ballet School
Favorite Ballet Performed: Garry Stewart's The Centre and its Opposite
Dream Roles: Aurora, Odette/Odile
Nov. 29, 2001 07:00PM EST
Think of dancing in front of the love of your life. Suddenly, the thousands of hours you've spent rehearsing leave you stunned as excitement and bashfulness consume every move. Dance presents a new hurdle once it becomes an open expression of love—a gesture Lise offers Colas in Sir Frederick Ashton's La Fille mal gardée. In this Act I variation, Lise seemingly performs to the audience, but each step expresses the joy she feels for Colas as he watches her from stage right.
The Birmingham Royal Ballet's Miyako Yoshida performs this variation with controlled precision beneath each brightly lit step, revealing her character's subtle shyness. She approaches Colas only for a second, with a blown kiss in arabesque, before rushing away to continue dancing. Yoshida captures the audience with her quiet romantic gestures, making you wish this short clip would reveal what happens next. Happy #ThrowbackThursday!


Get Pointe Magazine in your inbox