Photo by Kyle Froman for Pointe Magazine.
In and out of the studio, BalletX's Skyler Lubin pays as much attention to the quality of her clothing as she does the style. "I like brands like Yumiko and Adidas when I'm dancing because they have cute designs, but they hold up well, too," she says. Lubin saves her brighter colors for summer and likes to keep things seasonal with earth tones for fall—muted blues and greens are her go-tos.
"I love Zimmermann, Reformation and Zara," Lubin says of the staple brands in her off-duty wardrobe. "Lately, I've been into secondhand stores because you can get designer clothes for much cheaper. And, I've been using the Poshmark app because I can buy and sell clothes." She adds with a laugh, "I usually spend the money I make, but it's a good trade." Being able to sell items on the app comes in handy, as Lubin enjoys staying on top of fashion trends. "I really like Arielle Charnas from the blog Something Navy, but just scrolling through Instagram is a fun way to get new ideas and see different styles," she says.
Keep reading...
Show less
News
Aug. 06, 2018 12:53PM EST
Aspen Santa Fe Ballet will revive "An Evening with Pianist Joyce Yang" this weekend in Aspen. Photo by Rose Eichenbaum, Courtesy of ASFB.
Wonder what's going on in ballet this week? We've pulled together some highlights.
Vail Dance Festival Races to the Finish Line
This Sunday, Vail Dance Festival wraps up an eventful few weeks jam-packed with premieres, collaborations and guests. The final week of the festival has us looking forward to appearances from American Ballet Theatre, Ballet Hispánico and more.
Vail's NOW: Premieres Includes New Michelle Dorrance Work for ABT
On August 6, Vail's NOW: Premieres program features new works commissioned for the festival. Choreographers include New York City Ballet star Tiler Peck (making her festival choreographic debut), Lauren Lovette, Justin Peck and Claudia Schreier, who is creating a ballet on dancers from Ballet Hispánico. Tap maverick Michelle Dorrance is also choreographing a piece on American Ballet Theatre, the second of Dorrance's three works on the company this year. Watch some of the same choreographers' premieres at the 2017 edition of NOW below.
Keep reading...
Show less
News
Jul. 09, 2018 01:35PM EST
BalletX launches its summer season on July 11. Photo by Gabriel Biencyzcki, Courtesy of BalletX.
Wonder what's going on in ballet this week? We've pulled together some highlights.
Three World Premieres at BalletX Philadelphia Summer Series
Fresh off the heels of its Joyce Ballet Festival performances in New York, BalletX is launching its Summer Series with a trio of world premieres on July 11. The program, which runs through July 22 at The Wilma Theater in Philadelphia, features ballets by Penny Saunders, choreographer in residence for Grand Rapids Ballet; Andrew McNicol, BalletX's 2018 choreographic fellow; and Matthew Neenan, BalletX co-founder and company choreographer. Pennsylvania Ballet principal pianist Martha Koeneman will perform Mendelssohn's Songs without Words live for Neenan's work, which shows dancers attempting to solve a mysterious puzzle onstage. McNicol is inspired by Mozart's Requiem and his appreciation of the speed and athleticism of American dance. Saunders' piece will be accompanied by an original composition by Rosie Langabeer, a Philadelphia composer originally from New Zealand. Listen to the pair discuss the collaboration in the video below.
Keep reading...
Show less
News
Jun. 25, 2018 03:43PM EST
Jane Cracovaner and Elijah Laurant with MOVETHECOMPANY, which will perform at the Joyce Ballet Festival this week. Photo Craig Foster, Courtesy Joyce Theater.
Wonder what's going on in ballet this week? We've pulled together some highlights.

The Joyce Ballet Festival Is Back
New York City's Joyce Theater kicks off its five-company Ballet Festival June 26-July 7. Showcasing a variety of styles including neoclassical and contemporary dance, the festival prides itself on featuring smaller companies. Below, check out the three companies opening this week. (Feeling festive? Enter our giveaway to win tickets to the Ashley Bouder Project at the Joyce on July 5.)
Keep reading...
Show less
popular
Nov. 08, 2017 02:50PM EST
Mayara Pineiro rehearsing with Helen Pickett for the world premiere of Tilt.Photo by Arian Molina Soca, Courtesy Pennsylvania Ballet.
As I watched Helen Pickett rehearse her new work Tilt for Pennsylvania Ballet last week, there was no doubt in my mind that she's a natural leader. Hovering closely around young corps dancer Jack Thomas during a run through, she pushed him to carve more space through the air with his upper body. "Use those hands, do not stop," she said emphatically during a particularly tiring section, at once firm and encouraging. "It should feel like you're eating a meal rather than grazing." Yet earlier, Pickett had admitted to me that when she was first approached by a major company to create a ballet 12 years ago, she questioned her ability to lead. Despite growing up in a feminist household, being surrounded by strong female role models throughout her dancing and acting career, and learning the craft of choreography from William Forsythe at Ballet Frankfurt, she says, "I still gave more credence to male voices than female voices."
Her realization is one component of a bigger issue in the dance world: that for all of the droves of women and girls who flock to ballet classes and pursue performance careers, the majority of leadership positions—be it directing, curating or choreographing—are held by men. To help illuminate the topic in advance of Pickett's world premiere November 9–12 , last week Pennsylvania Ballet partnered with Philadelphia's FringeArts to present "Challenges, Chances, Changes: Gender Equity in Concert Dance," a round table discussion among six women leaders in the industry. Joining Pickett was Dance Theatre of Harlem artistic director Virginia Johnson; BalletX executive and artistic director Christine Cox; Big Dance Theater choreographer and co-director Annie-B Parson; Philadelphia Dance Projects executive director Terry Fox; and choreographer Francesca Harper, artistic director of the Francesca Harper Project.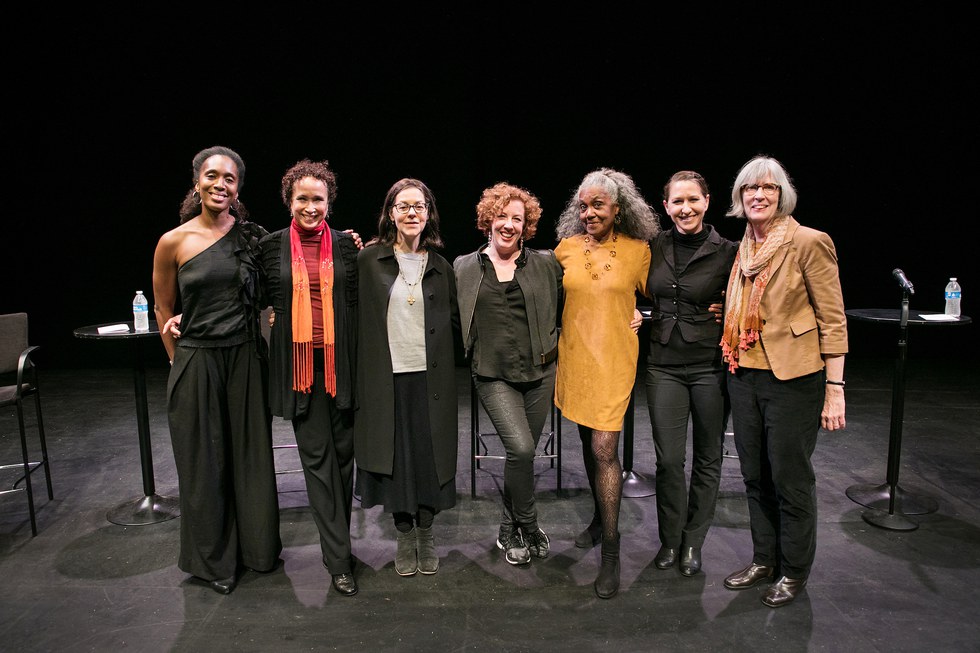 From left: Francesca Harper, Virginia Johnson, Annie-B Parson, Helen Pickett, Brenda Dixon-Gottschild, Christine Cox and Terry Fox. Photo by Chris Kendig, Courtesy Pennsylvania Ballet.
Keep reading...
Show less
Alexei Ratmansky rehearses The Fairy's Kiss with Miami City Ballet dancers. (Photo by Daniel Azoulay, courtesy Miami City Ballet)
Choreographer Alexei Ratmansky will have world premieres on two coasts this winter. On February 10, Miami City Ballet will debut his new one-act version of The Fairy's Kiss to Stravinsky's celebrated score, a homage to Tchaikovsky. The following month, on March 15, at California's Segerstrom Center for the Arts, American Ballet Theatre will premiere his Whipped Cream, a new full-length story ballet to a Richard Strauss libretto and score.
Ratmansky has often looked to ballet history for inspiration. Fairy's Kiss, known as Le Baiser de la Fée when it was originally choreographed by Bronislava Nijinska in 1928, has been staged by Sir Frederick Ashton and Sir Kenneth MacMillan, and several times by Balanchine. Its story comes from The Ice-Maiden, a Hans Christian Andersen fairy tale, and Ratmansky has kept the narrative. A young man, about to be married, is bewitched by a fairy's kiss and stolen away from the mortal world. "I asked Alexei for a narrative work, possibly one with a Russian flavor to it," says MCB artistic director Lourdes Lopez. "Our dancers have a very strong dramatic quality and short narrative works are not a large part of our repertoire." Ratmansky had created an earlier version during his tenure at the Bolshoi Ballet; this is a new production with new choreography.
Keep reading...
Show less
Courtesy Strømgren.
Jo Strømgren may not be a household name for stateside balletomanes (yet), but his work has been performed by dozens of dance, theater and opera companies throughout Europe. He's currently the associate choreographer at Norwegian National Ballet and directs his own dance-theater troupe, Jo Strømgren Kompani. Pointe spoke with this major force in European dance about his premiere, The Letter, at Philadelphia's BalletX, which runs through February 19.
How would you characterize your work?
Keep reading...
Show less
Andrea Yorita in Matthew Neenan's Increasing. Photo by Alexander Izilaev, Courtesy BalletX.
Cross-training keeps Andrea Yorita prepared for the demanding variety in BalletX's repertoire.
Choreographic chameleon: At BalletX, Andrea Yorita performs a wide range of contemporary ballet by dancemakers like Matthew Neenan, Annabelle Lopez Ochoa and Trey McIntyre. "It's very hard on our feet," she says. "Even within a show, we'll go from socks to bare feet to flat shoes to pointe shoes."
A solid foundation: To keep their pointework crisp, the dancers typically take class on pointe five days a week. Yorita also does Thera-Band work for her ankles each morning, plus doming exercises. "I try to keep all of those little muscles on the bottom of my feet strong, so I can be grounded when I'm dancing in socks."
Keep reading...
Show less
BalletX's Caili Quan found value in her early years of career building. Photo by Alexander Izilaev, Courtesy BalletX.
After two years as a trainee and then one as a second company member at Orlando Ballet, 22-year-old Aurélio Guimarães wasn't able to audition much due to an injury. When The Washington Ballet offered him another traineeship, Guimarães debated what to do. He would ultimately be embarking on a fourth year of doing professional work without a livable salary or title. "It was absolutely a hard decision," Guimarães reflects. "But I also had to consider the work that I would be doing." Knowing his traineeship would entail close work with the artistic director, he essentially took a demotion, with the hope that starting over in Washington would yield a paid contract at the end of the year.
In the past, it was common for a year or two of apprenticeship to lead directly to a corps contract. But today's ballet world involves more no- to low-paying rungs at the bottom of the ladder. Many companies now have three gatekeepers: trainee programs that are often the top level of the school and involve corps work with the company; second companies that work independently as well as more intimately with the main company; and apprenticeships, the most entry-level rank inside the professional hierarchy.
Keep reading...
Show less
Featured Article
Apr. 01, 2016 05:56PM EST
Jillian Vanstone and Dylan Tedaldi in Alice's Adventures in Wonderland. Photo by Bruce Zinger, Courtesy National Ballet of Canada.
In the Prologue to Christopher Wheeldon's recent ballet The Winter's Tale, two boys, princely playmates who one day will become kings, are joined onstage by two women veiled in black. They stand, one beside each child, mysterious, disquieting. They hint at the power that women in the ballet will have over men's imaginations as objects of fierce passions or idealized love. In a brief, evocative tableau, the choreographer foreshadows the darker themes of Shakespeare's play, the ballet's source, and their joyful resolution, distilling in a brief passage the story's emotional arc.
Choreographing story ballets that will appeal to contemporary audiences presents unique challenges even for experienced dancemakers. A too-literal approach or too-traditional staging can seem quaint or flat. And what makes a suitable narrative for those coming of age in a digital era, where there are no strictures on what can be searched, seen and shared? How can a story ballet hold audiences' attention? If mere distraction becomes the goal, how can a ballet achieve the resonance that will give it continued life?
Keep reading...
Show less
News
Dec. 15, 2015 12:09PM EST
Choreographer Trey McIntyre will act as a mentor to the fellow. Photo Courtesy BalletX.
BalletX's new fellowship initiative has chosen its first recipient: New York–based choreographer Yin Yue.

Yue was born and raised in Shanghai, China, and has an MFA from New York University's Tisch School of the Arts. The joint fellowship panel—including BalletX artistic staff, Wendy Whelan, choreographer Trey McIntyre and others—chose her from 50 international applicants. She's choreographed on companies like Northwest Dance Project and shown work at such venues as Jacob's Pillow. Yue will have January and February to create a new piece on BalletX and be mentored by McIntyre, who will create a separate piece during the same period.
Keep reading...
Show less
Nov. 29, 2001 07:00PM EST
Last year, BalletX's Chloe Felesina shone brightly in Sunset, o639 Hours, prompting Pointe to name her portrayal one of the Standout Performances of 2014. Now, she's wrapping up another spectacular season with BalletX's Summer Series, a triple bill of works by Adam Hougland including a world premiere. For Pointe's biweekly newsletter, we caught up with Felesina before the production hits the stage 

July 8-12

.
What are you looking forward to on this program?
Mashup was made a few summers ago, and I was part of the original cast. Those rehearsals with Adam are some of my fondest memories. We made a really funny solo to "Like a Virgin" by Madonna that's covered by a band that makes it sound like a 50s song. But a week and a half before the show I had a freak injury and couldn't dance. I'm looking forward to finally doing this part.

This Summer Series features a variety of live and recorded music. Is it challenging to dance to such a range?
Oh, no. That's more helpful. I think it would be harder for me to dance to similar music and have to change myself. I'm affected by music easily--I think that's how most dancers feel.
What are you focusing on during these final rehearsals?
I want to work on the physicality, so my body feels super comfortable with everything I ask of it. But I also want to have a really big well to pull from. 

I want to find all of the secrets and mysteries in the choreography and the music and in my fellow dancers. Then, when I get onstage, I'll have all that available. It leads to a much more enriching experience than just knowing your choreography.
For even more interviews, tips, audition info and giveaways, sign up for our FREE e-newsletter.
Above: Felesina in rehearsal with Daniel Mayo. Photo by Bill Hebert, Courtesy BalletX.