Trending
Feb. 01, 2019 03:52PM EST
Courtesy Josephine Lee
Master pointe shoe fitter Josephine Lee of the California-based The Pointe Shop touches base with Ballet West principal Beckanne Sisk to hear all about her pointe shoe hacks, from Jet Glue to her preference for extra tight elastics. Plus, what she wears instead of toe pads (hint: it's paper towel).
News
Oct. 30, 2018 01:13PM EST
Artists of Ballet West in Balanchine's Jewels. Photo by Beau Pearson, Courtesy Ballet West.
Wonder what's going on in ballet this week? In addition to the programs at Pacific Northwest Ballet, The Washington Ballet, Ballet West and City Ballet of San Diego listed below, this week also marks Balanchine: The City Center Years, a five-day extravaganza bringing together eight companies from around the world. You can read more about it here. Also coming up is Boston Ballet's black box show, BB@home: ChoreograpHER, which features six new works by women in the company. Peek inside the budding choreographers' processes here.
Keep reading...
Show less
News
Oct. 22, 2018 04:48PM EST
San Francisco Ballet is bringing six works from their Unbound: A Festival of New Works to The Kennedy Center this week. Here, dancers are pictured in Christopher Wheeldon's Bound To. Photo by Erik Tomasson, Courtesy The Kennedy Center.
Wonder what's going on in ballet this week? We've pulled together some highlights.

Keep reading...
Show less
Josephine Lee outside Ballet West Academy. Photo Courtesy Lee.
Earlier this summer, we followed master pointe shoe fitter Josephine Lee of the California-based The Pointe Shop as she made her on a pointe shoe fitting tour around the West Coast and California. Now she's back, this time on a 45-day tour from California to Chicago, educating students on all things pointe shoes and helping them to find their perfect fit. Lee's making stops at top ballet companies and academies across the country, exploring schools and getting know academy directors. Below, check out Lee's stop at Ballet West. She touches base with academy director Peter Merz. Stay tuned for more!
Trending
Jul. 23, 2018 02:00PM EST
Boston Ballet principal Lia Cirio at age 15 in class at the Central Pennsylvania Youth Ballet summer intensive. Photo by Rosalie O'Connor, Courtesy Cirio.
It's hard to believe that summer intensive season is almost over! We hope you're learning, growing, having fun and making memories at your intensives this year.
Today, we're sharing seven dancers' favorite summer intensive memories.
Isabella Boylston, American Ballet Theatre
Photo Courtesy Boylston.
Summer Intensive: American Ballet Theatre
Age: 17
Perseverance
"I was 17 (although I looked about 14) and attended the ABT Summer Intensive. I was particularly excited to be there because the year before that I hadn't been accepted."
Outside the Studio...
"My mom, my best friend Lauren Post and I sublet a tiny one bedroom on the Upper West Side and had a blast exploring the city."
Dreams Come True
"That summer I was invited to join the ABT Studio Company—a dream come true!"
News
Jun. 20, 2018 04:43PM EST
New San Francisco Ballet principal Wei Wang in Helgi Tomasson's Concerto Grosso. Photo by Erik Tomasson, Courtesy SFB.
Promotions season is well underway. Earlier this spring we covered exciting changes at Boston Ballet and Pennsylvania Ballet; now we're back with news from six more companies—English National Ballet, San Francisco Ballet, National Ballet of Canada, Miami City Ballet, Ballet West and Pittsburgh Ballet Theatre. (Stay tuned throughout the summer as additional companies release their updated rosters.) Here's who's doing a happy dance.

Keep reading...
Show less
popular
May. 14, 2018 05:00PM EST
Artists of Ballet West. Photo by Beau Pearson, Courtesy Ballet West.
Wonder what's going on in ballet this week? We've pulled together some highlights.
ABT Met Opera Season Opens with Giselle
This week American Ballet Theatre moves into the Metropolitan Opera House for their annual 8-week season. From Alexei Ratmansky's new Harlequinade to the world premiere of AFTERITE by Wayne McGregor, this season is packed. But week one opens with a classic: Giselle. Though a number of ABT's most celebrated dancers will have their turn in the lead roles this week, the May 18th performance will be danced by guest star Natalia Osipova in the title role opposite ABT principal David Hallberg as Albrecht.
Keep reading...
Show less
News
Mar. 14, 2018 04:25PM EST
Younji-Grace Choi at the 2014 USA IBC. Choi is now a dancer with Cincinnati Ballet and will return to the USA IBC as a senior competitor this summer. Photo by Richard Finkelstein, Courtesy USA IBC.
Exciting news today: the USA International Ballet Competition has just announced its list of invited competitors for the summer 2018 competition. The USA IBC has invited 119 dancers from 19 countries out of over 300 applicants to compete in Jackson, MS June 10-23.
Since the last USA IBC in 2014 the competition has expanded its age limits; the junior category now allows dancers ages 14-18 and the senior category dancers ages 19-28. Of the 119 competitors this year, 53 are juniors and 66 are seniors. The United States has the highest number of competitors invited (52), followed by Japan (23) and South Korea (14). The other countries represented are Armenia, Brazil, Bulgaria, Canada, China, Columbia, Cuba, Dominican Republic, Kyrgyzstan, Latvia, Mexico, Mongolia, Peru, Philippines, Ukraine and the United Kingdom.
Keep reading...
Show less
Photo by Kyle Froman for Pointe.
Much of what Ballet West soloist Katlyn Addison carries around in her (two) dance bags has been repurposed. She wraps her toes in black hockey tape which her brother, a National Hockey League player in their home country of Canada, ships to her, and she keeps her bobby pins in an old glass salsa jar. "I like to reuse things," says Addison. She totes everything around in shopping bags (one for pointe shoes and sewing tools, one for everything else) from the clothing store Free People.
Pro Pointe Shoe Hacks From Ballet West's Katlyn Addison www.youtube.com
Keep reading...
Show less
News
Feb. 09, 2018 05:22PM EST
BalletMet's world premiere of Edwaard Liang's "Giselle" opens this weekend. Photo by Jennifer Zumda, Courtesy BalletMet.
This weekend features two romantic ballets right on time for Valentine's Day, a mixed repertory program by New York Theatre Ballet including a work by Gemma Bond and plenty of Olympic figure skating featuring our favorite former dancer, Nathan Chen.
Ballet West presents Sir Frederic Ashton's Cinderella, opening on February 9, 2018 and running through the 25 at the Capitol Theatre in Salt Lake City, UT. This timeless retelling of the classic fairytale promises lots of sparkly tutus and magical sets. We love this short video promo featuring real-life couple Beckanne Sisk and Chase O'Connell. Tickets can be purchased here.
Keep reading...
Show less
Nathan Chen with artists of Ballet West in "Sleeping Beauty" (2011). Photo by Luke Isley, Courtesy Ballet West.
From ages 8 to 14, Nathan Chen trained at the Ballet West Academy and often performed alongside the company. Now, he is well on his way to becoming a household name. Earlier this month, Chen won the national title at the U.S. Figure Skating Championships, and he'll be heading to the Olympics in Pyeongchang, South Korea, as a member of the U.S. Figure Skating Team in February. If that's not impressive enough, you can now pop into your local grocery store and pick up a box of Kellogg's Corn Flakes with his photo on the front.
Chen is known for his exceptional musicality and artistry on the ice and has broken records for cleanly landing five quadruple jumps in one program. "My training and ballet background definitely gives me the competitive edge," Chen said to an NBC News correspondent last fall. We touched base with Peter Christie, one of Chen's former instructors at the Ballet West Academy and a supplemental coach on the ice, to get a better sense of how ballet influences the record-breaking 18-year-old figure skater.
Keep reading...
Show less
News
Jan. 10, 2018 04:46PM EST
Madison Penney, Youth Grand Prix winner at the YAGP 2017 Finals. Photo by VAM, Courtesy YAGP.
We're in the thick of Youth America Grand Prix regional semi-final season, and the famous competition is now being made available to fans everywhere at the click of a mouse. Here are two ways to keep up with YAGP from wherever you are:
Regional Semi-Finals Live Broadcast

Rooting for a friend competing or just want to keep tabs on the ballet world? A live broadcast of the competition is now available here. This weekend (January 12-14) are the Tampa, Florida and Denver, Colorado semi-finals; packages to watch online start at $13.99. You can choose 2, 4, 6 or 12 total viewing hours, and log in and out of the site at your convenience. YAGP is also broadcasting their "Stars of Today Meet the Stars of Tomorrow" gala in Tampa this Saturday at 8 pm EST. The performance will feature National Ballet of Canada's Evan McKie and Svetlana Lunkina, Ballet West's Beckanne Sisk and Chase O'Connell, New York City Ballet's Ashley Bouder and Daniel Ulbricht and international guest artists Adiarys Almeida and Taras Domitro.
Keep reading...
Show less
New York City Ballet's famous growing tree. Photo by Paul Kolnik, Courtesy NYCB.
Literary Roots

E.T.A. Hoffmann, a German writer, penned the eerie and dark tale "Nutcracker and Mouse King" in 1816. About 30 years later, the French writer Alexandre Dumas took the Nutcracker story into his own hands, lightening things up and softening the character descriptions. Dumas even cheered up the name of the protagonist. "Marie Stahlbaum" (meaning "steel tree," representing the repressive family Marie found herself in, which led her imagination to run wild) became "Clara Silberhaus" (translated to "silver house," a magnificent home filled with shiny magic.)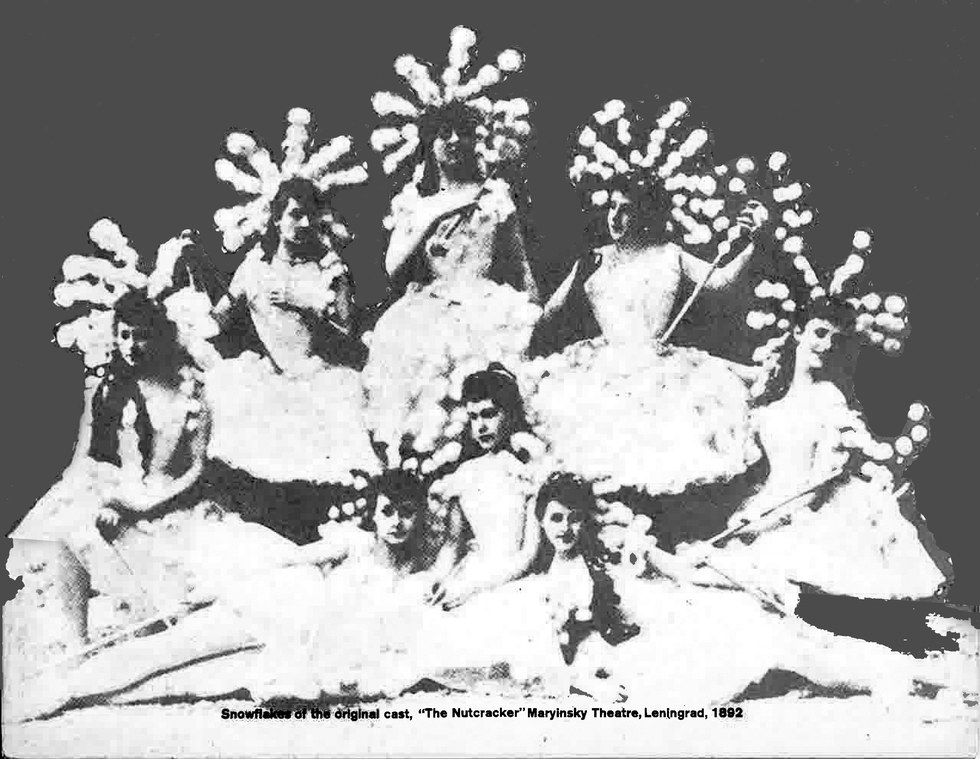 Snowflakes of the original cast, "The Nutcracker" at the Mariinsky Theatre, 1892. Photo by Walter E. Owen, Courtesy Dance Magazine Archives.
From Page to Stage
In 1892 St. Petersburg, choreographer Marius Petipa and composer Pyotr Ilyich Tchaikovsky pulled the story off the page and onto the stage of the Mariinsky Theatre. But Petipa fell ill while choreographing The Nutcracker and handed his duties over to his assistant, Lev Ivanov. Critics at the 1892 premiere were not pleased. Balletomanes felt the work to be uneven, and lamented the lack of a main ballerina in the first act. Many thought that the story was too light compared to historically based stories.
Out of Russia
Despite its initial reception, the ballet survived, partially due to the success of Tchaikovsky's score. Performances were scarce, though, as the Russian Revolution scattered its original dancers. The Nutcracker's first major exposure outside of Russia took place in London in 1934. Former Mariinsky ballet master Nikolas Sergeyev was tasked with staging Petipa's story ballets on the Vic-Wells Ballet (today The Royal Ballet) from the original notation. The notes were incomplete and difficult to read, yet Sergeyev persisted, and The Nutcracker made it to the stage.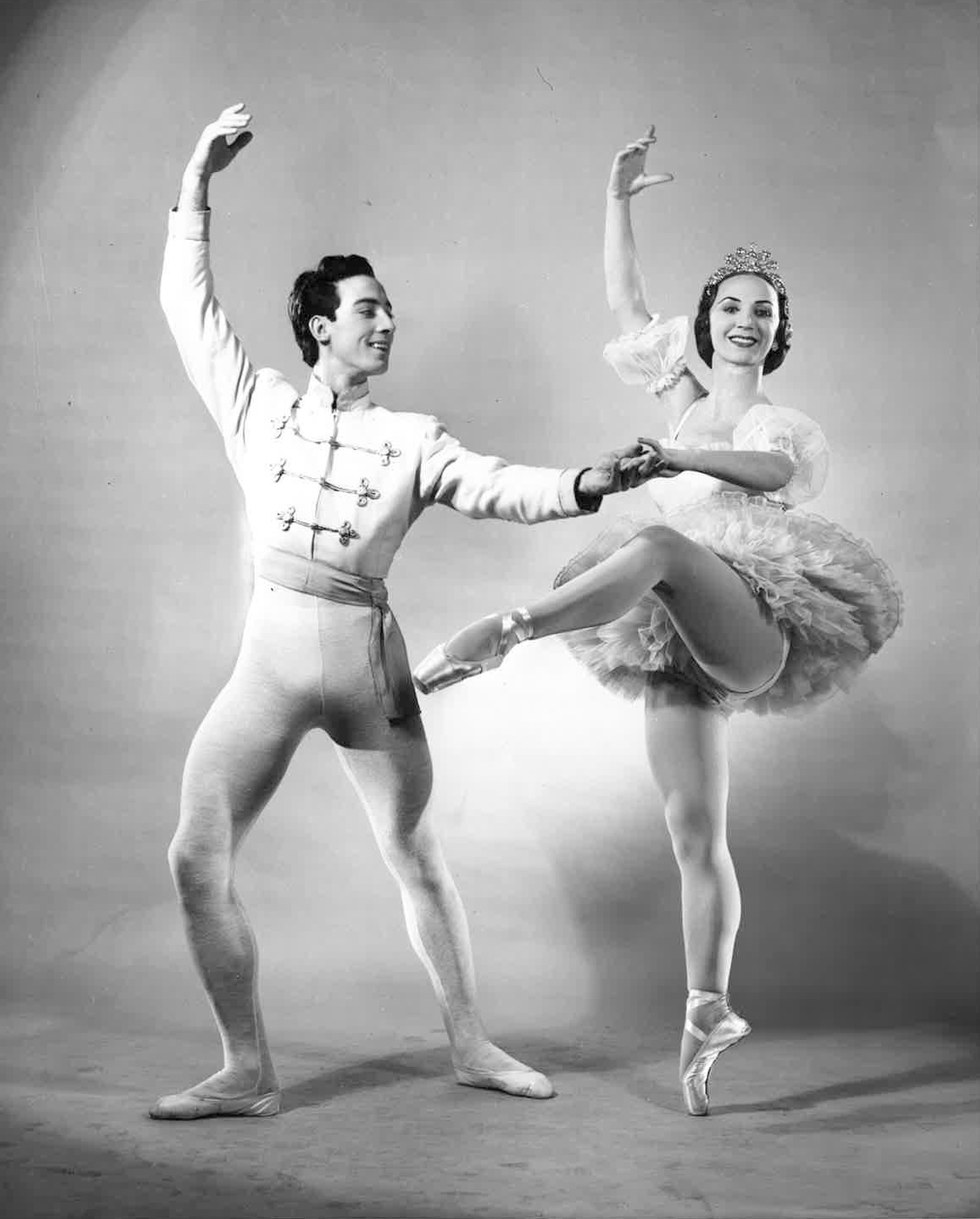 Dancers from ballet Russe de Monte Carlo in "The Nutcracker" pas de deux. Photo Courtesy Dance Magazine Archives.
Keep reading...
Show less
Trending
Nov. 15, 2017 04:50PM EST
Ingrid Silva and her dog, Frida Kahlo. Photo by Nathan Sayers for Pointe.
You're probably already following your favorite dancers on Instagram, but did you know that you can follow many of their dogs, too? We rounded up some of our favorite dog-centered accounts and hashtags to keep you pawsitively entertained (sorry, we can't help ourselves).
Cora and Maya (American Ballet Theatre's Sarah Lane and Luis Ribagorda)
Sarah Lane and Luis Ribagorda's pups Cora and Maya update their profile pretty frequently. Often accompanying Lane to the ABT studios, they can also be seen using tutus or piles of pink tights as dog beds.
Keep reading...
Show less
Trending
Nov. 01, 2017 04:42PM EST
Photo via Miami City Ballet on Instagram.
For dancers, every day is like Halloween. You don't have to wait until October to try on new personas and elaborate costumes. But that certainly didn't stop the ballet world from going full out yesterday. We rounded up some of our favorites across Instagram to help draw the *spooky* holiday spirit out for one more day.
Matthew Bourne's New Adventure's production of The Red Shoes is nearing its final performances at New York City Center this weekend. American Ballet Theatre's Marcelo Gomes is guest-starring in the production as Julian Craster, the composer boyfriend to protagonist Victoria Page. But for Halloween, Marcelo donned the infamous red shoes himself to dress as the leading ingenue.
Dance Theater of Harlem's Ingrid Silva (and Pointe's June/July cover star) dressed as a unicorn alongside her dog, Frida Kahlo.
Keep reading...
Show less
Members of San Francisco Ballet in company class as part of World Ballet Day LIVE 2017. Photo by Erik Tomasson via San Francisco Ballet on Instagram.
Last Thursday was World Ballet Day LIVE, the official 22-hour live-stream relay showcasing companies across the globe. If you were busy (we know that you don't always have the luxury to spend an entire day watching ballet), don't fret. Many of the companies involved recorded their classes, rehearsals and interviews from the day of, and we rounded them up for you to watch at your leisure. Careful, though; there are more than twenty hours of footage included here... make sure you take a break to, you know, sleep.
First up is San Francisco Ballet with a full five hours, including rehearsal for Balanchine's timeless classic, Serenade.
The Royal Ballet's WBD stream is split into three parts. Here's the first chunk, featuring company rehearsals of a few Sir Kenneth MacMillan ballets as well as Christopher Wheeldon's Alice in Wonderland (a measly two hours and 45 minutes). You can find part 2 here and the full company class here. The video also features a quick aerial tour of London from the balcony of the Royal Opera House.
Keep reading...
Show less
Allison DeBona teaching class at her artÉmotion summer intensive at Ballet West. Photo by Joshua Whitehead, Courtesy Ballet West.


After Ballet West first soloist Allison DeBona appeared on The CW's "Breaking Pointe," studio directors nationwide started calling her up, inviting her to teach master classes. Soon DeBona was traveling every month out of the year, honing her passion for coaching the next generation of artists.
While jet setting may not be in your future, regular teaching gigs are a great way to boost your resumé—and your income. Whether you're looking for layoff-season work or want to branch into coaching and choreography, dipping your toe in the teaching world is a smart way to start.
Keep reading...
Show less
World Ballet Day camera crew at The Australian Ballet. Photo by Kate Longley, Courtesy The Australian Ballet.
For some of us, every day feels like World Ballet Day LIVE. But the official event takes place on Thursday, October 5, with a free 22-hour live-stream relay showcasing The Australian Ballet, Bolshoi Ballet, The Royal Ballet, National Ballet of Canada and San Francisco Ballet. Each will welcome the world into company classes, rehearsals and behind-the-scenes extras.
Keep reading...
Show less
Dancer Spotlight
Sep. 06, 2017 02:15PM EST
Adams in Balanchine's "Rubies." Photo by Luke Isley, Courtesy Ballet West.
In 2015, Ballet West dancer Emily Adams was promoted to principal; the milestone achievement left her feeling inspired—but also a little unbalanced. "Through the daily intensity, I wasn't enjoying everything as much as I should have been," she says. To unwind, Adams turned to yoga classes, where she found a renewed sense of self-love and an unexpected business idea: an eco-friendly activewear line called State of Bodhi. At 30, Adams is now a community-minded entrepreneur as well as a principal dancer.
Sewing classes never factored into Adams' extracurricular activities while growing up. Instead, the Pennsylvania native took as many ballet classes as possible before settling into the School of American Ballet's advanced division.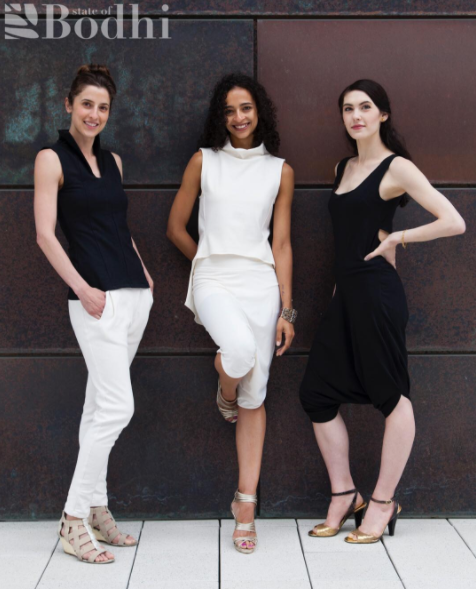 via Instagram, @stateofbodhi
Keep reading...
Show less
Thinkstock
Five years ago, an idea popped into the head of longtime Ballet West patron and practicing psychologist Dr. Aharon Shulimson: "Do ballet dancers' brains function differently than the rest of us?" Shulimson and his wife Julie Terry, president of the Ballet West Guild and Shulimson's clinic's technician, had recently conducted a study on ultra-marathon runners using a specialized brain imaging technique called Quantitative Electroencephalography, and were eager to try it out on dancers. Shulimson describes QEEG as the "human equivalent of taking your car into the shop and plugging it into the computer to see how it works." The test allows Shulimson to compare an individual's brain wave activity to statistical norms to see how it's functioning. He stresses that the test isn't designed as a means of diagnosis, but rather "to understand the neurological underpinnings of things like ADHD and anxiety."
Last year Ballet West director Adam Sklute gave Shulimson and Terry permission to recruit dancers; 26 volunteered. For principal dancer Adrian Fry, the experiment gave him a chance to "enter a different world." "People find dancers very fascinating," says Fry. "I wanted to see if there was real evidence behind that."
"We really had no idea what to expect," says Shulimson. "There was no previous research to go on." Shulimson does point out that the results certainly couldn't be bad, as whatever's going on in these dancers has enabled them to become successful in an incredibly competitive field.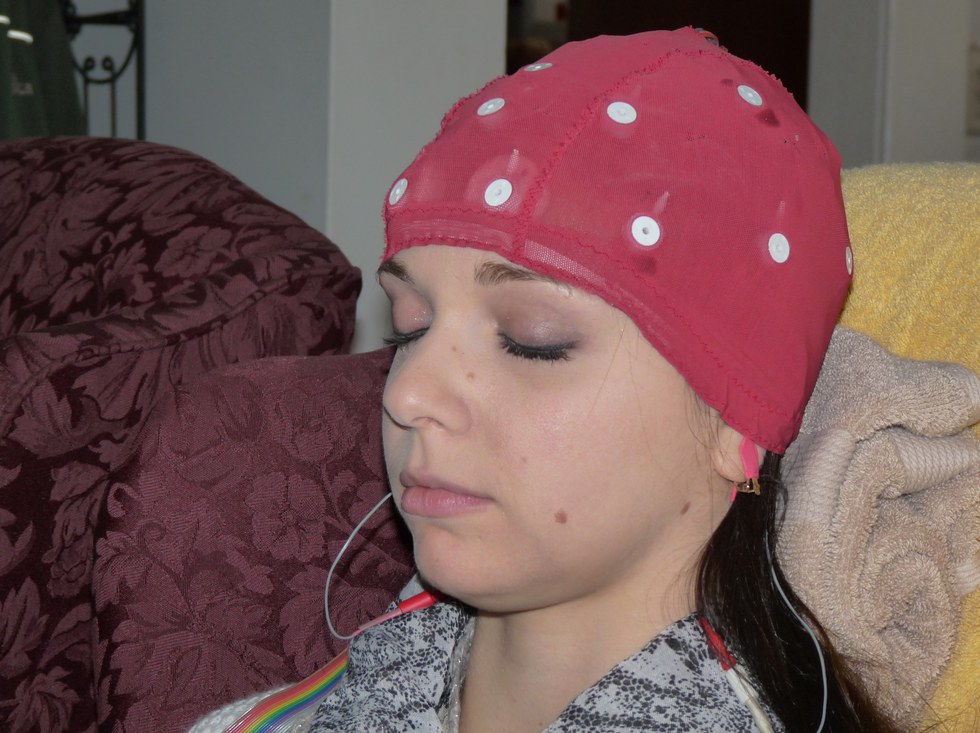 Retired Ballet West first soloist Elizabeth McGrath wearing an EEG electrode cap and ear electrodes for the study. Photo Courtesy of Aharon Shulimson.
The Results

Keep reading...
Show less
Dancers at Ballet Sun Valley marvel at the eclipse. Photo by Gemma Bond via Instagram.
Unless you've been living under a rock, chances are that you experienced the eclipse-mania that took over the country yesterday. Thousands flocked to the 70-mile-wide path of totality (the path of the moon's shadow), which stretched from Oregon to South Carolina. And dancers were no exception. Ballet stars across the country flooded Instagram with their sense of awe over this once-in-a-decade event.
Dancers at Ballet Sun Valley, the two-day festival starting today curated by Isabella Boylston, were lucky enough to be on the path of totality (in fact, Gemma Bond's new ballet for the festival was inspired by the eclipse). We love seeing dancers from different companies hanging out, and Tiler Peck posted this New York City Ballet/American Ballet Theatre crossover moment.

Keep reading...
Show less
The Workout
Apr. 04, 2017 04:40PM EST
Critchlow in Balanchine's "Diamonds." Photo by Luke Isley, Courtesy Ballet West.
A fresh perspective: Last year, Katie Critchlow went through seven months of recovery for a debilitating ankle sprain, but the process transformed her outlook on cross-training: "You think that doing ballet class every day is enough, but it's not," she says. "Ballet dancers are hypermobile, and in order to execute everything onstage when you're tired and fatigued, you need a lot of strength to back that up."

Ready to run: About two months after her injury, Critchlow began jogging. "I had to start really, really slow on a treadmill." Her ankle sprain had affected her hip, too, causing her to veer in a diagonal until she balanced the alignment in her legs. Now she prefers to run outdoors around Salt Lake City. "It helps mobilize my joints, so I'll either go at the end of a light day or wait for the weekend."
Keep reading...
Show less
Sklute coaches corps artist Kazlyn Nielsen. Photo courtesy Ballet West.
After scouting for a ballet company to feature in the melodramatic reality show "Breaking Pointe," the producers made a U-turn back to Adam Sklute, the CEO and artistic director of Ballet West in Salt Lake City. "They said, In our screen tests, your company is the most photogenic. They have really interesting stories and we'd love to have them on camera," recalls Sklute. The show, which focused on Ballet West's backstage drama and intramural romance, premiered in 2012, ran for two seasons and brought fame to dancers like Beckanne Sisk and Allison DeBona. "Some of our dancers could be supermodels. They are as tall and as dramatic as the Rocky Mountains that we look at," says Sklute. "I want a company of tall, beautiful dancers who produce a glamorous stage picture." Still, there's far more than glitz and good looks at this midsized company.
Keep reading...
Show less
Views
Nov. 02, 2016 04:45PM EST
For American audiences, Balanchine's "Rubies" is instantly recognizable. Cuban audiences, though, have never seen the iconic work, due to over five decades of severed diplomatic relations with the U.S. That will change this Sunday, when Beckanne Sisk and fellow Ballet West principal Christopher Ruud perform the saucy, showy "Rubies" pas de deux at the International Ballet Festival of Havana gala. Pointe spoke with Sisk about making dance history.
Sisk in Balanchine's "Rubies." Photo by Luke Isley, Courtesy Ballet West.
You're no stranger to galas, but do they make you nervous? 
It's not a whole production, so I feel a lot of pressure to do well in those nine minutes. But it's also very exciting. I feel comfortable with "Rubies," and I'm so honored to be the first to dance it in Cuba.
How do you think the audience will receive this pas?
I feel like this is the perfect pas de deux to take because they love exciting dancing. This pas has a whole lot of everything in it!
How does "Rubies" continue to challenge you?
I'm learning to be able to throw myself and do all these crazy things while keeping the technique. I have to be poised and together in my core while throwing my limbs, so I'm finding that balance.
What do you like about the role? 
There are no limits. It's all just power and go, go, go—there are no rest steps, and you do everything to the fullest. It's very showy, but it's all fun, feel-good steps.
Besides performing, what else are you looking forward to doing in Cuba? 
I've never been to Cuba, so we're gonna try and do some touristy things. I'd like to see some cool cars, and the food—I can't wait to try the food! We'll also get to take company class [with the National Ballet of Cuba]. I'm really, really excited about that.
For more news on all things ballet, don't miss a single issue.
Rogers in Twyla Tharp's "The Princess and the Goblin." Photo by Kim Kenney, Courtesy Atlanta Ballet.
Five years after joining American Ballet Theatre, corps member Zhong-Jing Fang sustained a serious ankle injury. Not one to let a setback take her off course, Fang wondered: What other things can I do as an artist? She loved imitating movie actresses as a child, so she decided to try acting while she recovered. For two years, she went every Wednesday evening to a four-hour group class with acting coach Diaan Ainslee. There she learned to dissect a monologue, develop a character, listen and feel emotionally exposed. The experience thrust Fang out of her comfort zone and transformed her as an artist. "It's a different layer of becoming a person," Fang says, "and becoming much more real."

Acting classes, which often incorporate exercises aimed at self-exploration, can offer dancers tools to deepen their artistry. Even simple things, Fang notes, like working without mirrors, can inspire you to go beyond image and find a deeper sense of self. "There is a lot more to say, beyond just being able to dance," she says. Here, Fang and three other dancers explain how acting skills have made them better performers.
Keep reading...
Show less
Views
May. 19, 2016 11:00AM EST
Adams and Adrian Fry in Afternoon of a Faun. Photo by Luke Isley, Courtesy Ballet West.
For the last two years, Ballet West's Emily Adams choreographed for the company's Innovations program. Now, she's standing on the other side of the studio, preparing to dance in Jessica Lang's Lyric Pieces. Adams spoke with Pointe about working with an established female voice and how it's inspired her as a choreographer.
What is Lyric Pieces about?
Jessica didn't give us a lot of back story, but I get the sense that it's about community. Each vignette shows the different characters. There are some lighthearted sections and some romantic ones, but I think the props are what make it really unique.
How so?
There are these huge paper props that create the landscape of the piece. Some span the whole length of the stage. At one part, I curve this long paper to form a brook or steam and then another time it's vertical and looks like a fan. It's hard, because you want it to look like it's part of the dance and an extension of yourself--not just a foreign object that you're carrying around and manipulating.
How does Lang inspire you as a dancemaker?
I really like her demeanor. As a choreographer, you create the environment for something to be made and to grow. She was encouraging but a little bit mysterious, too. I like that vibe. She gave us direction but also freedom.
How do you stay connected to dancemaking throughout the season?
Every once in a while, Adrian Fry—another choreographer/dancer in the company—and I will go into a studio and start collaborating, even if it's not for a performance. It's just to get the creative juices flowing. I choreographed for Innovations the last two years, but this season I wanted to dance. I think if choreography is something you like to do, it's not going to suddenly stop. I plan to continue pursuing it.
Ballet West's Innovations program of new works runs
May 20-28
in Salt Lake City.