Site Network
Dec. 10, 2018 09:01AM EST
Photo credits, clockwise from bottom left: Peter Mueller, Courtesy Cincinnati Ballet; Jayme Thornton; Jochen Viehoff, Courtesy Stephanie Troyak; Karolina Kuras, Courtesy National Ballet of Canada; Natasha Razina, Courtesy State Academic Mariinsky Theatre; Kim Kenney, Courtesy Atlanta Ballet; Jim Lafferty; Arian Molina Soca, Courtesy Pennsylvania Ballet; Altin Kaftira, Courtesy Dutch National Ballet; Scott Shaw, Courtesy Shamar Wayne Watt
What's next for the dance world? Our annual list of the dancers, choreographers and companies that are on the verge of skyrocketing has a pretty excellent track record of answering that question.
Here they are: the 25 up-and-coming artists we believe represent the future of our field.
Keep reading...
Show less
Atlanta Ballet dancers in rehearsal with Yuri Possokhov. Photo by Kim Kenney, Courtesy Atlanta Ballet.
When Gennadi Nedvigin took over as artistic director of Atlanta Ballet in 2016, one of his first goals was to produce a new Nutcracker; it's been over 20 years since the company's last revamp by former director John McFall. Nedvigin immediately turned to choreographer Yuri Possokhov. "You need to be a really mature choreographer to visualize the whole story," says Nedvigin. Now, two years later, Atlanta Ballet's new Nutcracker will come to life December 8–24.
Yuri Possokhov's "The Nutcracker" www.youtube.com
Keep reading...
Show less
Just for fun
Oct. 26, 2018 05:23PM EST
Royal Winnipeg Ballet revived Lila York's adaptation of Margaret Atwood's The Handmaid's Tale earlier this month. Photo by David Cooper, Courtesy RWB
When American Ballet Theatre announced yesterday that it would be adding Jane Eyre to its stable of narrative full-lengths, the English nerds in the DM offices (read: most of us) got pretty excited. Cathy Marston's adaptation of Charlotte Brontë's classic novel was created for England's Northern Ballet in 2016, and, based on the clips that have made their way online, it seems like a perfect fit for ABT's Met Opera season.

It also got us thinking about what other classic novels we'd love to see adapted into ballets—but then we realized just how many there already are. From Russian epics to beloved children's books, here are 10 of our favorites that have already made the leap from page to stage. (Special shoutout to Northern Ballet, the undisputed MVP of turning literature into live performance.)
---
Northern Ballet in David Nixon's The Great Gatsby (F. Scott Fitzgerald)
Star-crossed lovers? Check. Wild party scenes? Check. The 1920s aesthetic is just bonus.
Dutch National Ballet in John Cranko's Onegin (Alexander Pushkin)
It's a novel in verse, but it still counts! Cranko's pas de deux work vividly paints the emotional turmoil of Pushkin's characters, such as this sequence in which Tatiana imagines being loved by the haughty Onegin.
The Royal Ballet in Liam Scarlett's Frankenstein (Mary Shelley)
It's spooky, it's sensational, it's a deep meditation on the nature of humanity—oh, and it's alive.
Northern Ballet in David Nixon's The Three Musketeers (Alexandre Dumas)
All for one and one for all! (And we're all in for this epic fight choreography the dancers took to a famous Abbey in their hometown of Leeds, England.)
Charlotte Ballet in Sasha Janes' Wuthering Heights (Emily Brontë)
The Brontë sisters had a knack for writing complex, tempestuous relationships—great fodder for pas de deux like this one.
The Washington Ballet in Septime Webre's Peter Pan (J. M. Barrie)
Sword-fighting, pirates, pixie dust and a ticking crocodile? This one simply flies off the page.
Hamburg Ballet in John Neumeier's Anna Karenina (Leo Tolstoy)
Some would argue that Tolstoy's epic is the greatest literature ever written, but you can't argue with the fact that the titular heroine is a deliciously complex character to tackle.
The Royal Ballet in Christopher Wheeldon's Alice's Adventures in Wonderland (Lewis Carroll)
Why is a raven like a writing desk? We still might not know the answer to Carroll's riddle, but we do know that Wheeldon's blockbuster production is so full of incredible moments (like Steven McRae stealing the show as a tap-dancing Mad Hatter) that we had trouble narrowing it down.
Atlanta Ballet in Michael Pink's Dracula (Bram Stoker)
There's a reason it seemed at one point like every ballet company in America had a production of Dracula in its repertoire.
Northern Ballet in Jonathan Watkins' 1984 (George Orwell)
Just in case the dystopian nightmare conjured by Orwell wasn't vivid enough in your own imagination.
News
Sep. 10, 2018 08:30AM EST
Miranda Silveira was a member of San Francisco Ballet's Trainee Program before making her way into the company. Here she's pictured in rehearsal for Balanchine's Serenade. Photo by Erik Tomasson, Courtesy SFB.
Receiving a second company or trainee contract can help bridge the gap from student to professional. Whether you make it into the main company afterwards or move on to another one, these years, if danced to the fullest, can be valuable to your life and career.
Keep reading...
Show less
News
May. 08, 2018 04:26PM EST
Kansas City Ballet Dancers Tempe Ostergren and Dillon Malinski. Photo by Kenny Johnson, Courtesy KCB.
Wonder what's going on in ballet this week? We've pulled together some highlights.
New Peter Pans at Ballet Austin and Kansas City Ballet
Never Never Land becomes a reality this week with two exciting new productions. Kansas City Ballet presents world premiere choreography by artistic director Devon Carney in Peter Pan May 11-20, while Texas audiences can experience the Austin premiere of Paul Vasterling's acclaimed Peter Pan May 11-13. We love this fun trailer that Ballet Austin put together.
Keep reading...
Show less
News
Mar. 12, 2018 04:16PM EST
Boston Ballet's Misa Kuranaga and Nelson Madrigal in John Cranko's "Romeo and Juliet." Photo by Rosalie O'Connor, Courtesy Boston Ballet.
From celebrations of Jerome Robbins' centennial to exciting premieres to old classics, this week is jam packed with ballet. We rounded up highlights from eight companies to give you a sense of what's happening onstage this week.
The Washington Ballet
On March 14, The Washington Ballet will present a triptych of new works. Gemma Bond's premiere ties-in to Women's History Month, and she discusses the connection in this video. Also on the bill are creations by celebrated dancers Clifton Brown and Marcelo Gomes. For video teasers of their works, click here.
Keep reading...
Show less
Nadia Mara (second from left) with Atlanta Ballet patrons. J. Clemmons, Courtesy Atlanta Ballet.
Ballet companies cannot survive without the financial support of their patrons and donors. In addition to underwriting new buildings and world premieres, and contributing to endowments, individual patrons and corporate donors often sit on the company's board. Many even sponsor the salaries of dancers, or support their side projects.
Yet your ballet training does not prepare you for the formal, sometimes awkward socializing you are asked to do with these VIPs at galas, backstage champagne toasts and other events. Atlanta Ballet dancer Nadia Mara remembers feeling uncomfortable at patron events her first year as a professional. "My English wasn't great," says Mara, who grew up in Uruguay, "and I was unsure of what to do, how to act." Yet she found that as she gained more experience speaking with patrons about where she had come from and her interests, the awkwardness melted away. "We have so much in common. We are passionate about the same things: ballet, art, fitness, culture."
Cultivating strong relationships with donors and patrons often means stepping outside your comfort zone. "Our livelihood depends on them," says Sona Kharatian, a dancer with The Washington Ballet. "It is important that we make them feel included and let them know we know they are doing this for the greater good of culture in their city." Read on for some tips on how to initiate conversation and make some new, supportive friends.
Keep reading...
Show less
Jackie Nash and Ben Needham-Wood in "Wandering." Photo by Chris Hardy, Courtesy Imagery.
Jackie Nash left an indelible impression as a member of Amy Seiwert's Imagery during this summer's performances at New York City's Joyce Theater. In Seiwert's Wandering, Nash, an Atlanta Ballet dancer during the regular season, demonstrated a keen technical sensibility that grounded her in the detail-rich, contemporary movement. But where the petite powerhouse shone was in her navigation of the challenging music, Schubert's rich, dramatic Winterreise cycle. She danced along a razor-thin line between allowing the breadth of the sound to overpower her movement and resorting to melodrama to match its feeling, succumbing to neither. An instinct for nuance lent maturity, visible in a movement as simple as an arabesque that did not strain to meet the space but instead swelled effortlessly to fill it. One can only hope that Nash might find her way to New York City stages more often.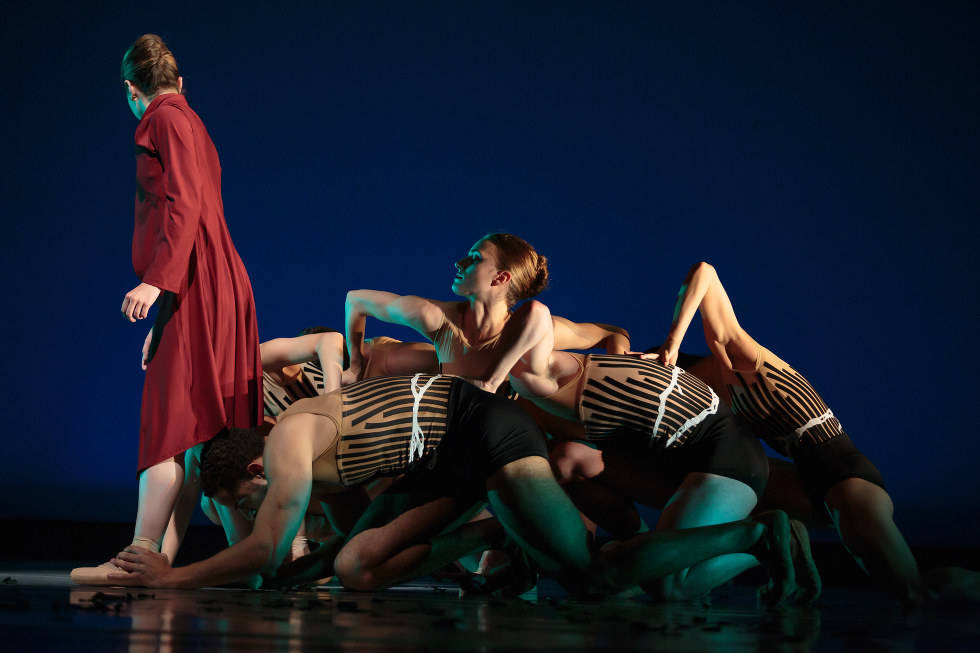 Imagery in "Wandering." Photo by Chris Hardy, Courtesy Imagery.
popular
Oct. 16, 2017 05:26PM EST
Houston Ballet's Jared Matthews and Sara Webb in"The Sleeping Beauty." Photo by Amitava Sarkar, Courtesy Houston Ballet.
Despite the devastation and pain that Hurricanes Harvey and Irma have left in their wake this fall, it's been encouraging to see dancers step up in aid of their communities: When the future of Houston Ballet's Nutcracker seemed uncertain, venues around the city pulled together to allow the company to produce the show on a "hometown tour." And when Florida ballet companies had to evacuate, Atlanta Ballet and Charlotte Ballet welcomed them with open arms. In addition, New York City-based studio Broadway Dance Center offered community classes in September with proceeds donated to the American Red Cross.
The next in this series of good deeds is Hearts for Houston, a benefit performance bringing dancers from seven major companies together at New York City's Alvin Ailey Citigroup Theater to raise money for the United Way of Greater Houston's Harvey Relief Fund. Scheduled for Sunday, October 22, the evening will feature members of the Houston Ballet, American Ballet Theatre, New York City Ballet, Pennsylvania Ballet, Texas Ballet Theater, The Washington Ballet and Alvin Ailey American Dance Theater. Hearts for Houston is imagined and produced by Houston Ballet principal dancers Yuriko Kajiya and Jared Matthews (both formerly of ABT) and funded by patrons Phoebe and Bobby Tudor and sponsor Neiman Marcus.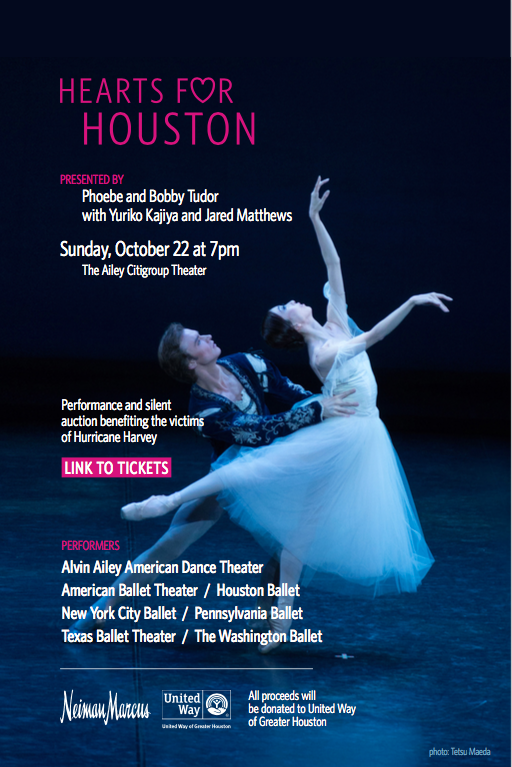 Keep reading...
Show less
Courtesy Terminus Modern Ballet Theatre
After a shakeup at Atlanta Ballet this past April, several leading dancers chose not to renew their contracts. Led by John McFall for more than 20 years, the company's direction and repertoire had favored contemporary ballet. When McFall retired in 2016, former San Francisco Ballet principal Gennadi Nedvigin took over as artistic director with a more traditional approach.
While it is not unusual for dancers to be let go or move on after a change at the top, many were surprised when Tara Lee, Christian Clark, Rachel Van Buskirk and Heath Gill revealed where they were going. Along with veteran AB dancer John Welker, a runner-up in the company's search for a new artistic director, these tenured dancers had planned quietly to form their own company: Terminus Modern Ballet Theatre. "We were all at a point in our careers where we were asking 'What do we want?' " says Welker, who had directed AB's summer company Wabi Sabi. "And we were aware that time in this career is short. This city has an energy here. I think Atlanta is ready for another dance company to thrive."
Keep reading...
Show less