Atlanta Ballet dancers in rehearsal with Yuri Possokhov. Photo by Kim Kenney, Courtesy Atlanta Ballet.
When Gennadi Nedvigin took over as artistic director of Atlanta Ballet in 2016, one of his first goals was to produce a new Nutcracker; it's been over 20 years since the company's last revamp by former director John McFall. Nedvigin immediately turned to choreographer Yuri Possokhov. "You need to be a really mature choreographer to visualize the whole story," says Nedvigin. Now, two years later, Atlanta Ballet's new Nutcracker will come to life December 8–24.
Yuri Possokhov's "The Nutcracker" www.youtube.com
Keep reading...
Show less
Just for fun
Oct. 26, 2018 05:23PM EST
Royal Winnipeg Ballet revived Lila York's adaptation of Margaret Atwood's The Handmaid's Tale earlier this month. Photo by David Cooper, Courtesy RWB
When American Ballet Theatre announced yesterday that it would be adding Jane Eyre to its stable of narrative full-lengths, the English nerds in the DM offices (read: most of us) got pretty excited. Cathy Marston's adaptation of Charlotte Brontë's classic novel was created for England's Northern Ballet in 2016, and, based on the clips that have made their way online, it seems like a perfect fit for ABT's Met Opera season.

It also got us thinking about what other classic novels we'd love to see adapted into ballets—but then we realized just how many there already are. From Russian epics to beloved children's books, here are 10 of our favorites that have already made the leap from page to stage. (Special shoutout to Northern Ballet, the undisputed MVP of turning literature into live performance.)
---
Northern Ballet in David Nixon's The Great Gatsby (F. Scott Fitzgerald)
Star-crossed lovers? Check. Wild party scenes? Check. The 1920s aesthetic is just bonus.
Dutch National Ballet in John Cranko's Onegin (Alexander Pushkin)
It's a novel in verse, but it still counts! Cranko's pas de deux work vividly paints the emotional turmoil of Pushkin's characters, such as this sequence in which Tatiana imagines being loved by the haughty Onegin.
The Royal Ballet in Liam Scarlett's Frankenstein (Mary Shelley)
It's spooky, it's sensational, it's a deep meditation on the nature of humanity—oh, and it's alive.
Northern Ballet in David Nixon's The Three Musketeers (Alexandre Dumas)
All for one and one for all! (And we're all in for this epic fight choreography the dancers took to a famous Abbey in their hometown of Leeds, England.)
Charlotte Ballet in Sasha Janes' Wuthering Heights (Emily Brontë)
The Brontë sisters had a knack for writing complex, tempestuous relationships—great fodder for pas de deux like this one.
The Washington Ballet in Septime Webre's Peter Pan (J. M. Barrie)
Sword-fighting, pirates, pixie dust and a ticking crocodile? This one simply flies off the page.
Hamburg Ballet in John Neumeier's Anna Karenina (Leo Tolstoy)
Some would argue that Tolstoy's epic is the greatest literature ever written, but you can't argue with the fact that the titular heroine is a deliciously complex character to tackle.
The Royal Ballet in Christopher Wheeldon's Alice's Adventures in Wonderland (Lewis Carroll)
Why is a raven like a writing desk? We still might not know the answer to Carroll's riddle, but we do know that Wheeldon's blockbuster production is so full of incredible moments (like Steven McRae stealing the show as a tap-dancing Mad Hatter) that we had trouble narrowing it down.
Atlanta Ballet in Michael Pink's Dracula (Bram Stoker)
There's a reason it seemed at one point like every ballet company in America had a production of Dracula in its repertoire.
Northern Ballet in Jonathan Watkins' 1984 (George Orwell)
Just in case the dystopian nightmare conjured by Orwell wasn't vivid enough in your own imagination.
News
Sep. 10, 2018 08:30AM EST
Miranda Silveira was a member of San Francisco Ballet's Trainee Program before making her way into the company. Here she's pictured in rehearsal for Balanchine's Serenade. Photo by Erik Tomasson, Courtesy SFB.
Receiving a second company or trainee contract can help bridge the gap from student to professional. Whether you make it into the main company afterwards or move on to another one, these years, if danced to the fullest, can be valuable to your life and career.
Keep reading...
Show less
News
May. 08, 2018 04:26PM EST
Kansas City Ballet Dancers Tempe Ostergren and Dillon Malinski. Photo by Kenny Johnson, Courtesy KCB.
Wonder what's going on in ballet this week? We've pulled together some highlights.
New Peter Pans at Ballet Austin and Kansas City Ballet
Never Never Land becomes a reality this week with two exciting new productions. Kansas City Ballet presents world premiere choreography by artistic director Devon Carney in Peter Pan May 11-20, while Texas audiences can experience the Austin premiere of Paul Vasterling's acclaimed Peter Pan May 11-13. We love this fun trailer that Ballet Austin put together.
Keep reading...
Show less
News
Mar. 12, 2018 04:16PM EST
Boston Ballet's Misa Kuranaga and Nelson Madrigal in John Cranko's "Romeo and Juliet." Photo by Rosalie O'Connor, Courtesy Boston Ballet.
From celebrations of Jerome Robbins' centennial to exciting premieres to old classics, this week is jam packed with ballet. We rounded up highlights from eight companies to give you a sense of what's happening onstage this week.
The Washington Ballet
On March 14, The Washington Ballet will present a triptych of new works. Gemma Bond's premiere ties-in to Women's History Month, and she discusses the connection in this video. Also on the bill are creations by celebrated dancers Clifton Brown and Marcelo Gomes. For video teasers of their works, click here.
Keep reading...
Show less
Nadia Mara (second from left) with Atlanta Ballet patrons. Photo by J. Clemmons, Courtesy Atlanta Ballet.
Ballet companies cannot survive without the financial support of their patrons and donors. In addition to underwriting new buildings and world premieres, and contributing to endowments, individual patrons and corporate donors often sit on the company's board. Many even sponsor the salaries of dancers, or support their side projects.
Yet your ballet training does not prepare you for the formal, sometimes awkward socializing you are asked to do with these VIPs at galas, backstage champagne toasts and other events. Atlanta Ballet dancer Nadia Mara remembers feeling uncomfortable at patron events her first year as a professional. "My English wasn't great," says Mara, who grew up in Uruguay, "and I was unsure of what to do, how to act." Yet she found that as she gained more experience speaking with patrons about where she had come from and her interests, the awkwardness melted away. "We have so much in common. We are passionate about the same things: ballet, art, fitness, culture."
Cultivating strong relationships with donors and patrons often means stepping outside your comfort zone. "Our livelihood depends on them," says Sona Kharatian, a dancer with The Washington Ballet. "It is important that we make them feel included and let them know we know they are doing this for the greater good of culture in their city." Read on for some tips on how to initiate conversation and make some new, supportive friends.
Keep reading...
Show less
Jackie Nash and Ben Needham-Wood in "Wandering." Photo by Chris Hardy, Courtesy Imagery.
Jackie Nash left an indelible impression as a member of Amy Seiwert's Imagery during this summer's performances at New York City's Joyce Theater. In Seiwert's Wandering, Nash, an Atlanta Ballet dancer during the regular season, demonstrated a keen technical sensibility that grounded her in the detail-rich, contemporary movement. But where the petite powerhouse shone was in her navigation of the challenging music, Schubert's rich, dramatic Winterreise cycle. She danced along a razor-thin line between allowing the breadth of the sound to overpower her movement and resorting to melodrama to match its feeling, succumbing to neither. An instinct for nuance lent maturity, visible in a movement as simple as an arabesque that did not strain to meet the space but instead swelled effortlessly to fill it. One can only hope that Nash might find her way to New York City stages more often.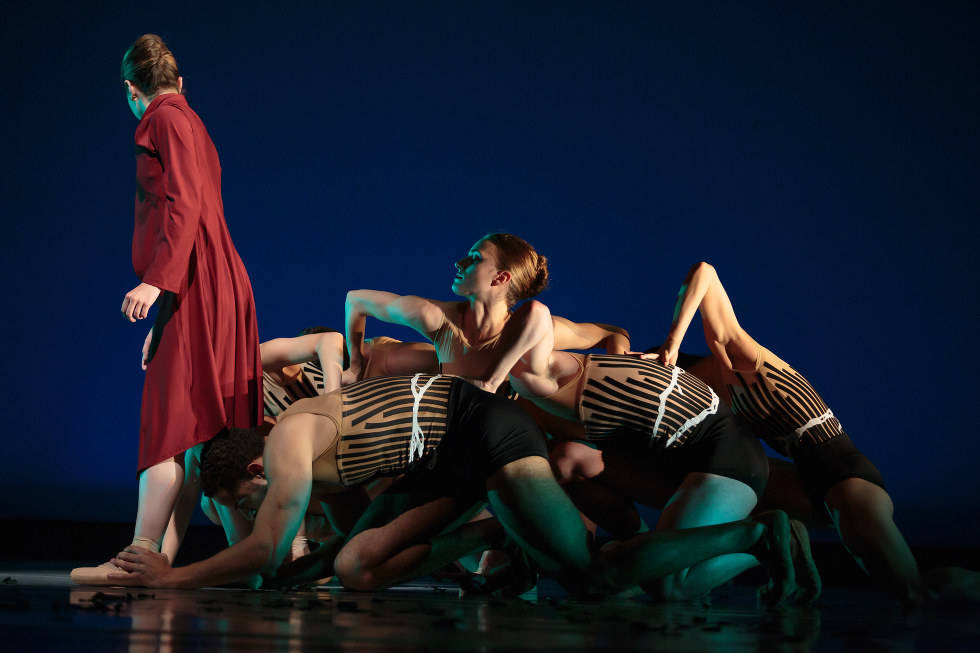 Imagery in "Wandering." Photo by Chris Hardy, Courtesy Imagery.
popular
Oct. 16, 2017 05:26PM EST
Houston Ballet's Jared Matthews and Sara Webb in"The Sleeping Beauty." Photo by Amitava Sarkar, Courtesy Houston Ballet.
Despite the devastation and pain that Hurricanes Harvey and Irma have left in their wake this fall, it's been encouraging to see dancers step up in aid of their communities: When the future of Houston Ballet's Nutcracker seemed uncertain, venues around the city pulled together to allow the company to produce the show on a "hometown tour." And when Florida ballet companies had to evacuate, Atlanta Ballet and Charlotte Ballet welcomed them with open arms. In addition, New York City-based studio Broadway Dance Center offered community classes in September with proceeds donated to the American Red Cross.
The next in this series of good deeds is Hearts for Houston, a benefit performance bringing dancers from seven major companies together at New York City's Alvin Ailey Citigroup Theater to raise money for the United Way of Greater Houston's Harvey Relief Fund. Scheduled for Sunday, October 22, the evening will feature members of the Houston Ballet, American Ballet Theatre, New York City Ballet, Pennsylvania Ballet, Texas Ballet Theater, The Washington Ballet and Alvin Ailey American Dance Theater. Hearts for Houston is imagined and produced by Houston Ballet principal dancers Yuriko Kajiya and Jared Matthews (both formerly of ABT) and funded by patrons Phoebe and Bobby Tudor and sponsor Neiman Marcus.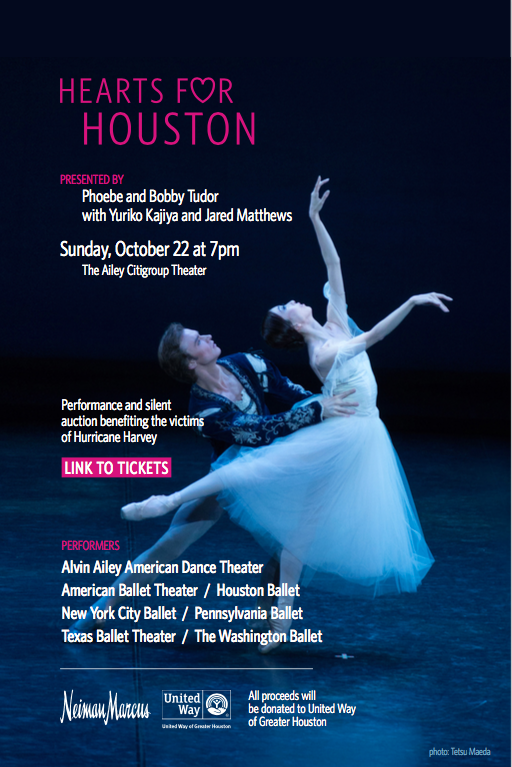 Keep reading...
Show less
Courtesy Terminus Modern Ballet Theatre
After a shakeup at Atlanta Ballet this past April, several leading dancers chose not to renew their contracts. Led by John McFall for more than 20 years, the company's direction and repertoire had favored contemporary ballet. When McFall retired in 2016, former San Francisco Ballet principal Gennadi Nedvigin took over as artistic director with a more traditional approach.
While it is not unusual for dancers to be let go or move on after a change at the top, many were surprised when Tara Lee, Christian Clark, Rachel Van Buskirk and Heath Gill revealed where they were going. Along with veteran AB dancer John Welker, a runner-up in the company's search for a new artistic director, these tenured dancers had planned quietly to form their own company: Terminus Modern Ballet Theatre. "We were all at a point in our careers where we were asking 'What do we want?' " says Welker, who had directed AB's summer company Wabi Sabi. "And we were aware that time in this career is short. This city has an energy here. I think Atlanta is ready for another dance company to thrive."
Keep reading...
Show less
Nina Danilova in variations class with a student from City Ballet of Wilmington, NC. Photo Courtesy Danilova.
When Sara Havener was asked to learn a variation from Giselle without following an instructor or DVD, she was taken aback. Nina Danilova, Havener's teacher at the University of North Carolina School of the Arts, wanted her to learn it from written text and pictures.
"At first I didn't know what to expect," says Havener, who recently danced with Atlanta Ballet. "I'd never gone into this detailed approach with every step written down." Despite her initial trepidation, Havener soon came to love learning variations this way.
A former Kirov Ballet dancer, Danilova developed her innovative five-step method, which eliminates mimicking teachers, other dancers or DVDs, in 2008. After observing students robotically memorize steps in her own variations class, she was determined to develop a better way to teach them—one that helped dancers discover their artistry. Because they use their mind to connect to the variation from the beginning, much like how an actor discovers a role from a script, they can give depth to and develop their personal interpretation of a role, and feel confident in what they create.
"A dancer's brain is as important as her legs," says Danilova. "A mechanical step is only physical. Ballet is art and needs your heart, emotion, imagination and vision."
Danilova's methodology is gaining adherents from dance teachers in Maryland, North Carolina, South Carolina and West Virginia, and she recently released a book, Eight Female Classical Ballet Variations, that outlines her method. How does her system work? We break down its five steps below with five professional dancers who studied under Danilova.
Keep reading...
Show less
News
Oct. 01, 2016 12:44PM EST
Gennadi Nedvigin coaches Atlanta Ballet dancers. Photo by Charlie McCullers, Courtesy Atlanta Ballet.
Atlanta Ballet has hired former San Fran­cisco Ballet principal Gennadi Nedvigin to become the company's fourth leader. He stepped into the role in July, after longtime artistic director John McFall retired on June 1. "I could have danced longer, but I wanted to prioritize this opportunity," explains Nedvigin of his recent retirement from the stage. "It will work best if I do one thing."
While at San Francisco Ballet, Nedvigin's experience included working as a ballet master and stager of Yuri Possokhov's works, in addition to dancing lead roles in a wide variety of repertoire. When he staged Possokhov's Classical Symphony for Atlanta Ballet in 2014, Nedvigin was very impressed with the company. "I also enjoyed the sense of closeness among the dancers and the family atmosphere," he adds.
Keep reading...
Show less
Views
Aug. 03, 2016 04:50PM EST
Photo by Jonah Hooper, Courtesy Atlanta Ballet
During their summer break, some Atlanta Ballet dancers trade the theater for the outdoors, performing in places like the BeltLine, a loop of trails and historic railroad tracks around the city. It's all part of Wabi Sabi, the dancer-led group which makes public spaces a backdrop for dance. Pointe spoke with company dancer Kiara Felder about this grassroots project with contemporary flair.
What got you involved in Wabi Sabi?
I've been a "Wabier" since 2013. It has always been a no-brainer for me: I get to know my city a little better, have the opportunity to dance in a different setting, and it's a good way to stay in shape and earn some money during the summer layoff.
Where are you dancing this weekend?
We're performing along the BeltLine and on the rooftop of Ponce City Market, which looks out over the Atlanta skyline. I'm in a group piece, and a duet with Alessa Rogers that was originally created for two men. I'm really excited to see how our nuances will affect the witty and precise tone established by the original cast.
What's it like having your patrons so close?
It's like plucking the dancers from the stage and putting them in the midst of the audience, or rather the audience is in the midst of the dancers! My first time dancing in the botanical gardens, it was exciting to see people who maybe didn't know there was a performance happening stop and engage. You could see art and dance sparking curiosity.
How has Wabi Sabi stretched you as a dancer?
I have to be ready to adapt to everything that is thrown at me--from steps to different performance environments. The ground might be sloped, the space might be smaller, and there might not be an "offstage." But I feel more fearless when I return to Atlanta Ballet's regular season.
Photo by Jonah Hooper, Courtesy Atlanta Ballet
Wabi Sabi will perform at free and ticketed events throughout Atlanta on August 6 and 21.
For more news on all things ballet, don't miss a single issue.
Rogers in Twyla Tharp's "The Princess and the Goblin." Photo by Kim Kenney, Courtesy Atlanta Ballet.
Five years after joining American Ballet Theatre, corps member Zhong-Jing Fang sustained a serious ankle injury. Not one to let a setback take her off course, Fang wondered: What other things can I do as an artist? She loved imitating movie actresses as a child, so she decided to try acting while she recovered. For two years, she went every Wednesday evening to a four-hour group class with acting coach Diaan Ainslee. There she learned to dissect a monologue, develop a character, listen and feel emotionally exposed. The experience thrust Fang out of her comfort zone and transformed her as an artist. "It's a different layer of becoming a person," Fang says, "and becoming much more real."

Acting classes, which often incorporate exercises aimed at self-exploration, can offer dancers tools to deepen their artistry. Even simple things, Fang notes, like working without mirrors, can inspire you to go beyond image and find a deeper sense of self. "There is a lot more to say, beyond just being able to dance," she says. Here, Fang and three other dancers explain how acting skills have made them better performers.
Keep reading...
Show less
Pixabay
Need some inspiration for staying in shape this summer? These four dancers know how to balance rest, cross-training and fun to start off their next season right.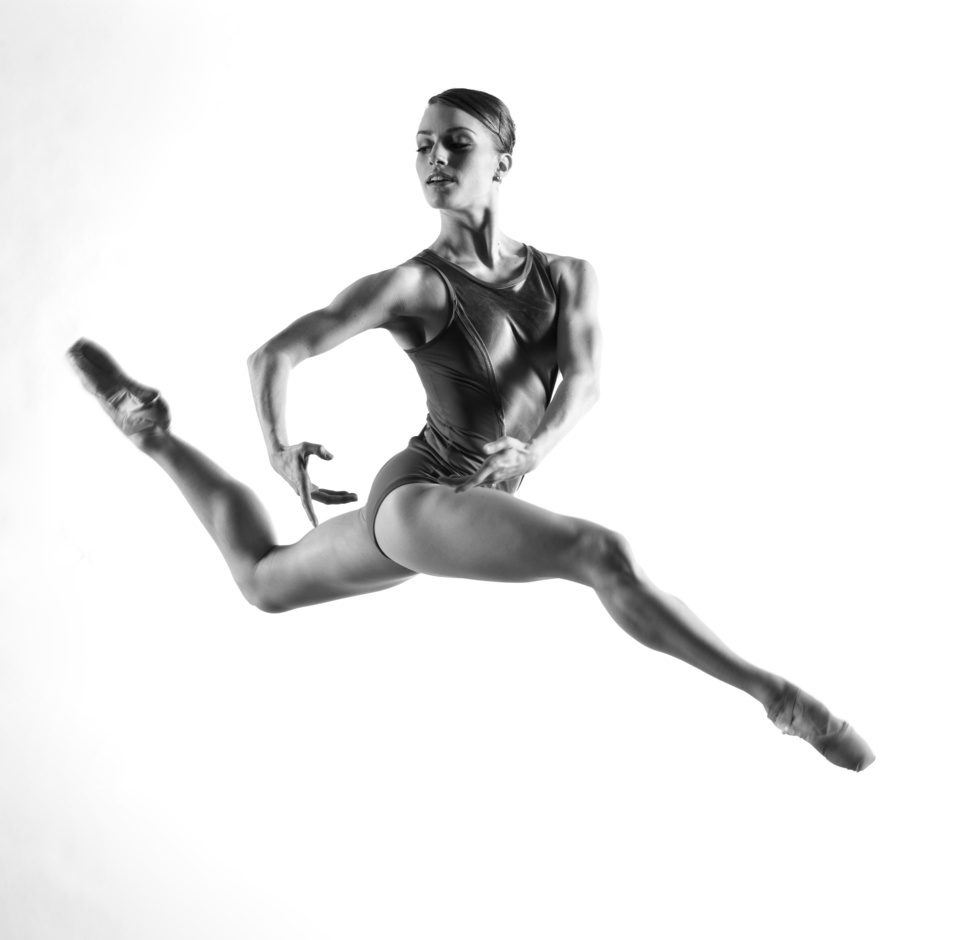 Photo by Charlie McCullers, Courtesy Atlanta Ballet.
Jackie Nash
Atlanta Ballet
Typical summer break: mid-May–August
On rest: I need to take one solid week, at least, to let all those last bits of the season go. After Nutcracker we push straight through until May, so a lot of little things in my body need to heal, and I want to have some mental space to go over how the season went.
Keep reading...
Show less
ABT Celebrates Ratmansky
Alexei Ratmansky works through Firebird with ABT dancers (photo by Gene Schiavone, courtesy ABT)
American Ballet Theatre's Ratmansky Festival is the centerpiece of the company's spring season at Lincoln Center's Metropolitan Opera House. Since festivals and celebrations usually come later in a choreographer's career, it provides an unusual opportunity to see how ABT has adapted to and absorbed Alexei Ratmansky's approach since he became artist in residence seven years ago. "The last seven years of Alexei's creative process with us was an exploration of the company's depth," says ABT artistic director Kevin McKenzie. "I think it's always good to take another look at what is, in fact, still new to us."
The festival kicks off with two mixed bills: the three-part Shostakovich Trilogy, and a program featuring a world premiere to Leonard Bernstein's "Serenade (After Plato's Symposium)" as well as Seven Sonatas and Firebird. Later will come the American premiere of The Golden Cockerel, a two-act ballet that Ratmansky made for the Royal Danish Ballet in 2012. ABT will also bring back Ratmansky's staging of The Sleeping Beauty, which the company unveiled last year.
McKenzie notes that Golden Cockerel shows a different facet of Ratmansky's work. "It taps the humorous side of Alexei's vision while adhering to his interest in historic works," he says. Originally staged by Michel Fokine to a score by Nikolay Rimsky-Korsakov for Diaghilev's Ballets Russes, the ballet takes its inspiration from a folktale by Pushkin. In it, the tsar of a distant land is given a magical golden cockerel that warns him when his kingdom is in danger.
"I can't wait to embody my character and experiment with it," says soloist Skylar Brandt, who dances the title role on opening night, and has watched videos and read the story to prepare for the role. Brandt looks forward to working again with Ratmansky in the studio. "I have observed that dancers who trust Alexei excel in his movement," she says. "When he says, 'Good,' it's a big compliment." —Hanna Rubin
An American First
Sarasota Ballet artistic director Iain Webb approached Tony Dyson—owner of Sir Frederick Ashton's Enigma Variations—about obtaining choreographic rights without knowing the historic 1968 ballet had only ever been performed by The Royal Ballet and Birmingham Royal Ballet.
Fortunately, the request occurred during the May 2014 Sir Frederick Ashton Festival in Sarasota, at which Dyson watched Webb's dancers perform 14 Ashton works. "I think it gave him the trust to give the ballet to us," Webb says. "He knew we'd respect it." Webb was, in fact, a protégé of Ashton's, and Sarasota Ballet is noted as the preeminent American expositor of the choreographer's work.
Thus the April 8 premiere of Enigma, staged by British dance notator Patricia Tierney, will be the first time an American company performs the work, set to a score by Edward Elgar. —Carrie Seidman
Liam Scarlett Faces Frankenstein
Yuan Yuan Tan, Liam Scarlett and Carlo Di Lanno rehearse Scarlett's Fearful Symmetries
(photo by Erik Tomasson, courtesy SFB)
Royal Ballet artist in residence Liam Scarlett is noted for the psychological themes of his one-act ballets, like 2014's The Age of Anxiety. On May 4, he'll push those themes further with the premiere of Frankenstein—his first full-length work for The Royal Ballet's main stage. Frankenstein marks a first-time collaboration between Scarlett and composer Lowell Liebermann, and is co-produced with San Francisco Ballet, which will give the U.S. premiere in 2017. Pointe spoke with the choreographer about his process and why he thinks Mary Shelley's novel is "perfection in literature."
Why were you drawn to Frankenstein?
I first read Frankenstein as a child. Now, it's less a tale of gothic horror and more a story of love: innocent love, the lack of love for oneself, betrayed and jealous love, and the desperate need to be loved by another. Every great story ballet has love at its center.
How do you work in the studio?
I don't like to impose preconceived ideas on the talent in front of me. I prefer to mold the dancers and listen to what they have to say. I'm very fortunate to have both The Royal Ballet and SFB on board.
Can you talk about the characters?
Victor (Frankenstein) and Elizabeth (Victor's betrothed) provide a pivotal central couple. The Creature adds a third role into the love triangle, as he struggles to gain acceptance from Victor and eventually takes revenge on him. The story has sympathy for all three characters—incredible actors are key for this ballet.
Will the ballet hew closely to the format of the book?
Shelley wrote in a three-person narrative form and created a pyramid structure that sets up tension and suspense perfectly. There's been some editing to make it suitable for performance, but I've tried to stay true to the relationships between characters. —Nicole Loeffler-Gladstone
Carolina Ballet Tackles Macbeth
To commemorate 400 years since Shakespeare's death, Carolina Ballet will perform three ballets dedicated to the Bard, crowned by the April 14 premiere of artistic director Robert Weiss' Macbeth. The ballet will have costumes by David Heuvel and scenery designs by Jeff A.R. Jones, while J. Mark Scearce will compose the commissioned score.
Despite Macbeth's rarity in the classical canon, Weiss believes the story lends itself well to dance. "It's about the psychological interdependence between a husband and wife," he says, "which makes for great pas de deux and the heart of the ballet. And, of course, the witches are a great excuse for dancing." —NLG
Atlanta Ballet's Uncharted Territory
Atlanta Ballet has a diverse repertoire, but the company's May 20 premiere by choreographer Andrea Miller—founder of Brooklyn-based Gallim Dance—marks a signifcant departure. Miller is a graduate of The Juilliard School and a former member of Batsheva's Young Ensemble, which works in Gaga, Israeli choreographer Ohad Naharin's unpredictable movement language.
Miller's choreography is rife with physicality so extreme it looks reckless. It's hard to imagine her work transitioning into a ballet studio. Artistic director John McFall contacted Miller about creating a new work after seeing Gallim perform in Atlanta.
Miller has never choreographed on a classical ballet company and acknowledges her different approach. "I see dancers as individuals. We work together by talking and using imagery," she says. She's excited about dancers with such a different, and specific, background performing her work. "Figuring out how to communicate my values is the beauty of the process." —NLG
Matthew Karas for Dance Magazine
Om at home: Three days a week, Van Buskirk spends about 20 minutes waking up with yoga. "I build muscle easily," she says, "so I like to balance it out by stretching and lengthening." She moves through sun salutations and warrior poses to get her heart rate up but pauses when her body needs a deeper stretch. "If my psoas is sore, I usually hold my lunges." Yoga's breathing techniques also help her connect with her breath during demanding choreography.
Stability secret: "My left knee has been giving me problems, so I do a lot of stabilizing work," she says. Between allégro combinations, she builds strength around the joint with this exercise: Standing in parallel with one leg in a turned-in passé, she slowly lowers into a lunge and tries to touch the ground with her hand before returning to standing. The focus is on tracking the standing knee with correct alignment.
Keep reading...
Show less
News
Feb. 29, 2016 03:10PM EST
Gennadi Nedvigin rehearsing Classical Symphony at Atlanta Ballet. Photo by Charlie McCullers, courtesy Atlanta Ballet.
Gennadi Nedvigin, principal dancer with San Francisco Ballet, must have made an impression at Atlanta Ballet when he staged Yuri Possokhov's Classical Symphony for the company in 2015. After a seven-month search, AB has chosen Nedvigin to succeed artistic director John McFall, who steps down from the position this summer.
Nedvigin will take up his new post on August 1. Though this will be his first directorship, he has taught company class at SFB and acted as ballet master and stager at Atlanta Ballet, Tulsa Ballet, and Romanian National Ballet. Bolshoi-trained Nedvigin joined SFB in 1997 and became a principal in 2000. In his 19 seasons with the company, he has performed nearly every principal role in the classical repertoire, a broad range of contemporary works and has originated roles by modern dancemakers.
Keep reading...
Show less
News
Sep. 03, 2015 08:28PM EST
John McFall in rehearsals for his Peter Pan in 2007. Photo by Kim Kenney via AB.
Atlanta Ballet Director John McFall will step down at the end of the 2015/2016 season after a 21-year tenure. The company's third leader since its founding in 1926, McFall truly shepherded the company into the new millennium. He opened the Atlanta Ballet Centre for Dance Education, commissioned choreographic premieres by the likes of Twyla Tharp and Yuri Possokhov, brought in preeminent artists from Christopher Wheeldon to Ohad Naharin, fostered artistic collaborations with mainstream musicians, revitalized the company's Nutcracker and other classic favorites, organized international tours and bolstered box office revenue at home.
McFall, 68, plans to move to Amsterdam with his family following AB's 2015/2016 season. He fondly says, "au revoir, Atlanta Ballet is in my heart and always will be." The company has yet to announce a replacement, but it certainly has some big shoes to fill!
Nov. 29, 2001 07:00PM EST
Bootleg videos of Atlanta Ballet's new hit big are circulating on YouTube as if the work was a sold-out rock concert. Actually, it kind of was. Lauri Stallings choreographed the hip-hop ballet, set to live music by Antwan "Big Boi" Patton of OutKast, for its première in April. She saw the project, which brought together 80 dancers, musicians and children onstage, as the perfect culmination of her three years as the company's resident choreographer.
"This work was such a handful," says Stallings, a former dancer with Ballet British Columbia and Hubbard Street Dance Chicago. "Could I have done it not being resident choreographer? No. There is absolutely no way. It took too much trust."
European companies have been appointing resident choreographers for centuries. Nineteenth-century greats Marius Petipa at St. Petersburg's Imperial Theatre and August Bournonville at Copenhagen's Royal Danish Theatre are classic examples. Both created works that defined their companies' styles during more than 40 years of employment. Nowadays, such positions usually last three to five years, but the idea remains to give a choreographer the opportunity to work with a ballet company on a long-term basis, often presenting a world première each season.
While some U.S. companies employ resident choreographers, the practice is more common in Europe. Forming such a partnership with one individual involves major artistic and financial risks for companies, which must make a firm commitment to someone without knowing exactly what will come of the collaboration.
In the U.S., many directors are dancemakers themselves and therefore can be considered their company's unofficial resident choreographer. But those who have them say the benefits extend to everyone involved—the organization, dancers, choreographer and audiences.
"Having a resident choreographer gives an individual voice for the company," says Boston Ballet Artistic Director Mikko Nissinen, who appointed former Nederlands Dans Theater dancer Jorma Elo as Boston's resident choreographer in 2005. "Also, I have found that Jorma creates dancers. His work supports the whole organization's mission to develop dancers."
Tulsa Ballet's artistic director, Marcello Angelini, has found similar advantages. That's why his company has two resident choreographers: Val Caniparoli and Ma Cong. "They, better than anybody else, know the company and the individual dancers," says Angelini. "There's no one better than either of them at tailoring a work meant to stretch the dancers' technical, stylistic and emotional range. The by-product of this partnership is growth for the company."
Some artistic directors go for up-and-coming dancemakers, others want more established choreographers. Atlanta Ballet Artistic Director John McFall choreographs for his company on occasion, however he says he is also aware of his own limitations. "I'm always open to learning more," says McFall, who looks to a resident choreographer to bring fresh ideas. "Most of the creative stuff is on the fringe. I'm so interested in the street and the kids, because that's where it's happening in the moment."
Angelini looks for the boost an in-house choreographer can bring to his company's repertoire: "I look for a resident choreographer who can create great works. Artists who are hit or miss are not necessarily people I would want to work closely with the company, even though I would take the risk of commissioning a work from them every now and then."
Resident choreographers say the stability that comes with having a home base opens the door to artistic freedom. "Artistically you can dare to take more risks," says Elo. "Freelance choreographers go to places and it can be exciting, but your working environment is not always optimal. It's tough to take a jump into the unknown, but if you know where you are going, you can jump more easily."
Many also appreciate the value of relationships created over time. "There's a familiarity with the dancers, and you're able to communicate better with them," says Caniparoli, who has also been resident choreographer at San Francisco Ballet and Ballet West.
Similarly, an artistic director gets to know the choreographer and can urge a move outside his or her comfort zone.
"I like working with him because he always pushes me in directions I haven't explored or am afraid of," says Elo of Nissinen. "He always asks for things that he thinks are difficult for me or that would activate my mind."
Sometimes the risks involve innovation, such as Elo's recent work for Boston Ballet, In on Blue, in which the costumes, floor, backdrop and wings are all blue. But sometimes the risks are stylistic. "The most successful works I've done in Tulsa have been abstract neoclassical ones, and I rarely do them anywhere else, which is odd, but he's pushing me in a different direction," says Caniparoli of Angelini. "It makes me a stronger choreographer because I'm doing works there that I wouldn't be able to do anywhere else."
Of course, the regular paycheck is also a boon for choreographers who are accustomed to working project to project. "You never know in this job if you will get any working opportunities," says Elo. "Going back to the same company gives you a
little financial calm and the feeling that there will be something after two years."
Still, such posts are hard to come by, especially in the U.S. "Residencies are so rare, and there are so few of them," says Stallings. "Directors who commit to them are to be commended highly." Now, after three years with Atlanta Ballet, Stallings feels prepared to work as a freelancer for other companies, where the creative process can be condensed to a period of just a couple of weeks for creation and rehearsals. "I'm thrilled to get out and see how I can use that accumulated knowledge and put it to the test in a more expedited process," she says. "It's going to be interesting to see."
Along with such liberating perks as scheduled studio space, staff musicians and a choice of dancers, having their work seen by the same audiences from year to year allows choreographers to build their reputations. Most do not actually live in the same town as their company, so they are free to work with other troupes as time permits. If a residency results in successful ballets, choreographers may find they are sought after all over the world. This season alone, Elo has world premières scheduled at the Norwegian National Ballet, Göteborg Opera Ballet and Finnish National Ballet, among others. Nissinen has extended his contract with Boston Ballet through 2014, and this season Elo will try his hand at Le Sacre du Printemps for the company's celebration of Diaghilev's Ballets Russes (see page 40). SFB, Milwaukee Ballet and Louisville Ballet are all performing ballets by Caniparoli for the 2008–09 season. He will create a new work for Tulsa Ballet's "Mediterranea" program in May. And Pittsburgh Ballet Theatre kicks off its season with Stallings's The Great Gatsby, a co-creation with McFall.
Though talks continue about taking big on a national tour, Stallings's position at Atlanta Ballet has come to a close, and McFall has started a search for a new resident choreographer. "It's about a relationship, so I'm in no hurry," he says. "It's really trying to identify a process where you are getting connected with what's going on in the world of dance."

Jocelyn Anderson is a magazine editor based in New York City.
Nov. 29, 2001 07:00PM EST
Helen Pickett has just been named resident choreographer of Atlanta Ballet. The former Forsythe dancer has a contemporary aesthetic that intricately weaves ballet steps into quirky phrases, and she's made work everywhere from Boston Ballet to Vienna State Opera. Her new three-year appointment in Georgia will include both a series of premieres and an annual "Choreographic Essentials" workshop.
The move comes as part of Atlanta Ballet's new 5-year strategic plan, which involves a commitment to establishing signature works for the company. It also marks an important step forward for the ballet world: Other than Amy Siewert at Smuin Ballet, no other resident choreographers at US ballet companies are female. In a field dominated by women, the lack of women's voices at the top has been a thorny issue for decades. Be sure to check out Pointe's December/January issue (coming soon!) to read more about it.
Nov. 29, 2001 07:00PM EST
Atlanta Ballet resident choreographer Helen Pickett will premiere her first full length ballet on Friday. The work, titled after and based on Tennessee Williams' play Camino Real, will be the choreographer's fourth work for the company. Pickett spoke to Pointe about Camino Real for the February/March issue, and explained how she had found new inspiration in written text and the creation of a narrative ballet.
Atlanta Ballet has created several interesting behind-the-scenes videos in anticipation of the premiere—especially one detailing the process of building the ballet's unique set. The company has also made a "Camino Real by the Numbers" which notes that the process has taken Pickett five years from early research to premiere and that her copy of the play has traveled with her to six states and seven countries—a wonderful testament to the work it takes to make a ballet come to life.
Nov. 29, 2001 07:00PM EST
 Mara rehearsing Camino Real with Christian Clark. Photo by Charlie McCullers, Courtesy Atlanta Ballet.
This weekend, Atlanta Ballet presents the world premiere of Helen Pickett's 

Camino Real.

 Inspired by the Tennessee Williams play of the same name, it tells the story of an unlikely cast of characters trapped in a dusty, dead end town. 
Not only is it Pickett's first full-length ballet, but the five main characters also have speaking roles. For
Pointe
's bi-weekly newsletter, we
spoke with Atlanta Ballet dancer Nadia Mara before opening night.
You're playing Marguerite, who is based off the character in The Lady of the Camellias. What is she like?
She's a very elegant, effortless and delicate character. But at the same time, she goes through so many emotions, like anger, desperation, betrayal. That's when her movement starts getting a little more aggressive. At one point I even dance barefoot.

How would you describe the choreography?
It's very sensual and emotional. Helen Pickett does a really good job connecting the emotional state of the character to the movement. She'll say, "In this part, you feel anxiety," and does a movement. But she also gives me the freedom of creating. For a dancer, the best thing you can do is create with a choreographer and make a role your own.
What's it like working with Pickett?
She challenges me, and that's what I love about her. She knows she can give me anything, like speaking onstage, and I'll try to make it work. Of course, I'm from Uruguay, I have an accent and my English is not perfect. But she trusts me.
How is the speaking woven into the choreography?
It's pretty amazing--they happen together. I'm in the middle of a solo, and I have to scream and say things and express my feelings through movement. We have a lot of rehearsals where we ask, "Where exactly are we going to breathe?" I have a jumping solo and a microphone, so I can't inhale loudly before I'm going to say something. Everything is about timing.
For even more interviews, tips, audition info and giveaways, sign up for our FREE e-newsletter.