News
Jul. 08, 2019 10:37AM EST
Ochoa in the studio with former BalletX dancer Daniel Mayo. Bill Hebert, Courtesy BalletX.
The Little Prince is one of the world's most beloved books, and one every child reads in Annabelle Lopez Ochoa's native Belgium. So when BalletX director Christine Cox hired Ochoa to make a new full-length ballet, the Netherlands-based choreographer immediately thought of Antoine de Saint-Exupéry's classic tale.
Featuring designs by Danielle Truss and Matt Saunders and music composed and performed live by Peter Salem, BalletX will premiere The Little Prince July 10–21 at Philadelphia's Wilma Theater. Pointe spoke to Ochoa about why children and adults alike will appreciate this new work.
Keep reading...
Show less
News
Oct. 01, 2018 04:55PM EST
Los Angeles Ballet's Tigran Sargsyan and Petra Conti. LAB opens their fall season this week with a mixed bill including two company premieres. Photo by Reed Hutchinson, Courtesy LAB.
Keep reading...
Show less
News
Aug. 06, 2018 12:53PM EST
Aspen Santa Fe Ballet will revive "An Evening with Pianist Joyce Yang" this weekend in Aspen. Photo by Rose Eichenbaum, Courtesy of ASFB.
Wonder what's going on in ballet this week? We've pulled together some highlights.
Vail Dance Festival Races to the Finish Line
This Sunday, Vail Dance Festival wraps up an eventful few weeks jam-packed with premieres, collaborations and guests. The final week of the festival has us looking forward to appearances from American Ballet Theatre, Ballet Hispánico and more.
Vail's NOW: Premieres Includes New Michelle Dorrance Work for ABT
On August 6, Vail's NOW: Premieres program features new works commissioned for the festival. Choreographers include New York City Ballet star Tiler Peck (making her festival choreographic debut), Lauren Lovette, Justin Peck and Claudia Schreier, who is creating a ballet on dancers from Ballet Hispánico. Tap maverick Michelle Dorrance is also choreographing a piece on American Ballet Theatre, the second of Dorrance's three works on the company this year. Watch some of the same choreographers' premieres at the 2017 edition of NOW below.
Keep reading...
Show less
News
Apr. 28, 2018 12:00PM EST
Dores André and Solomon Golding in Annabelle Lopez Ochoa's "Guernica," via YouTube.
In honor of its 85th anniversary, San Francisco Ballet has commissioned works from 12 internationally-recognized choreographers to contribute to the company's Unbound: A Festival of New Works, now in progress. Pointe spoke with Belgian-Colombian choreographer Annabelle Lopez Ochoa and corps member Solomon Golding about the process of making Guernica, Ochoa's work inspired by the painting of the same name by Pablo Picasso.

Keep reading...
Show less
From left: Jennifer Stahl, Lonnie Weeks and Sasha De Sola in rehearsal for Trey McIntyre's new work. Photo by Christian Peacock for Pointe.
Photography by Christian Peacock

Summer is always a lively time at San Francisco Ballet, as the dancers return from vacation and launch into rehearsals for the upcoming season. But last July through September felt absolutely electric with creativity as the company created 12 world premieres for Unbound: A Festival of New Works, a cutting-edge program that will run April 20–May 6 at the War Memorial Opera House.
Artistic director Helgi Tomasson invited a wish list of international choreographers to participate: David Dawson, Alonzo King, Edwaard Liang, Annabelle Lopez Ochoa, Cathy Marston, Trey McIntyre, Justin Peck, Arthur Pita, Dwight Rhoden, Myles Thatcher, Stanton Welch and Christopher Wheeldon. Each got about 12 dancers, three weeks' studio time and, aside from a few general guidelines, total artistic freedom.
Keep reading...
Show less
News
Mar. 14, 2018 03:28PM EST
Les Grabds Ballets dancer Mai Kono in a promotional phtoo for next season's production of "Lady Chatterley's Lover." Photo by Sasha Onyschenko, Courtesy Les Grands Ballets.
The latest front in the controversy over the underrepresentation of female choreographers in ballet is at Les Grands Ballets Canadiens de Montréal. They're facing a petition and choreographer resignation that forced them to rebrand a season and publicly defend their programming.
On February 26, artistic director Ivan Cavallari, who started the job in the summer of 2017, announced the 2018-2019 season, which included a program titled Femmes. The program announcement said the evening would have "woman as its theme," and that Cavallari had "chosen three distinctive voices, rising stars of choreography, to undertake this great subject."
The three voices Cavallari chose to create on the theme of women, however, were all men.
"This was just too much for me, it was the last straw," says Kathleen Rea, a former member of National Ballet of Canada who now freelances, choreographs and teaches in Toronto. Rea says she's been bothered by the dearth of women choreographers throughout her career. But referring to women as "subjects" and excluding them from choreographing on a program about them compelled her to take action.
Keep reading...
Show less
Nov. 09, 2017 11:09AM EST
Fabrice Calmels and Anais Bueno in Anabelle Lopez Ochoa's "Mammatus." Photo by Cheryl Mann, Courtesy Cal Performances.
The Joffrey Ballet and University of California—Berkeley's Cal Performances have joined forces on a five-year residency series that offers the public in-depth, behind-the-scenes access to the art of ballet. The first installment runs Nov. 13–19 with repertory classes taught by Joffrey dancers, a panel discussion and open rehearsals as well as performances in Zellerbach Hall November 17–19.
"There is so much interesting work happening, and we want to share it," says Joffrey artistic director Ashley Wheater, whose Bay Area ties go back to his days as a San Francisco Ballet principal dancer and ballet master. He has slated Justin Peck's In Creases, Annabelle Lopez Ochoa's Mammatus, the West Coast premiere of Alexander Ekman's Joy and Joffrey ballet master Nicolas Blanc's Encounter for this year's bill.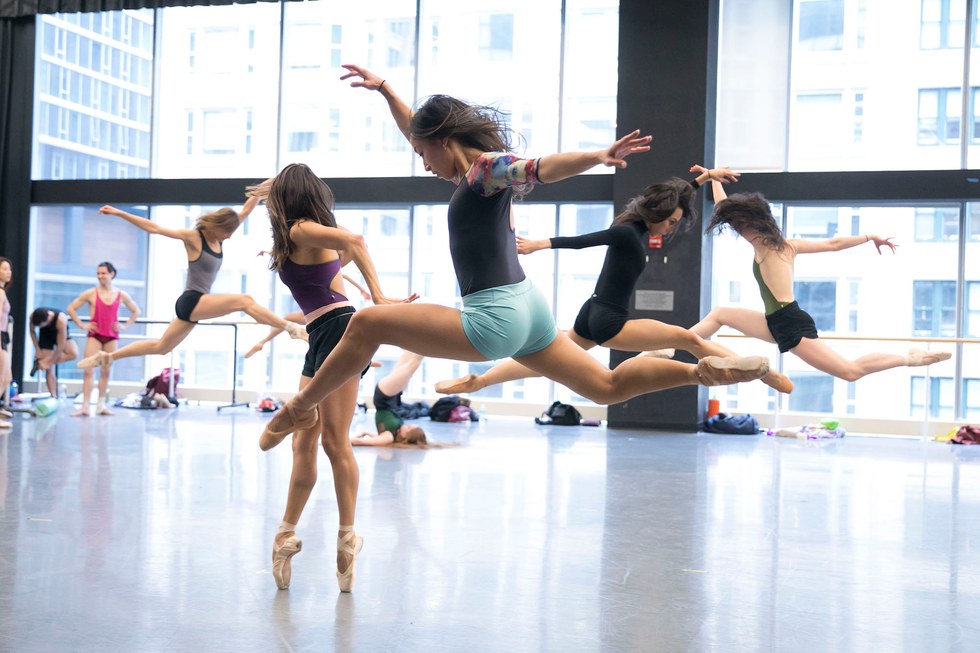 Joffrey Ballet dancers in rehearsal for Alexsander Eckman's "Joy." Photo by Todd Rosenberg, Courtesy Cal Performances.
Keep reading...
Show less
popular
Jul. 25, 2017 06:23PM EST
Photo by Erik Tomasson, Courtesy SFB.
It may be the middle of summer, but San Francisco Ballet is already rehearsing for its spring season. There's a lot to prepare for—the company's Unbound: A Festival of New Works, which runs April 20–May 6, 2018, will feature 12 new ballets by 12 choreographers. And it's an impressive group of dancemakers: David Dawson, Alonzo King, Edwaard Liang, Annabelle Lopez Ochoa, Cathy Marston, Trey McIntyre, Justin Peck, Arthur Pita, Dwight Rhoden, Myles Thatcher, Stanton Welch and Christopher Wheeldon. That's a lot of choreography to pack in!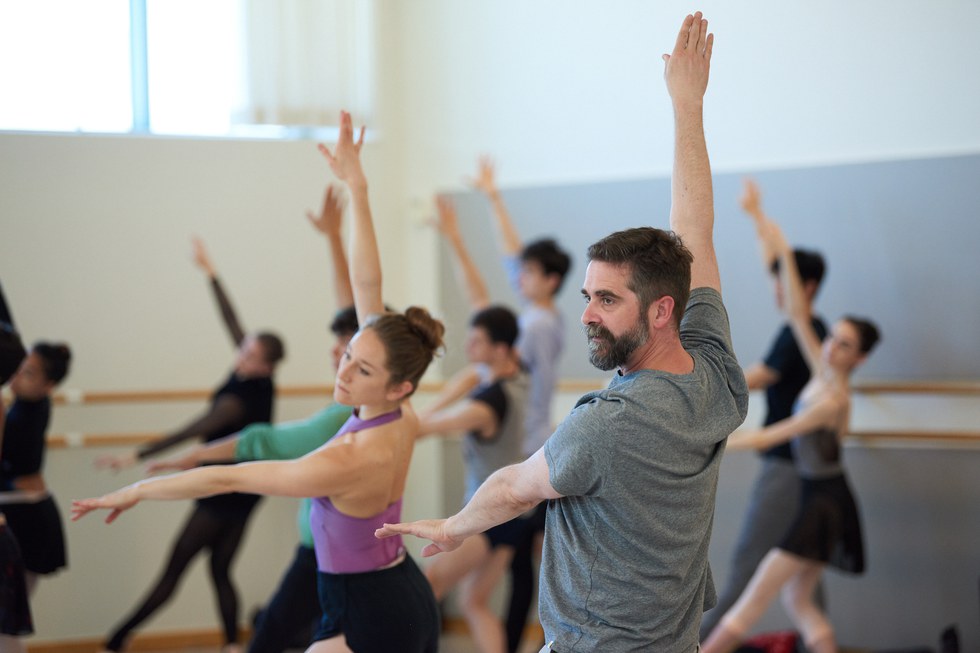 Stanton Welch in rehearsal with San Francisco Ballet. Photo by Erik Tomasson, Courtesy SFB.
Luckily, we don't have to wait until spring to get a sneak peek of some of these new works. SFB is kicking off Unbound: LIVE, a series of live-stream events that will take us inside rehearsals. The first one is Wednesday, July 26, at 5:30 pm Pacific Standard Time (8:30 EST). It will highlight rehearsals with Arthur Pita, Edwaard Liang and Stanton Welch. You can expect to see the dancers perform excerpts of their works in progress, as well as interviews with each choreographer.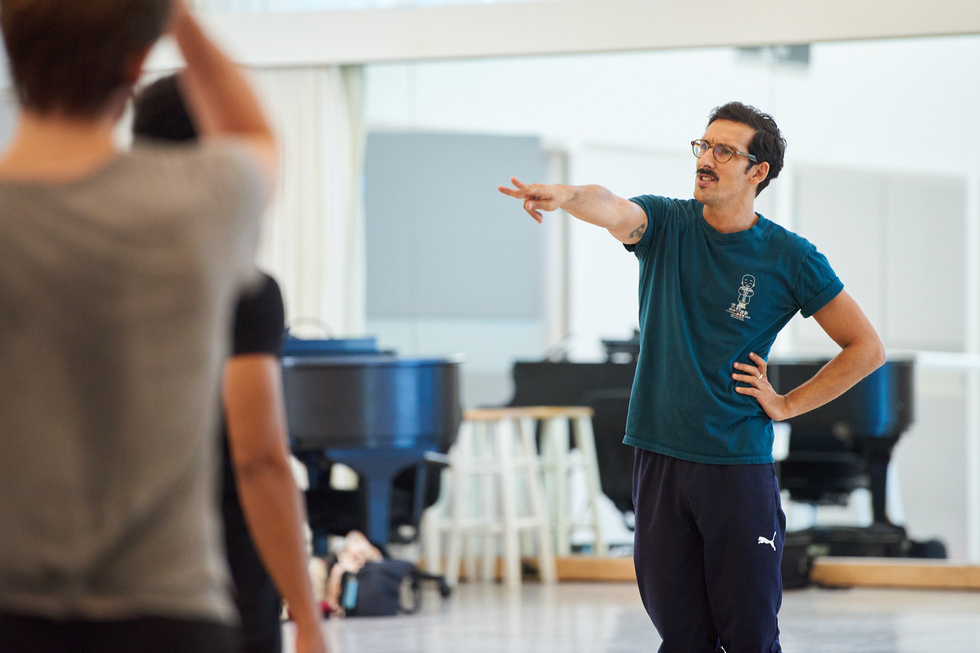 Artur Pita in rehearsal. Photo by Erik Tomasson, Courtesy SFB.
Visit SFB's website or its Facebook page tomorrow night to watch. And if you miss it, no worries—it'll be accessible on the company's site and YouTube channel for 60 days. The other live-stream events have yet to be announced, but we'll be sure to keep you posted!
News
Apr. 20, 2017 07:00AM EST
Morgan works with Sirui Liu and Daniel Wagner. Photo by Jennifer Denham, Courtesy Cincinnati Ballet.
Cincinnati Ballet's Kaplan New Works series, which runs April 20–29, is an institution at the midwestern company. Now in its 12th year, and sixth season presenting an all-female lineup, it has positioned itself at the forefront of a global conversation around gender imbalances in ballet. Namely, why do so few women create and lead in an art form dominated by female performers?
During the beginning of her tenure at CB, artistic director and CEO Victoria Morgan didn't prioritize the lack of female voices. "Then I started to realize that the representation is really skewed," she says. "I thought, as a leader, I should do something."
Keep reading...
Show less
Sep. 23, 2016 12:54PM EST
Lauren Lovette of NYCB as Juliet in Peter Martins' Romeo + Juliet. Photo by Paul Kolnik, Courtesy NYCB.
It's been five years since a female choreographer premiered a work at New York City Ballet. Fortunately the 2016 fall gala on September 20 presents a more gender-diverse choreographic lineup, including company principal Lauren Lovette and independent choreographer Annabelle Lopez Ochoa. The gala program includes premieres by two other NYCB dancers: resident choreographer Justin Peck and corps member Peter Walker, who creates his first ballet for the company.

Keep reading...
Show less
Nov. 29, 2001 07:00PM EST
What better way to celebrate the 4th of July weekend than by revisiting classic ballets that have acted as pillars of American dance? The wider dance world beautifully represents the diversity and complexity of what it means to be American. Unfortunately, ballet's contributions to national identity have historically been pretty narrow, reflecting youth and energy, and not much else.
Contemporary ballets have recently borrowed from classic works of literature and theater, using writing by Earnest Hemmingway, F. Scott Fitzgerald, Tenessee Williams and Mark Twain to explore more psychologically complex portraits of what it means to be American. Whether or not they have been critical successes, these ballets have proven to be audience favorites, indicating that ballet audiences are ready to see work that includes not just the the sheer exuberance of George Balanchine's Stars and Stripes, but also the melancholy of Septime Webre's The Great Gatsby. Why not, since we have such a rich tradtion of American choreographers to emulate and learn from?
Agnes de Mille's 1942 ballet Rodeo and George Balanchine's 1954 ballet Western Symphony celebrate the myth of the wild west.
The "Rubies" section from George Balanchine's 1967 ballet Jewels demonstrates the jazzy thrill of mid-century New York.
West Side Story Suite—Jerome Robbins' 1995 re-structuring of West Side Story—and his 1944 ballet Fancy Free explore the hot-headedness of youth.
George Balanchine's 1958 ballet Stars and Stripes is definitively American in its energy and attack.
Septime Webre's The Great Gatsby and Annabelle Lopez Ochoa's A Streetcar Named Desire offer new directions for ballet's relationship with American art and identity.