Trending
Nov. 28, 2018 12:45PM EST
Christine Shevchenko and Devon Teuscher, photographed for Pointe by Jayme Thornton
This is Pointe's December/January 2018 Cover Story. You can subscribe to the magazine here, or click here to purchase this issue.
Christine Shevchenko and Devon Teuscher have spent practically half their lives with each other. Both dancers joined American Ballet Theatre's Studio Company in 2006. The following year, they graduated into the main troupe as apprentices, again together. They've sat next to each other in every dressing room they've ever occupied, and shared hotel rooms on the road. And in September 2017, at the age of 28, they became the company's two youngest female principal dancers—on the same day. If they weren't such good friends, they would probably be sick of each other.
Keep reading...
Show less
ABT corps members Rachel Richardson (left) and Zimmi Coker in rehearsal with choreographer Gabrielle Lamb. Photo by JJ Geiger, Courtesy ABT.
"I feel like you want to move one more thing," says choreographer Gabrielle Lamb, her head cocked slightly to the right as she watches American Ballet Theatre corps dancers Zimmi Coker and Xuelan Lu work through an intertwined movement sequence. "My hip," answers Lu, who stands with her right leg extended, foot flexed, her hand on Coker's head. Both are in socks, and in the background music plays softly, providing atmosphere rather than counts and cues. It's week two of ABT Incubator, a new choreographic workshop spearheaded by principal dancer David Hallberg that was held earlier this month. Lamb is one of five choreographers, including New York–based dancemaker Kelsey Grills and ABT dancers Sung Woo Han, Duncan Lyle and James Whiteside, who were chosen to participate through an audition process.

Keep reading...
Show less
Trending
Nov. 20, 2018 11:18AM EST
New York City Ballet soloist Claire Kretzschmar as the Sugarplum Fairy in Balanchine's "The Nutcracker." Photo by Paul Kolnik, Courtesy NYCB.
What bunhead hasn't dreamed of dancing Clara in Nutcracker? But with so many young dancers aspiring to the role, casting disappointments are inevitable each year. Today, three professionals share their childhood Clara casting disappointments and what helped them move on and learn from the experience. We hope their stories will encourage you this Nutcracker season!
Keep reading...
Show less
Murphy (left) with Hee Seo. "Gamzatti has heard that Nikiya is a beautiful temple dancer, but when she lifts up her chin and first sees her face, it's like, 'Oh, no.' She's stunningly gorgeous." Photo by Gene Schiavone, Courtesy ABT.
By Gillian Murphy, as told to Amy Brandt.

Gamzatti was one of my first principal roles, when I was 19. Over the last 20 years I've had a chance to develop the character and find nuances. At first I saw her more as a villain and Nikiya as the good character. That's changed over time. I don't condone her actions, but she does what she believes is right. And Nikiya has a part to play in what happens. I've danced both roles and love each, but I feel like Gamzatti has more to dig into. She really has dimension.
Keep reading...
Show less
Just for fun
Oct. 26, 2018 05:23PM EST
Royal Winnipeg Ballet revived Lila York's adaptation of Margaret Atwood's The Handmaid's Tale earlier this month. Photo by David Cooper, Courtesy RWB
When American Ballet Theatre announced yesterday that it would be adding Jane Eyre to its stable of narrative full-lengths, the English nerds in the DM offices (read: most of us) got pretty excited. Cathy Marston's adaptation of Charlotte Brontë's classic novel was created for England's Northern Ballet in 2016, and, based on the clips that have made their way online, it seems like a perfect fit for ABT's Met Opera season.

It also got us thinking about what other classic novels we'd love to see adapted into ballets—but then we realized just how many there already are. From Russian epics to beloved children's books, here are 10 of our favorites that have already made the leap from page to stage. (Special shoutout to Northern Ballet, the undisputed MVP of turning literature into live performance.)
---
Northern Ballet in David Nixon's The Great Gatsby (F. Scott Fitzgerald)
Star-crossed lovers? Check. Wild party scenes? Check. The 1920s aesthetic is just bonus.
Dutch National Ballet in John Cranko's Onegin (Alexander Pushkin)
It's a novel in verse, but it still counts! Cranko's pas de deux work vividly paints the emotional turmoil of Pushkin's characters, such as this sequence in which Tatiana imagines being loved by the haughty Onegin.
The Royal Ballet in Liam Scarlett's Frankenstein (Mary Shelley)
It's spooky, it's sensational, it's a deep meditation on the nature of humanity—oh, and it's alive.
Northern Ballet in David Nixon's The Three Musketeers (Alexandre Dumas)
All for one and one for all! (And we're all in for this epic fight choreography the dancers took to a famous Abbey in their hometown of Leeds, England.)
Charlotte Ballet in Sasha Janes' Wuthering Heights (Emily Brontë)
The Brontë sisters had a knack for writing complex, tempestuous relationships—great fodder for pas de deux like this one.
The Washington Ballet in Septime Webre's Peter Pan (J. M. Barrie)
Sword-fighting, pirates, pixie dust and a ticking crocodile? This one simply flies off the page.
Hamburg Ballet in John Neumeier's Anna Karenina (Leo Tolstoy)
Some would argue that Tolstoy's epic is the greatest literature ever written, but you can't argue with the fact that the titular heroine is a deliciously complex character to tackle.
The Royal Ballet in Christopher Wheeldon's Alice's Adventures in Wonderland (Lewis Carroll)
Why is a raven like a writing desk? We still might not know the answer to Carroll's riddle, but we do know that Wheeldon's blockbuster production is so full of incredible moments (like Steven McRae stealing the show as a tap-dancing Mad Hatter) that we had trouble narrowing it down.
Atlanta Ballet in Michael Pink's Dracula (Bram Stoker)
There's a reason it seemed at one point like every ballet company in America had a production of Dracula in its repertoire.
Northern Ballet in Jonathan Watkins' 1984 (George Orwell)
Just in case the dystopian nightmare conjured by Orwell wasn't vivid enough in your own imagination.
News
Oct. 15, 2018 09:52PM EST
Joffrey Ballet's April Daly, Yoshihisa Arai and Amanda Assucena in Christopher Wheeldon's Swan Lake. Assucena will make her debut in the role of Odette/Odile this week. Photo by Cheryl Mann, Courtesy Joffrey.
Wonder what's going on in ballet this week? We've pulled together some highlights.
Keep reading...
Show less
News
Oct. 12, 2018 04:52PM EST
From left: ABT principals Devon Teuscher, Christine Shevchenko and Gillian Murphy isn Praedicere. Photo by Marty Sohl, Courtesy ABT.
Last spring American Ballet Theatre artistic director Kevin McKenzie announced the company's Women's Movement, a multi-year initiative to support the creation of new work by female choreographers. ABT's fall season, running October 17–28 at Lincoln Center's David H. Koch Theater, sets the project in full swing. The opening gala features a world premiere by tap extraordinaire Michelle Dorrance. A co-commission with the Vail Dance Festival, this work marks ABT's third collaboration with Dorrance this year: She created Praedicere, a pièce d'occasion for ABT's spring gala, as well as a work on company dancers at Vail last summer. The gala performance also includes past and present works by two female choreographers: Twyla Tharp's 1986 In The Upper Room and Lauren Lovette's 2017 Le Jeune, which will be danced by the ABT Studio Company.
Keep reading...
Show less
Breanne Granlund stole the show in Michelle Dorrance's Praedicere. Photo by Marty Sohl, Courtesy ABT.
Anyone who watched American Ballet Theatre corps member Breanne Granlund during her years in the ABT Studio Company could have guessed that one day she'd be a standout in the main company. What they may not have predicted? That her breakout role would be in Praedicere, a pièce d'occasion by tap artist Michelle Dorrance, who had dancers sliding and stomping across the stage and well outside their comfort zones. In a work populated with many principals and soloists, Granlund was both the most striking and the most natural performer, tackling Dorrance's genre-bending movement with abandon and style.
Keep reading...
Show less
News
Sep. 21, 2018 04:18PM EST
This Theme and Variations tutu, seen here on principal Sarah Lane, will be on display at Alice + Olivia. Photo by Marty Sohl, Courtesy ABT.
American Ballet Theatre is turning the glamorous stores on New York City's Madison Avenue into its own costume shop. From now through September 27, luxury stores along the famous shopping avenue like Emilio Pucci, Alice + Olivia and Jimmy Choo will be displaying some of the company's most well known costumes (with proceeds from your shopping trip at any of the participating stores benefitting ABT's Costume Fund). And really, what's more magical than seeing the dress Misty Copeland wears as Juliet in the famous balcony scene among a display of Jimmy Choo shoes?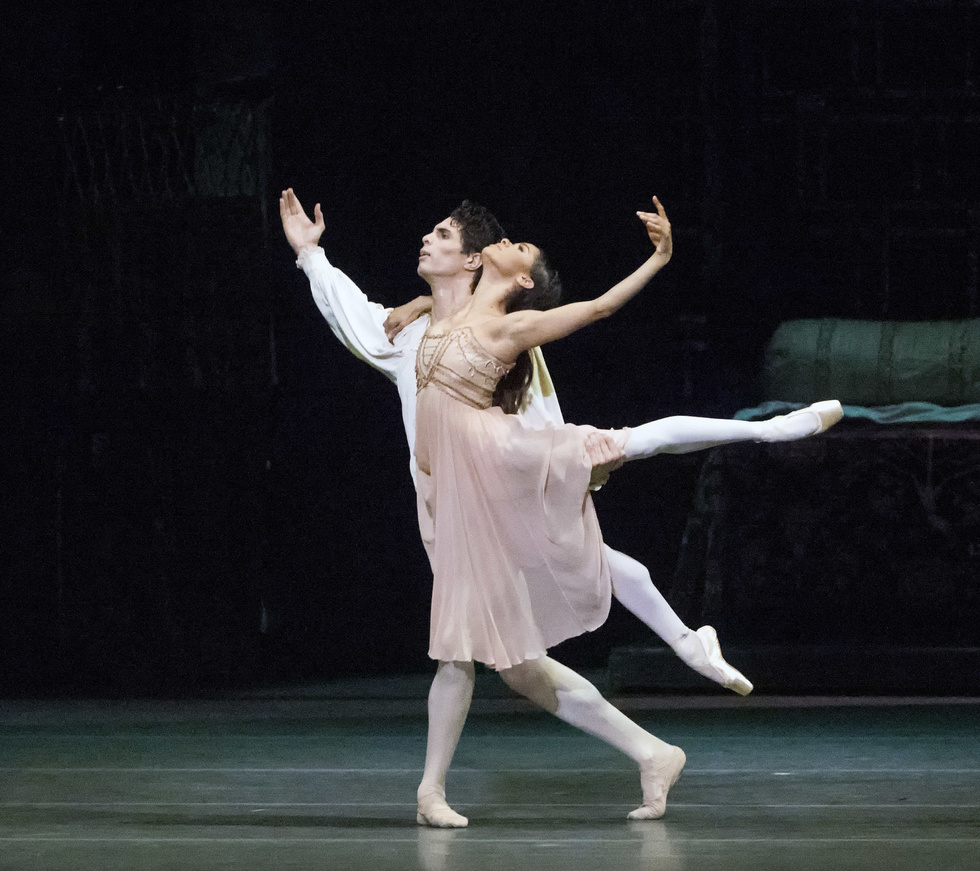 Misty Copeland and Alexandre Hammoudi in "Romeo and Juliet." Photo by Gene Schiavone, Courtesy ABT.
Keep reading...
Show less
Trending
Sep. 12, 2018 04:46PM EST
Katherine Williams as Myrtha. Photo by Quinn Wharton for Pointe.
With a large exhale, Katherine Williams steps into a series of arabesque chugs, as if the force of her breath is propelling her forward. "Big step out, big," coaxes ballet mistress Irina Kolpakova, watching from the front of a small studio at American Ballet Theatre in May. It's a big step indeed for Williams—after 10 years in the corps de ballet, the 29-year-old is preparing for her debut as Myrtha in ABT's production of Giselle, her very first principal role. One month after the premiere, Williams was promoted to soloist.

"Myrtha is the hardest thing I've ever done," Williams admits. "By the end you feel like you're going to throw up. I was using my breath as much as I could to help me get through it."
While Williams is tall and a natural jumper, she was surprised when artistic director Kevin McKenzie cast her in such a fierce and powerful role. "Generally they give me the happy peasant girl, something softer," she says. "I think it was a leap of faith for Kevin to allow me to embrace a totally different side of myself."
Keep reading...
Show less
Jennifer Garner made all of our dreams come true and officially joined the Cindies at American Ballet Theatre's studios this week.
What's been going on in the wonderful world of the Cindies (a.k.a. American Ballet Theatre principals James Whiteside and Isabella Boylston)? Just a casual visit at the ABT studios from actress Jennifer Garner, of course.
Judging from both Boylston's and Whiteside's Instagram accounts, Garner dropped by ABT's company class this week while in New York City promoting her new movie, Peppermint. And this means two major things: Garner has officially earned her Cindy title—at least according to Boylston's Instagram caption, which is about as official as it gets. And, perhaps even more importantly, this picture of the Cindies together means we can finally stop photoshopping Garner onto photos of the dancers (you're welcome).
Keep reading...
Show less
Just for fun
Aug. 27, 2018 12:00PM EST
Lauren Post unwinds by sewing pointe shoes in the tub. Photo via Instagram/@laurencpost
Let's face it. Dancers just do things differently. We can never walk down a grocery aisle—we have to tap. We can never simply pick something up we've dropped—without going into a penché. But it's not a bad thing. We love all the ways that dance bleeds into our daily lives.
Turns out the pros aren't ever really off-duty either. Here's how we caught them dancing through their downtime.
Keep reading...
Show less
Just for fun
Aug. 27, 2018 12:00PM EST
Lauren Post unwinds by sewing pointe shoes in the tub. Photo via Instagram/@laurencpost
Let's face it. Dancers just do things differently. We can never walk down a grocery aisle—we have to tap. We can never simply pick something up we've dropped—without going into a penché. But it's not a bad thing. We love all the ways that dance bleeds into our daily lives.
Turns out the pros aren't ever really off-duty either. Here's how we caught them dancing through their downtime.
Keep reading...
Show less
Just for fun
Aug. 24, 2018 12:50PM EST
Gillian Murphy spent some time in Canada this summer. Image via Instagram
@gillianemurphy
We'll admit it: As excited as we are for fall performance season to start, we are in deep, deep denial that the end of summer is in sight. And we're also experiencing some serious FOMO looking at the vacation photos flooding our Instagram feeds from some of our favorite dancers and choreographers. So where in the world do they go to unwind before gifting us with yet another season of incredible dance?
Keep reading...
Show less
popular
Jul. 30, 2018 05:30PM EST
Patricia Delgado in Pam Tanowitz's "Solo for Patricia 2017." Photo by Erin Baiano, Courtesy Vail Dance Festival.
Wonder what's going on in ballet this week? We've pulled together some highlights.
Vail Dance Fest Enters Its Second Week
With half a month devoted to creating new art in the midst of stunning nature, Vail Dance Festival seems a dancer's paradise. Last week marked American Ballet Theatre's festival debut. The second week of performances, starting July 30, brings even more amazing ballet, with dancers and choreographers presenting a slew of new collaborations and premieres. Get the scoop on each program below.
Alonzo King LINES Ballet Takes the Vail Stage
July 30-31, Alonzo King LINES Ballet presents two different programs. The first performance, is a free, family-friendly event held in the Avon Performance Pavilion. The second, held at the Gerald R. Ford Amphitheater, presents two works by King: Sand, a piece from 2016 set to jazz music, and Biophony, an exploration of the Earth's diverse ecosystems.
Keep reading...
Show less
Martine van Hamel as Myrtha in "Giselle," via YouTube
The story of Giselle has emotional power in the way it blurs the lines between good and evil. Myrtha, Queen of the Wilis, is often considered the villainess, but her character is far more complex than the bad guys in most ballets. A wounded spirit determined to protect her companions the only way she knows how, Myrtha is ethereal, yet ruthless. Every ballerina must meet the challenge of the role in her own way. Martine van Hamel, a former American Ballet Theatre principal, brings the opposing forces of Myrtha's nature into harmonious balance in this 1977 clip.
Keep reading...
Show less
Trending
Jul. 23, 2018 02:00PM EST
Boston Ballet principal Lia Cirio at age 15 in class at the Central Pennsylvania Youth Ballet summer intensive. Photo by Rosalie O'Connor, Courtesy Cirio.
It's hard to believe that summer intensive season is almost over! We hope you're learning, growing, having fun and making memories at your intensives this year.
Today, we're sharing seven dancers' favorite summer intensive memories.
Isabella Boylston, American Ballet Theatre
Photo Courtesy Boylston.
Summer Intensive: American Ballet Theatre
Age: 17
Perseverance
"I was 17 (although I looked about 14) and attended the ABT Summer Intensive. I was particularly excited to be there because the year before that I hadn't been accepted."
Outside the Studio...
"My mom, my best friend Lauren Post and I sublet a tiny one bedroom on the Upper West Side and had a blast exploring the city."
Dreams Come True
"That summer I was invited to join the ABT Studio Company—a dream come true!"
News
Jul. 23, 2018 10:42AM EST
Catch Royal Winnipeg Ballet for free this week at Ballet in the Park. Photo by Daniel Crump, Courtesy RWB.
Wonder what's going on in ballet this week? We've pulled together some highlights.
American Ballet Theatre Makes Its Vail Debut

The Vail Dance Festival is best known for bringing together diverse performers to create outside-of-the-box collaborations. This summer, the festival's 30th anniversary, American Ballet Theatre gets added to that mix. July 28–29, 15 company members will dance the festival premieres of Alexei Ratmansky's Souvenir d'un lieu cher and Serenade after Plato's Symposium, as well as Jerome Robbins' Other Dances with New York City Ballet principal Tiler Peck. ABT will also collaborate with tap choreographer Michelle Dorrance. She's creating a trio of new works for ABT this year, coproduced by Vail, the second of which she'll present at the festival. "It always broadens a dancer's perspective to cross-pollinate with their peers," says ABT artistic director Kevin McKenzie. "It gives them an opportunity for independent thinking and self-evaluation." For Vail artistic director Damian Woetzel, incorporating the company into the festival reminds him of the magical sense of camaraderie that he felt as an NYCB principal when running into ABT dancers after their respective Lincoln Center performances. "Vail builds on that," says Woetzel. "We bring dancers together to create our own special community." —Chava Lansky
Keep reading...
Show less
Just for fun
Jul. 16, 2018 02:01PM EST
Boon, Lauren Lovette's furry friend. Photo via @laurenlovette on Instagram.
There's nothing more purrrrfect than some fabulous trinas and their feline friends. We're not kitten: these bonds are paw-sitively adorable! From hanging out backstage to working out together and more, these pairs will pas de chat their way straight into your heart.
Keep reading...
Show less
News
Jul. 09, 2018 01:35PM EST
BalletX launches its summer season on July 11. Photo by Gabriel Biencyzcki, Courtesy of BalletX.
Wonder what's going on in ballet this week? We've pulled together some highlights.
Three World Premieres at BalletX Philadelphia Summer Series
Fresh off the heels of its Joyce Ballet Festival performances in New York, BalletX is launching its Summer Series with a trio of world premieres on July 11. The program, which runs through July 22 at The Wilma Theater in Philadelphia, features ballets by Penny Saunders, choreographer in residence for Grand Rapids Ballet; Andrew McNicol, BalletX's 2018 choreographic fellow; and Matthew Neenan, BalletX co-founder and company choreographer. Pennsylvania Ballet principal pianist Martha Koeneman will perform Mendelssohn's Songs without Words live for Neenan's work, which shows dancers attempting to solve a mysterious puzzle onstage. McNicol is inspired by Mozart's Requiem and his appreciation of the speed and athleticism of American dance. Saunders' piece will be accompanied by an original composition by Rosie Langabeer, a Philadelphia composer originally from New Zealand. Listen to the pair discuss the collaboration in the video below.
Keep reading...
Show less
Kathryn Boren dancing Giselle with Ballet Frontier of Texas. Photo by Chung Lin Tseng, Courtesy Boren.
As the marathon of American Ballet Theatre's eight-week Met season comes to a close, we caught up with corps dancer Kathryn Boren to talk to her about about the importance of warming up properly before a show. After four years with the company, Boren has her pre-performance routine down to a T.
What do you do before a show?

I always take a hot shower just to start the day over and get really warm, really fast. Then I put on my makeup and get my hair ready. At 6:40 I start doing a full, basic barre and core work; I feel like it's the only way I can get back to feeling centered and know what my body is capable of doing. I'll work in my pointe shoes for one or two exercises. Then it's 15 minutes till curtain, and I have to get in my costume and get onstage.
Keep reading...
Show less
Trending
Jul. 03, 2018 04:10PM EST
Sascha Radetsky. Photo by Renata Pavam, Courtesy ABT.
There aren't many dancers who've had as varied a post-stage career as Sascha Radetsky. Since retiring in 2014, the former American Ballet Theatre soloist and Center Stage star has reprised his role as Charlie in Center Stage: On Pointe; acted in two television programs (Starz network's Flesh and Bone and Hallmark Channel's A Nutcracker Christmas) and choreographed Misty Copeland's famous Under Armour commercial. He's also written articles for Vogue, Playbill and Dance Magazine, and he currently directs the ABT/NYU Master's in Ballet Pedagogy program. Now he has a new title to add to his credentials: artistic director of ABT Studio Company.
Keep reading...
Show less
New York City Ballet's Olivia Boisson. Photo by Melika Dez, Courtesy Black Iris Project.
In 2016, choreographer Jeremy McQueen founded the Black Iris Project with the aim of bringing together predominantly minority dancers each summer to create works that celebrate diversity and black history. This year, he's mixing it up. In honor of South African anti-apartheid leader Nelson Mandela's 100th birthday on July 18, McQueen created 100 FISTS in collaboration with photographer Melika Dez. Each day, for the hundred days leading up to Mandela's birthday, BIP has released a photo on social media of a black dancer in a New York City location, posed with their hand in a fist. Each photo is paired with an inspirational quote by Mandela. Pointe caught up with McQueen to find out how this project came together and what's next for the fledgling collective.
Keep reading...
Show less
News
Jul. 02, 2018 04:39PM EST
Barak Ballet will perform E/SPACE at Joyce Ballet Festival this weekend. Photo David Friedman, Courtesy of Joyce Theater.
Wonder what's going on in ballet this week? We've pulled together some highlights.
ABT Wraps Up Its Met Season with Whipped Cream
American Ballet Theatre's eight-week summer season at the Metropolitan Opera House, will wrap up this Saturday. From July 2-7, the company will perform Alexei Ratmansky's Whipped Cream. This candy-coated surrealist ballet features wacky, intricate sets and costumes from Mark Ryden and tells the story of a boy in a Viennese pastry shop who overindulges and falls into a state of wild intoxication that takes him on a journey reminiscent of Act II of The Nutcracker. For a behind-the-scenes look, check out these backstage photos from the 2017 premiere. During the run, Arron Scott will make his debut as The Boy, and Gabe Stone Shayer will make his New York debut in the same role. Thomas Forster and Calvin Royal III will perform as Prince Coffee for the first time in New York.
Keep reading...
Show less
News
Jun. 29, 2018 12:21PM EST
Katherine Williams has been promoted to soloist. Photo by Rosalie O'Connor, Courtesy ABT.
It's that time of year: American Ballet Theatre has just announced promotions, and they're as exciting as ever.
This season, it's all about the ladies: corps de ballet members Zhong-Jing Fang, Catherine Hurlin and Katherine Williams have been promoted to soloist, effective September 1.
Though none of these choices are surprises per se, it's nice to see artistic director Kevin McKenzie acknowledge the hard work of two longtime dancers. Fang has been a striking member of the corps since 2004, known for tackling steps with daredevil abandon and for her humorous side. Williams' bright, reliable presence has lit up the ABT stage since 2008, and her recent debut as Myrtha proved she has the emotional range for roles far beyond the ingénue.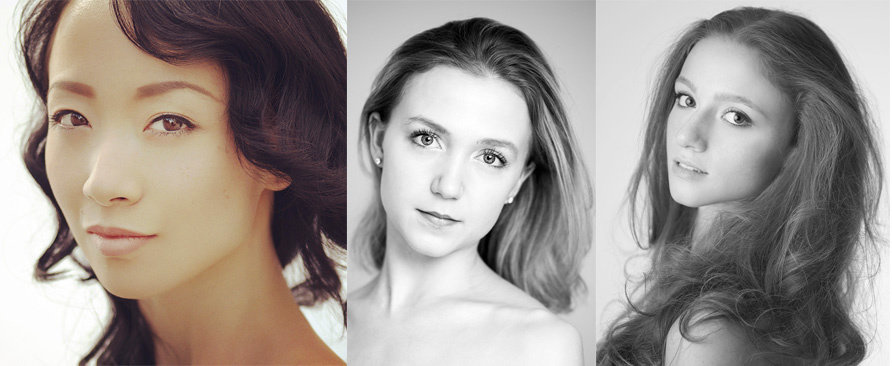 From left: Zang (photo by Jade Young), Williams (photo by Alex DiMattia), Hurlin (photo by Jade Young)
Keep reading...
Show less
Last week American Ballet Theatre principal Gillian Murphy danced the iconic dual role of Odette/Odile as part of the company's spring season. In preparation for the performance she posted an adorable photo from her childhood on Instagram of her posing in costume as the Black Swan. Murphy also admits that as a young dancer she was determined to master the 32 fouettés, which Odile performs at the climax of the Black Swan pas de deux. Her performance in this clip from a 2005 performance, alongside former ABT principal Angel Corella as Siegfried, makes it obvious as to why this childhood dream role is now one of her signatures.
Keep reading...
Show less
News
Jun. 28, 2018 05:01PM EST
Marcelo Gomes and Victoria Hulland in Sir Frederick Ashton's The Two Pigeons. Photo Frank Atura, Courtesy Sarasota Ballet.
Last December, in the midst of the #MeToo movement and the scandal surrounding Peter Martins, the ballet world was shocked when longtime American Ballet Theatre principal Marcelo Gomes resigned suddenly. A statement from the company revealed that ABT had learned of an allegation of sexual misconduct against Gomes related to an incident eight years prior. Gomes kept a very low profile in the aftermath before reemerging this spring. He presented a world premiere at The Washington Ballet in March and has been guesting internationally (this summer alone has him dancing in Japan, Mexico and Russia.) Now he will have a new company to call home: The Sarasota Ballet has just announced that Gomes will be joining their company as a guest artist for the 2018-2019 season.
Keep reading...
Show less