Forsythe's in the middle, somewhat elevated uses the battement like an attack. Photo by Alexander Iziliaev, Courtesy Pennsylvania Ballet
Just before retiring in 2015, Sylvie Guillem appeared on "HARDtalk with Zeinab Badawi," the BBC's hard-hitting interview program. Badawi told Guillem,
"Clement Crisp of the Financial Times, 14 years ago, described your dancing as vulgar."
Guillem responded,
"Yeah, well, he said that. But at the same time, when they asked Margot Fonteyn what she thought about lifting the leg like this she said, 'Well, if I could have done it, I would have done it.' "
They were discussing Guillem's signature stroke—her 180-degree leg extension à la seconde. Ballet legs had often flashed about in the higher zones between 135 and 160 degrees before. But it wasn't until the virtuoso French ballerina regularly
extended her leg beside her ear with immaculate poise in the 1980s that leg extensions for ballet dancers in classical roles reached their zenith. Traditionalists like Clement Crisp were not taken with it.
Keep reading...
Show less
News
Jul. 02, 2018 04:39PM EST
Barak Ballet will perform E/SPACE at Joyce Ballet Festival this weekend. Photo David Friedman, Courtesy of Joyce Theater.
Wonder what's going on in ballet this week? We've pulled together some highlights.
ABT Wraps Up Its Met Season with Whipped Cream
American Ballet Theatre's eight-week summer season at the Metropolitan Opera House, will wrap up this Saturday. From July 2-7, the company will perform Alexei Ratmansky's Whipped Cream. This candy-coated surrealist ballet features wacky, intricate sets and costumes from Mark Ryden and tells the story of a boy in a Viennese pastry shop who overindulges and falls into a state of wild intoxication that takes him on a journey reminiscent of Act II of The Nutcracker. For a behind-the-scenes look, check out these backstage photos from the 2017 premiere. During the run, Arron Scott will make his debut as The Boy, and Gabe Stone Shayer will make his New York debut in the same role. Thomas Forster and Calvin Royal III will perform as Prince Coffee for the first time in New York.
Keep reading...
Show less
USA IBC senior gold medalist winners Yungting Qiu and Sicong Wu in Zhang Disha's Sad Birds. Photo by Richard FInkelstein, Courtesy USA IBC.
It's been an exciting two weeks here in Jackson, Mississippi, as 119 dancers from 19 countries have competed for medals, monetary awards, scholarships and company contracts at the USA International Ballet Competition. But the IBC has offered more than prizes—dancers have also been networking and taking master classes, including a fascinating lecture demonstration series with choreographer Alexei Ratmansky that included learning Petipa's original choreography from Stepanov notations.
This week, 32 finalists performed two classical variations and one contemporary piece over the course of three nights. Meanwhile, semi-finalists worked intensely with choreographer Matthew Neenan on an original work, which they performed at last night's Blue Cross & Blue Shield of Mississippi Awards Gala. Audiences also had one last chance to see select finalists perform, before the jury (led by chairman John Meehan) joined them onstage to present the medals.
So without further ado, here are the USA IBC winners!
Keep reading...
Show less
News
Jun. 14, 2018 04:00PM EST
David Hallberg in rehearsal. Photo by Kate Longley, Courtesy The Australian Ballet.
Have you ever dreamt of the chance to choreograph for American Ballet Theatre? Thanks to ABT Incubator, the company's newly launched choreographic initiative directed by company principal (and recent author) David Hallberg, that wish could become a reality this fall. The two-week choreographic lab will run from October 31-November 10 at ABT's New York studios and will give both members of the company and freelance choreographers the chance to create new work on dancers from ABT and the ABT Studio Company. Participants will also have access to crucial dance making tools including a stipend, studio space, collaborators, feedback and mentorship from Hallberg and other artists. They'll present their creations in a private showing on November 10. "It has always been my vision to establish a process-oriented hub to explore the directions ballet can forge now and in the future," said Hallberg in a statement released today. "I am thrilled that Incubator will provide the resources for emerging and established creators to explore movement and new paths in dance."
Keep reading...
Show less
ABT in "Swan Lake." Petipa often collaborated with Lev Ivanov, who choreographed this ballet's white acts. Photo by John Grigaitis, Courtesy ABT.
Two hundred is the new 30. Or at least it seems so for Marius Petipa, whose ballets are as active as ever as we celebrate his 200th birthday this year.
Nearly all major ballet companies dance Petipa's iconic ballets, which reflect his prolific creative output. And they are heavy hitters: Swan Lake, La Bayadère, Le Corsaire, Don Quixote, The Nutcracker, Paquita, The Pharaoh's Daughter, Raymonda and The Sleeping Beauty, to name just a few of the 50-plus ballets he choreographed. He also revived and reworked earlier productions of Coppélia, La Fille mal gardée and Giselle. During American Ballet Theatre's 2018 spring season, five out of its eight weeks will be attributable to Petipa, including the debut of artist in residence Alexei Ratmansky's newly reconstructed Harlequinade.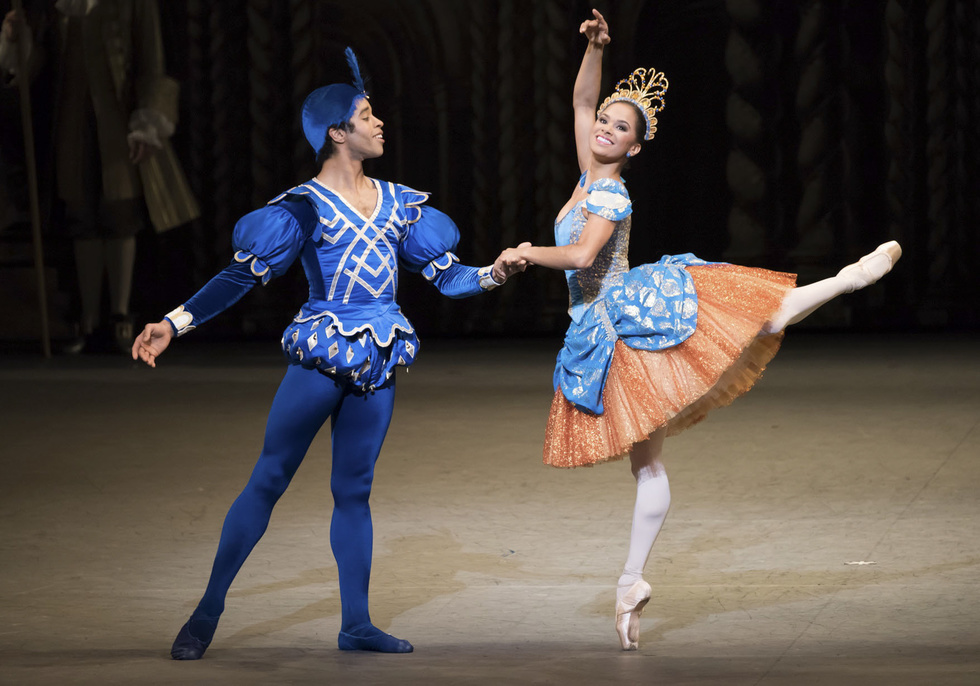 Gabe Stone Shayer and Misty Copeland in "The Sleeping Beauty." Photo by Doug Gifford, Courtesy ABT.
Keep reading...
Show less
popular
Jun. 05, 2018 10:43AM EST
2014 Junior Gold Medalist Gisele Bethea and partner Michal Wozniak at the 2014 USA IBC Awards Gala. Photo by Richard Finkelstein, Courtesy USA IBC.
From June 10–23, 119 competitors from 19 countries will gather in Jackson, Mississippi, for the 11th USA International Ballet Competition. Held every four years, the USA IBC has helped launch the careers of dozens of stars, including Daniil Simkin, Misa Kuranaga and Brooklyn Mack. "The 2014 competition was good, but we're making this year better," says jury chairman John Meehan. Changes include broadened age limits for competitors and a larger sum of prize money. This summer's competition also has a special focus on Marius Petipa in honor of his 200th birthday. There will be an emphasis on Petipa repertoire, and choreographer Alexei Ratmansky will give a workshop for competitors on his reconstructions of original Petipa choreography. This edition will also honor the legacy of Robert Joffrey, who was a catalyst in launching the USA IBC with founder Thalia Mara. Dancers from The Joffrey Ballet will perform in the opening ceremony.
Keep reading...
Show less
News
Jun. 04, 2018 05:09PM EST
Costume sketches for Alexei Ratmansky's new "Harlquinade" for ABT. Courtesy ABT.
Wonder what's going on in ballet this week? We've pulled together some highlights.

ABT's New Harlequinade is Finally Here
The long wait for Alexei Ratmansky's Harlequinade for American Ballet Theatre is finally over. June 4-9, catch ABT at the Metropolitan Opera House in this bold and colorful tribute to the Italian commedia dell'arte traditions, based on the archival notes of Marius Petipa. If this trailer by Ezra Hurwitz is any indication, this new story ballet is sure to delight (fingers crossed that those dogs make their way to the stage).
Keep reading...
Show less
via Instagram
The wait for Alexei Ratmansky's restaging of Petipa's Harlequinade is almost over! But if you can't wait until American Ballet Theatre officially debuts the ballet at the Metropolitan Opera House on June 6, we've got you covered. ABT brought the Harlequinade characters to life (and to the Alder Mansion in Yonkers, NY) in a short film by Ezra Hurwitz, and it's a guaranteed to make you laugh.
Margarita Shrainer in "Flames of Paris." Courtesy Bolshoi Ballet
Ever since Makhar Vaziev took the reigns of the Bolshoi Ballet in 2016, he's been pushing a new crop of promising young talent. Last summer, he chose Alena Kovaleva, then just 18, to dance the lead in "Diamonds" in New York City. This weekend North American audiences have an opportunity to catch another rising company dancer, corps de ballet member Margarita Shrainer, in movie theaters. On Sunday, March 4, Shrainer will star as the strong-willed Jeanne in Alexei Ratmansky's 2008 revival of The Flames of Paris, part of this season's Bolshoi Ballet in Cinema series. Fathom Events and By Experience (BYE) will partner to broadcast the film, captured live from a Moscow performance earlier in the day, to more than 500 movie theaters in the U.S. and Canada.
The Flames of Paris, which is set in the French Revolution, is a high-octane ballet full of dazzling bravura. While Shrainer is no stranger to principal roles, dancing for millions of viewers will add another element of pressure to her performance on Sunday. We spoke to her over email to see how she handles it all.

Keep reading...
Show less
News
Feb. 26, 2018 05:45PM EST
National Ballet of Canada's Skylar Campbell and Elena Lobsanova in "The Dreamers Ever Leave You." Photo by Karolina Kuras, Courtesy NBoC.
This week is bursting at the seams with ballet. Earlier this month multiple companies performed the same ballet (think Romeo and Juliet), but this week brings a truly eclectic mix of new works, company premieres and old classics all around the U.S. and Canada. We've rounded up programs by eight companies—National Ballet of Canada, Royal Winnipeg Ballet, Houston Ballet, American Repertory Ballet, Sarasota Ballet, Ballet Memphis, Texas Ballet Theater and Indianapolis Ballet—to give you a sense of what's happening.
National Ballet of Canada

In honor of Canada's 150th anniversary in 2017, the Toronto-based National Ballet of Canada is presenting a mixed bill February 28–March 4 titled Made in Canada. The program features works made on NBoC by three of Canada's most lauded choreographers: Robert Binet's The Dreamers Ever Leave You, James Kudelka's The Four Seasons and Crystal Pite's Emergence. Check out the preview below.
Keep reading...
Show less
Jurgita Dronina as Kitri in "Don Quixote." Photo by Angela Sterling, Courtesy National Ballet of Canada.
When Jurgita Dronina first danced Kitri for a guest performance of Don Quixote with Teatro Filarmonico-Fondazione Arena Di Verona, she was in essence cast against type. "Before Kitri, I was dancing only lyrical or dramatic roles, so I had to start from scratch in finding my own signature in the steps and my own interpretation of the character," says Dronina, who was dancing with Royal Swedish Ballet at the time.
Keep reading...
Show less
popular
Nov. 08, 2017 02:50PM EST
Mayara Pineiro rehearsing with Helen Pickett for the world premiere of Tilt.Photo by Arian Molina Soca, Courtesy Pennsylvania Ballet.
As I watched Helen Pickett rehearse her new work Tilt for Pennsylvania Ballet last week, there was no doubt in my mind that she's a natural leader. Hovering closely around young corps dancer Jack Thomas during a run through, she pushed him to carve more space through the air with his upper body. "Use those hands, do not stop," she said emphatically during a particularly tiring section, at once firm and encouraging. "It should feel like you're eating a meal rather than grazing." Yet earlier, Pickett had admitted to me that when she was first approached by a major company to create a ballet 12 years ago, she questioned her ability to lead. Despite growing up in a feminist household, being surrounded by strong female role models throughout her dancing and acting career, and learning the craft of choreography from William Forsythe at Ballet Frankfurt, she says, "I still gave more credence to male voices than female voices."
Her realization is one component of a bigger issue in the dance world: that for all of the droves of women and girls who flock to ballet classes and pursue performance careers, the majority of leadership positions—be it directing, curating or choreographing—are held by men. To help illuminate the topic in advance of Pickett's world premiere November 9–12 , last week Pennsylvania Ballet partnered with Philadelphia's FringeArts to present "Challenges, Chances, Changes: Gender Equity in Concert Dance," a round table discussion among six women leaders in the industry. Joining Pickett was Dance Theatre of Harlem artistic director Virginia Johnson; BalletX executive and artistic director Christine Cox; Big Dance Theater choreographer and co-director Annie-B Parson; Philadelphia Dance Projects executive director Terry Fox; and choreographer Francesca Harper, artistic director of the Francesca Harper Project.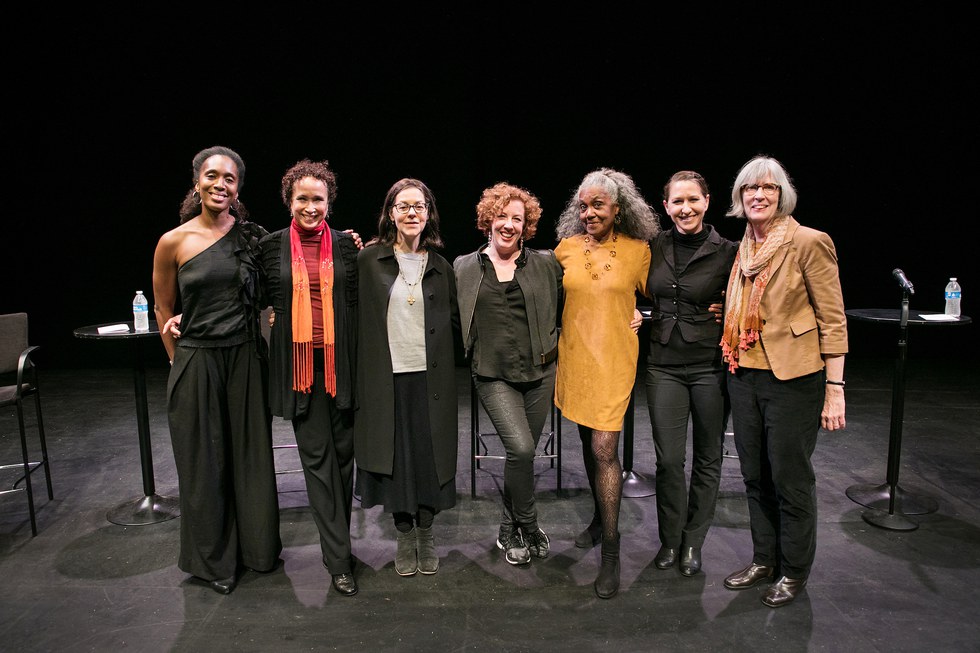 From left: Francesca Harper, Virginia Johnson, Annie-B Parson, Helen Pickett, Brenda Dixon-Gottschild, Christine Cox and Terry Fox. Photo by Chris Kendig, Courtesy Pennsylvania Ballet.
Keep reading...
Show less
Alexei Ratmansky with members of the corps de ballet. Photo by Gene Schiavone, Courtesy American Ballet Theatre.
When the choreographer Alexei Ratmansky joined American Ballet Theatre as artist in residence eight years ago, the company hadn't had a house choreographer since the days of Antony Tudor. The gamble seems to have paid off handsomely. In that time Ratmansky has either made or restaged 12 ballets for the company. In 2011, the company extended his contract to 2023. Such commitments are practically unheard of at a time when top dancers and choreographers hop from company to company, continent to continent. The scale and ambition of the works Ratmansky is making for ABT is a rarity too, in a world of tight budgets, scant rehearsal time and pared-down esthetics.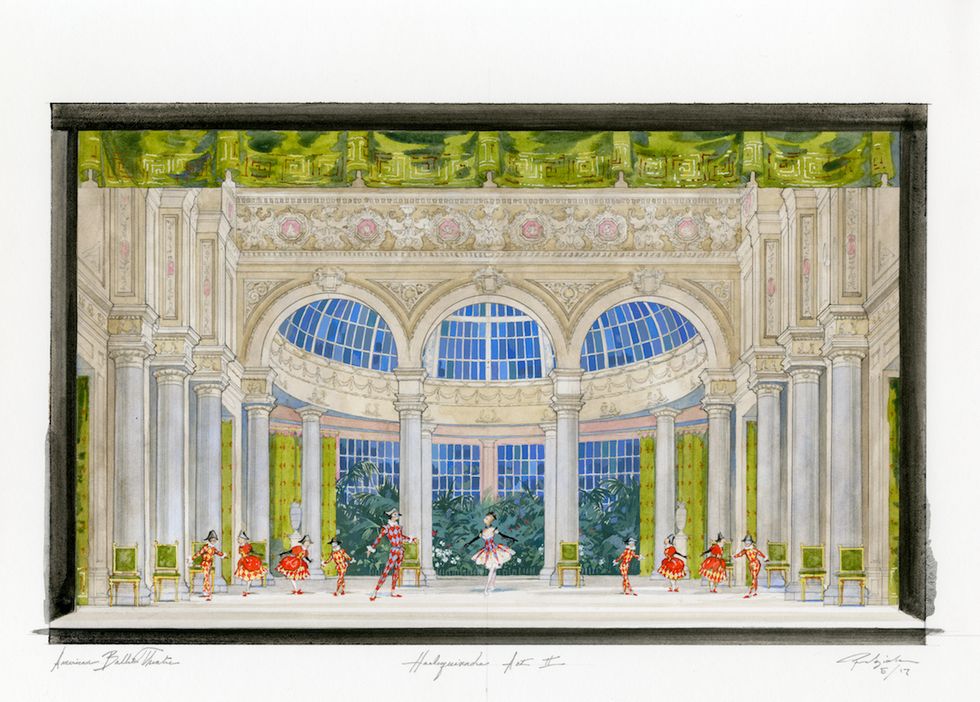 Set design for new "Harlequinade." Courtesy ABT.
Keep reading...
Show less
popular
Oct. 16, 2017 05:26PM EST
Houston Ballet's Jared Matthews and Sara Webb in"The Sleeping Beauty." Photo by Amitava Sarkar, Courtesy Houston Ballet.
Despite the devastation and pain that Hurricanes Harvey and Irma have left in their wake this fall, it's been encouraging to see dancers step up in aid of their communities: When the future of Houston Ballet's Nutcracker seemed uncertain, venues around the city pulled together to allow the company to produce the show on a "hometown tour." And when Florida ballet companies had to evacuate, Atlanta Ballet and Charlotte Ballet welcomed them with open arms. In addition, New York City-based studio Broadway Dance Center offered community classes in September with proceeds donated to the American Red Cross.
The next in this series of good deeds is Hearts for Houston, a benefit performance bringing dancers from seven major companies together at New York City's Alvin Ailey Citigroup Theater to raise money for the United Way of Greater Houston's Harvey Relief Fund. Scheduled for Sunday, October 22, the evening will feature members of the Houston Ballet, American Ballet Theatre, New York City Ballet, Pennsylvania Ballet, Texas Ballet Theater, The Washington Ballet and Alvin Ailey American Dance Theater. Hearts for Houston is imagined and produced by Houston Ballet principal dancers Yuriko Kajiya and Jared Matthews (both formerly of ABT) and funded by patrons Phoebe and Bobby Tudor and sponsor Neiman Marcus.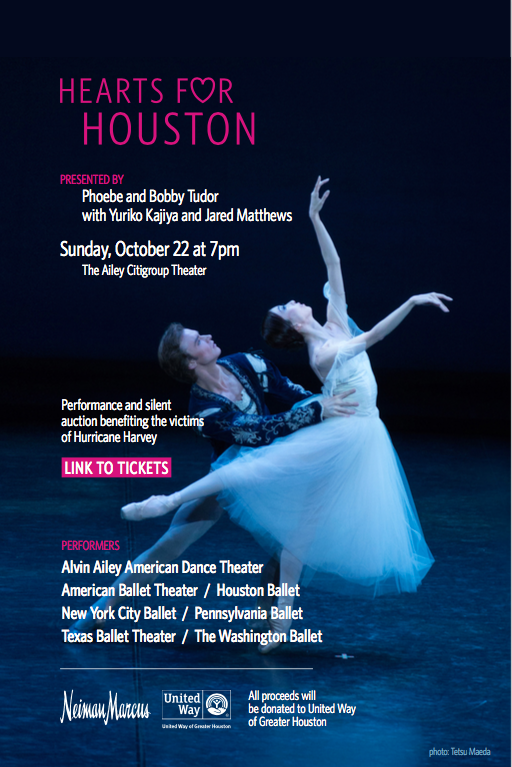 Keep reading...
Show less
Photo by Mary Sohl, Courtesy American Ballet Theatre.
Petite and fine-boned, American Ballet Theatre's Rachel Richardson can look younger than her 21 years, vulnerable in a way that makes you want to give her a hug. That is, until she begins to move. Elegant and precise, with beautifully articulated legs and feet, Richardson radi- ates authority onstage, commanding attention rather than asking for it. There's a lot of power in that delicate frame.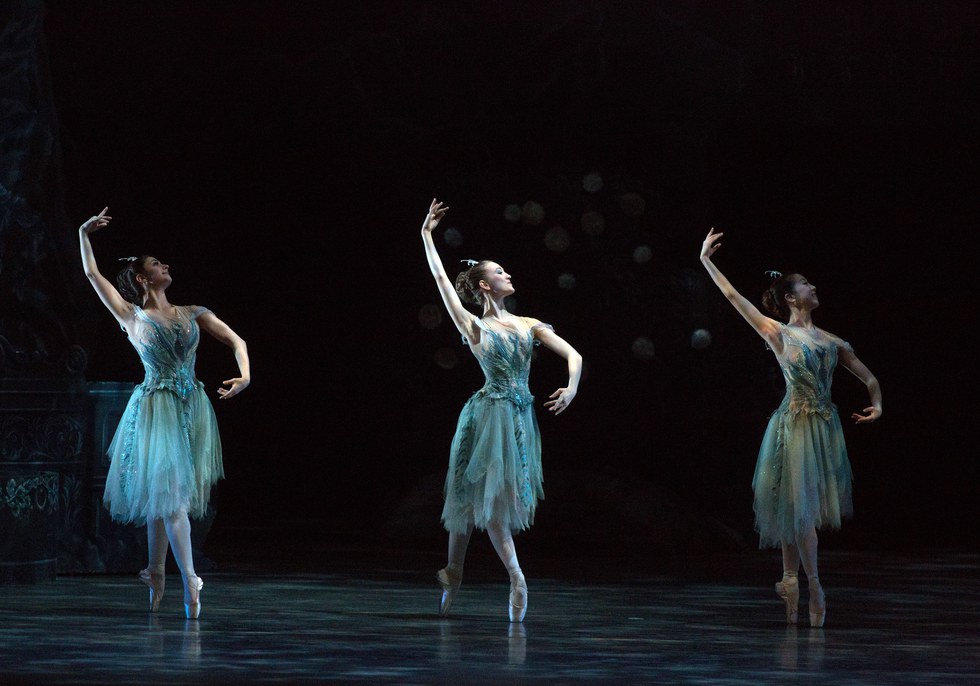 Photo by Rosalie O'Connor, Courtesy of ABT.
Keep reading...
Show less
Call Board
Aug. 15, 2017 11:04AM EST
Boylston working with choreographer Gemma Bond
With most of American Ballet Theatre's classical repertoire under her belt, principal Isabella Boylston is ready for a new challenge, specifically, launching Ballet Sun Valley, a dance festival with educational outreach in her hometown of Sun Valley, Idaho. "I'm in a place in my career where I can expend a little more creative energy on outside projects," she says. This year, her long-held dream will become reality, with performances on August 22 and 24, and free dance classes on August 23. "Sun Valley has a successful symphony, and a lot of people are interested in the arts," Boylston says. "When I was there three years ago, I realized the Sun Valley Pavilion would be the perfect venue for dance." Hilarie Neely, Boylston's first ballet teacher, put her in touch with a team of executive producers who have assisted with fundraising and technical logistics.
Once Boylston knew the festival was happening, she was faced with the task of creating dynamic programming. "All the dancers I'm inviting are close friends who I've danced with before, and choreographers I have relationships with," she says. Audiences can expect classical repertoire, plus ballets by Justin Peck, Alexei Ratmansky and Pontus Lidberg.
Keep reading...
Show less
Aug. 09, 2017 11:49AM EST
Dancers dressed as whipped cream. cakes and candies watch from the wings.
Photographed by Rachel Papo.

Choreographer Alexei Ratmansky has said that had he not come across the work of Mark Ryden, he might never have made his new ballet, Whipped Cream. Ratmansky, artist in residence at American Ballet Theatre, had been mulling the project for decades. He loved the music and the whimsical storyline imagined by composer Richard Strauss, about a boy who overindulges on whipped cream and falls ill and, in his delirium, dreams about dancing cakes and candies. Without a convincingly decadent set, though, he couldn't imagine how it would work. "I think the music demands richness onstage," says Ratmansky. He found what he was looking for in the visual world of painter Mark Ryden.
Ryden is known for detailed, dreamlike, flawlessly rendered and yet slightly unsettling canvases. Giant eyes peek out of tree stumps, and doll-like children mingle with skeletons or ride carriages pulled by centipedes. Though Ryden had never before worked in theater, his art is inherently theatrical.
Keep reading...
Show less
American Ballet Theatre's Cassandra Trenary seems to have it all—not only is our June/July 2016 cover star a dazzling soloist at ABT, she has a sunny, down-to-earth personality and a life-saving hero for a husband. But her first year in the company had its fair share of disappointments—in fact, she almost left dance altogether to pursue acting.
In May, the National YoungArts Foundation, an organization that provides cash awards and mentorship to aspiring performing artists, brought Trenary (herself a 2011 YoungArts winner) and ABT artist in residence Alexei Ratmansky together for a salon-style discussion. Together they talked about critical turning points in their careers, as well as the challenges of navigating the dance world as a young professional. Below are exclusive excerpts of their interview—we hope their words inspire you as much as they inspire us!
There's still time to enter YoungArts's national arts competition for a chance at cash awards, workshops and more. Click here for information on how to apply.
Jun. 02, 2017 10:18AM EST
Photo by Lindsay Thomas, Courtesy PNB
Company class is a little more exciting these days at Pacific Northwest Ballet. Look over in the corner of the studio and it's obvious why—Wendy Whelan is here. Dressed in a vest, with her pants tucked into her socks, one might almost forget that her name is virtually synonymous with the term ballet. But watch her do a devéloppé and you instantly remember. Her collection of accomplishments is extensive—classical ballerina, freelance artist, inspirational teacher, or even, as of late, documentary film star. But now, she's adding another new hat: ballet stager.
Keep reading...
Show less
Views
May. 16, 2017 04:02PM EST
Photo by Gene Schiavone, Courtesy ABT
Fluffy snow yaks, dancing cupcakes and a slithering candy-cane worm. These, along with many more candy confections (and a creepy doctor with a massive head), make up the cast of characters in Alexei Ratmansky's new full-length Whipped Cream at American Ballet Theatre. The company, which performed the world premiere in California in March, is gearing up for the New York debut on May 22. Needless to say, there's been lots of anticipation over pop-surrealist Mark Ryden's fantastical costume and set designs.
Keep reading...
Show less
Views
Apr. 26, 2017 04:10PM EST
Crystal Pite working with members of the Paris Opéra Ballet. Photo by Julien Benhamou.
In February, I attended the Prix de Lausanne, where I moderated a series of panel discussions that were open to the competing students, their teachers and parents, and the public. One topic I was particularly excited about concerned women in leadership roles, and how the ballet world can better nurture leadership qualities in female dancers. My panelists included Korean National Ballet artistic director Sue Jin Kang, English National Ballet associate director Loipa Araújo and Gigi Hyatt, the deputy director of the Hamburg Ballet School.
There was just one problem—while there were plenty of audience members, none of the female students actually showed up. As I watched a few of them browse the pop-up ballet shop on their way out of the theater, I couldn't help but think "Don't you know this talk is for you?"
Keep reading...
Show less
News
Apr. 12, 2017 02:46PM EST
Stella Abrera in "Le Corsaire," Photo by Rosalie O'Connor
Hollywood may have the Oscars, but ballet has the Benois de la Danse. The glamorous awards ceremony, held each year at Moscow's Bolshoi Theatre, recognizes the year's best dancers and choreographers around the globe. The 2017 nominees were announced yesterday, and they include some of our favorite dancers, including two Pointe cover stars!
Two principal ballerinas from U.S. companies, American Ballet Theatre's Stella Abrera and Boston Ballet's Misa Kuranaga, were nominated for best female dancer. Abrera who graced our December/January cover, was nominated for her debut as Aurora in Sleeping Beauty. It's heartening to see this longtime ABT dancer receive the star treatment she deserves since her promotion to principal in 2015. Kuranaga, who was our August/September 2012 cover star, is being recognized for her performances in not one, but two roles: Tatiana in Onegin and Medora in Ivan Liška's Le Corsaire.
Keep reading...
Show less
News
Mar. 16, 2017 04:50PM EST
On Sunday, March 19, Fathom Events will high-beam the Bolshoi Ballet to movie theaters around the world—and while we tend to associate the Bolshoi with 19th century classics, this time we'll see their more versatile side. "A Contemporary Evening," recorded from a performance earlier that day in Moscow, includes two ballets originally created on New York City Ballet:  Jerome Robbins' The Cage (about a female tribe of man-eating insects) and Alexei Ratmansky's Russian Seasons. But it won't be completely devoid of tutus—Harald Lander's Etudes rounds out the program, with plenty of bravura.
This will be the first time the Bolshoi has tackled The Cage, staged by NYCB ballet master Jean-Pierre Frohlich. (He recently talked to the New York Times about the challenges of staging this hyper-stylized ballet on the Russian company.) But with Ekaterina Krysanova as the Novice, it's bound to be a thrilling performance. She's not the only major Bolshoi star featured – casting for the entire program is listed below. To find theaters and show times near you, go to fathomevents.com.
The Cage:
The Novice: Ekaterina Krysanova
The Queen: Yanina Parienko
First Intruder: Nikita Kapustin
Second Intruder: Alexander Vodopetov
Etudes:
Ballerina: Olga Smirnova
Principal Dancers: Semyon Chudin, Artem Ovcharenko
Russian Seasons:
Couple in Yellow/White: Yulia Stepanova, Vladislav Lantratov
Couple in Red: Ekaterina Krysanova, Denis Savin
Couple in Green: Anna Nikulina, Anton Savichev
Couple in Blue: Anna Okuneva, Dmitry Dorokhov
Couple in Violet: Victoria Litvinova, Artur Mkrtchyan
Couple in Claret Red: Victoria Yakushev, Mikhail Kochan
For more news on all things ballet, don't miss a single issue.
News
Feb. 15, 2017 05:48PM EST
Ratmansky rehearses "The Fairy's Kiss" with Miami City Ballet dancers. Photo by Daniel Azoulay, Courtesy MCB.
Choreographer Alexei Ratmansky will have world premieres on two coasts this winter. On February 10, Miami City Ballet debuted his new one-act version of The Fairy's Kiss to Stravinsky's celebrated score, a homage to Tchaikovsky. The following month, on March 15, at California's Segerstrom Center for the Arts, American Ballet Theatre will premiere his Whipped Cream, a new full-length story ballet to a Richard Strauss libretto and score.
Keep reading...
Show less
ABT's Calvin Royal III in Alexei Ratmansky's Serenade after Plato's Symposium. Photo by Rosalie O'Connor, Courtesy ABT.
Miami City Ballet's National Tour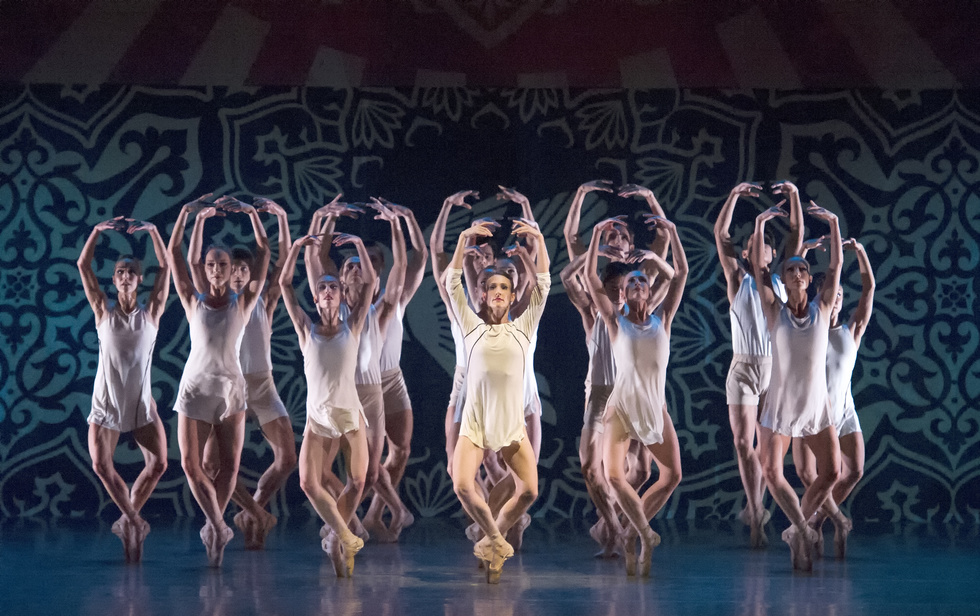 Artists of Miami City Ballet in Justin Peck's Heatscape. Photo by Gene Schiavone, Courtesy Miami City Ballet.
In late April at the Harris Theater, Chicagoans found Miami City Ballet firing on all cylinders, following the company's Lincoln Center debut and an engagement at Northrop in Minneapolis. Stage-filling Balanchine classics like Bourrée Fantasque, Serenade and Symphony in Three Movements struck a perfect balance between relaxed exuberance and clean execution, while seasoned stars like Jeanette Delgado and Renato Penteado shone in contemporary works by Justin Peck (Heatscape) and Liam Scarlett (Viscera), respectively. Most memorably, a dream team of 23 artists—including the irrepressible Nathalia Arja—gave a commanding presentation of Symphonic Dances, created for MCB by Alexei Ratmansky.
Keep reading...
Show less
Views
Jun. 03, 2016 03:01PM EST
Stella Abrera as Giselle (photo by MIRA, courtesy ABT)
At Pointe, we're always ready to watch a good ballet video, especially one that takes us behind the scenes with some of today's most talented performers. An episode of the series NYC-ARTS, which aired on PBS yesterday, pretty much hits the video jackpot. It profiles not one, but three American Ballet Theatre dancers: corps de ballet member Calvin Royal III, soloist Skylar Brandt and principal Stella Abrera.
The video catches up with the dancers in the midst of ABT's spring season, which opened with a festival celebrating artist-in-residence Alexei Ratmansky, and continues with the much-anticipated U.S. premiere of The Golden Cockerel next week.
Calvin Royal III, photo by Nathan Sayers
There's gorgeous footage of the dancers in class, and rehearsing ballets like Ratmansky's Firebird and Serenade after Plato's Symposium (which had its world premiere this season). But the best part is hearing the dancers reflect on their personal journeys to ABT, and what being in the company means to them now.
Skylar Brandt, photo by Nathan Sayers
Each is at a different stage in their career, and has a unique perspective. Royal talks about getting a late start in ballet (he didn't take his first class until he was accepted to performing arts high school as a teenager), and what he's learned from being in the corps. Brandt shares what it's like to work with Ratmansky in the studio, and talks about performing her first principal role in his Piano Concerto #1. And Abrera reflects on her long career with the company, from struggles with injury to her triumphant promotion to principal last year.
In one of the video's most moving moments (at 9:15), Abrera describes how, as a corps dancer in Swan Lake, she would glance at the "ABT" stamp on the scenery to remind herself how hard she'd worked to get there. "That euphoric feeling of being in the company I dreamed of being in for my whole childhood—that's still in me now," she says.
For more news on all things ballet, don't miss a single issue.
ABT principal Veronika Part and Gary Chryst rehearsing The Golden Cockerel. Photo by Kyle Froman for Pointe.
Choreographer Alexei Ratmansky is passionate about promoting the splendor of early Russian ballet and has, over the last few years, mounted a string of reinterpretations of iconic works. This June his re-choreographed version of The Golden Cockerel, first mounted for the Royal Danish Ballet in 2012, will have its U.S. premiere at American Ballet Theatre, where he is artist in residence. The Golden Cockerel, which was first staged in 1914 by Sergei Diaghilev's Ballets Russes in Paris, is the epitome of Russian art, music, folklore and dance. It follows the exploits of the foolish King Dodon, the powerful Queen of Shemakhan (who has eyes on his kingdom) and the cunning Astrologer, who gives the king a magical golden cockerel to warn him of danger.

While unfamiliar to American audiences, The Golden Cockerel has a rich history. Here is a timeline of this comedic ballet's many reincarnations.
1914 Choreographer Michel Fokine had been toying with the idea of a ballet set to Nikolai Rimsky-Korsakov's opera, based on the poem The Tale of the Golden Cockerel by Alexander Pushkin, for several years. He wanted to try combining ballet and opera completely. The resulting production of The Golden Cockerel had the opera singers seated on either side of the stage while the ballet dancers performed. Tamara Karsavina danced the role of the Queen of Shemakhan, and Italian ballet master Enrico Cecchetti played the Astrologer, but the role of the Cockerel was simply a prop.
The opera/ballet was considered an unqualified triumph. But due to the large scale of its staging and the onset of World War I, it quickly fell from the repertoire.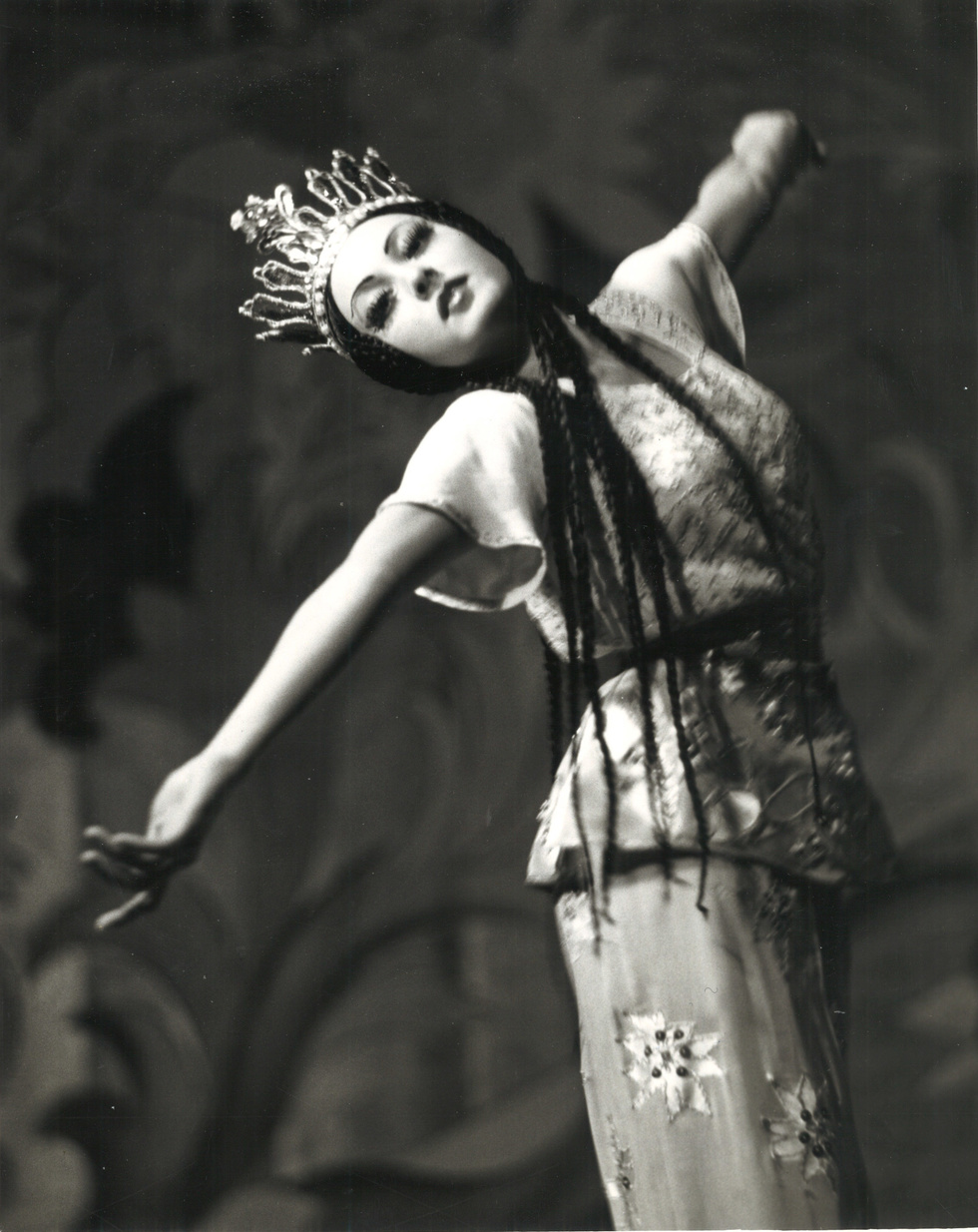 Irina Baronova as the Queen of Shemakhan. Photo Barron Studios, Courtesy Dance Magazine Archives.
1937 Colonel Wassily de Basil and the Ballet Russe de Monte Carlo decided to remount Fokine's opera/ballet in 1937. Upon revisiting the work, Fokine chose to create a purely balletic version with musical instruments taking the places of voices. He also changed the Golden Cockerel into a role for a female dancer. Tatiana Riabouchinska and Irina Baronova (who was only 18 at the time) danced the roles of the Golden Cockerel and the Queen of Shemakhan, respectively.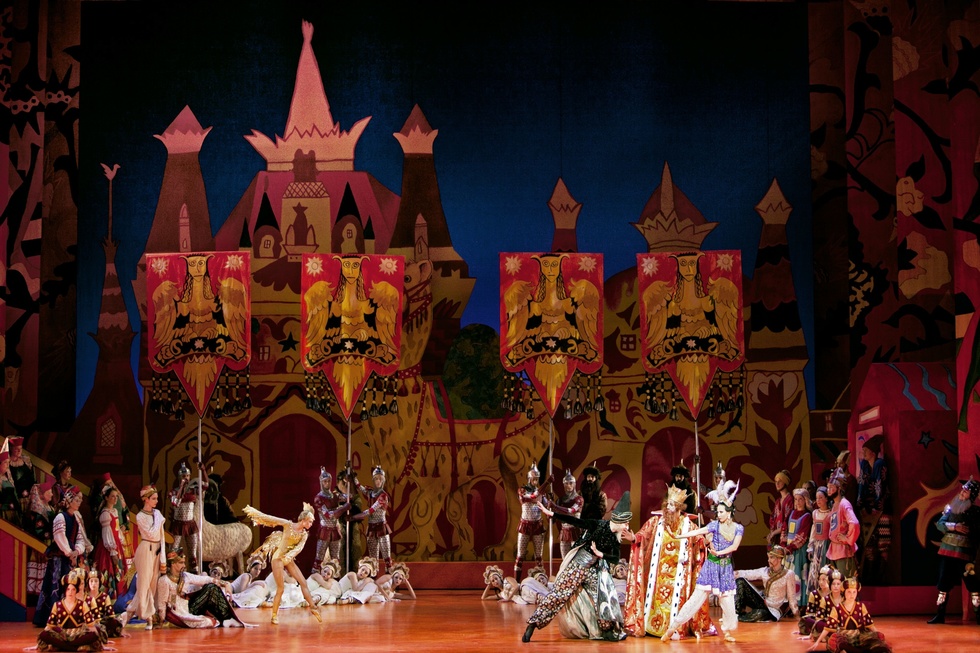 Richard Hudson's costumes and sets build on Natalia Goncharova's original design. Photo by Per Mortensen Abrahamsen, Courtesy Royal Danish Ballet.
2012 Ratmansky, drawn to what Fokine had described as his best ballet, chose to revisit the work for the Royal Danish Ballet, using elements from both the 1914 and 1937 productions. The resulting ballet, while containing references to its history and moral story, portrays the Russian fairy tale in a bright, swirling kaleidoscope of color. Ratmansky lengthened the 45-minute 1937 version to create a new two-act ballet by including music from the original opera. RDB soloist Lena-Maria Gruber created the role of the majestic Cockerel. "I turn quite diabolical in the end," Gruber says.
2016 In remounting The Golden Cockerel for ABT, Ratmansky has added and changed steps and built in more details. "ABT has different strengths to the Royal Danish Ballet, which I have taken into consideration," Ratmansky explains. ABT principal dancer Stella Abrera has been cast as the Queen of Shemakhan, whom she describes as "an overtly sensual figure" who relishes her position of authority. "This gal is the whole package," she says. "The deeper we plunged into the ballet and the better I understood why the original libretto was controversial—powerful women and foolish rulers—I knew The Golden Cockerel was going to be a lot of fun!"
Ratmansky coaches Part and Chryst, who play the Queen of Shemakhan and King Dodon, through a comedic scene. Photos by Kyle Froman for Pointe.
Re-creating a World of Color
Tony Award-winning designer Richard Hudson based the costumes and sets on the original 1914 and 1937 designs by avant-garde artist Natalia Goncharova. According to Ballets Russes dancer Lydia Sokolova, Sergei Diaghilev found Goncharova in Moscow "painting pictures on the foreheads of people in cafés." Her colorful designs, however, perfectly encapsulated Russian folk culture and fairy tale.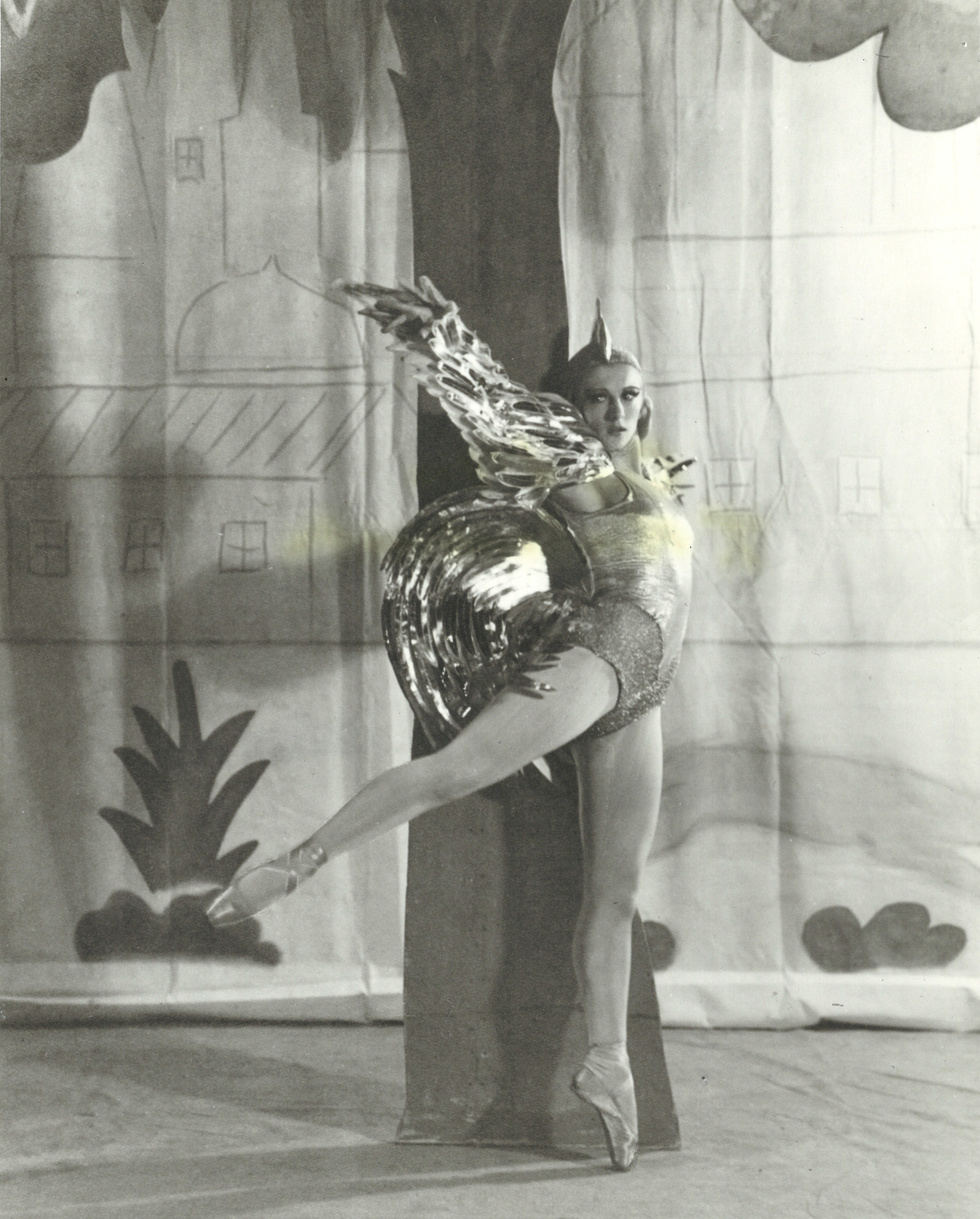 Tatiana Riabouchinska. Photo Courtesy Dance Magazine Archives.
When Goncharova redesigned the ballet in 1937, the costumes were made in the London workshop of Barbara Karinska. (Karinska later developed a close collaboration with George Balanchine and New York City Ballet.) Covered in hand painting, stenciling, embroidery and appli­qué, her costumes were works of art but time-consuming to make. Irina Baronova recalled sitting in her dressing room opening night with nothing to wear. Suddenly the sound of sirens was heard by the stage door, and out of two ambulances burst Karinska, her seamstresses and the costumes. After a 50-minute intermission, with many of the dancers pinned into their garments, the curtain finally went up on the ballet.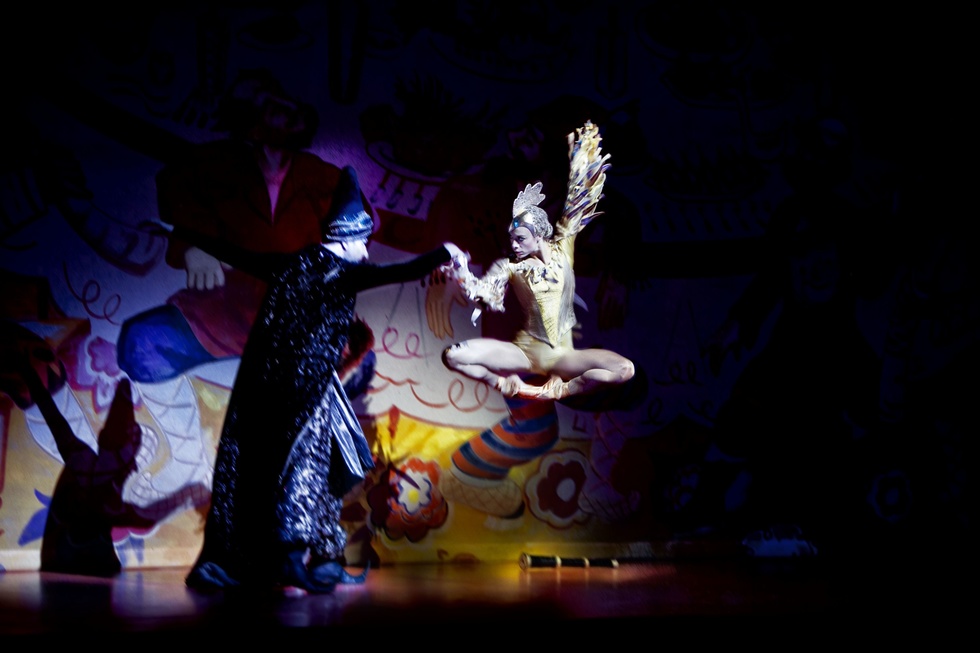 Lena-Maria Gruber as the Golden Cockerel in the Royal Danish Ballet production. Photo by Per Mortensen Abrahamsen, Courtesy RDB.
For Hudson, reinterpreting the production was daunting: "Working with such a huge palette of colors was difficult to start with, but then liberating, once I understood that anything goes—almost!" He changed the costumes' proportions, he says, "because contemporary dancers are so different in physique." RDB soloist Lena-Maria Gruber, who created the role of the Cockerel, had to adjust to the weight shift created by the elaborate tail. "But it was a lot of fun to be covered in gold head to toe!" she says.
News
May. 20, 2016 11:53AM EST
Alexei Ratmansky works through Firebird with ABT dancers . Photo by Gene Schiavone, Courtesy ABT.
American Ballet Theatre's Ratmansky Festival is the centerpiece of the company's spring season at Lincoln Center's Metropolitan Opera House. Since festivals and celebrations usually come later in a choreographer's career, it provides an unusual opportunity to see how ABT has adapted to and absorbed Alexei Ratmansky's approach since he became artist in residence seven years ago. "The last seven years of Alexei's creative process with us was an exploration of the company's depth," says ABT artistic director Kevin McKenzie. "I think it's always good to take another look at what is, in fact, still new to us."
Keep reading...
Show less


Get Pointe Magazine in your inbox