San Francisco Ballet principal Joseph Walsh at age 3 as the tiny green elf in his local Nutcracker. Courtesy Walsh.
Oh, Nutcracker... It's the ballet experience that unites us all, from young student to seasoned pro. Whether you made your entrance in a mouse costume or under Mother Ginger's skirt, do you remember the choreography and costume of your very first role?
Today, six professionals share their favorite childhood Nutcracker photos and memories.
Keep reading...
Show less
Still via Youtube.
Throughout the last quarter of the 10th century Cynthia Harvey was a force in the ballet world. She had the unique distinction of dancing as a principal ballerina on both sides of the Atlantic, with American Ballet Theatre and then at The Royal Ballet, where she was the first American dancer ever to hold that position. A dynamo with impeccable style, her polished technique was matched only by her power. In this 1984 performance of a variation from Paquita, she bursts from the wing with a tidal wave of energy that carries her throughout the entire solo.
Paquita - Cynthia Harvey www.youtube.com
Keep reading...
Show less
Galina Ulanova and Nikolai Fadeyechev in "Giselle." Screenshot via YouTube.
The final moments of Giselle's second act are some of the most hauntingly beautiful in all of ballet: from the pas de deux between Giselle's betrayed spirit and the man she still loves, to the wilis' cold rejection, to Albrecht's heart-wrenching desperation as the curtain closes. The Bolshoi Ballet's late prima ballerina assoluta, Galina Ulanova, is among the most legendary interpreters of the ballet's titular role, admired around the world for her ability to utterly transform into character. Alongside her frequent partner Nikolai Fadeyechev, also a former leading dancer with the Bolshoi, their performance is an offering of sensitivity that stirs us even decades later.
Keep reading...
Show less
The Paris Opéra Ballet, Swan Lake and the dance of Les Petite Cygnets—could anything in ballet be more iconic? Factor in four beloved French ballerinas dancing as the four little swans and we think not. In this 2006 performance, Fanny Fiat, Myriam Ould-Braham, Mathilde Froustey and Dorothée Gilbert (appearing from left to right in that order) are a testament to the powerful precision that makes this quartet so recognizable.
Keep reading...
Show less
Irek Mukhhamedov and Viviana Durante in "Manon." Image via YouTube.
Sir Kenneth MacMilllan's ballet Manon tells the story of ill-fated lovers Manon and des Grieux, who are torn between worlds of wealth and opulence and the stark misery of poverty. While the characters' circumstances are bleak, their love is the powerful and redeeming force that carries the ballet. In this clip, The Royal Ballet's Viviana Durante and Irek Mukhamedov bring the characters' passion to the forefront. The powerhouse duo, who danced together throughout the 1990s, were renown for their dramatic prowess; their Act III pas de deux in Manon is an exquisite display of raw emotion and refined technique.
Keep reading...
Show less
Carla Fracci in "Giselle," via YouTube.
In the late 1950s and 60s, Italian ballerina Carla Fracci won the world over with her definitive interpretations of romantic ballets like La Sylphide, La Sonnambula, and, of course, Giselle. At just 22 years old, she left her home stage at La Scala in Milan to begin guesting internationally, eventually forming a famous partnership with the dashing danseur Erik Bruhn at American Ballet Theatre. The two appear together in this film of ABT's Giselle, in which Fracci's Act I variation is as near to perfection as any Giselle before or after.
Keep reading...
Show less
Swan Lake's Black Swan pas de deux has long been an opportunity for dancers to display their virtuosity and test the limits of technique. But in this week's #TBT, daredevil Cuban dancers Lorna Feijóo and José Manuel Carreño bring the duet to a new level. In this clip of the variations and coda performed at the Festival de Ballet de la Habana in 2000, both the dancers and the audience get swept up in the excitement.
Keep reading...
Show less
Houston Ballet principal Connor Walsh getting early practice as a leading man. Photo courtesy Connor Walsh
It's that time of year again—recital season! And not so long ago, some of your favorite ballet dancers were having their own recital experiences: dancing, discovering, bowing, laughing, receiving after-show flowers, making memories, and, of course, having their pictures taken! For this week's #TBT, we gathered recital photos—and the stories behind them—from five of our favorite dancers.
Gillian Murphy, American Ballet Theatre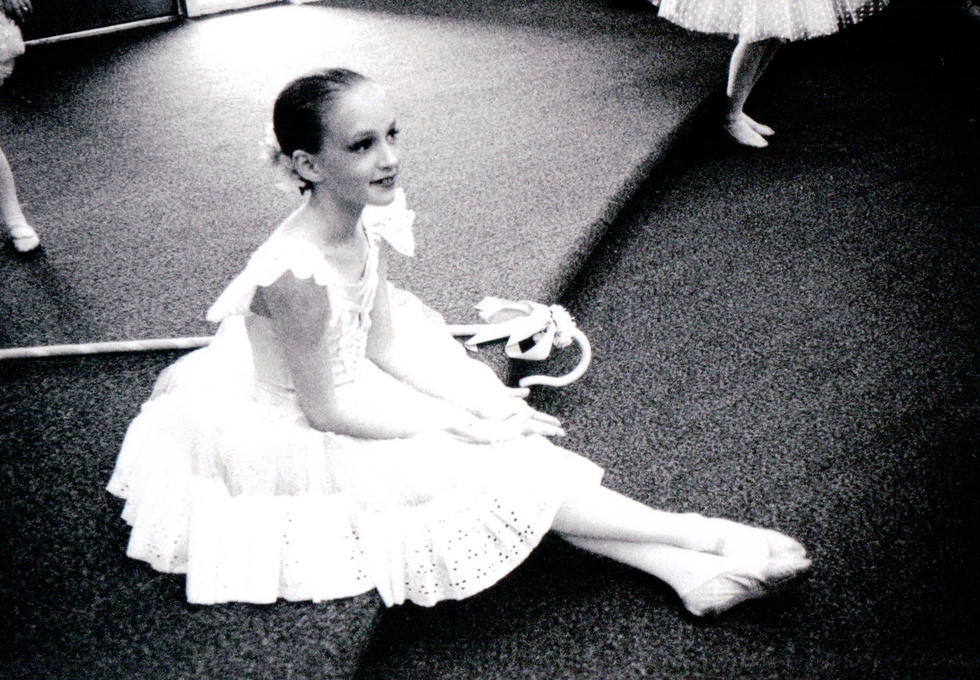 Murphy gets ready for her role as "Mary Had a Little Lamb." Photo courtesy Gillian Murphy.
"This photo was taken by my mom when I was 11, waiting in the dressing room (the band room of West Florence High School in South Carolina) before I went onstage as 'Mary' for a recital piece featuring 3-year-olds as little lambs.I had so much fun being the teacher's assistant in the baby ballet class each week, particularly because my little sister Tessa [pictured below] was one of the 3-year-olds. I remember feeling quite grown up at the time because I was dancing in the older kids' recital piece later in the program, but in this moment I was just looking forward to leading my little lambs onstage in their number."
Keep reading...
Show less
Natlaia Makarova, via YouTube
The third act variation from Raymonda is deceptively simple–legato and heavy on bourrées and épaulement, it has few pirouettes or showy extensions. Instead, the piece calls for artistry and aristocratic command in order to convey the character's regal persona and the dance's Hungarian flavor. Soviet prima ballerina Natalia Makarova is legendary for her emotive, passionate performances. She interprets the variation with rich soulfulness, flowing through positions with sinuous, unfurling limbs. Her feet tremble like the piano keys as she bourrées, surging and slowing with the tempo. Throughout the variation, her lifted sternum and sophisticated épaulement drum up drama that culminates in her final pose with her head tossed completely back over her shoulder.
Keep reading...
Show less
José Martinez and Marie-Agnes Gillot in "Sylvia," via YouTube.
Is there anything more heart-wrenching than a tale of doomed lovers? It's no wonder that so many enduring ballets don't end in happy embraces. John Neumeier's modern Sylvia plumbs the depths of the story for its most melancholy notes. Paris Opéra Ballet étoiles, who make up the ballet's original cast, are masterful storytellers in the emotionally charged ballet.
In this clip from a DVD released in 2006, Marie-Agnès Gillot plays the huntress Diana. Her love faces a fate even more dispiriting than death: Endymion, danced by José Martínez, is doomed to eternal sleep. She dances in memory, a passionate pas de deux with a partner who cannot reciprocate. Diana's inescapable loneliness is etched on Gillot's features: the strong huntress at her most vulnerable.
Keep reading...
Show less
Throughout the year, ballet companies are celebrating what would be Jerome Robbins's 100th birthday. One of America's most prolific and versatile dancemakers, Robbins is often remembered for his choreography for Broadway musicals like West Side Story and Fiddler on the Roof. However, his ballets, from Fancy Free to Afternoon of a Faun, are equally iconic. One of his best-loved pieces, among dancers and audiences alike, is Dances at a Gathering, a lyrical ballet inspired by Chopin's piano compositions. The hour-long piece features 10 dancers, all dressed in different colors, who move in and out of solos, duets and group dances; it's a staple in company repertories around the world.
Keep reading...
Show less
At just 16 years old, the Bolshoi Ballet's Maria Alexandrova already had the makings of a great artist. In this variation from Coppélia, she portrays the carefree Swanilda with blithe, youthful ease.
When she bounds on stage in her perky pink tutu, you immediately notice her legs–they just go on forever. In the first sequence of steps she keeps her jetés and développés low, but then the phrase repeats and she lets her gorgeous extensions fly. She sails through Italian fouettés and whirls around in piqués en manège that get faster and faster. While she nails all the virtuosic movement, Alexandrova also pays beautiful attention to detail throughout the variation. Even the simplest steps become something exciting, like her precise pas de bourrées beginning at 1:03 that sing with musicality.
Swanilda has been one of Alexandrova's signature roles throughout her career. For a fun side by side, watch her perform the same variation almost 20 years later in this video. Although Alexandrova formally retired from the Bolshoi in February, she still performs frequently in Moscow and internationally as a guest artist. Happy #ThrowbackThursday!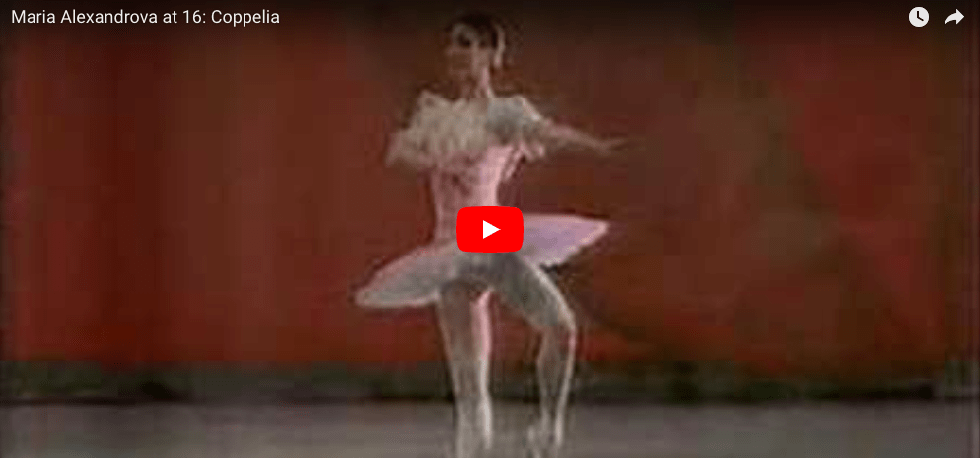 When Maya Plisetskaya first toured abroad with the Bolshoi Ballet, she stunned the world. Her dramatic and technical abilities were far beyond what anyone outside the Soviet Union had seen before. She quickly became an icon, symbolizing Russian ballet.
Plisetskaya was the perfect ballerina to play the Tsar Maiden in The Little Humpbacked Horse when choreographer Alexander Radunsky and composer Rodion Shchedrin recreated the classic Russian folktale in the 1960s. This vintage clip of the ballet offers a glimpse into an era gone by. Although ballet technique has advanced since then, Plisetskaya's performance is still electrifying. She is daring and agile in her manèges and fouettés, while she shows gentle purity and authentic emotion in the pas de deux with the wide-eyed Ivan. Even half a century later, this magnificent artist continues to transfix us with her radiant presence onstage. Happy #ThrowbackThursday!
The tambourine variation from La Esmeralda is a competition favorite, but the full pas de deux isn't seen as often. That's a shame, because it contains some of the most technically challenging classical choreography to be found. In this video, Yuan Yuan Tan and Felipe Diaz take on this balletic feat with amazing power and ease.
Tan, who was awarded a permanent contract with San Francisco Ballet after performing this role as a guest artist in 1995, is a youthful but commanding presence. Her extensions crawl right up to her ear, and she rises from deep lunges en pointe to arabesque without ever seeming to get tired. After an endless series of promenades (4:00), Tan again lunges low to the floor and then teasingly runs away from Diaz, inviting him to follow her. In her variation, she oozes gypsy spunk, enticing the audience with dramatic details. She takes the variation at a quick pace, blending each movement smoothly into the next.

Diaz, who was a soloist with SFB and is now a ballet master for the company, shines in his own right. The adagio reveals his partnering prowess. From 2:15—2:35, Diaz supports Tan almost continuously in a string of carries and lifts–and his variation is chock full of bravura. All the way through the coda, the technical fireworks in this pas de deux never stop coming. We can't get enough! Happy #ThrowbackThursday!
Merle Park and Wayne Eagling in "Voices of Spring"
Sir Frederick Ashton first choreographed the Voices of Spring pas de deux on Royal Ballet stars Merle Park and Wayne Eagling in 1977 for a ball scene in Johann Strauss II's operetta Die Fledermaus. The lively duet is a favorite in galas and mixed bills these days, but Park and Eagling's version from this 1983 video is a spectacular, must-see combination of cheek and elegance.
Keep reading...
Show less
Alicia Alonso in "Giselle." Photo by Frank Alvarez, Courtesy Dance Magazine Archives.
Over the years, many companies have premiered works or made their U.S. debut at the Jacob's Pillow Dance Festival, and some of the world's most famous ballet dancers have performed there. This week I will give some more insights from the Pillow's extensive archives into the dancers that have graced this world famous festival's stage. Click on the links below to watch video footage of their performances.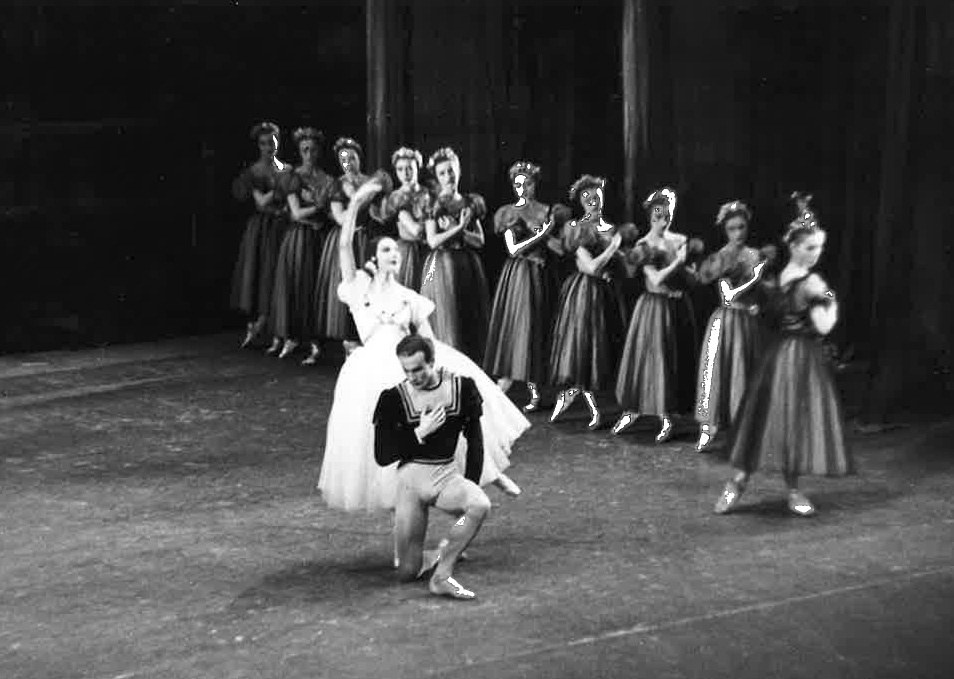 Alonso and Bruhn performing "Giselle" in 1955. Photo Courtesy Dance Magazine Archives.
Keep reading...
Show less
Vishneva with Marcelo Gomes in Alexi Ratmansky's The Sleeping Beauty 2015. Courtesy ABT.
Diana Vishneva gave her final performance with American Ballet Theater last month after 12 years as a principal. The Russian ballerina made her first appearance with ABT even earlier as a guest artist in 2003. In this video of Aurora's Act III variation from the same year, it's easy to see why Vishneva was in demand all over the world.
While Vishneva has become well known for her dramatic roles, as well as her contemporary work, she is simply exquisite in this quintessential classical variation. At some moments she dances with calm, regal precision; at others, like the manège at 1:40, she floats across the stage with the joy and abandon of a young princess on her wedding day. Her long, sinewy limbs make every movement luxurious, and perfectly accented details demonstrate her individual artistry.
Even though she is saying goodbye to New York, Vishneva's career is sure to keep up its spectacular pace as she heads back to Russia to continue dancing with the Mariinsky Ballet, her home company of 22 years, and to work on new projects. The world will be watching to see what she does next! Happy #ThrowbackThursday!
Marianela Nuñez with artists of The Royal Ballet in Sir Frederick Ashton's "Sylvia." Photo via ROH.
The Royal Ballet principal Marianela Nuñez exudes femininity and strength. It's no surprise, then, that her interpretation of the mythological huntress Sylvia, an independent, cunning young woman, is spot on. In this 2008 clip of the ballet choreographed by Sir Frederick Ashton, Nuñez commands the stage with her natural presence and effervescent personality.
Performing Sylvia's Act III variation, the Argentinian ballerina captures the pure, English style with expressive epaulement, fluid port de bras, and crystalline clarity in her legs and footwork. Her calm musicality throughout makes Ashton's intricate choreography look easy. The variation begins with a challenging sequence of hops on pointe which Nuñez executes with delicate lightness. Then at 0:50, her snappy petite sissones are buoyant and precise. Perhaps the most beautiful moment in this variation is Nuñez's gorgeous balance at 1:34. She sustains an arabesque with her face lifting upward toward her arms in a high, open fifth position. She has a huge smile and you can sense the joy she feels on stage. Happy #ThrowbackThursday!
Karen Kain is internationally renowned as a performer and as the National Ballet of Canada's artistic director. The former NBoC principal always carries herself with the grace and sophistication of a true leader. However, in this 1976 clip from Giselle, the distinguished ballerina is convincingly naïve and bewildered in her interpretation of the mad scene.
Kain conveys Giselle's innocence at the start of the scene with pure, unaffected gestures and facial expressions. Then, after Albrecht betrays her, her eyes stare unfocused into the distance as if she's in a trance. Although this scene is mostly acting, Kain dances dreamily to the musical motif at 5:30 and conceals her technical strength in order to show the character's frailty. It takes a true ballerina to perform this heartbreaking and beautiful role, and with performances like this and her lifelong commitment to the art form, Kain proves that she is an extraordinary one. Happy #ThrowbackThursday!
Last week, The Royal Ballet's Zenaida Yanowsky took her final bow at Covent Garden—a stage she called home for 23 years. Beloved by Britain's loyal ballet fans, she captivated audiences throughout her 16 years as a principal dancer. At 5' 9" Yanowsky is regal and striking, breaking the mold of the more traditional, diminutive English ballerina.
Keep reading...
Show less
Jim Caldwell, Courtesy of Houston Ballet
The '90s were an exciting time at Houston Ballet. Lauren Anderson, who became Houston's first African–American principal dancer in 1990, reigned as its queen of virtuosic technique; a few years later, a young Cuban wonder named Carlos Acosta joined the company and became one of her regular partners. The results were nothing less than explosive, as this clip of their Don Quixote pas de deux proves. Dancing at a brisk pace, they imbue the choreography with high-flying allégro, crisp energy and charismatic flair. Within a minute Acosta has Anderson in an overhead press (no biggie!). Later, she attacks her pirouettes with pointed musicality, slicing the air with a dramatic grand ronds de jambe.
In a recent interview with Pointe, Anderson talked about their partnership. "It was a little bit of a battle at first because he's strong and I'm strong," she said, adding that she had already been an established principal when Acosta, who is eight years younger than Anderson, joined the company. "But we found that there was chemistry there. And what was fun was that we were both heavy on the technique side, so we'd compete a bit onstage, especially when we'd get to the coda. As we'd each come out for our solos, we'd try to kick it up a notch." It's easy to see how much fun they're having here. Happy #TBT!

Views
Mar. 23, 2017 05:39PM EST
The dance world lost a legend this past week, when choreographer Trisha Brown passed away at age 80. A leader of postmodern dance, her work had dancers doing everything from walking on the walls of New York City's Whitney Museum to signaling to one another across Soho rooftops.
Trisha Brown, photo by Lois Greenfield, via Dance Magazine
Ballet dancers don't often get to try their hand at Brown's liquid movement, but in 2013, the Paris Opéra Ballet performed her 1979 Glacial Decoy—the first work she made for a proscenium stage. It was restaged by Lisa Kraus, a former member of Brown's company; and Carolyn Lucas, the co-associate artistic director of Trisha Brown Dance Company.
The fascinating rehearsal process was captured in Marie-Hélène Rebois' documentary, In the Steps of Trisha Brown. The excerpt above shows a portion of their performance.
For ballet dancers, Brown's more pedestrian choreography can be a challenge, and it's a far cry from tutus and pointe shoes. But the POB dancers tackle the movement—danced in silence, with projected slides behind them—with confidence. Dressed in sheer, flowing white gowns, they let the weight and impulse of each movement propel them, like a current running through their bodies. Brown's choreography brings out a whole new side of them.
For a glimpse of what rehearsals were like, check out the clip below:
For more news on all things ballet, don't miss a single issue.
Views
Mar. 02, 2017 05:17PM EST
ent as Giselle, photo by Marty Sohl.
For those who have eagerly followed Julie Kent's illustrious career, all eyes turned to DC when she took the job as The Washington Ballet's new artistic director. This week, audiences are getting a taste of what the company looks like under her leadership, as the spring season begins.
Kent chose to kick off her inaugural season with a restaging of Giselle—a ballet she knows all too well. She danced the role countless times as one of American Ballet Theatre's star ballerinas, and her mastery is evident in this clip of herself and Vladimir Malakhov in performance.
In the Act I scene, Kent captures her character's playfulness, vulnerability and youthful innocence, bringing a sweet and delicate touch to the choreography. Watch the nuances in her facial expression when she lets Albrecht take a seat next to her at 2:20, smiling in anticipation and nervousness as he gets closer, before shyly springing away at the last second. The two barely touch, but the chemistry between them is revealed. As Albrecht, Malakhov gives away his regal background in subtle movements, like the way he carries himself as he walks across the stage.
Malakhov has also dabbled in both dancing and directing: He was a principal at ABT, and directed Staatsballett Berlin until 2014. As for Kent, she's already bringing her invaluable expertise to her new role. Check out this behind-the-scenes clip of rehearsal to glimpse what it was like in the studio as she coached TWB's dancers:
Views
Feb. 16, 2017 04:41PM EST
There's nothing like watching two masters at work. In this clip from 1985, two of American Ballet Theatre's most legendary stars, Cynthia Gregory and the late Fernando Bujones, make sparks fly in the Black Swan pas de deux from Swan Lake. Bujones can't help but be mesmerized by Gregory's deliciously seductive allure. Watch how she doesn't let him escape her spell at 3:23, effortlessly sailing out of her attitude promenade to zero back in on her prey. We can all take a lesson from their expert musical phrasing, as well as Bujones' clean simplicity during his variation's bravura moments.
Gregory and Bujones in Swan Lake. Photo by MIRA, Courtesy Dance Magazine Archives.
Odette/Odile was considered Gregory's signature role; this month, she's passing on her expertise at Nevada Ballet Theatre, where she's staging the full-length Swan Lake. Those sure are some lucky dancers.
For more news on all things ballet, don't miss a single issue.
Views
Nov. 03, 2016 11:21AM EST
Monica Mason in 1978. Photo by Anthony Crickmay via the Victoria and Albert Musuem.
Dame Monica Mason, The Royal Ballet's former artistic director, has likely stood before a corps of white-tutu−clad dancers thousands of times. In this Giselle clip from a Bavarian State Ballet performance filmed in 1979, she leads the wilis not as their director, but as their queen. Though Mason is a natural Myrta, she offsets her undeniably commanding stage presence with softness. Shaping air with the fullness of her arms, swirling weightlessly in a torrent of tulle, Mason is the perfect reigning figure of her ghostly realm. (And a shout out to the corps and soloist dancers' solid variations and pattern work!)
Mason directed The Royal from 2002−2012, but she's been a figure in English ballet since 1958, when she received her company contract at 16 years old. From originating roles in Kenneth MacMillan's ballets as a dancer to commissioning new choreographers as director (the name Wayne McGregor ring a bell?), Mason has helped shepherd The Royal into the contemporary era. Happy #ThrowbackThursday!
Mason in 2011. Photo by Johan Persson via ROH.
For more news on all things ballet, don't miss a single issue.
Views
Oct. 27, 2016 02:40PM EST
Susan Jaffe. Photo by Daniel Sorine via Redbubble.
Kitri's Act I variation in Don Quixote is short—but not exactly sweet. Though this clip from a 90s documentary lacks the ballet's usual setting of matadors milling around a Spanish plaza, former American Ballet Theatre principal Susan Jaffe doesn't need scenery to draw her audience in. Kitri's power moves are all about passion, and they require a certain abandon. Jaffe delivers. From the moment she snaps her fingers in her preparation to that crowd-pleasing diagonal of consecutive pirouettes, she's all fire and spice.
Since retiring in 2002, Jaffe has been a major player in the ballet world, choreographing, teaching, judging, serving on boards and receiving awards. She's currently the Dean of Dance at the University of North Carolina School of the Arts, and she firmly believes that a ballerina's magic lies in the depth of her artistry, not the height of her extensions. (We 100 percent agree. Though, admittedly, both are nice!) Happy #ThrowbackThursday.
For more news on all things ballet, don't miss a single issue.
Views
Oct. 20, 2016 04:36PM EST
Sofiane Sylve in Forsythe's Pas/Parts. Photo by Erik Tomasson via After Dark SF.
Remember in the Disney version of Sleeping Beauty when Aurora's fairy godmothers fight over which dress is best, pink or blue? Watching Petipa's ballet, you might face a similar conflict: Do you prefer the young, spirited Aurora decked in rose pink from Act I? Or the cool yet lovely dream princess from Act II? In this clip from a 2003 Dutch National Ballet performance, San Francisco Ballet principal Sofiane Sylve embodies the silver radiance of her lunar setting. Her ice-blue tutu barely flares as she sails effortlessly in each attitude turn. Her grace and control are so refined that, if Sylve really were dancing in a mist-filled dream, she wouldn't disturb a single vapor.
Before joining SFB in 2008, Sylve danced at Dutch National Ballet and later New York City Ballet. In a 2012 Dance Magazine interview with former NYCB star Allegra Kent, Sylve said that she fell in love with ballet for its "relationship with the music." I'd say that she does that sacred relationship justice. Happy #ThrowbackThursday!
For more news on all things ballet, don't miss a single issue.
Views
Oct. 13, 2016 04:44PM EST
Anna Pavlova. Photo by Herman Mishki via NYPL.
Anna Pavlova may be best known for someone else's choreographic work (Michel Fokine's The Dying Swan), but she, too, was a choreographer. Similar to the famous solo, Pavlova's dances often emulated nature—like in Dragonfly and Californian Poppy. In this clip of the latter, circa 1916, Pavlova's "poppy" flutters through space on a string of bourrées. She uses the weight of her port de bras and épaulement as impetus for each swirl. Blossoming, joyous, and alive, Pavlova's grace also reflects a petal's delicate fragility.
While the music in this clip has been dubbed in, a more complete silent clip of the dance shows Pavlova folding to the ground after gathering the skirt around her. Her motionless finish recalls the dying swan. Yet, gardening aficionados know that poppies close their petals at night, re-blooming each morning. If it weren't for the dusk, Pavlova might just keep on swirling for eternity. Of course, in our imaginations, she does.
Fun Fact:
Photo via State Symbols USA.
The poppy was named California's official state flower in 1903. Pavlova often took inspiration from her travels and, since she visited San Francisco, it seems likely that the flower inspired the lovely dance. Happy #ThrowbackThursday!
For more news on all things ballet, don't miss a single issue.