Monday morning class after a three-day weekend? Stiff. After eight weeks off? Agonizing.
For most professional dancers on their summer layoff, a break from the daily grind is simultaneously exciting and unnerving. These months are often reserved for recovery and rest—a necessary opportunity to let the body repair and recharge. How dancers spend their summer break is mixed: some teach at summer intensives; some take the extended time to travel, visiting family or exploring internationally; some choose not to pause, performing at galas or festivals; and some just want to stay home, feet up, movies on. Depending on where you dance, the break might span a couple weeks or a couple months. Regardless of length, it involves a physical wind down, as well as a build back up. While it's never going to feel entirely easy, here are a few pro tips to help smooth the transition between 1 and 100 percent.
---
Rest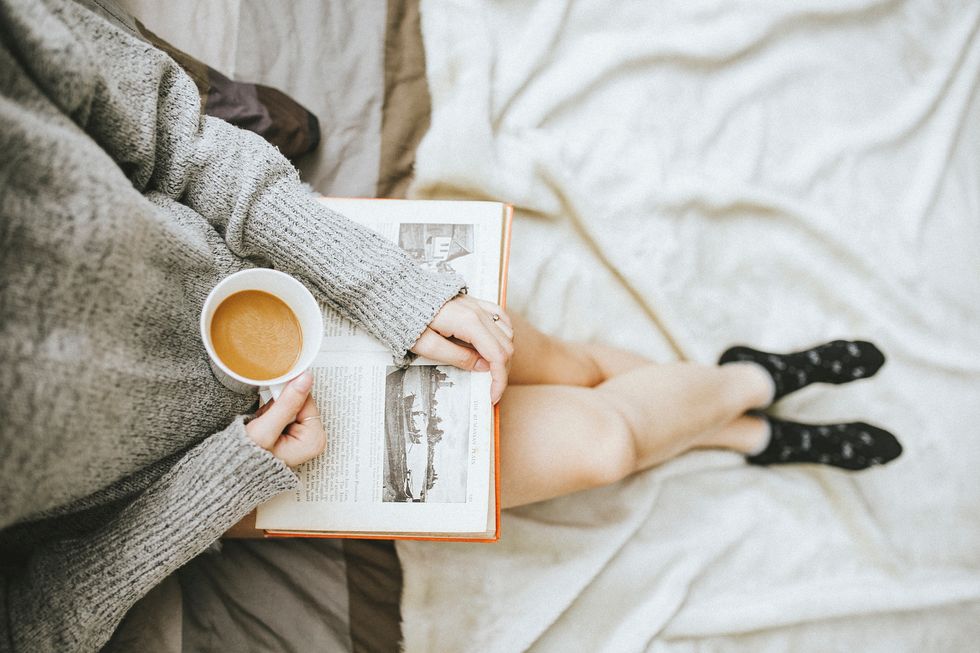 Anthony Tran via Unsplash
It's a hard concept for many dancers to grasp fully. Although taking a complete break from dancing may feel counterintuitive for peak shape, it is essential when it comes to recovering from and maintaining ballet's high physical demands. "My body needs a certain amount of rest in order to operate at an optimal level," says Andrew Bartee, a dancer with Vancouver's Ballet BC. Alberta Ballet dancer Reilley McKinlay, who is on an almost three-month layoff, laughs as she explains her strategy: "I make sure that I allow a couple of weeks of doing completely nothing—I feel like it's necessary for your body to have a moment to be a 'normal' person."
But how much rest is enough? At the Pacific Northwest Ballet, where I dance, we have an eight-week break. The company's physical therapist, Boyd Bender, constructed a recommended conditioning schedule, which he based off a program developed for professional basketball players. He was emphatic that weeks one and two be reserved for rest and recovery.
"This is a minimum to maintain the present level of strength and conditioning," he says. Both "total rest" (no activity whatsoever) and "active rest" (a break from ballet, but maintaining minimal physical activity) are options, depending on an individual's current physical state. Contrary to what one might think, muscles are not building strength when exercising—they're being broken down. It's afterwards, during rest, that they build back up even stronger. Of course, if one goes too long without physical activity, than yes, those muscles will weaken; but allowing adequate time for healing, especially at the end of a long season, is imperative for overall, ongoing strength.
Get Moving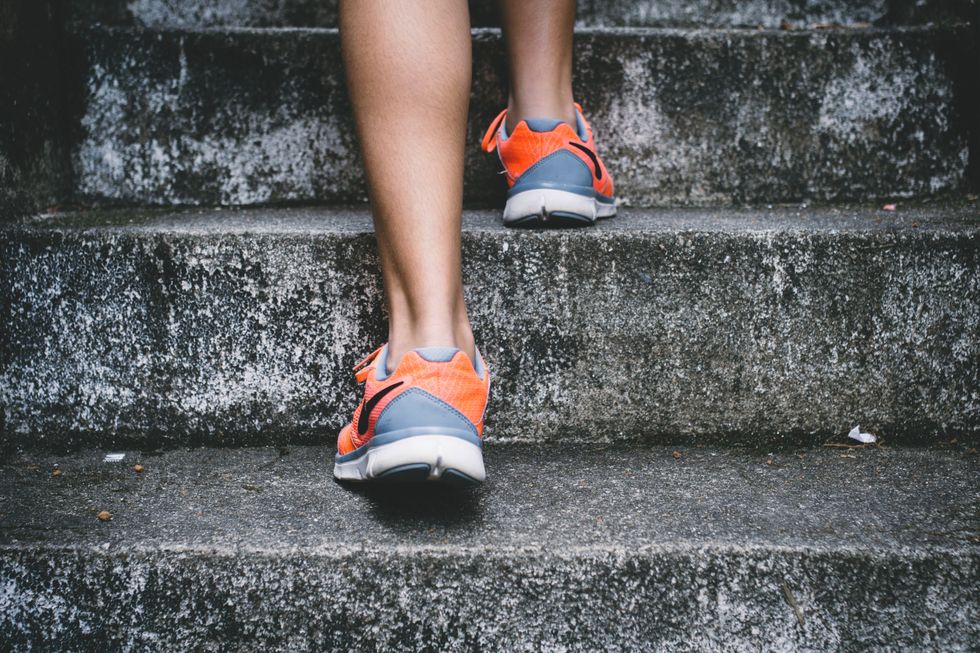 Bruno Nascimento via Unsplash
Soon, however, there's that itch to move again. The specific method of reintroducing activity that feels most beneficial is as individual as each dancer. McKinlay, in the midst of various travels, relies on Pilates exercises that she can do anywhere—no gym required. She either extends or pares down exercises consistent to those she does when working: "I try to keep them in my body because they remind it what is expected throughout the year; it keeps those small, stabilizing muscles imperative to ballet firing."
In contrast, Bartee likes to change his routine—anything from Barre3 classes to alone time at the gym with a bike and a pull-up bar. "I vary as a way of learning more about my body, he says. "I enjoy noticing the ways in which cross-training strengthens my dance practice."
I often adjust my own summertime cross-training depending on my present location. For instance, while vacationing with family in Northern Minnesota each year, I do a daily swim with my dad across the bay and back, about 1.5 miles in total. I find swimming is a great combination of full-body and no impact.
According to Bender, the post-rest weeks should consist of a combination of aerobic (biking, running, etc.), functional (such as yoga, ballet), strength, and anaerobic training (short bursts of high intensity—similar to what is required in dance). Functional exercise should increase in frequency over the break, and others, such as aerobic training, should be maintained or even lessen as the back-to-work date grows closer. Variety is important for returning both well-rounded and prepared. "You utilize all these components in ballet," says Bender. "They're all the individual pieces of what it takes to do what you eventually do onstage."
Returning to the Barre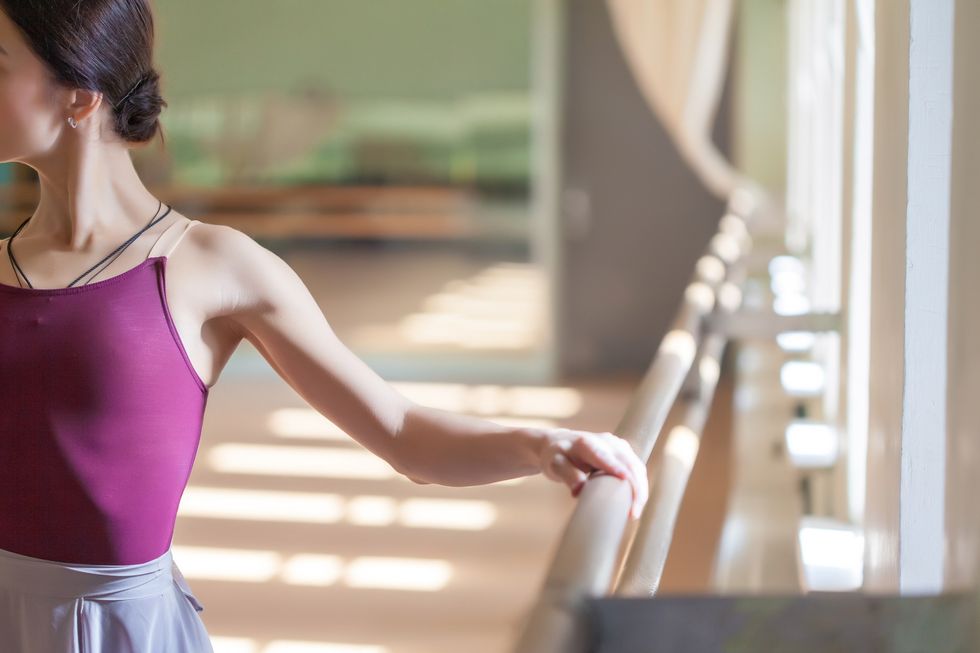 Thinkstock
Ballet class is structured sequentially for a reason—and for the best physical benefit. Bender recommends allowing a minimum of two weeks to rebuild class. Begin with only barre, then gradually add elements of center over time. Listen to your body, too; if you find elements in your class lacking, such as stamina, Bender suggests addressing them through your other activity, such as increasing aerobic training. "You are only adding components you feel ready for," he says. "You know your body better than anyone else."
If approached correctly, the summer break can be a chance not only to let the injuries heal, but also to gain additional strength in new ways that the rigorous dance season schedule doesn't allow for. "This summer specifically, I've learned more about my stabilizers [in Barre3 class] than I ever did in a ballet class," Bartee explains. Take the opportunity. And, Bender reminds us, "Don't forget to stretch!"