Francois Perron teaching class at the French Academie of Ballet. Rachel Neville, Courtesy French Academie of Ballet.
When Katie Spagnoletti was 16, she auditioned for several well-known, company-affiliated summer programs. Although she received some acceptances, the price tags and level of competition felt daunting. She decided to try the relatively smaller Saratoga Summer Dance Intensive instead, and when she walked into orientation her first day, she sensed she'd made the right choice. "Co-director Melinda Roy greeted me—and every other student—by name. It made me feel like the faculty was truly invested in me as a person and a dancer," says Spagnoletti, now a dancer at City Ballet of San Diego. "I had friends who'd gone to some of the big-name schools, so I'd heard about those experiences—and I knew mine was going to be unique."
When planning your summer, it's exciting to think about an intensive at a prestigious pre-professional school—maybe the one attached to your dream company or that all your friends are talking about. But is bigger always better? With a wealth of options for summer study, it's worth looking at the benefits of smaller schools. For many dancers, training in a close-knit atmosphere can outweigh the cachet of a big name.
Keep reading...
Show less
Summer intensive students in contemporary class at Arts Umbrella. Photo by Michael Slobodian, Courtesy Arts Umbrella.
Before attending the Alonzo King LINES Ballet summer program at age 18, Maya Harr did not have much experience with improvisation. In fact, she was such an introverted bunhead that even the word seemed scary. "The teacher came into the studio, turned off the lights, put on music and told us to dance," says Harr, now a LINES company member. "We didn't stop moving for 45 minutes, and I was grateful for the freedom I've found."
You might feel obligated to spend your summer honing your technique at a classical ballet program. Yet as ballet companies open their repertoires to more contemporary works from choreographers like Aszure Barton, Kyle Abraham, Crystal Pite and Nicolo Fonte, you may want to consider opening yourself up to contemporary styles and the outside-the-box thinking that underlies them. "This work is necessary for the future of ballet," says Dwight Rhoden, artistic director of Complexions Contemporary Ballet and its affiliated summer intensive.
Keep reading...
Show less
Thinkstock
At my first summer intensive away from home, my roommate and I deliberated good-naturedly over bunkbeds and decorations. But the next summer, I walked into a triple dorm room and was met with the least desirable bed choice and nearly every inch of wall space plastered with posters of teen pop artists I didn't care for. (Well, hated.) While my two roommates became fast friends, they were aloof towards me and disregarded my personal space.
It was not an ideal situation, but it was one that I had to learn to live with for five weeks. Venturing away from home for summer programs means intimate spaces, unfamiliar faces and new rules—a recipe for lifelong friends if you're lucky, tribulations if you're not. Either way, learning to deal with residence hall life is good training for what may come later in your ballet career or in college.
Keep reading...
Show less
Thinkstock
I'm a young dancer, and I've been accepted to a prestigious summer program. I know intensives are a good way to get my name known in the dance world. How do I give a good impression without seeming nervous? —Lydia
Relax! It sounds like you still have several years before you need to worry about networking for a job. Instead of placing all of your focus on what the school director thinks of you, shift your priority to soaking up as much as you can from your classes. That said, you can make a good impression by working hard, being open to corrections (and quickly applying them) and asking smart questions.
Keep reading...
Show less
Follow these tips to stay fresh and clean all summer long. Here, Pacific Northwest Ballet School Summer Course students in a partnering class. Photo by Angela Sterling, Courtesy PNB.
No matter where you're training this summer, you want to make an impression with your artistry— not your B.O. You'll be dancing (and sweating) more than usual, so follow these basic rules to help you stay healthy and keep embarrassing hygiene faux pas at bay.
✔ Change your dancewear daily.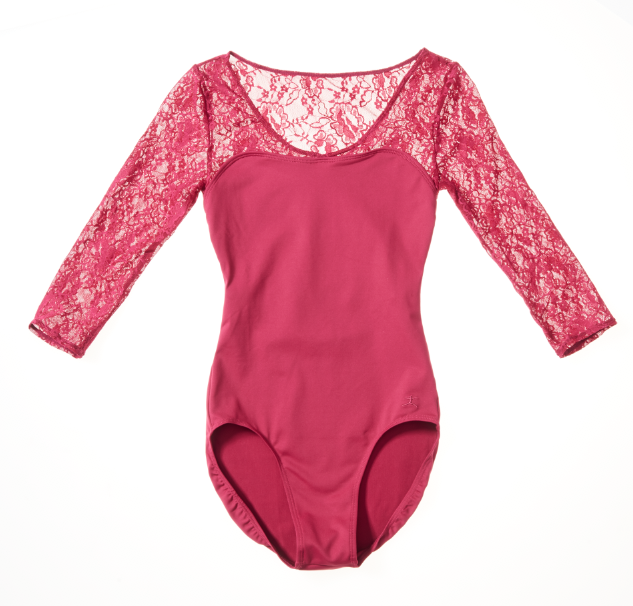 Photo by Jayme Thornton
To ward off odors and the chance of infection, "you must wear a clean leotard and tights every day," says Deborah Hess, senior faculty at Canada's National Ballet School. For men, that means a fresh pair of socks and tights, plus a clean shirt and dance belt. Since you'll have multiple classes, you may need to change midday to avoid skin irritation and odor.

Keep reading...
Show less
Dominic Walsh (right) working with Whim W'him. Photo by Bamberg Fine Art Photography, Courtesy Whim W'him.
Summer is the perfect time for busy dancers to get some much-needed rest after a long season. But it's also a good opportunity to hone your technique. Summer training opportunities for professionals are scarce, although the ones that do exist are pretty great. Now, there is a welcome addition on the horizon that we're excited about.
Choreographer and former Houston Ballet principal Dominic Walsh recently announced that he has teamed up with the Colorado Conservatory of Dance to create the Compass Coaching Project, a two-week intensive for dancers over the age of 17. Held June 4–16 in the Denver suburb of Broomfield, the workshop is specially tailored for those in trainee, second company and apprentice positions. "In today's model of a dancer's profession, there is sometimes a long transition between student and professional," Walsh says in a statement. "I believe this is a crucial time for mentorship." Indeed, a dancer's early career is often marked by anxiety and uncertainty as they spend one or more years in low-paid or unpaid junior ranks.
Keep reading...
Show less
In class at the Bolshoi Ballet Academy summer intensive. Photo by Gene Schiavone, Courtesy Russian American Foundation.
When Complexions Contemporary Ballet's summer intensive program director Meg Paul auditions students for its Detroit intensive, there's one thing that catches her eye for all the wrong reasons. "It's a real pet peeve of mine when a dancer keeps shifting her eyes to me during a phrase," she says. "It tells me that she's not fully invested in the movement, that she's more interested in being watched than in embodying the choreography."
Keep reading...
Show less
Students taking class at the Miami City Ballet School. Photo by Alexander Iziliaev, Courtesy Miami City Ballet.
Growing up in Michigan, Jessy Dick was used to her daily hour-long drives to the Grand Rapids Ballet School, where she trained. But when she started to think about summer intensives, a new problem emerged: Auditions for the schools she was interested in were even farther away, in Chicago or Detroit. "I learned early on that if I wanted to do any summer programs, I'd have to travel at least three hours in order to audition," says Dick, now a member of The Washington Ballet's Studio Company.
Making plans for your summer training is complicated enough, especially with the sheer number of programs to choose between. But students who live far from popular audition hubs face the additional hurdle of organizing, scheduling and budgeting for audition trips. Luckily, with strategic planning, what can feel overwhelming at first can become a rewarding experience.
Organize, Prioritize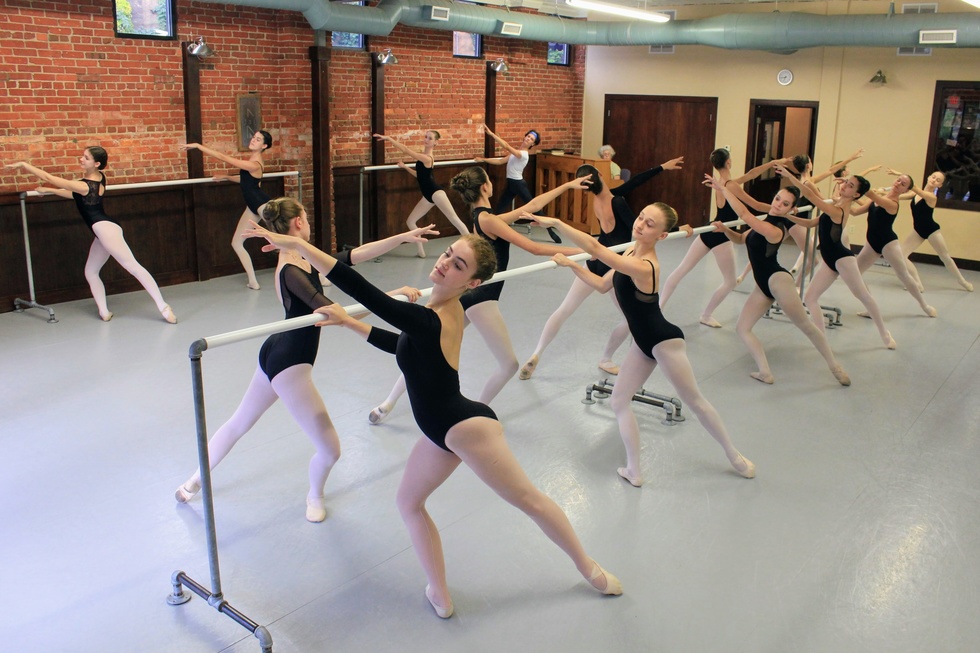 Students at the Ballet Conservatory of Asheville look for weekends when auditions overlap in one city. Blair Chamberlain, Courtesy Ballet Conservatory of Asheville.
For dancers without the luxury of an audition city nearby, prioritizing which schools to aim for is crucial. How to decide? Research, research, research. (Pointe's "2019 Summer Intensive Guide" is a good place to start.) Emily McDougall, a 14-year-old student at The School of Oklahoma City Ballet who's made several six-hour drives to auditions in Dallas and Kansas City, does some serious investigating in order to narrow down her choices.
"I'm quite tall, so I look for places that seem to like taller dancers, and that are close to the technique I train in," says McDougall. She then makes a list of programs she's leaning towards and which auditions she can realistically travel to. "I find overlapping dates, and make an Excel spreadsheet of how long each audition is, its location, requirements, et cetera."
McDougall also uses online forums like Ballet Talk for Dancers to glean information about intensives from other students who have gone there, and turns to her teachers and Oklahoma City Ballet company members for insight beyond what's posted in school advertising or on websites.

If you know you won't be able to attend many auditions, Arantxa Ochoa, Miami City Ballet School's director of faculty and curriculum, advises that you consider what you want out of your summer and eliminate schools that wouldn't fulfill your goals. Think not only about company affiliation and visibility, but class size, technique or style taught, performance opportunities, and how many hours a day you will be dancing.
Maximize Audition Weekends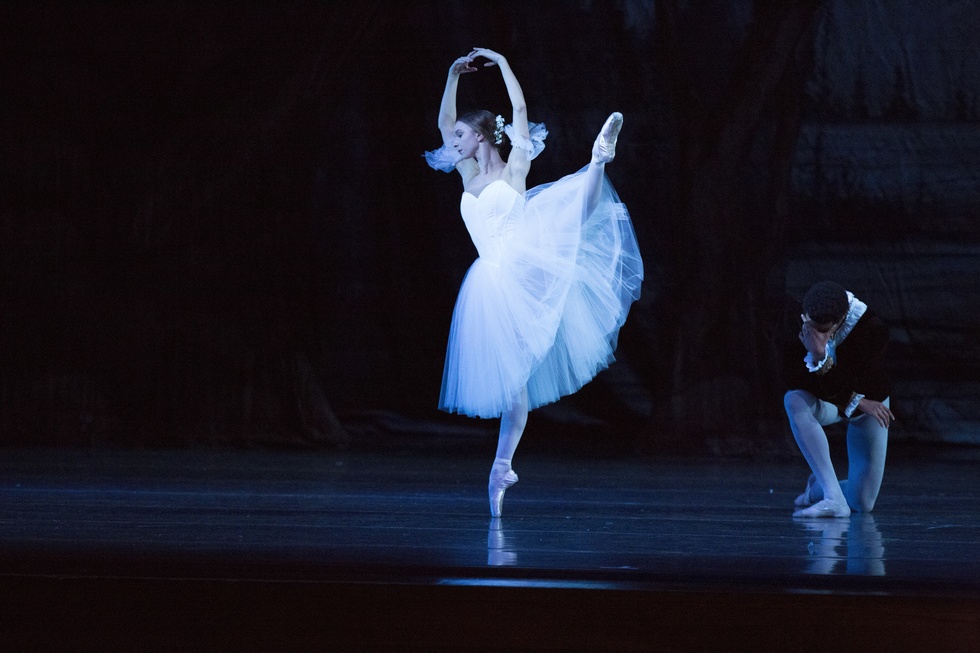 Jessy Dick in a production of Giselle at Butler University. Courtesy Dick.
Planning an audition trip is complicated—expenses, mode of transportation, family obligations, and school and rehearsal schedules all have to be factored in. Students at the Ballet Conservatory of Asheville in North Carolina look for auditions in Charlotte, Winston-Salem and Atlanta, each a two- to four-hour drive away. Director Angie Lynn helps them maximize each trip by identifying dates when several auditions overlap.
"We look at a weekend as a whole," says Lynn. "If there are three auditions in two days, we'll consider staying overnight, even if they're not all on our list of top choices," she says. And if outside factors dictate which weekends you can travel and which auditions you can attend, adding in a backup school isn't a waste of time. "It's good practice and gives you more options," Lynn adds.
Being well organized is critical if you're grouping multiple auditions into one weekend. Two may be in the same city but held at different studios in opposite areas of town—and you don't want to be racing through traffic at the last minute. Penny Askew, director of the School of Oklahoma City Ballet, tells her students to prepare well in advance. "Have each audition's requirements—fees, photos, resumés—organized in a folder. Is pre-registration required? What payment methods are accepted? And research the logistics of getting from one audition to another—it may be too stressful to try to make it work."
Cramming in too much puts you at risk for not looking your best. Lynn recommends limiting auditions to two per day. "Once we lined up three in a row, which was overkill," she says. "They'd come out of one audition, change their number and run into the next. It was too much, and they were exhausted."
Be Travel-Savvy
Audition trips can be expensive, but finding ways to minimize costs might allow you to make multiple trips. Talk with fellow classmates to see who's interested in the same auditions you are, says Katie van der Mars, conservatory director of Nebraska Ballet Theatre & School. "The nearest location for us is Chicago, an eight-hour drive away. It's a trek, so our most serious students coordinate with each other to pick one weekend when someone's mom can drive, and they all go together." (Price-comparison websites like Wanderu can help you find an affordable bus or train when driving isn't an option.)
If hotels are too pricey, consider booking through Airbnb or staying with someone you know in the area. Dick, for example, was able to make several audition trips possible by staying overnight with relatives.
When Traveling Isn't Feasible…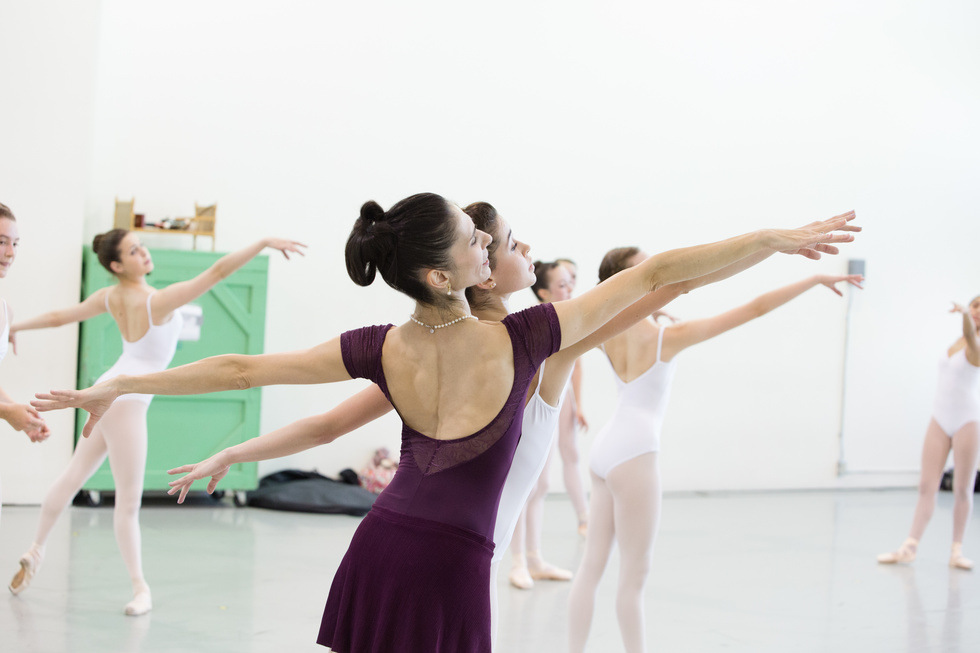 Arantxa Ochoa teaching class. Alexander Iziliaev, Courtesy Miami City Ballet.
If attending your dream school's audition in person is too logistically difficult, video submissions are always an option (see sidebar). Ochoa says she gives videos equal consideration, but students should follow the school's guidelines precisely. "That shows us something about their work ethic and personality," she says. If you have any uncertainties about what a particular school requires or prefers, call its administrator and ask.
While it's a lot to organize, keep in mind that planning your summer intensive auditions has benefits of its own: The skills you learn by researching programs, making informed choices and pooling resources are the same skills you'll need when auditioning as a professional dancer.
Students in class at the Kirov Academy of Ballet. Photo by Paolo Galli, Courtesy Kirov Academy
It's August, so two things are pretty much guaranteed: 1. It's really hot out. 2. If you're a bunhead, you're nearing the end of your summer intensive.
By now, you've gotten used to the early morning alarm, followed by the inevitable reminder that your muscles are (still) sore as you roll of out bed. But the excitement of arriving at an enticing training destination full of challenging instructors and fellow dancers may have faded. What's left is the hard work in the studio from dawn till dusk.
Keep reading...
Show less
Photo by Natalia Figueredo via Unsplash
The summer I turned 16, my head swirled with "what ifs" as I counted down the days until the start of the Chautauqua intensive. I'd attended the program four years earlier, and the experience had been a harrowing one—my first lesson in the competitive nature of ballet. Leaving the temperate waters of my little pond, I'd found myself a very small, uncoordinated fish in a pool deep with talent. Now, I was going back to test myself again, this time in Chautauqua's top level. Would I be as good as the other dancers? Would the teachers like me? Would I make friends?
Summer intensives are aptly titled. Their extreme demands can cause anxiety, nerves, jealousy and stress. But put down the question marks! Don't let a negative state of mind keep you from soaking up everything your summer has to offer.
Keep reading...
Show less
Master pointe shoe fitter Josephine Lee is back, this time sharing her tried-and-true advice from the streets of New York City. While conducting a pointe shoe seminar at the Joffrey Ballet School's NYC Ballet Intensive, Lee put together a list of five things to keep in mind when choosing a summer program. Whether you're about to embark on this summer's intensive or are already thinking ahead for next year, these are good tips to keep in mind. And what better way to receive advice than while viewing a stroll through some of our favorite ballet-happy spots in NYC?
5 Things to Consider Before Choosing Your Summer Intensive www.youtube.com
Summer intensives offer jam-packed days of dancing with little time to warm up for the next class or rehearsal. How can you prepare your body to switch from classical ballet to a modern class or a stop-and-go partnering rehearsal in as little as 10 minutes? Bené Barrera, LAT, ATC, head athletic trainer for Houston Ballet, offers these exercises and tips for building an effective warm-up.
1. Start with a base.
"Dancers like to think of everything as isolated—they work on their ankles, their hips, their neck—but it's really not," says Barrera. Instead, you should warm up with exercises that stabilize your body and involve several areas. This hip series challenges balance, requires arm and core strength to support the body, and warms up the legs. Each begins in an all-fours position.
Keep reading...
Show less
Houston Ballet Academy student Lily Blazevic with Sabrina Lenzi, Instructor. Photo by Cameron Durham, Courtesy Houston Ballet.
Just as all the Nutcracker madness comes to an end, summer intensive audition season begins. Whether you're looking to spend your first summer away from home or hoping to get your foot in the door at your dream company, auditioning can be a daunting process. To help you manage this anxious time of year, we've mined the Pointe archives for our best tips on the audition process—everything from researching schools to battling audition day jitters to paying for the program itself.
1. Start by researching schools. Our 2018 Summer Intensive Guide features 100s of programs and is a great place to start. Search for schools by state or country, and find information on tuition, housing and classes all in one place.
2. Develop a strategy. Think about your goals. What do you hope to achieve this year? Doing so can help you figure out which auditions to prioritize.
3. Quell your audition anxiety. If you feel paranoid that the teachers leading the audition will write you off, you're most likely overreacting. Making mistakes, having to ask a question, or not catching the director's eye does not necessarily mean you're going to be rejected. Nevertheless, auditioning is hard. These strategies, such as preparing the night before or treating the audition as a master class, can help you keep your jitters at bay.
Keep reading...
Show less
Summer intensive students at the School of American Ballet. Photo by Rosalie O'Conner, Courtesy SAB.
As a young student, Shea McAdoo's classes at the Master Ballet Academy in Scottsdale, Arizona, were "strict, straightforward, very classical and purely Vaganova." She appreciated the Russian rigor and precision, but when she was accepted to the School of American Ballet's summer course at 13, she leapt at the chance to learn something new. The vastly different emphasis on Balanchine technique at SAB was illuminating: "It changed my whole way of thinking about musicality and accents. I'd never known there were so many ways to do a tendu! And the épaulement—I loved how they talked about light hitting your face, tilting your chin to show off your diamond earring."
McAdoo's experience was transformative, even when she returned home. "Of course, I lowered my arms back down in second and didn't cross my wrists," she says, "but there were stylistic choices I brought back with me." Today, as an apprentice with Oregon Ballet Theatre rehearsing Balanchine's Serenade, she credits her ease with the ballet's fluid port de bras to her summer at SAB.
Keep reading...
Show less
Photo by Nathan Sayers for Pointe
When Lilliana Hagerman auditioned for Orlando Ballet School's summer intensive, she felt overwhelmingly intimidated. "The other dancers were all so beautiful," remembers Hagerman, now a dancer with Kansas City Ballet. "I thought that if I made one mistake it would be over." Hagerman did make a mistake: She slipped and fell during grand allégro. "I got back up and I smiled," she says. To her relief, the teacher smiled back.
Summer intensive auditions give you only a few moments to make a good impression—often while crammed into a crowded room, after traveling distances in the car and with little time or space to warm up. It's hard not to obsess over a small mistake or feel discouraged if you're put on the intensive's waitlist afterwards. But according to school directors, many of your fears are overreactions. Here are a few of the most common audition misconceptions, along with what's really going on inside the teachers' heads.
Keep reading...
Show less
Caralin Curcio at the International Summer Course for Professional Dancers. Photo Courtesy Kathleen Breen Combes.
While New York City Ballet was off last August, corps member Sasonah Huttenbach was hard at work at the Danish Ballet Masters program, a two-week Bournonville workshop in New York City led by former Royal Danish Ballet dancers Mogens Boesen and Linda Hindberg. While they have always offered a student intensive, last summer Boesen and Hindberg added a program for working dancers. "A lot of professionals just lean toward open classes or giving themselves class during layoffs, but sometimes you need the basics because you're rehearsing and performing so much," says Huttenbach, who attended the student intensive twice before joining NYCB. "It was great to spend time off perfecting my alignment and technique."
Wondering about how to spend your summer layoff weeks this year? While teaching or performance gigs are good ways to stay busy, off-time can also be perfect for brushing up your technique, exploring another style and networking with a broader range of dance professionals. From big cities to the beach, programs geared towards professionals can help reinvigorate your career and remind you that you can always go back to summer camp.
Keep reading...
Show less
Your summer plans? Become a better dance. Choose from more than 190 ballet programs to take your artistry and technique to the next level.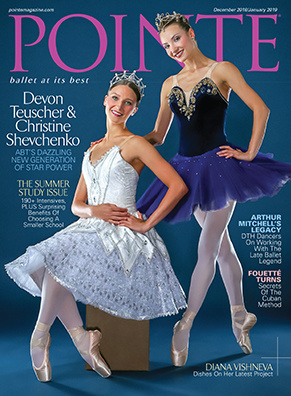 Students at the University of Utah's Department of Ballet summer intensive. Photo by August Miller, Courtesy U of U.
Maura Bell was determined to have a ballet career. But as a high school senior, she didn't feel ready to audition for companies yet. "I knew I had more maturing to do, both technically and as a young woman," she remembers. Bell started researching collegiate options and discovered that Indiana University's ballet department hosted a two-week summer intensive for pre-college students. "The reputation of IU spoke for itself, so I decided to do the summer intensive to get a feel for what it would be like to go there."
The deciding moment came at the end of her second week, when department chair Michael Vernon led her and fellow students on a tour of IU's Musical Arts Center. "I remember standing on that stage—it's the size of the Met— and it just clicked: This was where I wanted to be, my dream school," she recalls. Bell auditioned for the ballet department that fall. Four years later, she credits the training and connections she made at IU with her ultimate post-graduation success: a contract with Saint Louis Ballet.
College summer programs offer students a chance to experience what life would be like as a dance major, and introduce them to a wide range of possibilities for their training and future career. Even those on the fence about going to school could benefit from spending a few weeks on campus—along with the strong focus on individual development, collegiate summer intensives allow students to meet year-round faculty and current dance majors, scope out the dorms and dance facilities, and do some major networking.
Keep reading...
Show less
Thinkstock
Coming home from my summer intensive was such a letdown. How can I carry my summer inspiration into the fall? —Hailey
I remember the feeling, too. After weeks of intense dancing, exciting master teachers and new friends, it can be hard to go back home. You have to channel that inspired energy back into your regular routine. I found it helpful to write down as much as I could remember in a notebook. Give each teacher his or her own page. Include corrections, combinations or exercises that you found particularly helpful, as well as any of their catch phrases or metaphors that brought on an "aha" moment. I even drew stick-person diagrams of one teacher's turnout and arabesque exercises, illustrating all the steps. Refer back to your notebook, applying what you learned over the summer to your fall classes, and make a list of achievable goals that you'd like to reach by December. (By the way, I still have my notebook!)
Keep reading...
Show less
Thinkstock
As summer intensive audition season starts up, I've been reminiscing about my own experience as a young dancer—way back in 1993—and how challenging it was to navigate. In fact, I think it's safe to say that my first summer program audition was a complete disaster.
I was almost 16—a little late by some standards—and was still pretty clueless as to how I compared to others outside my hometown. That weighed heavily on my mind as my parents and I made the hour-long drive to Milwaukee. The audition was for a school in Pennsylvania, and as I scanned the big-city studio, my mind slipped into exaggerated teenage self-consciousness. Dancers lined the barres stretching, showing off their flexibility as if doing some sort of war ritual. Many were chatting in groups, wearing trendy warm-up jumpers and donning perfectly shellacked buns. I tried to act like I knew what I was doing, but inside I was a wreck.
The teacher clapped his hands together to begin class. He was fast-paced, no-nonsense and not one for smiles. During pliés, he stopped in front of me with his clipboard as I emerged from a cambré back. He looked me up and down, frowned and kept going. I, of course, freaked out—what did that mean? I still had an entire hour and a half left of class to prove I was still capable, but instead I completely lost my concentration. I just couldn't shake that frown. I forgot combinations and even started with the wrong foot in front a few times in center. By jumps, the adjudicators had stopped watching me altogether. Needless to say, I spent the majority of the ride home trying not to cry.
Keep reading...
Show less
Getty Images
Is it better to audition for a summer intensive at a small school where I'll get individualized attention, or at a large school where I might have a chance to stay year-round? —Amy
When it comes to auditioning for summer programs, you should go for a range of schools. Not only does that allow you to practice auditioning, but you can better assess what each program offers and which might be the best fit for you. Once you know which intensives you've gotten into, you can make an informed final decision. And in addition to size, you should be keeping other important factors in mind: the faculty, the types of classes offered, performance opportunities and costs.
Keep reading...
Show less
Students in Miami City Ballet School's summer repertory performance. Photo by Ella Titus, Courtesy Miami City Ballet School.
Getting ready to audition for intensives? Click here to find the best summer study options for you!
By the time Washington Ballet dancer Andile Ndlovu was finishing his training in South Africa, he faced a risky decision. After attending a ballet competition in 2008, he received summer-intensive scholarship offers from The Washington School of Ballet and Dance Theatre of Harlem. But choosing between schools would determine more than his summer plans. The right intensive might lead to acceptance into a professional-level training program at summer's end, whereas walking away empty-handed would mean going back home, to begin again.
Many dancers on the cusp of graduation can relate. Summer intensives often serve as a lengthy audition process for year-round opportunities, a gateway to traineeships or second-company contracts that bridge the gap between student and professional. But choosing a summer program essentially means committing to a company school—before it's committed to you. If you're researching summer programs and know you want to move into a more professional sphere by summer's end, here's how to ensure that you're making a smart, career-minded decision.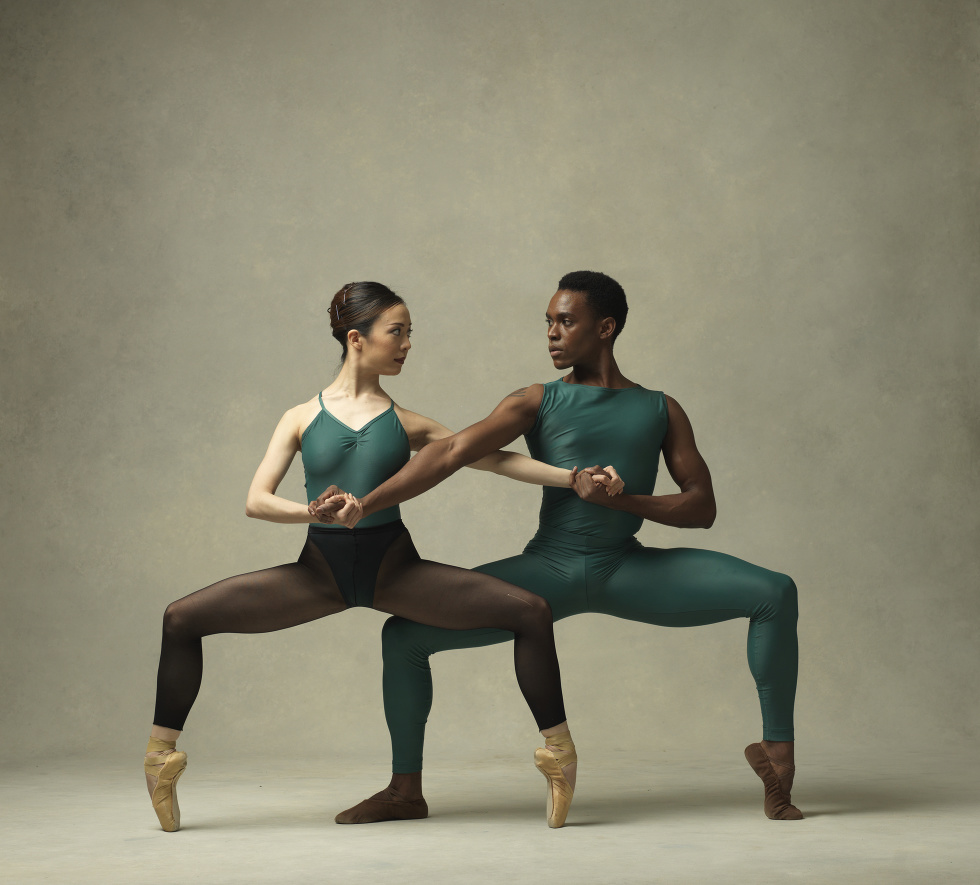 Andile Ndlovu with Avana Kimura. Photo by Dean Alexander, Courtesy The Washington Ballet.
Assess Your Options
When prioritizing which intensives to audition for, start with schools affiliated with dream companies. But it's also important to investigate other options and to be very realistic about where you'd be happy day to day. "You have to take away the name brand and take a really close look at the company, at the people, at the repertoire," says San Francisco Ballet corps de ballet dancer Isabella DeVivo, who received a traineeship through SFB's summer program in 2012. "I liked how broad the rep was here."
Keep reading...
Show less
Caitlin Peabody in Pittsburgh Ballet Theatre's In Your Eyes. Photo by Rich Sofranko, Courtesy PBT.
Pittsburgh Ballet Theatre corps member Caitlin Peabody was dancing famously at her small variety-dance school in Derry, New Hampshire, as a young student. She had so much potential that her instructor encouraged her to audition for Boston Ballet's summer intensive, and she was accepted. Months earlier, she had starred as Cinderella in her school's production. But when she reached Boston, the competition was such that she was placed into the program's lowest level. "I was not where I should have been for my age," Peabody says.
Perhaps you've had a great year at your studio. When you rehearse your variation for The Nutcracker, the younger ones sit cross-legged on the floor watching in awe, and you feel the tiniest air of jealousy from your peers. But being at the top of your class back home won't exactly help you improve. For many hometown heroes, assessing the competition at a large summer program can be a bitter reality check. Rather than grow discouraged, here's how to use the experience as an opportunity for growth.
Keep reading...
Show less
Students in class at Pacific Northwest Ballet School's summer program. Photo by Angela Sterling, Courtesy Pacific Northwest Ballet.
This story originally appeared in the December 2014/January 2015 issue of Pointe.

When 17-year-old Rock School student Sarah Lapointe was auditioning for summer intensives, she faced a dilemma. By mid-January, she'd been accepted to a great school. But she needed to give her answer in seven days and still had four more auditions on her agenda. "I thought, What should I do?" says Lapointe. "Do I turn down this offer, or risk being wait-listed or not receiving another acceptance somewhere else?"
It's a common conundrum. For Lapointe, the answer was to contact the first school to ask for a deadline extension, which it granted. "This allowed me to focus on my remaining auditions and make a solid decision," she says.
When it comes to getting into your dream program, we know that schools look for stellar technique, artistry and dancers who will fit in well. But there's more to the equation—those things you can't control, like acceptance deadlines, class sizes and limited housing. If you've ever wondered how the admissions process works, the answers may surprise you.
At the Audition
Keep reading...
Show less
Susan Bryant teaching class at Houston Ballet's summer intensive. Photo by Cameron Durham, Courtesy Houston Ballet.
Pittsburgh Ballet Theatre corps member Corey Bourbonniere got a late start in ballet, so he knew he needed to commit himself completely to the art to catch up. But at 16, when a neglected hamstring injury progressed into a hip injury just in time for summer intensive auditions, it felt as though the dream might pass him by.

It seems completely unfair. An injury sustained in January can prevent your acceptance into a program that doesn't start until June. Often it feels like the stakes couldn't be higher: There are only a few summers in your life as a ballet student and missing one can seem catastrophic for your future. But an injury during audition season doesn't mean you'll necessarily spend the summer sitting around. You may need to adjust your expectations, but there are ways to navigate the audition process to ensure that you still get the most out of your training this summer.

Speak Up
If you are injured when a can't-miss audition comes to town, it may still be worthwhile to take the class, but you have to speak up. Margaret Tracey, director of the Boston Ballet School, says that if she has a student who is nursing an injury, like shin splints, but can take partial class, she would still encourage them to do the audition. "But only once they have spoken to the adjudicators and they've cleared it with them," she adds. Bourbonniere did just that when Pittsburgh Ballet Theatre's intensive audition came late in the cycle. He still felt a little unstable on his standing leg and his turnout was weak, but he told the teacher at the audition and was told to give it a try anyway. In this instance Tracey would make a note on the student's registration form and be able to frame her evaluation of that student with the knowledge of their limitations.
Keep reading...
Show less
Erica Lall and Shaakir Muhammad in class at American Ballet Theatre's 2013 New York Summer Intensive. Photo by Rosalie O'Connor, Courtesy ABT.
This story originally appeared in the December 2013/January 2014 issue of Pointe.

When Pacific Northwest Ballet School student Madison Abeo was accepted into San Francisco Ballet School's summer session on a partial scholarship, she was thrilled. But then she added up the remaining cost for the program and realized she didn't have the funds. "I really wanted to go," she says, "but we just couldn't make the other half of it work."

Ballet training is expensive. For many families, a trip to a dream summer intensive simply isn't in the budget. SFB was $2,500 out of Abeo's reach. But she was determined. At the suggestion of her aunt, Abeo created a Facebook fan page where she asked for opportunities to babysit or perform odd jobs, and included a link to a PayPal account where friends and family could make donations. Two local dancewear businesses, Vala Dancewear and Class Act Tutu, offered to outfit her for fundraising photos, which a photographer took for her Facebook page for free. By June, Abeo had raised enough for tuition—plus plenty of pointe shoes.

Affording your dream intensive isn't as difficult as you might think. There are a surprising number of eager dance supporters out there. Case in point: On Kickstarter, dance projects have the highest success rate of any type of campaign, with dancers receiving over $4 million in donations through the site since it began. You can also apply for need- or merit-based grants and scholarships, either through your summer program or an outside foundation. Most dancers who want it badly enough can make it happen.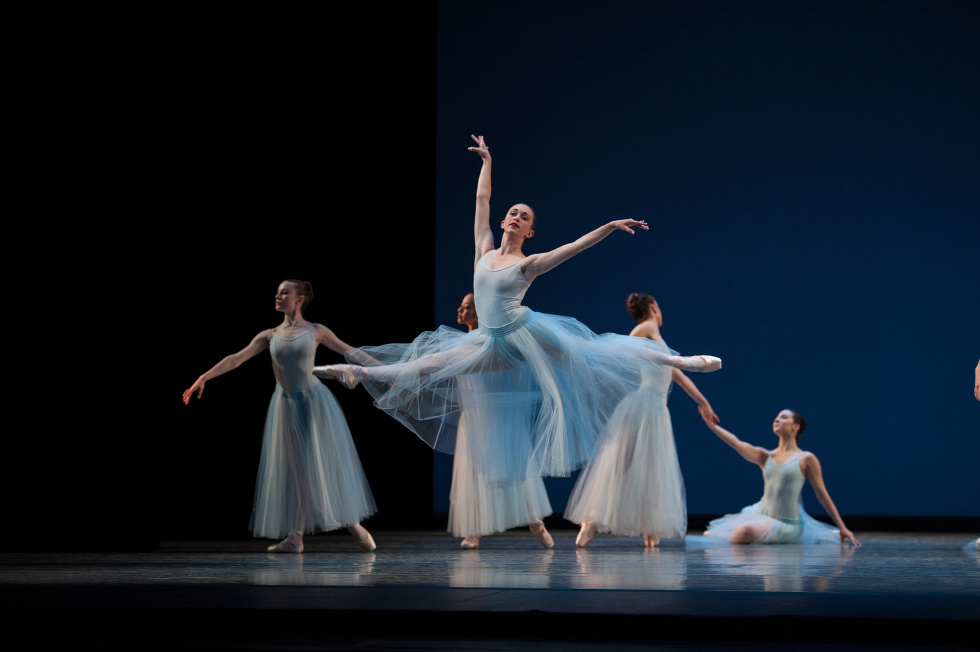 Madison Abeo with other Pacific Northwest Ballet School students in the 2013 School Performance of an excerpt from "Serenade," choreography by George Balanchine. Photo by Rex Tranter, Courtesy Abeo.
Take Your Cause to the (Online) Streets
Keep reading...
Show less


Get Pointe Magazine in your inbox