The Royal Winnepeg Ballet principal adapts her cross-training for the company's frequent touring.
Travel savvy: Touring seven to eight weeks a year means Sophia Lee hits hotel gyms a lot. "I usually pack my runners and workout clothes," she says. Once she arrives at a tour stop, she'll hop on the elliptical for 20 to 30 minutes. If there's no gym, she'll walk around the city to relieve stiffness from the bus or plane ride.
Picture this: While she's traveling or in her hotel room, Lee does visualization exercises. "I close my eyes, listen to the music and imagine exactly how I'm going to execute each movement. I actually think about firing the same muscles and where I'll breathe in and breathe out."
---
Eating on the road: A few days before performances, Lee starts eating foods that are high in iron—like red meat, pork, spinach, or fortified breads and cereals—to build her energy reserves. Once she arrives, she picks up bananas for the theater to cut down on cramps in her feet and legs.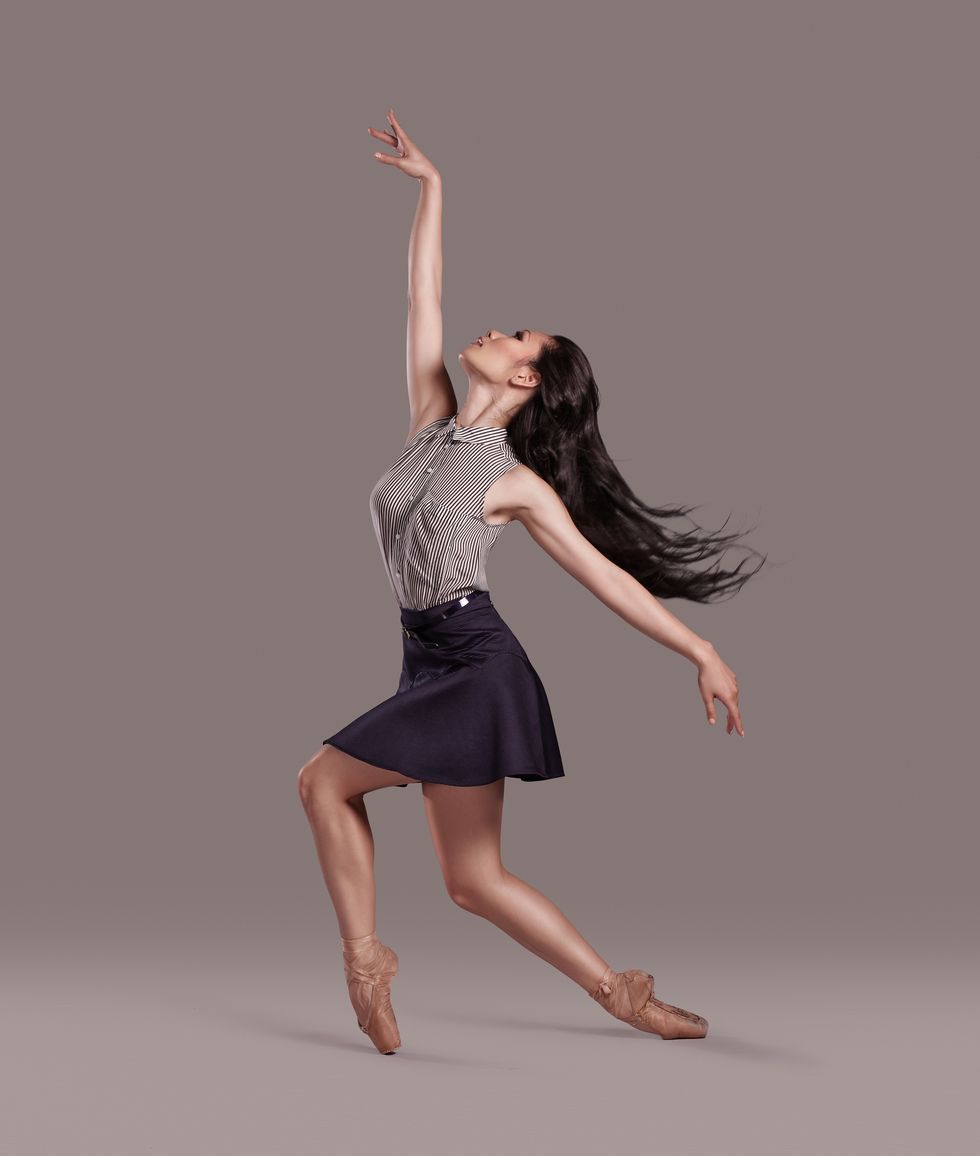 Réjean Brandt Photography, Courtesy RWB.
Morning schedule: Lee sticks to a routine when the company's at home. She often starts her day with a hot shower to warm up her muscles and does Thera-Band work on her feet and ankles before class. She fits in strengthening exercises—like hip bridges, to target her glutes and hamstrings, or core work, to provide support for her back—whenever there is downtime in rehearsal.
Creative core work: Lee's Thera-Band also serves as a core-strengthening tool. She loops it over the barre and lies on the floor, perpendicular to the barre, with one end of the band in each hand and arms outstretched beside her hips. Then she does 20 to 30 sit-ups, working against the band's resistance. "It doubles your workout because you have to come up a lot further."
Weekend challenge: When she's not touring, Lee occasionally takes a TRX suspension training class. "I like that I can modify the intensity of an exercise by adjusting my foot or hand position." For example, she might shift her weight to focus more on her arms and less on her quads. Lee says her partnering has improved as a result of her increased upper-body strength. Although she loves the benefits, she prioritizes working smarter, not harder. Depending on how difficult the week was, she might skip class. "Sometimes, I really need to rest for two days."