Chisako Oga photographed for Pointe by Jayme Thornton
Chisako Oga is a dancer on the move—in more ways than one. From childhood training in Texas, California and Japan to a San Francisco Ballet apprenticeship to her first professional post with Cincinnati Ballet, where she quickly rose to principal dancer, she has rarely stood still for long.
But now the 24-year-old ballerina is right where she wants to be, as one of the most promising soloists at Boston Ballet. In 2019, Oga left her principal contract to join the company as a second soloist, rising to soloist the following year. "I knew I would have to take a step down to join a company of a different caliber, and Boston Ballet is one of the best companies in the country," she says. "The repertoire—Kylián, Forysthe, all the full-length ballets—is so appealing to me."
And the company has offered her major opportunities from the start. She danced the title role in Giselle in her very first performances with Boston Ballet, transforming a playful innocent into a woman haunted by betrayal with dramatic conviction and technical aplomb. But she also is making her mark in contemporary work. The last ballet she performed onstage before the pandemic hit was William Forsythe's demanding In the middle, somewhat elevated, which she says was a dream to perform. "The style really clicked, felt really comfortable. Bill drew something new out of me every rehearsal. As hard as it was, it was so much fun."
"Chisako is a very natural mover, pliable and strong," says artistic director Mikko Nissinen. "Dancing seems to come very easy for her. Not many have that quality. She's like a diamond—I'm curious to see how much we can polish that talent."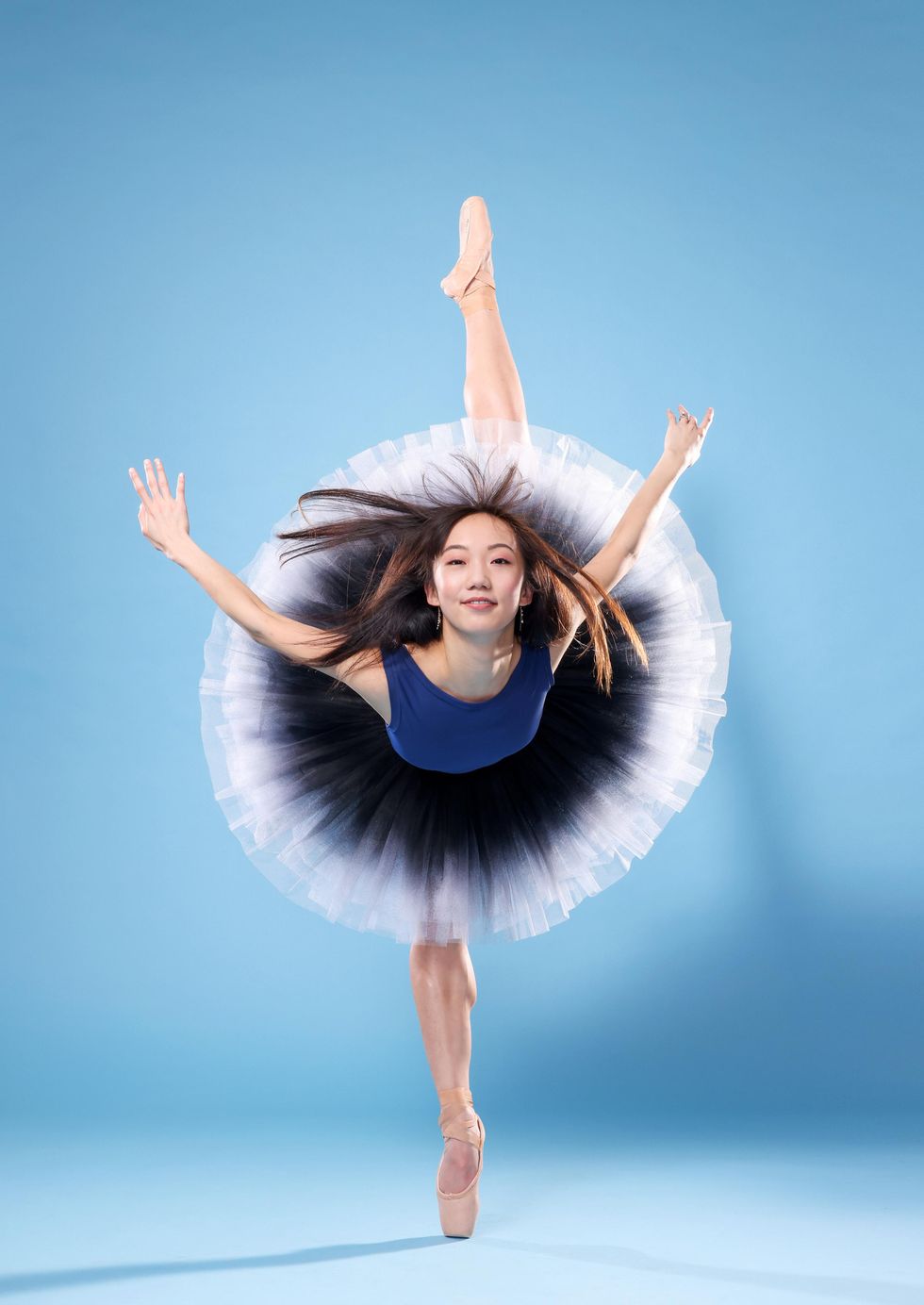 Jayme Thornton for Pointe
A Life-Changing Opportunity
Oga began dancing at the age of 3. Born in Dallas, she and her family moved around to follow her father's job in IT. Before settling in Carlsbad, California, they landed in Japan for several years, where Oga began to take ballet very seriously. "I like the simplicity of ballet, the structure and the clear vocabulary," she says. "Dances that portray a story or have a message really drew me in. One of my favorite parts of a story ballet is diving into the role and becoming the character, putting it in my perspective."
In California, Oga studied with Victor and Tatiana Kasatsky and Maxim Tchernychev. Her teachers encouraged her to enter competitions, which she says broadened her outlook and fed her love of performing in front of an audience. Though highly motivated, she says she came to realize that winning medals wasn't everything. "Honestly, I feel like the times I got close and didn't place gave me perspective, made me realize being a dancer doesn't define you and helped me become the person and the dancer I am today."
At 15, Oga was a semifinalist at the Prix de Lausanne, resulting in a "life-changing" scholarship to the San Francisco Ballet School. There she trained with two of her most influential teachers, Tina LeBlanc and Patrick Armand. "She came in straightaway with strong basics," Armand recalls, "and working with her for two years, I realized how clever she is. She's super-smart, thoughtful, driven, always working."
She became a company apprentice in 2016. Then came the disappointing news—she was let go a few months later. Pushing 5' 2", she was simply too short for the company's needs, she was told. "It was really, really hard," says Oga. "I felt like I was on a good track, so to be let go was very shocking, especially since my height was not something I could improve or change."
Moving On and Up
Ironically, Oga's height proved an advantage in auditioning for Cincinnati Ballet, which was looking for a talented partner for some of their shorter men. She joined the company in 2016, was quickly promoted to soloist, and became a principal dancer for the 2017–18 season, garnering major roles like Swanilda and Juliet during her three years with the company. "There were times I felt insignificant and insecure, like I don't deserve this," Oga says about these early opportunities. "But I was mostly thrilled to be put in those shoes."
She was also thriving in contemporary work, like choreographer-in-residence Jennifer Archibald's MYOHO. Archibald cites her warmth, playfulness and sensitivity, adding, "There's also a powerful presence about her, and I was amazed at how fast she was at picking up choreography, able to find the transitions quickly. She's definitely a special talent. Boston Ballet will give her more exposure on a national level."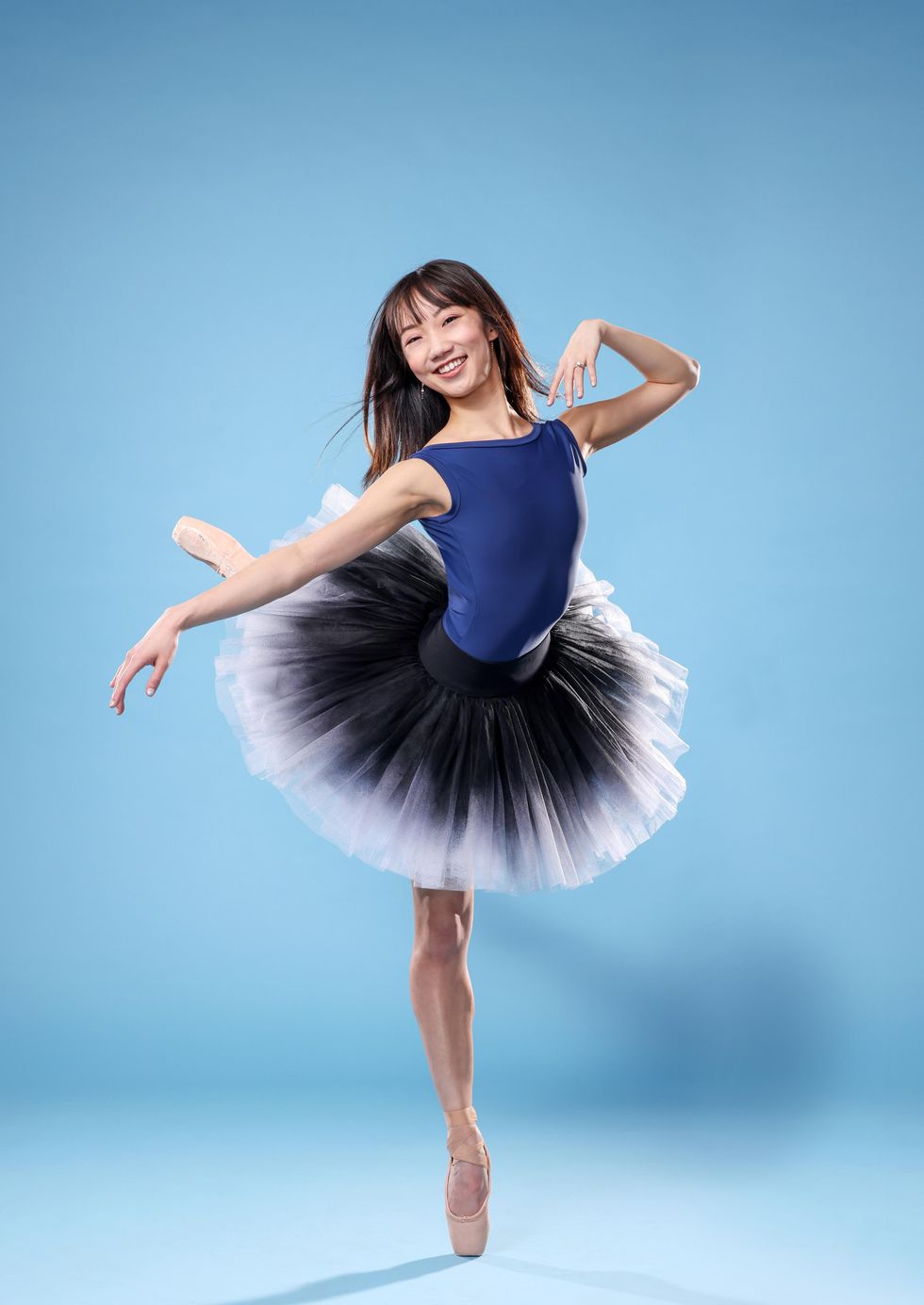 Jayme Thornton for Pointe
That was Oga's plan. She knew going in that Cincinnati was more stepping-stone than final destination. She had her sights on a bigger company with a broader repertoire, and Boston Ballet seemed ideal.
As she continues to spread her wings at the company, Oga has developed a seemingly effortless artistic partnership with one of Boston Ballet's most dynamic male principals, Derek Dunn, who Oga calls "a kind-hearted, open person, so supportive when I've been hard on myself. He's taught me to believe in myself and trust that I'm capable of doing whatever the choreography needs." The two have developed an easy bond in the studio she likens to "a good conversation, back and forth."
Dunn agrees. "I knew the first time we danced together we had a special connection," he says. "She really takes on the artistic side of a role, which makes the connection really strong when we're dancing onstage. It's like being in a different world."
He adds, "She came into the company and a lot was thrown at her, which could have been daunting. She handled it with such grace and confidence."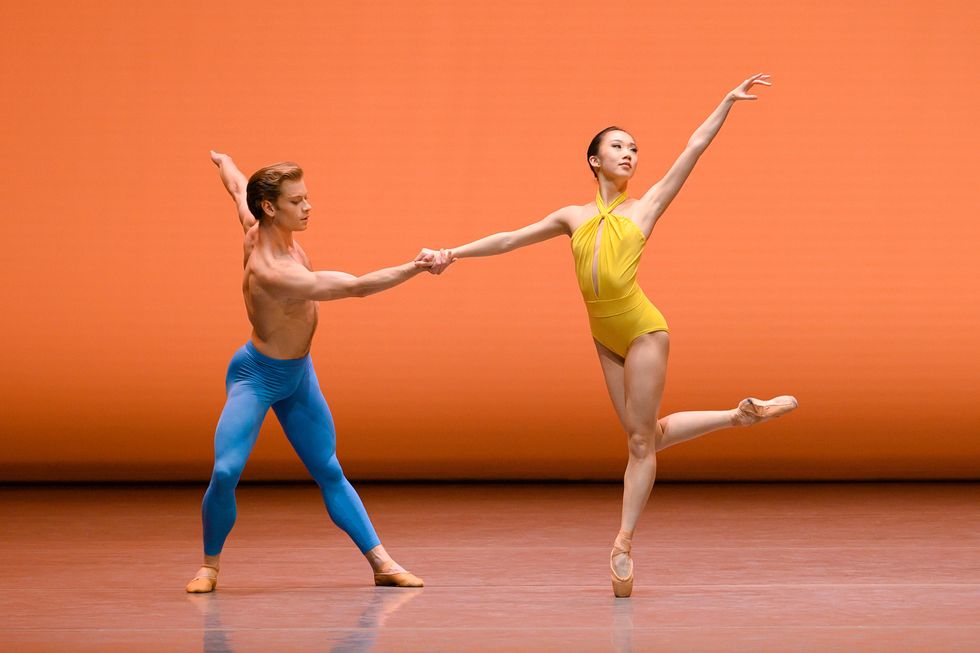 Oga with Derek Dunn in Helen Pickett's Petal
Liza Voll, Courtesy Boston Ballet
Perspective in a Pandemic
The pair were heading into Boston Ballet's busy spring season when the pandemic hit. "It was really a bummer," Oga says. "I was really looking forward to Swan Lake, Bella Figura, some new world premieres. When we found out the whole season was canceled, it was hard news to take in."
But she quickly determined to make the most of her time out of the studio and physically rest her body. "All the performances take a toll. Of course, I did stretches and exercised, but we never give ourselves enough time to rest as dancers."
She also resumed college courses toward a second career. Oga is one of many Boston Ballet dancers taking advantage of a special partnership with Northeastern University to help them earn bachelor's degrees. Focusing on finance and accounting, Oga upped her classes in economics, algebra, business and marketing. She also joined Boston Ballet's Color Our Future Mentoring Program to raise awareness and support diversity, equity and inclusion. "I am trying to have my voice inspire the next generation," she says.
One pandemic silver lining has been spending more time with her husband, Grand Rapids Ballet dancer James Cunningham. The two met at Cincinnati Ballet, dancing together in Adam Hougland's Cut to the Chase just after Oga's arrival, and got married shortly before her move to Boston. Cunningham took a position in Grand Rapids, so they've been navigating a long-distance marriage ever since. They spend a lot of time texting and on FaceTime, connecting in person during layoffs. "It's really hard," Oga admits, but adds, "We are both very passionate about the art form, so it's easy to support each other's goals."
Oga's best advice for young dancers? "Don't take any moment for granted," she says without hesitation. "It doesn't matter what rank you are, just do everything to the fullest—people will see the hard work you put in. Don't settle for anything less. Knowing [yourself] is also very important, not holding yourself to another's standards. No two paths are going to be the same."
And for the foreseeable future, Oga's path is to live life to the fullest, inside and outside ballet. "The pandemic put things in perspective. Dancing is my passion. I want to do it as long as I can, but it's only one portion of my life. I truly believe a healthy balance between social and work life is good for your mental health and helps me be a better dancer."
Michael Cairns, Courtesy Orlando Ballet
Performing in front of live audiences again has been every ballet organization's goal since the COVID-19 pandemic began more than a year ago. With vaccinations on the rise and light appearing at the end of the tunnel, companies are slowly starting to come back to in-person shows.
Pointe spoke to four U.S. ballet companies—Milwaukee Ballet, Orlando Ballet, Avant Chamber Ballet and Columbia City Ballet—about how they have cautiously made their way back to live audiences. For each, the road back to the stage meant a combination of lessons learned throughout the pandemic, adhering to government and health and safety policies, and dogged determination.
"Every step we take now is a bigger step back to normalcy," says Milwaukee Ballet artistic director Michael Pink.
Safety First
Each company took a slightly different path, but all adopted the now familiar health and safety measures that got their dancers back into the studio and working: masks, temperature checks, cleaning and ventilation protocols, regular COVID-19 testing and organizing dancers into small pods to help minimize potential disease spread. Those precautions have also helped to allay safety concerns among dancers about interacting with each other during the pandemic.
"First and foremost was the safety of everyone. No one was being forced into a choice that they were not comfortable with," says Katie Puder, founder and artistic director of Dallas-based Avant Chamber Ballet.
Similarly, Columbia City Ballet artistic director William Starrett, now in his 34th season, says: "Any of our 28 dancers that were not comfortable coming back into the studio or performing during the pandemic could opt out. Their contracts would be there for them next season."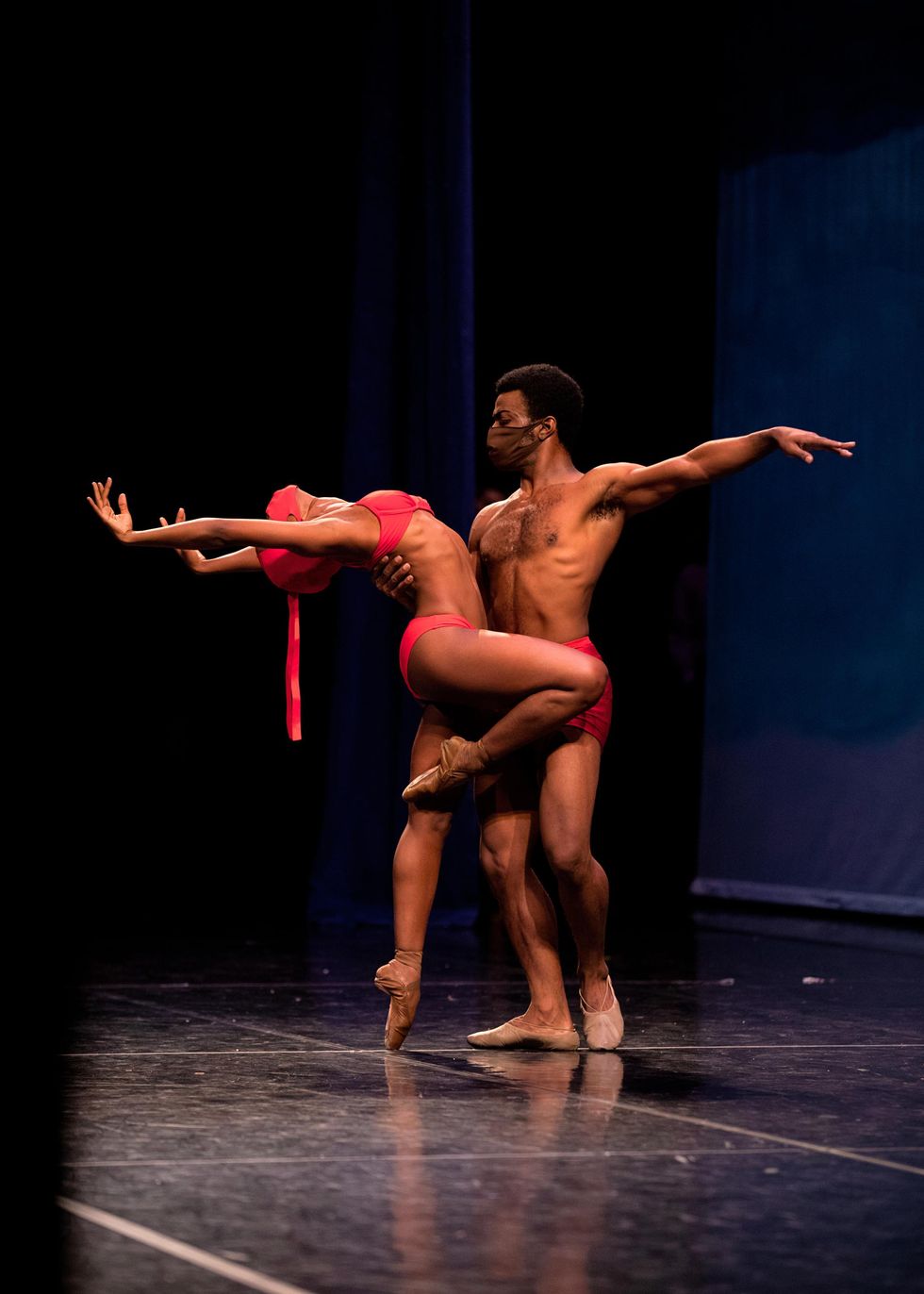 Paunika Jones and William Moore, Jr., in Rendezvous at Columbia City Ballet, from the March program Off the Wall and Onto the Stage: Dancing the Art of Jonathan Green.
Ashley Concannon Photography, Courtesy Columbia City Ballet
Getting Creative
Each company had to deal with various levels of state-mandated theater closings. Most notably, Orlando Ballet, whose home state of Florida kept its theaters open with restrictions throughout much of the pandemic, has been offering live performances since last fall. "We have been very fortunate and have done a lot of the right moves to be able to be doing what we are doing," says company artistic director Robert Hill.
In October, the company presented a pandemic-friendly version of Hill's Sleeping Beauty, keeping the audience capacity at a state-mandated 50 percent. In reality, says Orlando Ballet executive director Cheryl Collins, with proper safety restrictions in place that turned out to be only about 22 percent. The company also modified its ticket pricing upward for select seating sections to financially justify being in the theater.
In addition, Hill made modifications to his ballet, including having the dancers wear gloves as well as masks, and re-choreographing the grand pas de deux so that it was contact-free. Instead of kissing Princess Aurora, Prince Désiré blew her a kiss, which turned into a lighting effect that traveled along a stage curtain to meet her reposed figure. Similar modifications, including cutting the ballet's running time and eliminating intermission, were made to the company's February run of Jorden Morris' Moulin Rouge and April's production of Morris' Peter Pan.
While the company was able to perform in its usual theater, for the others finding a venue and making the process economically viable proved more challenging.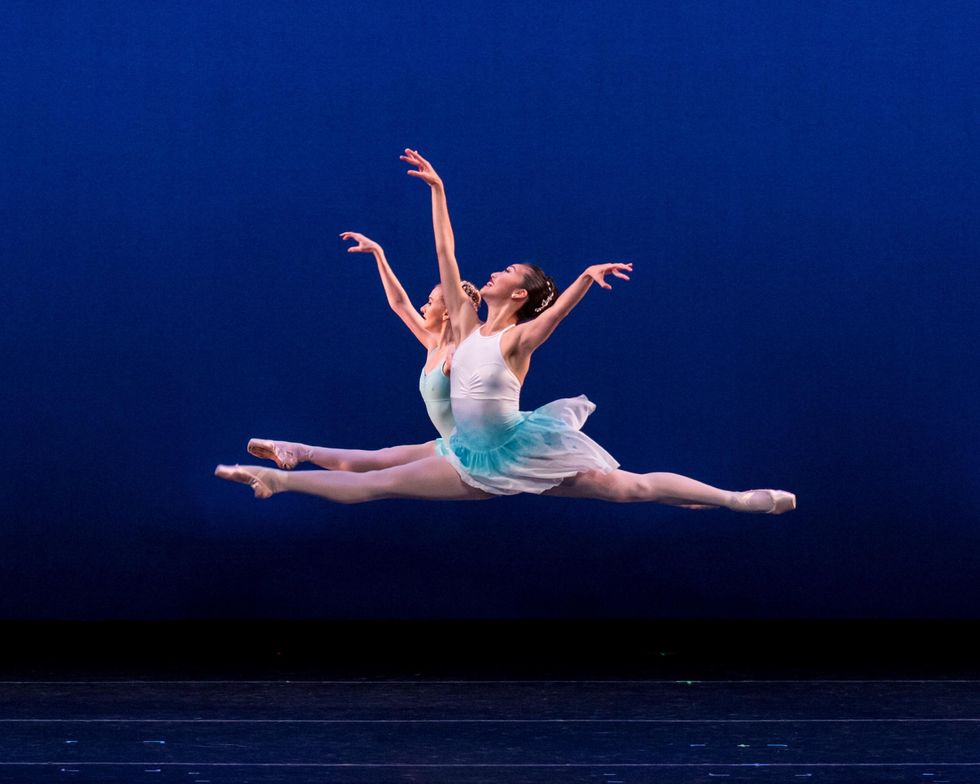 Avant Chamber Ballet dancers Melissa Meng and Madelaine Boyce in The Seasons
Sharen Bradford, Courtesy Avant Chamber Ballet
With this being Columbia City Ballet's 60th-anniversary season, Starrett was hell-bent on presenting its annual Nutcracker after not performing all fall. "I had five performance spaces reserved, including a baseball field, fairgrounds and our convention center," he says. As it turned out, the Koger Center for the Arts, where the company regularly performs, received a special variance from South Carolina's Department of Commerce to open at reduced audience capacity: 473 seats (down from 2, 223), socially distanced every other row. In addition to the safety measures mentioned before, audience members wore masks, tickets were sold only in pairs and the theater exits were kept open for ventilation.
Starrett also got creative: He modified the ballet's first act to be set during the 1918 Spanish flu pandemic, when wearing masks was also commonplace. To help with revenue, the company upped its local performance run from six to eight shows.

Having proved a success with Nutcracker, Starrett applied a similar approach with the company's production of Cinderella this March and to April's season-ending encore presentation of the 1960s-themed Beatles, the Ballet.
Alternative Spaces
In December, Milwaukee Ballet eased back into live performance with The Nutcracker: Short & Sweet, showcasing highlights from the ballet. With Milwaukee's theaters closed, the company decided to utilize its new Baumgartner Center for Dance's 200-seat studio theater. With a new ventilation system, plenty of space and four separate theater exits, the company could adhere to COVID safety guidelines more easily, says artistic director Michael Pink. He also kept performances to an hour, with no intermissions.
They began with 10 audience members per performance for the 26 live showings of The Nutcracker: Short & Sweet. (The company also offered a prerecorded, pay-to-view version online.) They did the same with their To The Pointe program in February and March, which had a state-mandated maximum of 50 audience members per show. Those same measures will be applied to the company's remaining programs, Re Gen (April 22–May 2) and Encore (June 3–13), which revisit popular repertory works. Pink says that the mix of classical pas de deux and small ensemble works wouldn't normally fit into the regular theater's repertoire programs, but doing them at the in-house space has opened his eyes to continuing similar programs there.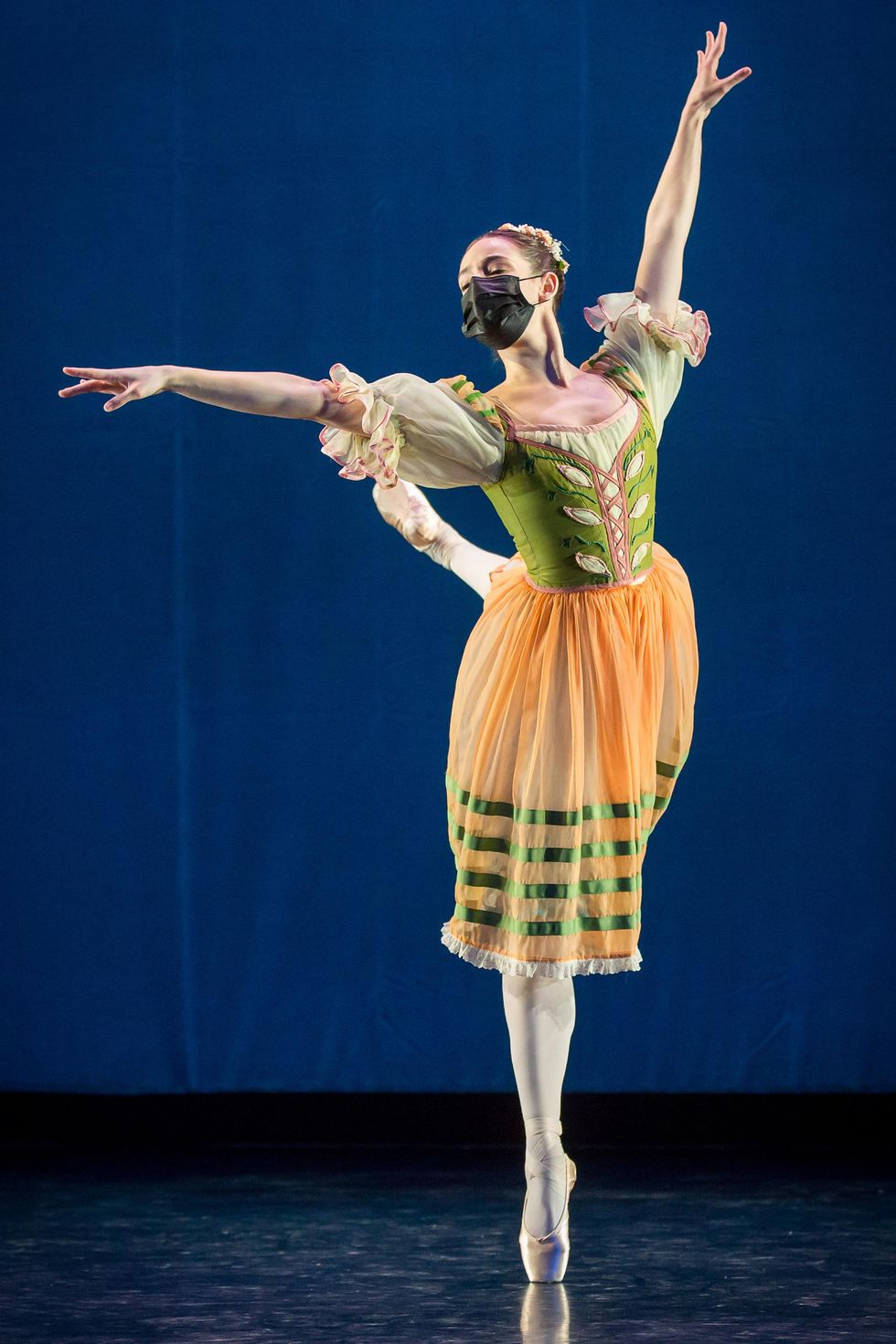 Milwaukee Ballet dancer Itzel Hernandez
Nathaniel Davauer, Courtesy Milwaukee Ballet
Taking advantage of Texas' warmer weather, Avant Chamber Ballet took its first live performance outdoors in November to a newly discovered downtown amphitheater that had previously never been used for dance. With COVID numbers yo-yo-ing in Dallas, the venue was one of the few kept open by the city. ACB kept the space to 30 percent capacity for the mixed-repertoire program, and was able to perform to live music. Then in March, in a show of solidarity with other Dallas troupes, the company hosted Together We Dance, a joint production with Bruce Wood Dance and Dallas Black Dance Theatre. Like Milwaukee Ballet, ACB offered its audiences an online pay-to-view option in keeping with its 2020–21 season mix of virtual-only and limited live performances.
As for whether audiences felt trepidation about coming to a live show, most of the directors we spoke with said they couldn't tell. "Our audiences were so happy to have live performing arts to go to. I heard no grumbles," says Puder. "Everyone is just so excited to be able to do something again safely."
With its fairytale magic and ludicrous stepsisters, Sir Frederick Ashton's Cinderella is full of whimsy and charm. The choreography is also playfully challenging with quirky, intricate phrasing that illuminates Prokofiev's score. Antoinette Sibley, a former principal of The Royal Ballet, revels in the challenges as the titular Cinderella. A master of speed and staccato, Sibley is a frothy delight in her Act II variation in this clip from 1969.
Sibley takes the floor in a glittering white tutu, the belle of the Prince's ball. She showcases her footwork with precise petite changements at 0:25 and delicate walks on pointe at 0:58. When the tempo accelerates, Sibley moves with brilliant speed, her feet just skimming the floor. Ending the variation with dazzling turns en manège (two times around the stage!), it's a wonder she's not dizzy as she steps to curtsy with a beaming smile. Happy #ThrowbackThursday!