The author, Lucy Van Cleef, dancing Balanchine's Serenade at Los Angeles Ballet. Reed Hutchinson, Courtesy Los Angeles Ballet
If you'd have told me in 2009 that it would take 12 years to earn my bachelor's degree, I never would have believed you. Back then, I was a dancer in my early 20s and in my second year with Los Angeles Ballet. I was used to the straightforward demands of the professional ballet world. I knew that hard work and willpower were the currency you paid in the studio, and that the thrill of live performance made all that investment worth it. What I didn't know then is how life's twists and turns aren't always so straightforward. In hindsight, I can see how my winding road to higher education has strengthened me—and my relationship with the ballet world—more than I ever could have imagined.
I can't remember why I attended that first informational meeting in Los Angeles Ballet's lobby for the Liberal Education for Arts Professionals (LEAP) program at Saint Mary's College of California. The program allows dancers to transpose their professional performing experience into college credit toward a BA in performing arts. I must have had time to kill between rehearsals, because back then I didn't have any immediate drive to study. Even in high school, I'd seen going to college as a plan B that represented some failure in my overwhelming dream to become a professional dancer. After fulfilling that dream, I still considered life after dancing as some abstract future reality. Rationally, I knew that a dancer's stage career ended eventually—that there was bound to be a moment of "What next?" I guess it was that question that drew me to the meeting, and to joining the LEAP program the following fall.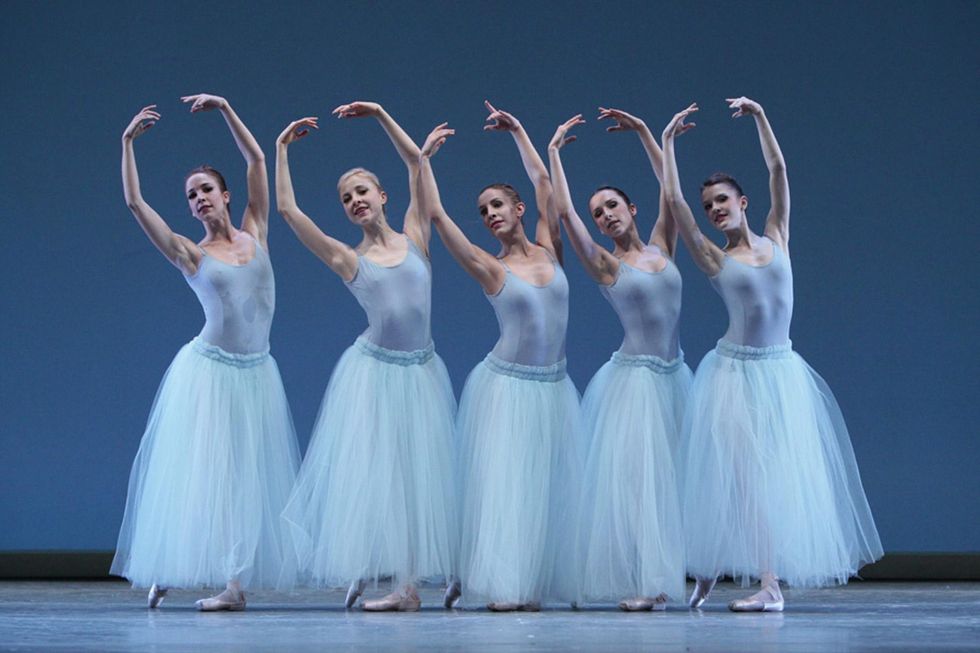 The author, far left, with dancers of Los Angeles Ballet in Balanchine's Serenade.
Reed Hutchinson, Courtesy Los Angeles Ballet
While it's becoming more common for dancers on career tracks to attend college dance programs, for those pro dancers who joined companies right after high school there are a few ways to pursue college degrees. Some attend universities part-time; for example, many dancers in New York City study at Fordham University or Columbia University while balancing a performing schedule. And some ballet companies team up with local colleges, like Boston Ballet's partnership with Northeastern University, to help their dancers prepare for post-performance careers. Then, there are programs specifically geared to pros, like LEAP, which allows dancers to receive college credit for their professional experience. Combined with a core curriculum, transfer credits and portfolio essays, the program acknowledges experience in the professional dance world as a source of learning.
I took Writing for the Major as my first in-person class, on Monday nights. My class was filled with former professional dancers, at all stages of life. I was relieved to find that taking one course at a time alongside my dance career wasn't just manageable—it was fantastic! Coursework gave me a chance to think about something other than casting. In the studio, I could be in the present moment, focused on honing my performance. But outside of rehearsal, I started to explore new heights.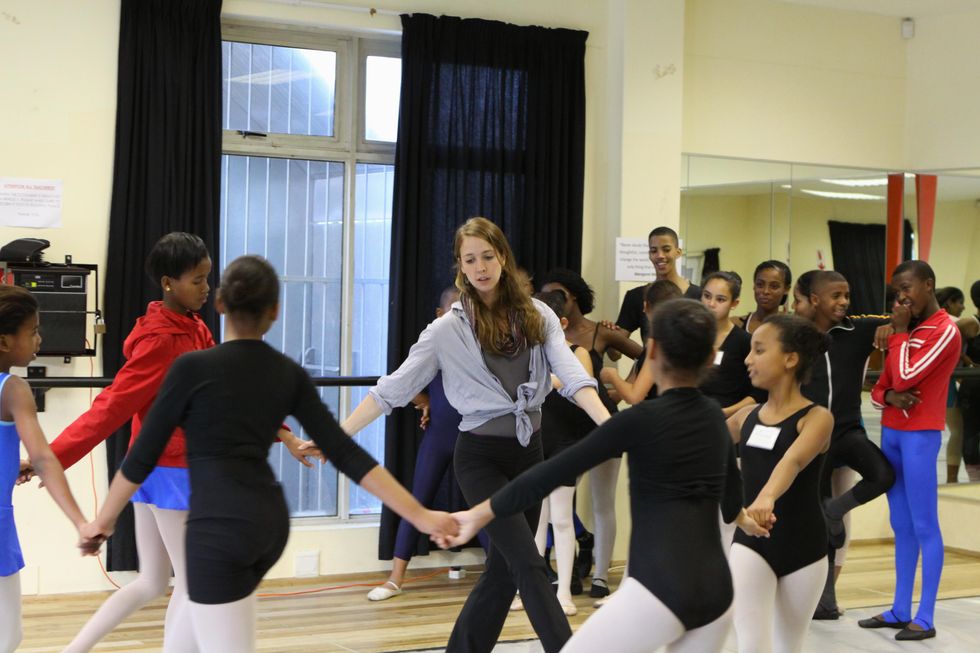 The author teaching local students during LEAP's study abroad program in South Africa
Annie Colbeck, Courtesy Lucy Van Cleef
Over those first few years, my college program gave me an amazing array of experiences. In the summer of 2011, I participated in a study-abroad program, traveling to Cape Town, South Africa, with six other dancers to teach at a two-week dance program—an adventure I'll never forget. I was also privileged to work with amazing teachers—Christian De Matteo and Jill Nunes Jensen, especially—who encouraged me to lean into my love of dance and writing.
My trajectory pivoted when I moved to Europe in 2012. At that point, performing was my focus. I danced in Copenhagen and Berlin, and traveled throughout Germany as a freelance dancer. It was an incredible time for absorbing inspiration; I was amazed at the massive scope of the dance world, both in its diversity of styles and its incredible history. While I took the odd online course (one of which was a beginning German class that led me to meet my husband), I admittedly lost sight of my degree.
Programs that award credit for dance experience can be a sticking point for some, who view college as a chance to develop a completely new set of skills. I would argue that recognition of a dancer's experience allows for the fluidity, and unexpectedness, of a dancer's life. Experience is cumulative, and a degree can serve as a stepping-stone to whatever comes next. The only question remains: What do you want to pursue?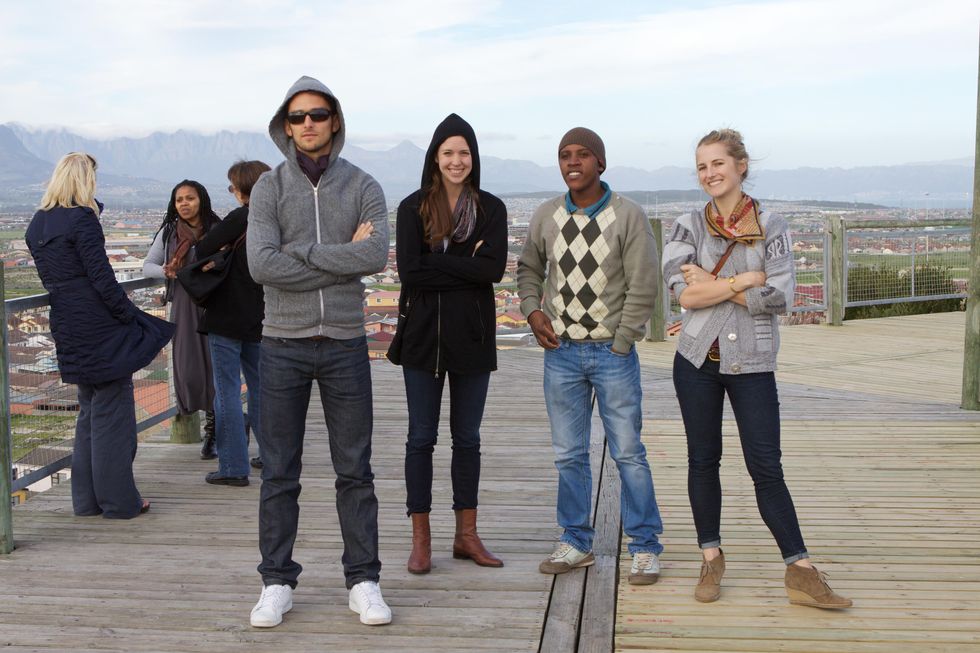 The author (second from left) with other dancer-classmates during a study abroad program in Cape Town, South Africa.
Annie Colbeck, Courtesy Van Cleef
While I'm grateful for the chance to both broaden my knowledge in the humanities and social sciences and transpose dance experience into credit, it has actually been the ability to fuse my skill sets that has served me most. My course requirements encouraged me to articulate my love of dancing in a way that more people could understand—an ability that paved the way for the next stage of my career as a dance writer.
By 2017, I was on my way to a successful transition, even though I still hadn't earned my BA. I lived in Berlin and was building my writing resumé. I was grateful to have found something that excited me in the same way performing had. But I was bothered by the question: Why do I need a degree? That question went unanswered for a long time. I knew I should finish what I'd started; but why, exactly?
The answer came last March, during the first lockdown. I don't remember which came first: an interest in researching dance history or an email from Andrew Pearson, LEAP's Los Angeles program coordinator, about whether I'd be interested in resuming the program. After some back-and-forth, it was clear: I was now on the way to completing my very last credits toward my bachelor's degree.
I received my diploma in the mail in April of this year. It came just in time for me to submit my application to graduate school, where I'll be studying dance history. It might have taken 12 years, but the chapter was finally completed—thanks to the tireless support from three advisors: Mark Baird, Annie Colbeck and Andrew Pearson.
I can't tell you how the saga will end. I'm confident that my stage career has prepared me, and thankful that my BA is allowing the next stages of my life to unfold. I'm ready for the hard work and willpower that the next steps—or spirals, obstacles and redirections, in dancer lingo—of my life will take. Let's see what the next 12 years look like!
New York City Ballet principal and Dance Against Cancer Co-Founder Daniel Ulbricht in New York City's Columbus Circle. Travis Magee, Courtesy DAC.
The annual Dance Against Cancer gala is back in full force this year, bringing major dance stars together on Monday, June 21, to raise money for the American Cancer Society. Held in Lincoln Center's outdoor Damrosch Park, it will be New York City's largest in-person ticketed event since the onset of the pandemic. And for the first time, this year's gala will also be livestreamed by Nel Shelby Productions for international audiences. The evening's finale—a tribute to first responders, medical professionals, educators, mentors and other heroes who have lost their lives to cancer or are battling it—stars special guest Kevin Boseman, a former dancer with Alvin Ailey American Dance Theater and Martha Graham Dance Company, a cancer survivor, and the brother of the late actor Chadwick Boseman.
New York City Ballet principal Daniel Ulbricht and fellow co-director Erin Fogarty founded DAC in 2010 after each experienced having a loved one diagnosed with cancer. Since then, the organization has raised over $2.3 million for the American Cancer Society through annual benefit galas and fundraising initiatives. "One in three people are affected by this disease," says Ulbricht. "There's still a lot of work to be done."
This year's lineup stars over 25 dancers from companies across the U.S., including New York City Ballet, American Ballet Theatre, Alvin Ailey American Dance Theater and Jacob Jonas the Company, with unique cross-company collaborations and performances by celebrated tap and ballroom artists. "Every one of these dancers donates their services," says Ulbricht. "It's humility and generosity at its finest." "Dancing With the Stars" Season 29 runner-up Nev Schulman will emcee the evening.
"This is a very visceral, raw, personal performance," says Ulbricht. "It's very vulnerable, but it's also safe, embraced and supported. As artists, it reminds us why we do what we do."
Read on to learn more about the DAC 2021 performance lineup:
Nev Schulman and New York City Ballet principal Tiler Peck in a premiere by Broadway choreographer James Gray
A solo by tap icon Ayodele Casel
Peck and fellow NYCB dancer Roman Mejia in the Black Swan coda
ABT principals Thomas Forster and Hee Seo in the Black Swan pas de deux
A solo by Broadway dancer, "So You Think You Can Dance" alum and former Miami City Ballet first soloist Alex Wong
Alvin Ailey American Dance Theater associate artistic director Matthew Rushing in a rare return-to-the-stage solo
Jacob Jonas the Company in a new work with music by Steve Hackman
ABT's Devon Teuscher and NYCB's Miriam Miller in I Am Enough, adapted from Victoria Duncan's film of the same name and restaged specifically for Dance Against Cancer by Adriana Pierce
ABT corps member Betsy McBride and Martha Graham Dance Company principal Lloyd Knight in a world premiere by Darrell Grand Moultrie
Daniel Ulbricht in a self-choreographed solo
A performance by international ballroom duo DNA
A solo by Parsons Dance Company's Zoey Anderson
Kevin Boseman in the premiere of Frederick Earl Mosely's A Tribute To Our Heroes, accompanied by students from the National Dance Institute and The Boys and Girls Choir of Harlem Alumni Ensemble—the soloist of which is also a cancer survivor
DAC will be held Monday, June 21, at 7:30 pm ET. For more information about in-person and livestream tickets, go to dacny.org.
Margo Moritz, Courtesy Alonzo King LINES Ballet
After a year (or more) of virtual classes, it's finally time to unplug and head back to the studio.
Exciting? Absolutely. A little scary? Definitely.
For Valerie Diamond, a 62-year-old dancer in San Francisco, California, the nervousness wasn't something she could easily shake. Even though Marin Ballet, where she takes class, resumed its in-person classes for adults in early May, Diamond had reservations about taking the big leap back, especially after dancing in a 4-by-4–foot space for 15 months.
"I survived my first class back without injury," she says, "but I felt like I had no stamina and jumping was really an effort."
In the last few months, Diamond's read a lot about how professionals and pre-professional students are getting back into shape, but she feels adult recreational dancers don't have the same guidance on what to do—and what not to do—before stepping onto that marley floor in what seems like forever.
"No one is really watching out for you the way they would be if you were a professional dancer," she says. "It really is scary. I want to do it in an intelligent way where I can make sure that I don't get injured, particularly with the jumps."
Haruka Tamura, an adult ballet teacher at Brookline Ballet in Massachusetts, says starting out slowly is key.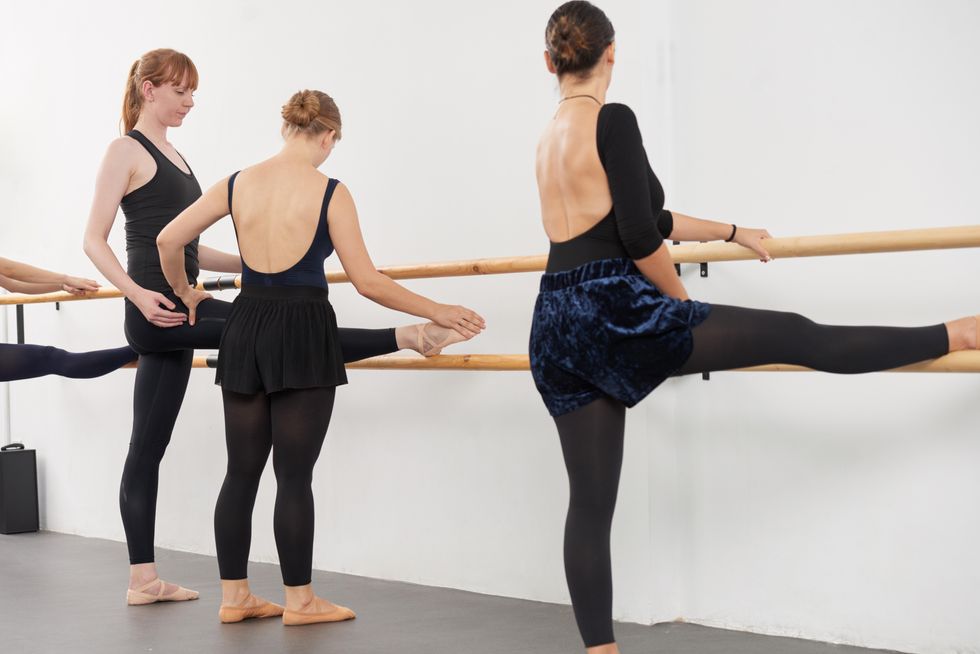 Getty Images
"You will be very excited and probably want to do a lot of things full-out, but your body might not be able to adjust. Just take it easy," she advises.
Tamura says those first few weeks back are not the time to challenge yourself (such as by jumping into an advanced class when you've only taken the intermediate level). Everything will seem different—your stamina, the space and even the floors. It's critical to give yourself time to adjust.
"Just do whatever you're familiar with," says Tamura. That familiarity will give your body the chance to keep up.
Consider Cross-Training
Kester Cotton, a physical therapist and the dance program coordinator at Spaulding Outpatient Center in Wellesley, Massachusetts, suggests dance-specific floor exercises to ease yourself back to a traditional class.
"Do floor alignment-type exercises where you work your turnout," he says. "Lying on your back, lying on your side, and lying on your stomach." He suggests trying these exercises demonstrated by Dutch National Ballet soloist YuanYuan Zhang, or these shown by Jurgita Dronina, lead principal at The National Ballet of Canada.
Cotton explains that the ability to balance well on one foot with your eyes first open and then closed and on an unstable surface like a stack of pillows are great for gauging your balance.
He suggests trying this series of exercises:
"If any of these skills on one leg are really deficient, chances are you're going to have a problem when you start jumping in the studio," he says.
Increased cardiovascular exercise can also help. Cotton recommends heart-rate boosters such as elliptical training, spinning/cycling, using a rowing machine and, if you're up for it, running. However, he warns, "running can be high impact and requires good technique to reap the cardio benefits without causing other musculoskeletal problems."
If you're new to cardio (or just getting back into it), start with 10 to 15 minutes, three times a week, for six weeks. After a couple of months, you can gradually increase the duration of workouts to 30 to 45 minutes, three to five times a week with a steady training goal for about 150 minutes per week.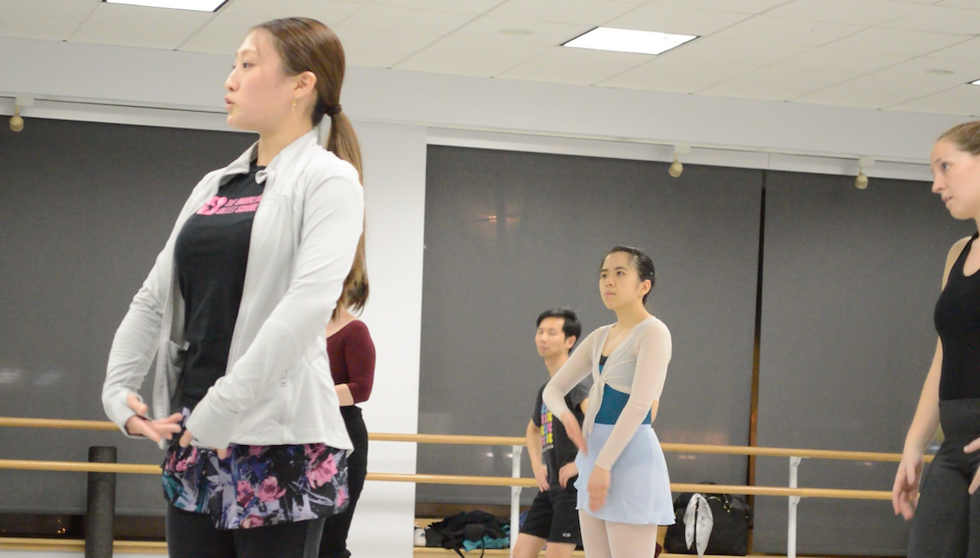 Haruka Tamura leads an adult class at Brookline Ballet.
Shahrzad Sajadi, Courtesy Brookline Ballet
Easing Into Class
For students like Diamond, who haven't done grand allégro (her favorite), pirouettes or piqué and chaîné turns in months, moving across the floor again can be daunting. She recalls one virtual class that ended, well, not like she would have liked: "We did try something with fouetté turns one day and I literally fell on the floor. And the teacher was like, 'Okay, maybe we shouldn't be doing that.'"
She's considering just marking allégro exercises two days a week, and jumping on the other days. Teachers and therapists say do what feels right, but just go slowly.
Alonzo King LINES Dance Center's Kathy Mata is still strictly teaching online classes (LINES plans to resume in-studio and hybrid classes in July). She's working remotely with students on how to best prep for returning to the studio, especially when it comes to big movements across the floor.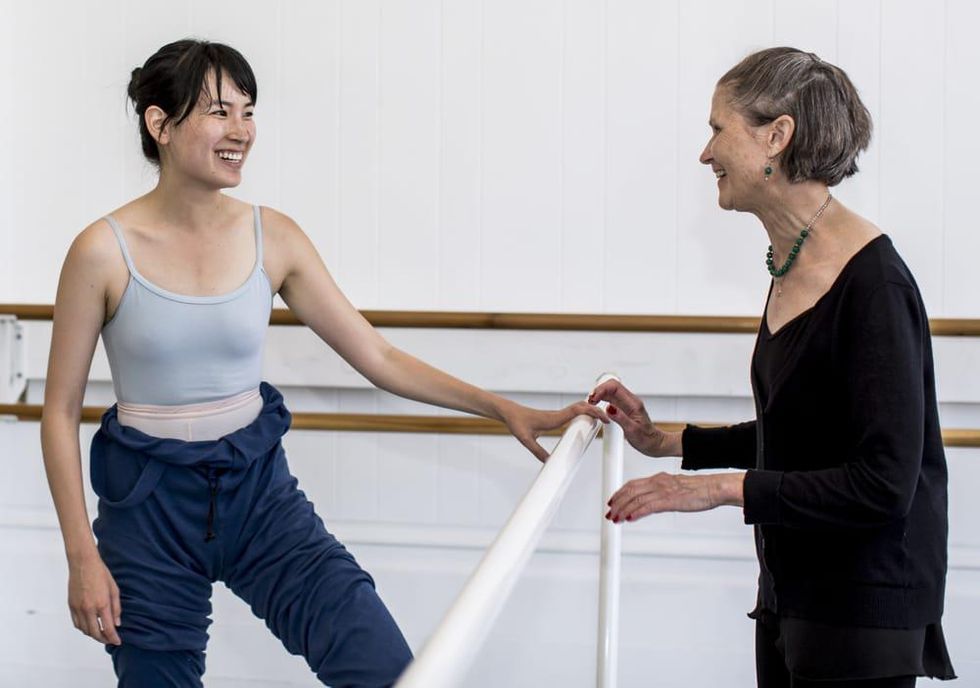 Alonzo King LINES Ballet Center faculty member Kathy Mata (right) with an adult student
Stephen Texeira, Courtesy LINES Ballet
"Grand allégro should be approached slowly," she says, progressing from small jumps and single petit allégro. "Steps like temps levé in arabesque and balancé en tournant are a very good place to start, then working up to faille assemblé to learn to drive your body forward."
As for what to steer clear of, Mata says movements like grand jeté and tour jeté should be avoided, since the landing has to be precise and well-placed.
Staying safe by starting slow is the best way to ensure an injury-free return to class. It's also important to get out of your head a bit.
"Be kind to yourself as you're easing back into the studio," Cotton says. "It can be easy to be too analytical about it. Be grateful for being able to be back in the studio, and just go dance."
Diamond is thrilled to do exactly that—and to see her ballet buddies again.
"Just the experience of dancing together is really important. And it's what movement is all about."