Onstage, Boston Ballet artist Sage Humphries is notable for her elegant poise and liquid grace. But offstage, she's a creative whirlwind: model, singer/songwriter and talented emerging choreographer. Amidst the demands of rehearsal and performance last fall, she choreographed her first major work, a deeply personal quintet set to original music by her brother Michael and showcased on Boston Ballet's BB@home: ChoreograpHER 2018. And this past May, the company asked her to create a new work for the music festival Boston Calling. Her White, commemorating the 50th anniversary of The Beatles' White Album, shared the festival spotlight with the likes of Tame Impala and Twenty One Pilots. "It was amazing to be part of that circle of artists who already had a huge fan base," she recalls. "The fact that Boston Ballet could be amongst that and get people excited about the art form was so special."
---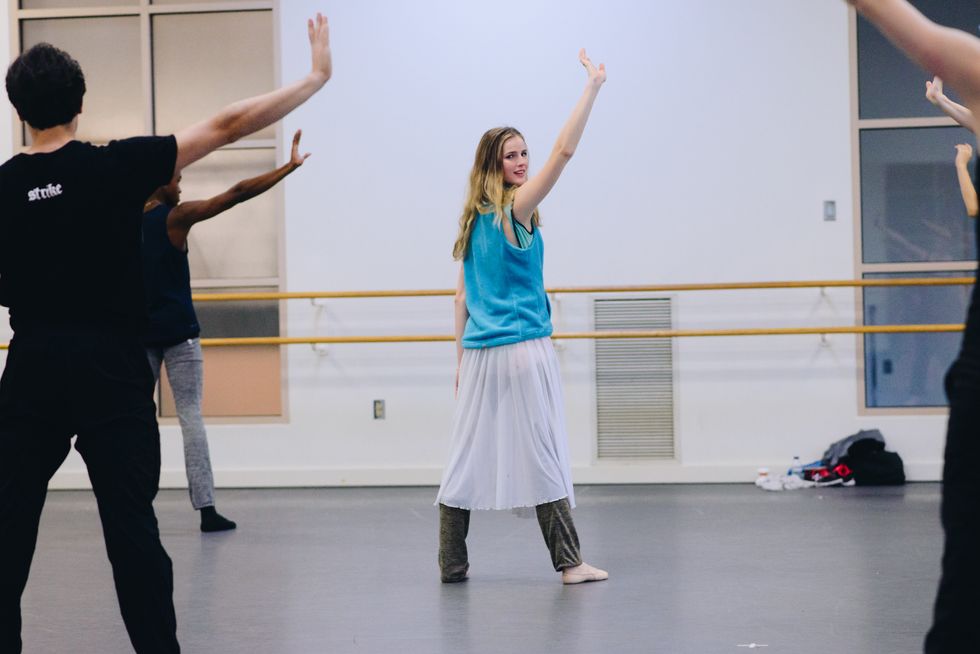 Humphries choreographing in the studio.
Brooke Trisolini, Courtesy Boston Ballet
A Youth America Grand Prix award winner, Humphries grew up in Orange County, California. Training with Dmitri Kulev landed her merit scholarships to study at American Ballet Theatre, San Francisco Ballet, Ballet West, Dresden Semperoper Ballett and Ballet Munich before she joined Boston Ballet II in 2016 and the main company in 2017. At just 22, she thrives on new challenges, determined, she says, to "push forward as a dancer and choreographer and a leader in the ballet industry, a role model that's positive and uplifting to young girls."