Left to right: Dance Theatre of Harlem's Daphne Lee, Amanda Smith, Lindsey Donnell and Alexandra Hutchinson in a scene from Dancing Through Harlem. Derek Brockington, Courtesy Dance Theatre of Harlem
Creating dances specifically for film has become one of the most effective ways that ballet companies have connected with audiences and kept dancers employed during the pandemic. Around the world, dance organizations are finding opportunities through digital seasons, whether conceiving cinematic, site-specific pieces or filming works within a traditional theater. And while there is a consistent sentiment that nothing will ever substitute the thrill of a live show, dancers are embracing this new way of performing.
Still, it's been an adjustment. How are dancers developing performance energy? How can artistry best be communicated through the camera? What is the best angle to present technique? Dance Theatre of Harlem's Derek Brockington explains that dancing for film is "about acknowledging that it's not going to be the same experience—it's a different way of dancing." Below, Brockington and several other dancers share their takeaways after a year of dancing on camera.
Adapting to New Spaces and Timelines
Rehearsing in the back of a crowded studio used to seem like a challenge, but since the pandemic began last year Zoom rehearsals became the norm, and gave new perspective to exploring movement in small spaces. Dancing an entirely digital season this year, Jessy Dick, a company apprentice at The Washington Ballet, explains that learning contemporary movement via Zoom last fall was confusing to translate into the body. "It is hard to feel the movement," says Dick. "I never realized how expansive moving in the studio can feel. The walls mess with your head."
Dick had to adapt and develop mind flexibility, which she says later carried over when the company began dancing in site-specific locations and adjusting to the quick pace of a filming day. When shooting Something Human, by TWB artist Andile Ndlovu, last October, considerations such as natural lighting and weather shaped a single day of filming at Maryland's Patapsco Female Institute. There was little time for dancers to acquaint themselves with the space, adapt and, as Dick says, "just go for it." Yet she adds that the challenge of performing outdoors on unfamiliar surfaces and in tennis shoes or bare feet was balanced by the inspiration of dancing with the wind and sunshine. "The location fueled us to be able to turn it on and off quick," she says, especially when doing multiple takes throughout the day.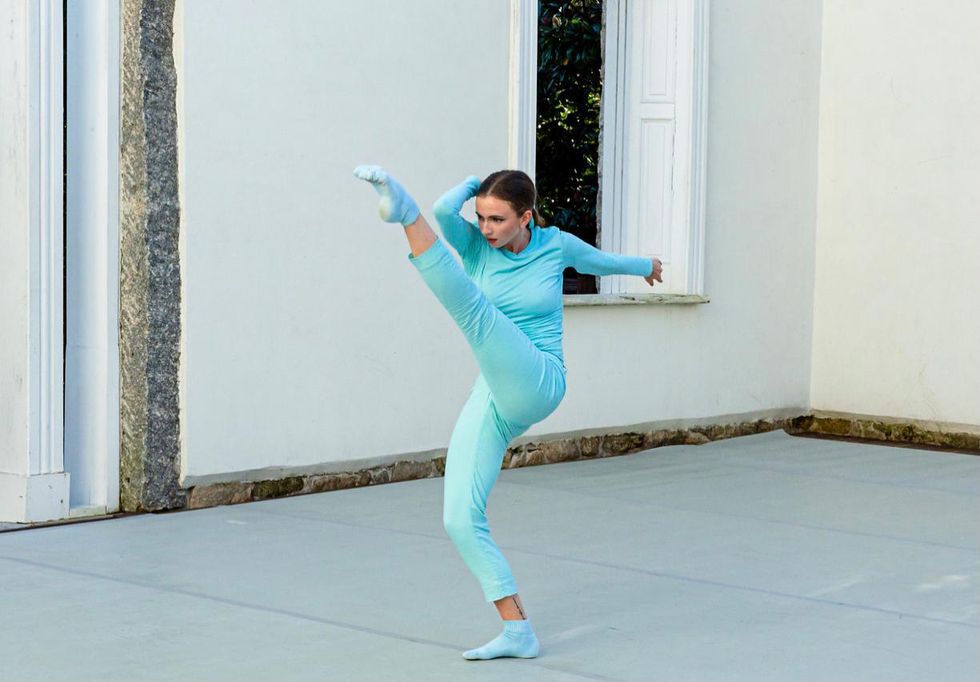 The Washington Ballet's Jessy Dick on the set of Andile Ndlovu's Something Human
Mena Brunette of XMBPhotography, Courtesy TWB
Even when filming in the familiar confines of a theater, the recording experience can be intense. San Francisco Ballet principal Aaron Robison describes recording George Balanchine's Jewels at the War Memorial Opera House in January as "one run-through, notes and then a quick touch-up, and we did it again." While rehearsing his role in "Emeralds" was relatively typical (save Balanchine répétiteur Sandra Jennings coaching via Zoom instead of in the studio), the recording day included two back-to-back run-throughs. When asked how he rallies performance-level energy multiple times in a row, Robison explains that knowing that a performance run is complete in one single day of filming gives him the fortitude to push to his max.
Turning On Performance Mode—Without the Audience
The energy between dancers and audience members during a live performance is hard to replicate digitally. Since films are often shot from different angles, dancers have had to explore how to project through different parts of the body and with specificity, depending on the shot. "It involves more thinking than you normally have to do," says Brockington. He says he has to have keen awareness of where the camera is, while also trying to project beyond it and considering the different angles it is potentially capturing.
While Robison's filming process of Jewels was a straight run-through from one angle, he was still performing to an empty theater. Yet he says he drew energy from "the fact that we haven't been able to perform for all this time, and I felt fortunate in that moment being back on the stage."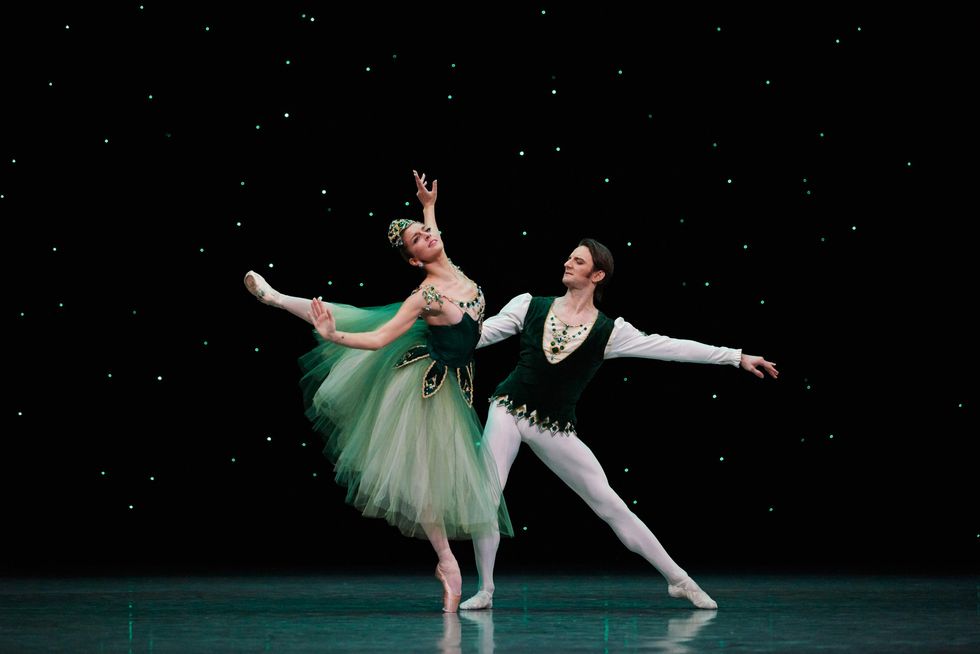 San Francisco Ballet principal Aaron Robison and soloist Sasha Mukhamedov in George Balanchine's "Emeralds"
Erik Tomasson, Courtesy SFB
Regardless of the circumstances, being committed to the moment is imperative for a filmed performance to be effective. Not only do viewers need to feel it, dancers want to do justice to the choreography in a way that stands the test of time. "That's the thing with a film," says Robison. "It stays."
Reaching a Global Audience
One of the major advantages to online performances is that anyone can watch from anywhere in the world. On a personal level, dancers from international backgrounds can share their dancing with family, friends and teachers who supported their training. From a more global perspective, virtual performances allow dancers and companies to share their missions on a broader platform.
When DTH initially created Dancing Through Harlem, a virtual submission for Harlem Week last August, it went viral with over 7.6 million views. Brockington and his roommate, fellow DTH dancer Alexandra Hutchinson, conceived, produced and edited the film—with choreography based on Robert Garland's New Bach and set throughout beautiful spaces in Harlem—over seven days in August using an iPad. Not expecting to reach such a large audience, Brockington says that the video's popularity is why representation matters. "I grew up not seeing many ballet dancers who looked like me." Brockington says he was honored to share his dancing and the stunning architecture of Harlem with the world while representing DTH's mission of inclusivity and accessibility.
Another audience added to the pool of viewers is the dancers themselves. Waiting for a film to debut can produce greater anticipation than pre-performance jitters, especially when you're not sure what the final product will look like. Robison explains that while he knows which takes he felt particularly good about, the chosen cut will be what best represents the entire cast—and that isn't revealed until the film is released.
For dancers, being able to watch the work they were a part of is a reward that is entirely new. "There's nothing that compares to the feeling of performing onstage," says Dick. "But it was beautiful to watch my colleagues blossom in front of the camera."
Alexandra McMaster
When it comes to breakfast, I want it to be easy and convenient but still taste delicious. My Berry Breakfast Crisp is just that. You can bake the crisp on the weekend as meal prep, then enjoy it throughout the week cold or warmed in the microwave. It freezes well, too!
You're probably thinking, Doesn't a crisp technically count as dessert? Well, yes, but when you serve this Berry Breakfast Crisp with plain yogurt instead of ice cream, you have an awesome, balanced breakfast option with carbohydrates, protein and healthy fats.
I've been mindful of the amount of sugar in the recipe, considering this is breakfast. However, feel free to explore and adjust the ingredients to suit your liking.
Berry Breakfast Crisp (serves 8–10)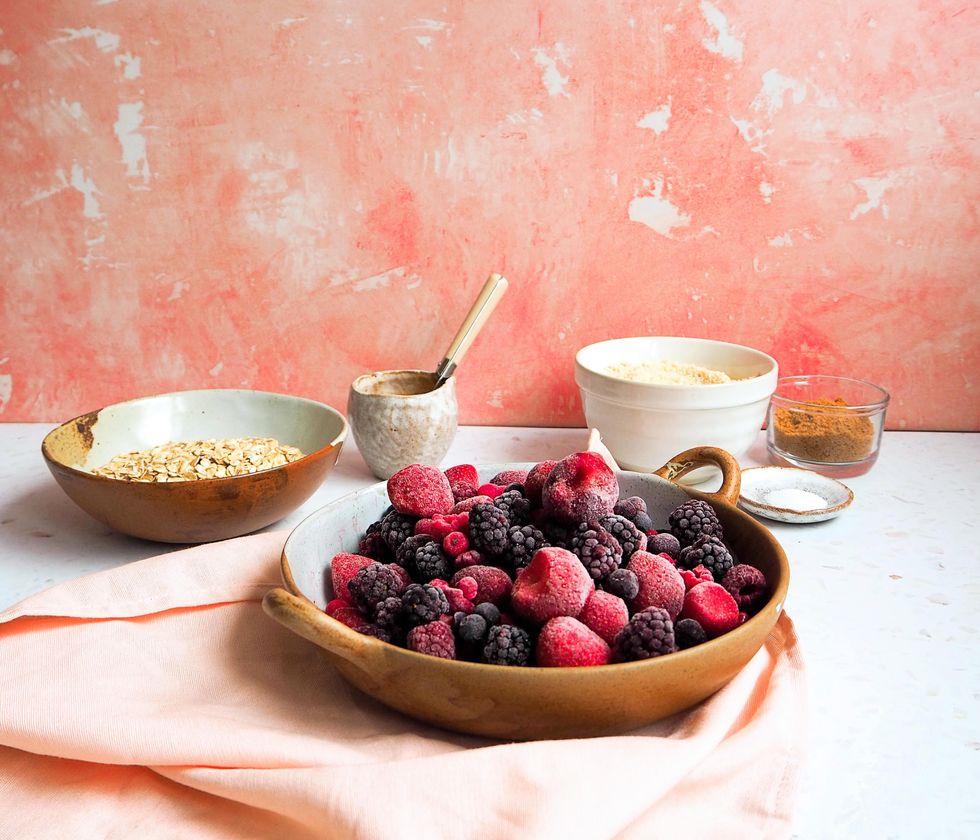 Alexandra McMaster
Ingredients
2 cups frozen blueberries

2 cups frozen raspberries
2 cups frozen strawberries
3 tbsps maple syrup
1 tbsp lemon juice
1 tsp vanilla extract
For crisp:
1/2 cup coconut sugar or raw sugar
1/3 cup + 3 tbsps coconut oil or butter, melted
1/4 cup almond butter
2 cups rolled oats
1 1/2 cups almond flour (also known as "almond meal")
1/2 tsp salt
Plain, unsweetened yogurt to serve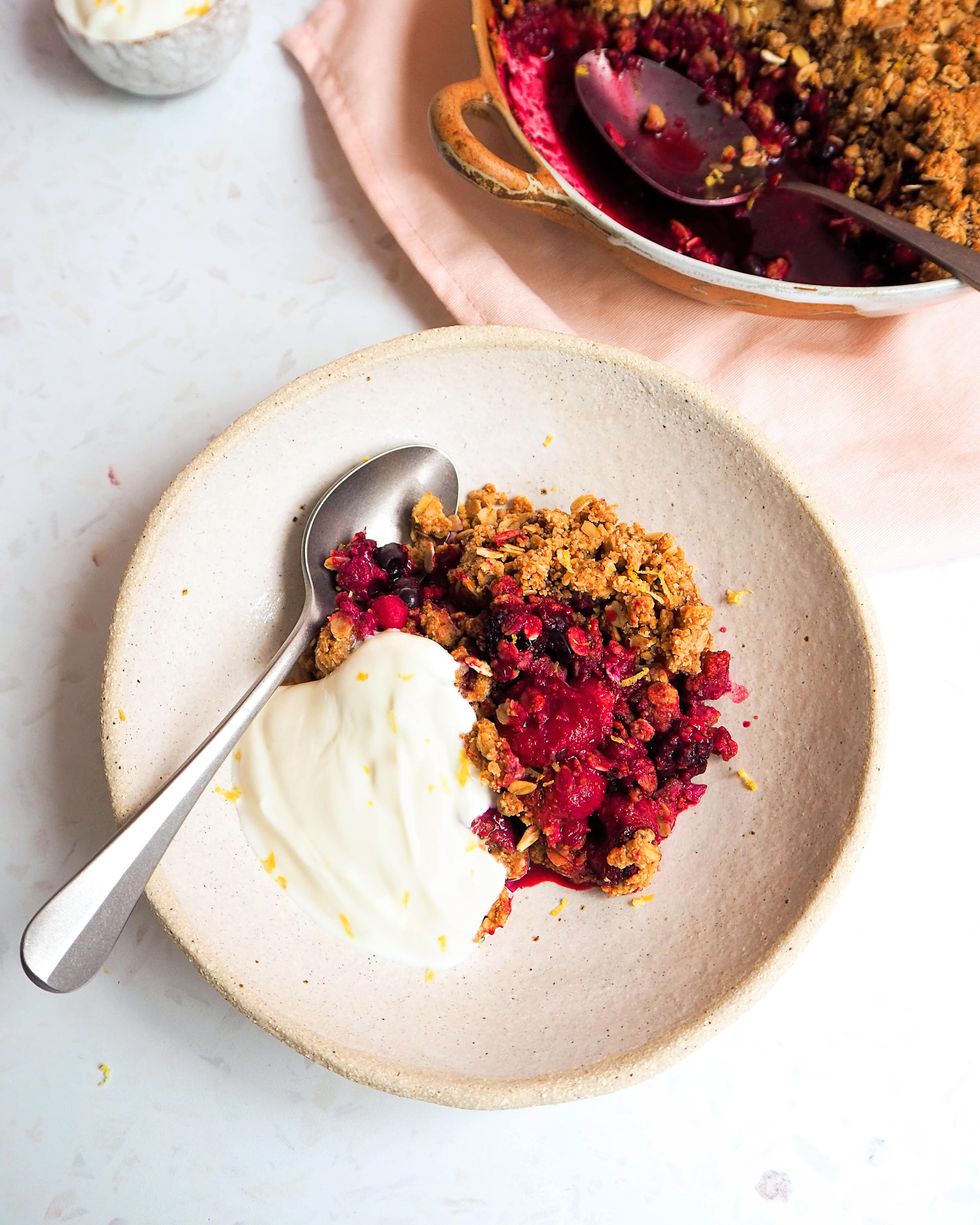 Berry Breakfast Crisp
Alexandra McMaster
Preparation
Preheat oven to 320°F (160°C).
1. In a large baking dish, add the frozen fruit, maple syrup, lemon juice and vanilla. Lightly stir with a spoon.
2. In a medium bowl, whisk together the sugar, melted coconut oil/butter and almond butter.
3. Using a food processor, grind 1 cup of the rolled oats into a flour. Add the oat flour and remaining crisp ingredients to the medium bowl. Stir well until everything is evenly coated.
4. Scatter the crisp over the fruit and bake (uncovered) for 45 minutes, or until the fruit is bubbling and the crisp looks golden.
5. Enjoy hot or cold with your yogurt of choice.
Store any leftovers in an airtight container for 4 to 5 days in the fridge. The crisp also freezes well.
For more of Alexandra McMaster's recipes, go to ballerinabites.com or follow her on Instagram at @ballerina_bites.

Liam Scarlett with Marianela Nuñez and Ryoichi Hirano during a rehearsal of his Swan Lake at The Royal Ballet. Andrej Uspenski, Courtesy ROH
Over the weekend, news broke that 35-year-old choreographer Liam Scarlett, a former artist in residence at The Royal Ballet, died suddenly at his home in England. "It is with great sadness that we announce the tragic, untimely death of our beloved Liam," Scarlett's family said in a brief statement. "At this difficult time for all of our family, we would ask that you respect our privacy to enable us to grieve our loss."
The cause of death was not disclosed.
Scarlett's rise as a choreographer was swift, starting as a young student at the Royal Ballet School, where he won several choreographic awards. He joined the company in 2005, and was promoted to first artist in 2008. Two years later, he created Asphodel Meadows, his first ballet for the company, and was quickly hailed as an exciting new talent. By 2012, he stepped back from dancing to become The Royal Ballet's first artist in residence, and in 2016 he became the youngest choreographer to create a full-length ballet on the company with the debut of his Frankenstein. He created ballets around the world at companies like San Francisco Ballet, Miami City Ballet, Norwegian National Ballet, American Ballet Theatre and Australia's Queensland Ballet, where he was also named artistic associate. In recent years he's been celebrated for the Royal's new production of Swan Lake and work on Disney's The Nutcracker & The Four Realms.
In August 2019, The Royal Ballet suspended Scarlett over allegations of sexual misconduct towards Royal Ballet School students and launched an independent investigation. After the news became public in January 2020, Queensland Ballet suspended its relationship with him, as well, and several companies, including San Francisco Ballet and Texas Ballet Theater, canceled planned performances of Scarlett's work.
When the investigation concluded that March, The Royal Ballet announced that there were "no matters to pursue in relation to alleged contact with students of the Royal Ballet School." Nevertheless, the company said it was ending its association with the choreographer—leaving more questions than answers.
Scarlett was due to stage his
Frankenstein
at The Royal Danish Ballet in 2022. Last week, however, the company announced it was canceling his production due to what it called Scarlett's "unacceptable behavior" towards members its staff during rehearsals with him in 2018 and 2019.
News of Scarlett's death has shocked and saddened many in the ballet world, with friends, colleagues and dance organizations, including The Royal Ballet, leaving tributes to the choreographer on social media. The news has also led to intense debates over whether he was treated fairly, with some calling Scarlett a victim of cancel culture and others arguing that the ballet companies were taking appropriate action to protect their dancers.
Much remains unknown, and Scarlett himself did not speak publicly on the matter. But all can agree that his death is an utter tragedy.