Six pros reveal their most creative tricks for making it through everyone's favorite holiday marathon.
---
Alana Griffith: Artist, Milwaukee Ballet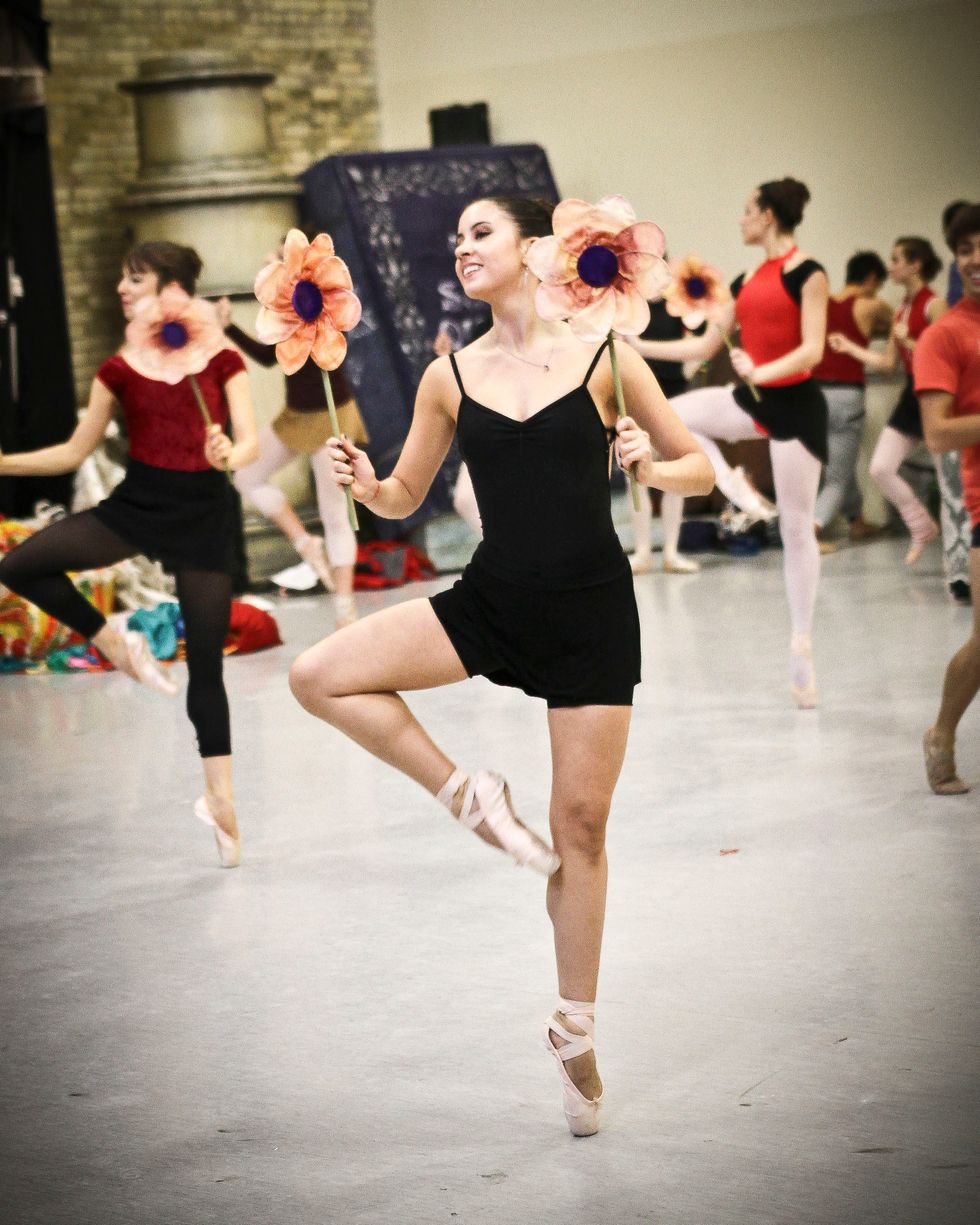 Griffith in rehearsal for Milwaukee Ballet's "Waltz of the Flowers."
Timothy O'Donnell, Courtesy Milwaukee Ballet
Favorite role: Clara
"Clara was my first soloist role and the first role I did where my character danced through the entire ballet. I liked playing with different ways of making her sweet and lovable or bratty and funny. Switching from Clara to the corps to divertissements makes the rehearsal process exciting and challenging."
Number of Nutcrackers per season: 17–18
Pre-Warm-Up: "In the morning I take a hot bath for 5–7 minutes as a way to pre-warm my muscles before class."
Multitasking Tape: "If I have a quick change into pointe shoes, I rip a piece of soft, white tape off my toes and use it to hold my ribbons."
Conjuring Calm: "I take a homeopathic supplement called Quietude, which helps me wind down after a show."
Miranda Silveira: Corps de ballet, San Francisco Ballet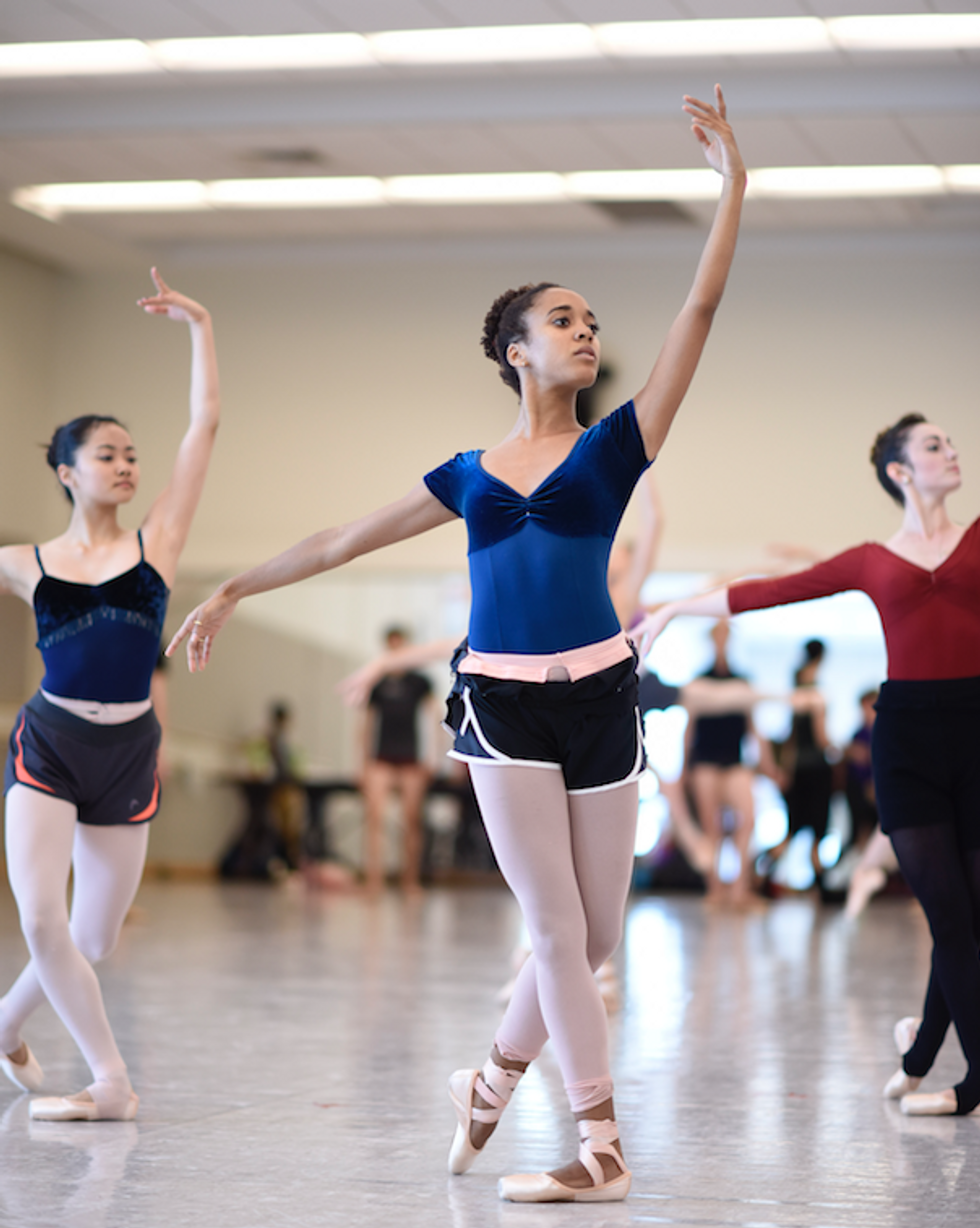 Silveira in rehearsal with SFB
Erik Tomasson, Courtesy SFB
Favorite role: Spanish
"It's a very energetic and dynamic part, and there's a lot of character dancing."
Number of Nutcrackers per season: approximately 33
Keep Toasty: "When I'm doing Maid or Party Parent in the Party Scene, I wear legwarmers under the long dress so I'm ready for Snow."
Warm Toes: "I stick my pointe shoes under the heater at the theater to warm them up."
Listen Closely: "Take advantage of the differences between each conductor by really listening to the changes in the music."
Eva Burton: Company artist, Oregon Ballet Theatre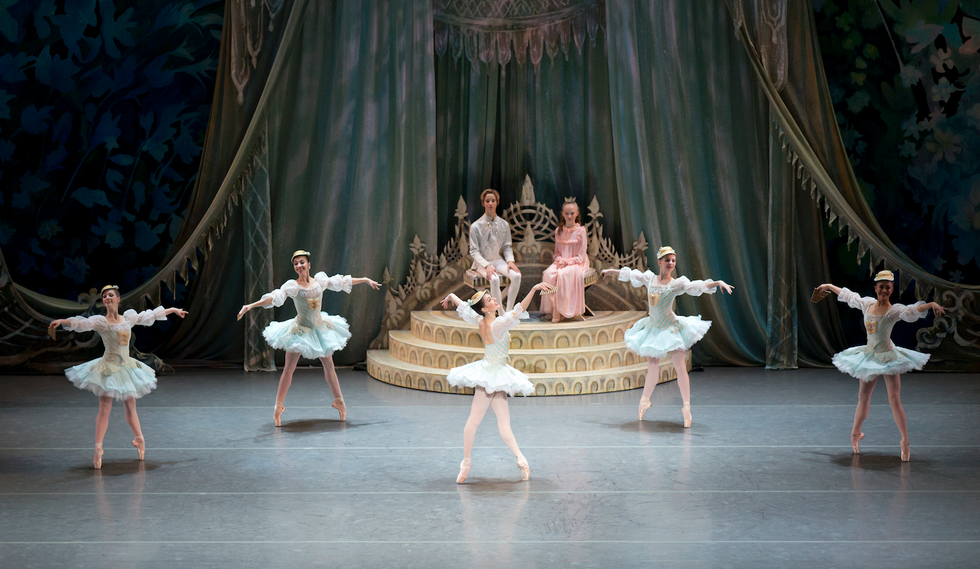 Burton (center) in OBT's George Balanchine's The Nutcracker
James McGrew, Courtesy OBT
Favorite role: Sugar Plum Fairy
"I love that in George Balanchine's The Nutcracker, the Sugar Plum Fairy does her variation at the beginning of Act II surrounded by the angels. Sharing the stage with young students reminds me that every audience is full of children who are seeing ballet for the first time."
Number of Nutcrackers per season: 15–19
Time Your Hydration: "I drink water well before the show so I can stay focused but not have to go to the bathroom once I'm in costume."
Pointe Shoe Prep: "I sew as many pointe shoes as possible before we even get to the theater."
Check Off Christmas Shopping: "I do all of my Christmas shopping before Nutcracker!"
Jennifer Grace: Demi-soloist, Tulsa Ballet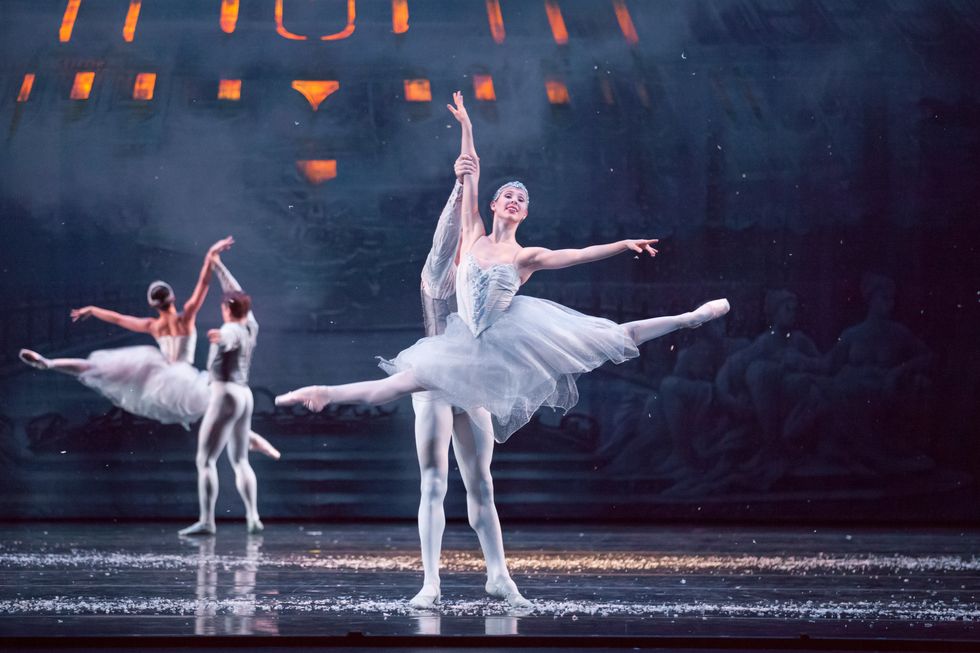 Grace in Tulsa Ballet's Snow scene
Courtesy Tulsa Ballet
Favorite role: Maid of Honor, in "Waltz of the Flowers"
"In Marcello Angelini's Nutcracker, the Maid of Honor is partnered by four different cavaliers, and it flows together beautifully. I wouldn't say it's easy to dance, but it's very enjoyable."
Number of Nutcrackers per season: 8
Soup-er Food: "Soup is my go-to meal. It keeps you hydrated and makes you feel full, but you can still move."
Fresh-Faced: "I take my makeup off immediately after the show, wash my face as soon as I get home, and I don't put any makeup on until I have to, the next night, so my skin has a chance to breathe."
Salt Solutions: "Epsom salt baths help my muscles to recover from that feeling of lactic acid crunchiness."
Tiffany Mosher: Second soloist, National Ballet of Canada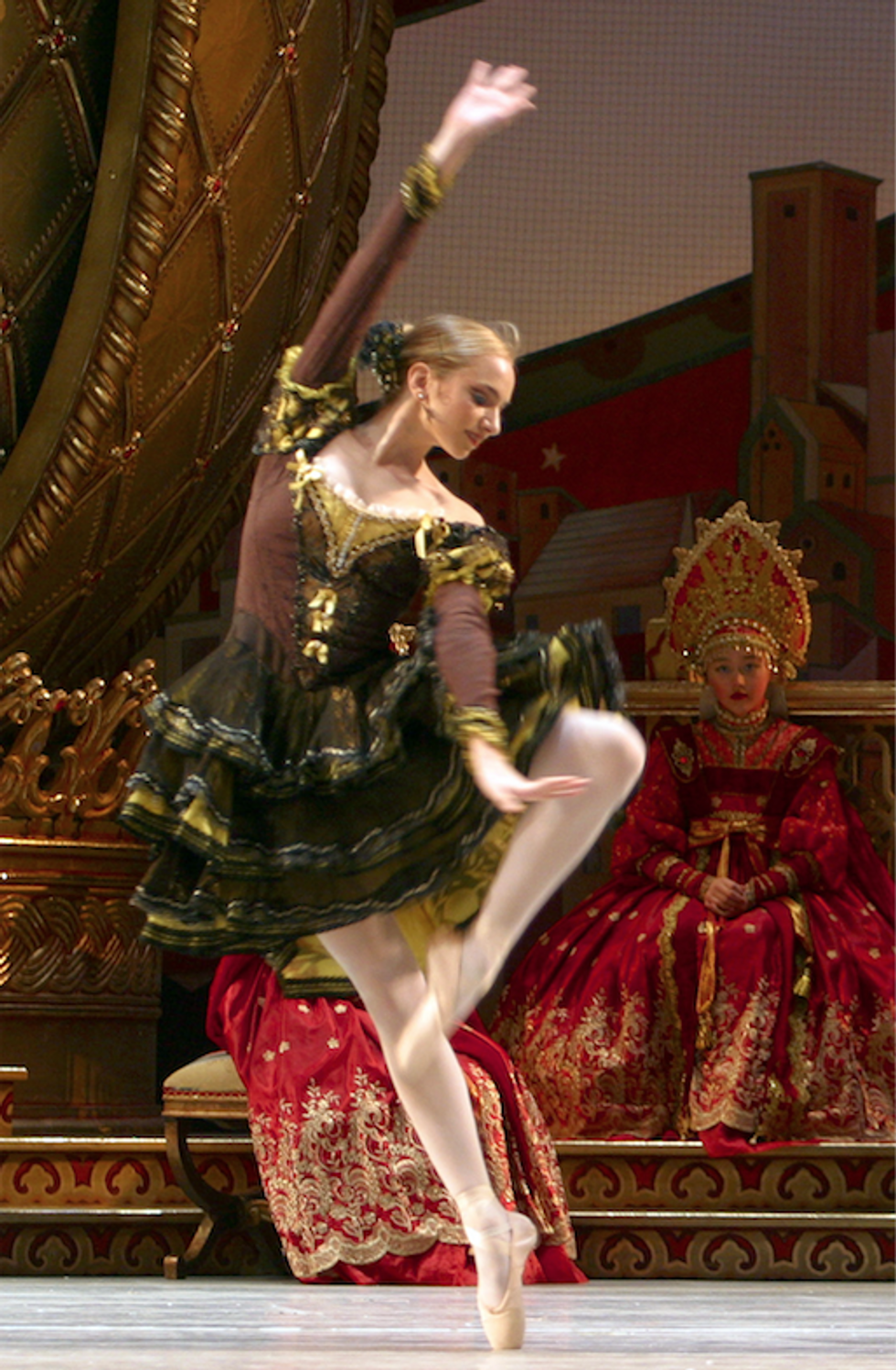 Mosher performs Spanish Chocolate at NBoC
Cylia von Tiedemann, Courtesy NBoC
Favorite role: Bee, in "Waltz of the Flowers"
"Although it's an extremely difficult and tiring role with a lot of jumping and quick movements, the fast-paced choreography makes it a joy."
Number of Nutcrackers per season: 24
Get Rest: "We bring a blow-up mattress into the change room, to lie down between shows."
Be a Team Player: "I always volunteer to do a new spot if someone gets sick or injured. Everyone will go to the wings to watch, and if you make eye contact onstage it's fun!"
Balance Is Key: "Doing the same roles all the time works the same muscles. For example, the Snowflake choreography has a lot of quick footwork and relevés, so it's taxing on our calves and ankles. To balance that I do lunges and squats with weights to engage my hamstrings, quads and glutes."
Joshua Grant: Soloist, Pacific Northwest Ballet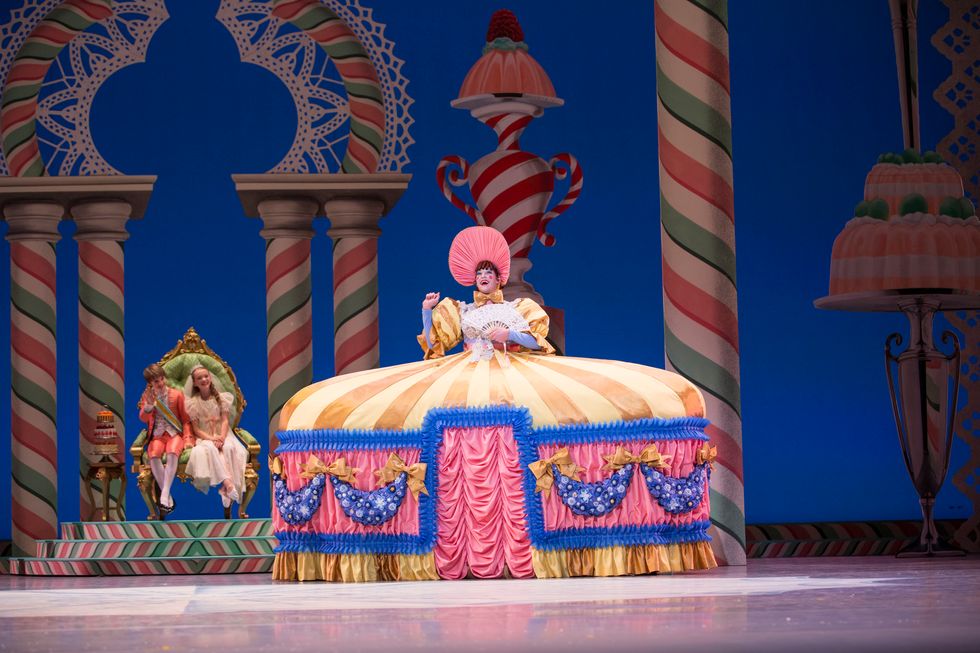 Grant as Mother Ginger in PNB's George Balanchine's The Nutcracker
Angela Sterling, Courtesy PNB
Favorite roles: Cavalier and Mother Ginger
"The Sugar Plum Fairy's Cavalier is the most rewarding role because of the beautiful music, and Mother Ginger is an all-out hoot to perform."
Number of Nutcrackers per season: approximately 35
Natural Skin Care: "Coconut oil is an all-natural way to moisturize your skin. It doesn't have to be refrigerated, so you can keep it in your makeup case."
Advance Check-In: "I always check in with my partner before a pas de deux. Maybe my shoulder hurts that day or her shoes are more dead than usual."
Hit Refresh: "It helps to step out of the theater, even if it's just for lunch or coffee, especially on double show days."