Nashville Ballet's Kayla Rowser has performed a long list of leading roles: Aurora, Odette/Odile, Sugar Plum Fairy, the Firebird. But this weekend, Rowser takes on a new one created especially for her: the famous Dark Lady of William Shakespeare's sonnets, in artistic director Paul Vasterling's world premiere Attitude: Lucy Negro Redux. The ballet (running February 8-10) is based on the book Lucy Negro, Redux by poet Caroline Randall Williams. It explores the theory that Shakespeare's Dark Lady was a black woman, an actual London prostitute known as Black Luce or Lucy Negro.

For Rowser, who is African American, the ballet offers a rare opportunity to portray a character based on a woman of color. "Being able to explore a character who demands so much of who I am naturally, as well as through the gifts I have to share through ballet, is new to me," says Rowser. "It's different than being an African American woman dancing Odette or Aurora. Now what people are seeing is actually what is written. There's a lot of weight in that."
---
Kayla Rowser on Lucy Negro Redux www.youtube.com
Nashville Ballet is one of 21 companies participating in The Equity Project: Increasing the Presence of Blacks in Ballet, a partnership program spearheaded by the International Association of Blacks in Dance, Dance Theatre of Harlem and Dance/USA. While many companies have made efforts to diversify their rosters, creating works centered around characters of color is another step towards greater inclusion. "I think ballet companies need to be looking at their stories and making sure they're relevant to the times we live in," says Vasterling. "It's really important for the art form to be thinking ahead and beyond the boundaries of those who came before us."
Creating "Attitude: Lucy Negro Redux"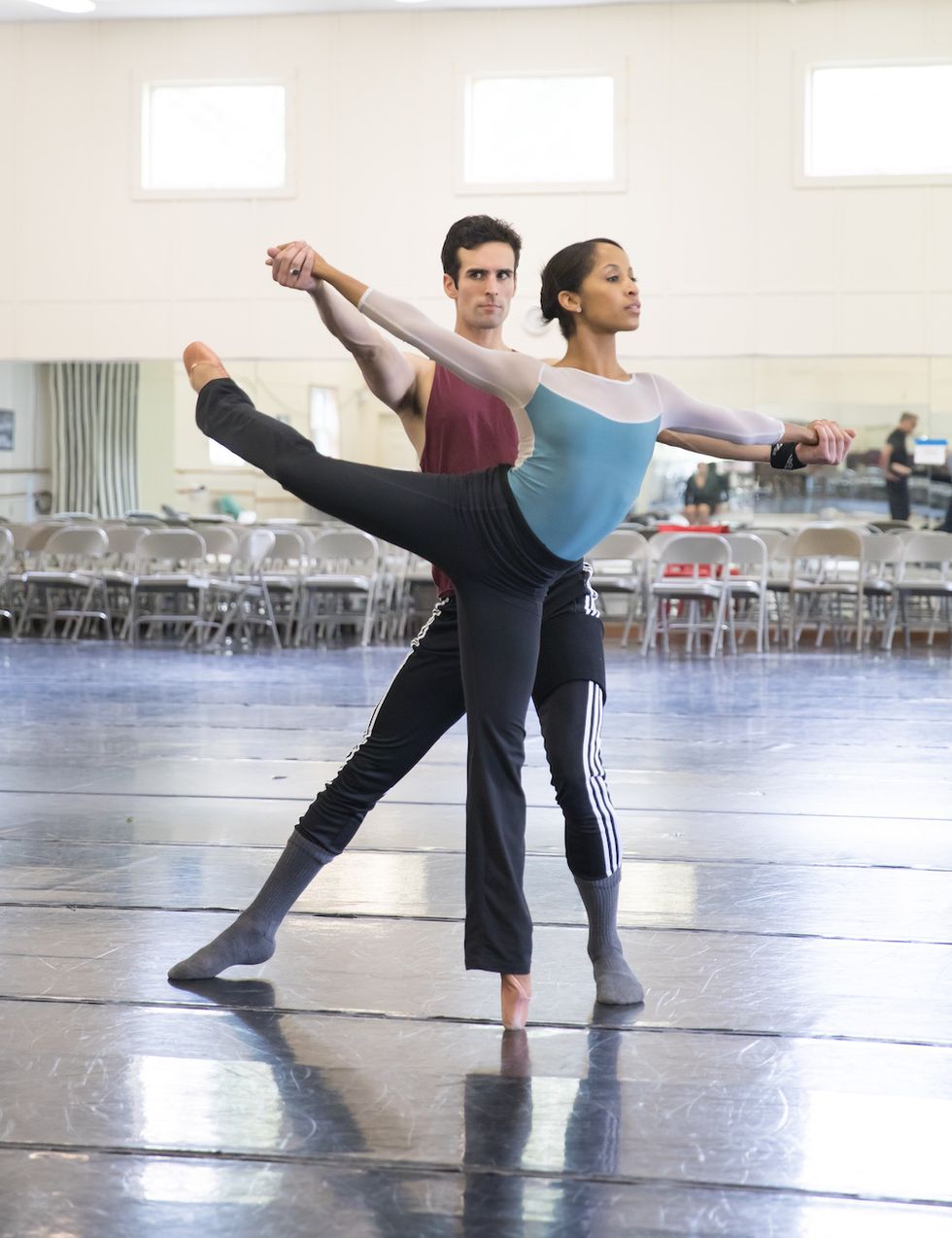 Rowser and Owen Thorne in rehearsal for "Lucy Negro Redux." Photo by Heather Thorne, courtesy Nashville Ballet.
Vasterling's idea for the work grew out of reading Caroline Randall Williams' book, Lucy Negro, Redux. "I thought, wow, this could be a ballet, and immediately thought of Kayla" he says. The Nashville–based poet had been intrigued by a 2012 article about Dr. Duncan Salkeld, a university professor who discovered historical documents that led him to believe that Lucy Negro, a black brothel owner, was the mysterious lover referenced in Shakespeare's sonnets 127-154. "I got totally thrilled by the notion," says Williams, who then reached out to Salkeld and visited him in London. "We went to the places where Lucy would have been alive, walked the stones she and Shakespeare would have stepped on." Inspired, she penned a collection of poems from Lucy's perspective—and never imagined it would lead to a ballet.
When Vasterling reached out to Williams with his idea, she wanted to be sure that the ballerina playing Lucy was at a world-class level. "There are not a lot of people I could have trusted with this," she says. "But Paul is an ally and a visionary, and Kayla is exactly the dancer to do this role." Vasterling wrote up a libretto based on her poems, and the two went through his ideas together. "Caroline gave me the okay and the not okay, in terms of direction," he says.
They then reached out to Grammy Award–winning artist Rhiannon Giddens, a MacArthur "Genius" Grant recipient, who composed the original score along with early music expert Francesco Turrisi. The music, a mix of early American and Renaissance themes, will be played live, interwoven with Williams' spoken word. "The whole process was very collaborative," says Giddens. "I'd send some themes and we'd discuss which character it would fit with. We found we got the most work done when we were all together in the room: poet, musicians, dancers."
Owning Her Power
Although much of Attitude: Lucy Negro Redux takes place during Shakespeare's time, the two-act ballet's narrative is nonlinear. "In my mind, it's about a modern woman and about the historical Lucy," Vasterling says. "Lucy rejects Shakespeare, who is obsessed with her, and then we end on an exploration of who we are underneath our skin. Ultimately, it's a story about a woman owning her power and understanding her own beauty."
That idea has not been lost on Rowser, who collaborated closely with Vasterling during the choreographic process. "There's the theme of otherness and self-acceptance, but also of not being concerned with whether someone truly accepts you," she says. When Vasterling floated the idea of dancing on flat, she insisted otherwise. "I feel most powerful in pointe shoes. I want to be able to showcase that I'm a classically trained black dancer."
Rowser says that having a chance to finally portray a strong, black character onstage is a lot to take in emotionally, and she considers it an honor. "This is such an unprecedented story to tell, especially for a ballet company in the South," she says. "I think the timing is perfect for where we are in the ballet world and where we are in society. I couldn't feel more ready for it than right now."