Go shopping on Miami Beach's popular Lincoln Road on a given weekday afternoon and you'll be in for a special surprise: a handful of Miami City Ballet dancers spinning and leaping in the windows of what was once a retail store. The company's new pop-up studio, which started mid-July, offers an exciting way for both MCB dancers and the local community to enjoy ballet while observing social-distancing regulations.
---
After clothing brand BCBG filed for bankruptcy in April, Michael Comras, the owner of the BCBG retail store at 744 Lincoln Road, along with the Lincoln Road Business Improvement District, wanted to fill the space with something that would uplift the community during these difficult times. To celebrate MCB's 35th anniversary—the ballet's first studios in 1986 were located nearby on Lincoln Road—and to add some magic to the community, Comras and the LRBID decided to host the dancers in the space. Plus, since MCB's current headquarters were holding a limited summer intensive, the retail store was an ideal location for the dancers to train outside of their makeshift home studios.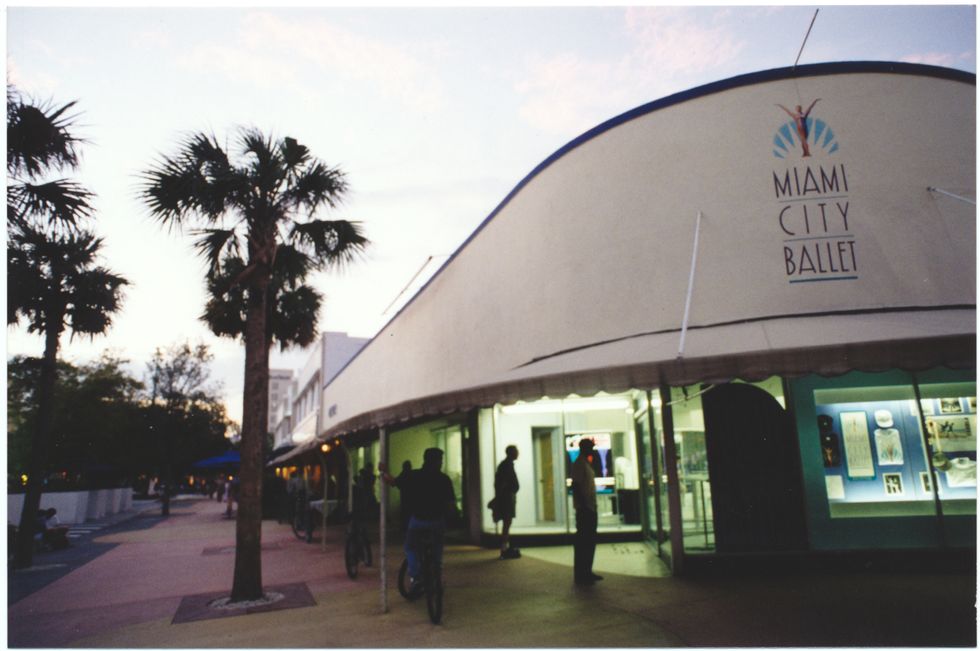 The original Miami City Ballet studios on Lincoln Road
Courtesy of the City of Miami Beach Historical Digital Archives
"It's truly a story of how we've come up together," says MCB artistic director Lourdes Lopez. "And isn't it interesting that, at this point in time, we're all working to help one another out and we really are in this all together, to serve our community by providing joy and inspired moments?"
Thanks to a financial contribution from the City of Miami Beach, MCB was able to turn the space into a suitable and dazzling studio. With face masks and designated tape markers, the dancers—who voluntarily sign up to use the space—can once again safely lace up their pointe shoes, perform petit allégro, travel across the floor and inspire one another. "For months we didn't have a studio to take class," says MCB principal Nathalia Arja. "Now we have the pop-up studio, which has helped us to feel like we can dance again, and give us a sense of normality."
Every Monday through Friday until September 10, from 1 to 3 pm and 5 to 7 pm, anyone strolling by can pause outside at a tape marker to watch. The store's large glass windows allow passersby to join in on the experience, getting a peek at what happens at the ballet behind the curtain. Music streams outside, and a selection of sparkling MCB costumes is on display in some of the windows. One can expect to see up to six company dancers giving themselves class, reviewing choreography and twirling around.
The experience feels nostalgic for principal Katia Carranza, who remembers rehearsing in MCB's old Lincoln Road studios when she first joined the company in 1998. "But now, having this opportunity is even better," she says, "because you realize how important it is to be in contact with the community and an audience during the current situation."