Why she works out: Kawashima takes advantage of a local gym membership through Tulsa Ballet on most days. "I started going because I struggled with my body when I was a student," she says. Now, she sees her body in a different way, and works out for strengthening and injury-prevention. "It's not all about how skinny you look. Going to gym is more about being confident and comfortable in your body and being strong enough to do the job that you have."
---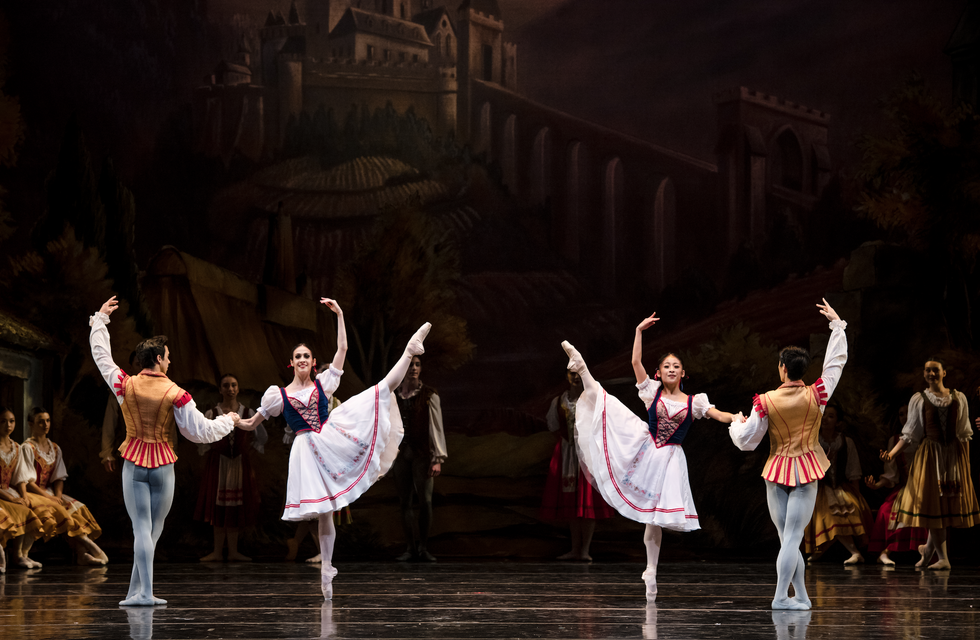 Maine Kawashima (second from right) with Shuhei Yoshida in Giselle
Kate Luber, Courtesy Tulsa Ballet
Her gym routine: A typical workout lasts 45 minutes to an hour. Kawashima starts with gentle stretching and core work, followed by a circuit of conditioning exercises recommended to her by Tulsa Ballet's trainer. Depending on the day, that might mean arm strength work with light hand weights or stability exercises on a BOSU ball. "I always aim to do at least 30 minutes of cardio," she says, usually on the stationary bike. Sometimes she'll use a few of the gym's weight machines before stretching or hitting the steam room. "If I'm tired that day, instead of exercising, I focus on rolling out or going to the steam room—just taking time for my body."
Preshow ritual: Although many dancers like to slip into compression boots after performing, Kawashima does the opposite. During her afternoon break, she stops by Recover, a local physical therapy clinic, to use their NormaTec compression boots for 30 minutes. "Some people are worried that it'll make their legs feel too relaxed, but I don't have that problem," she says, noting that she likes how it loosens up her muscles.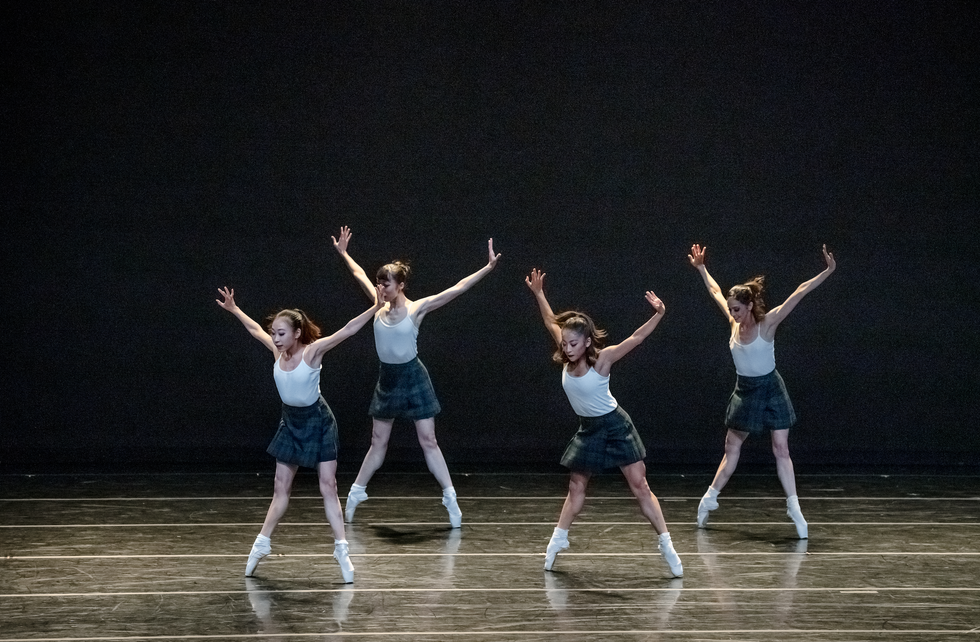 Maine Kawashima with members of Tulsa Ballet in a piece by Val Caniparoli presented in Creations in Studio K in 2019.
Kate Luber, Courtesy Tulsa Ballet
Off-season smiles: Kawashima stays connected to ballet during the summer, performing with Moving Arts, a Kansas City dance festival, or Barak Ballet. "Even if I'm not doing those things, I take ballet class at least four times a week. I love to move my body, and I become grumpy if I don't," she says with a laugh. She trains at her childhood studio, Marat Daukayev School of Ballet, or takes open class with Reid Olson, both in Los Angeles. At night, she takes hot yoga.
Sore Muscle Busters
"My muscles tend to get really tight," says Kawashima. Here are some of her favorite ways to ease the tension.

BLACKROLL Duoball: Kawashima uses this on her back, buttocks, IT bands and calves for rolling out or to release pressure points. It's shaped like two side-by-side tennis balls and made of a material that's similar to a foam roller.
FootLog foot roller: She picked up this tool at a running store, and uses it to work out tight spots in her feet.
Massage therapy: "I try to see our massage therapist for an hour over the weekend."