Even during a pandemic, Lawrence Rines finds ways to don his carefully collected designer wardrobe. "I was going months without actually getting dressed," says the Boston Ballet soloist. "So I started this 'COVID Closet Chronicles' on Instagram, where I would put together outfits just to remind myself that I have clothes to wear—even if it was only to go to Whole Foods or CVS."
---
For Rines, who prefers classic pieces with a dash of drama, his love of fashion came early. "Every year, my mom and my sisters and I would spend a weekend in New York City," the Pennsylvania native says. "We would go to the Barneys sale every summer, shopping and having lunch at Fred's. I continued that tradition when I moved to New York to go to The School of American Ballet. Even as an adult in Boston, I would meet up with my mom to go to the Barneys here." Since Barneys' closing in 2020, Rines has been turning more to boutiques and consignment stores—both online through The RealReal and in person on Boston's Newbury Street.
In the studio, Rines uses fashion to set himself apart, especially with his warm-up wear. "I don't typically wear very balletic outfits," he says, preferring Lululemon pants or shorts over tights. "If I'm doing something where lines and structure are important, I know I have to wear tights, though, because you have to put yourself in that mindset." What doesn't change for Rines are his warm-up staples at the barre: a beanie on his head and his RubiaWear legwarmers.
The Details—Street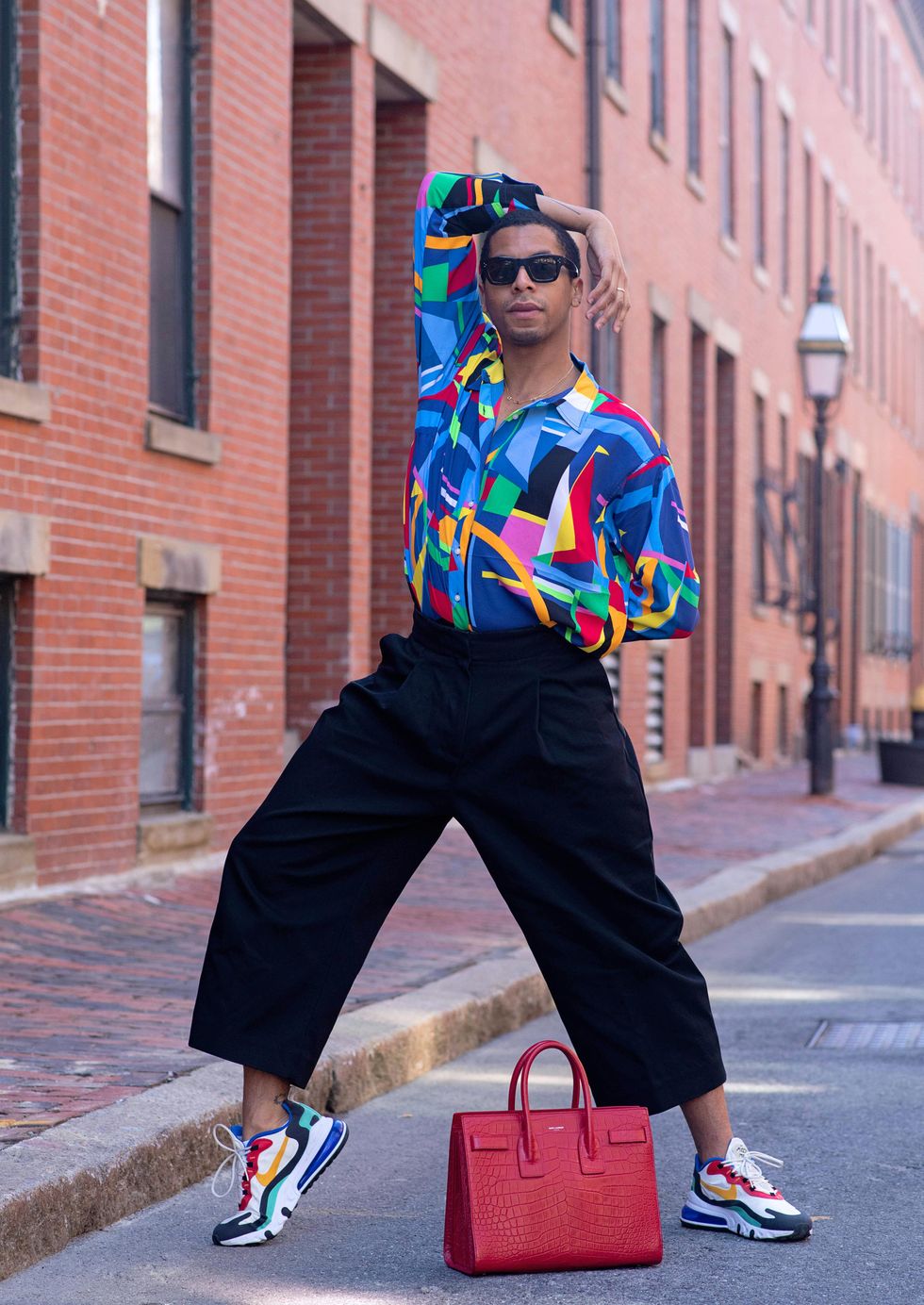 Brooke Trisolini
Ralph Lauren shirt: "I try to always have something with a little bit of color that pops, without being too loud or too crazy."
Studio Nicholson pants: "I got these from one of my favorite boutiques, Viola Lovely. I love finding different boutiques here in Boston that carry newer brands."
Nike Air Max sneakers: "I've switched how I dress with footwear recently," explains Rines. "It feels very funny to wear a boot or a loafer just to walk around the house."
Saint Laurent handbag: "I started collecting handbags over a decade ago, but this bag was actually a gift from my parents when I got promoted to soloist."
Celine sunglasses: "I wear sunglasses every day—I feel like they're part of my uniform."
The Details—Studio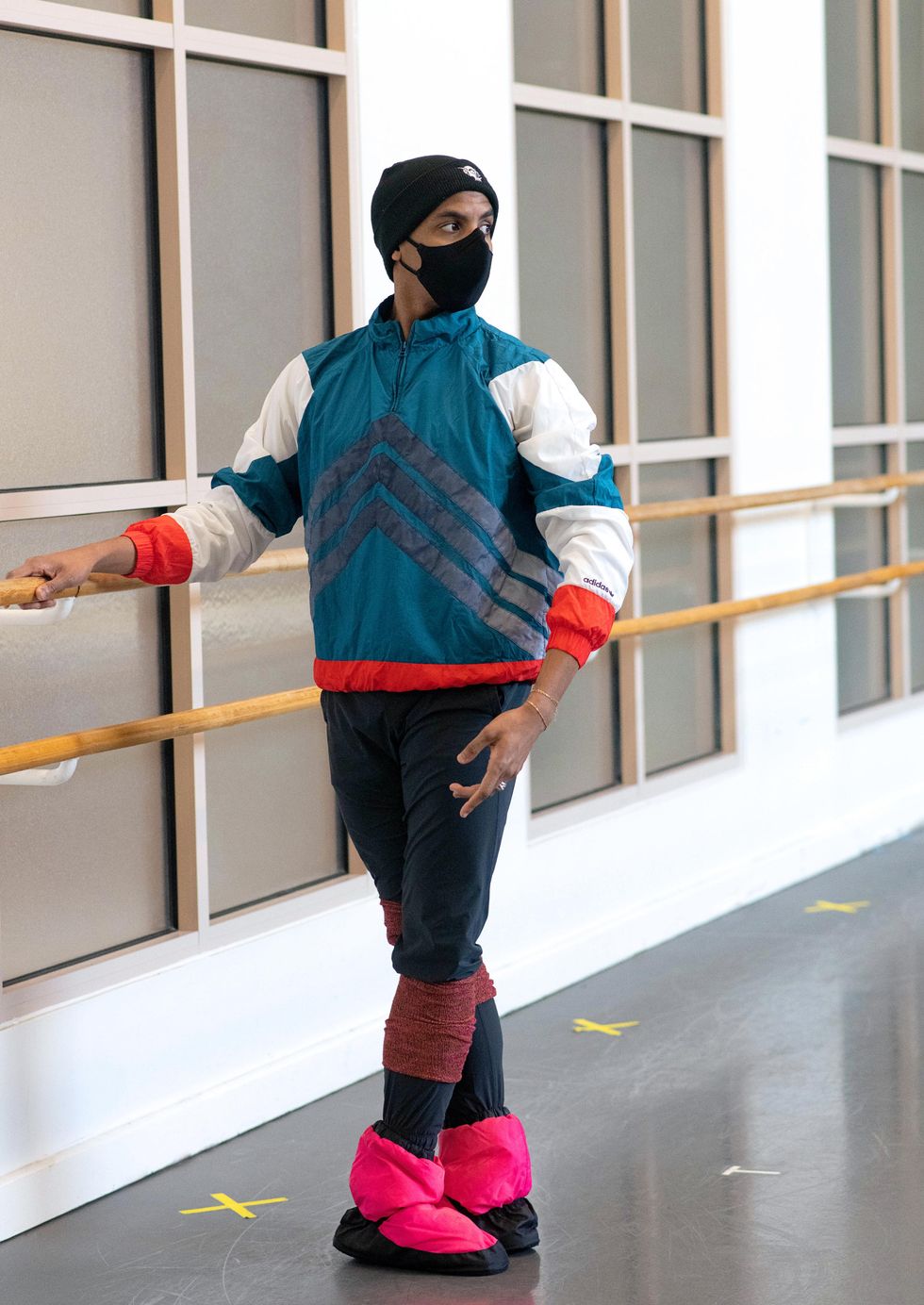 Brooke Trisolini
Bloch booties in fluorescent pink
RubiaWear legwarmers, created by Boston Ballet principal Ashley Ellis
Adidas jacket: "William Forsythe gave this to me one day in rehearsal. It's one of my favorite warm-up jackets."
Beanie: "I always wear a beanie for barre. This was one that everyone in my dance pod, 'Pod Mercury,' ordered."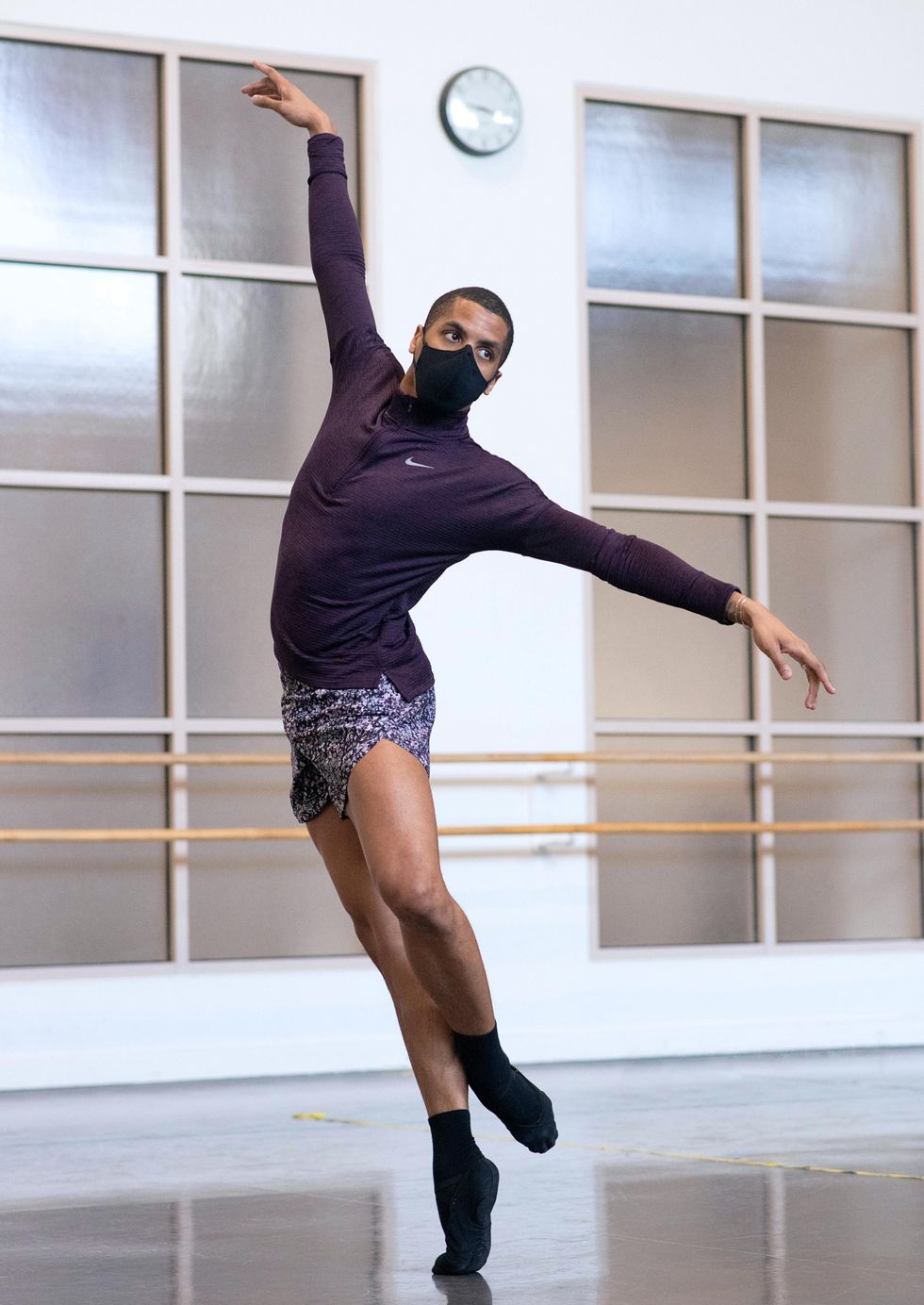 Brooke Trisolini
Nike shirt: "I think athleisure is a fun place to experiment when it comes to studio looks."
Lululemon shorts: "I don't usually wear tights unless the ballet calls for it," Rines says of his preference for Lululemon shorts and sweatpants (shown in the previous photo). "But if you know you're rehearsing Bluebird, you gotta slap on the tights and work on the technique."