Charles Darwin and his theory of evolution might not seem like a natural fit for the ballet stage. But that's exactly the topic of one of choreographer Kathryn Posin's three new ballets, scheduled to premiere at New York City's 92nd Street Y September 13-14.
---
Posin's inspiration for Evolution: The Letters of Charles Darwin comes from a personal source. Last November, Posin's close friend Linda Tarnay passed away. Posin met Tarnay, the former chair of the dance department of New York University's Tisch School of the Arts, when they were both dance students at Bennington College in the 1960s. After Tarnay's death, another Bennington classmate, Jane Burkhardt, reached out to Posin to reconnect. In their reminiscences, Posin recalled that Burkhardt's father, Frederick, who had also been president of Bennington College, was a Charles Darwin scholar who was famous for collecting his letters. "Right before she hung up, Jane, who's a lover of ballet and modern dance, said, could there be a Darwin dance?," says Posin, who was looking for a subject for a new piece. "It's happy/sad how it came about, from my friend's death, but seemed like something that should happen."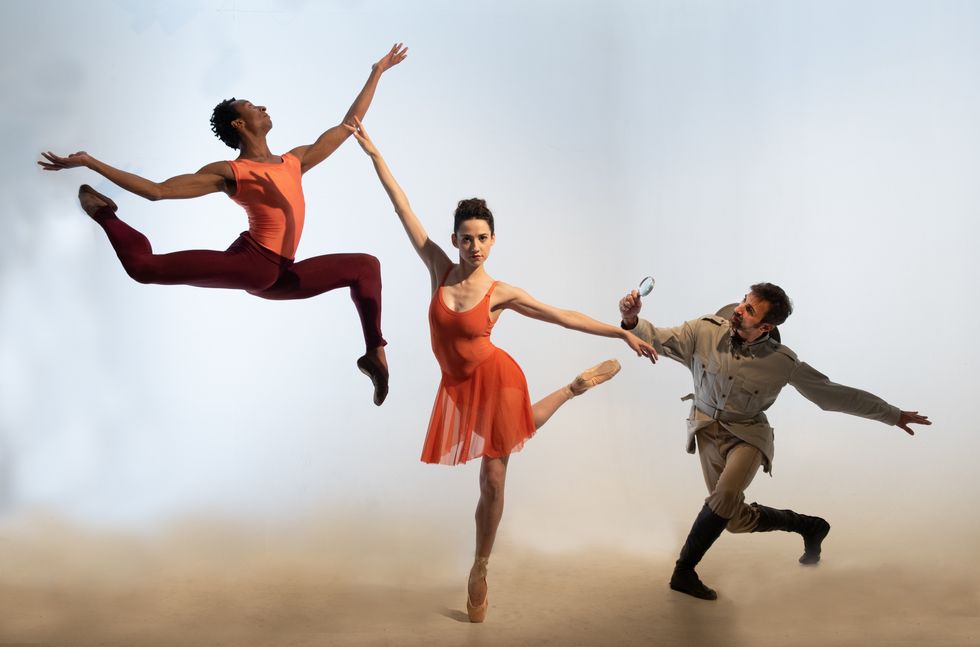 White, Mazza and Mladenov in Evolution
Nan Melville, Courtesy Posin
Posin, who is a professor of dance at NYU's Gallatin School, knew that her first step was NYU's library. "There were these 26 huge black books of letters on a really high shelf," she says. Though she was initially overwhelmed, she was later relieved to learn that over 600 of Darwin's correspondences had just been digitized by the University of Cambridge. As she began to read, Posin immediately felt the modern day relevance of the messages in Darwin's letters. "Certain political movements today are trying to not help species of animals to survive, and not help the planet survive," says Posin. "Darwin saw that from one little molecule, everything evolves. It's a tribute to Darwin that there is scientific knowledge about the planet today, and about what we need to do to respect it."
Posin boiled the hundreds of letters down to just 32 quotes, and decided to include excerpts of the actual text in her work; she's calling the piece a "spoken word ballet." Further selections will be projected onstage, in designs by Frederick Burkhardt's grandson, Jonathan Burkhardt. Posin chose Momchl Mladenov, a frequent collaborator, to dance the role of Darwin. The rest of the seven person cast cycle through characters ranging from Darwin's wife Emma Wedgewood to a carnivorous plant. "I loved that in some of the letters his wife Emma is writing her friend that she's trying to get Darwin out of the garden, where he'd been tending to this plant," says Posin. "She says that she thinks he is trying to turn this plant into a human... so I did."
While Posin has designed some of the 26-minute ballet to be humorous, it also covers more sensitive topics, like Darwin's relationship with the indigenous people of Tierra del Fuego, a province of Argentina. "Darwin was stunned by their primitiveness, saying he'd never seen such miserable people as the Fuegans," says Posin, noting that some of Darwin's rhetoric sounds very racist to modern-day readers. But she sought to prove that Darwin is a product of his time rather than a bigot. "Darwin later said some things about how many of the tribes of the world have evolved from the same place, and how we should all embrace them," says Posin. "It's almost like in discovering native people in his travels, Darwin learned to oppose the close-minded thoughts that many of us oppose today."
Posin hopes that her audience will leave the theater with a greater understanding of science and the planet. "I want them to think about how the planet can be saved," she says. "It's not a myth, it's just the natural working out of events that have caused us to get where we are. We have to be realistic, and we have to take action."