On Sunday, June 9 Boston Ballet principal Kathleen Breen Combes will take her final bow onstage before stepping behind the curtain into a new role: executive director of the Rhode Island–based Festival Ballet Providence. Originally from Rockville Center, New York, Combes spent three years with The Washington Ballet before joining Boston Ballet in 2003; she was promoted to principal in 2009. For her retirement performance she's dancing Paulo Arrais' ELA, Rhapsody in Blue. "It just happened to be the last thing on the program, but it worked out perfectly," says Combes. "It's me and 15 men, and it's all about female empowerment, so it felt very fitting to go out with that." Below, Combes shares what made Boston Ballet her dream company, how becoming a mother has affected her approach and why she's interested in dance administration.

---
An Early Turning Point(e) 
"I was eight, and I danced onstage at New York City Center. The Fort Worth Ballet was in town doing Cinderella and I got to be one of the fairy attendants," says Combes. "All I had to do was carry one of the fairy's dresses onstage and stand there and then leave, but I remember thinking it was the greatest thing in the world. I caught the bug at that point.
When Combes was 14, she left home to train at the Harid Conservatory in Florida. "All I wanted to do at that moment was dance, but now I look back and am shocked," she says. "I lived and trained six hours a day, away from home. But at the time it just felt like what I was supposed to be doing."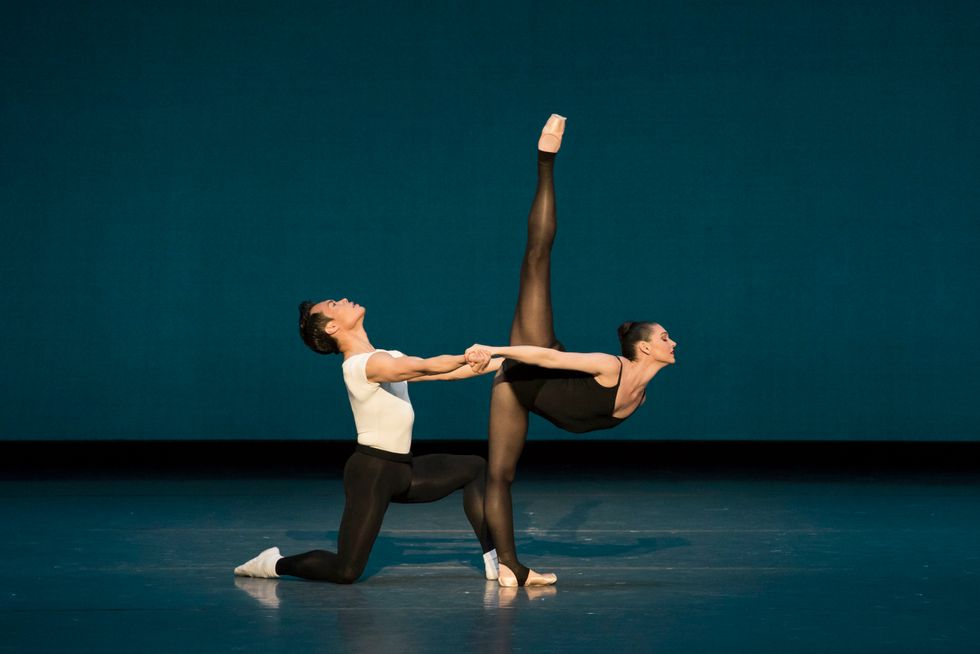 Combes in Balanchine's Stravinsky Violin Concerto
John Lam, Courtesy Boston Ballet
19th Time's the Charm
After three years at Harid, Combes moved back in with her parents, who were then living in Harrisburg, Pennsylvania. She spend the next year training at Central Pennsylvania Youth Ballet, taking local college courses and auditioning. "Every weekend my mom or my father drove me to New York, and I did every open call that there was," she says. "I knew that it was what I wanted and that something was going to work out. It was just about finding the right director and like so many things, timing."
Though Combes had her heart set on Boston Ballet, it didn't pan out at first. "I'd done two years at the summer intensive and they were trying to get me into the second company, but there just wasn't a position available," she says. "I was pretty disappointed." Finally, she tried out for The Washington Ballet—it was her 19th audition—and was offered a contract. "Looking back, the three years I spent in Washington were probably the best thing that ever happened to me because I got introduced to contemporary dance," she says. "And it was a small company, so I got to dance principal and soloist roles at age 18, things that really prepared me to join a larger company."
Making It to Boston
After three years in Washington, Combes was ready to move on. "I knew that if I was going to go to a larger company I'd have to start in the corps, and I wanted to do that sooner rather than later," she says. "Mikko Nissinen had just taken over Boston Ballet, and he was looking to bring in a group of his own dancers. So I called to audition. I planned to stay for three days, but after the first class he offered me the job. I was like, 'Ok, should I come back tomorrow?' and he said, 'No, go look for an apartment!' It all happened very quickly; we clicked right away."
Though Combes expected to put in her time in the back of the corps, featured roles came her way very quickly. "The first thing I did with the company was first cast of the lead bridesmaid in Rudolph Nureyev's Don Quixote," she says. "The following year I was dancing one of the principal roles in In the middle, somewhat elevated, and Balanchine roles right off the bat. I was really lucky in terms of being given opportunities at such a young age."
The Leap to Principal 
In 2009, shortly after making her debut in George Balanchine's "Diamonds," Combes was called into Nissinen's office. "I sat down, and he told me he'd like to promote me to principal," she says. "I was shocked, because I'd already signed my soloist contract for the next year, and here we don't commonly get promoted mid-season. I felt like I still had so much to learn; it was a really exciting time, but very unexpected."
Since then, Combes' best-loved roles include "Diamonds" ("it still holds a very near and dear place in my heart," she says), Kitri, Giselle and Juliet, for which she was nominated for the Prix Benois de la Danse. Though classical and neoclassical works remain her comfort zone, she's grown into an appreciation of contemporary movement; she now counts ballets by Forsythe and Kylián among her favorites. "Mikko and I were standing in the hallway the other day and he asked me about my least favorite ballet to dance," she says. "We were joking and going back through our rep, but it was really hard! I have to say that I've enjoyed almost everything I've gotten to dance."
On Becoming a Mother
Three years ago Combes and her husband, former Boston Ballet dancer Yury Yanowsky, welcomed a daughter, Cora, into their family. "By the time I decided to have a baby I felt really happy with my career," says Combes. "I thought that if I didn't end up coming back after being pregnant it was okay. The past three years have been bonus years, and I've enjoyed them more, because my time is more valuable. Ballet was always the main thing in my life, and when you have something else that takes over your life, the drama becomes less important. I've just become more focused on my own art and what I can offer."
Discovering An Interest in Administration 
Combes was the first member of Boston Ballet to earn her undergraduate degree as part of the company's partnership with Northeastern University. "If you've been in the company for more than one year you get an 80% scholarship for all classes," she says. "They make it very easy for us." Combes then continued with her studies, earning a graduate certificate in Nonprofit Management.
Early into her time in Boston, Combes became involved in the company's union, acting as a representative and negotiating the dancers' contracts. "I've always been one of the dancers that the organization has gone to for public speaking or donor events," she adds. "I became the co-chair of the Young Partners Council, and started doing all of these events with them." Then during her pregnancy, she asked Nissinen if she could work in the company's administrative offices. "I just wanted to get a grasp of what's on the other side, and learn anything I can," she says. "Everyone was so lovely with their time; I would just go to different offices and meetings and I got a really broad scope of the organization." This was a huge help to Combes when putting out feelers for jobs this year. "I've dedicated my whole life to the art form, and the idea of just walking offstage was really hard," she says. "I couldn't picture myself as a teacher or choreographer, so this seemed like a way for me to stay connected."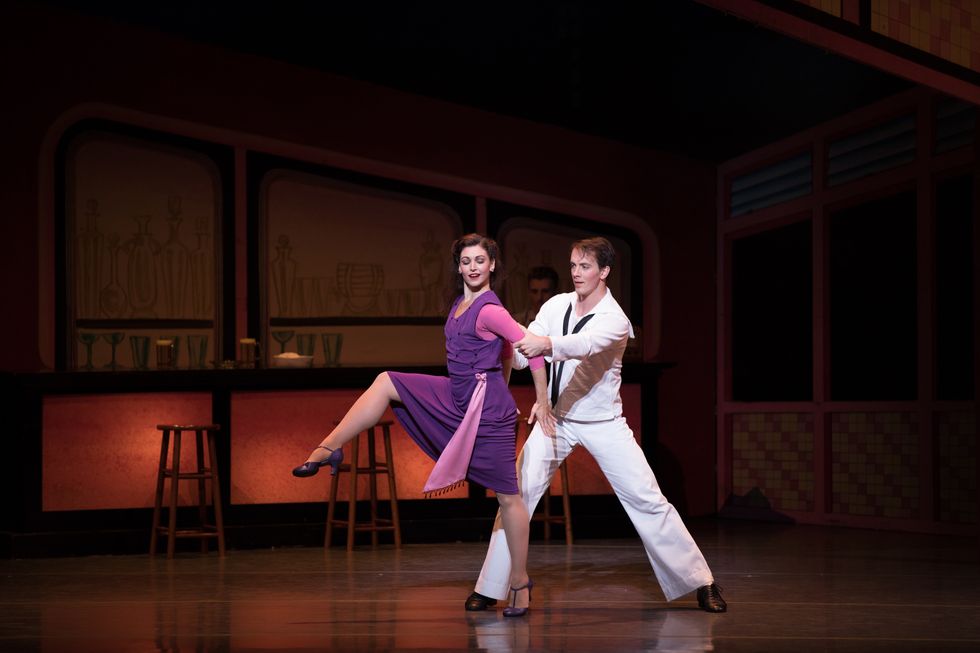 Combes with Paul Craig in Jerome Robbins' Fancy Free
Rosalie O'Connor, Courtesy Boston Ballet
Combes' Advice For Dancers Looking Towards the Future
Combes urges dancers not to wait when it comes to planning the second stage of their careers."Retirement is inevitable," she says. "So many dancers can't even fathom something taking the place of ballet. And nothing will; it's all encompassing, it's your passion. But being prepared isn't taking away from your current art. Think about what your options are and what you're good at, and how you can position yourself in the best way. Also, we're so lucky as dancers: We have the opportunity to make relationships with donors, these amazing people who are doing everything in our cities. Some of them might be able to give you advice or help you when you're looking to transition."
What She'll Miss Most About Boston Ballet
"I love to jump, so that feeling of flying through the air. And just the emotional things you go through onstage, I won't have those highs," says Combes. "And Boston Ballet has been my home. I grew up here, I got married to a dancer, I had a child, I came back. And because I was able to work on the other side, I feel like I know so much of the organization. It's going to be hard not to be a part of it on a daily basis. It's been a lovely 16 years."