Morning zinger: Jessica Collado makes a pitcher of a spicy drink with turmeric, ginger, lemon juice, coconut water and cayenne pepper at the start of each week. "It's the first thing I drink when I get up. It's good for my body and wakes up my mind."
For her turnout: Twice a week, Collado finds an empty studio and does a floor barre DVD before company class. "I don't have flat turnout," she says, "but doing exercises lying down has helped my hips open up in a more natural way."
---
Bugging out: Collado does 10 slow reps of what she calls the "dead bug" to warm up her core before morning class and afternoon rehearsals, and at the end of the day. She'll lie on her back with knees in a tabletop position and arms bent in front of her so that her forearms are parallel to her body. Then she'll extend the opposite leg and arm toward the floor and switch sides. The challenge, she says, is making sure that her abs don't "bread loaf" out.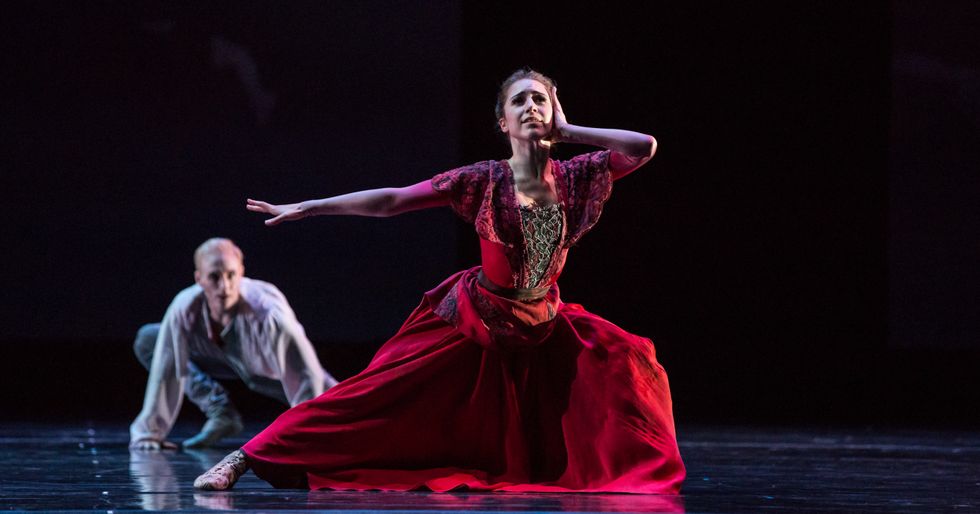 Collado in Christopher Bruce's "Intimate Pages." Photo by Amitava Sarkar, Courtesy Houston Ballet.
A tricky transition: Collado's shoulder blades don't always track correctly, and that can pose a challenge, especially with Houston's varied rep. "Sometimes we'll go from a modern piece one hour into a Giselle rehearsal the next," she says, and checking her alignment helps prevent injury. Simple Thera-Band exercises—like holding a band in both hands and opening towards second position with her elbows against her torso—allow her to switch gears quickly.

Staying balanced: At least once a week, Collado takes a Pilates class on the reformer and Cadillac. "Ballet tends to make you one-sided, but Pilates helps realign my body and get me back to an even playing field." Each class, she focuses on something different, like shoulder placement, turnout or stretching her quads.
Top priority: No rehearsal day is complete without 10 to 15 minutes of stretching. She works on her lower back, a chronically tight spot, as well as the front of her hips. "It's the last thing I want to do 'cause I'm exhausted and usually hungry, but it really helps my body let go of tension so that I feel better starting my next day."