For the past year, companies worldwide have been celebrating Jerome Robbins' centennial; he was born on October 11, 1918. Starting September 26, The New York Public Library for the Performing Arts at Lincoln Center opens an exhibition celebrating Robbins which will run through March 30, 2019. The Library's Dance Division is named after Robbins; his collection is housed there, and during his life he was a tremendous supporter and frequent user of the performing arts holdings. Needless to say, they're pulling out all of the stops for this retrospective: a jam-packed gallery exhibit and a series of free, public programs.
The exhibition, curated by historian Julia Foulkes, is titled "Voice of My City: Jerome Robbins and New York," and focuses on Robbins' relationship with his city (or as the NYPL is wording it, his "metropolitan muse"). From Fancy Free to West Side Story, NYC acted as the inspiration for many of Robbins' most-loved ballets and shows. The exhibition traces Robbins' life and work alongside the history of the city. "New York served as a laboratory for Robbins, where he observed people, buildings, traffic—how movement in space could carry meaning and beauty," said Foulkes in a statement.
---

A collage created by Robbins in a 1973 diary. Courtesy Jerome Robbins Dance Division, The New York Public Library for the Performing Arts.
"Voice of My City" includes all manner of rarely-seen gems from Robbins' life and career. Highlights include poems written by Robbins as a child, 24 diaries spanning the years 1971-1983, Robbins' own hat from the the premiere of Fancy Free and costumes from Dances at a Gathering and other ballets. It also features videos of Robbins in performance and experimenting with movements, and footage Robbins himself took of New Yorkers walking around the city which he used as a source of inspiration (think Glass Pieces).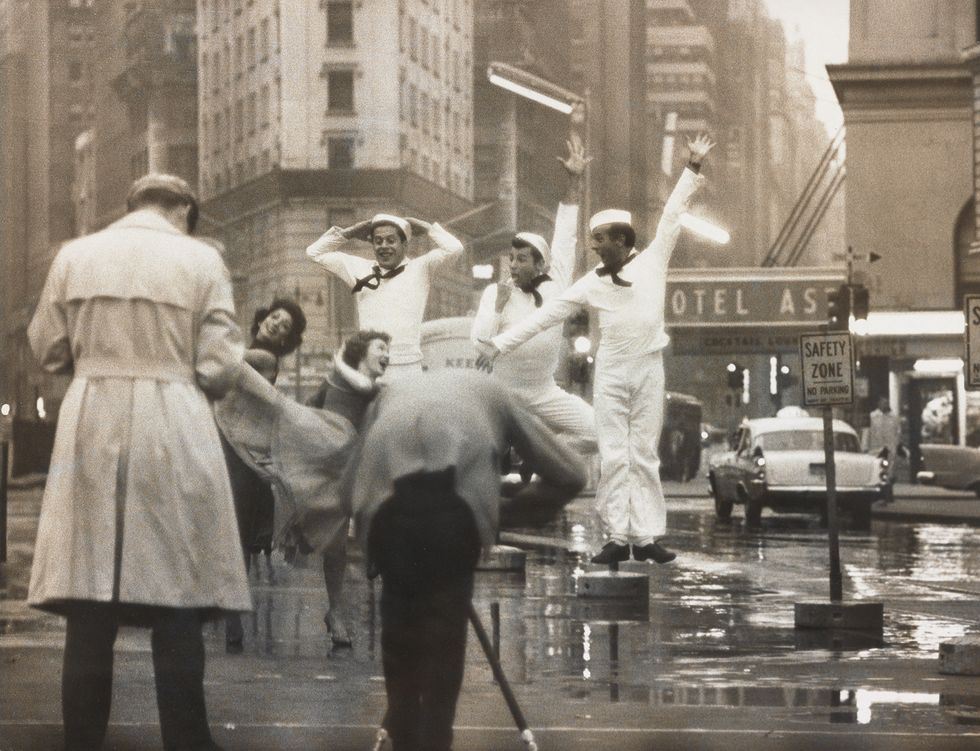 Gordon Parks (leaning over tripod) photographs original "Fancy Free" cast members Muriel Bentley, Janet Reed, Harold Lang, John Kriza and Jerome Robbins during a reunion in Times Square in 1958. Courtesy Jerome Robbins Dance Division, The New York Public Library for the Performing Arts.
In case that's not enough, the NYPL is also putting on a series of free, public programs ranging from discussions with Mikhail Baryshnikov and Justin Peck to a Robbins-themed Broadway sing along to a birthday party. New York City Ballet principal Adrian Danchig-Waring will host three of the discussions. A partial schedule is listed below; more details can be found here.
Saturday, October 6 - Other Dances: Love of Chopin
Thursday, October 11 - Jerome Robbins' Birthday Dance Party
Saturday, October 13 - Jerome Robbins and New York Family Day
Saturday, October 27 - A Suite of Dances: Bach's Suites for Unaccompanied Cello
Monday, November 5 - Social Justice: The Musical!
Monday, November 19 - Robbins the Dancer (Hosted by Adrian Danchig-Waring)
Saturday, December 1 - Songs at a Gathering: A Sing Along Show and Tell of Jerome Robbins' Broadway Hits
Thursday, December 6 - An Evening with Mikhail Baryshnikov
Monday, December 10 - Robbins' New York Portraits (Hosted by Adrian Danchig-Waring with Justin Peck)
Monday, January 14 - Robbins' Judaica (Hosted by Adrian Danchig-Waring)