Aspen Santa Fe Ballet dancer Jenelle Figgins' dance bag reflects her proactive approach to well- being. Rather than carrying a one-shouldered bag, which aggravates her back problems, she switched to a backpack. The rest of her essentials are neatly packed into their own small containers. "You know how you have a junk drawer? This is my junk bag, my safety net," she says. Inside, there's everything from face wash to homeopathic products like lavender essential oil and Bach Rescue Remedy, a flower essence. "They help calm me down when I'm dealing with stress throughout the day," she says. "I didn't know about Rescue Remedy until I came to Colorado, but all the dancers use it."
When she's seeking focus or motivation, Figgins turns to her favorite Philips headphones. "I carry these around all the time and I always have music on," she says. Currently, she's listening to albums like Kendrick Lamar's DAMN. and Solange's A Seat at the Table. Figgins is also a huge reader: "I bring books on tour and then I buy more." In addition to novels, she likes to read books with positive affirmations, like Deepak Chopra's The Seven Spiritual Laws of Success.
---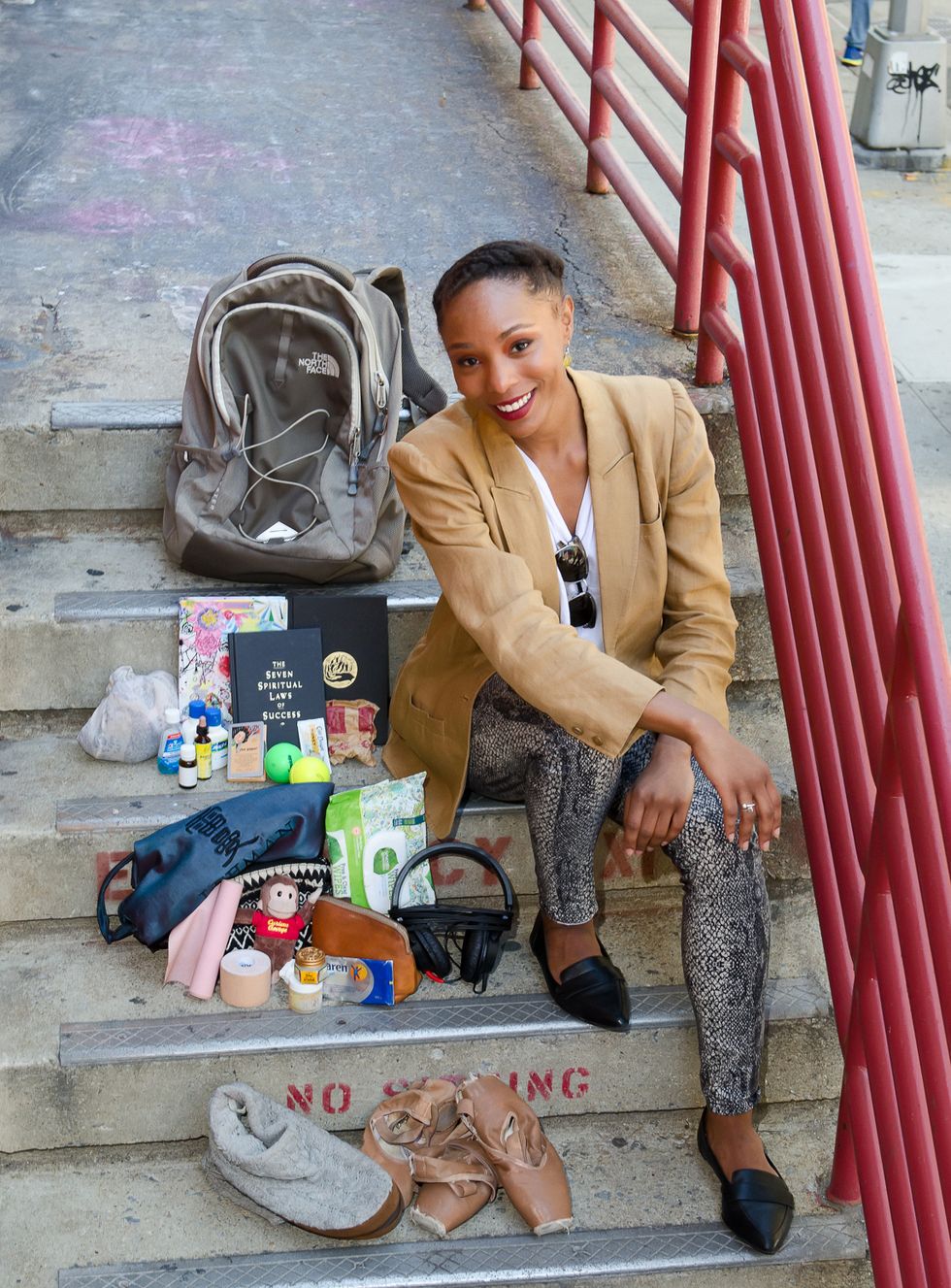 Photo by Kyle Froman
---
The Goods (from top): The North Face backpack; Free People bag holding toe pads and various rehearsal and performance socks; mouthwash; lavender essential oil ("I'll do a steam bath with this when I'm on tour"); Bach Rescue Remedy; Cetaphil face wash and lotion; Christian Lacroix notebook ("I journal and take notes throughout the day, and I also write short stories"); books; rice paper blotters; massage balls; packet of honey ("Usually I have a big bottle, but I just ran out. I use it for skin care and energy"); instant-oatmeal packet; blue bag for shoes and booties; exercise band; KT tape; Target bag; Curious George key chain ("This was a gift from one of my dance partners, Craig Black. It makes me laugh"); Lysine ointment; Tiger Balm; Voltaren pain relief gel; Maison Ullens makeup bag with Afro hair pick ("I'm a natural girl"); baby wipes; Philips headphones; Target booties; flat shoes; pointe shoes.