Left to right: Dance Theatre of Harlem's Daphne Lee, Amanda Smith, Lindsey Donnell and Alexandra Hutchinson in a scene from Dancing Through Harlem. Derek Brockington, Courtesy Dance Theatre of Harlem
Creating dances specifically for film has become one of the most effective ways that ballet companies have connected with audiences and kept dancers employed during the pandemic. Around the world, dance organizations are finding opportunities through digital seasons, whether conceiving cinematic, site-specific pieces or filming works within a traditional theater. And while there is a consistent sentiment that nothing will ever substitute the thrill of a live show, dancers are embracing this new way of performing.
Still, it's been an adjustment. How are dancers developing performance energy? How can artistry best be communicated through the camera? What is the best angle to present technique? Dance Theatre of Harlem's Derek Brockington explains that dancing for film is "about acknowledging that it's not going to be the same experience—it's a different way of dancing." Below, Brockington and several other dancers share their takeaways after a year of dancing on camera.
Adapting to New Spaces and Timelines
Rehearsing in the back of a crowded studio used to seem like a challenge, but since the pandemic began last year Zoom rehearsals became the norm, and gave new perspective to exploring movement in small spaces. Dancing an entirely digital season this year, Jessy Dick, a company apprentice at The Washington Ballet, explains that learning contemporary movement via Zoom last fall was confusing to translate into the body. "It is hard to feel the movement," says Dick. "I never realized how expansive moving in the studio can feel. The walls mess with your head."
Dick had to adapt and develop mind flexibility, which she says later carried over when the company began dancing in site-specific locations and adjusting to the quick pace of a filming day. When shooting Something Human, by TWB artist Andile Ndlovu, last October, considerations such as natural lighting and weather shaped a single day of filming at Maryland's Patapsco Female Institute. There was little time for dancers to acquaint themselves with the space, adapt and, as Dick says, "just go for it." Yet she adds that the challenge of performing outdoors on unfamiliar surfaces and in tennis shoes or bare feet was balanced by the inspiration of dancing with the wind and sunshine. "The location fueled us to be able to turn it on and off quick," she says, especially when doing multiple takes throughout the day.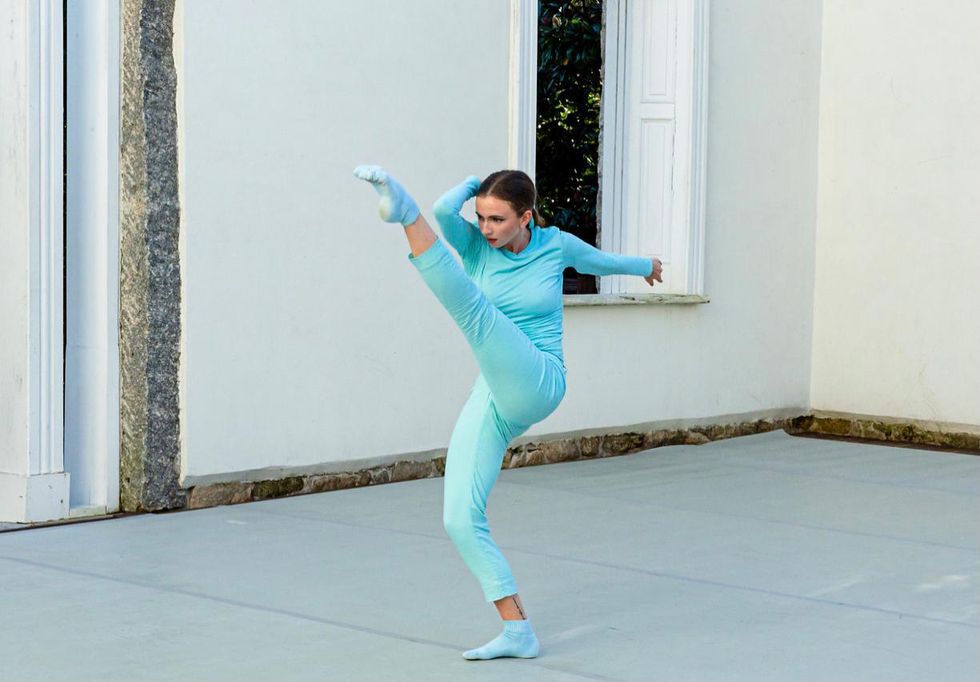 The Washington Ballet's Jessy Dick on the set of Andile Ndlovu's Something Human
Mena Brunette of XMBPhotography, Courtesy TWB
Even when filming in the familiar confines of a theater, the recording experience can be intense. San Francisco Ballet principal Aaron Robison describes recording George Balanchine's Jewels at the War Memorial Opera House in January as "one run-through, notes and then a quick touch-up, and we did it again." While rehearsing his role in "Emeralds" was relatively typical (save Balanchine répétiteur Sandra Jennings coaching via Zoom instead of in the studio), the recording day included two back-to-back run-throughs. When asked how he rallies performance-level energy multiple times in a row, Robison explains that knowing that a performance run is complete in one single day of filming gives him the fortitude to push to his max.
Turning On Performance Mode—Without the Audience
The energy between dancers and audience members during a live performance is hard to replicate digitally. Since films are often shot from different angles, dancers have had to explore how to project through different parts of the body and with specificity, depending on the shot. "It involves more thinking than you normally have to do," says Brockington. He says he has to have keen awareness of where the camera is, while also trying to project beyond it and considering the different angles it is potentially capturing.
While Robison's filming process of Jewels was a straight run-through from one angle, he was still performing to an empty theater. Yet he says he drew energy from "the fact that we haven't been able to perform for all this time, and I felt fortunate in that moment being back on the stage."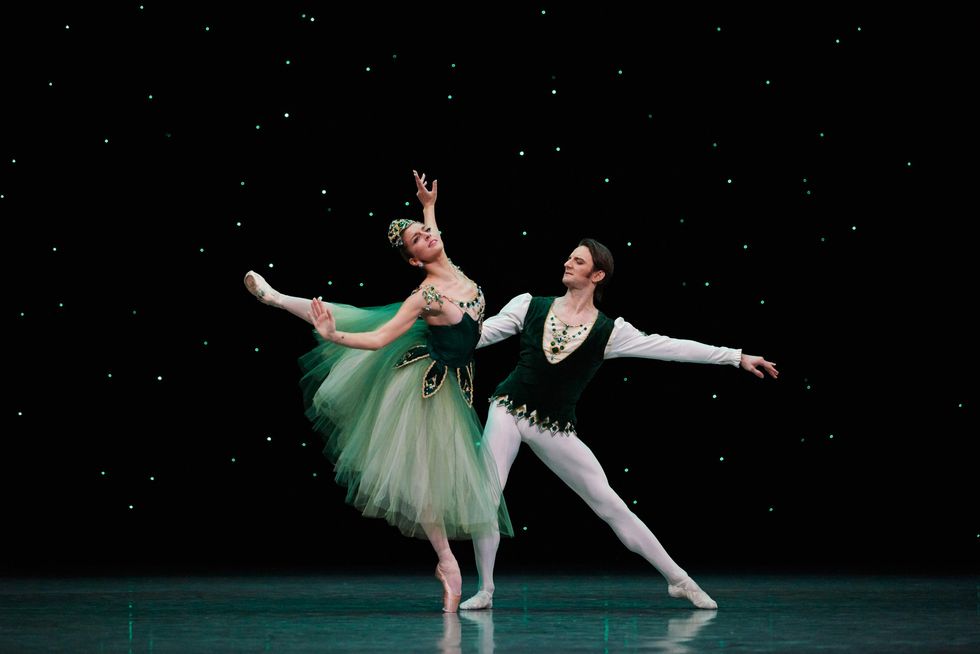 San Francisco Ballet principal Aaron Robison and soloist Sasha Mukhamedov in George Balanchine's "Emeralds"
Erik Tomasson, Courtesy SFB
Regardless of the circumstances, being committed to the moment is imperative for a filmed performance to be effective. Not only do viewers need to feel it, dancers want to do justice to the choreography in a way that stands the test of time. "That's the thing with a film," says Robison. "It stays."
Reaching a Global Audience
One of the major advantages to online performances is that anyone can watch from anywhere in the world. On a personal level, dancers from international backgrounds can share their dancing with family, friends and teachers who supported their training. From a more global perspective, virtual performances allow dancers and companies to share their missions on a broader platform.
When DTH initially created Dancing Through Harlem, a virtual submission for Harlem Week last August, it went viral with over 7.6 million views. Brockington and his roommate, fellow DTH dancer Alexandra Hutchinson, conceived, produced and edited the film—with choreography based on Robert Garland's New Bach and set throughout beautiful spaces in Harlem—over seven days in August using an iPad. Not expecting to reach such a large audience, Brockington says that the video's popularity is why representation matters. "I grew up not seeing many ballet dancers who looked like me." Brockington says he was honored to share his dancing and the stunning architecture of Harlem with the world while representing DTH's mission of inclusivity and accessibility.
Another audience added to the pool of viewers is the dancers themselves. Waiting for a film to debut can produce greater anticipation than pre-performance jitters, especially when you're not sure what the final product will look like. Robison explains that while he knows which takes he felt particularly good about, the chosen cut will be what best represents the entire cast—and that isn't revealed until the film is released.
For dancers, being able to watch the work they were a part of is a reward that is entirely new. "There's nothing that compares to the feeling of performing onstage," says Dick. "But it was beautiful to watch my colleagues blossom in front of the camera."
In Jerome Robbins's 1944 ballet Fancy Free, three sailors on leave spend the day at a bar, attempting to woo two young women by out-dancing and out-charming one another. In this clip from 1981, Mikhail Baryshnikov, who was then both the artistic director of American Ballet Theatre and a leading performer with the company, pulls out all the stops to win the ladies' affections.
Impish as ever, Baryshnikov begins his solo by flashing a debonair smile. His movements rock back and forth in time with the jazzy waltz; clearly this sailor hasn't found his land legs yet. He dances with a loose, grounded swagger, tossing in cheeky heel pops and hip thrusts, and he cooly demonstrates his control with slow, drifty pirouettes. Even in the faster sections, he manages to make double tours look nonchalant. After a suspended attitude turn, he ends the variation by throwing himself at the lady's feet. While she and his mates may be unimpressed, he's clearly won over the crowd! Happy #ThrowbackThursday!
Bethany Kirby, Courtesy Tulsa Ballet
As the coronavirus pandemic grinds into its second year, the toll on ballet companies—and dancers—has been steep. How long before dancers can rehearse and perform as they once did?
Like most things, the return to normal for ballet seems to hinge on vaccinations. Just over 22 percent of people in the U.S. are now vaccinated, a way from the estimated 70 to 85 percent experts believe can bring back something similar to pre-pandemic life.
But what would it mean for 100 percent of a ballet company to be vaccinated? Tulsa Ballet artistic director Marcello Angelini is about to find out—and hopes it brings the return of big ballets on the big stage.
"I don't think companies like ours can survive doing work for eight dancers in masks," Angelini says. "If we want to work, dance, and be in front of an audience consistently and with the large works that pay the bills, immunization is the only road that leads there."
While Oklahoma began offering vaccines to anyone who wants them on March 29, all of the dancers in Tulsa Ballet and Tulsa Ballet II have already had at least their first shot. The dancers were eligible early as teachers or substitute teachers in Tulsa Ballet's school. Angelini expects to be able to have the entire company working in one studio by the end of April—when every dancer is two weeks out from their second dose.
Angelini has worked with AGMA's Wendy LaManque and board-certified infectious-disease physician Dr. Lauren Brett Jaggers throughout the pandemic to devise safety plans, such as pods, temperature checks, masks, cleaning protocols and an air-filtration system. Tulsa Ballet says it hopes to phase out masks once all dancers have been fully vaccinated for two weeks.
Angelini expects that next season will look a lot like pre-pandemic times. He anticipates he'll be able to fill the theater at 50 percent capacity and offer an additional performance of each program in order to accommodate more people. He even plans a premiere of a new Nutcracker with the orchestra, and costumes for the children that include masks, as they will likely be unvaccinated.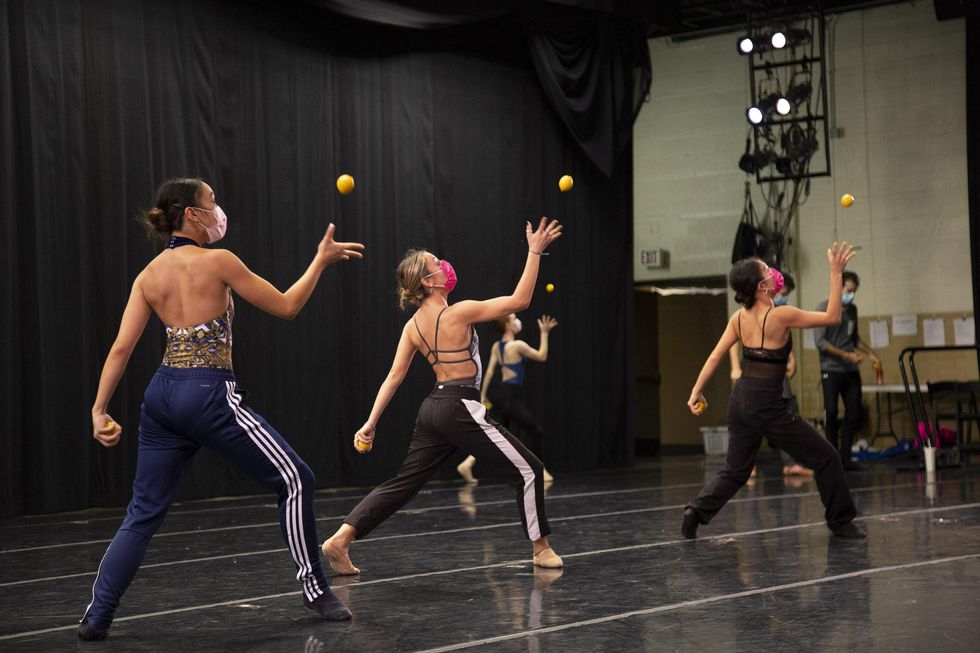 Tulsa ballet's Regina Montgomery, Giulia Neri and Maine Kawashima rehearsing Annabelle Lopez Ochoa's Limoncello
Bethany Kirby, Courtesy Tulsa Ballet
Although there can be no definitive answer as to how things will progress, Angelini's plan aligns with what should be possible when an entire company is vaccinated, according to Jaggers. To help get Tulsa Ballet to 100 percent participation, she was on hand to answer any questions the dancers had.
What will happen in companies where dancers don't want the vaccine? LaManque says that many performers are eager to have it so they can get back to work, but there might be some who have religious objections, medical conditions or other reasons not to get it. For companies that are signatories of AGMA, it is not solely up to those individual companies on how to handle situations involving dancers who choose not to receive a vaccine. "Because vaccination policies are a mandatory subject of bargaining," says LaManque, "companies must bargain with AGMA over their proposed vaccine accommodation policy."
Pointe caught up with Jaggers to learn what dancers should know about the vaccine.
​Why is it important for dancers to get the COVID-19 vaccine?
We all have to do our part to reach herd immunity, and that takes every member of our greater communities at large taking the vaccine. On the whole, dancers are young and healthy, and yes, the risk of complications of COVID to them are less than other populations. However, it is certainly not zero percent. In fact, my home state of Colorado recently released hospital data, and 17 percent of hospitalized patients with COVID are aged 20 to 39. That is almost 1 in 5. "Less at risk" does not mean "no risk." I have seen many people under the age of 40 die this year. And many more who have been debilitated for months on end with what we are starting to refer to as "COVID long-haulers."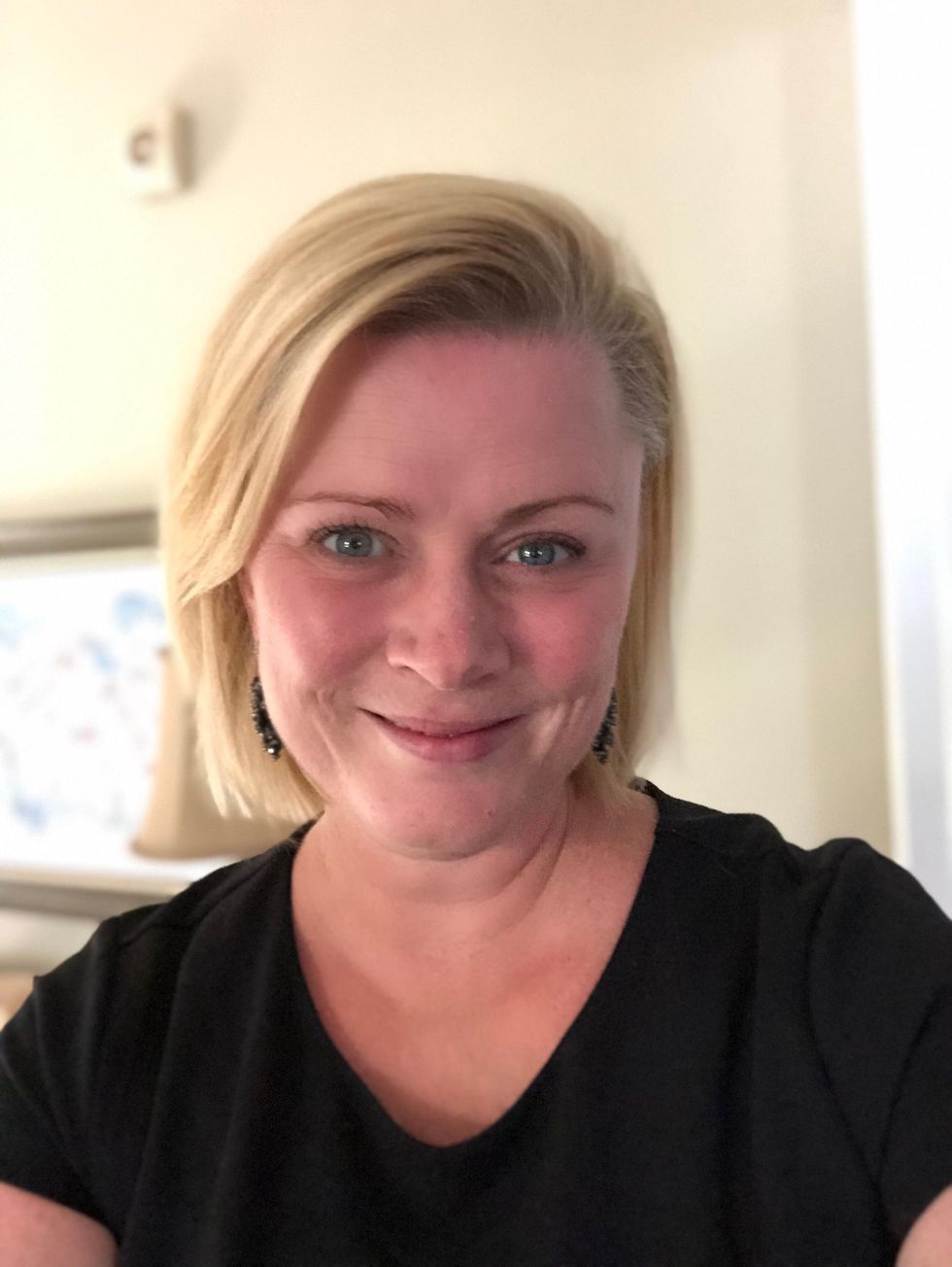 Board-certified infectious-disease physician Dr. Lauren Brett Jaggers
Courtesy Jaggers
A significant part of the patronage of many ballet companies are those over the age of 60 and, therefore, at highest risk of death and complications if infected with COVID. Though a dancer may not get ill from COVID, if they are carrying the virus and expose their patrons to the illness, it is a losing situation for all involved. In addition, the dancers work side by side with choreographers, ballet mistresses, company directors, costume departments and the like, most of whom are older and, therefore, at risk for complications from COVID as well. The more people that are vaccinated, the less likely it is anyone becomes ill.
Is the vaccine safe?
Very simply, yes. The FDA, CDC and Advisory Committee on Vaccine Practices have all reviewed the data on all vaccines and found them to be safe and effective. I, myself, have reviewed the primary data and feel comfortable with the vaccines' safety profile. To speak to those who seem to think that mRNA vaccines are "experimental and new," they are not. We have used them since 2008, and there had been over 40 phase 2/3 trials with mRNA vaccines by 2018 alone, including those related to Zika and HIV prevention. In addition, recent data from the national site that monitors for side effects from mass vaccination (Vaccine Adverse Event Reporting System) report the side effects from the mRNA vaccines to be slightly more than the annual influenza vaccine and much less than the widely given shingles vaccine.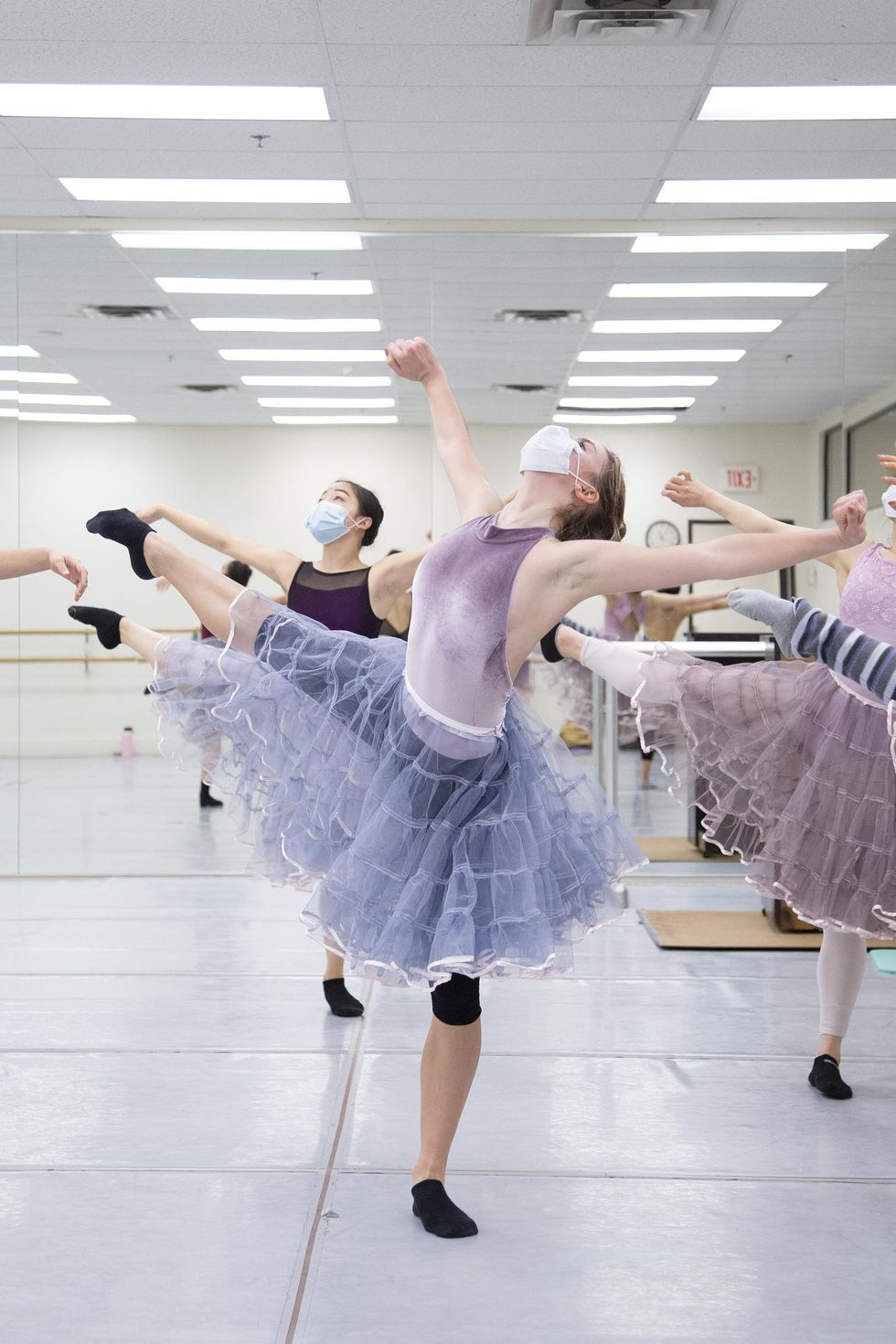 Tulsa Ballet II dancer Natali That in rehearsal for Joshua L. Peugh's The Lost Nutcracker
Bethany Kirby, Courtesy Tulsa Ballet
Once back in the studio, what safety protocols should dancers take if they are/are not yet vaccinated? Is it safe for groups of dancers that are fully vaccinated to rehearse together without masks?
Every company is unique, and protocols must be tailored to each company, but, generally, if the entire company is not vaccinated, then it's likely that keeping masks on and other safety measures that have been in place need to stay in place.
With regard to Tulsa Ballet, we have taken the approach that if everyone is vaccinated, it will be safe to not wear masks, as it is a smaller company. But every company is different. And every state and city seem to have their own specific mask mandates (or lack thereof). The CDC has said that small groups can gather together if fully vaccinated. At Tulsa Ballet, the dancers had been living in their own essential bubbles since all of this began. They were not spending time with other family members, traveling or eating out. We had to have "buy in" from all the dancers from the beginning. This is one strong consideration I had when we discussed making the transition from pods, to vaccinations, to being able to dance without masks. But again, the company knows that my recommendations can change based on emerging data or state/local laws.
Now, as Tulsa Ballet reaches the point of two weeks after full vaccination with the Moderna vaccine, I feel they are able to rehearse without masks. If they had had the Johnson & Johnson vaccine, my opinion may not be the same, given it is less effective against mild disease cases. The CDC has reported that the J&J/Janssen vaccine had high efficacy at preventing hospitalization and death in people who did get sick. In addition, the CDC says that fully vaccinated persons do not need to quarantine after exposure to a case. (However, any infected individual can spread the disease to non-vaccinated people.) This is another fact we emphasize to the dancers as an encouraging reason to get vaccinated, so one positive case in the company will not completely shut everything down for 7 to 10 days of quarantine. One thing I have continuously said to the company, and Marcello, is that we learn more every day and recommendations will continue to change.
When dancers came to you with their hesitation to receive the vaccine, how did you allay their concerns?
This one was tougher as there is so much misinformation which is easily accessible. I think an important first step is to acknowledge their fears and concerns. We are all living through a scary time. Then I asked them to form specific questions or concerns they wanted me to address. Sometimes they didn't even know what they were worried about. Sometimes they had very specific questions which were easily refutable with scientific data. Some people have already made up their mind, and no matter what you share with them, they will never change their minds.
Vaccination is how companies will survive going forward, so the more coordinated and consistent the messaging that comes from public health advisors, as well as the ballet community at large, the sooner we will have curtains rising again.