The Joffrey Ballet's Jeraldine Mendoza is a minimalist. This is evident from her well-organized sewing kit to her slim Goyard wallet, which she bought in Paris while on tour with the company last summer. "I never carry cash; all that's in there is my ID and my credit cards," she says. She keeps her wallet, phone and keys in her red Kenzo bucket bag, and her pointe shoes and other dancewear and accessories in her Baggu duffel. "I like things in order," she says. "Knowing where everything is is a priority for me."
---
One of Mendoza's most coveted items is her DIY roller, which she made six years ago from a piece of PVC pipe covered in cork. "It's super-hard, but it's really good for you," she says. "A lot of the company members use it." Mendoza's Boston terrier, Kahlua, may not fit in her dance bag, but she's still a frequent guest at The Joffrey's studios. "I know it sounds crazy, but I think she loves classical music," says Mendoza. "As soon as the music starts playing for class, she falls straight asleep for the full hour and a half."
The Goods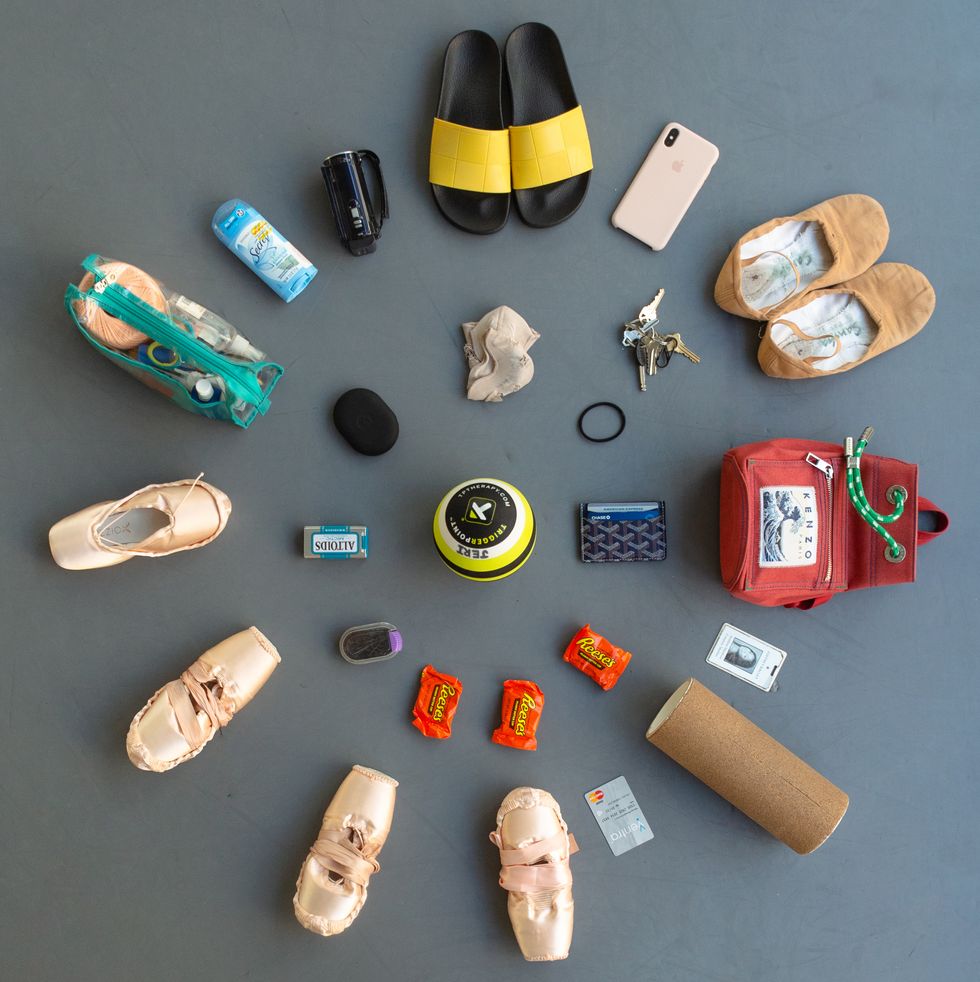 Quinn Wharton
Clockwise from center: TriggerPoint massage ball, Bunheads' Ouch Pouch toe pads, hair tie, Goyard wallet, Reese's Peanut Butter Cups ("These are my favorite things in my bag. There's always a bowl of candy outside the office, and I always take the Reese's"), bobby pin container, Altoids, Beats by Dr. Dre earbud carrying case, Raf Simons for Adidas slide sandals ("If I'm not in pointe shoes, I'm in these slides"), iPhone, keys, Sansha Pro ballet slippers, Kenzo bag, Joffrey ID, homemade roller, subway card, Capezio custom pointe shoes ("Every year I experiment with other shoes, but I always go back to these Capezios. I go through at least three new pairs a week"), sewing kit ("It holds my darning yarn, different kinds of needles, Jet glue, dental floss and pancake makeup"), Secret deodorant, Sony Handycam ("I use it to tape myself in rehearsal. I like using it more than my cell phone").