A string of piqué turns en dedans, says Erica Fischbach, director of Colorado Ballet Academy, should appear powerful yet effortless. "The effect you want to create is that you're flying." Here are her tips to achieve this as you whirl through the ends of your variations. Plus, don't miss the video below for Fischbach's advice on how to practice piqué turns while training at home.
---
Turn Out to Take Off
Focus on turning out your standing leg as you prepare in tendu devant for your piqué turns. "Don't do the 'pump'—that push on the toe to get a little momentum," says Erica Fischbach. "The most important thing, as you plié, is to feel that spiral rotation that never lets go or drops out. As you push off into the piqué, feel that your thigh and knee are opening and your back foot is scooping off the floor."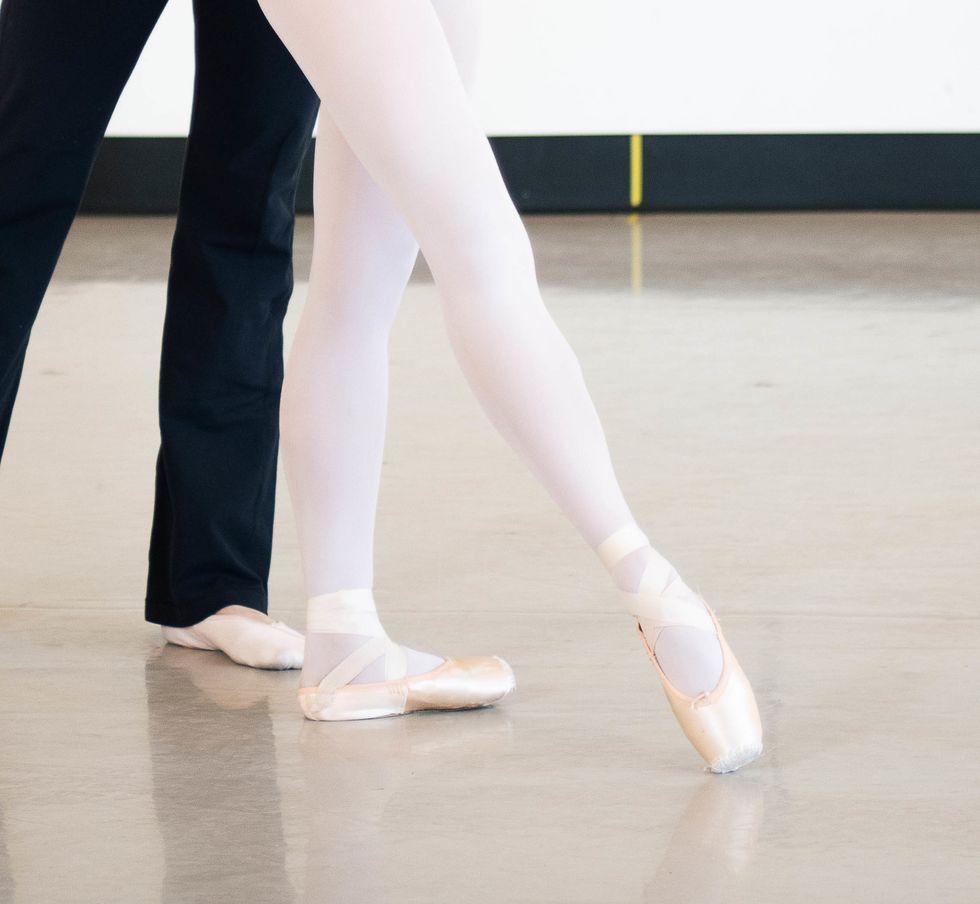 Courtesy Colorado Ballet
Know Where You're Going
Begin with a rond de jambe, moving the tendu leg to second while opening the front arm to allongé. "Your hand, eye and foot are all in the same direction," says Fischbach. "Spot where you're going, unless the choreography asks for spotting front."
How to Fly
"There's a movement quality in a piqué turn manège that is almost unexplainable," Fischbach says. "To get that, you have to come down on balance so you can spring out again. You only do about half a turn on pointe. Slightly suspend that, and then come down with a fast whip to finish the turn. There's power on the down, but it's very quick, so we mostly see the up."

Colorado Ballet apprentice Ever Larson demonstrates how she aims for fifth as she lowers her retiré leg during piqué turns.
Courtesy Colorado Ballet
Aim for Fifth
The toe of the retiré foot should be at the back of the knee, Fischbach says, not kicking up towards your glutes or overcrossing into a figure 4. Aim for fifth as you come down, even though the front leg shoots out before you get there. This will help you keep your weight placed correctly over the back leg in between turns.
A Common Misstep
The goal is to step out beyond your extended foot, but Fischbach sees many dancers fall short of this. "They pull the toe back, step on a bent knee and kick the other foot up too high." As a result, dancers travel on the step down as well as the spring up. "Then your weight is in between your legs, and you have to do the old heave-ho—it's not neat and clear, and there's no quality or effect."
About Those Arms...
The port de bras for piqué turns should be simple and clear, from second position allongé in the plié to a solid first position in the turn. "Maintain the connection of the shoulder blades into your back, and have the chest open so those trapezius muscles aren't up near your ears and stopping you from spotting," says Fischbach. Neither arm should ever be behind you. "If you're swimming with your arms, it's not coordinated."
Double It
For a double piqué turn, the step out can be a little bit smaller to help you stop the forward momentum and stay on one point. "Think of a corkscrew going down into the floor," Fischbach says, "and keep an energetic lift through the spine. Make sure you feel the opposition, if you're turning to the right, of your left knee and right hip opening."