"The whole thing was—I like jewels," the choreographer George Balanchine told an interviewer in the spring of 1967, when asked about his newest creation for New York City Ballet, a triptych called—what else?—Jewels. He had his photograph taken while gazing appreciatively at Van Cleef & Arpels designs, or surrounded by ballerinas wearing bejeweled headpieces and gem-toned costumes by Karinska. Balanchine had an instinct for promotion; the ballet was a huge success and is still regularly performed by NYCB and other companies around the world. At the Lincoln Center Festival this summer (July 20–23), 50 years after the first performance, three companies—the Paris Opéra Ballet, NYCB and the Bolshoi Ballet—will join together to perform it in a single night. The French will dance "Emeralds." On different nights, the Russians and the Americans will alternate in "Rubies" and "Diamonds."

This seems appropriate, as each of Jewels' sections alludes to a different style of ballet: French, American, Russian. Ballet was born in France. More importantly, France is where Romantic ballet, with its feather-light technique and delicate, wafting arms, was refined. (Think La Sylphide and Giselle.) The next chapter of its development took place in Russia, where ballet acquired its grandeur, thanks to the imagination of Marius Petipa and the splendor of the Imperial Theatres. After the Russian Revolution of 1917, this world disappeared. Balanchine, along with many others, left the country, bringing his ideas about ballet to Europe and later to America, or, more precisely, to New York City.
---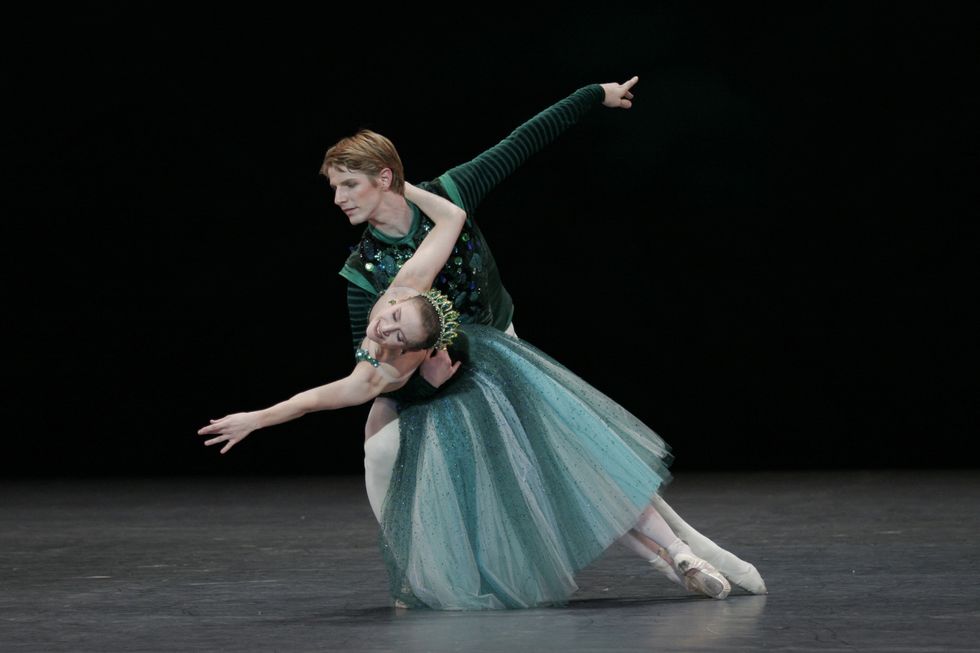 Laetitia Pujol and Karl Paquette in "Emeralds." Photo by Sebastien Mathé, Courtesy Lincoln Center.
Each of these microcosms of ballet's history finds its reflection in Jewels. Romanticism and mystery infuse the atmosphere of "Emeralds." The women are sylphs, ladies-in-waiting, water nymphs. One of its central roles was created for the French ballerina Violette Verdy, who said that the movement reminded her of waves and the tides. "Rubies," the middle work, is jazzy and brash (and unabashedly sexy). Its pas de deux, with its tango and prancing, was made for Patricia McBride and Edward Villella, dancers of great insouciance and charm. Suzanne Farrell, for whom Balanchine created the central role in "Diamonds," spoke of that ballet's "austere, crystalline beauty," like a palace in a forgotten kingdom. It will be fascinating to see these ballets performed by dancers who reflect each facet of ballet's history and style.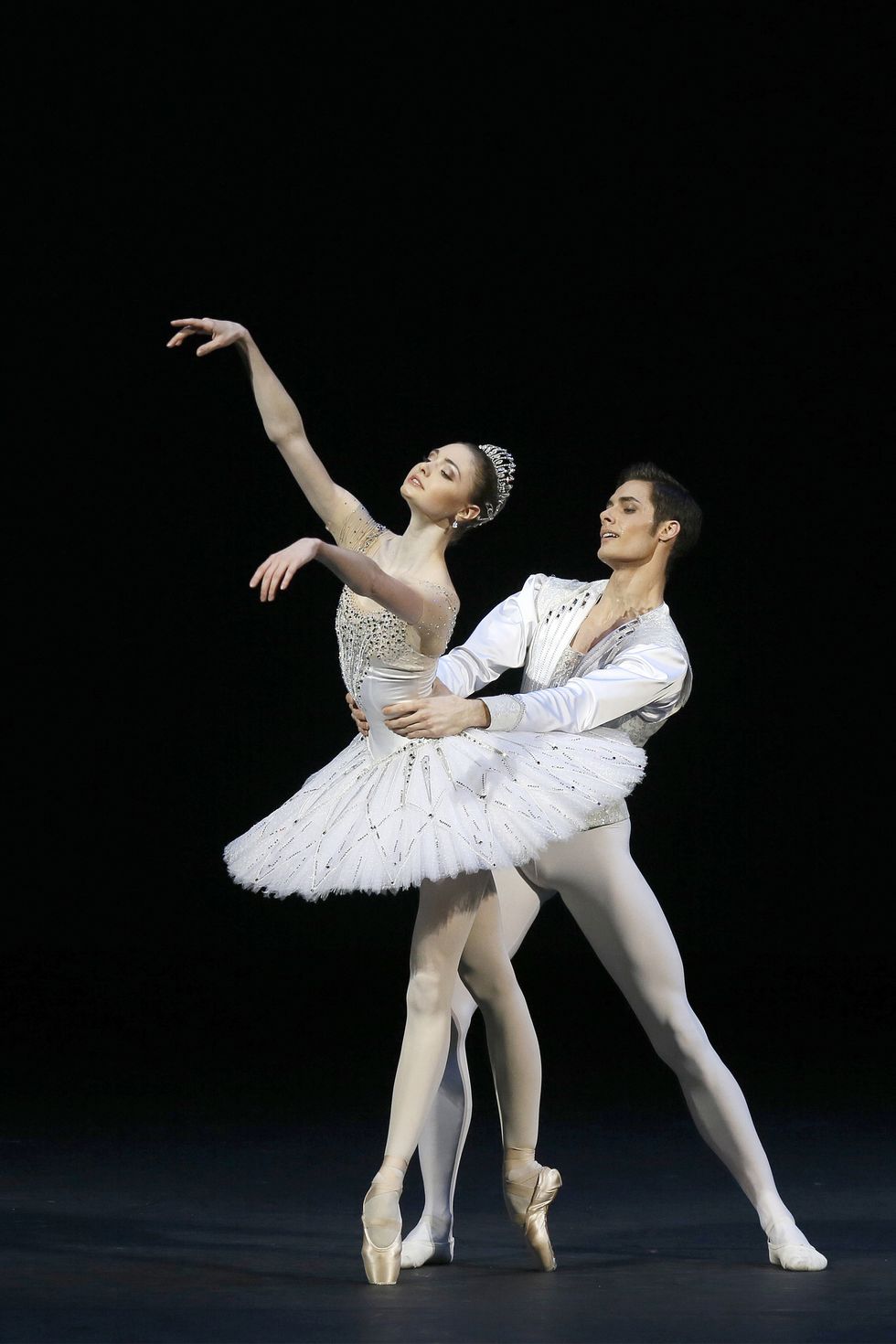 Bolshoi Ballet's Alyona Kovalyova and Jacopo Tissi in "Diamonds." Photo by Damir Yusupov, Courtesy Lincoln Center.
Balanchine, too, had direct links to all three countries, and was influenced by them. As a 6-year-old pupil at the Imperial Ballet School in St. Petersburg, he had appeared onstage as a tiny Cupid in Petipa's Sleeping Beauty. In the book Balanchine's Tchaikovsky he recalls the "indescribable ecstasy" he felt, surrounded by the blue and gold of the theater and the music of Tchaikovsky. After the revolution, he honed his craft in Paris as a choreographer for Sergei Diaghilev's Ballets Russes. It was there that he made Apollo, a ballet that would set him on the path of modernism. Also in France, he met Igor Stravinsky, the composer with whom he would forge his most intense and lasting collaboration, and Lincoln Kirstein, the man who would bring him to New York.
It is fitting that "Rubies," the most "American" of Jewels' sections, should be set to Stravinsky, a composer whose music is as angular and glinting as the spire of the Chrysler Building. The music for "Emeralds," by Gabriel Fauré, is gauzy and aquatic. Like Balanchine's choreography in that section, it seems to exist in a state of suspended time. And whom else could Balanchine choose for his grand finale but Pyotr Tchaikovsky, the composer he most closely associated with the lost world of the Imperial Ballet? "My feelings for Tchaikovsky were different, even as a child," he told the musicologist Solomon Volkov. "Imagine yourself in a church and suddenly the organ starts playing overwhelmingly grand music in all its register. And you stand there mouth agape in astonishment. That's how I always felt about Tchaikovsky."
So it turns out that sometimes a jewel isn't just a jewel; sometimes it contains an entire world, or three.