Gennadi Nedvigin recalls a ballet class he took in 2016, shortly after becoming Atlanta Ballet's artistic director. The recently retired San Francisco Ballet star was wrapping up performance commitments, so while taking barre, he answered work emails on his phone, got sidetracked and kept repeating his ronds de jambe.
Now, fully retired and in his second season directing, the Russian-born, Bolshoi-trained Nedvigin says he is free from distraction and focused on one job. That is, reshaping the 88-year-old Atlanta Ballet into his vision of a world-class company that performs classical, neoclassical and contemporary works. He hopes to build an exclusive repertoire and add touring opportunities.
---
Nedvigin says he was influenced by his old boss, Helgi Tomasson, and by the variety of choreographers and works Tomasson assembled at SFB. "It's inspiring for dancers to continually work with different choreographers," says Nedvigin, who has already brought in Liam Scarlett's Vespertine and world premieres by Gemma Bond and Craig Davidson.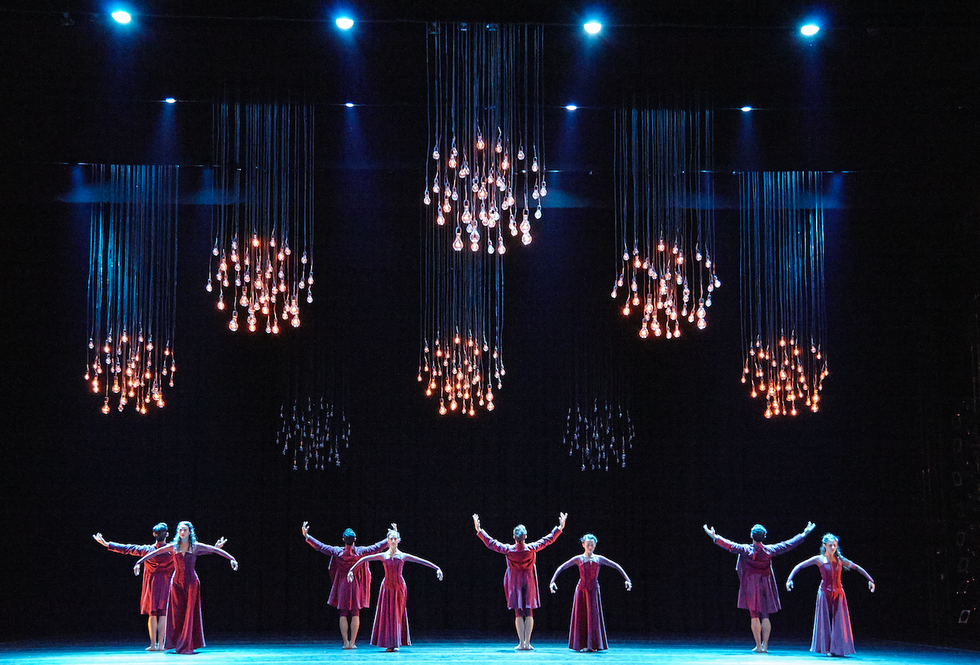 Atlanta Ballet in Liam Scarlett's "Vespertine." Photo by Kim Kenney, Courtesy AB.
Whereas the repertoire under his predecessor, longtime director John McFall, fell on the more traditional or contemporary ends of the spectrum, Nedvigin's approach aims for somewhere in between. This change in vision resulted in a publicized dancer exodus—a mix of dancers leaving, retiring or not being offered contracts. Some perceived that the company would become mostly classical. Not so, says Nedvigin. "If you are stuck on classical, one day it is going to get boring. I want my dancers to have an appreciation for the classics while looking forward to new creations."
To realize this, Nedvigin says he needed to add dancers so that AB can stage more difficult and elaborate productions, like this February's Don Quixote. When he took over the non-ranked troupe, there were 28 artists, including apprentices. That increased to 32 this season, and Nedvigin also founded the 12-member Atlanta Ballet 2. Ten more dancers (split between AB2 and the main company) will be added for the 2018–19 season, making over half the company new hires since he arrived.
And while this growth will help define the company's new identity, Nedvigin feels that maintaining a professional atmosphere in the studio is also integral, including how the dancers conduct themselves with visiting artists. "When I hear very enthusiastic feedback from choreographers who have worked with the company for the first time, I think any director would be pleased to hear the process in the room was so focused, responsive and creative," he says.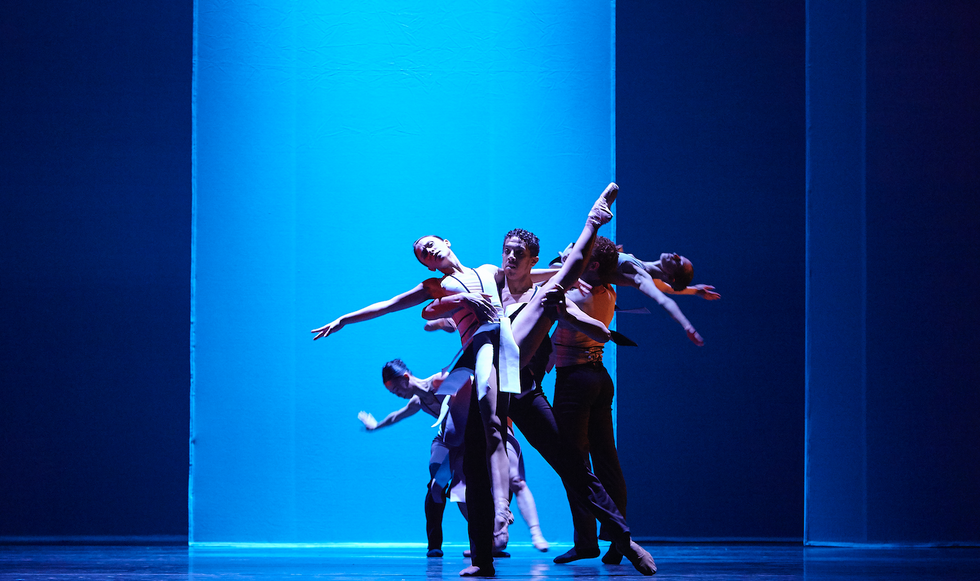 Atlanta Ballet in Gemma Bond's "Denouement." Photo by Kim Kenney, Courtesy AB.
Nedvigin values dancers who show a readiness and eagerness to embrace a variety of styles. "The more styles you learn, the better dancer you become," he says. He's drawn to those who want to hone their technique and are open to growing as artists.
"His classes are clean," says third-season company dancer Ashley Wegmann. "There is more of an emphasis on classical technique than before." Like many directors, Nedvigin feels that strong classical technique is a basic foundation for learning other styles. "I need to create a company that aligns at many points," he says, "so when they are onstage they look like a united troupe."
Wegmann says that approach has been extended across the board from the dancers to the artistic staff, which includes one new ballet master hired under Nedvigin. "I think we are all on the same page now," she says. "The atmosphere is very supportive, and Gennadi seems happy with the dancers he chose." As for Nedvigin's demeanor, she says, "He's a little reserved but approachable."
"I try to be fair to everyone, challenge them all and give them everything I have to share," he says. "I can't say I am really hard on the dancers. In general, I want to maintain professionalism in the studio while helping the dancers get better quicker and stay healthy."
Doing things quicker seems to be a theme of Nedvigin's tenure so far. Elevating the level of dancing, increasing company size and altering its repertoire mix are all happening simultaneously and sooner than planned. This December, AB will debut a new Nutcracker, choreographed by Yuri Possokhov. Rehearsals even began early, before those for its 2017 Nutcracker. Jokes Nedvigin, "It probably was a bit confusing for the dancers to start doing completely different steps on the same music." Still, he says this full-length world premiere will be his first production "to really show what the company is capable of."


Atlanta Ballet At a Glance
Number of dancers: 32
Length of contract: 38 weeks
Starting salary: $739.50 per week
Performances this season: 42
Website: atlantaballet.com
Audition Advice
"I look at a dancer's training, confidence level, individuality, how they move and how much they pay attention in class and to corrections," says Nedvigin. "You can tell a lot from even how a dancer enters and exits the studio."
The company accepts applications year-round for invitation-only auditions. A headshot, full-length dance photo, resumé and video links should be sent to audition@atlantaballet.com. Open auditions for Atlanta Ballet 2 are held in January and February.