Francisco Estevez is only 29 years old, but he's battling cancer for the second time. In 2013, the Colorado Ballet soloist was diagnosed with testicular cancer, which was swiftly treated with surgery. But during a routine physical in April, doctors noticed that Estevez's white blood cell count was severely elevated. They concluded that he had chronic myeloid leukemia, a very rare form of blood cancer. "At first I thought, how can this be happening again?" says Estevez. "I've had a few moments of sadness, but I've tried to find the humor in it, which has helped. Thankfully my wife [Colorado Ballet soloist Tracy Jones] and I are fortunate to have a good support system here in Denver and around the world."
That support system is coming together in a big way this week. Roughly a dozen Colorado dance organizations are joining forces to participate in Dancers for a Cure, a benefit performance for Estevez on September 6 and 7 at the Lone Tree Arts Center. The concert was spearheaded by Alison Jaramillo, artistic director of Littleton Youth Ballet, where both Estevez and Jones have taught classes during their off-season. "She asked if we wanted to do a benefit performance to raise money for some of the medical costs, as well as future costs," says Estevez. "We didn't know how to feel about it initially—it's always awkward to accept help from those who aren't your family." They eventually agreed, with the condition that the concert also give back to the community somehow. Now, half of the proceeds will go towards the Leukemia and Lymphoma Society.
---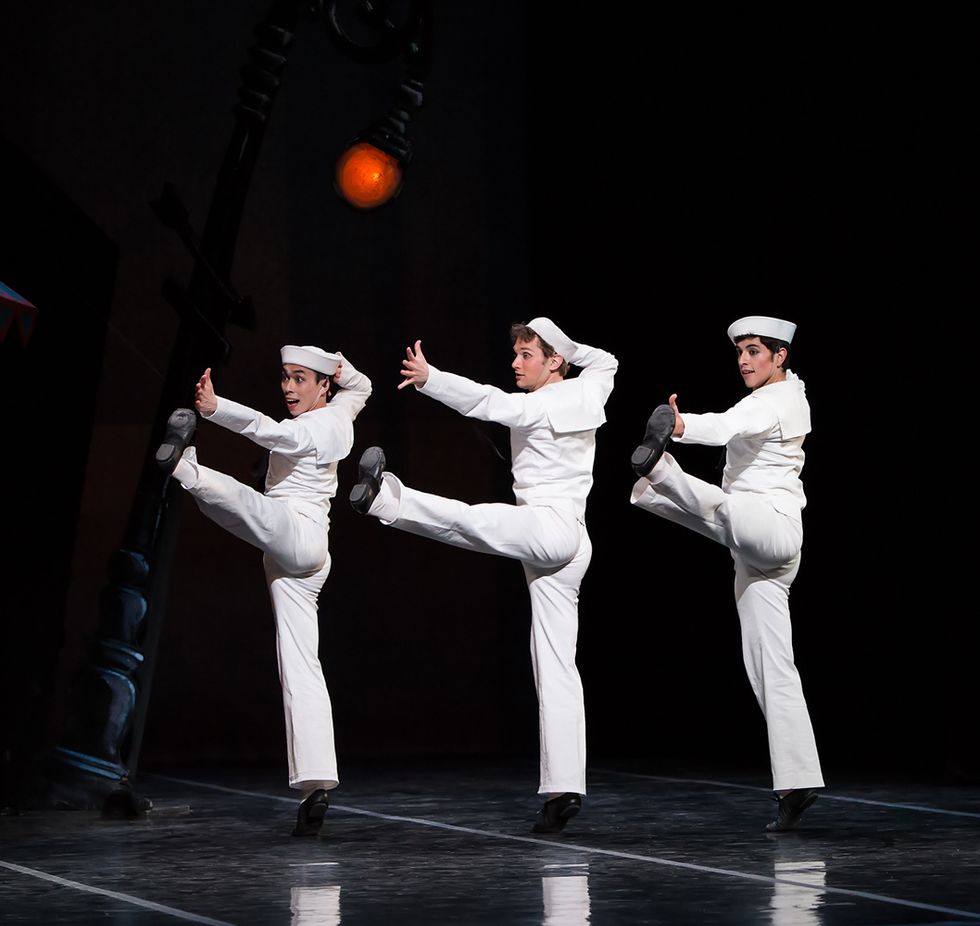 Estevez (far right) in "Fancy Free." Photo courtesy Colorado Ballet.
Dancers for a Cure will feature area schools and companies like Colorado Ballet, Canyon Concert Ballet, Cleo Parker Robinson Dance and Zikr Dance Ensemble. But one performer on the program is particularly notable: Estevez himself. He'll perform two solos (from Amy Seiwert's It's Not a Cry and Ben Van Cauwenbergh's Le Bourgeois), and a special duet with one of his students."This form of leukemia is thankfully treatable through a targeted chemotherapy drug," he says, adding that the drug, Sprycel, does not have nearly the destructive side effects as traditional chemotherapy. While Estevez has experienced periodic migraines, dizziness and end-of-day fatigue, he's felt well enough to continue dancing. "Traditional chemotherapy would have taken me out of the profession completely," he says.
What's most remarkable is that Estevez is more focused on giving back than on feeling sorry for himself. He's asked those who can't make the performance but who still want to help to consider sponsoring him in the Leukemia and Lymphoma Society's Light the Night Walk. And he hopes that the benefit can become an annual event—but without himself at the center of it. "We thought it would be nice to choose a different cause each year," he says. "I think it's great when we rally around something that affects us personally, but going forward I'd love for the dance community to try to be more proactive about helping within society."