Yesterday Cincinnati Ballet announced an exciting addition to this year's Nutcracker cast: a character based on Fiona, the world's most famous hippopotamus.
Fiona was born at the Cincinnati Zoo and Botanical Garden in January 2017. Six weeks premature, she weighed only 29 pounds at birth as opposed to the standard 55-120, and required round-the-clock care from dedicated zoo staff. Cincinnati Children's Hospital's neonatal intensive care unit even got involved. The zoo chronicled her progress on Facebook, creating the heart-warming Fiona Show (see the first episode below). The baby hippo's story went viral, winning hearts in Cincinnati and around the world.
---
This year, Cincinnati Ballet artistic director Victoria Morgan was looking for a way to mix up the company's annual Nutcracker when she thought of adding a local celebrity; her mind immediately jumped to Fiona. The company and zoo worked together to develop the character. "I talked to Bibi, her mother, for some time, and it seems like she spends a lot of time in the water, so her mother thought it would be good for her to get on land, and to get a little bit of coordination" said Morgan at a press conference yesterday.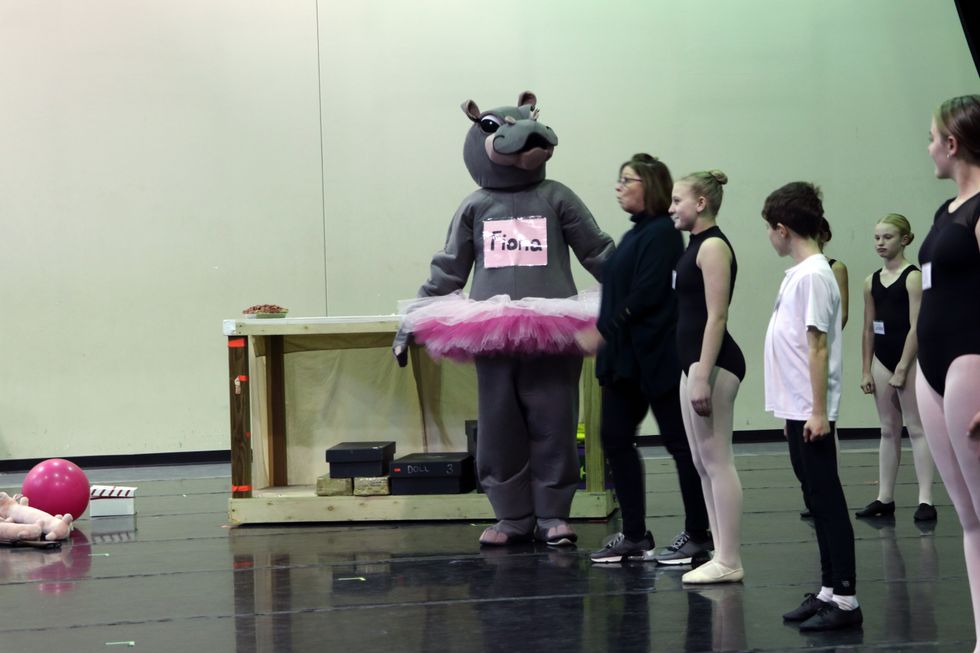 Fiona in rehearsal. Photo Courtesy Cincinnati Ballet.
Cincinnati Ballet's wardrobe team spent nearly 100 hours designing and constructing the perfect Fiona costume, which includes a custom tutu. Morgan is in the process of incorporating Fiona into the production; she'll appear as a stuffed animal in the party scene, and then become life sized before the battle scene. She's scheduled to make an appearance in the second act as well. "Fiona the hippo is a graceful diva in her pool at Hippo Cove," says Cincinnati Zoo director Thane Maynard in a statement. "I can't wait to see the moves that Victoria has choreographed for the Fiona character!"