Trending
Nov. 20, 2018 04:21PM EST
Pacific Northwest Ballet in George Balanchine's The Nutcracker. Photo by Angela Sterling, Courtesy PNB.
Thanksgiving is just days away, and while to some that means family and football, to bunheads it means one thing only: Nutcracker is coming. Looking for a Nut near you? We know that your next few weeks will be too busy with rehearsals to keep your eye on ballet news, so we've decided to help you out by rounding up 71 of our nation's Nutcrackers, state by state.
We're not perfect! If we missed a major Nutcracker production, we want to know. Email clansky@dancemedia.com for consideration.
Keep reading...
Show less
Daniel Ulbricht in Jerome Robbins' Suite of Dances at New York City Ballet. Photo by Erin Baiano, Courtesy NYCB.
We tend to think that by the time you've made it to principal at a major company, you've performed all of Nutcracker's leading roles. But for New York City Ballet star Daniel Ulbricht, this Nutcracker season proves extra special. On December 21, Ulbricht, who joined the company in 2000, will dance as the Cavalier on the NYCB stage for the first time with Erica Pereira as his Sugarplum Fairy.

The princely Cavalier role will be a departure from the bravura roles he typically dances (and excels at). We touched base with Ulbricht to hear about how he's making the role his own, and how creating opportunities to dance Balanchine's Cavalier outside of NYCB has prepared him for this debut.
Keep reading...
Show less
Samuel Zaldivar as Boston Ballet's lovable party scene bear. Courtesy Rosalie O'Connor, Courtesy Boston Ballet.
For dancers, The Nutcracker isn't all winter wonderlands and charming sweets. To bring this ballet to life, we have to spar with swords (often while wearing a clunky head), pirouette in animal suits, and perform day after day with a host of other potentially hazardous costumes and props. Despite the dangers, Nutcracker's eccentric roles can be the most fun to perform. As five dancers describe, Nutcracker's whimsical, albeit taxing, accoutrements have their own kind of magic.
Keep reading...
Show less
Lauren Archer with children at the "Signing Santa" event at the MacArthur Center in Norfolk, VA. Photo Courtesy Richmond Ballet.
Richmond Ballet dancer Lauren Archer never thought she'd be able to blend ballet with her knowledge of American Sign Language. But at a recent "Signing Santa" event at the MacArthur Center in Norfolk, Virginia, Archer—dressed as the Snow Queen from Nutcracker—got to make an extra-special connection with deaf and hard-of-hearing children. "Most of the parents and children were shocked to see that I was able to sign with them and that I wasn't just there for the pictures," Archer says. "I think the children loved meeting a real-life ballerina who was also able to communicate with them in their own language."
Archer began learning ASL 12 years ago, when her family adopted her younger brother, who is deaf. "He was almost 5 years old with absolutely no language or way to communicate," she says. "We continued to learn the language and teach him more and more each day—and now he's the one teaching us!"
Richmond Ballet's Lauren Archer Used American Sign Language to Spread "Nutcracker" Cheer youtu.be
Keep reading...
Show less
Atlanta Ballet in Nutcracker. Photo by C. McCullers, Courtesy AB.
San Francisco Ballet principal Joseph Walsh at age 3 as the tiny green elf in his local Nutcracker. Courtesy Walsh.
Oh, Nutcracker... It's the ballet experience that unites us all, from young student to seasoned pro. Whether you made your entrance in a mouse costume or under Mother Ginger's skirt, do you remember the choreography and costume of your very first role?
Today, six professionals share their favorite childhood Nutcracker photos and memories.
Keep reading...
Show less
Photos Courtesy AinslieWear
Isabelle Lapierre in a still from Finding Clara. Courtesy Justice Studios.
Last winter, we told you all about "Finding Clara," a YouTube series produced by tween clothing brand Justice. It followed four BalletMet Academy students cast in BalletMet's The Nutcracker. This year, it gets even better: The heart-melting show has been turned into a full-length documentary. Finding Clara was released today for rental and purchase on Amazon, Google Play and iTunes.
Finding Clara Trailer youtu.be
Keep reading...
Show less
Courtesy Justice Studios
Finding Clara is a full-length documentary produced by Justice Studios that follows four young dancers from the BalletMet Academy as they prepare for The Nutcracker's leading role. Read all about it here. We're giving away five copies of the DVD including some extra gifts from tween clothing retailer Justice. Enter now to win!

Keep reading...
Show less
Atlanta Ballet dancers in rehearsal with Yuri Possokhov. Photo by Kim Kenney, Courtesy Atlanta Ballet.
When Gennadi Nedvigin took over as artistic director of Atlanta Ballet in 2016, one of his first goals was to produce a new Nutcracker; it's been over 20 years since the company's last revamp by former director John McFall. Nedvigin immediately turned to choreographer Yuri Possokhov. "You need to be a really mature choreographer to visualize the whole story," says Nedvigin. Now, two years later, Atlanta Ballet's new Nutcracker will come to life December 8–24.
Yuri Possokhov's "The Nutcracker" www.youtube.com
Keep reading...
Show less
New York City Ballet soloist Georgina Pazcoguin. Photo by Nick Nakahara, Courtesy Pazcoguin.
As conversations in the ballet world about race and representation have opened up in the past few years, its most beloved holiday tradition, The Nutcracker, has come under scrutiny as well. Last year New York City Ballet made changes to its second act Chinese Tea variation, removing elements of racial caricature from both the costume and makeup and the choreography.
NYCB soloist Georgina Pazcoguin, who is part Filipino, was one of the voices fighting for that change. This year, as companies and schools worldwide are gearing up for Nutcracker season, Pazcoguin, along with former dancer and arts administrator Phil Chan, is back with a new campaign. Final Bow For Yellowface is an online platform dedicated to educating companies and schools on how to veer away from offensive Asian stereotypes (yellowface) and providing resources on how to make those changes. The site also lets readers join dance world luminaries including Virginia Johnson, Julie Kent, Adam Sklute, Troy Schumacher and Christopher Wheeldon in signing a pledge to end the practice of yellowface onstage. We touched base with Pazcoguin to hear about how this initiative came to be, and what she and Chan have in the works for the future.
Keep reading...
Show less
Moscow Ballet's "Russian Variation." Courtesy Moscow Ballet.
Moscow Ballet's Great Russian Nutcracker is not your average Nut. In 1994, the production debuted in six cities across the U.S. This winter, three simultaneously traveling companies of Russian dancers will bring the ballet to 137 cities, incorporating up to 120 local children in each location. For Mary Talmi, co-founder and producer of Talmi Entertainment, which produces the show, this is no small feat. "The role of arts education in this country is needed more than ever, and the more expansive our tour is, the more I realize that the benefits to the children are way beyond dance," she says.
Keep reading...
Show less
Archie crossing the stage with his castmates. Photo Courtesy Festival Ballet Providence.
Every ballet star's stage career must eventually come to an end. This season, Festival Ballet Providence celebrates the retirement of one of its Nutcracker's best loved performers: Archie the dog. This Yorkshire Terrier, owned by FBP artistic director Misha Djuric, has taken the stage in more than 125 performances of FBP's Nutcracker over the past 19 years. Though he'll be missed, it makes sense... after all, in human years, he is nearing his 93rd birthday.
Archie appears in the ballet's first scene, scampering across the stage with the partygoers. "Archie announced that he's settling down to a life of luxury and long naps on pillow," says Djuric in a statement. "He actually never expected to have become so famous and he's very grateful for the fans who have supported him all these years."
Archie prepares for his 100th Nutcracker performance www.youtube.com
Keep reading...
Show less
Trending
Nov. 20, 2018 11:18AM EST
New York City Ballet soloist Claire Kretzschmar as the Sugarplum Fairy in Balanchine's "The Nutcracker." Photo by Paul Kolnik, Courtesy NYCB.
What bunhead hasn't dreamed of dancing Clara in Nutcracker? But with so many young dancers aspiring to the role, casting disappointments are inevitable each year. Today, three professionals share their childhood Clara casting disappointments and what helped them move on and learn from the experience. We hope their stories will encourage you this Nutcracker season!
Keep reading...
Show less
From left: Courtesy Cincinnati Ballet; Michael Curley, Courtesy Cincinnati Zoo.
Yesterday Cincinnati Ballet announced an exciting addition to this year's Nutcracker cast: a character based on Fiona, the world's most famous hippopotamus.
Fiona was born at the Cincinnati Zoo and Botanical Garden in January 2017. Six weeks premature, she weighed only 29 pounds at birth as opposed to the standard 55-120, and required round-the-clock care from dedicated zoo staff. Cincinnati Children's Hospital's neonatal intensive care unit even got involved. The zoo chronicled her progress on Facebook, creating the heart-warming Fiona Show (see the first episode below). The baby hippo's story went viral, winning hearts in Cincinnati and around the world.
Keep reading...
Show less
Allison Whitley of The Dallas Conservatory. Photo via @allydancer_123 on Instagram.
Over the past few weeks we've invited our readers to submit their favorite Nutcracker photos from rehearsal to performance. With hundreds of amazing options to choose from, it was hard to pick just one each day. We loved seeing the endless way that the Nutcracker comes together around the world. We've compiled our 16 photos of the day here, but be sure to search #pointenutcracker on Instagram and Facebook to scroll through the dozens of other incredible images.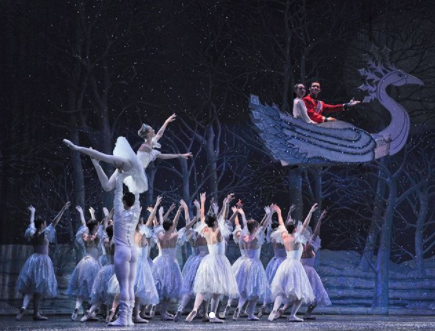 New Jersey Ballet. Photo via @njballet on Instagram.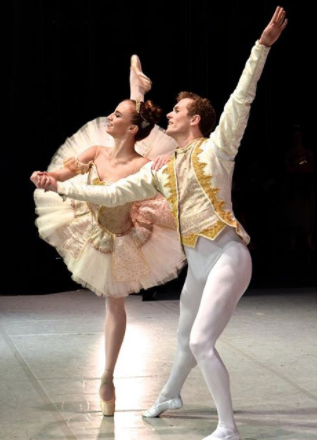 Ballet Arkansa's Megan Hustel with Paul Tillman. Photo via @meghust on Instagram.
Keep reading...
Show less
Courtesy of Manzi
Ballet and baking have more in common than their first two letters. As in the studio, sometimes you attempt something new in the kitchen and it works out great.

And, sometimes, it fails spectacularly—an outcome that New York City Ballet corps member Jenelle Manzi is no stranger to in baking. "The first time I tried to make vanilla cupcakes with this strawberry rose frosting, I was using essential rose oil," she recalls, "I put two drops in an entire batch of icing and I realized I needed about a quarter of a drop. They tasted like perfume. They were completely inedible."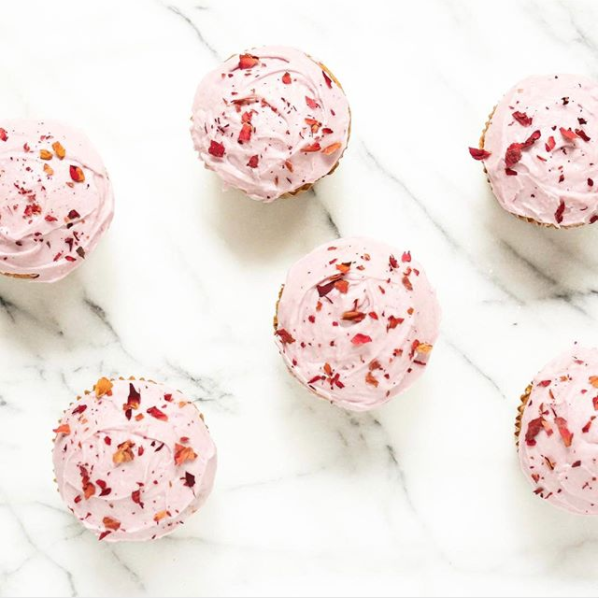 via Instagram
Keep reading...
Show less
Gelsey Kirkland and Mikhail Baryshnikov in The Nutcracker are simply iconic—two of the world's most celebrated dancers in the world's best-loved ballet. Starring as Clara and the Prince in American Ballet Theater's 1977 made-for-television film, these two superb talents bring both technical and dramatic brilliance to the ballet's culminating scene.
In this version, which Baryshnikov himself choreographed, Clara and the Prince dance the grand pas de deux. He also mixes up the order so that the variations and coda precede the adagio. The clip begins with the tail end of Kirkland's variation, followed by a flawlessly danced coda. Baryshnikov, looking debonair in all white, flies in his jumps, rebounding off the floor like a spring, and Kirkland's impressive diagonal at 0:43 boasts triple fouetté turns.

The mood changes when Drosselmeyer, played by Alexander Minz, arrives in the first chords of the adagio to usher Clara away from her dreamland. In a pas de trois, Clara is torn between her beloved godfather and her prince, reluctant to choose between childhood and the promise of her dreams. In her gauzy nightgown, the delicate Kirkland is ethereal and waif-like as she is promenaded and passed in the air between her partners. She and Baryshnikov make a tender couple and in the end, as she chaînes into his arms, it is clear that she longs to stay with her prince. Happy #ThrowbackThursday!
Texas Ballet Theatre's Jiyan Dai and Samantha Pille (center) with members of Queensland Ballet. Photo courtesy TBT.
One way to change up your Nutcracker run is to perform it halfway around the world. This holiday season, two Sugar Plum Fairy and Prince couples from Texas Ballet Theater and Australia's Queensland Ballet did just that in a fun cross-company exchange. Last week, TBT artists Samantha Pille and Jiyan Dai traveled to Brisbane to debut in the Australian company's Nutcracker performances. Now, Queensland Ballet dancers Yanela Piñera and Camilo Ramos are in Fort Worth for the follow-up shows. They had their first performance last night and are scheduled to dance again December 22.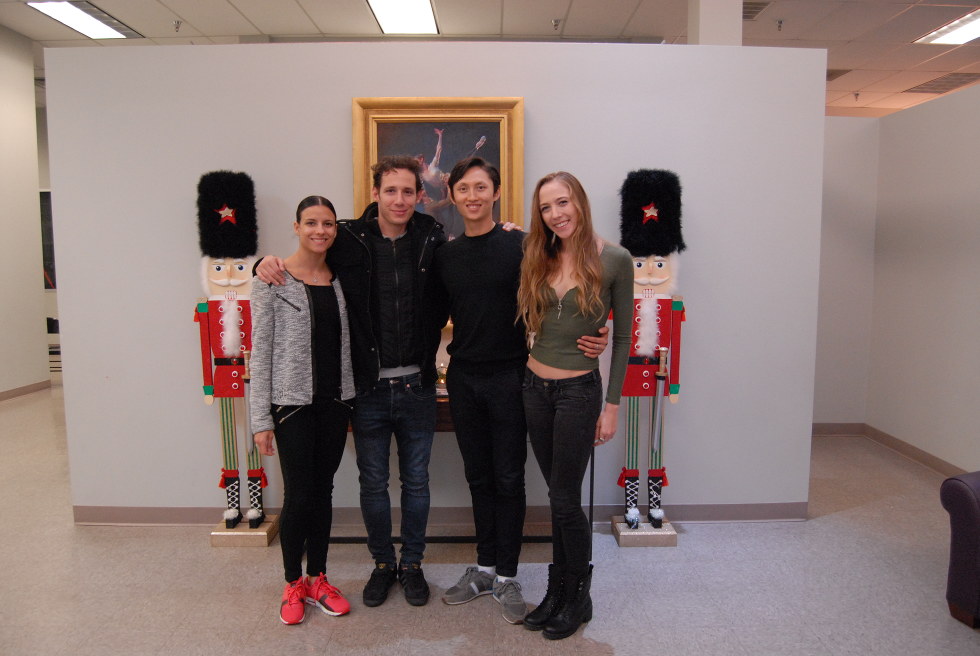 From left: Queensland Ballet's Yanela Piñera and Camilo Ramos with TBT's Jiyan Dai and Samantha Pille. Photo courtesy TBT.
TBT artistic director Ben Stevenson, O.B.E., and Li Cunxin, artistic director for Queensland Ballet, dreamed up the holiday swap hoping to give their dancers a fresh Nutcracker experience. The exchange is particularly meaningful because of the directors' shared history. Cunxin (whose autobiography Mao's Last Dancer was made into a major motion picture in 2009), danced as a principal under Stevenson during his tenure as artistic director of Houston Ballet. After taking the helm of Queensland Ballet, Cunxin brought Stevenson's production of Nutcracker to Australia.
Keep reading...
Show less
Lauren Grace Onderko. Photo Courtesy Justice.
Can't get enough Nutcracker? Don't fear. Tween clothing brand Justice has just released a web series called "Finding Clara," which follows four young dancers cast as Clara in BalletMet's production of The Nutcracker. The first three episodes are available on YouTube, and the final installment will be released on Friday, December 22. Each video is about 20 minutes long.
Justice is headquartered in Columbus, Ohio, the home of BalletMet, leading to an easy collaboration. The company gave Justice exclusive and uninhibited access to everything behind the scenes, from auditions to rehearsals to performance. Part of Justice's mission is to empower young girls and spread positive messages, and they have a huge video collection. This isn't their first foray into ballet—earlier this fall they created a series of ballet video tutorials. A representative from Justice told us that the goal of the new series is to give "a real-life snapshot of the heart and soul these girls put into their Nutcracker performance—the rehearsals, overcoming challenges, celebrating wins and the bonds of friendships made."
The four Claras—Alaina Kelly, Molly Rainford-Dreibelbis, Lauren Grace Onderko and Isabelle Lapierre—range in age from 10-13, and their positive, excited energy is clear throughout the series. The issues that they deal with such as balancing schoolwork and rehearsal, managing jealousy and competition with their peers, and maintaining a healthy lifestyle despite busy schedules will feel familiar to dancers of all ages. So over your holiday break, cozy up with some hot chocolate and dive into the world of "Finding Clara."
Check out the trailer below, followed by the first three episodes:
Keep reading...
Show less
Céline Gittens and Brandon Lawrence in "Nutcracker." Photo by Bill Cooper, Courtesy Birmingham Royal Ballet.
Our company's Nutcracker was choreographed by Sir Peter Wright, and it's very traditional. We usually only have two weeks to prepare after the end of the autumn season, so my partner and I start going over the grand pas de deux on our own time before rehearsals start. I like to do my own research through social media or by watching how other company dancers interpret the role, drawing from what I like best and trying to apply that to myself. I also video my rehearsals and later critique them, to try to get my performance up to another level.
Keep reading...
Show less
Richmond Ballet dancers show off two adoptable shelter dogs at its annual "Pupcracker." Photo courtesy Richmond Ballet
If you're looking to upstage Clara, there's no better way to do it than with a four-legged furry friend—especially when that furry friend is looking for its forever home. Cue Richmond Ballet: During its December 16 and 21 matinees, the company is teaming up with the Richmond SPCA to present the "Pupcracker," special Nutcracker performances featuring adoptable shelter dogs. Several pups make their stage debut during the party scene as the guests bring their family pets to and from the Silberhaus home. Audience members can then meet—and adopt—the dogs during intermission and after the performance. The SPCA even provides a crate, collar, leash and treats so that patrons can bring their new family members home after the show.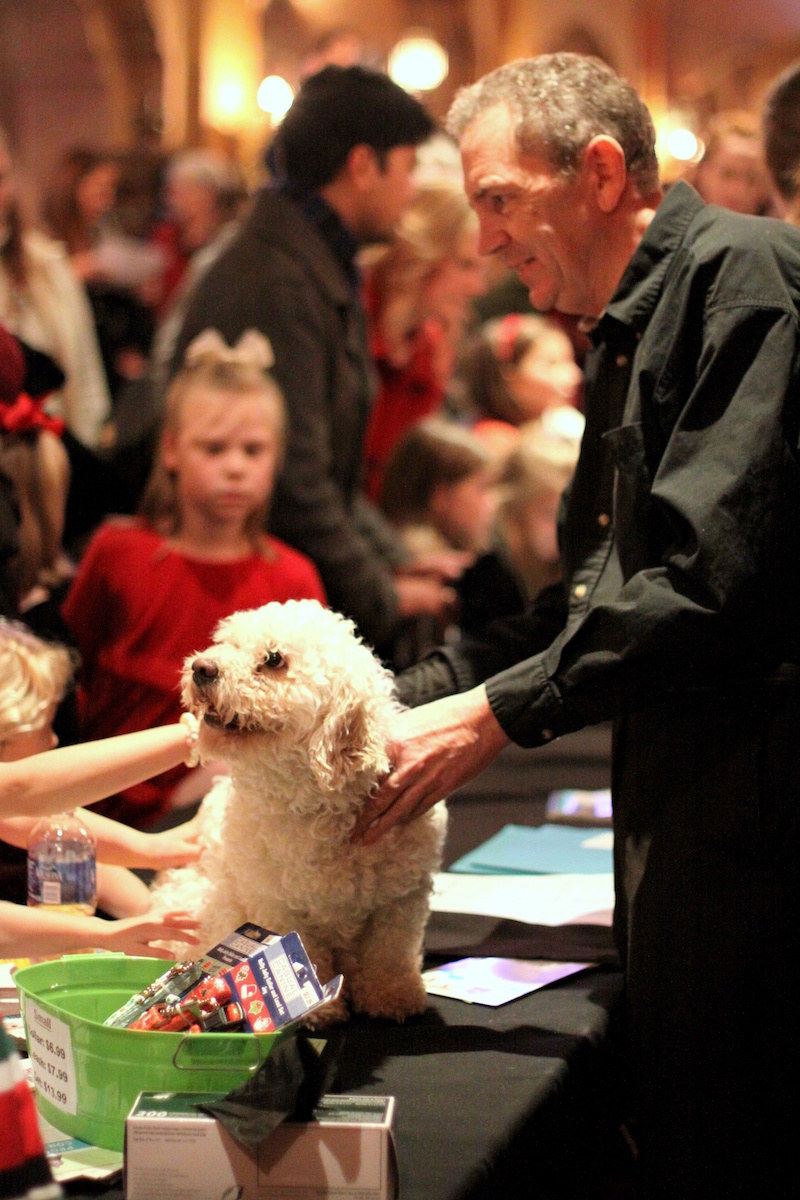 Audience members can meet and adopt featured dogs during intermission. Photo Courtesy Richmond Ballet.
Keep reading...
Show less
News
Dec. 12, 2017 10:00AM EST
Texas Ballet Theater's Brett Young as Edward Scissorhands in "The Nutty Nutcracker." Photo by Steven Visneau, Courtesy Texas Ballet Theater.
On December 15, Texas Ballet Theater will set aside its familiar Nutcracker costumes, variations and sets for their one-night-only performance of The Nutty Nutcracker. A satirical take on the classic story, The Nutty Nutcracker combines the most riotous in current pop culture and politics with Tchaikovsky's well-worn refrains.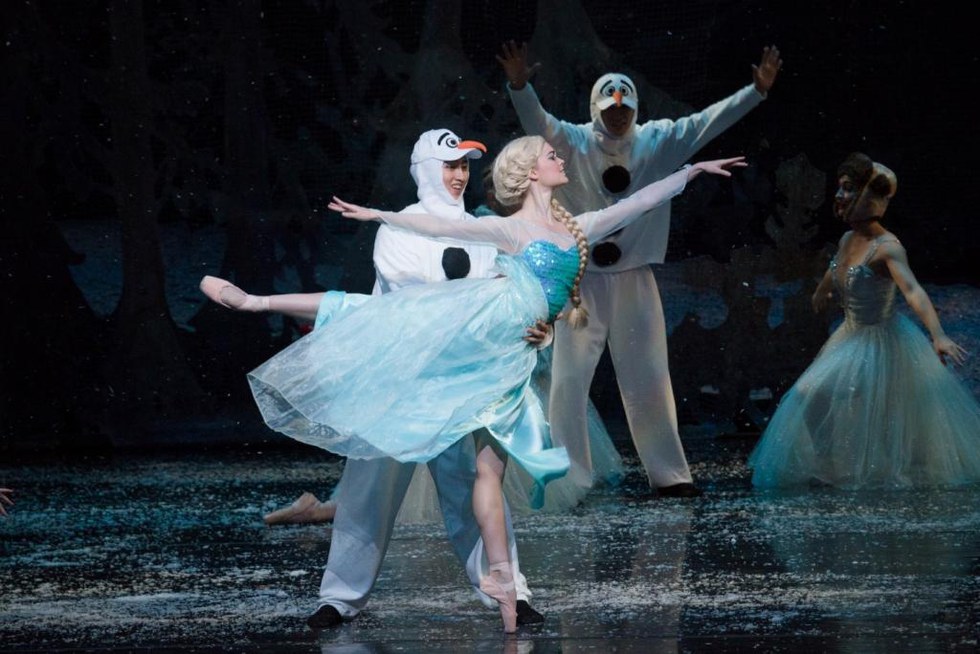 TBT dancers portray Elsa and Olaf in the snow scene of the Nutty Nut in 2015. Photo by Ellen Appel, Courtesy TBT.
Keep reading...
Show less
Melina and Regina Willoughby, photo by Ashley Concannon
There's a surprising twist to Regina Willoughby's last season with Columbia City Ballet: It's also her 18-year-old daughter Melina's first season with the company. Regina, 40, will retire from the stage in March, just as her daughter starts her own career as a trainee. But for this one season, they're sharing the stage together.
Performing Side-By-Side In The Nutcracker

Regina and Melina are not only dancing in the same
Nutcracker
this month, they're onstage at the same time: Regina is doing Snow Queen, while Melina is in the snow corps, and they're both in the Arabian divertissement. "It's very surreal to be dancing it together," says Regina. "I don't know that I ever thought Melina would take ballet this far."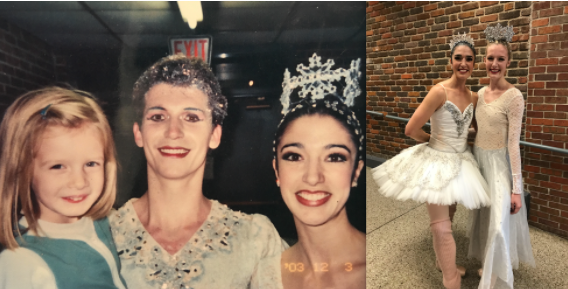 Left: Regina and Melina with another company member post-snow scene in 2003. Right: The pair post-snow scene in 2017 (in the same theater)
New York City Ballet's famous growing tree. Photo by Paul Kolnik, Courtesy NYCB.
Literary Roots

E.T.A. Hoffmann, a German writer, penned the eerie and dark tale "Nutcracker and Mouse King" in 1816. About 30 years later, the French writer Alexandre Dumas took the Nutcracker story into his own hands, lightening things up and softening the character descriptions. Dumas even cheered up the name of the protagonist. "Marie Stahlbaum" (meaning "steel tree," representing the repressive family Marie found herself in, which led her imagination to run wild) became "Clara Silberhaus" (translated to "silver house," a magnificent home filled with shiny magic.)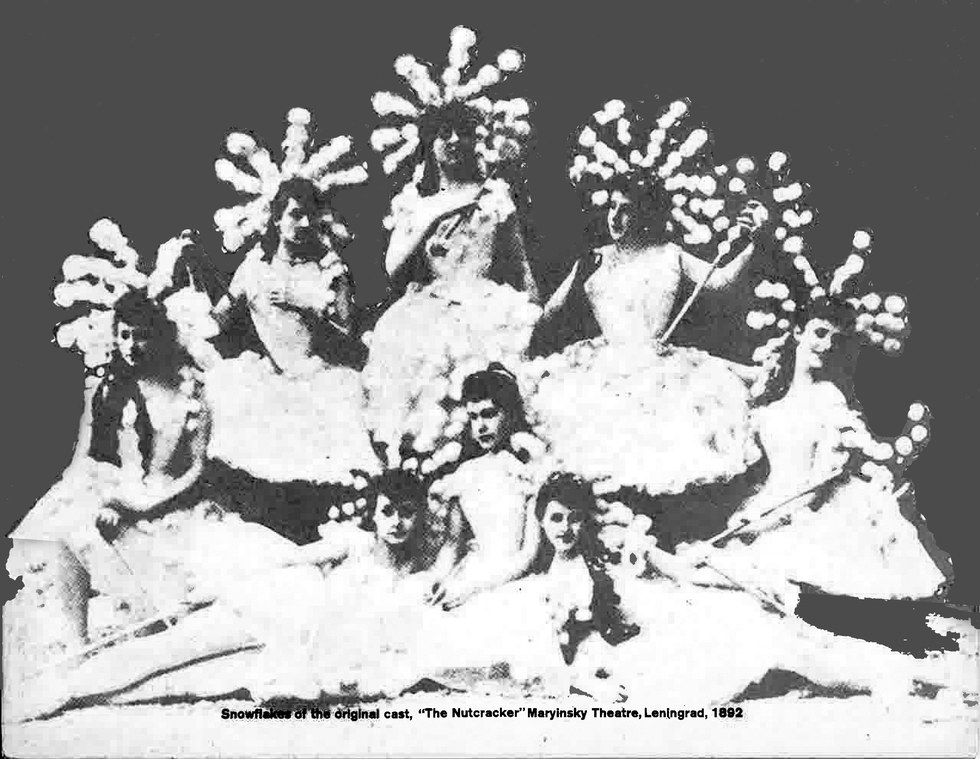 Snowflakes of the original cast, "The Nutcracker" at the Mariinsky Theatre, 1892. Photo by Walter E. Owen, Courtesy Dance Magazine Archives.
From Page to Stage
In 1892 St. Petersburg, choreographer Marius Petipa and composer Pyotr Ilyich Tchaikovsky pulled the story off the page and onto the stage of the Mariinsky Theatre. But Petipa fell ill while choreographing The Nutcracker and handed his duties over to his assistant, Lev Ivanov. Critics at the 1892 premiere were not pleased. Balletomanes felt the work to be uneven, and lamented the lack of a main ballerina in the first act. Many thought that the story was too light compared to historically based stories.
Out of Russia
Despite its initial reception, the ballet survived, partially due to the success of Tchaikovsky's score. Performances were scarce, though, as the Russian Revolution scattered its original dancers. The Nutcracker's first major exposure outside of Russia took place in London in 1934. Former Mariinsky ballet master Nikolas Sergeyev was tasked with staging Petipa's story ballets on the Vic-Wells Ballet (today The Royal Ballet) from the original notation. The notes were incomplete and difficult to read, yet Sergeyev persisted, and The Nutcracker made it to the stage.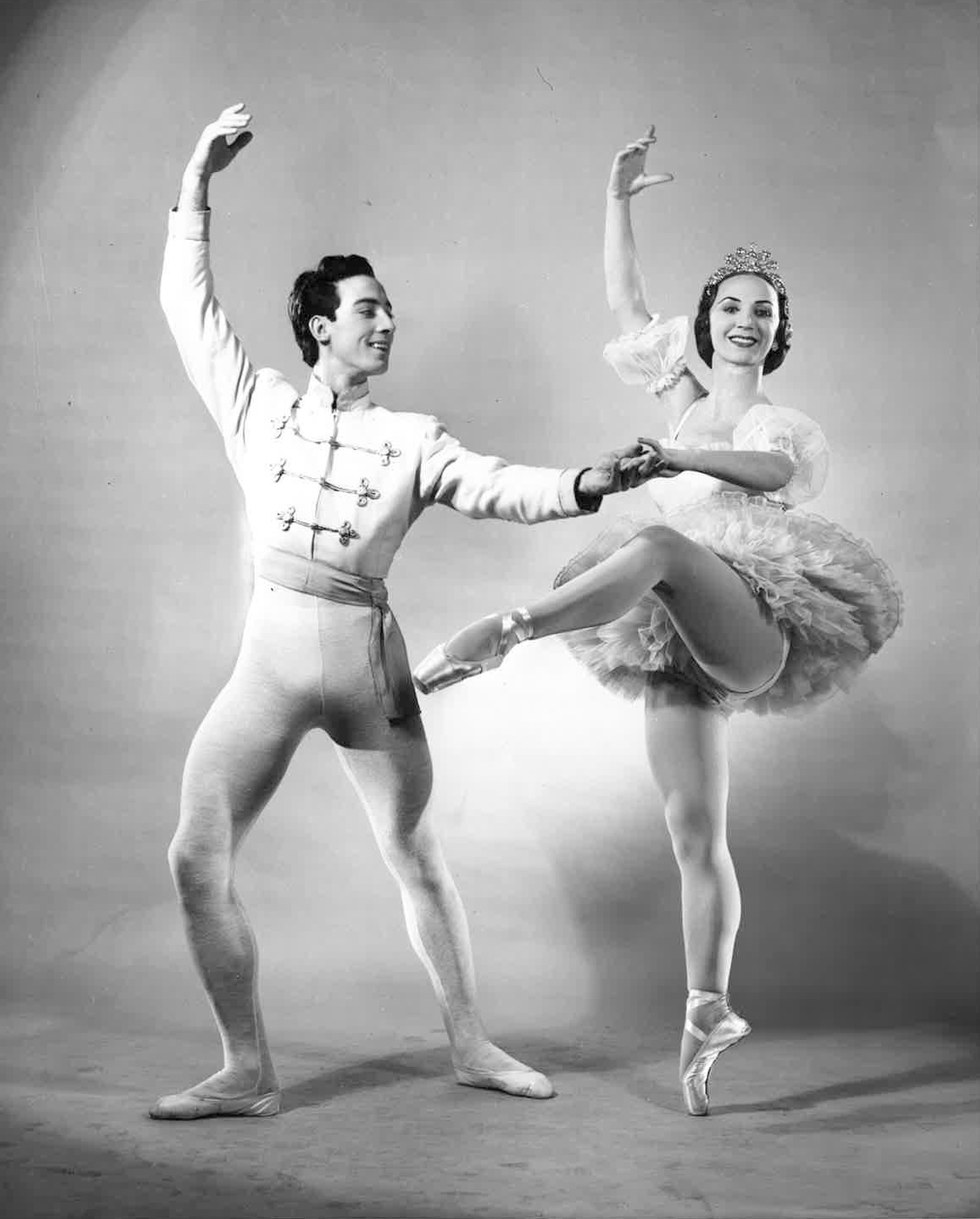 Dancers from ballet Russe de Monte Carlo in "The Nutcracker" pas de deux. Photo Courtesy Dance Magazine Archives.
Keep reading...
Show less
Artists of Wonderbound in "Snow." Photo by Amanda Tipton, Courtesy Wonderbound.
As a student in a pre-professional ballet school, one of the best parts of performing in company productions was getting to be in the midst of the action with the company dancers. In Nutcracker, for example—between my all-important moments of dancing glory (the two minute children's dance)—I'd eavesdrop on the party parents' conversations and (sometimes PG-13) jokes.
Even with the hazards of sweat flung from a pirouetting dancer's forehead, I often feel that audience members are missing out—watching a ballet from the front is rarely so intimate.
It seems I'm not alone in this thought. Two regional companies are looking to shake up the performance format with their immersive winter productions. With live music, cocktails, puppetry and up-close and personal party access, American Contemporary Ballet's The Nutcracker Suite and Wonderbound's Snow are sure to pique new interest.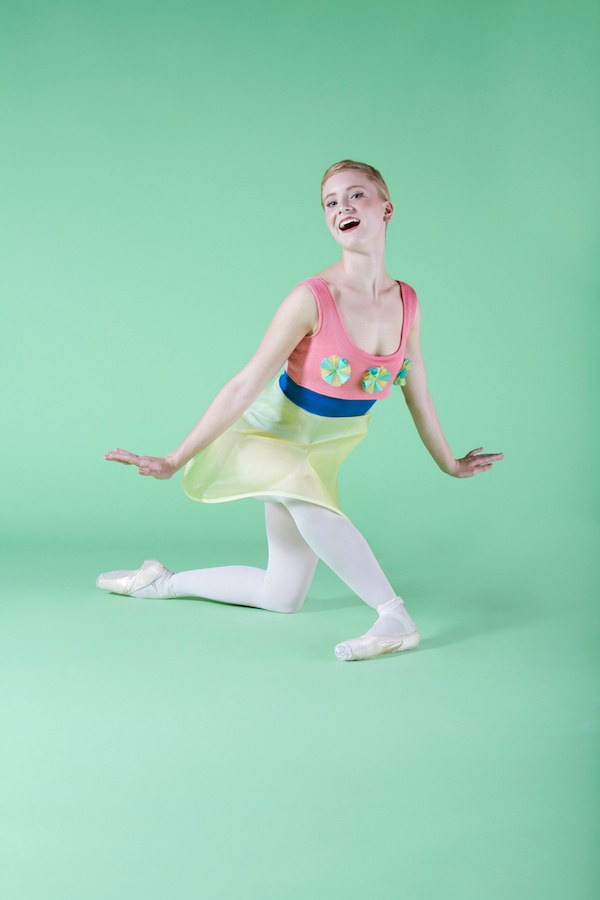 American Contemporary Ballet's Sarah Bukowski as Marzipan. Photo by Art Lessman, Courtesy ACB.
American Contemporary Ballet's The Nutcracker Suite
American Contemporary Ballet, now in its seventh season, is premiering its unique Nutcracker production this year. Artistic director Lincoln Jones was initially reluctant to do a party scene. "For audiences today, especially audiences in Los Angeles where they don't really grow up with ballet," he says, party scene's "over-large acting" can be difficult to connect with.
Keep reading...
Show less
December is here and the holiday season—better known to ballet dancers as Nutcracker season—is in full swing. To celebrate, we're throwing it back to Patricia Barker and Wade Walthall as Clara and the prince in Pacific Northwest Ballet's 1986 Nutcracker: The Motion Picture.
In this reimagining of the ballet by PNB founding artistic director Kent Stowell and famed writer and illustrator Maurice Sendak, young Clara (played by Vanessa Sharp) defeats the multi-headed mouse king all on her own with a well-aimed, enchanted pointe shoe. She then follows her Nutcracker inside the shell of the mouse king's armor and ventures into an icy cavern. There she is transformed into an older version of herself, played by Patricia Barker. Clara emerges from the cavern to find that her Nutcracker has transformed as well, from a toy caricature into a handsome, mustachioed prince.

Cautiously, Clara takes the prince's hand. That is when the real enchantment begins. At 2:20 Barker dives into a penché arabesque that is far more dazzling than any cinematic effect. Long-limbed and fresh-faced, Barker captures Clara's innocence even as an adult. She soars across the stage in Walthall's arms, her nightgown billowing in the cold night air. An endless swirl of movement, this pas de deux blurs the distinction between reality and fantasy for the audience. Although Stowell and Sendak's
Nutcracker
retired from PNB's repertory in 2014, this film ensures that their unique version of the classic can still be enjoyed year after year. Happy #ThrowbackThursday!
Trending
Dec. 06, 2017 03:06PM EST
Photo by Sterling Baca, Courtesy Dayesi Torriente.
Whether you're on performance 1 or 21, sweaty stage makeup and layers of hairspray take a toll on your hair and skin. Read on for top tips from dermatologists and dancers to get you through Nutcracker season.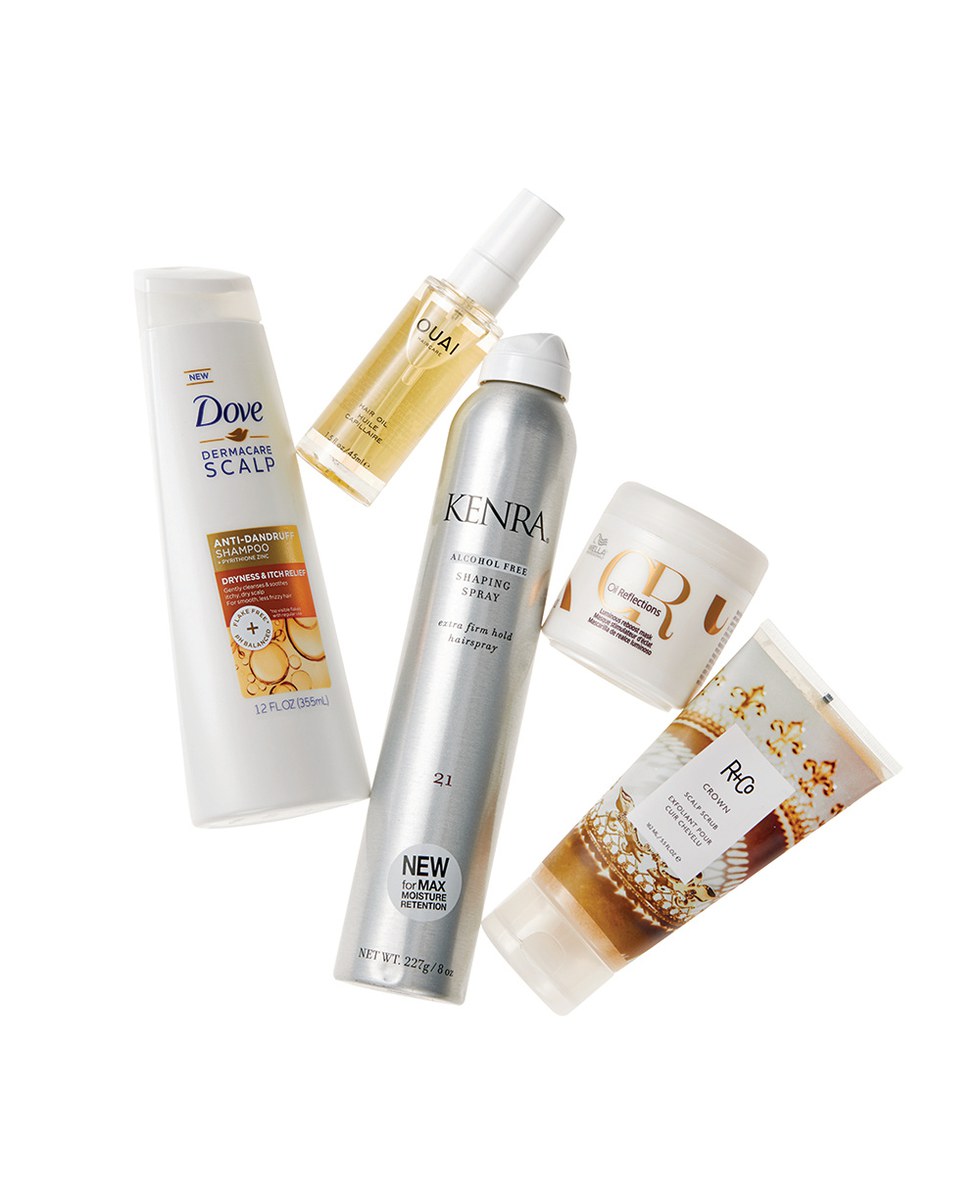 Photo by Nathan Sayers
Keep reading...
Show less