This story originally appeared in the October/November 2014 issue of Pointe.
National Ballet of Canada corps member Emma Hawes isn't afraid to admit her weaknesses, like loose shoulder joints—because she knows just how to overcome them. After successfully recovering from a fractured metatarsal last year, her current cross-training regimen—swimming, Pilates and biking outdoors—is all about building strength to prevent future injuries and keep her body in peak performance shape.
---
Just keep swimming: During her childhood, Hawes swam competitively. Now she goes once or twice weekly. Her favorite stroke? Freestyle, which strengthens her loose shoulder joints and equally works her left and right sides, helping to correct muscular imbalances from dance. Then she treads water, running in place for 60-second muscle-burning bursts, resting for 20 seconds and repeating it all three to four more times.

In the deep end: Hawes caps off each swim with "typical barre stretches" in the water. "If I want a tougher stretch, I go deeper in the pool." Facing the pool's wall, she places one leg en devant, with her heel on the ledge, and bends her chest toward it. "It's really great for the glutes, where I get a lot of tightness."

Can't miss cardio: For Hawes, daily aerobic exercise is nonnegotiable. She favors 30 minutes of intervals on the elliptical, alternating one minute of going all out with two minutes of medium intensity.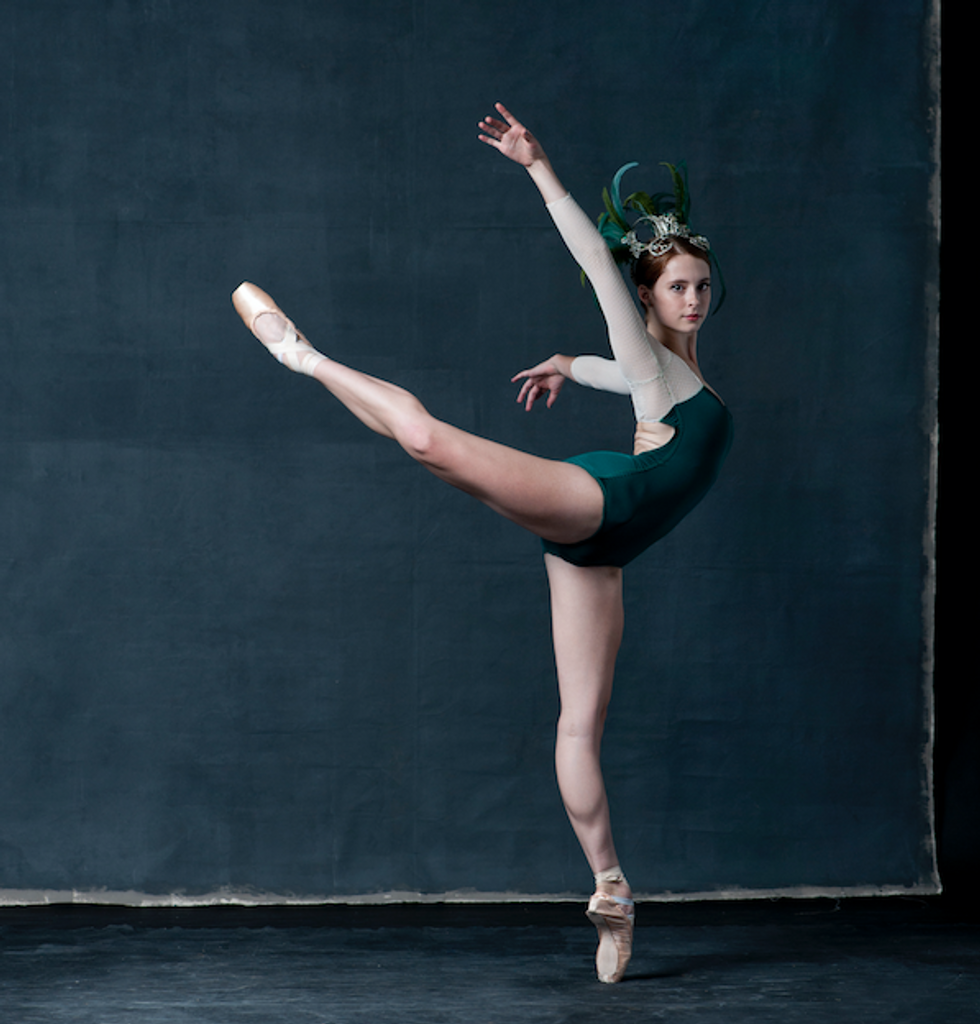 Sian Richards, Courtesy NBoC
Rise and shine: National Ballet of Canada offers its dancers morning Pilates mat classes twice a week. Hawes says it's a great way to get on her leg before class, but if it's a busy week, playing Pilates hooky can do her body more good. "It's early in the morning, so sometimes sleep can be more valuable."

Planking 2.0: For Hawes, planking is much more than an abdominal exercise. With her elbows and forearms on the ground, she goes through several variations of the classic plank for two to two and a half minutes, like lifting the opposite leg and arm and circling them simultaneously. ("It's really tough," she says. "I fall over a lot.") Then with both arms on the ground, she'll lift one leg to tendu back, carry it to the side and then back again to "trigger the turnout."

The great outdoors: During summer layoffs, she visits her family in Ohio, taking advantage of the hilly terrain for long bike rides. "I don't usually do too much ballet-focused work in my off time, but I keep my overall fitness and cardio levels up."